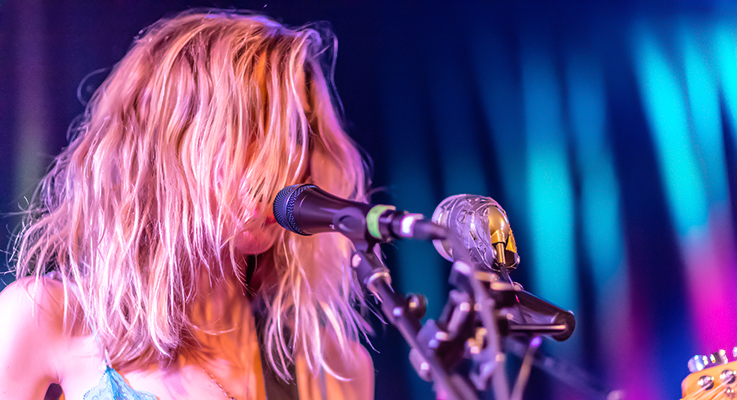 I usually start off my reviews with a quote, but Wolf Alice don't spend too much time talking on stage, and their concert at The Chapel in San Francisco Thursday night was a bit too chaotic and kinetic for chit chat; they let the music speak for itself.  I've been fortunate enough to catch all three of their San Francisco shows in 2015 (their debut at Popscene at Rickshaw Stop in March and follow-up at The Independent in May), but their most recent show – fueled by the June release of their debut album My Love Is Cool – was their best yet.  They are, in my opinion, the most exciting new band recording and performing today.  They continue to develop their many gifts and talents with their songwriting and originality, and their live concerts serve as a showcase for how amazing they are at recreating their rich and complex, multi-layered sound on stage.  But back to that album…  for me personally, it is the Album of the Year.  Truly, the best album of the past several years.  Every song is a gem.  They are THE band to watch.

Who: Wolf Alice
Supporting: Drenge
Supporting: Made Violent
Venue: The Chapel
Where: San Francisco, California
When: October 15, 2015
Seating: General Admission (front left of center with photo pass)
This was actually only my second visit to The Chapel in San Francisco (the first being the "Light" half of GROUPLOVE's back-to-back "Seesaw tour") and I came away very impressed.
The former mortuary has been converted to a live music venue and bar, with two levels in the main hall – a long floor and recessed balcony above it, with a low stage up front.  The sound and acoustics are excellent, and the staff is awesome.  It also features great, versatile lighting.
Being an all-ages venue, friends and I lined up early outside, and there were a few fans who were there since around 8am for the 8pm doors show (with two openers; Wolf Alice did not take the stage until around 11pm).
Wolf Alice summons an interesting collection of fans…  as concertgoers filled the venue, a funny thing happened with more young and female-skewing fans filling the right half of the floor with much older, more male fans filling the left half (facing the stage).  So their music speaks to completely different demographics and generations, but it's interesting how the crowd built up as people came in.
There were two excellent bands on the bill in support – Made Violent and Drenge – and both were well-suited to the task, bringing their own sound but performances that were complimentary to the headliner; it also made for a longer and more rewarding show (both openers played pretty full sets in their own right).  A full night of awesome live music.
This show at The Chapel in San Francisco was the final stop in the U.S. for this tour, so there was a buoyant and celebratory atmosphere beaming from the stage, especially for the final encore number played ("Moaning Lisa Smile") by Wolf Alice, with the opening bands coming out with champagne and good will to send off their accomplishments with a pop.
Made Violent
Members
Hailing from Buffalo, New York (on a night otherwise dominated by English artists) this trio formed just a few years ago.  They came out and played it like a headliner, making sure everyone in attendance knew that we were about to experience some rock and roll.  Squealing high pitched distortion was overcome with steady beats and guitar riffs, with kind of a split personality with Joe White representing some 70s glam on guitar stage left and Rob Romano bringing some nerdy Devo-like vibe stage right.  Holding these two forces together at the back center of the stage was Justin Acee on drums.
The group released two songs via single in 2014 and their first, self-titled EP earlier this year.
In terms of raw sound, they feel like a more excited version of The Hives, but on stage maybe less excited, if that makes sense.  They sound nothing like him, but they have a bit of the same kind of barely-under-control energy of Adam Ant.
You can check out their music video, "Wasted Days", below:
Below is a photo of their setlist from the evening: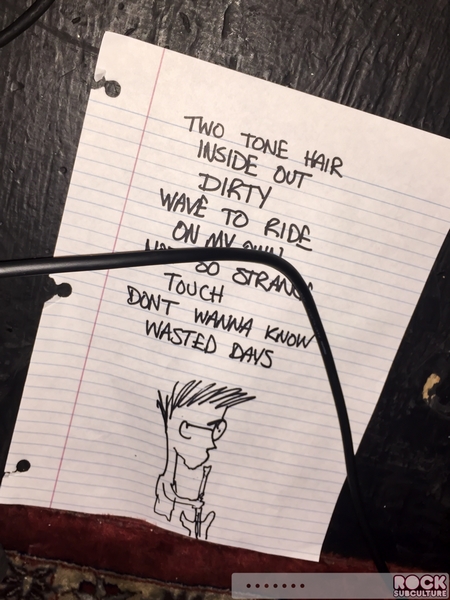 Below are some photos of Made Violent performing on stage (click any image to open a virtual lightroom with higher resolution photos):
Drenge
Members
Eoin Loveless (guitar, vocals)
Rory Loveless (drums)
Rob Graham (touring member on bass and backing vocals)
Drenge is made up of brothers Eoin Loveless on guitar and vocals and Rory on drums, the UK duo meld together a variety of music genres, including alternative rock, blues, and post punk/post grunge.  Rob Graham has joined them on bass guitar, which fills out the sound nicely with the added low frequency.
Formed in 2011, they've already put out two full albums, 2013's self-titled debut and this year's amazing sophomore follow-up, Undertow.  So obviously a band with ideas and motivation to put them into form and find an audience.
They sound very English to me (don't let that guitar/vocals + drums let you imagine a younger Black Keys), and very post punk, with an angry kind of edge.  Not a general angry, but seemingly focused on whatever the particular song is about… and I get the sense their music is about stuff, not just loosely collected words that rhyme.
Undertow is really a fantastic piece – so much ingenuity and a timeless sound.  If I were to hear it out of context, I would at first be perplexed (in a good way) as to what decade it came out of, as it has some throwback sounds and stylings from a variety of artists and genres and eras, but there is so much new that it is unmistakably contemporary.  They aren't borrowing from the past, but building on it with their own take on so many different styles of music.   They have ideas, something to say, and a unique way to express it.
Live, they are something to behold.  Eoin on guitar and vocals… there is something a little unsettling about him that makes the whole affair come across as a little off it's axis, keeping things exciting.  Where are we going with this?  What emotions is he… emoting… exactly?
They seem as though they've spent a lot of time working out their sound in the garage, as it has a claustrophobic orientation…  the music feels like each song is a reaction to specific things that they find wrong in the world.
While rough and dark, the music seemed to draw the audience in – and I wonder if that is even by design, as it all has an air of being uncompromising.  Maybe it's just something that all of us can relate to on one level or another today.
For a sense of their live sound and show, you can check out their performance of "We Can Do What We Want" at this year's Bestival here:
Below is a photo of their setlist from the evening: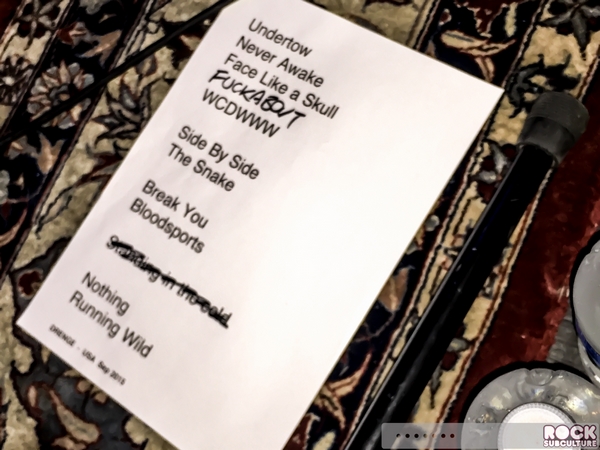 Below are some photos of Drenge performing on stage (click any image to open a virtual lightroom with higher resolution photos):
Wolf Alice
Members
Ellie Rowsell (vocals)
Joff Oddie (guitar)
Joel Amey (drums)
Theo Ellis (bass)
As mentioned, this was my third time this year seeing Wolf Alice live.  I was blown away with the first show at Popscene, and since the second show I attended at The Independent, they've released their debut album, My Love Is Cool, which for me, hands down, is the best album of 2015.
I intended to do a full album review upon release, but wanted to let it breathe a bit over a few months to really wrap my head around why and how it moves me.
Wolf Alice was formed in London in 2010, and that first studio album, My Love Is Cool, was released in June. The quartet had previously released two EPs – Blush and Creature Songs – in 2013 and 2014 respectively, as well as singles "Fluffy" and "Bros" (both releases in 2013).
I was able to track down the Blush and Creature Songs EPs and the "Bros" and "Fluffy" single releases on a site called 7digital.com (since much of it was not available in the U.S. on the obvious sites like iTunes and Amazon).
So the first playlist I created on my iPod was with this set of  "pre-album" Wolf Alice music – a dozen songs in all – and it quickly became my most played playlist for the first half of 2015. I really can't emphasize enough how much I love their music. I get the same excitement from listening to them as I did back in the 80s and 90s finding new artists. They are something different; something special.
My three favorite songs of what was been released prior to the new album that did not carry over are…
"Storms" which is a perfect pairing with "Moaning Lisa Smile". The bass particularly drives this one, pushing it through to the slow down and speed up changes and chorus.
"Blush" is the one that shows a different, sweeter, slower, more contemplative side of the band, as well as an uplift in optimism. They can take their time with a song, but still take you on a journey with some unexpected turns. Real emotion with this band, with depth beyond their years.
"She" rounds out my favorites – again, with the changes – but some softness contrasting the sharp shriek and wild guitar. Brilliant stuff.
Song to song, there is so much variety, with bits and pieces reminding me of other songs, or at least bits of songs from other artists, ranging from The Cranberries to Nirvana to the xx to The Beatles.
Album Review: My Love Is Cool
Below is the tracklisting for My Love Is Cool:
"Turn To Dust"
"Bros" (Bros Single)
"Your Loves Whore"
"Moaning Lisa Smile" (Creature Songs EP)
"You're a Germ"
"Lisbon"
"Silk"
"Freazy"
"Giant Peach"
"Swallowtail"
"Soapy Water"
"Fluffy" (Fluffy Single)
"The Wonderwhy"
And from the releases to date, those songs not on My Love Is Cool:
"White Leather" (Fluffy Single)
"Every Cloud" (Bros Single)
"Blush" (Blush EP)
"She" (Blush EP)
"Nose Dive" (Blush EP)
"90 Mile Beach" (Blush EP)
"Storms" (Creature Songs EP)
"Heavenly Creatures (Creature Songs EP)
"We're Not the Same (Creature Songs EP)
So of the 13 tracks on the debut album, 10 of the songs are all-new, which is super exciting.
But… I can't recommend enough buying their two single releases (featuring a pair of songs each) and two EP releases (with four songs a piece), as the music is amazing, and taken collectively encompasses 12 tracks, so it is like a full album of music on it's own.
Their songs are each very distinct, stand-alone works that are quite diverse, but with the band's unique signature. Some fast, some slower; some rocking, some a bit more lo-fi. But pop drives all of it on some level, making it all highly infectious.
Wolf Alice is one of those rare bands who instinctively weave those hooks and riffs and beats and catchy choruses throughout their songs.
I definitely rank them among artists who, in my opinion, are the best of new and emerging bands of the past few years, like Broods, Phantogram, MØ, MS MR, Meg Myers, Reignwolf, Charli XCX, Kitten, Kaneholler, Down and Outlaws, and a few others.
I was really astounded at how much range and versatility is on display with My Love Is Cool – from song to song, there is so much originality and variety.
"Turn To Dust" opens the album up, and is one of the tracks that is new to the album; not previously released.  I love how they use it to open up the album quietly, not just in instrumentation and beat and pacing, but the quality of Ellie's vocals.  With her trademark floaty, feminine delivery, they are channeling their inner Fleetwood Mac, almost as a companion piece to "Gypsy".
"Bros", which was released previously, comes next. My surprise on first listen was that not only did they re-record it, but they made it better!  It's a beautiful as their own complimentary piece to "Turn To Dust", as it has some softness to it, but moves much faster, and Ellie turns in a more fluttery quality to some of the chorus/effects vocals.  There's a bit of a Cranberries quality to the joy and tempo, with the "there's no one quite like you" innocence and optimism.
"Your Loves Whore", another new one, makes use of some interesting audio tricks that really make this a powerful addition to their catalog of music, capturing some of the rawness you'd find with early Nirvana and Hole, from the building to the changes to the abrupt stops as well as the killer bassline with skipping drumbeat and the power guitar…  I especially love the short breaks of silence and backsteps – one of the few bands to understand the power of silence – and the softness leading into the high energy anthem of "I could never love you more" building through the end, underscored by quiet vulnerability surrounded and overtaken by the tempest.
"Moaning Lisa Smile", I absolutely love. As mentioned in my last review, it takes me back to some of the music I grew up with like Throwing Muses, Cocteau Twins, Lush, Veruca Salt, etc. Great, catchy pop smacking up against some relatively harsh sonic walls and nice changes a la Nirvana. This is the signature Wolf Alice song, that showcases their unique sound, creativity, and style.  This was obviously released long ago, and helped to propel the band to where they are today, so it was an obvious choice to include in the album.  Reworked for the album, it has that single booming "but it's out of control" bass drop you need to hear on a high quality sound system or phones to fully appreciate.  Wolf Alice at their catchiest – a showcase in pop rock.
"You're a Germ", another new one, reminds me a bit of the first Breeders album, from the distorted guitar to the "off-trackedness" of it at certain points.  Another perfect blending of vocals and guitar.  What I love most is the anthem-oriented count to seven and accompanying building.  It's such a bouncing song, how can one listen to it and sit still?  It feels like it was made as the ultimate live song, which is deceiving with the stripped down opening… but those changes – they know how to pull you in and play against expectations, almost like they write a few different songs and figure out how to meld them together, like some kind of sonic, all-powerful Frankenstein.  Few bands have the chops and material to pull off playing stadiums and sports arenas, but this is a song that Wolf Alice could use someday to make it happen.  An escalating singalong. That laugh.  Epic.
"Lisbon" is comparatively flat, following the four or five preceding songs.  It gives the overall work some pacing changes that we find song by song, so illustrates the thought and technique that have come with not only creating all of these songs, but figuring out how to compile and order them for maximum effect.  It has a soundtrack quality to it, and conveys more specific feelings and emotion, exploding into a wall of sound and quickly twisting apart.
"Silk" sounds like life and the universe rebuilt out of "Lisbon's" implosion, born on that building bassline and subtle confidence of protesting vocals from Ellie's intentionally lo-fi/talky sort of vocals that play with a bit of reverb and overlapping backing and complimentary vocal tracks, like she is fighting the internal whispering doubts and subconscious insecurity.   This builds, and becomes one of my favorite moments in the album, as does the anthem-like chorus.  LOVE this song.  Then there's what feels like a second chorus.  This song makes me reflect back on The Smiths and their unconventional song structures, and I think Wolf Alice is doing some of that themselves with this song.  It goes in some many different directions, and it's just a brilliant piece of music.  One of my favorites off the new album.  There's so much going on with this song, and it all works perfectly.
"Freazy" is (for Wolf Alice) a more happy song, with it's opening guitar work making me think a little of vintage 10,000 Maniacs.  It becomes quite vocal-driven and pretty in that regard, with some self-referential lyrics, and well as a nod to the title of the album (with a different pronoun) with "our love is cool".  It feels a little like some of the 90s era artists in some stretches, but bests all of it.  They go through all those changes, like they squeeze every bit of sonic possibility out of each song.  "Did you really want to… with Alice?  Did you really want to… with the wolf?"  It seems to be a song about Ellie delving into her own creative persona, but I really have no idea.  But being central in the album (literally, by track count) and referencing the band name and the title of the album… this would seem to be an important one to them.  It also seems to be the happiest.  A revelation.
"Giant Peach" is maybe the most interesting song to me, of this new collection.  This might sound crazy, but I'm convinced it is the lovechild of Muse and The Runaways.  It's just such an original and brilliant song, I don't know what to make of it.  It's definitely one of my top favorites of the album – freaking love it.  And each member of the band – their bits respectively scream for attention.  It's like a male vs female play, with the drums, bass, and guitar at points taking over the vocals and forcing Ellie to go in a much more punktone and breathless rock star persona to get the edge to keep up.  It's just that awesome.  Especially the breakdown at the very end.
"Swallowtail" serves as a showcase for lead vocals not from Ellie, but drummer Joel.  I have to admit, the first time I heard it I absolutely hated it.  But I kept hearing it as I kept the full album in rotation, front to back.  Then it totally grew on me.  I love this song, and the vocals are awesome.  Such a pretty song.  And the vocals are excellent.  The fact that one of the men in the group can sing opens up even more possibilities for the band in the future (again, think Fleetwood Mac).
"Soapy Water" is another song that feels really experimental, but somehow this one didn't latch onto me like the rest. My least favorite song on the album (and really the only one I'm not super positive about).  I don't dislike it – don't get me wrong – but it is the one song that feels a bit like filler and I think it should have been maybe left out completely.  Truly my only negative/criticism of the entire album.
"Fluffy" was released previously, and the newly re-recorded version is even better.  LOVE this song.  This is the one, along with "Moaning Lisa Smile", that hooked me on this bad.  Love the changes and vocals.  It showcases the poppy, soft side of their sound in contrast against the screechy, post-punk side of their split identity.  "I got nothing in this dead old town…" is a killer moment, and the male tracks laid over actually reminds me again a bit of The Smiths.  It adds some character.  Killer track.
"The Wonderwhy".  Fantastic song.  Excellent choice for a closer.  Represents everything that is right with the band's songwriting and recording gifts.  An innocent and youthful perspective, including that floaty, angelic voice with swarming harsh reality mixing in…  "Don't leave me here when I'm not sold…"  Pretty dark stuff.  The lead out with talking/chanting and stripped down to almost child-like toy beats… a retention of that purity and innocence?  Then the "Hidden Track", which sounds like a very early recording/demo, like a lo-fi embryo of what has come to be Wolf Alice.  The soul of the band laid bare.  Innocence.
In any event, I can't recommend the album enough…  if you buy one album this year, get My Love Is Cool.
Concert Review: Wolf Alice at The Chapel
Ellie Rowsell certainly has that "it" factor as the frontwoman for the band, with a distinct and unique (understated) charisma, confidence in their work, and the ability to win any staring contest with fans in the crowd. Her range and gifts with her vocals kind of catches you surprised, as well as the ease with which she delivers in a wide variety of styles, one as seemingly effortless as the next.  With two microphone set ups on stage and crazy effect pedals below (not sure which were for guitar and which, if any, for vocal effects and changes), she plays with a variety of vocal styles and sounds and has the ability to perform with differing, sometimes contrasting personas.
Joff Oddie on guitar has I think the most elaborate pedal and effects board I've ever seen – he's like a one man Guitar Center. Not too flashy in his playing, he really knows how to get a vast variety of sounds from his guitar, and thus providing a foundation for all of the different styles and complex mixes of riffs, noise, and effects.  He has evolved over the past year though, and does take some moments to show some swagger.  Funny enough, a bit into the set, he actually came to the edge of the stage in front of me, and leaned right into me, pressing his forehead solidly against mine as he shredded on guitar (if you wonder when you go through the photos further below how I got so close).  He's becoming more interactive with the crowd, and maybe drawing some of the energy pushed toward the stage.
Joel Amey brings a lot of diverse sounds and style on drums, and while on some songs it is more minimalist, on others (like "We're Not the Same"), the drumming and beats are more fundamental to the song and right out front leading the way.  This was the first show in which I got to see him perform "Swallowtail" on stage and it was fantastic.
Similarly, some songs feature Theo Ellis' work on bass more prominently than others. In a lot of bands, the bass is kind of lost, but he certainly has his moments and is always right there in the mix of it, in the same way the presence of the bass is always felt in bands like The Cure and Green Day.  With the new songs on the album, he is omnipresent, and this carries over into the live show.  Killer bass player.
With the show at The Chapel, the quartet appeared more confident than ever, playing through the songs flawlessly.
I am still in awe of how perfectly their recreate their studio sound on the stage.  They could just power through it all in a more raw playing style, but they carefully pull all of those songs out as heard on the album and EPs, with all the same flair and style and with impeccable collective timing.
Below is a photo of the set list from the show: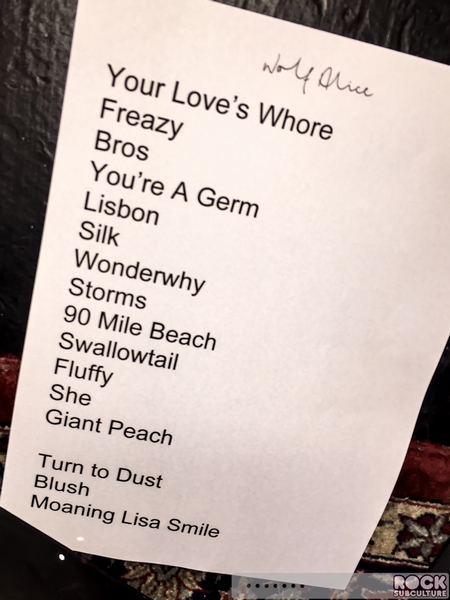 Below is the set list from the Wolf Alice concert at The Chapel on October 15th, 2015:
Your Love's Whore
Freazy
Bros
You're a Germ
Lisbon
Silk
The Wonderwhy
Storms
90 Mile Beach
Swallowtail
Fluffy
She
Giant Peach
Encore:
Turn to Dust
Blush
Moaning Lisa Smile
Songs added into rotation since concert at The Independent:  "Freazy", "Silk", "The Wonderwhy", "Swallowtail", and "Turn to Dust".
The band has a strong following of fans who know the material front to back (and held true for Made Violent and Drenge as well – they do their homework to create the fullest experience), as they sang along throughout.
I really don't know what else to say about this show…  the band has the best album out in ages, as well as a plethora of additional material from previous released in their catalog.  They are the kind of band who can make you an instafan if you turn out for a show, as they seem to have this magical ability to create music that just presses all of your buttons and leaves you wanting to experience again and again.  This is what music should be about.  As Coldplay said, "give me real, don't give me fake".  There is a lot of "show" in show business, including the music business, and sometimes we lose sight of how great it can be when a band really hits on all cylinders, and for me, that is Wolf Alice.  I look forward to their much deserved success, and can't wait to hear what they come up with next.
Below are some photos of Wolf Alice performing on stage (click any image to open into virtual lightbox and higher resolution):
Jason DeBord