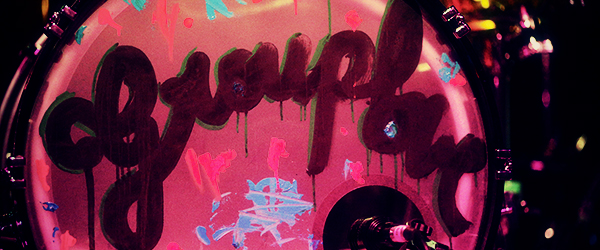 "We do it for love, sweet love…" Fittingly, the final words sung on stage both Saturday and Sunday night in San Francisco by GROUPLOVE, from their hit song, "Colours".  Playing back-to-back shows as part of their special run of their "Seesaw Tour", performing at two small venues in select cities, doing one traditional show and one acoustic-style show, each night featured a different kind of show, almost as if seen, heard, and felt through a kaleidoscope that shifted not just night to night, but within each show.  GROUPLOVE is a band with probably the best energy of anyone playing today – such joy and positivity beaming not just from the speakers at the venues, but from the artists themselves – their expressions and jumping around, and interactions with the audience.  The funny thing is that the audiences and shows kind of played counter to expectations, with the "heavy" night at The Independent skewing older and more mellow and the "light" night at The Chapel being much more youthful and boundless, which seemed to fuel the band into rocking their acoustic instruments on the tiny stage, which could barely contain them.  Two incredible shows that delivered well beyond expectations.

Who: GROUPLOVE
Supporting: The Rubens
Night 1 "Heavy" Venue: The Independent
Night 2 "Light" Venue: The Chapel
Where: San Francisco, California
Promoter: Another Planet Entertainment
When: September 14, 2013 & September 15, 2013
Seating: General Admission (standing front row center; also photo pass first three songs)
As noted in my preview of this special tour back in July, American alternative band GROUPLOVE are now in the midst of a special "Seesaw Tour" supporting their sophomore album, Spreading Rumors, due tomorrow,  September 17th.  The nine city tour features the band playing back-to-back gigs in each city, the first an all-rock set and the second at a non-traditional venue doing an all acoustic show ("one night heavy, one night light").  The nine cities that are part of this special tour are Seattle, Portland, San Francisco, Los Angeles, Boston, New York, Philadelphia, Washington DC, and Chicago.

The Independent was chosen for Night 1 of the San Francisco stop for the "all-rock set".  As always, The Independent is a great little venue (where I shot and reviewed Imagine Dragons earlier this year and CSS with MS MR a few months ago), the 21 and over venue was packed as usually, easily selling out its 800 person capacity.
The Chapel played host to Night 2 for the acoustic set.  This venue is even smaller than the Independent, classed as 500 person capacity, but I wouldn't be surprised if it was less with the partial seated configuration that was set for last night.
This review will discuss both shows and also feature photos from the concerts at The Independent and The Chapel this weekend.
The Rubens supported both nights.
The Rubens
Members
Sam Margin (lead vocals, guitar)
Scott Baldwin (drums)
Elliott Margin (keyboards, backing vocals)
Zaac Margin (lead guitar)
The Rubens, an alternative band who hail from New South Wales, have found significant success with their eponymous debut album in their homeland of Australia.  Their studio album was released just earlier this month here in the U.S., and hopefully their exposure touring with GROUPLOVE will garner them some much deserved attention and accolades – the album is fantastic.
It's hard to talk about the live show without talking about the music and album, and vice versa.  You can get a sense of their sound by checking out their music video for "My Gun" on YouTube.
They definitely have a real and authentic rock and roll vibe, though with a very contemporary sound and interesting lyrics.   Even upon first listen, their music is really catchy and hooky, with a blues element, and both nights they got the audiences charged for the set that followed.
Live on stage, they replicate the studio sound quite well.
Front man Sam Maargin has that front man quality (charismatic, rugged good looks, confident yet sort of modest), and vocally has a great voice suited to the music, and in terms of tone, actually reminded me a little bit of Harry Connick Jr. (obviously a totally different genre, but came to mind both nights while listening to them perform).
Three of the band members are brothers, and they all seem to be dialed into creating a tight set.
I was particularly impressed with Scott Baldwin on drums.  Most drummers stand out with more crazy, intense, and theatrical drumming, but his was more of a steady, smooth, and, well, different sort of approach.  He adds significantly to each song with a foundational beat that seems kind of simple but when you pay attention many of the songs seem very rich and complex.  Not really sure how to describe it, but I came away really impressed with what he did.
Another surprise with the band is something I didn't even realize until I got home after Night 1 and started going through my photos, and noticed that guitarist Zaac Margin's right hand is handicapped, yet it does not seem to affect his playing in the least, making his playing even more inspiring.
I really loved their music and fans who attended both shows over the weekend were treated to two different takes on their songs, as they played a more acoustic set along with that theme at The Chapel last night.
Below is the setlist from Night 1 at The Independent…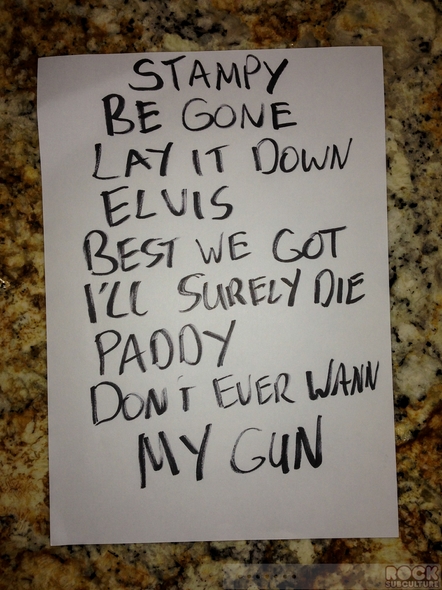 Stampy
Be Gone
Lay It Down
Elvis
Best We Got
I'll Surely Die
Paddy
Don't Ever Want To Be Found
My Gun
Below is the setlist from Night 2 at The Chapel…
Stampy
Lay It Down
Elvis
Look Good
Best We Got
Paddy
My Gun
The Rubens – Photos from Night 1 at The Independent
Below are some photos of The Rubens performing on stage on Night 1 at The Independent (click any image for higher resolution version of each photo):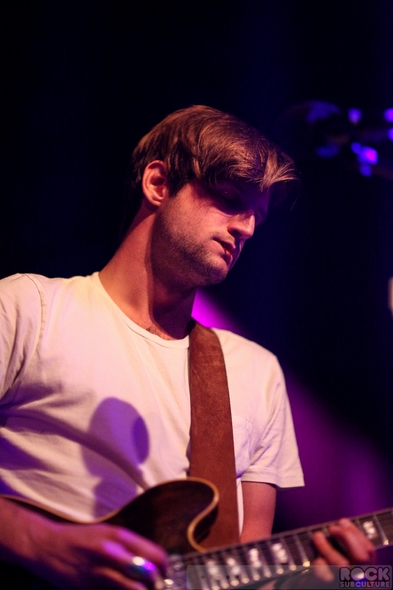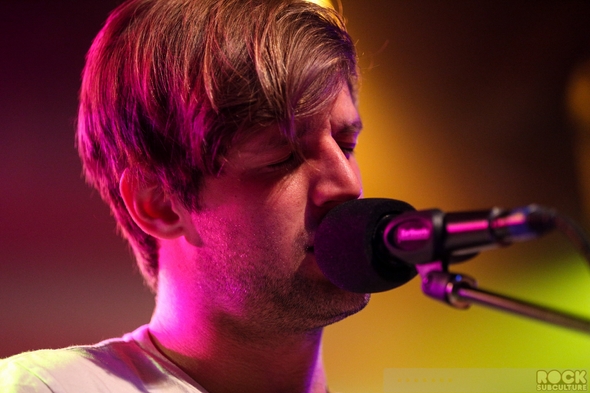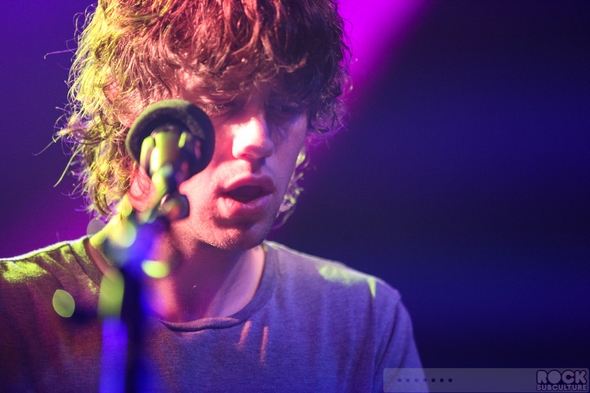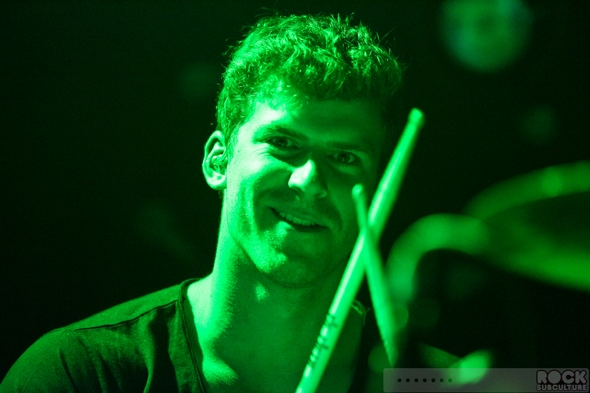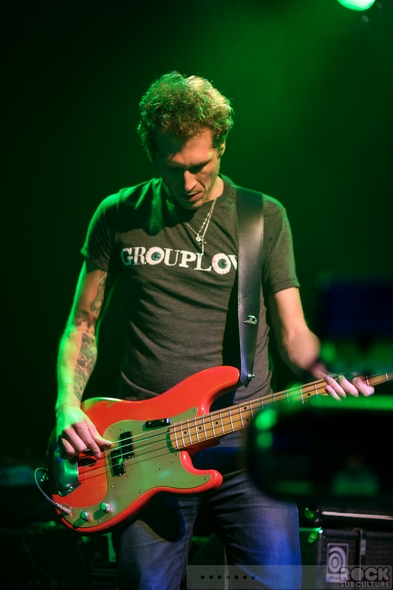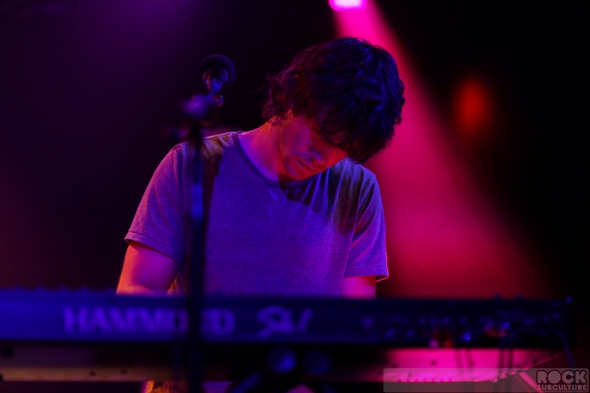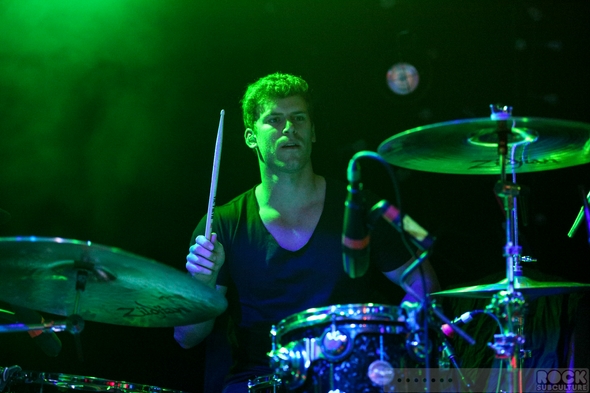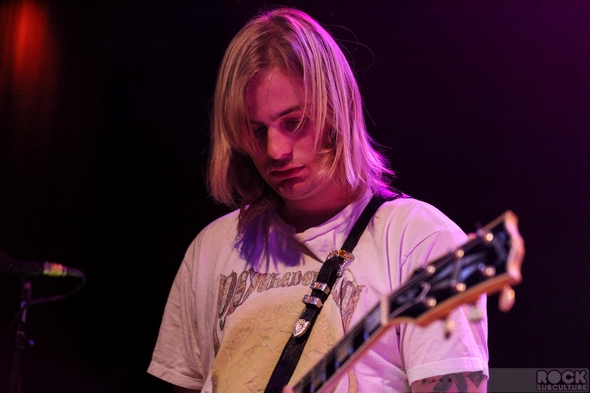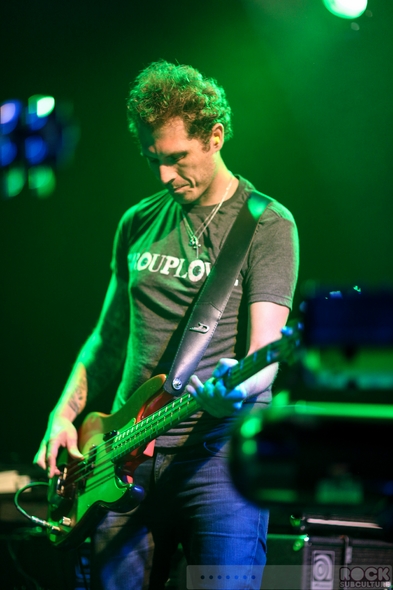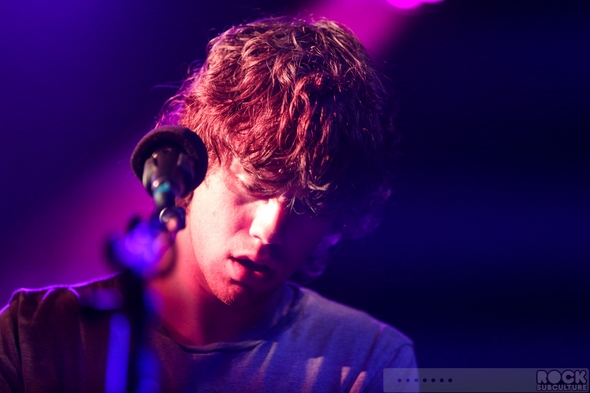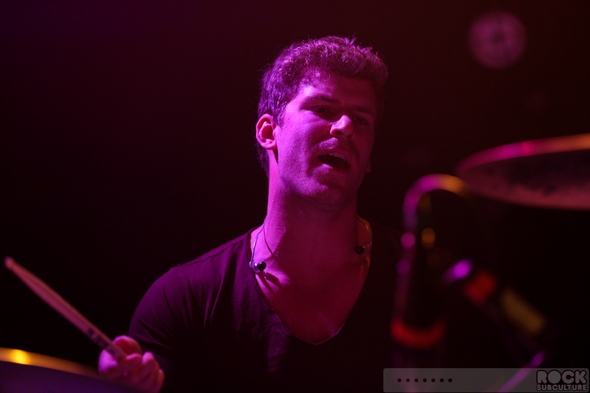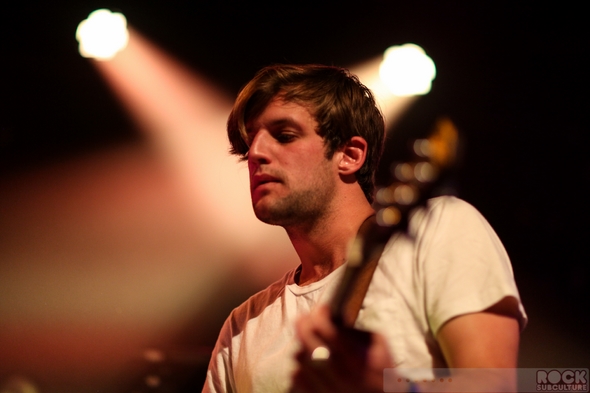 The Rubens – Photos from Night 2 at The Chapel
Below are some photos of The Rubens performing on stage on Night 2 at The Chapel (click any image for higher resolution version of each photo):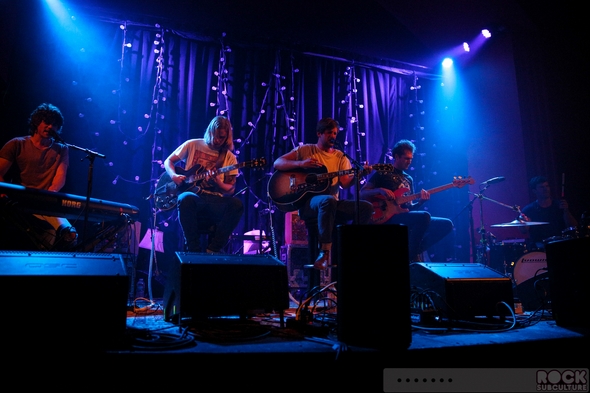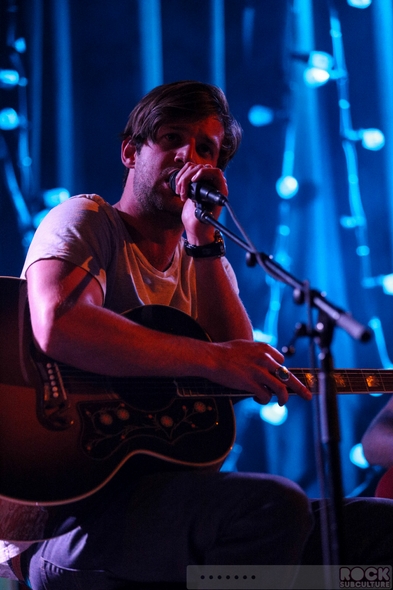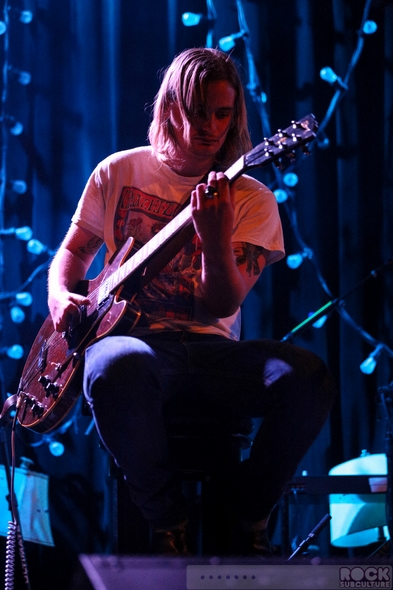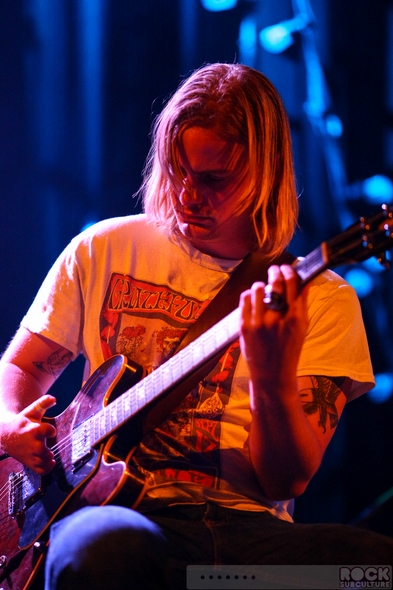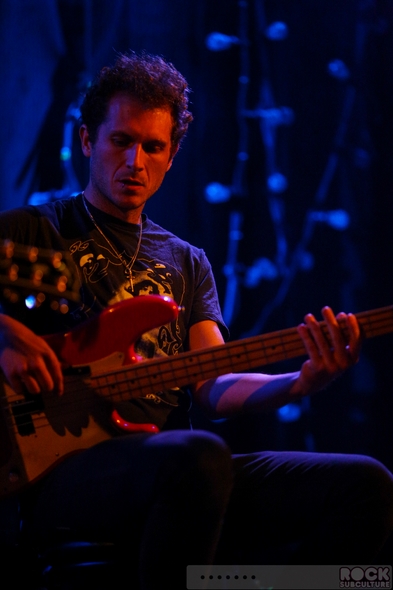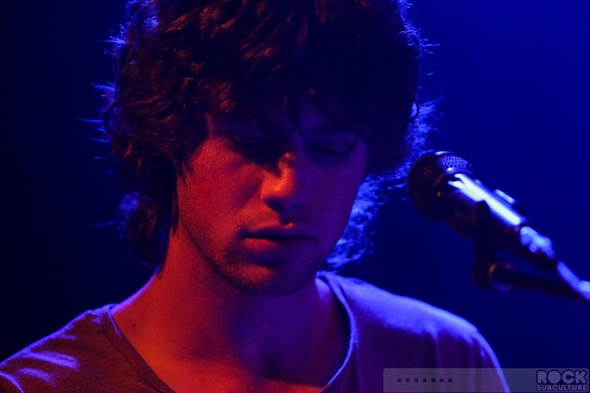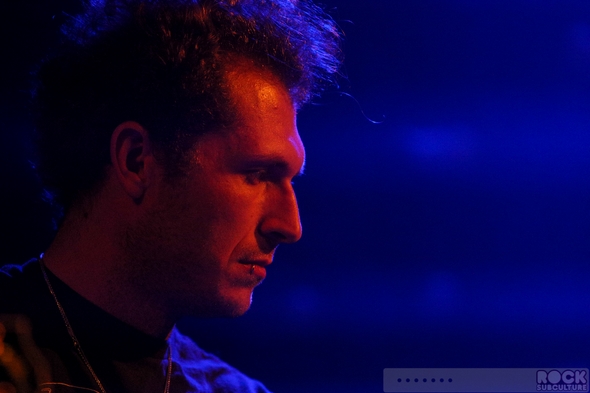 GROUPLOVE
Members
Christian Zucconi (vocals, guitar)
Hannah Hooper (vocals, keyboards)
Andrew Wessen (vocals, guitar)
Sean Gadd (vocals, bass)
Ryan Rabin (drums)
I have covered GROUPLOVE concerts in the past, one at The Boulevard Pool at The Cosmopolitan in Las Vegas as well as their appearance as part of Not So Silent Night at Oracle Arena in Oakland late last year.
As mentioned in the past, GROUPLOVE is one of those bands that, I think, will take a bit of hindsight to figure out… maybe a decade from now, in that their talent, earnestness, and originality seems boundless.  They are definitely doing their own thing, and in these somewhat darker times with people facing a lot of struggles and challenges, their unique and incredibly upbeat music is truly a breath of fresh, sweet air.
Though only formed a couple of years ago, this band is going places, and it is definitely a journey on which their growing fans are happy to accompany them.  With their release of Spreading Rumors hitting the streets tomorrow, there is a good chance that they will continue to spread their music to new fans the world over.
GROUPLOVE definitely have an interesting story about how they came together.  Hannah and Christian met in New York, and Ryan and Andrew were friends in Los Angeles.  They all met each other and Sean (from London) during a retreat in Crete.  They became friends, and a year later pooled some money together to record at Ryan's studio in Los Angeles.
Their first album, Never Trust a Happy Song, celebrated it's two year anniversary this past week (which followed their eponymous EP).  They found tremendous success with several songs on their debut, most notably "Colours", "Tongue Tied", and "Itchin' on a Photograph".
The most striking thing for me is that GROUPLOVE is one of those rare bands that release a first album that is just a masterpiece.  The band definitely has an artistic understanding of what makes catchy, engaging, music – the kinds of songs with which, after the first listen, you want to hear them again and again.  Most bands are lucky to get one of these on an album, maybe two.  Never Trust a Happy Song is, front to back, song after song, just magnificent.  And while there is a consistent sound and style overall, it is not repetitive with what works.  The is such a diversity in the work…  this a a group of musicians with many ideas and they obviously want to work them out – not simply come up with one good song and throw together an album around it.  It is so great, it makes me anxious to see what they come up with in future albums, as I expect that they are the kind of band that will grow and evolve and have tremendous potential for growth in this industry.
Having heard them play some new songs live, as well as stream the special preview on NPR, their new work is just as amazing as their debut album.  Below are a few thoughts about and reactions to their new songs…
"Borderlines and Aliens" has a great riff and a bit of an electronic vibe to it and fast, rocking sort of beat.  When I first heard this live at a past show, it actually had a Nirvana sort of vibe for me, kind of like a happier, speedier "All Apologies", while "Schoolboy" is kind of what I imagine the Pixies might sound like in a more pop-infused alternate reality.
"Ways To Go" is definitely my favorite track on the new album – one of those ones that I can listen to over and over.  I really love the way Christian takes you on a sort of uncertain journey with his careening vocal delivery, and this is one of those GROUPLOVE songs with the perfect balance of his raw sound and Hannah's more traditional chorus, and the keyboards on this one really perfect the way in which this one was crafted.  Love it.  Definitely one of my favorites of theirs – an instant classic.
"Shark Attack" is more acoustic-driven and funny/irreverent.  Another song to add to their quiver of songs that bring the party.  "Sit Still" is along those same lines – more pop than rocking.  "Hippy Hill" is more about the slow, steady beat and Christian's vocals driving the way.
"What I Know" is a more rocking track for the band, with a more rock and roll guitar riff and faster beat.  "Didn't Have To Go" starts slower, more atmospheric…  one of those "soundtrack for your life" kind of songs, whic features Hannah on lead vocals, and is a very different song from anything that they've done before.  It goes through more changes, and kicks up into high gear just a bit into it, slowing and speeding.  For me, it is a much more sophisticated song for them structurally, and is another highlight on this great album.
"Biting' The Bullet" is the one song on the album I don't really care for as much as a stand alone song, but at a bridging song in the context of listening to an album front to back, it totally works (but maybe I'm one of the only people who still listens to albums properly).
"News To Me" has some great guitars and a richer instrumental sound, and shows off more range for the band – makes me even more curious to see and hear how they develop as artists over the years.  It shows that they are willing to go down different paths to see where it takes them.
"Raspberry" sounds very, very Pixies-like to me, in vocals, guitar, structure, and sound (a bit of the vibe from "The Happening" and "I've Been Waiting For You" (Bossanova era).  The Pixies (who I saw in L.A. last week) are one of my three all-time favorite bands, so I love it – this one of my favorite songs on Spreading Rumors.
Their infectious and fun their music seems designed to be played live.  GROUPLOVE has been touring pretty consistently in the past year, and I think all that hard work on the road has made them not only a better live act, but also is reflected in the new songs on Spreading Rumors.
Spreading Rumors closes out with "Save The Party For Me", another song with Christian and Hannah sharing on vocals, but in a sweet kind of balanced way, and another song that is really a departure from their past work, but in a good way.  Being last on the album, it kind of symbolically opens another door into their future of making music together.
Overall, Spreading Rumors will undoubtedly by on my Top Ten list for albums at the end of 2013.  Great work.
The band is to be applauded for so obviously just being themselves, rather than coming up with a look and presentation that is consistent with what others are doing in music today.  They really just come across as infinitely genuine, in appearance and sound, and it is very refreshing.  In this slick and post modern world (which I enjoy as well, don't get me wrong), GROUPLOVE is truly alternative to their peers.  Each member of the band brings a lot to the equation, and somehow it all just comes together and works.
So Night 1 at The Independent was their more traditional sort of set, with all their instruments filling the small stage, not leaving as much room for the band themselves that is warranted, given how they tend to bounce around throughout.
Other than how they were designed to be different (one night rock/heavy, one night acoustic/light), the real difference between the two was the age minimum at The Independent (21+) and the lack of an age minimum at The Chapel.
The Independent show was designed to be all general admission, all standing, and the crowd was great but more on the mellow site, and definitely included a good proportion of (relatively) older fans.
Their set ran about an hour and a half, but didn't finish until about midnight.  Unique to The Independent show were two special moments.  Toward the end of the set, GROUPLOVE fan Bryan Kim had an opportunity to take to the stage and propose to his girlfriend, Cindy Lee Ang (who accepted!).  Definitely a cool moment, and seemed very appropriate for this band, who seem so happy, genuine, and accessible.
Afterwards, GROUPLOVE brought Van Pierszalowski from Port O'Brien and Waters, Chris Chu and Julian Harmon from The Morning Benders and POP ETC on stage to sing Port O'Brien's "I Woke Up Today" with them on stage.
GROUPLOVE put on an incredible show at The Independent, and below is a photo of the setlist from the show…
Set List – GROUPLOVE at The Independent on 9/14/2013:
I'm With You
Borderlines and Aliens
Lovely Cup
Itchin' on a Photograph
School Boy
What I Know
Tongue Tied
Spun
Naked Kids
Raspberry
Ways To Go
Bitin' the Bullet
Hippy Hill
Slow
Encore
I Woke Up Today (Port O'Brien cover)
Shark Attack
Colours
I'd never been to The Chapel, so didn't quite know what to expect, except I knew that it was even smaller than The Independent.
My friend Nori showed up early to line up both days for these shows, and while he got to The Independent very early on Saturday, he showed up even earlier at The Chapel on Sunday, knowing that since the crowd would skew younger, there was likely to be more people lining up early.
While he was first in line on Saturday, even showing up around 1:00 (for an 8:00 doors show) on Sunday put him third in line, as two young women arrived at 9:00 am.
One of many great things about GROUPLOVE is that they are very friendly with and appreciative of their fans, and took time to take photos and sign autographs with those who lined up so early for these shows.
A telling conversation I had with one of those young fans at the front of the line, that I think kind of paints a picture of the two audiences showing up each night… she was 16 and was thus too young to gain admittance to the show at The Independent on Saturday night, but said that her parents went to that show.  The crowd for the show Sunday night at The Chapel skewed much, much younger.
Interestingly (and to the surprise of everyone I spoke with), once inside The Chapel, we found rows of wooden chairs lined up in the front half of the floor, in front of the small stage.  Of course, everyone's instincts were to stand in the space in-between the stage and the first row of seats, but were told it was a seated-only show up front, so we all scrambled to grab a seat.  The open area behind these seats, we were told, was standing only.
I didn't really expect people to stay in their seats, but the venue staffers said that was how it was going to go… (famous last words!)
The crowd in the seated area actually did stay in their chairs throughout the entire opening set by The Rubens.
Once GROUPLOVE took to the stage, there was an energy in the air that the whole sitting in chairs for a GROUPLOVE concert was not going to fly, in spite of the "MTV Unplugged"-like staging and atmosphere.
The band opened with a quiet "I'm With You", with Christian on keyboards at the back of the stage…
The instant that they transitioned to "Itchin' On A Photograph", there was a mad dash for the stage, and any area in front of the front row.  GROUPLOVE seemed surprised by this, but that was the the first burst of fan generated fuel that seemed to make the band's acoustic set even more rocking than the "heavy" rock set at The Independent the night before.  Almost as if the intended audiences were flipped.  It actually made for an even more entertaining show, as it took on a life of its own, and really keenly reflected the fan-artist relationship that this band has created.
Though there were no wedding proposals on Night 2, Hannah did bring her sister on stage as part of a special birthday celebration.
Also kind of against type and kind of shocking for me is that, later in the show I moved to the back for a different perspective, and there were times in which not a single cell phone was held in the air… it was like I was transported back to a show in the late 80s or something.  Really unheard of today, but the audience was *that* into this show.  It was remarkable.
GROUPLOVE is really one of the best live acts to see today (of any music genre).
I feel fortunate to have been able to attend one of these special tw0-night "Seesaw Tour" shows – it was awesome – brilliant in both conception and execution.
GROUPLOVE put on a totally different by amazing show at The Chapel, and below is a photo of the setlist from the show…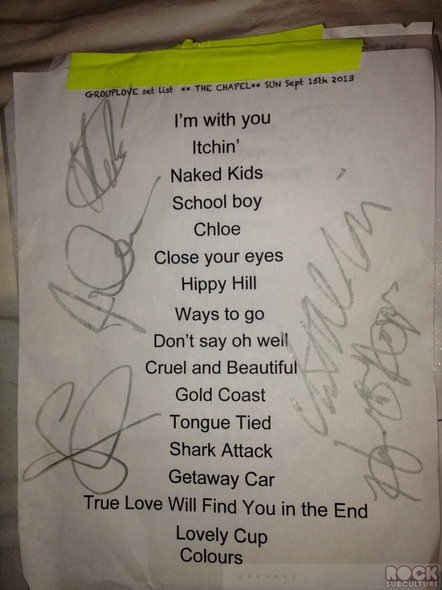 Set List – GROUPLOVE at The Chapel on 9/15/2013:
I'm With You
Itchin' on a Photograph
Naked Kids
School Boy
Chloe
Close Your Eyes
Hippy Hill
Ways To Go
Don't Say Oh Well
Cruel and Beautiful
Gold Coast
Tongue Tied
Shark Attack
Getaway Car
True Love Will Find You In The End
Lovely Cup
Colours
GROUPLOVE – Photos from Night 1 at The Independent
Below are some photos of GROUPLOVE performing on stage on Night 1 at The Independent (click any image for higher resolution version of each photo):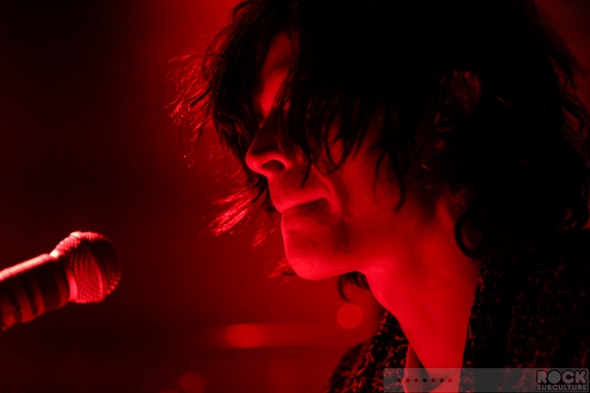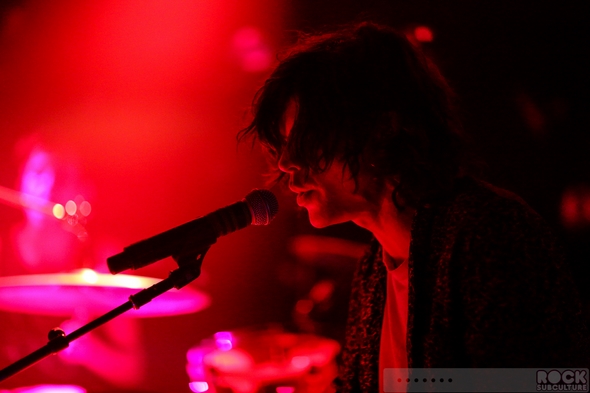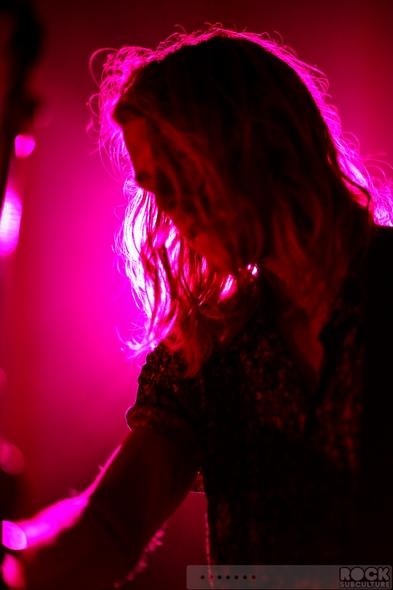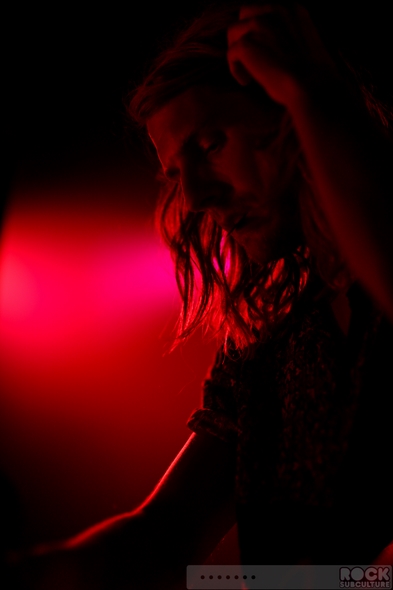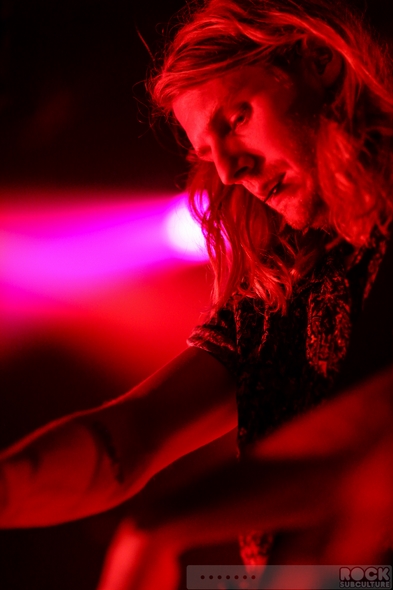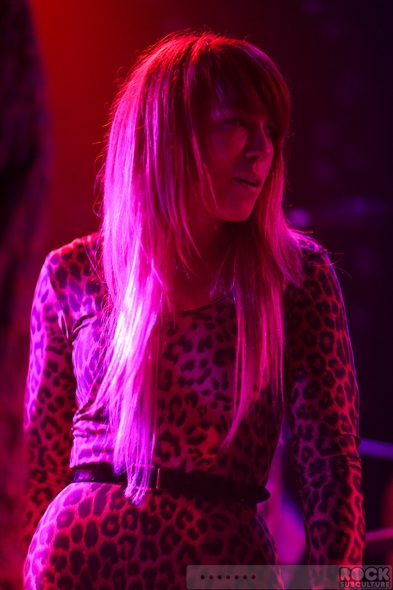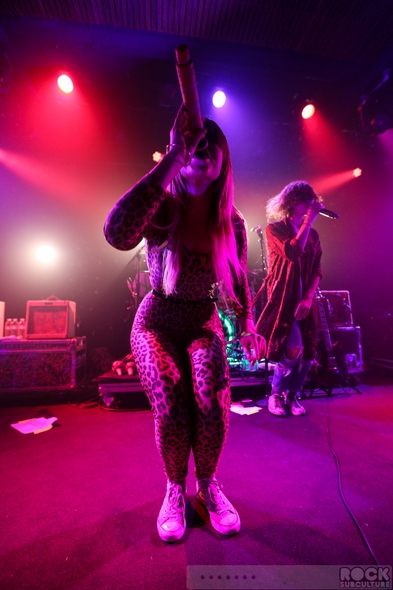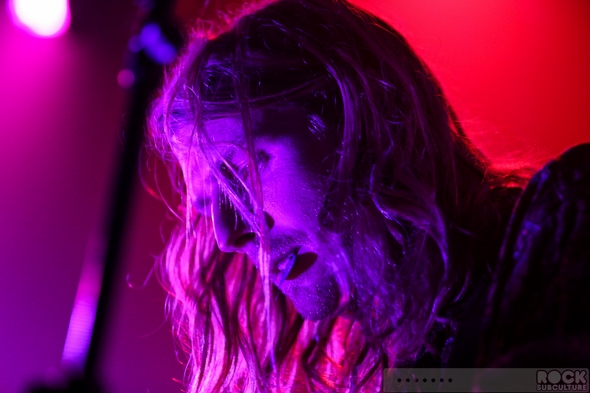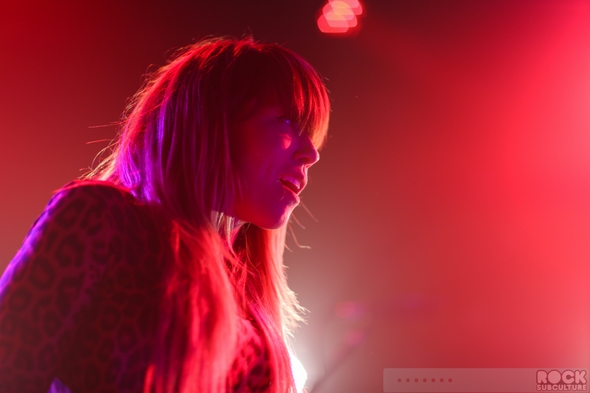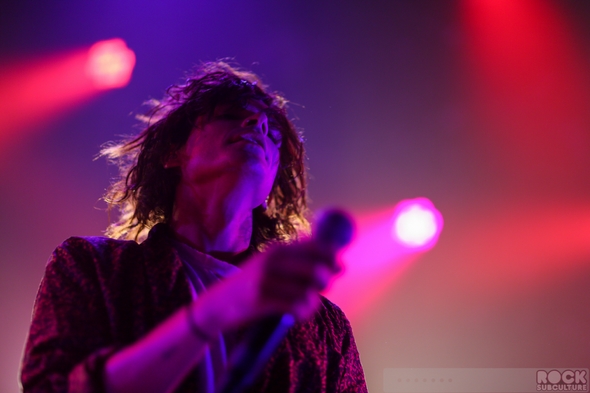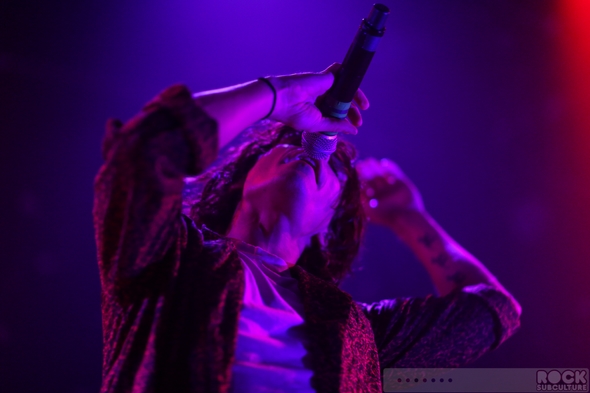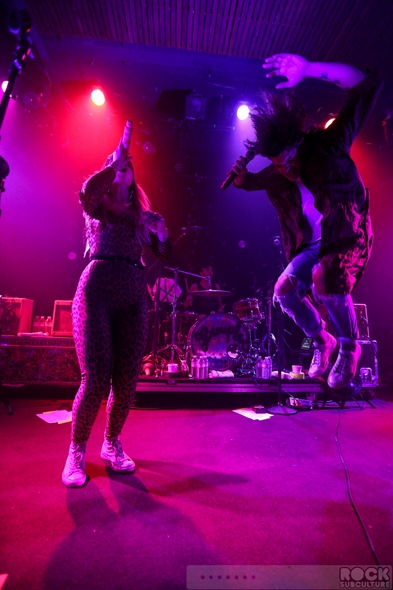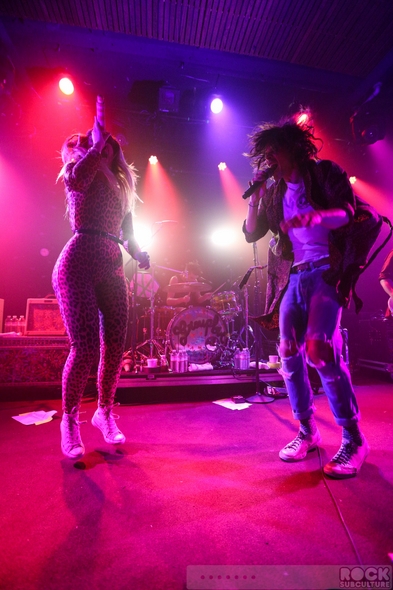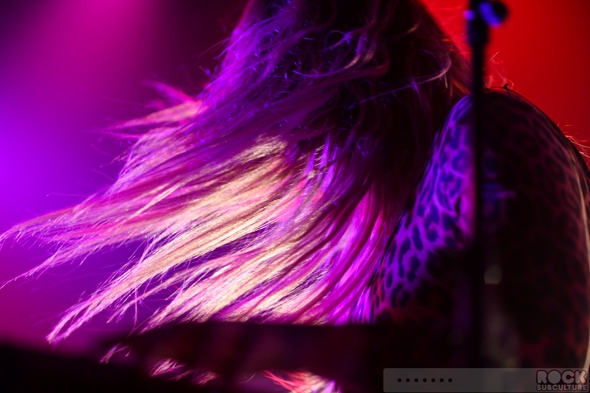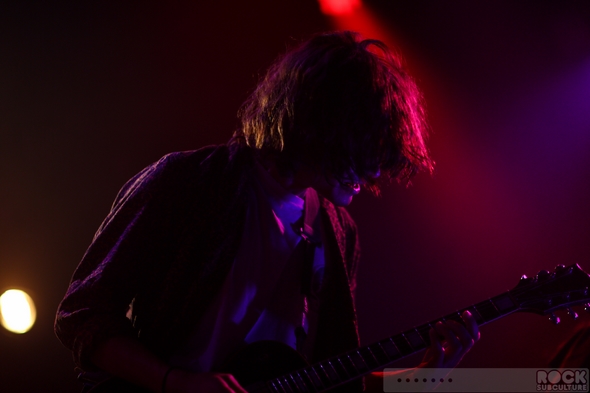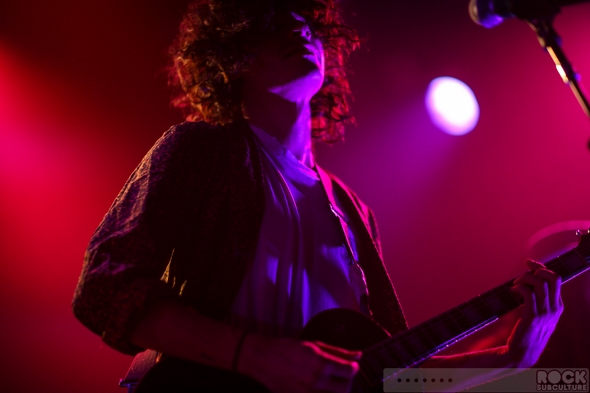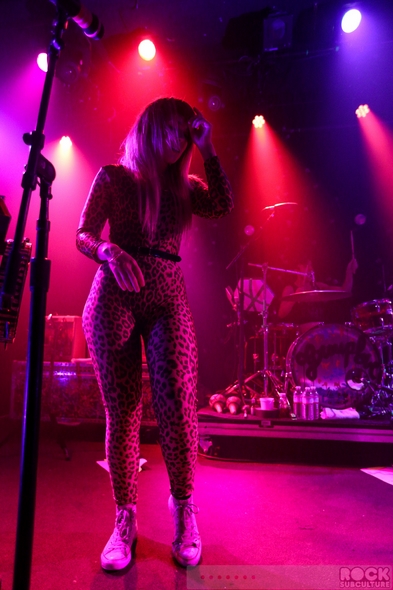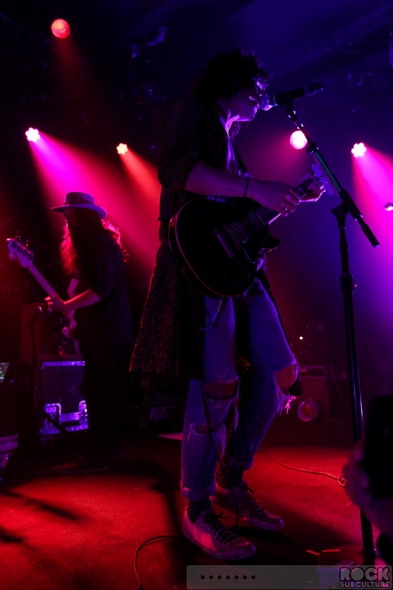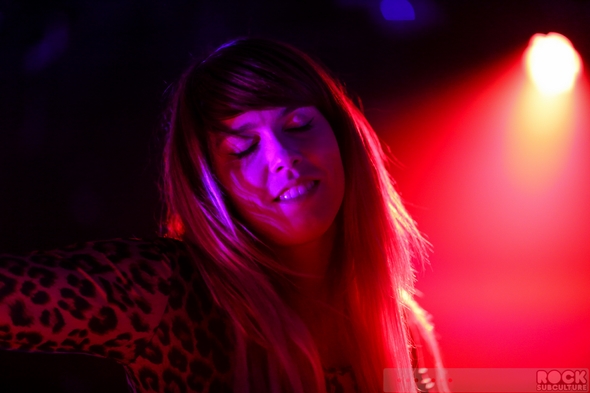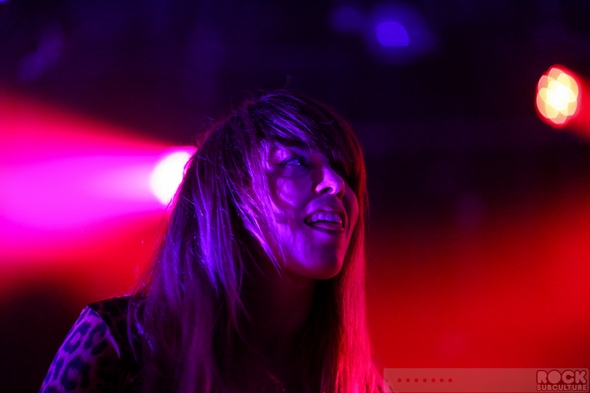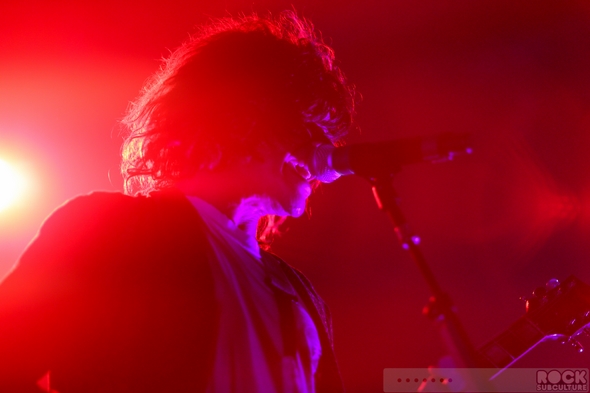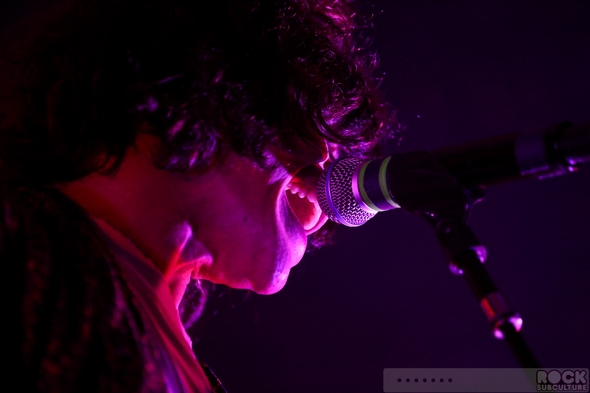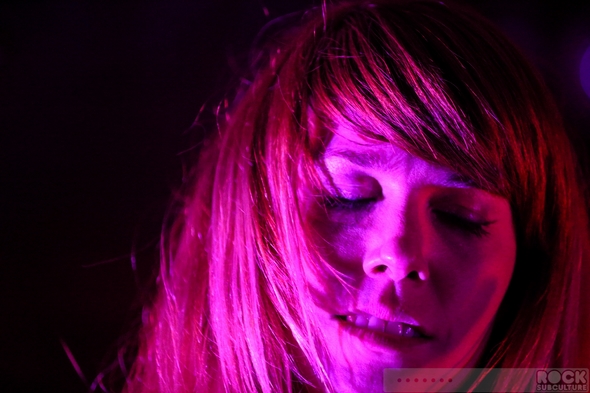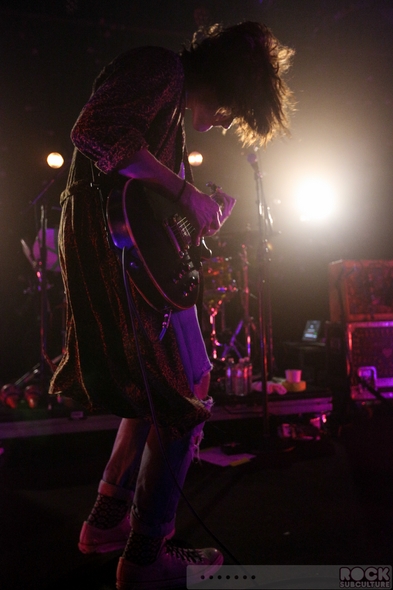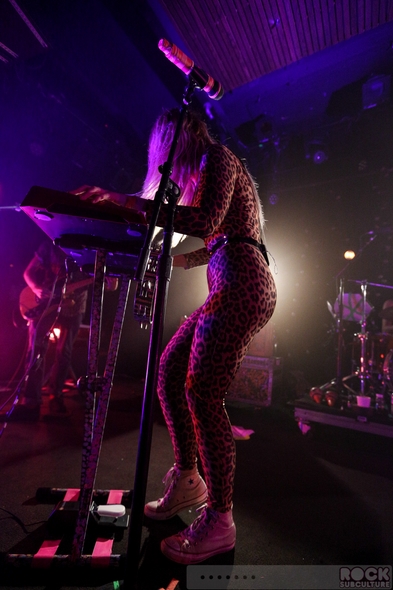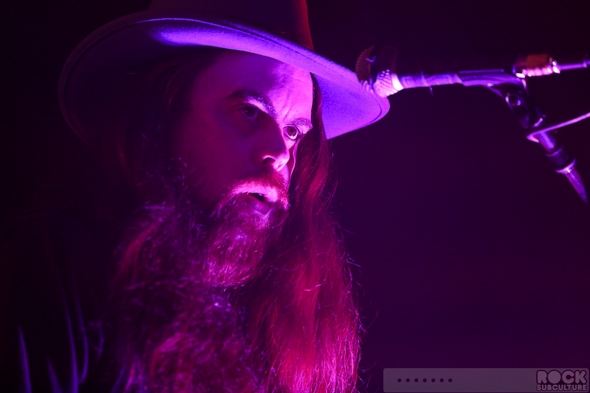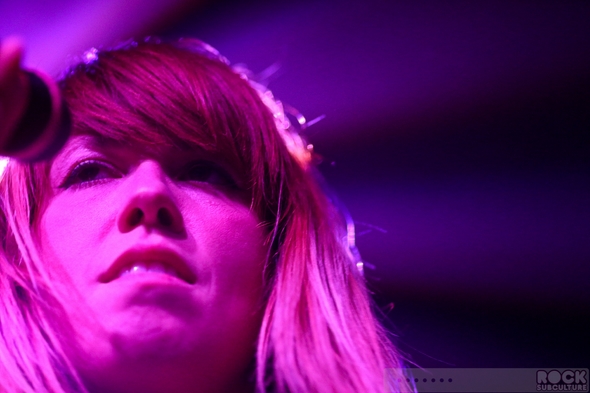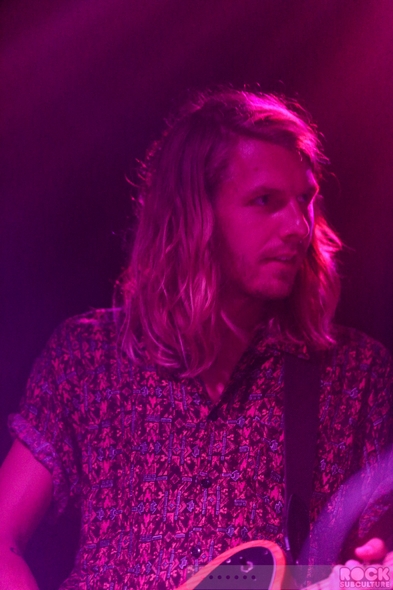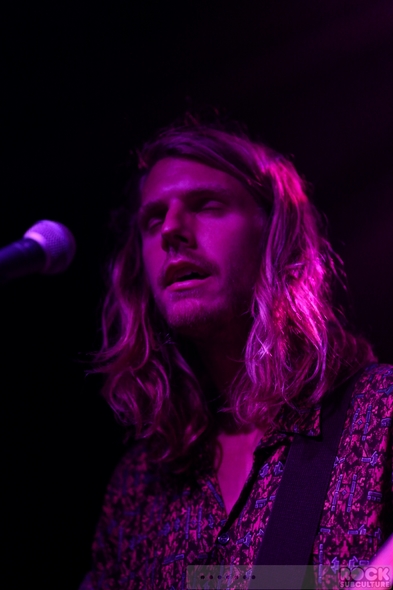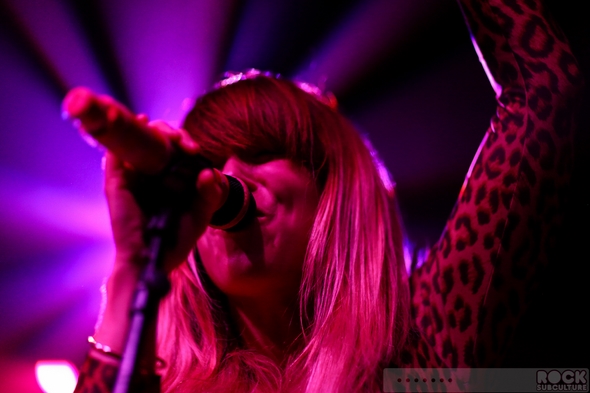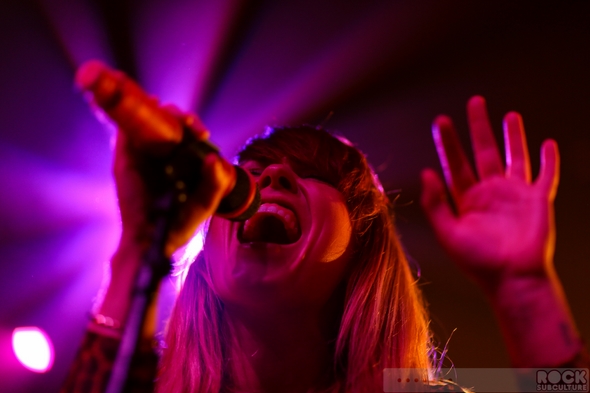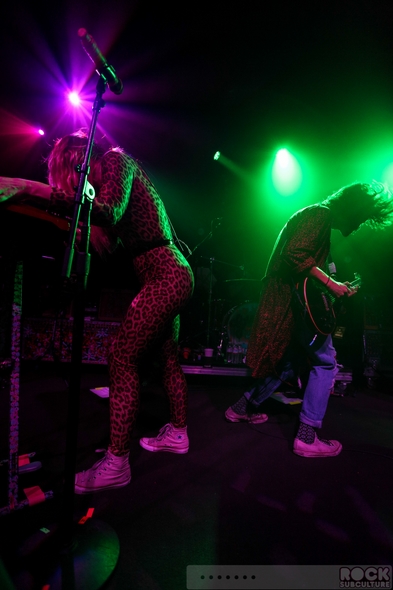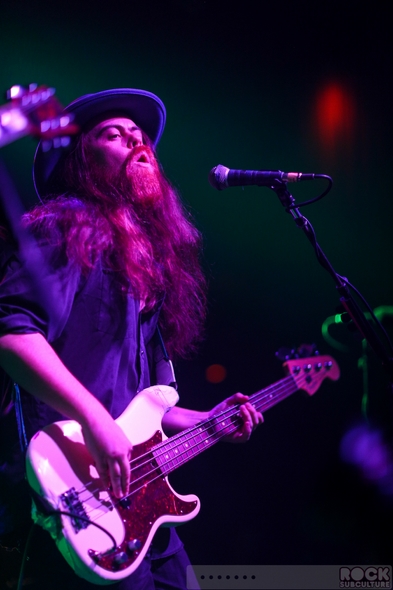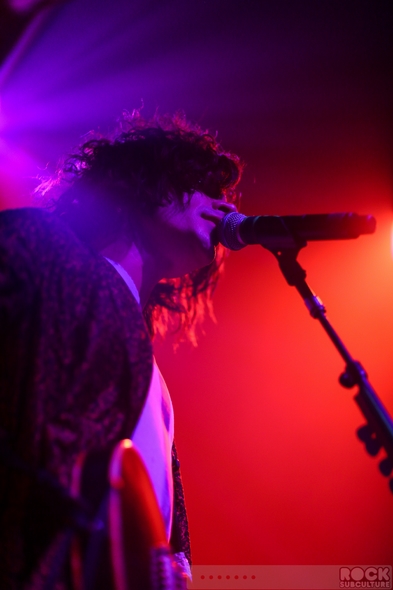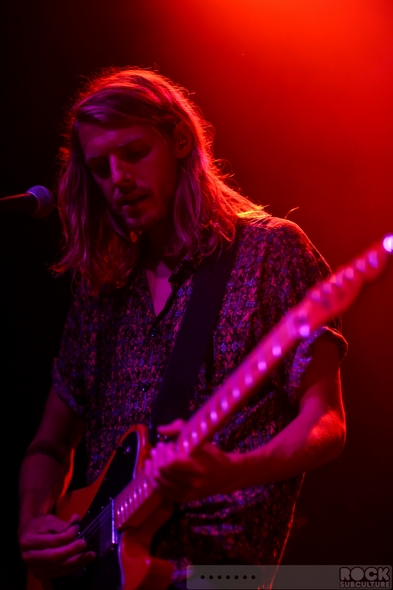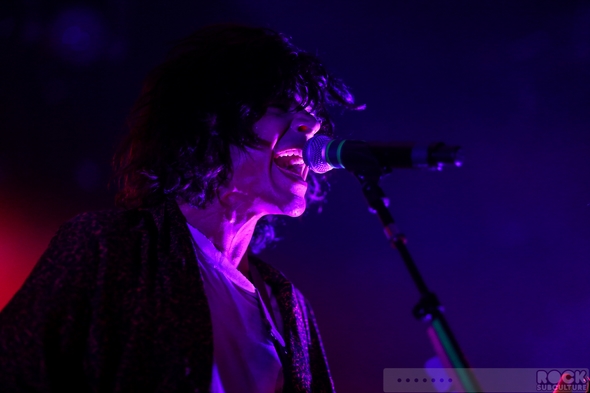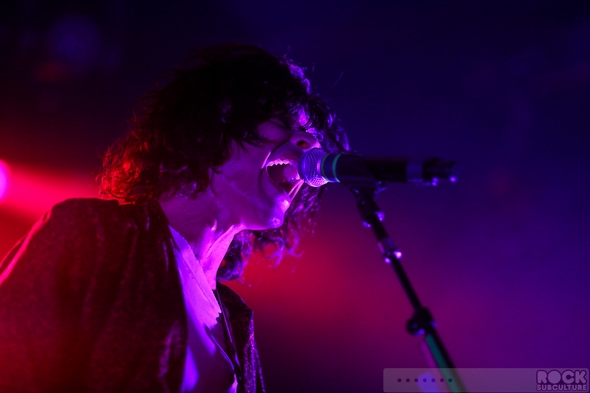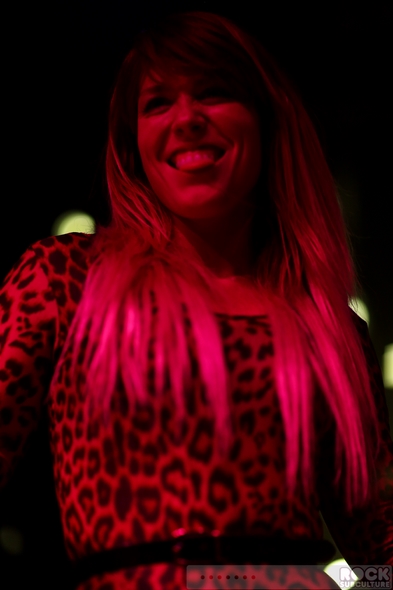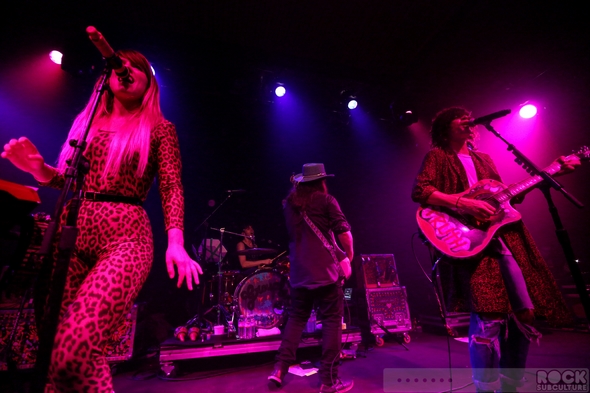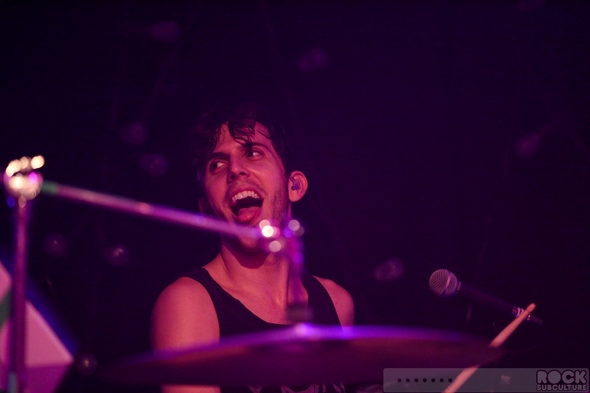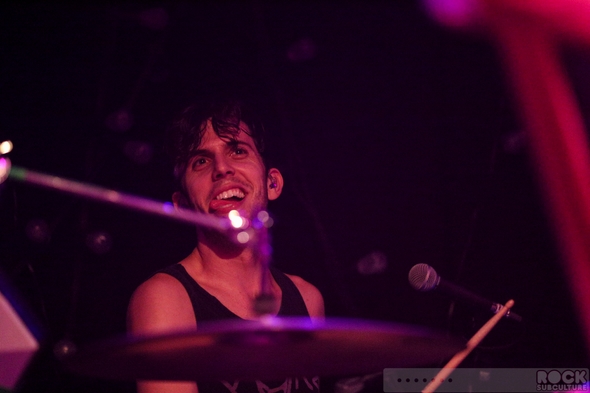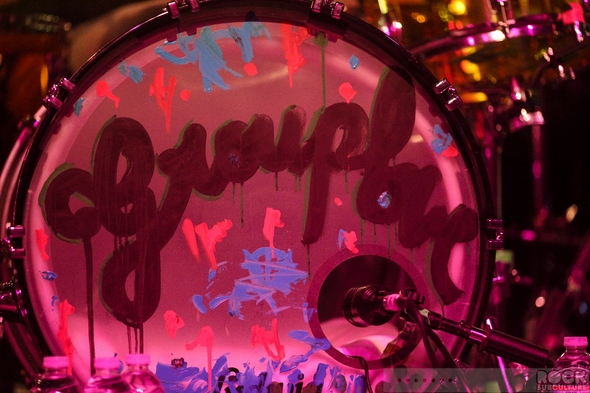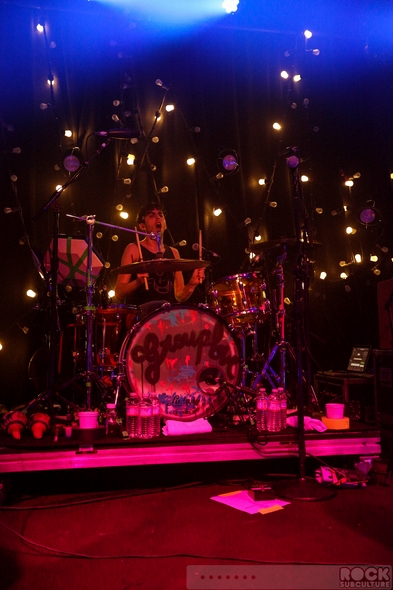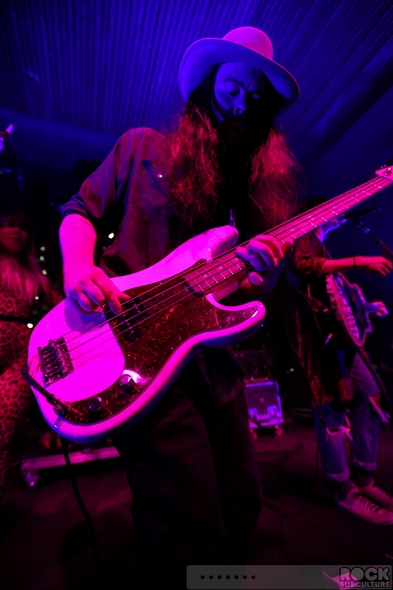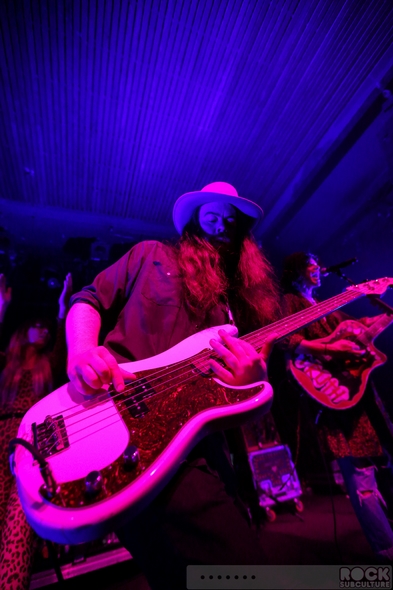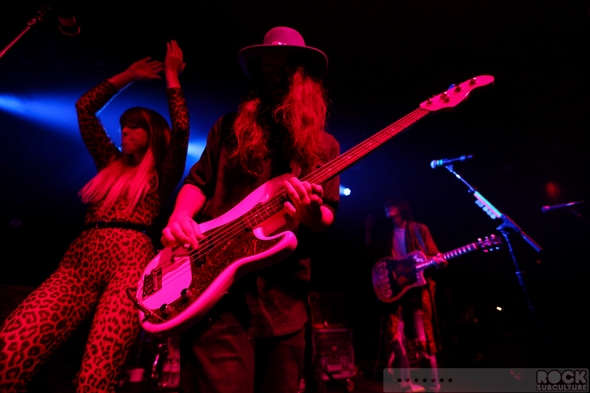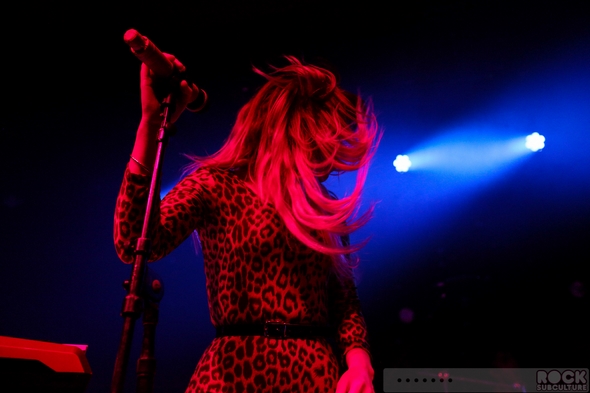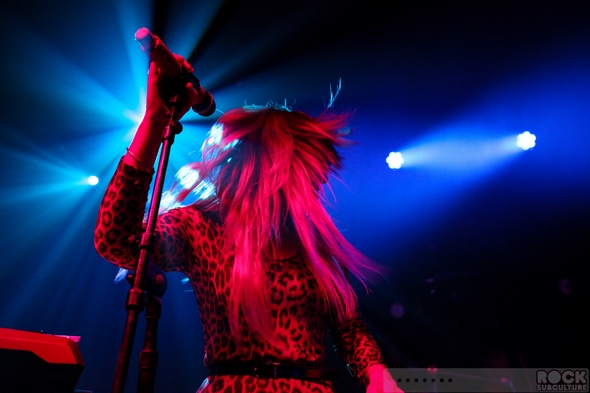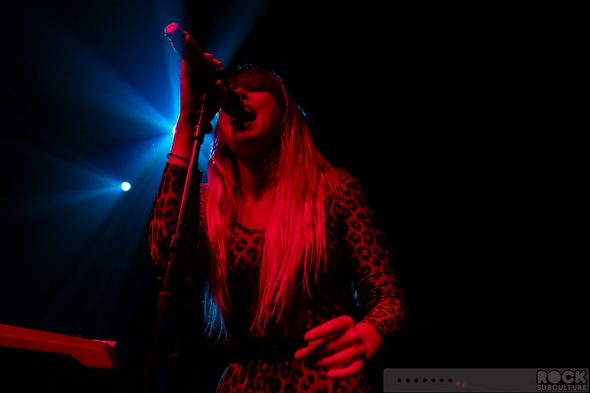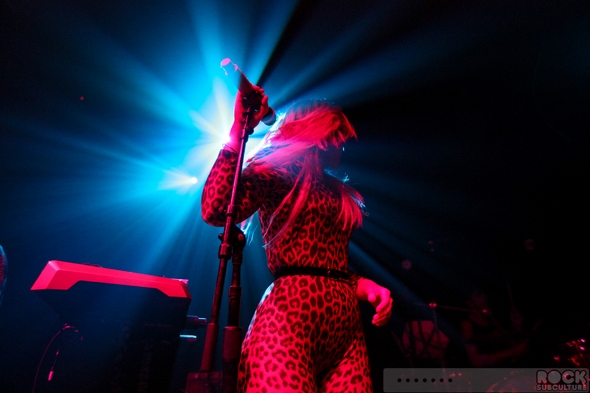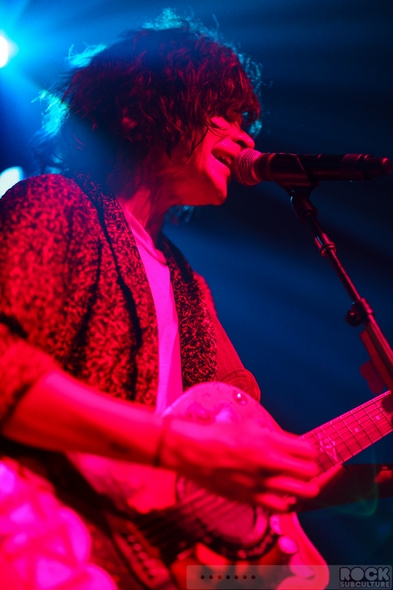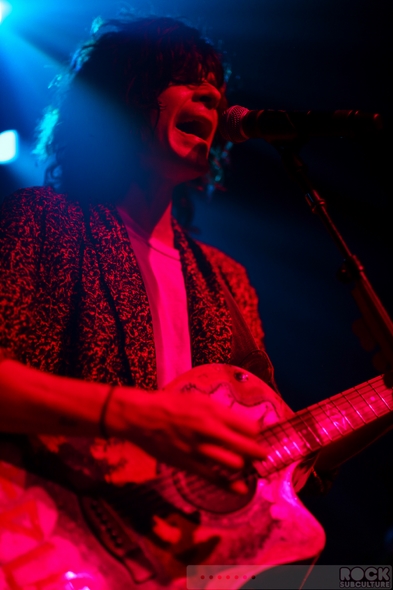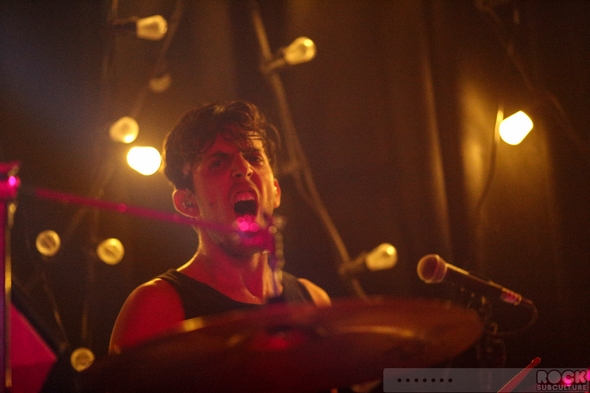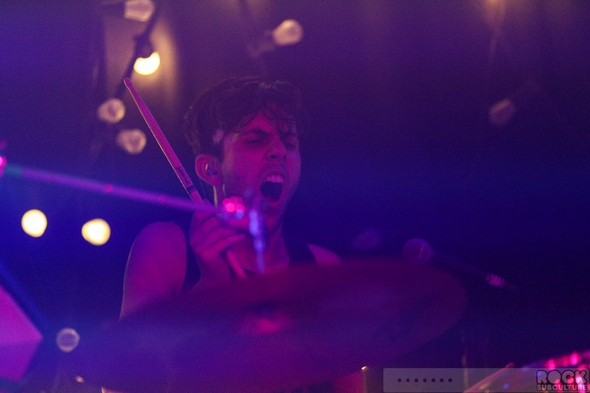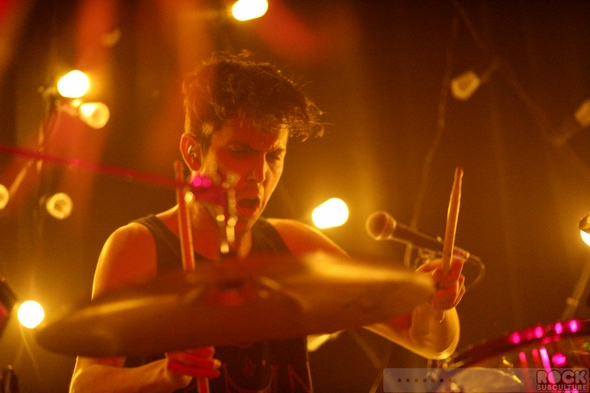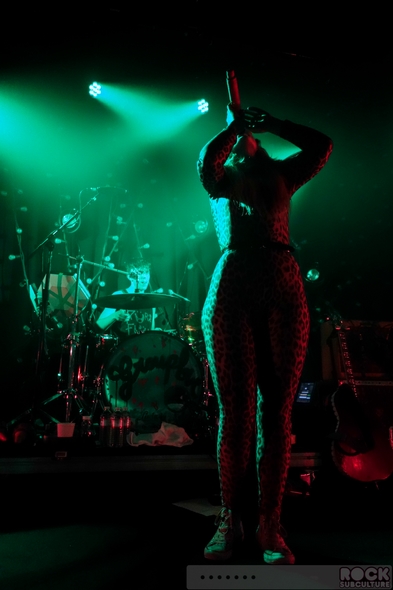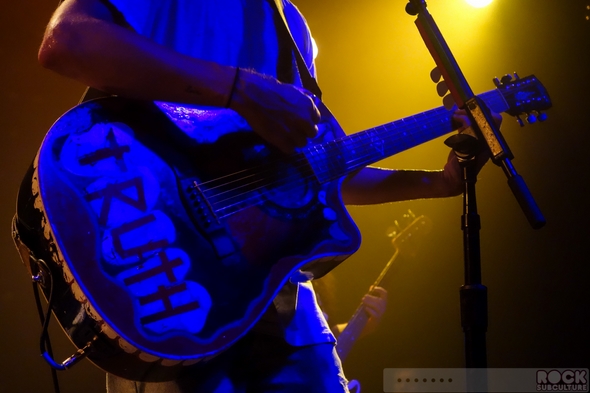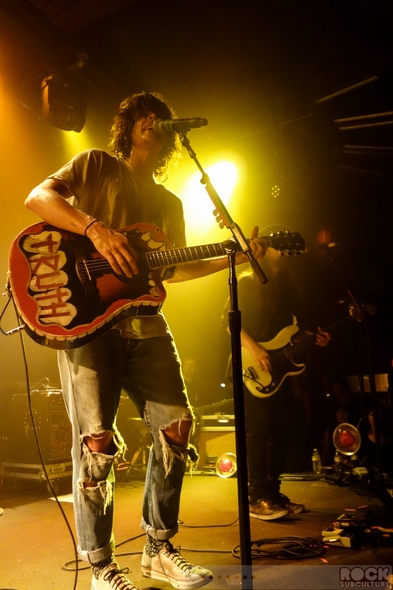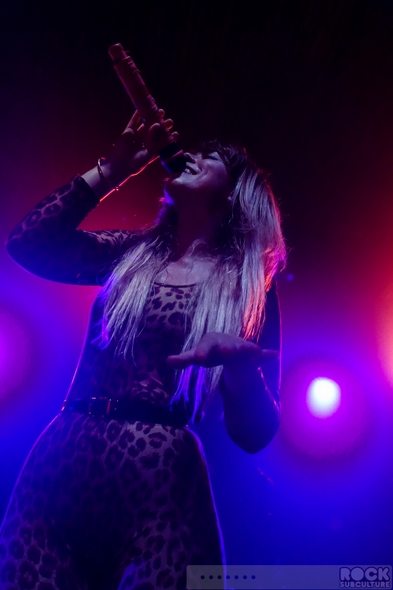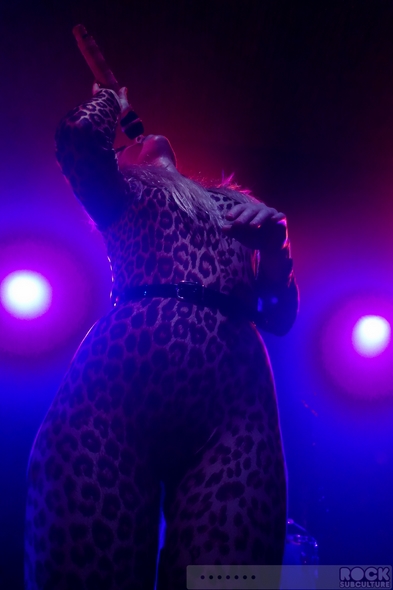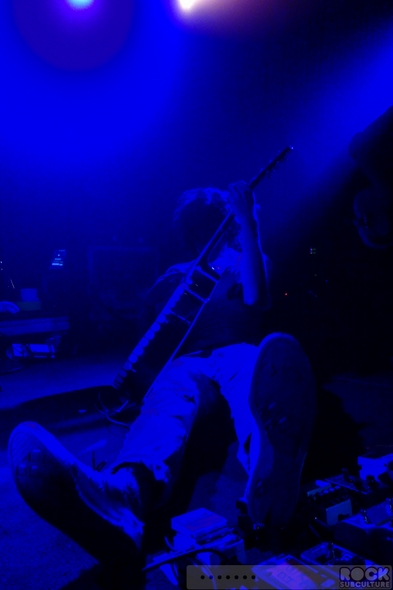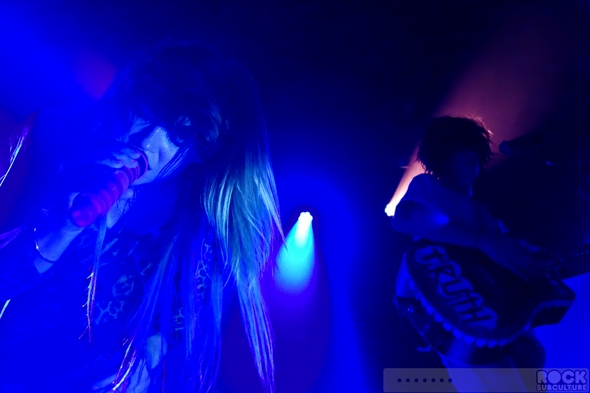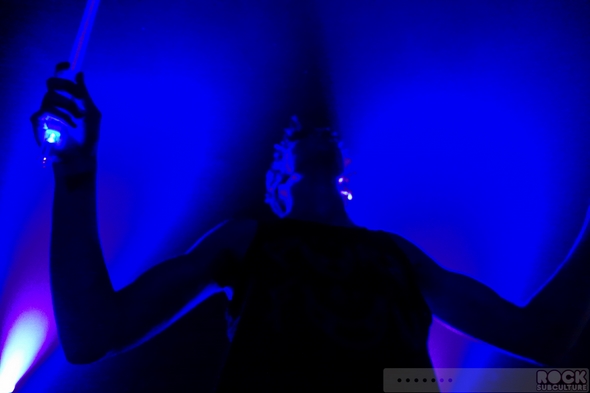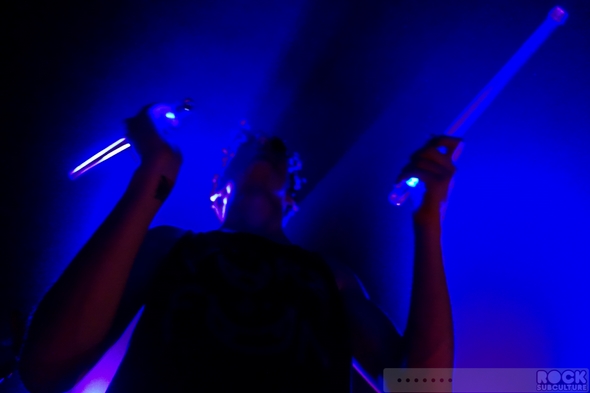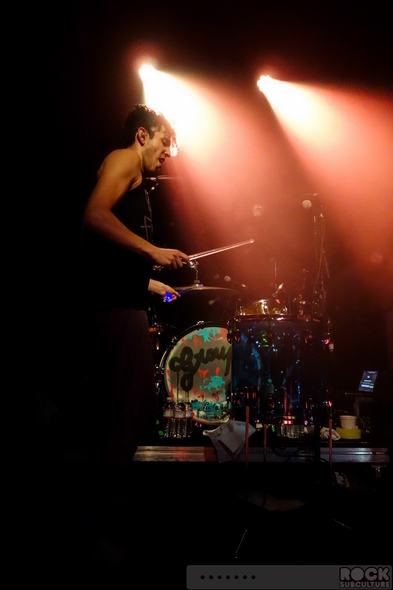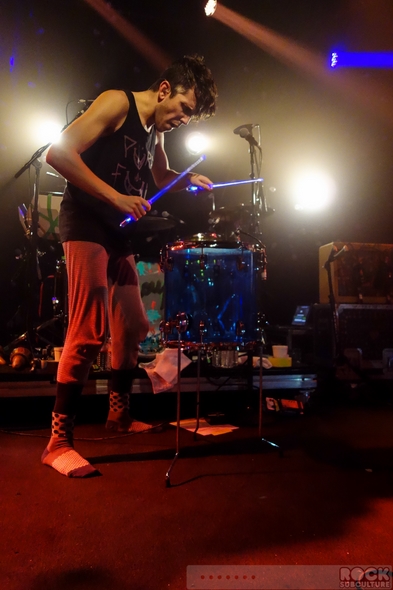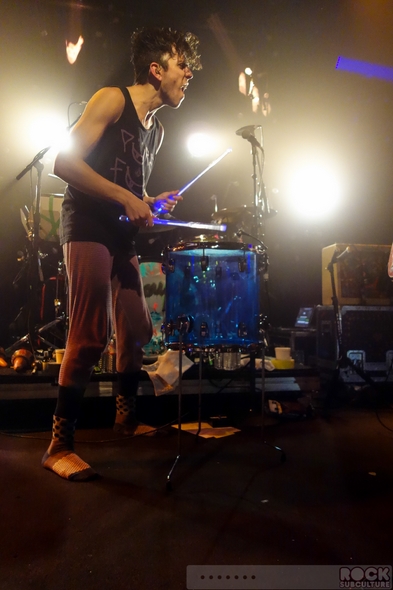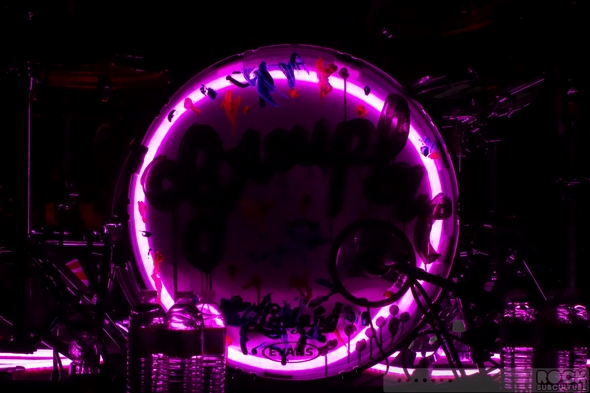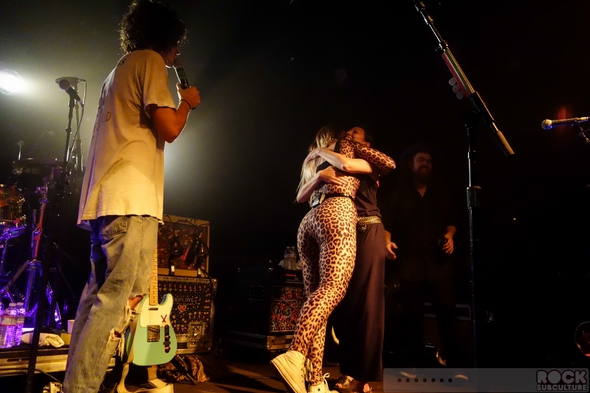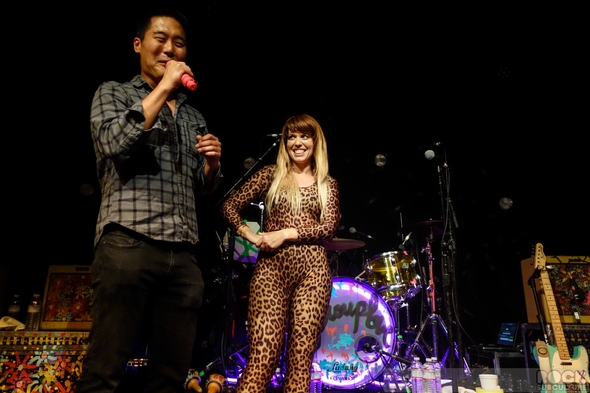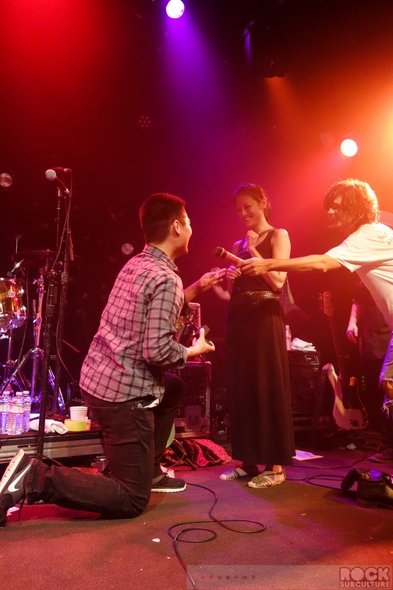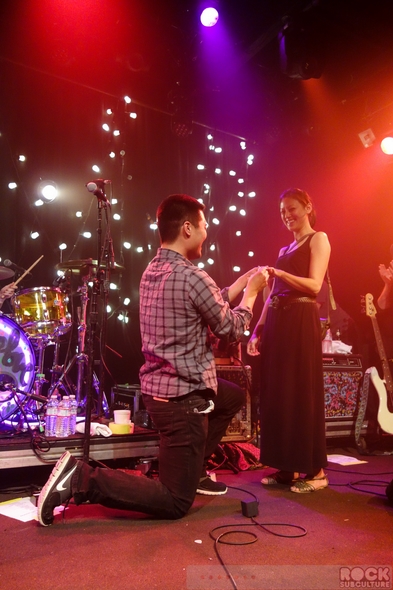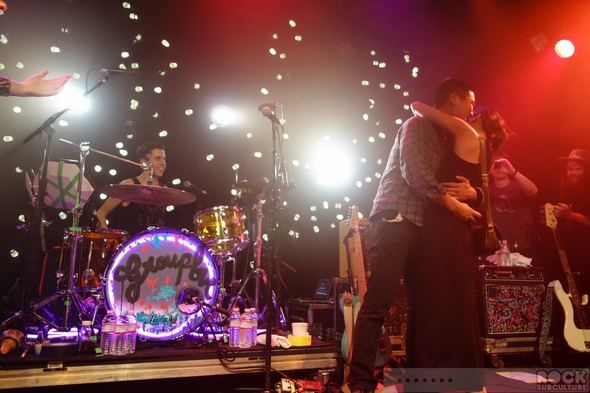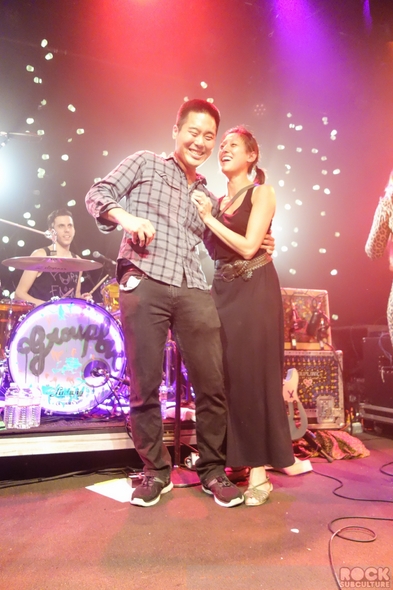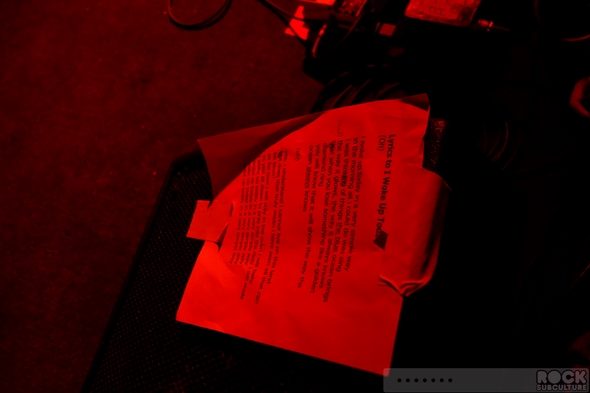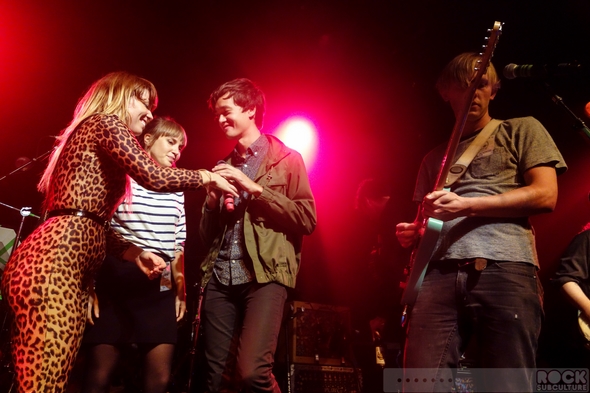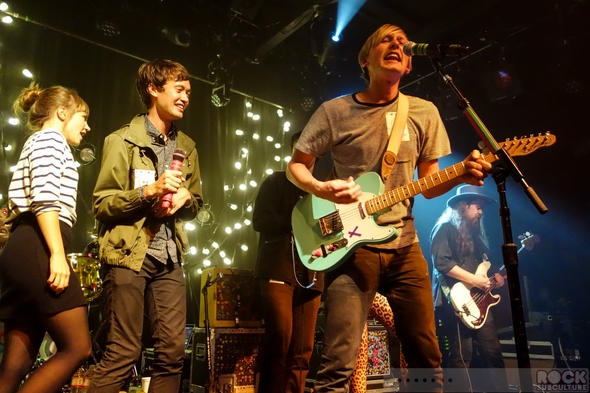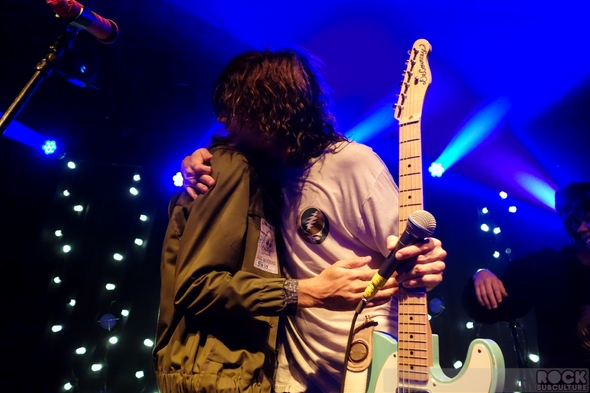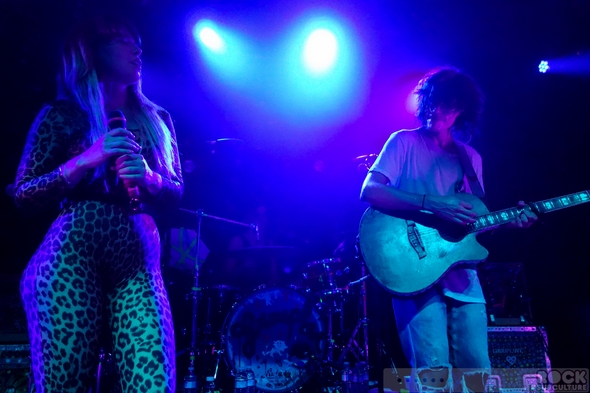 GROUPLOVE – Photos from Night 2 at The Chapel
Below are some photos of GROUPLOVE performing on stage on Night 2 at The Chapel (click any image for higher resolution version of each photo):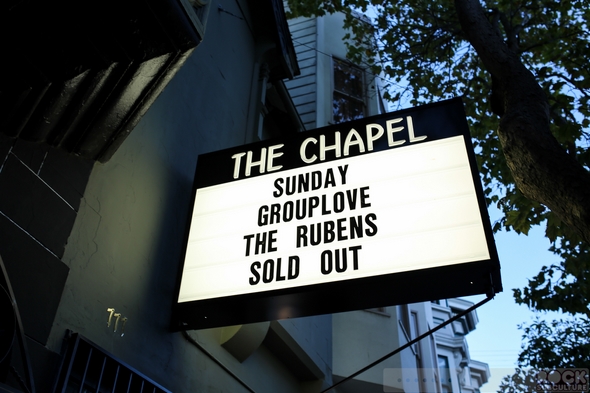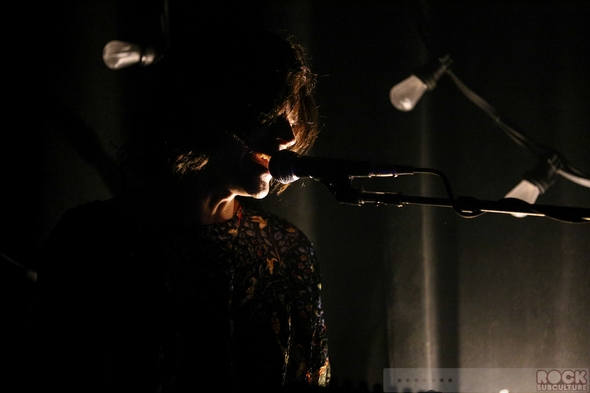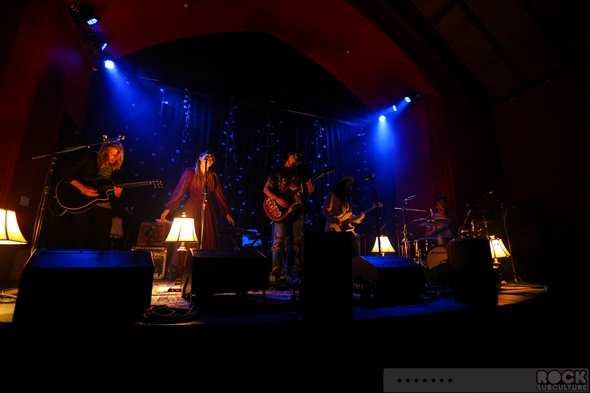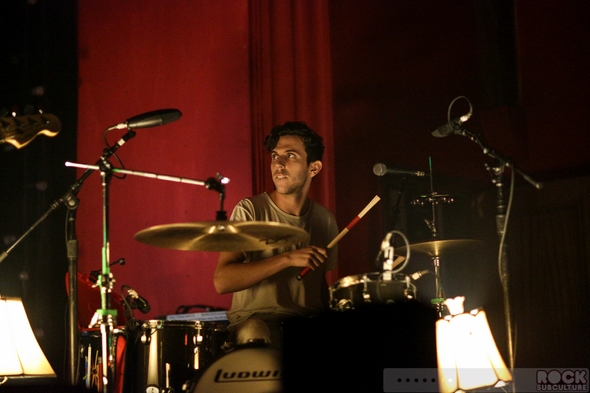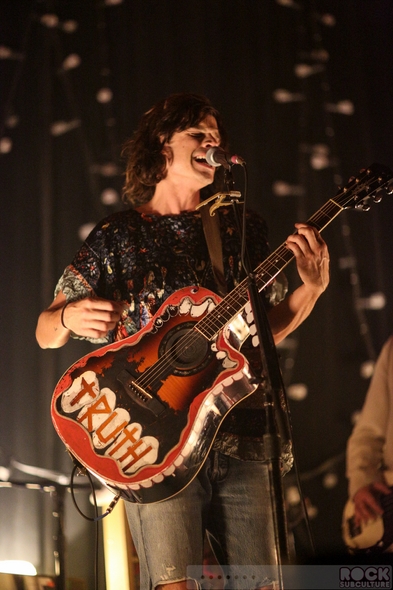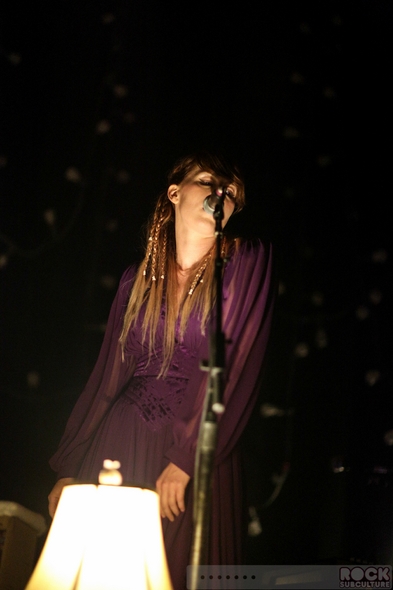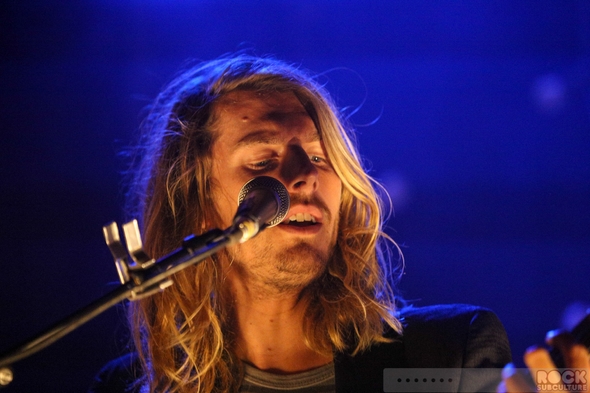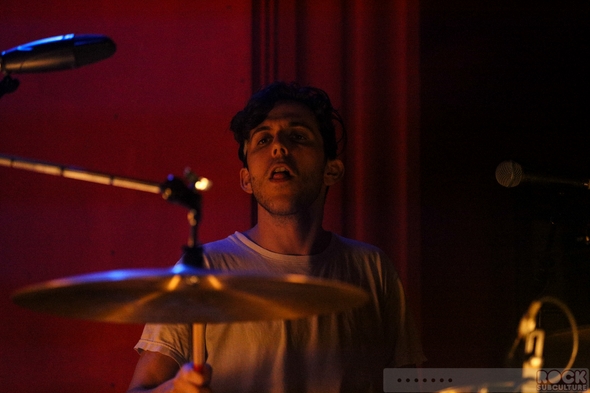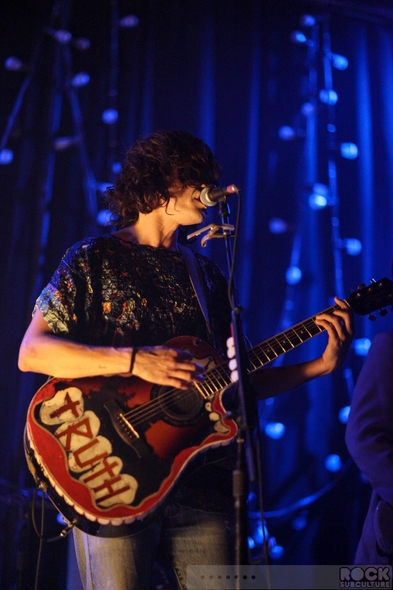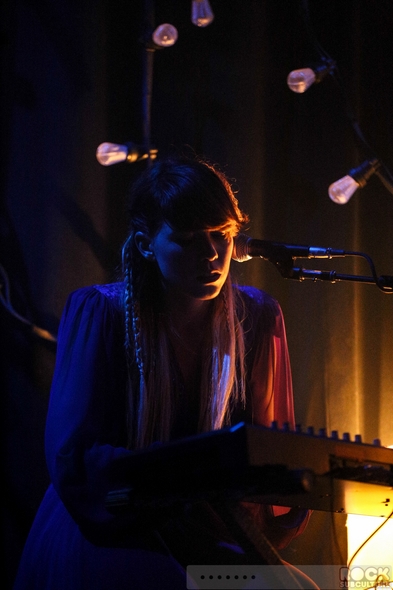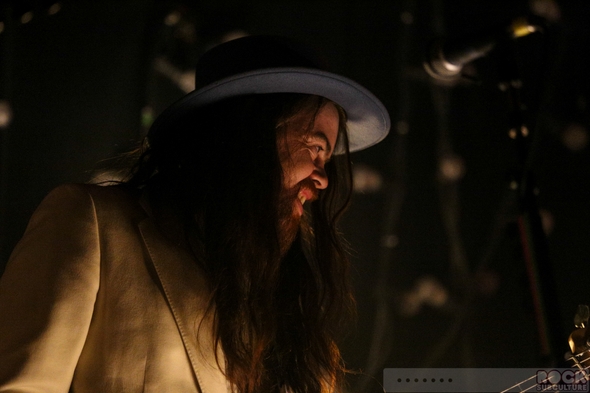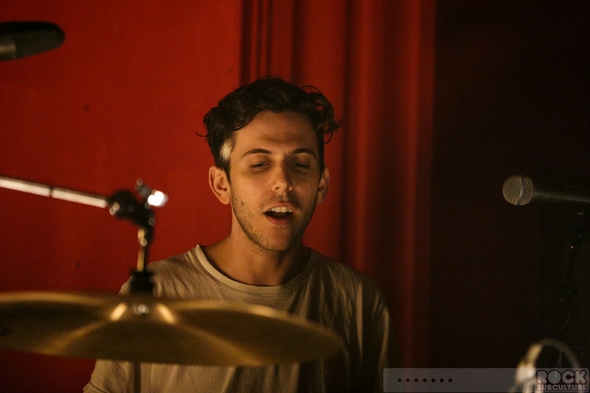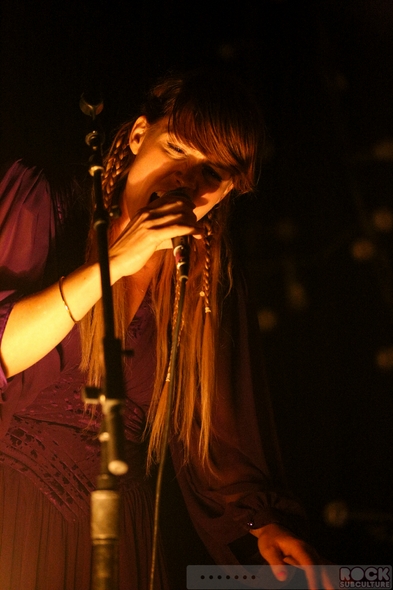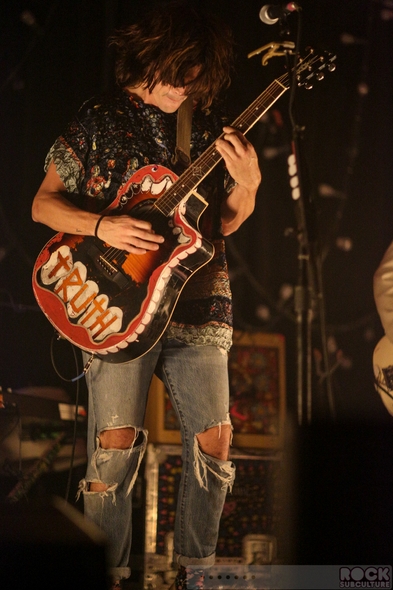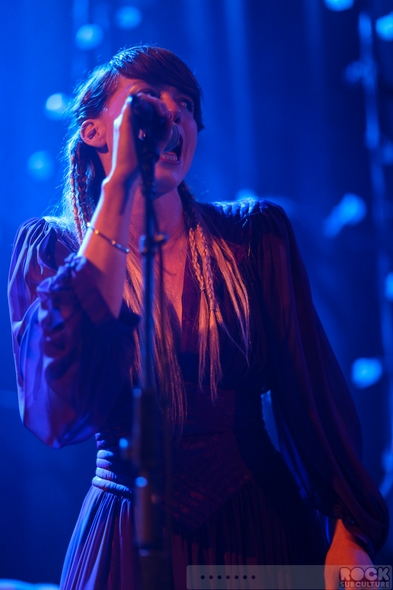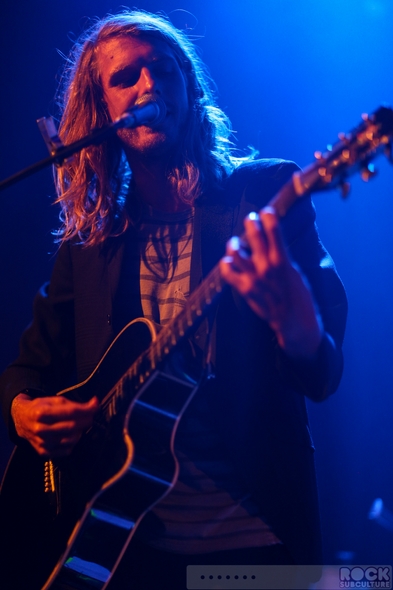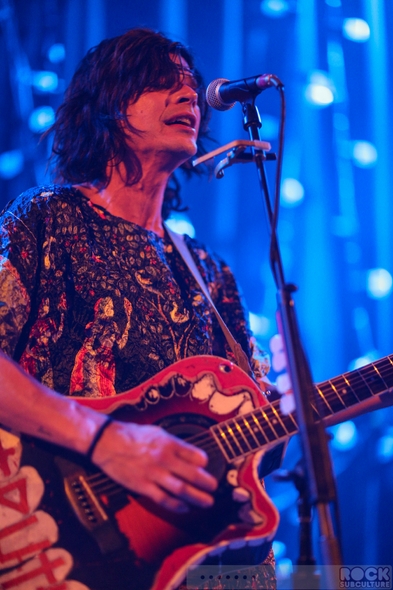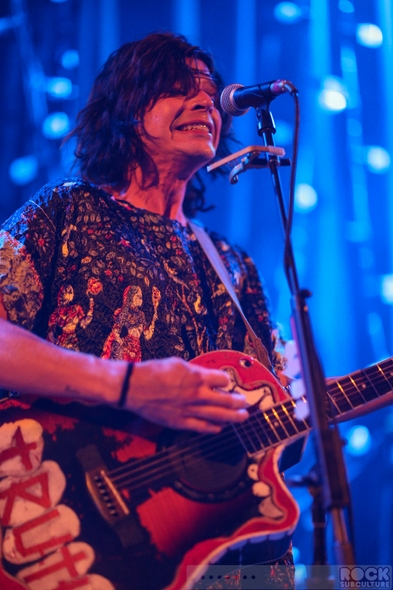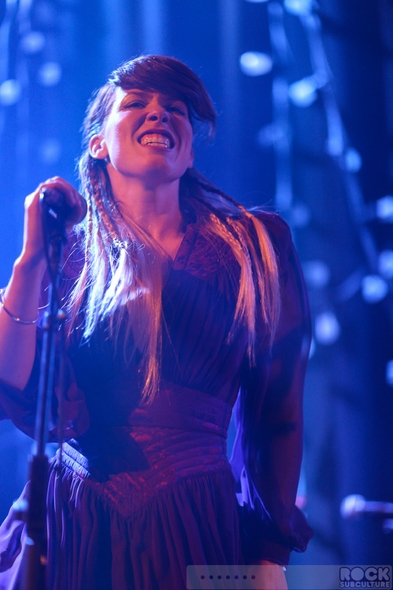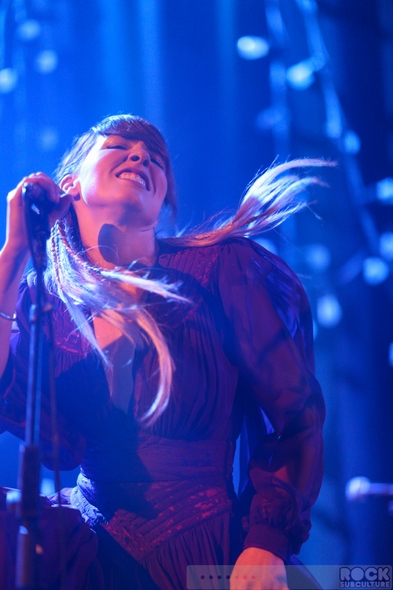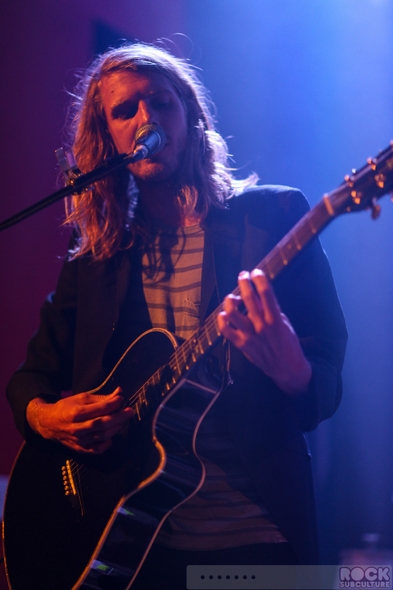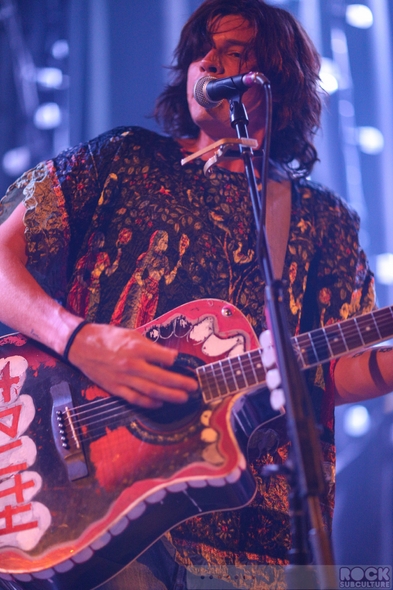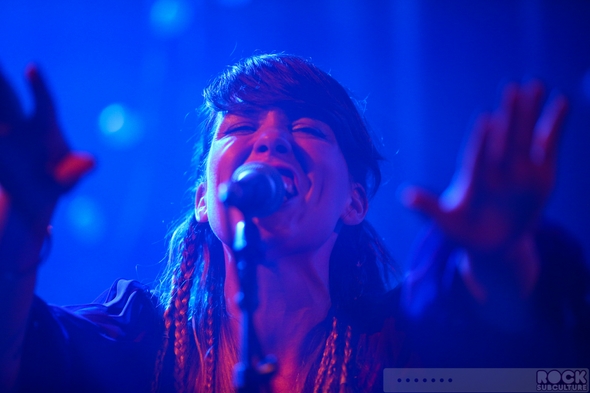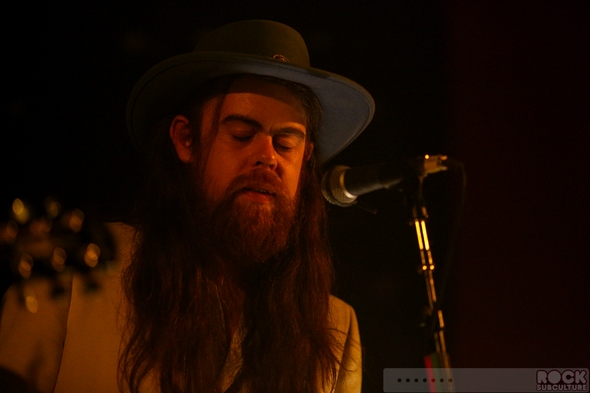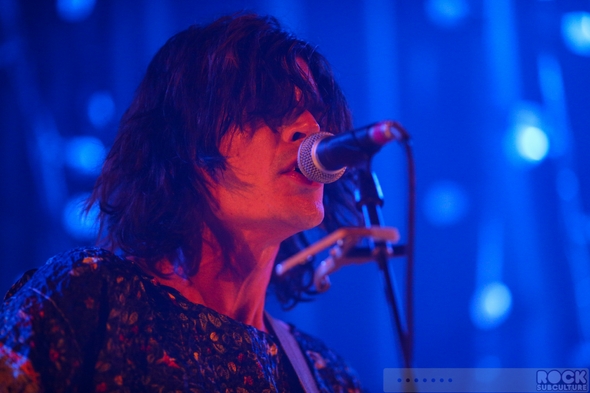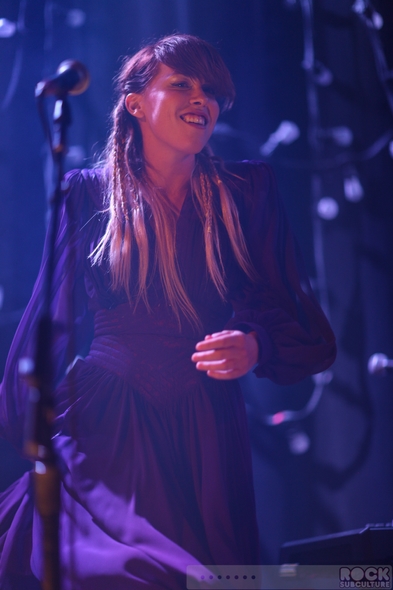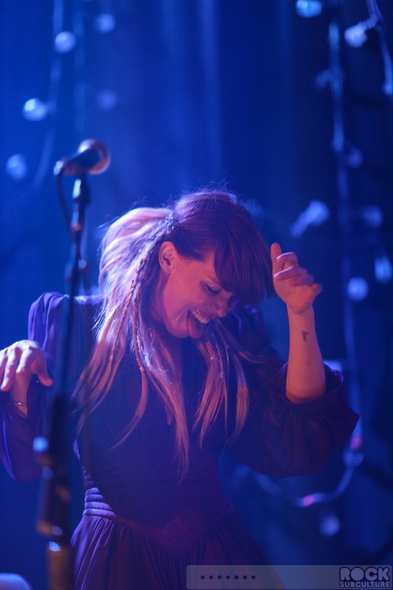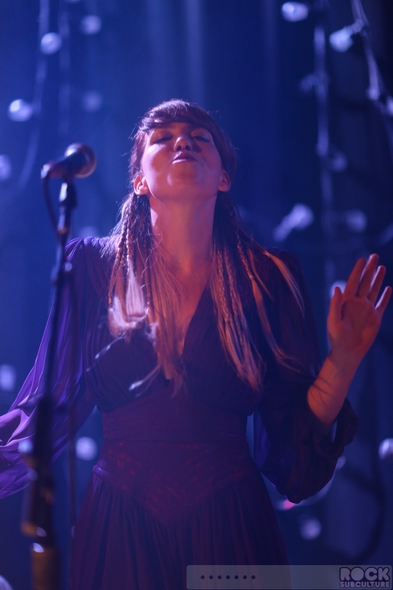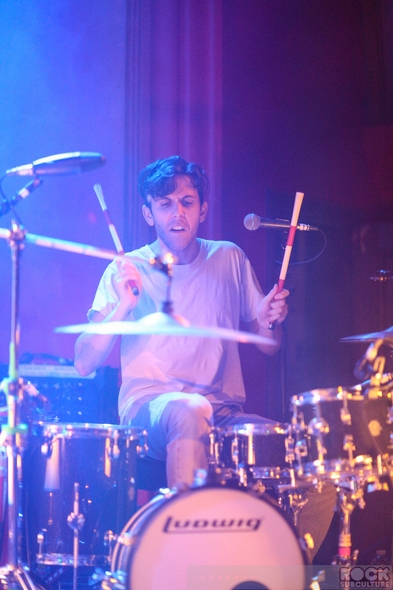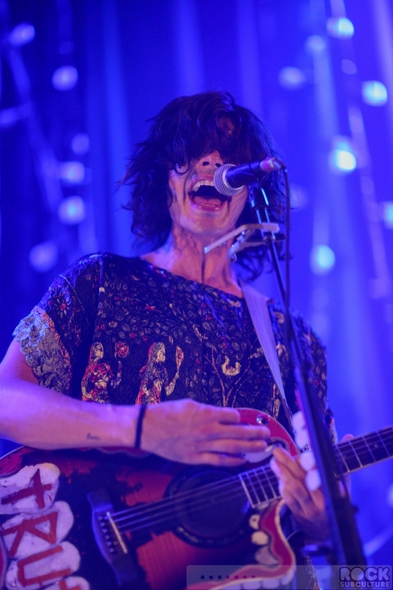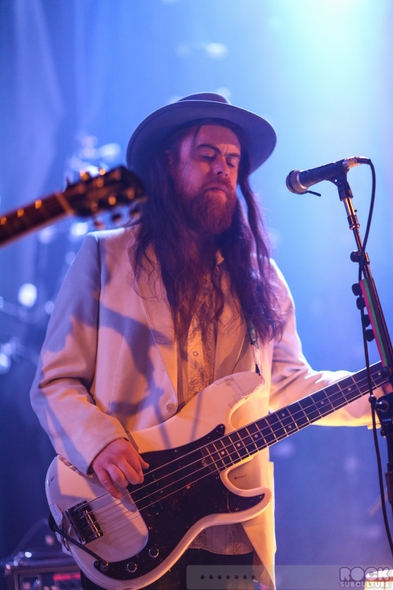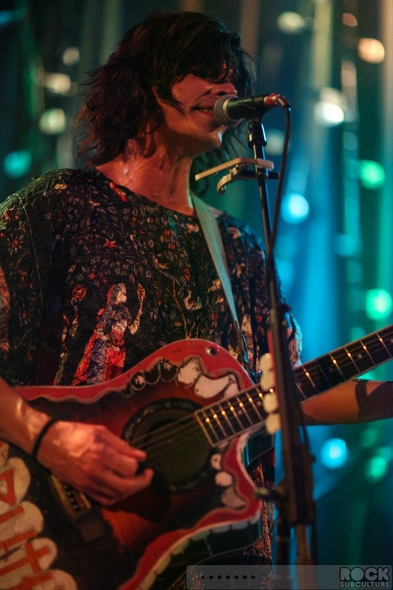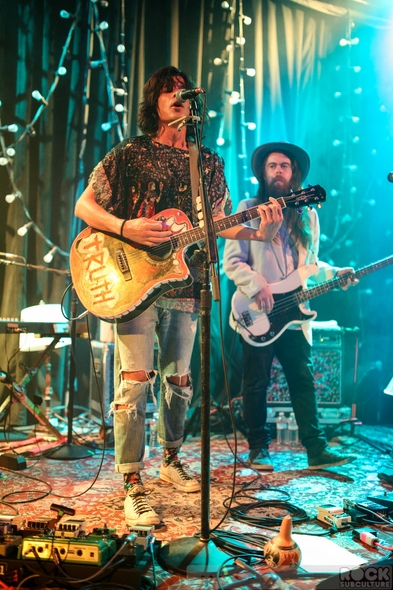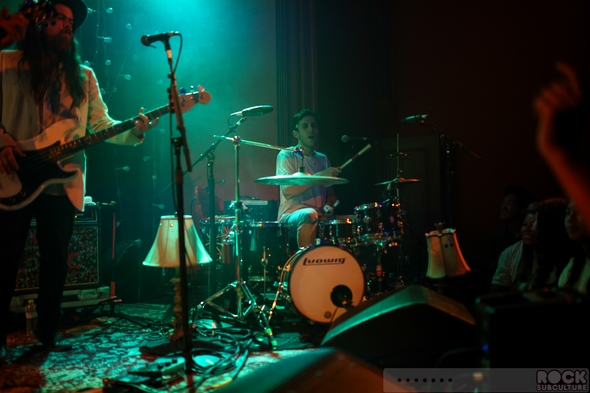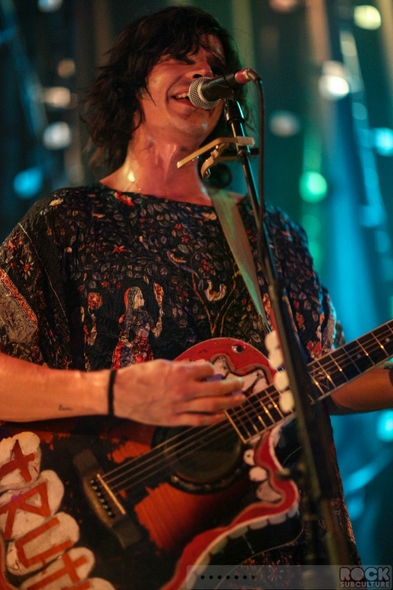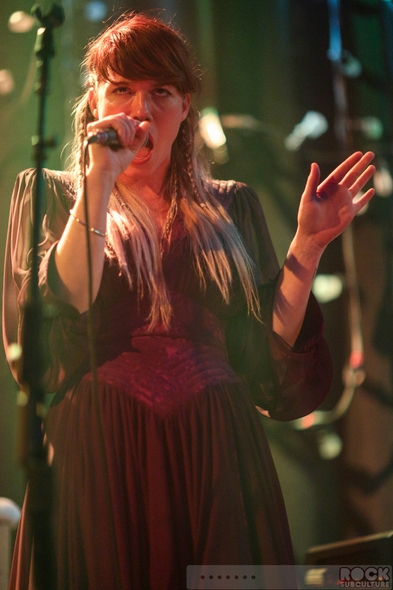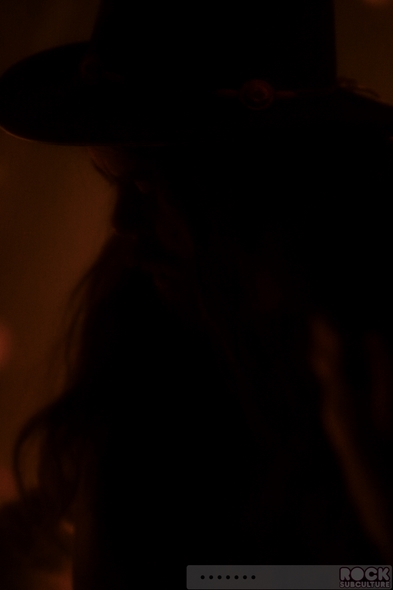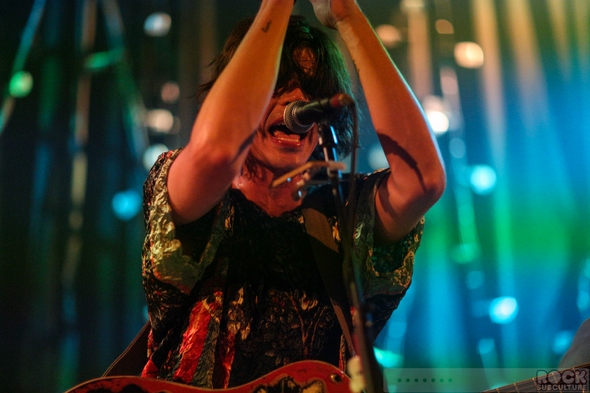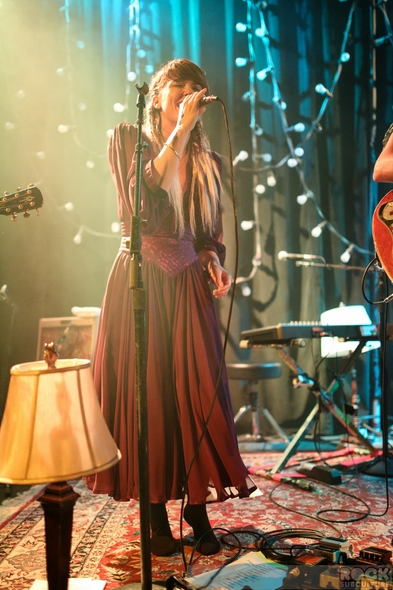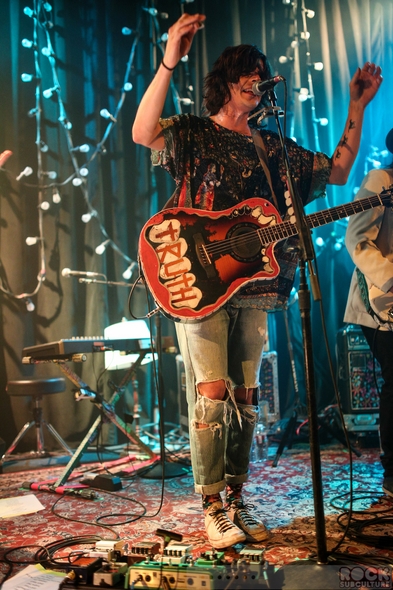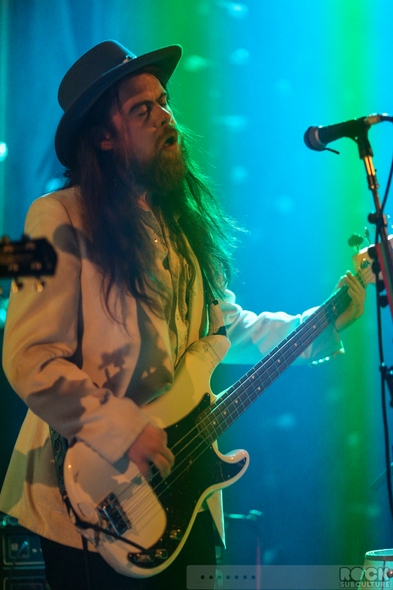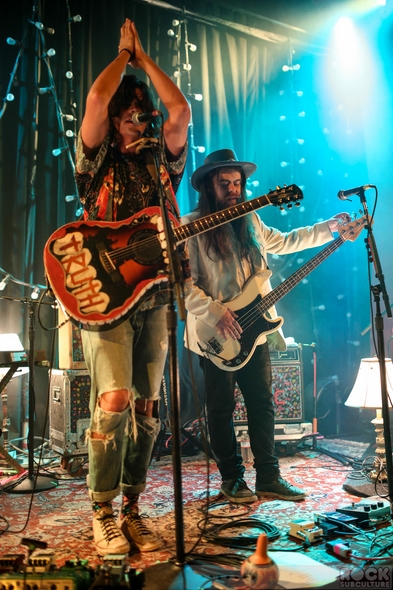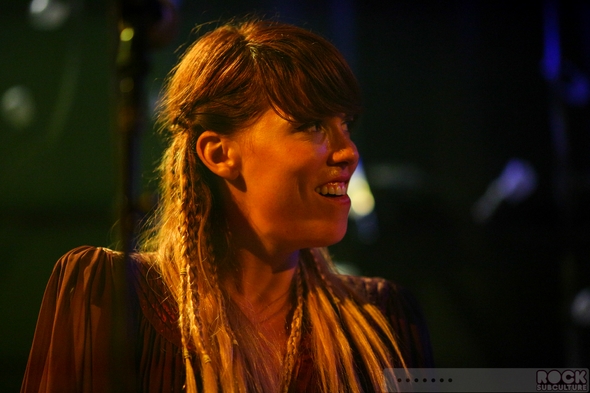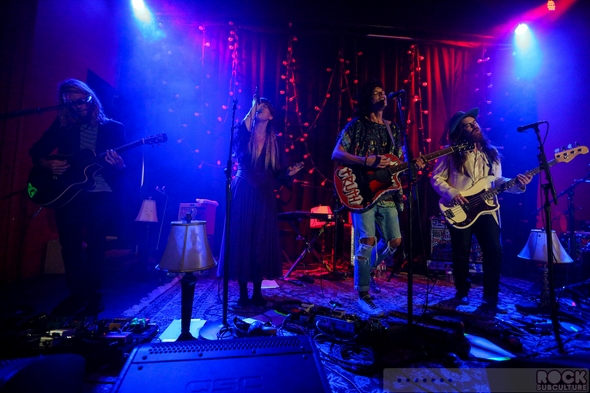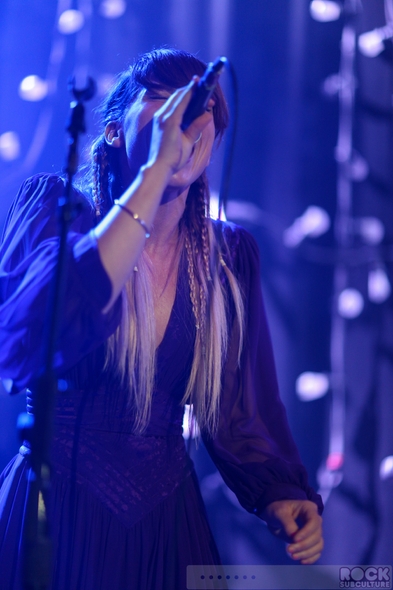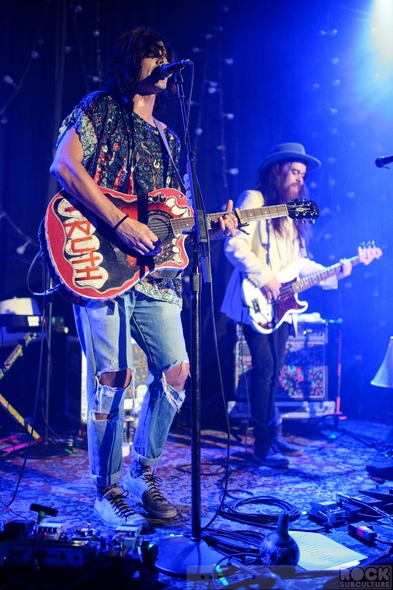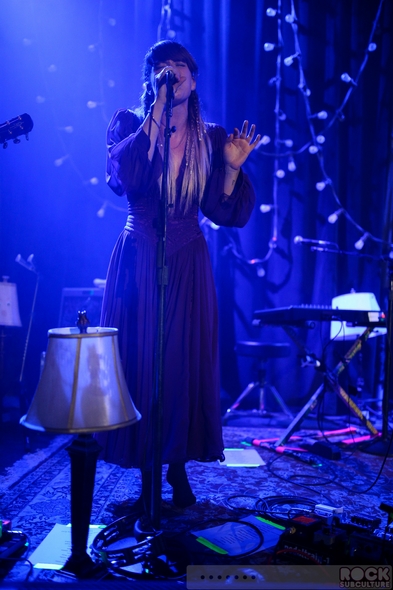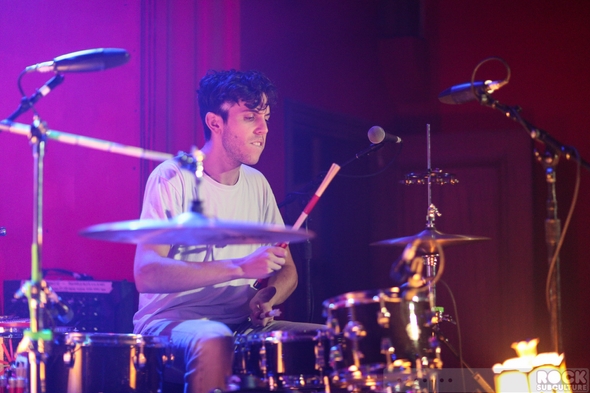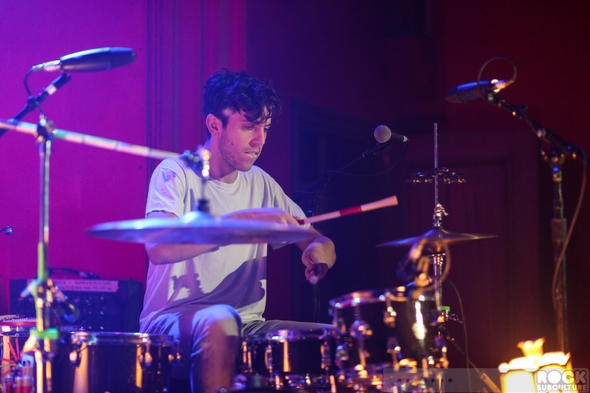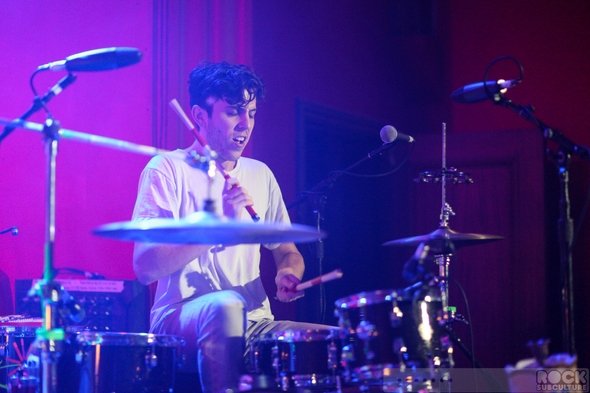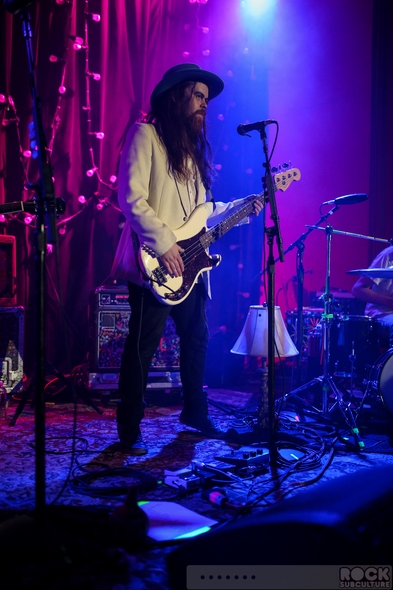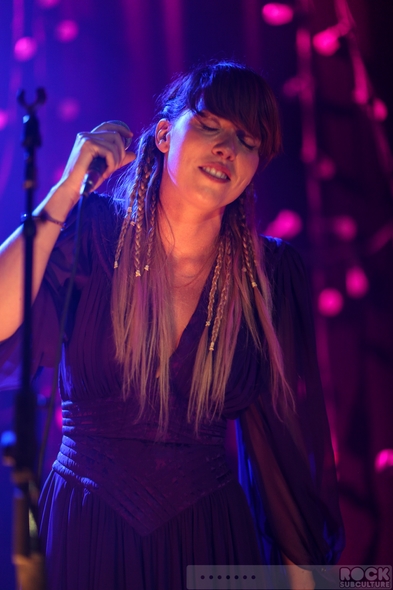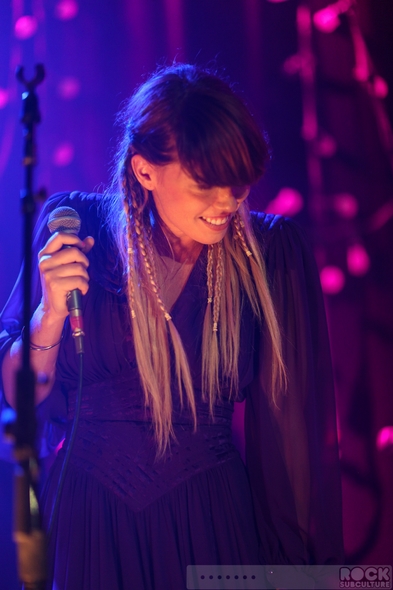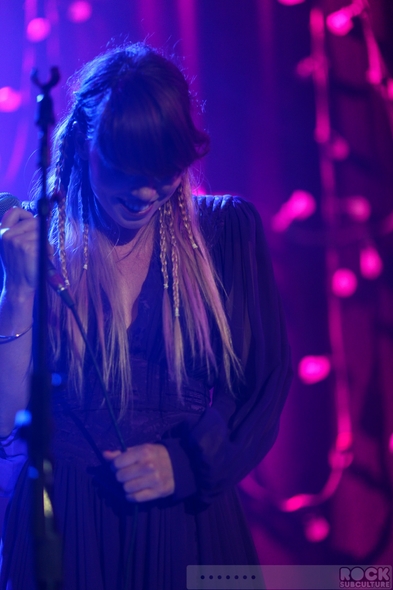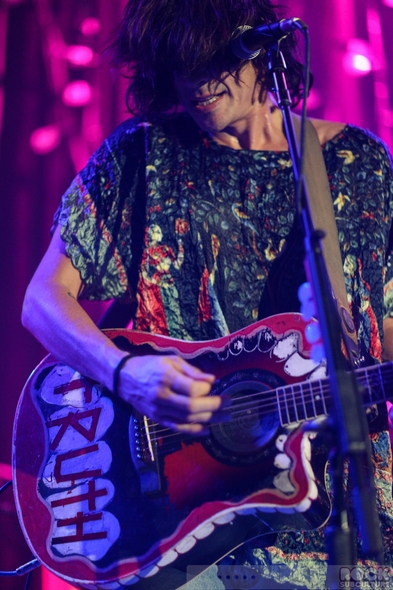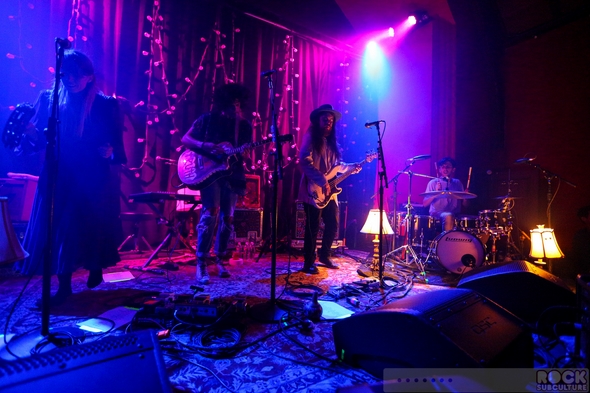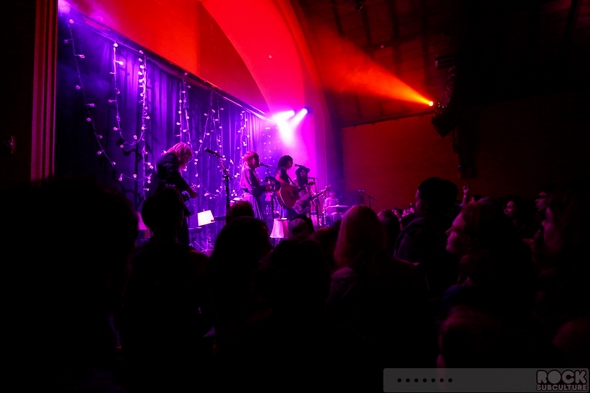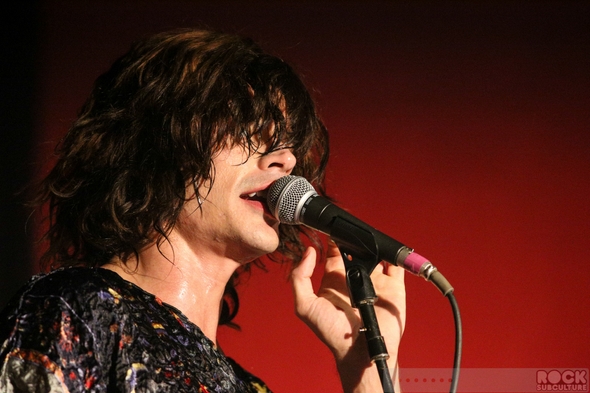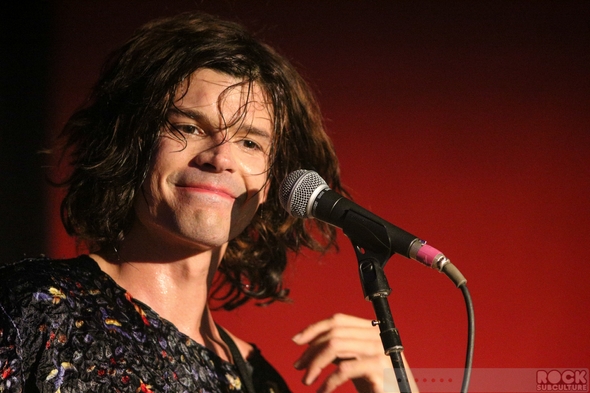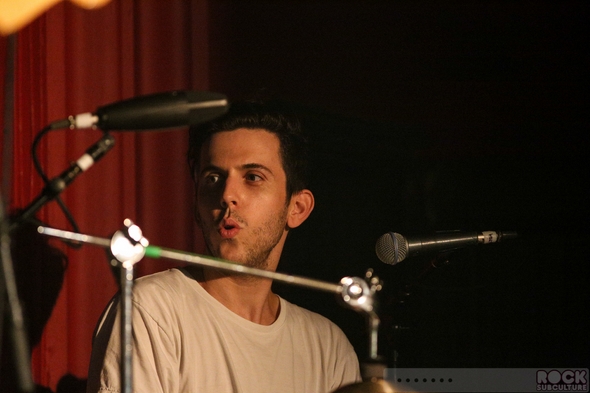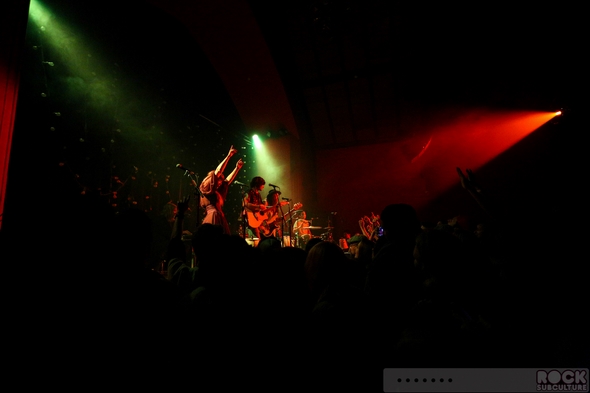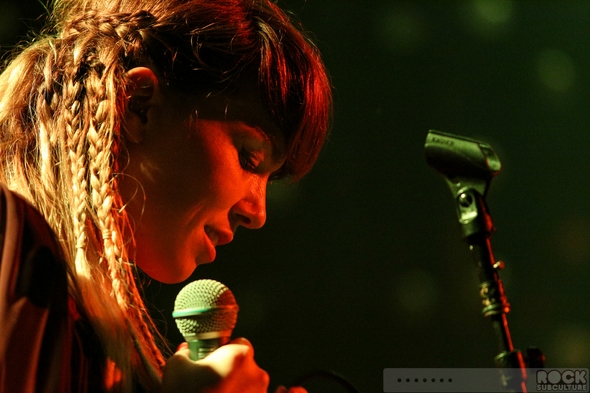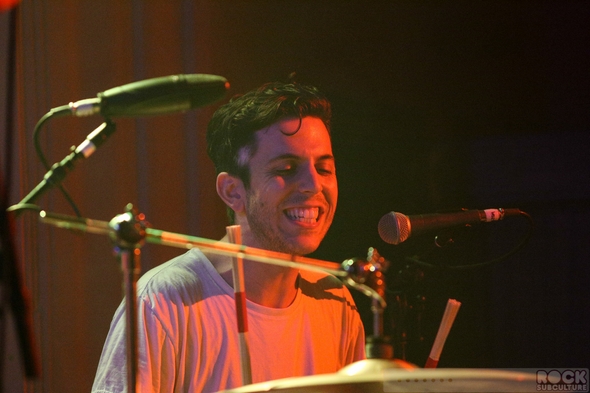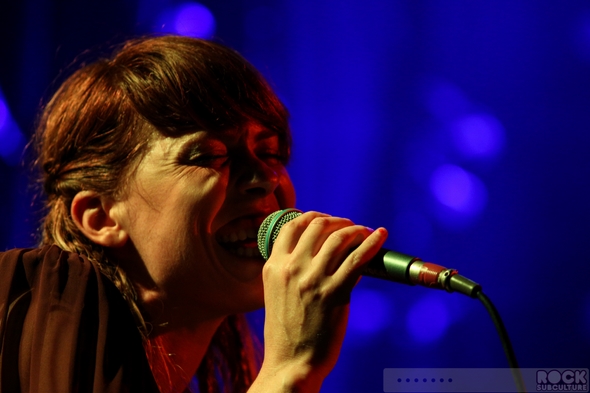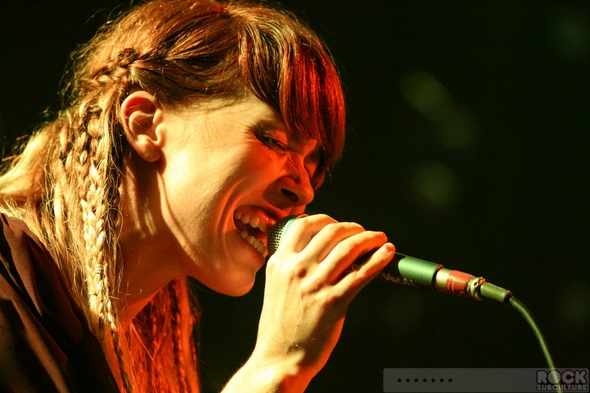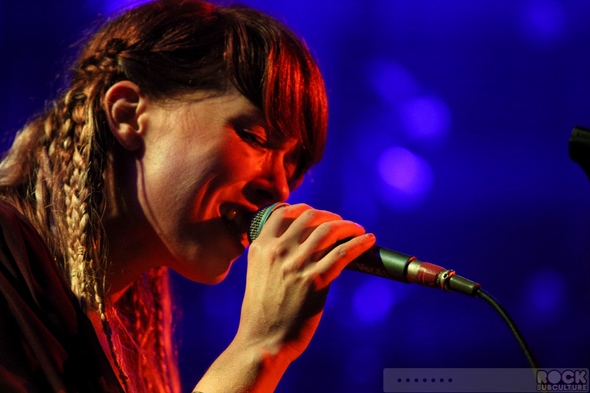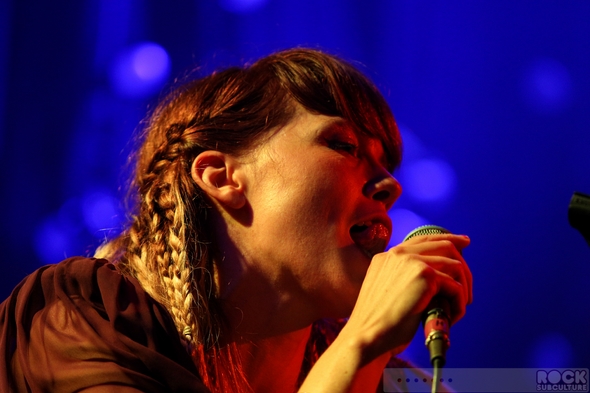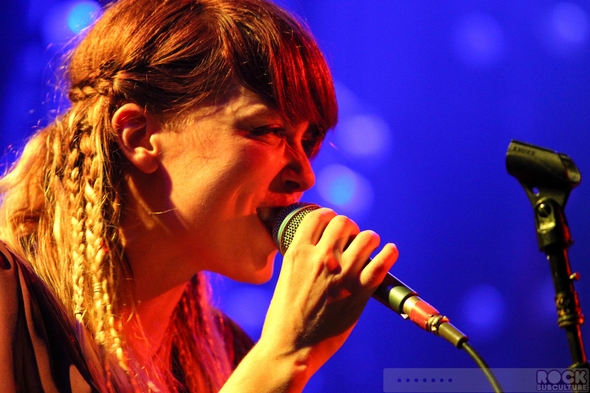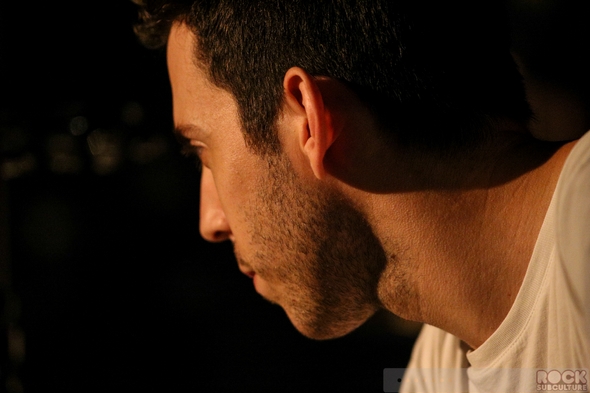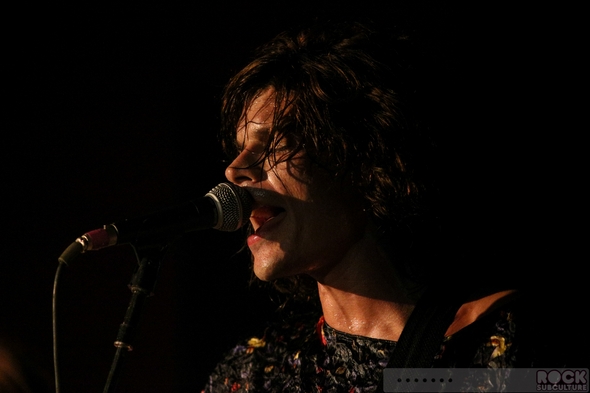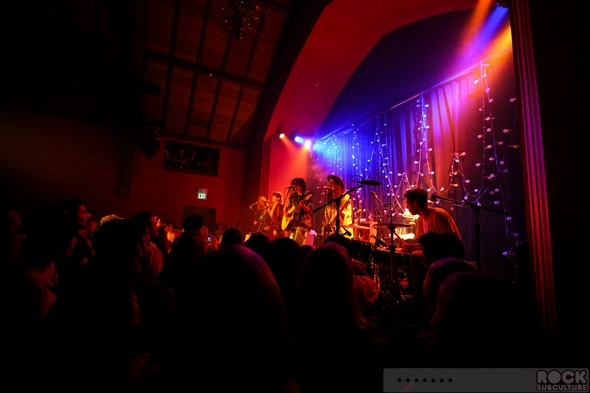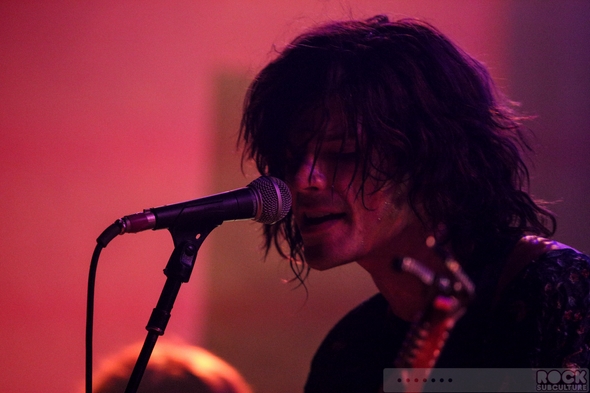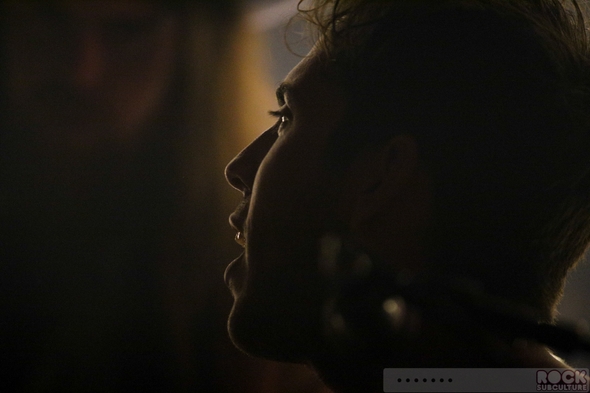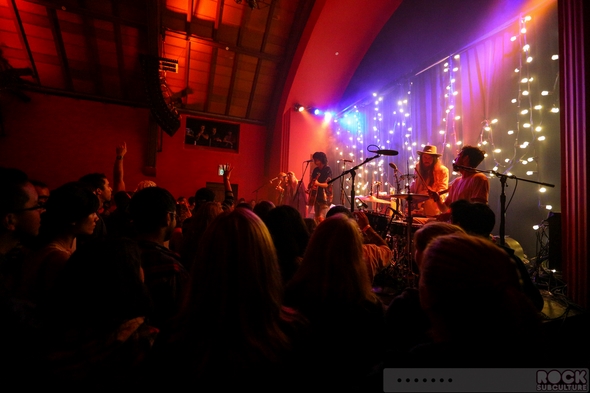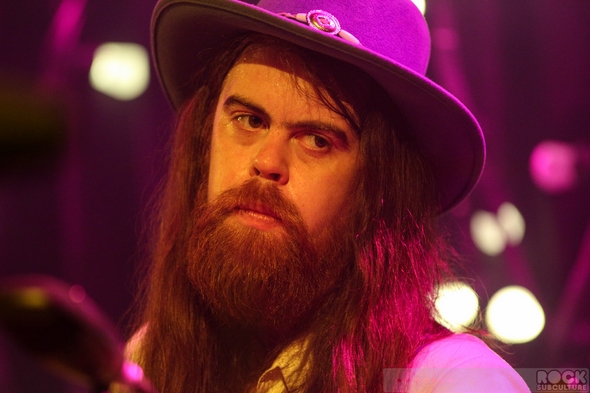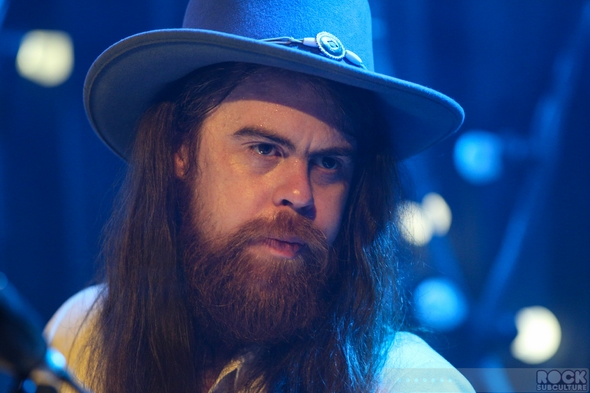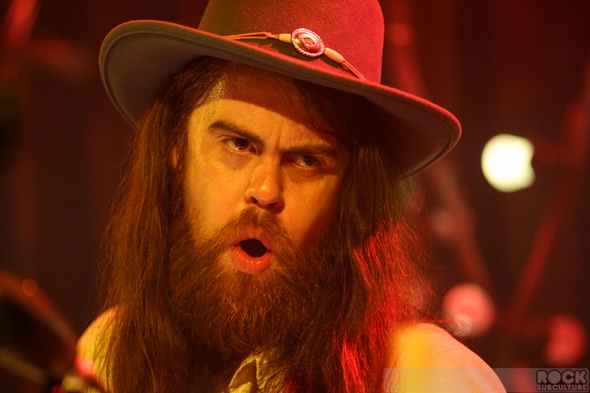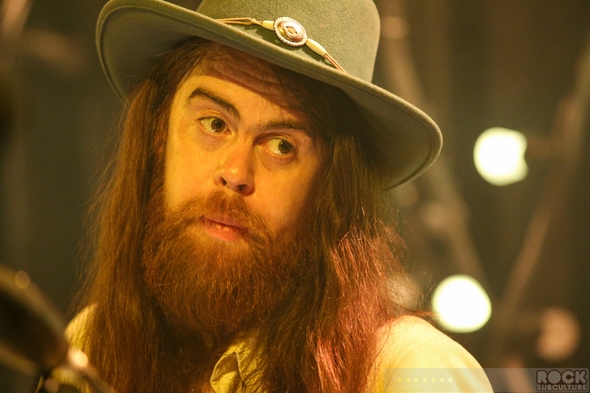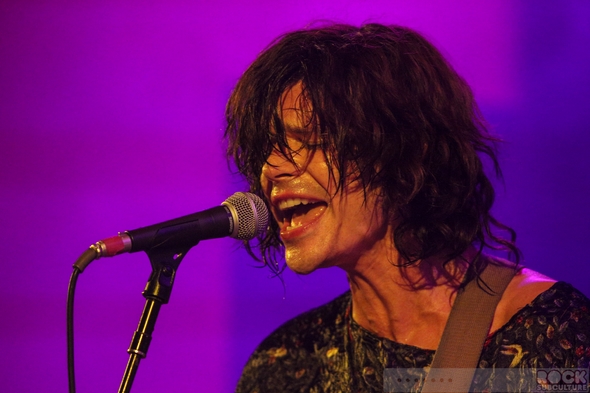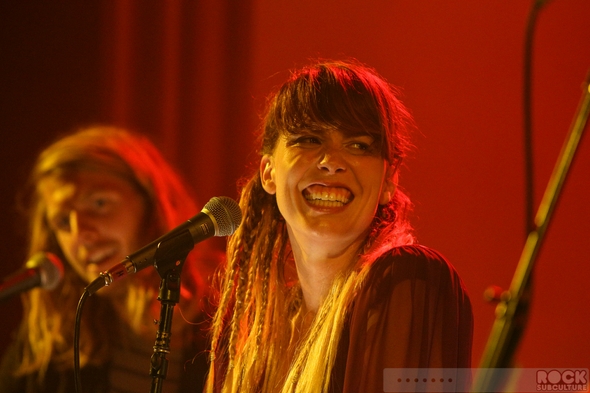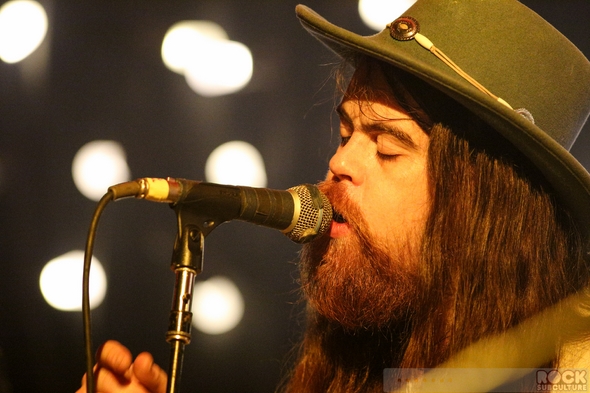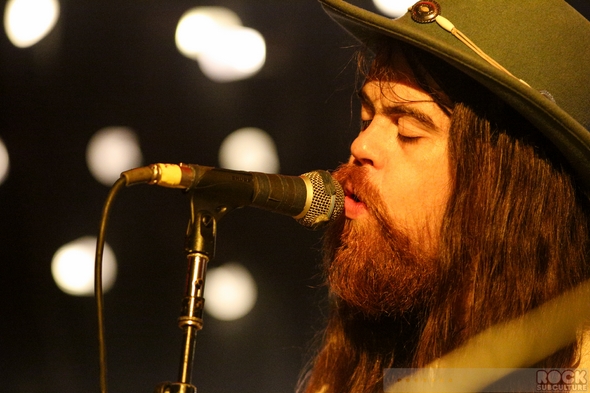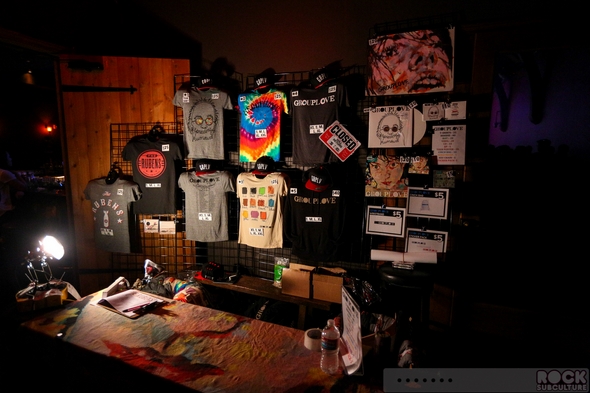 Jason DeBord