It's rare that audiences are treated to a real triple header concert, but that was my take on the female fronted trio of bands that owned the stage at The Independent in San Francisco last night.  How I ended up there…  I blame the Swiss (more on that later), but it was a real showcase of contemporary alternative bands that are making incredible music and bringing it on the road.  All three have also released amazing new albums this year (more on that later as well) and this material seemed to please the sold out crowd of 800 at the intimate Bay Area club.  They are all doing it again tonight at the Great American Music Hall, and I can't recommend enough checking it out.  If they aren't coming to a city near you, I can't recommend enough picking up their albums, each released this year.  CSS's Planta, MS MR's Secondhand Rapture and IO Echo's Ministry of Love are, for me personally, three of the best releases of the year, and there is a good chance all three will appear in my Top 10 Albums list for my 2013 End Of Year article.

Who: CSS
Who: MS MR
Who: IO Echo
Venue: The Independent
Where: San Francisco, California
Promoter: Another Planet Entertainment, part of the Nylon Summer Music Tour
When: June 16, 2013
Seating: General Admission (front row slightly left of center mic; also photo pass first three songs for each artist)
This is part of the Nylon Music Tour: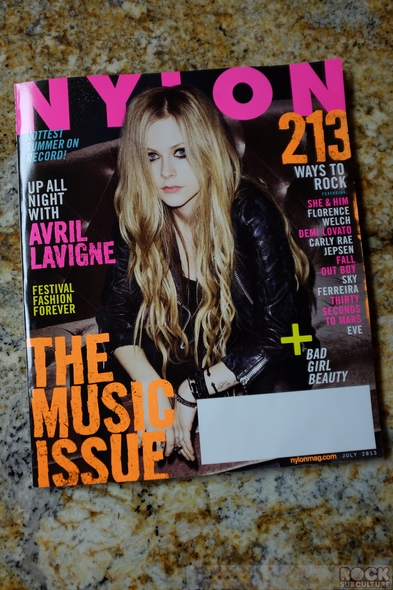 I often tell people that I don't listen to the radio, or any of the various online streaming music services…  so if I don't buy something, I never hear it.  And at the beginning of 2013, I'd never heard of any of these three bands.  So how did I find myself at this show last night?  Switzerland.

When I was covering Caprices Festival for nine nights in the Swiss Alps back in March, I spent a lot of time in the press office working on reviews and photos late into the night (usually 4 or 5 am).  We had a shared laptop and projection screen in these offices, and some of the other journalists took on the role of DJ in playing music to keep us all entertained (and awake!), and one of the photographers with 20 Minuten played two songs over and over…  Snakadaktal's "Dance Bear" and MS MR's "Hurricane".  I'd never heard either, but became hooked, and purchased MS MR's Candy Bar Creep Show EP and fell in love with the band and their work.  I eagerly awaited the full album, but couldn't imagine it all being as amazing as the four song EP preview (spoiler – it was).
Just days after returning from Switzerland, MS MR's PR company sent me an e-mail about the album, Secondhand Rapture, and tour dates!  Unfortunately, the California date conflicted with other plans (I was going to be in Salt Lake City for OMD, en route to Las Vegas for New Order & Johnny Marr, Garbage, and Yeah Yeah Yeahs)…  I was disappointed, as I hoped to see them live, but it was not in the cards this time…
Fast forward, and another opportunity (at the same venue even, the awesome Independent).  Only this show was with CSS and IO Echo.  I'm a believer that sometimes things happen for a reason, and I can't imagine a better first show for MS MR, and I'm so glad to have learned of CSS and IO Echo, as I found both to be amazing.
In any event, I'm pretty good about remember how and when I first learned of each of the bands that I follow, and that is how it all pieced together for these three bands.
Playing The Independent, which is a great little venue (where I shot and reviewed Imagine Dragons earlier this year), the 21 and over venue was packed, and the bands remarked on the quality of the crows throughout the night.  Even with three full bands switching out on the relatively small stage, there wasn't too much time lost between sets, so kudus to the crews for these bands in moving it all along quite quickly.
IO Echo
Members
Ioanna Gika (vocals, guitar, piano, koto harp)
Leopold Ross (bass, programming)
Michael Edelstein (guitar)
Paul Rinis (drums)
Not vocally, but instrumentally, IO Echo reminds me a bit of Cocteau Twins – kind of an ethereal, sweeping, at times cinematic soundscape.  Ioanna's voice perfectly fits the accompanying music.
One interesting thing with last night's show was comparing the studio recordings of each artist's music with how it translates live, and with IO Echo, there is definitely more of a raw sound, contrasting the more polished studio sound.
For me, they are kind of a modern take on a better era of music…  and their Ministry of Love even includes a "hidden track" (who does those anymore?) which sounds like something you might expect to hear at the end of some David Cronenberg/Ridley Scott film collaboration that never happened – a kind of dark and revelatory score that would have you leaving the movie theater of this fantasy movie feeling a bit numb and doubting some fundamental element of human nature, and maybe some affirmation in something even deeper.  These are artists that have figured out a way to tap directly into our psyche, if we let them.
On stage, fog machine kicked into full gear and with moody, mostly blue backlighting, IO Echo seem at home projecting their sound through the darkness, lost more in themselves and their music than the crowd.
Below are some photos of IO Echo performing on stage; click on any image for higher resolution versions of each photo: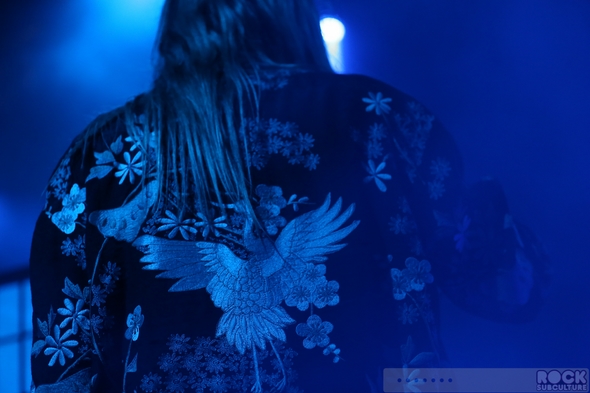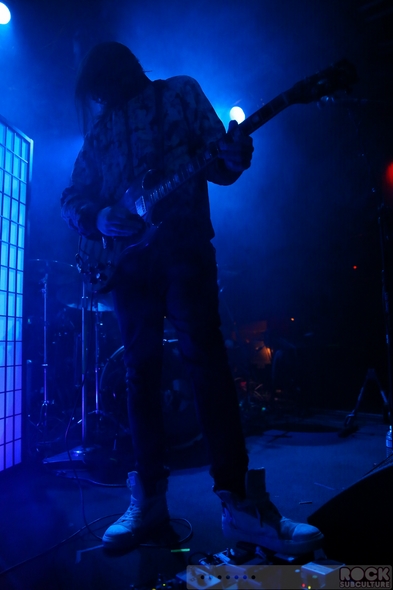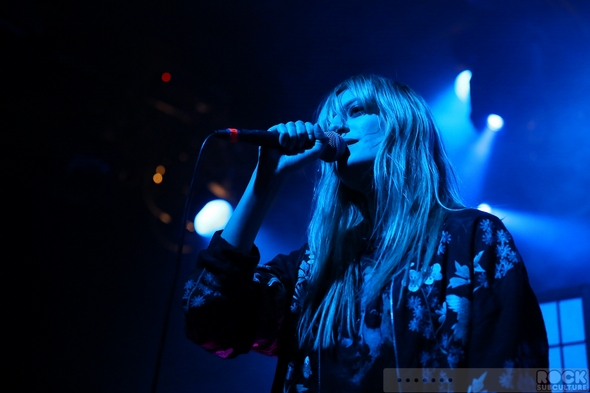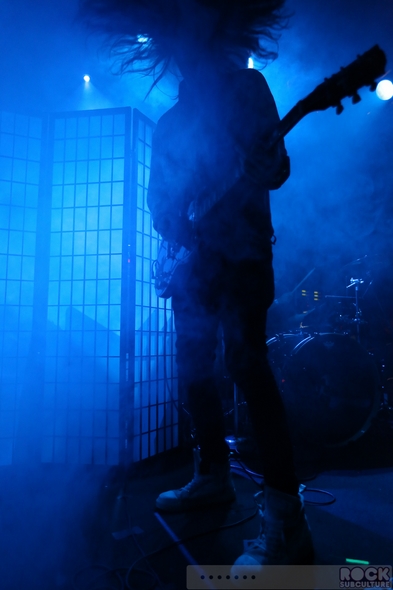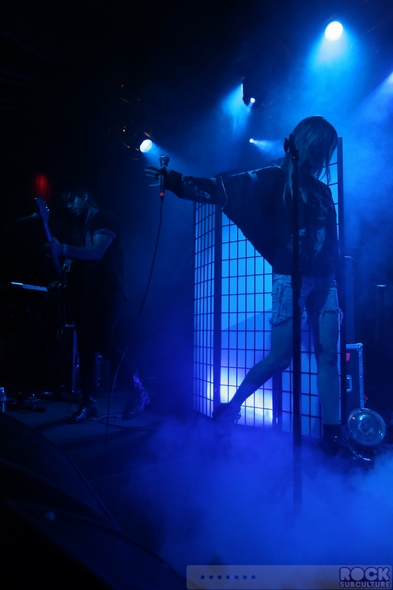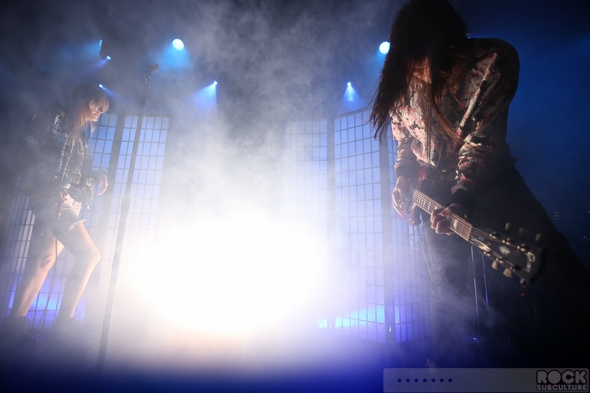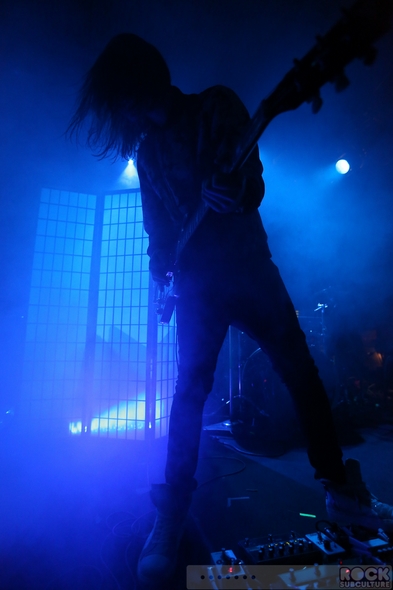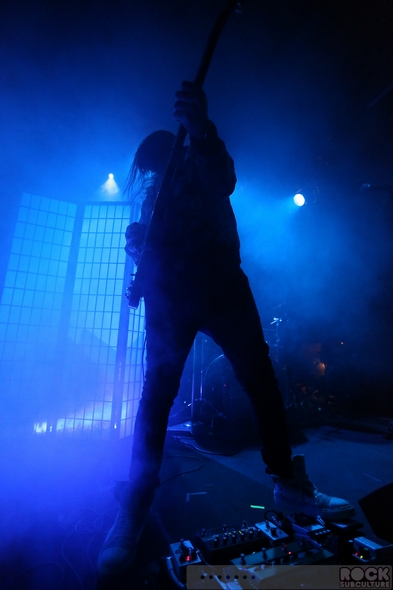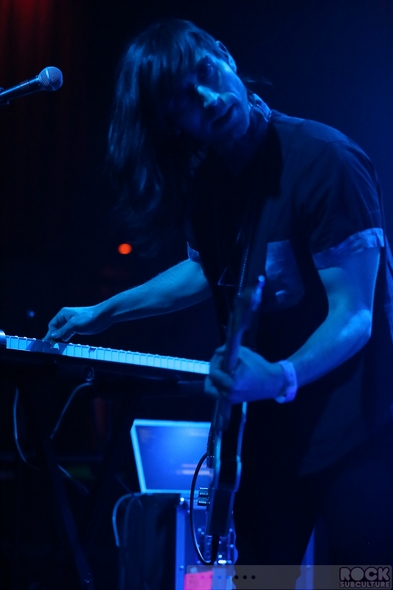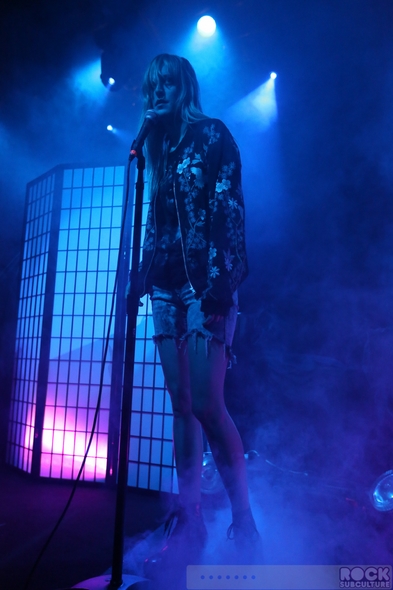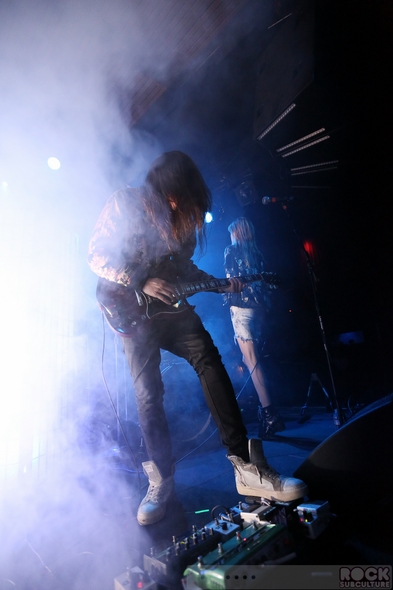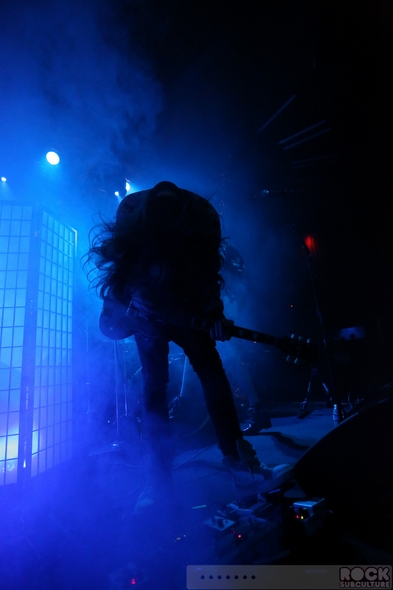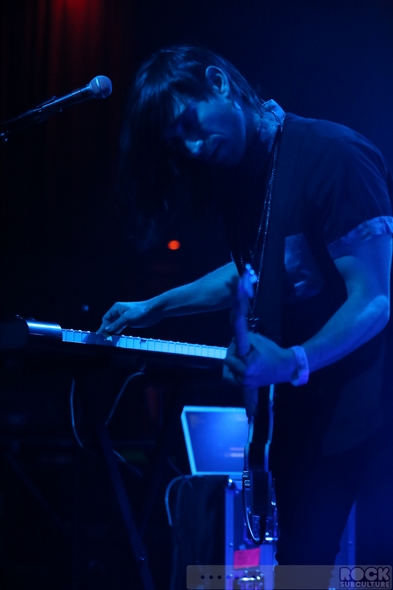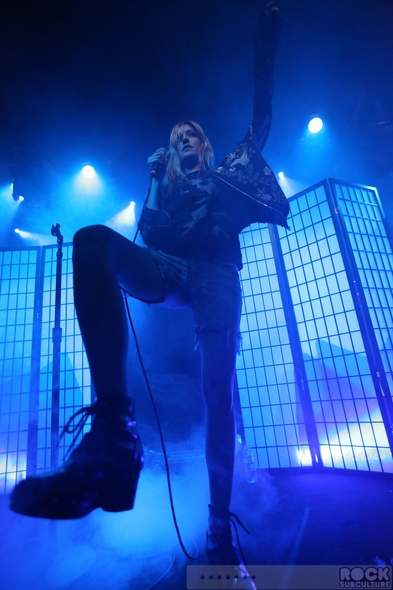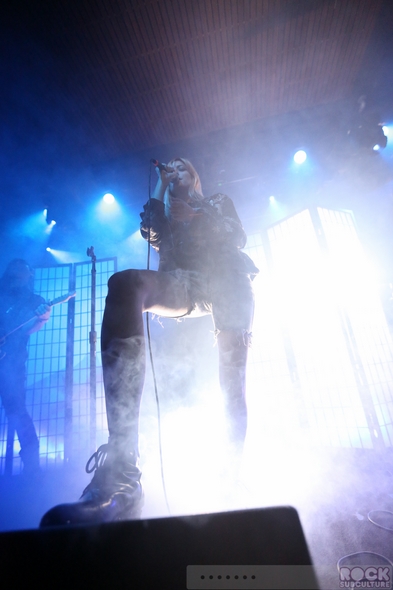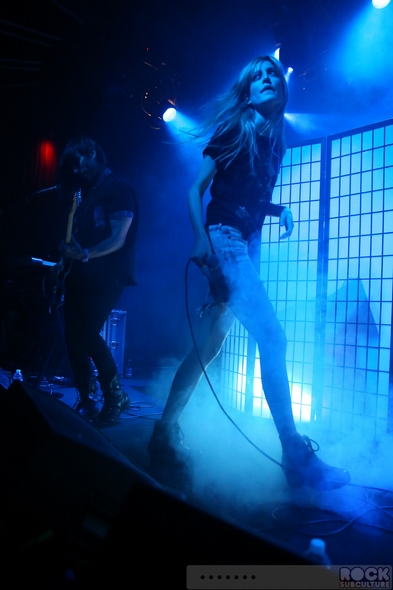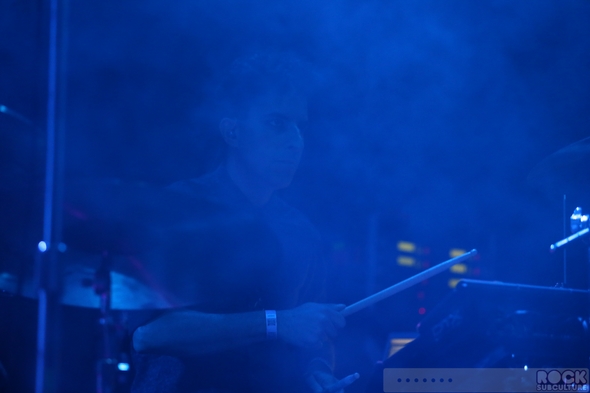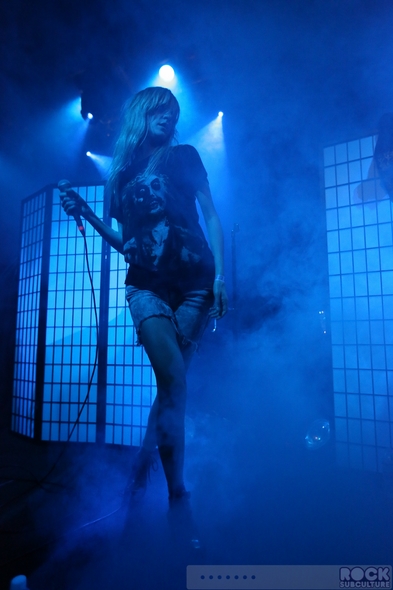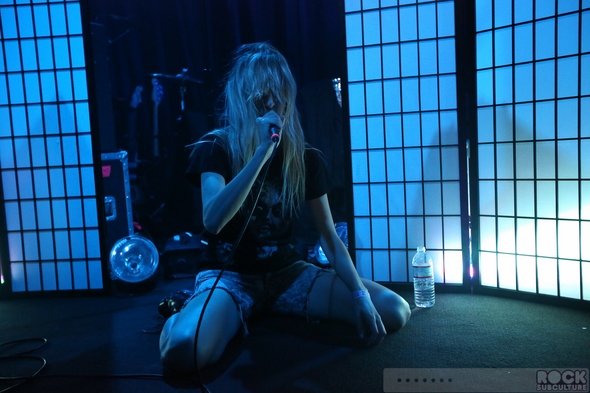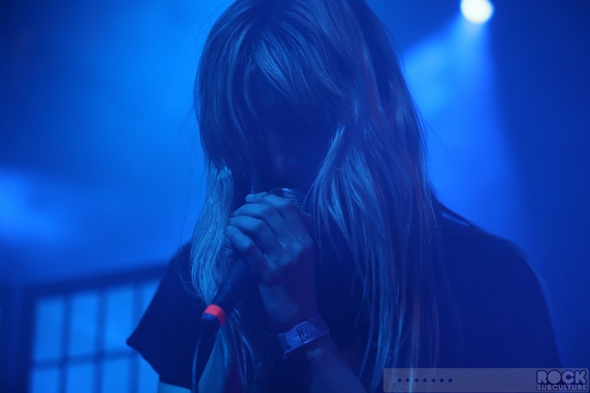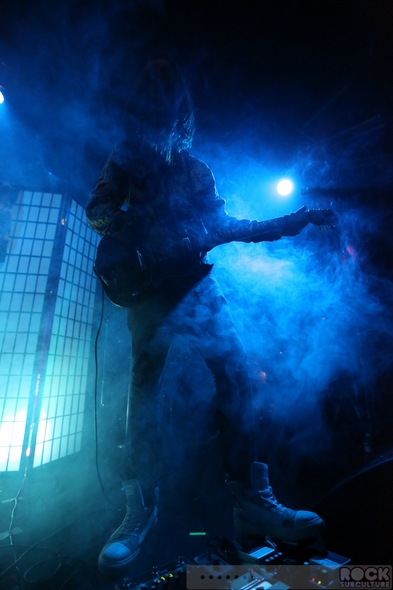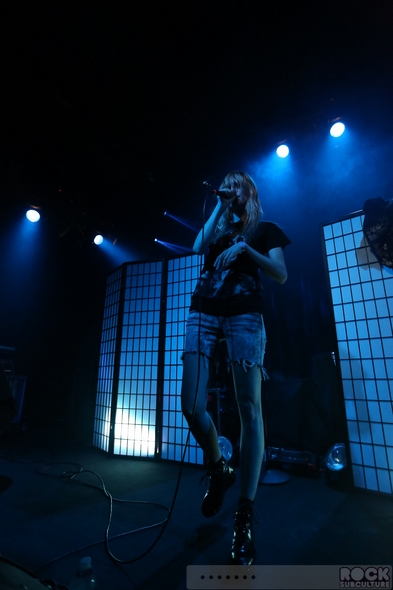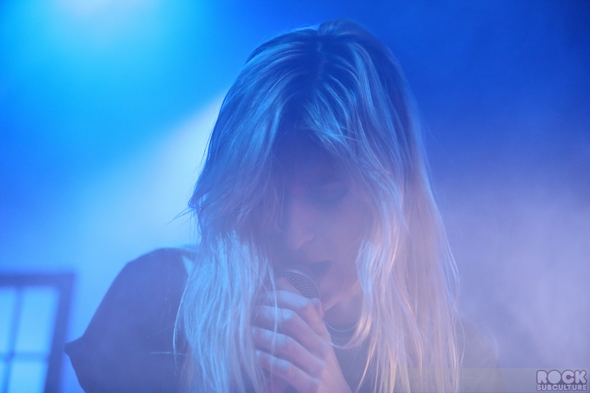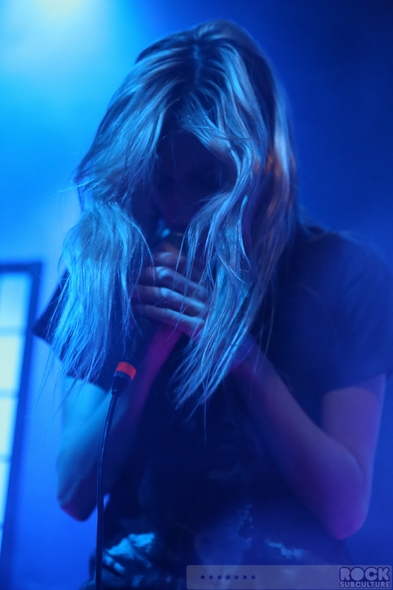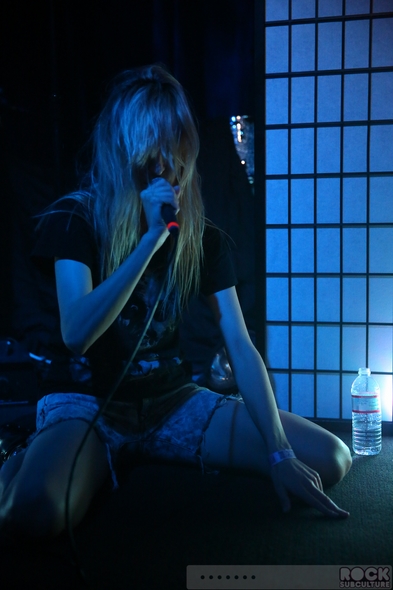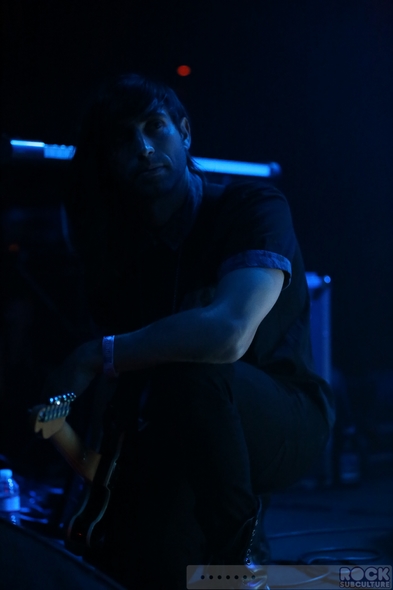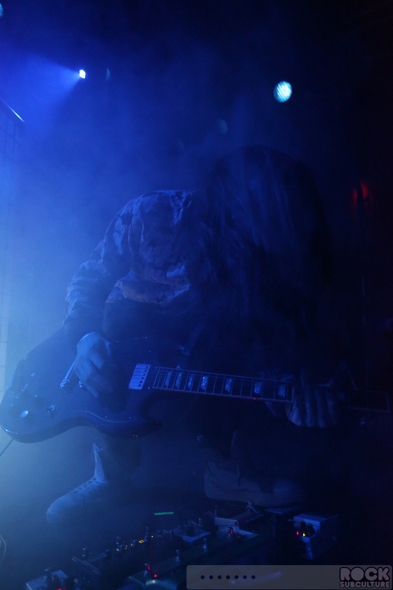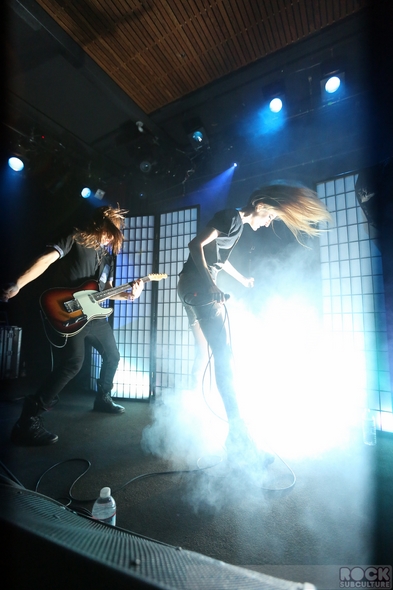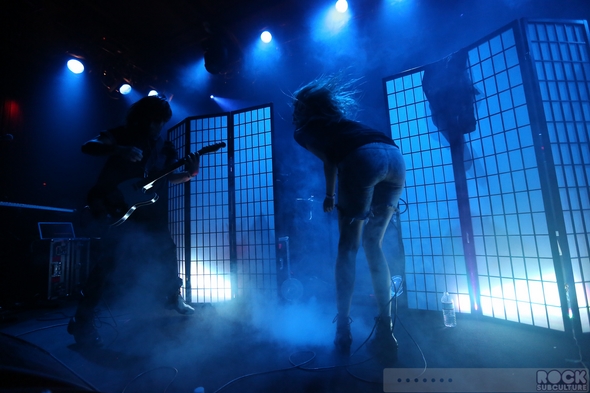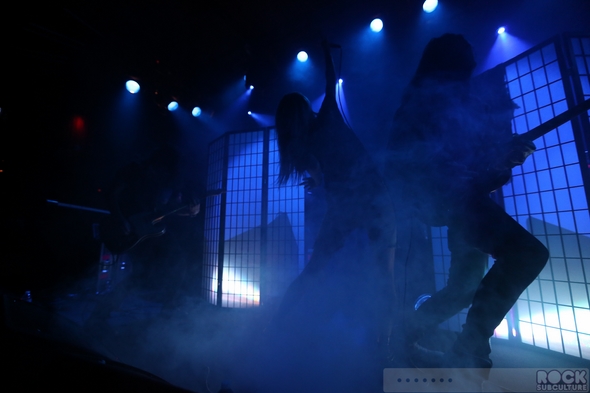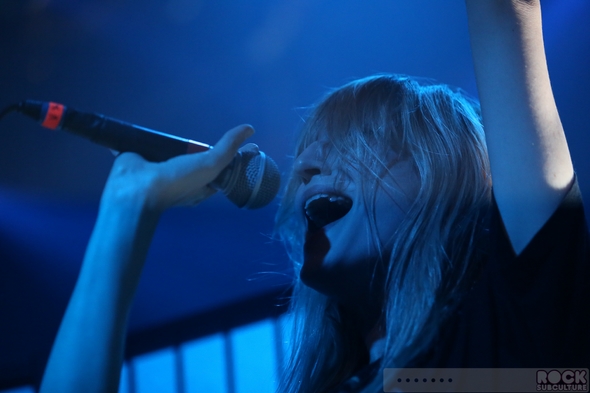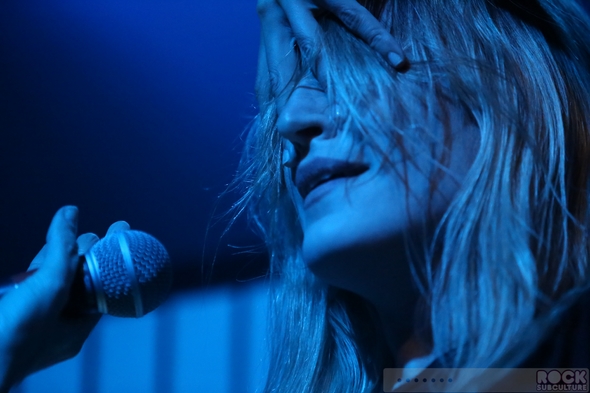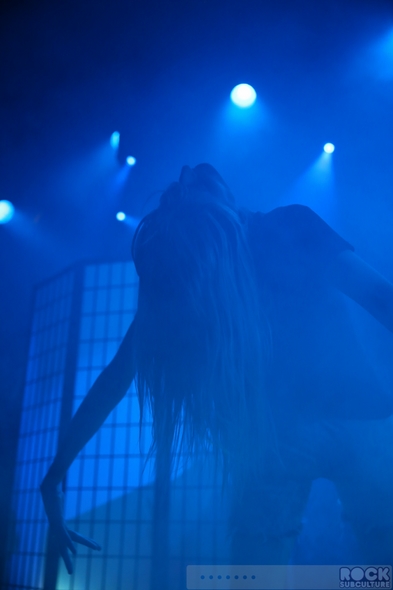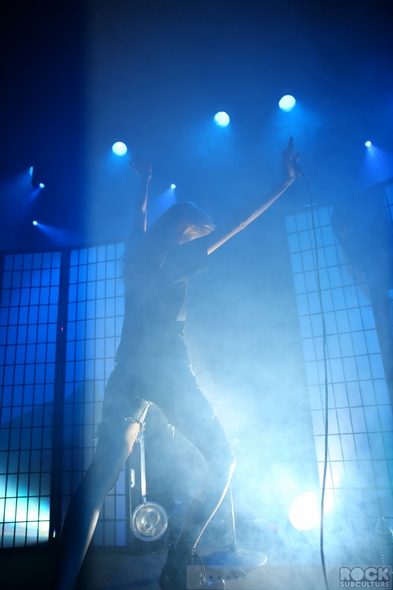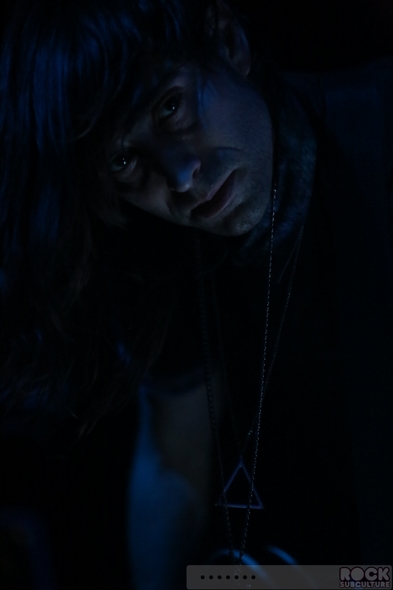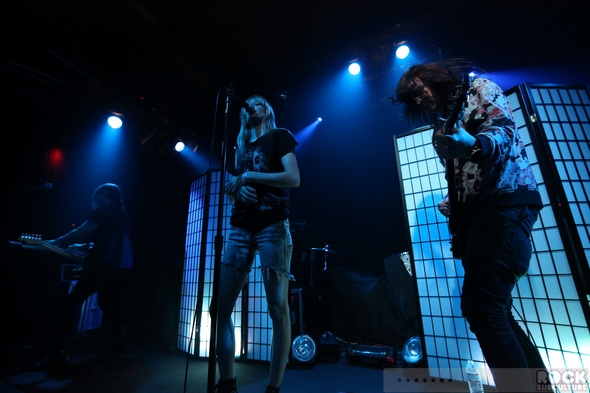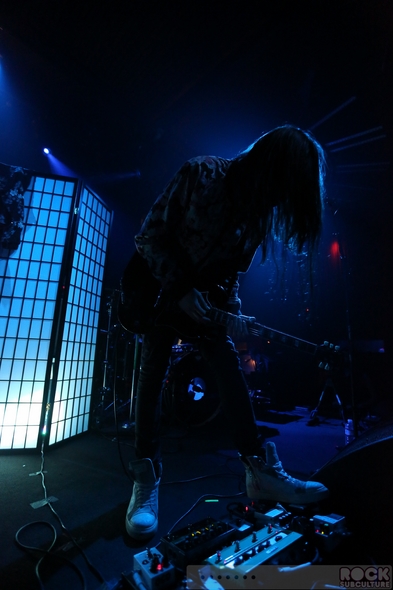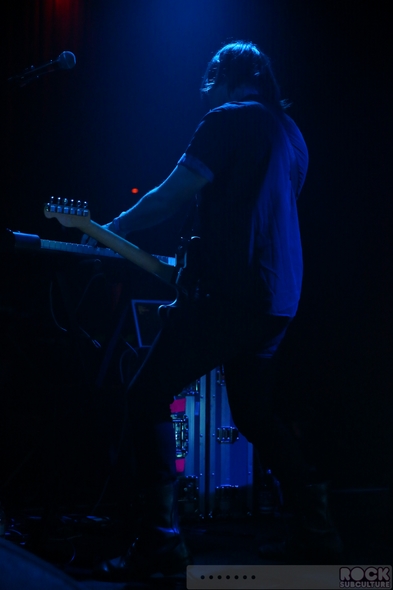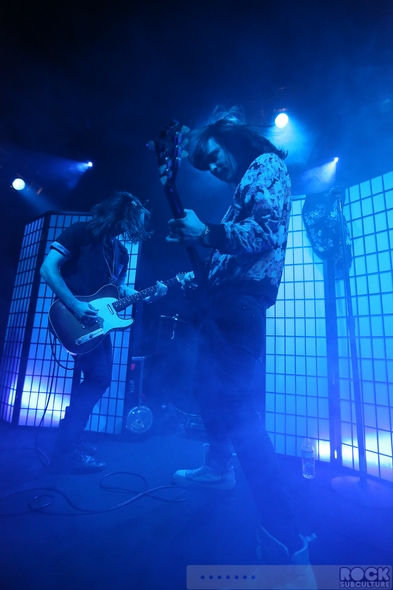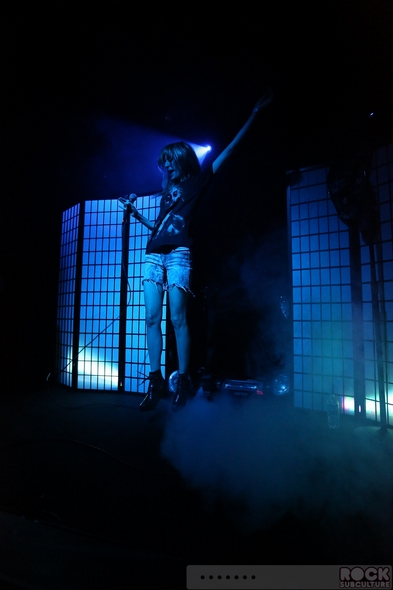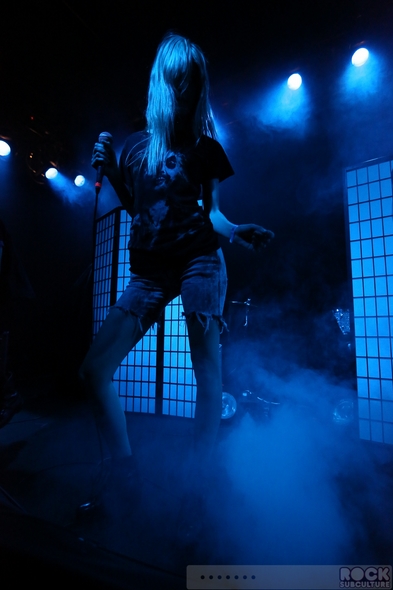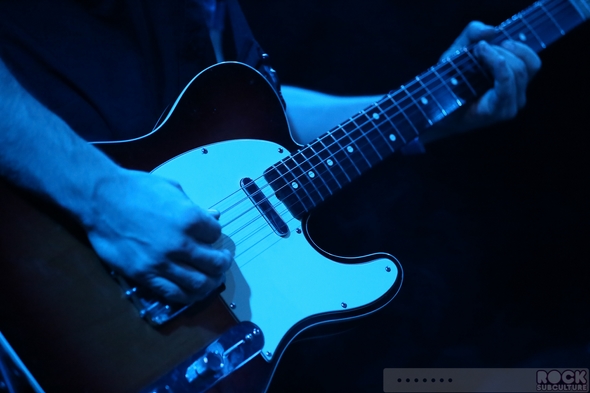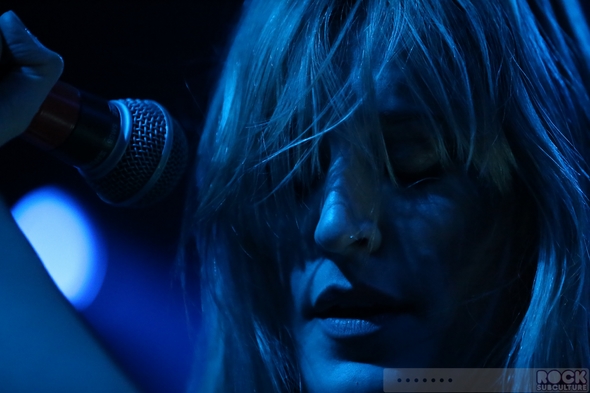 MS MR
Members
Lizzy Plapinger (MS)
Max Hershenow (MR)
Curtis Nystrom (lapsteel, autoharp, bass, and synths)
Zach Nicita (drums)
As soon as I heard their music, I became an instant fan of this band – I just love their music.  And Lizzy has such a unique voice – and delivery – that sounds like no one else.  For me it was interesting to see and hear her on stage, as she sounds exactly like her studio recordings, which is what you would expect, but it's always something to have that performance right before you, and see her singing and glimmer in her eye.
Writing catchy, hooking, original and unique songs is kind of like an archeologist finding proof that Yeti exists or something, and most bands that find success in the industry typically do it built on one, maybe two hit songs that capture the imagination.  Then every once in a while there is one of those bands that manage to craft an entire album of songs other artists would die for just to pick off one.  MS MR is one of those artists, that somehow fashion together such a work of art with their first attempt.  I am quite sure that "Hurricane" will remain near the top of my favorite new songs in 2013 by the end of the year, and the album is a lock for my own Top 10 as well.  Brilliant album.
Growing up in the 80s, hearing Secondhand Rapture for the first time brought back those feelings of hearing Yaz's Upstairs at Eric's…  the heavy electronics and an amazing voice that just owns the lyrics, and a perfect union of a musical partnership that just sounds like it was meant to be.
On stage, they seem like really natural performers that have their music hardwired into their brains, putting out a set that at once seems effortless and sounds spot on to the studio recordings.  More, they are having tremendous fun, with a celebratory and jubilant performance.
I believe that this is just the beginning for this band, and can't wait to see what the future holds for them.
I was lucky enough to get Lizzy's setlist, so below are the songs played last night: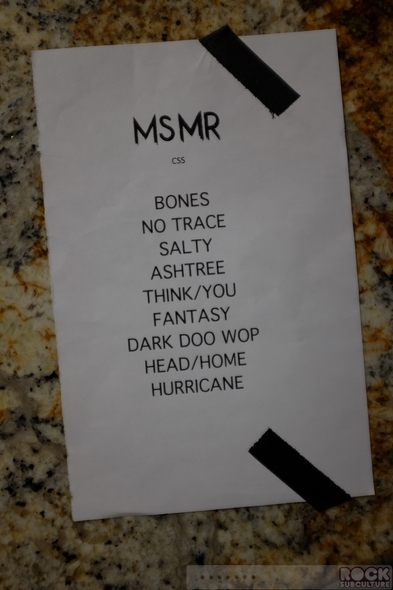 Below are some photos of MS MR performing on stage – click any image for higher resolution versions of each photo – and apologies for the lack of drummer shots as he was completely blocked from where I was standing: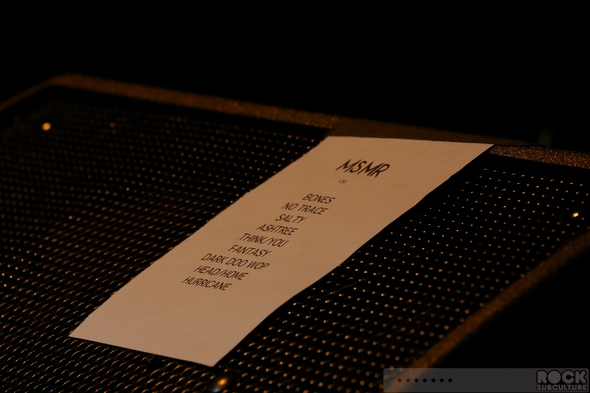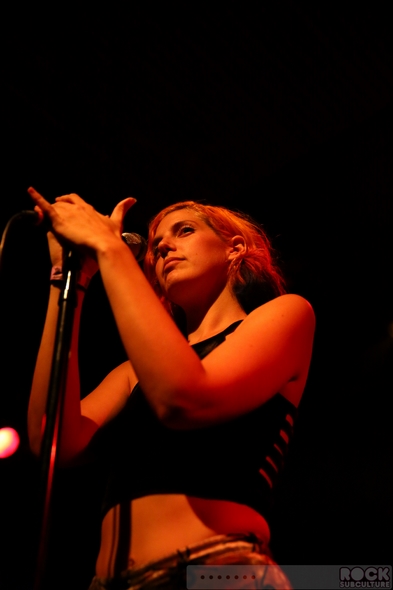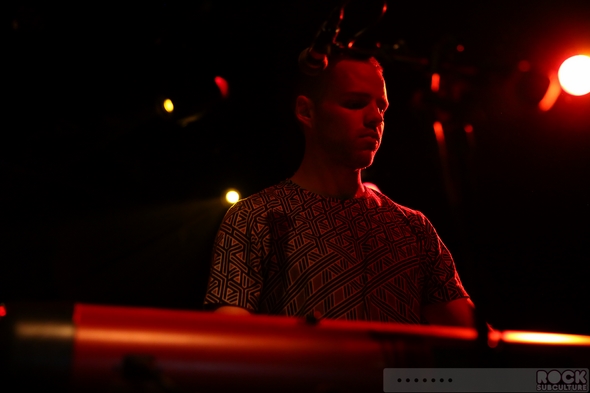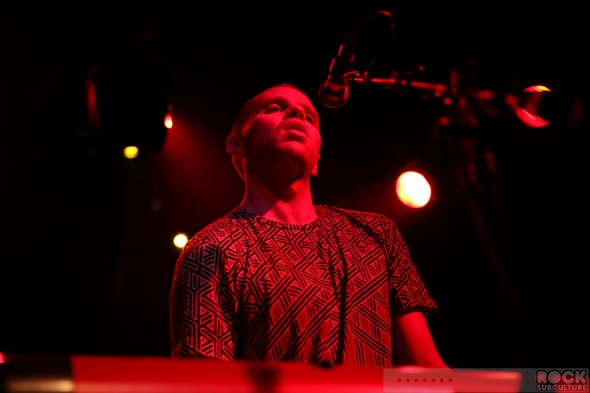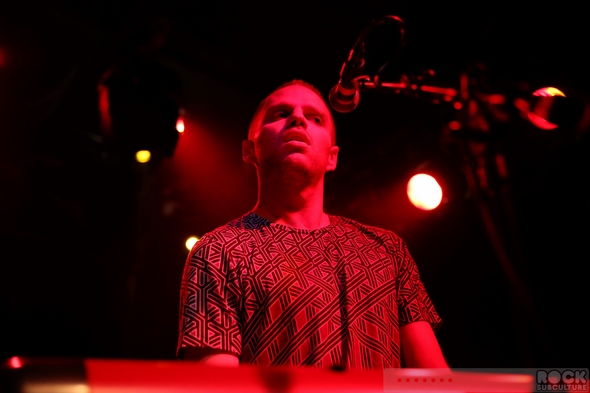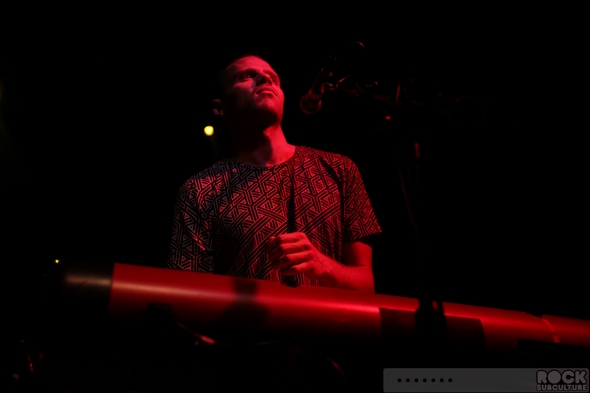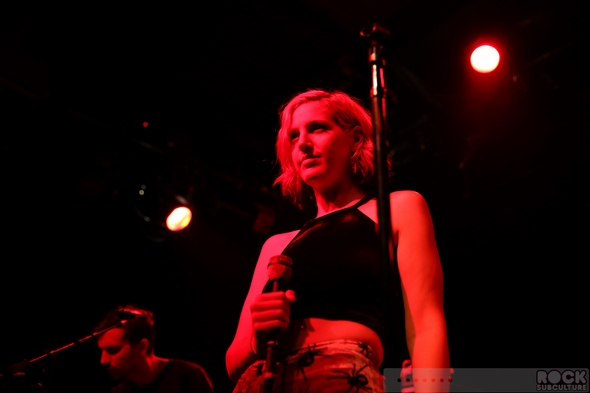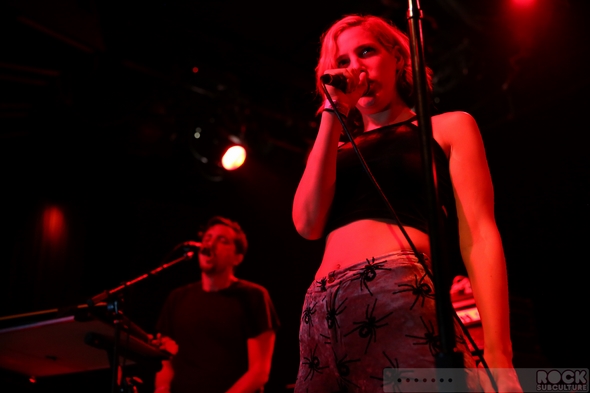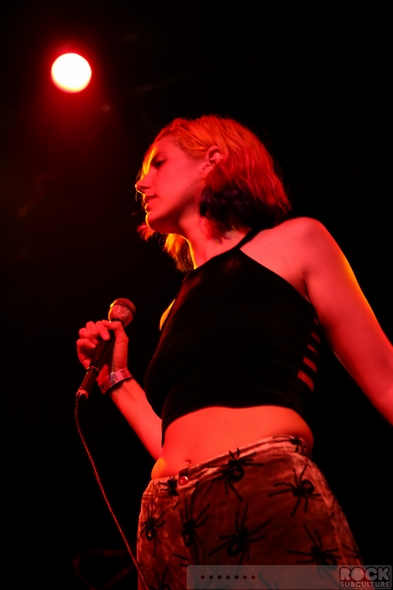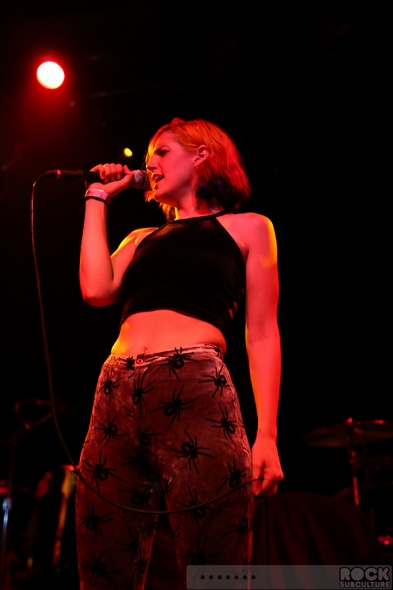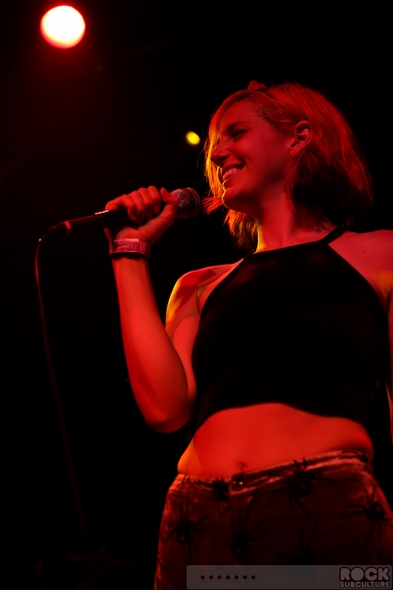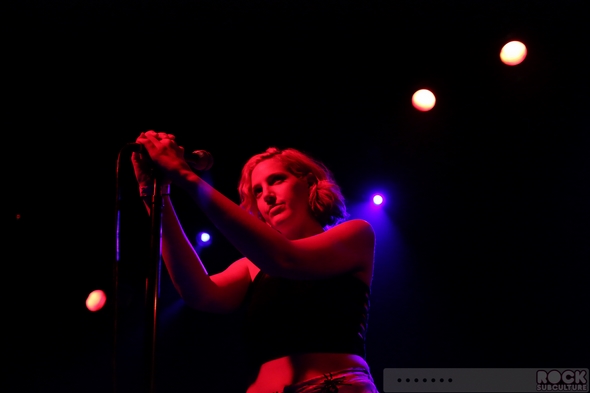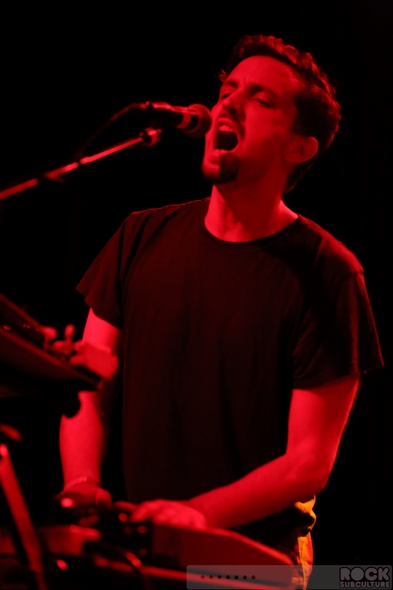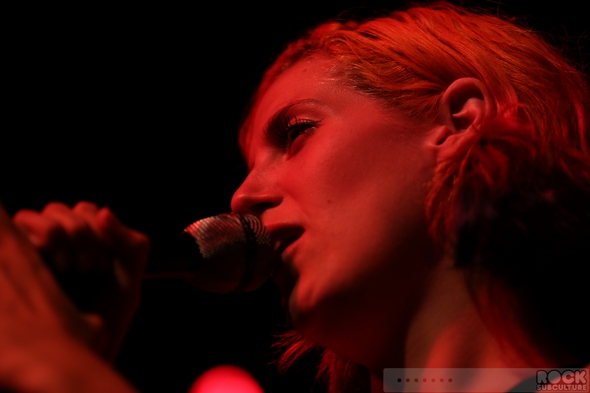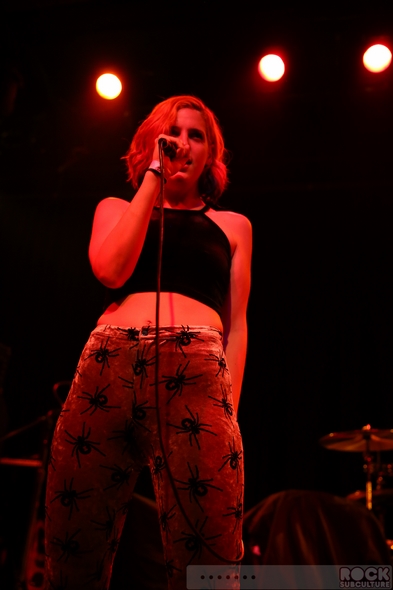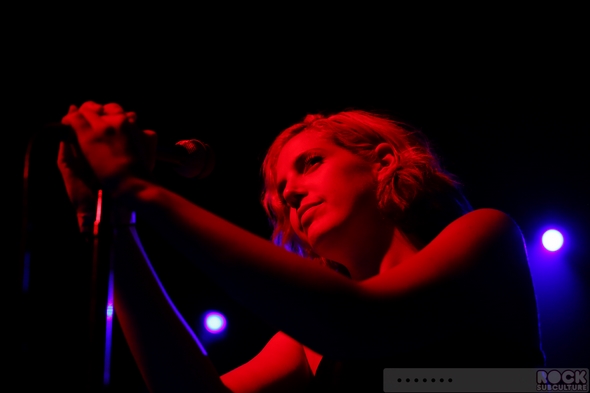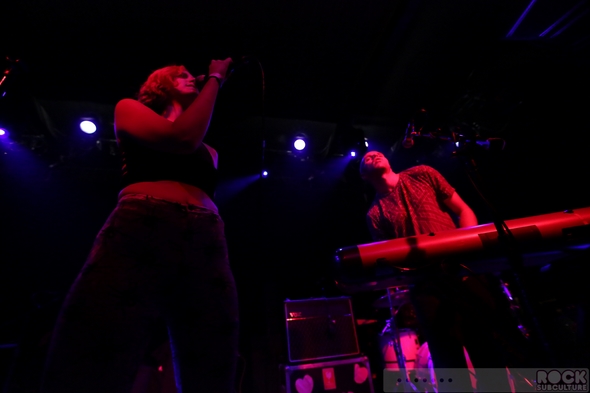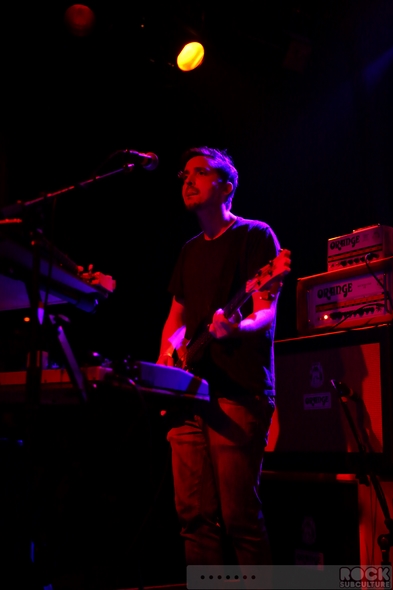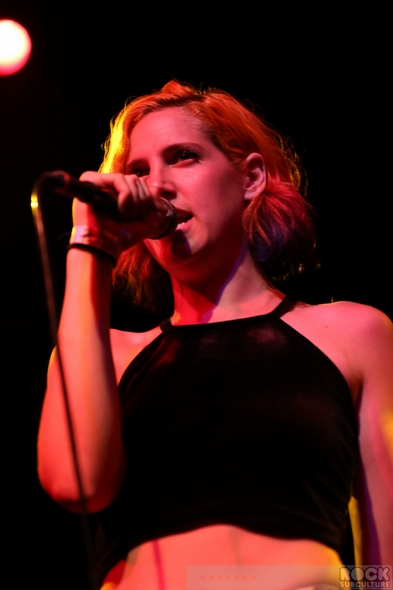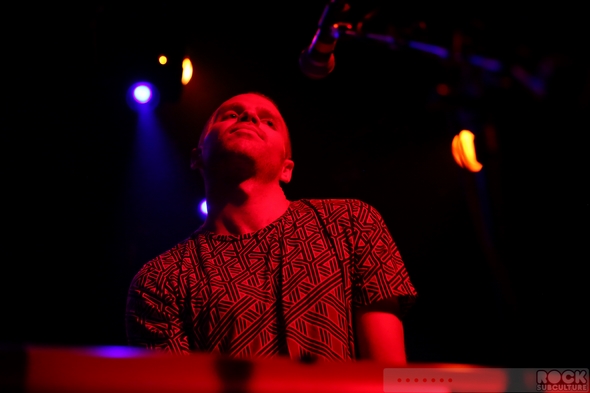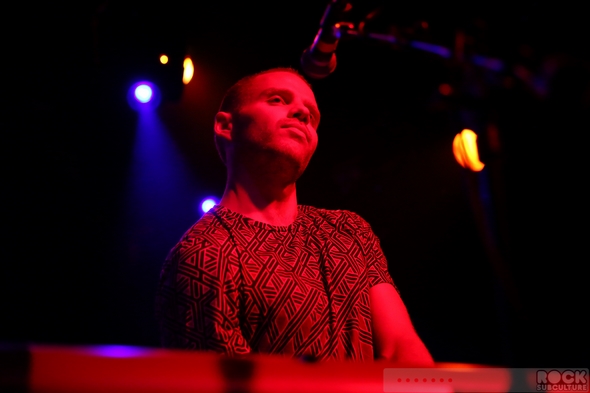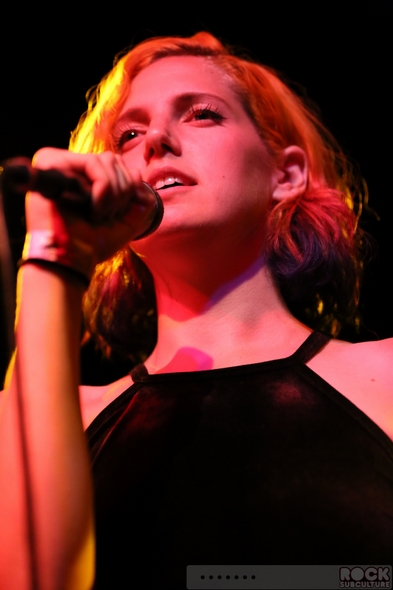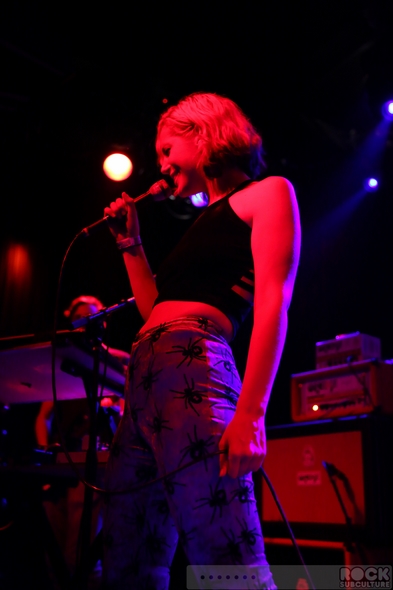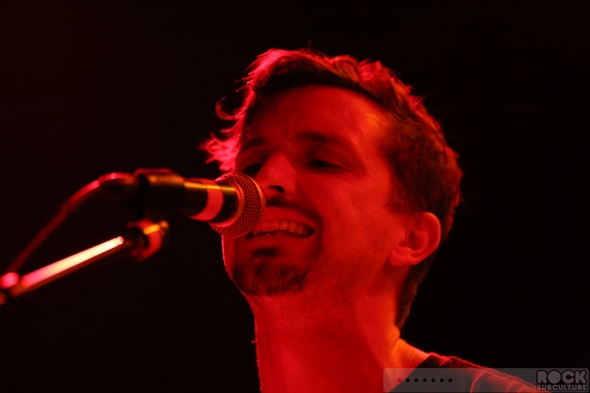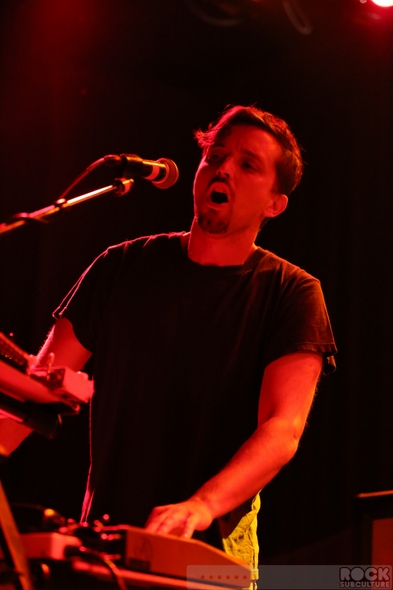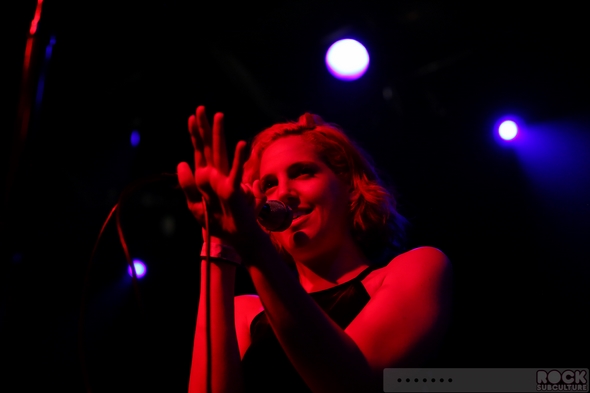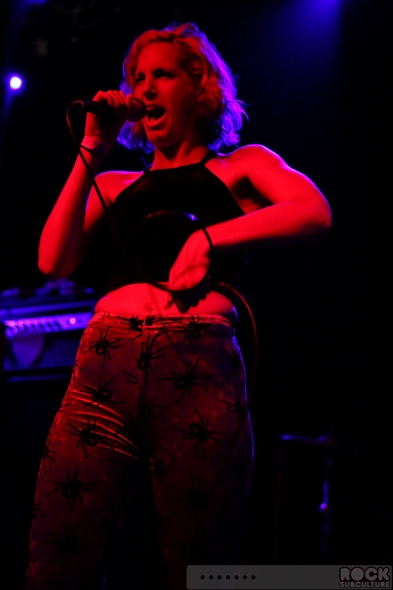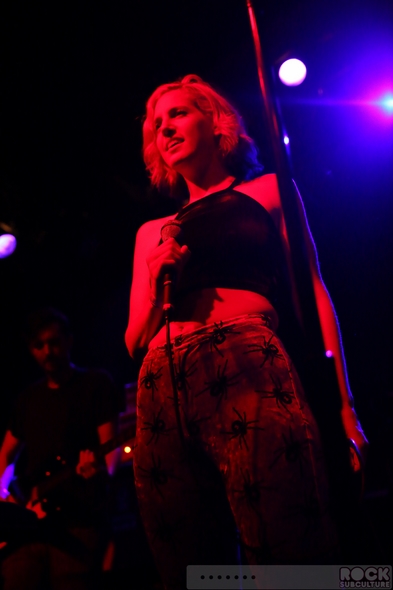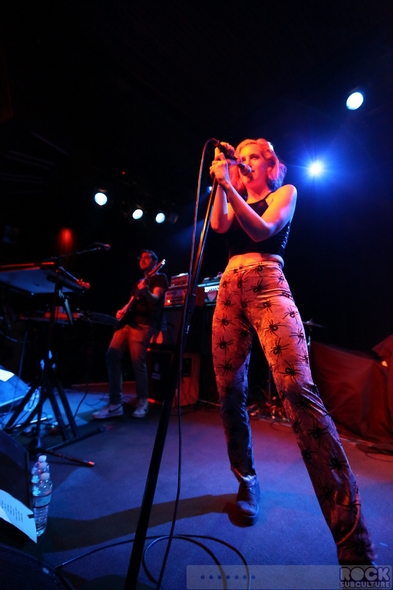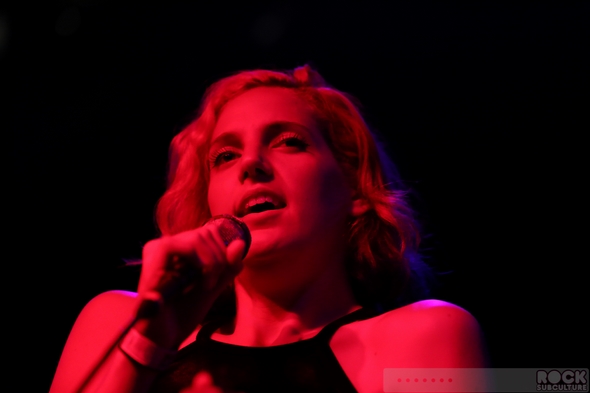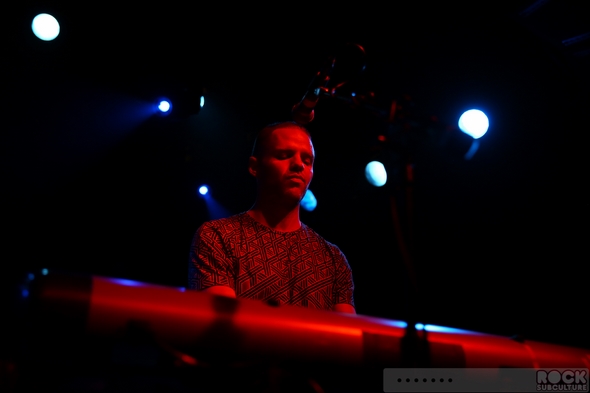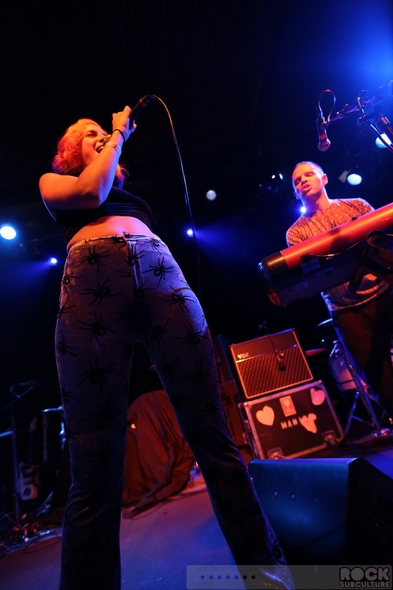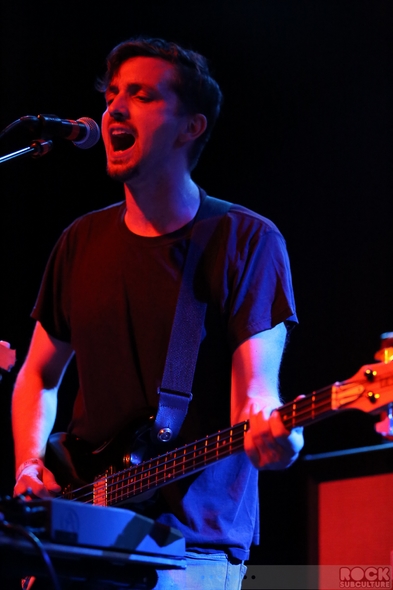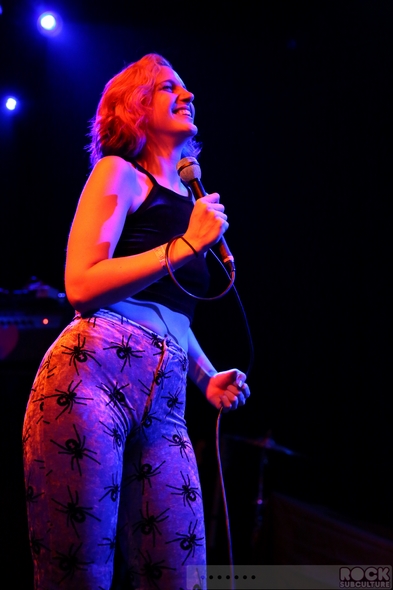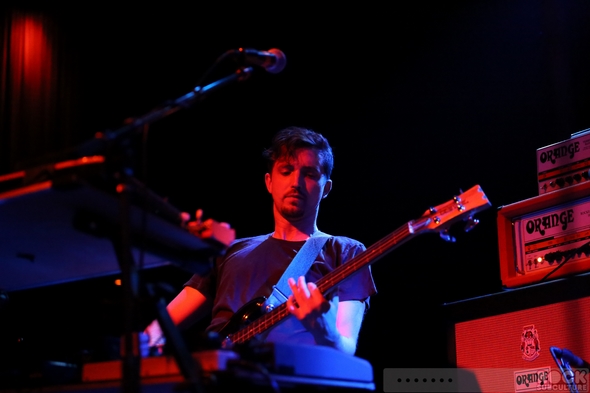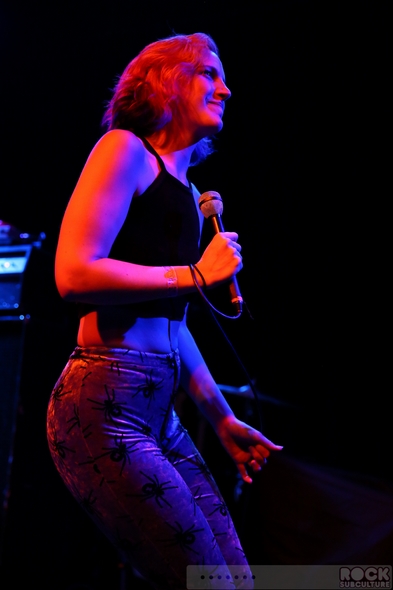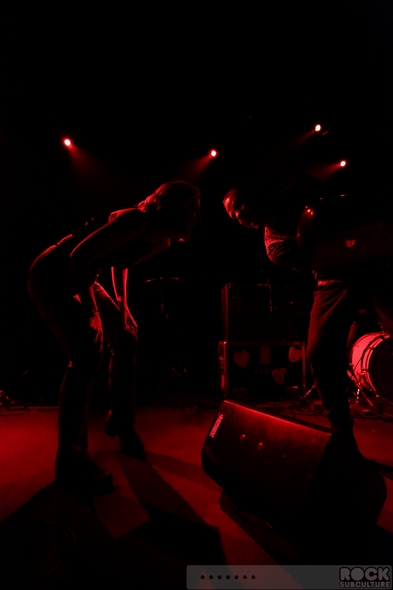 CSS (Cansei de Ser Sexy)
Members
Lovefoxxx
Luiza Sá
Ana Rezende
Carolina Parra
So this was one of those highly interactive performances…  frontwoman Lovefoxxx is one of those singers that is constantly seeking out connections with her fans, scanning the audience for reactions and she sings and bounces around the stage.  If that weren't enough, toward the end of the set she took a quick surf out into the audience (over and past my head).  At one point in the show, she was doing battle with a troublesome plastic cup that circled back to her each time she tried to kick it out of the way, boomerang style, so I helped by grabbing it and placing on the side of the monitor in front of me, out of her way, and she mouthed a quick "thank you" to me.  One of those hyper-aware artists that doesn't miss a beat, in every sense of the word.  But more than anything, she brings amazing energy to the stage, and it is contagious, as the place was bouncing from end to end.
The Brazilian rock band from São Paulo formed about a decade ago, and has released four studio albums (which I purchased leading up to the show), and all are cracking indie/rock/pop/electronic works, which I can't believe have been off my radar all this time.
The latest album, Planta, is definitely in the top three of my favorite albums released thus for in 2013.  It really caught me by surprise – and I can't say enough good things about.  The opener, "Honey", totally gave me a sense of being transported back to the mid-80s and hearing an amazing new New Wave song for the first time, in a way I have experienced since The Killers did the same for me with their debut, Hot Fuss.  Contemporary, but completely captures the spirit of 80's New Wave music.  Great sound and sample, energy, speed, goes through the changes, and just when you think it's over and are about to hit the 'back' button to repeat it, it kicks off into another all-instrumental groove to close it out.  "Into the Sun" is another more synth/keyboards oriented song that I can't get enough of – and Lovefoxxx's vocals are just awesome.  This one feels like a bit of an ancestor to the kind of music Book of Love was making.
The album is very smooth and well crafted; expertly produced.  The songs have a distinct spatial quality with a perfect separation of all of the parts, yet working together brilliantly.
One of my favorite tracks, which closed out the main set last night, is "Dynamite".  LOVE this song.  And this one shows their more rocking side, with more emphasis on guitar than synth/keyboards, but as with all of their songs, for me at least, they are pushed forward by the vocals.  And this is one of the reasons I've become such a fast fan of this band, as I prefer artists that have the biggest emphasis on the vocals.  "Dynamite" also goes through some great changes, and even seems to cross over into different musical cultures.
"Sweet" is the song that showcases the great beats and drums behind their music, and that is the biggest hook on this one, which is another of my favorites from the album.
"Teenage Tiger Cat" is another great song, with a great beat and infectious "woo" chorus.  I think my favorite at the moment though is "Frankie Goes To North Hollywood", which is a slower song, but more of a slow burn.  For me, this is the song that really hits all all cylinders and I could listen to it on endless repeat and never tire of it.
Unlike MS MR, all of this doesn't translate into a live setting sounding just like the studio recordings.  Which isn't good or bad, just a different experience.  While the studio albums are more polished and expertly produced, the live versions are raw, more like a rocking Pixies show than a synth-sounding electronic band.  And having witnessed it, I can't really imagine them being any different on stage.
Awesome, awesome show, and I really look forward to following them going forward, and catching one of their live shows again soon.
I was fortunate and got one of the setlists from the stage, pictured below: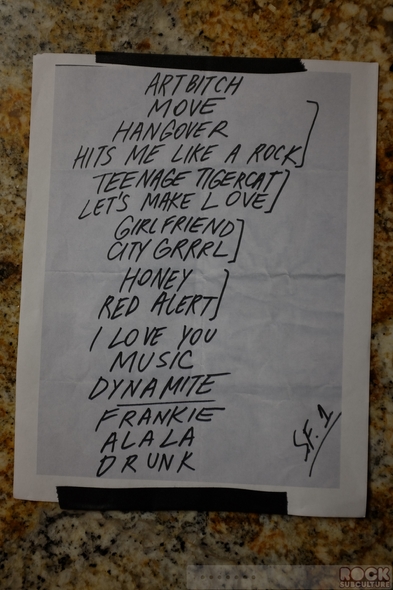 Below are some photos of CSS from The Independent last night (click any image for higher resolution versions of each photo):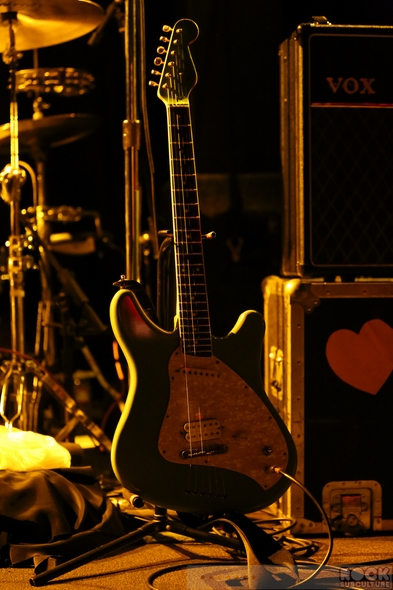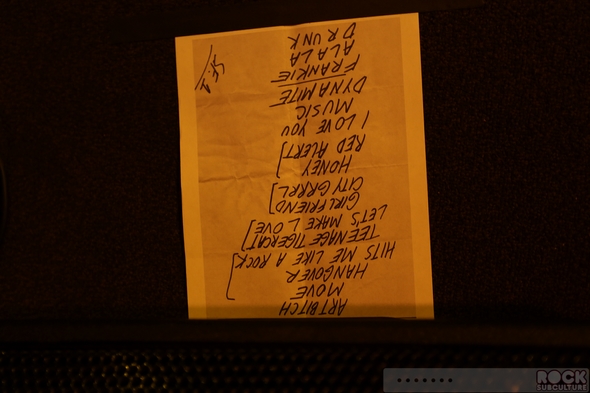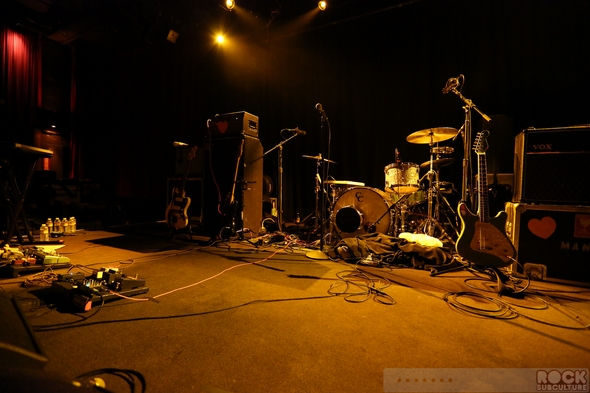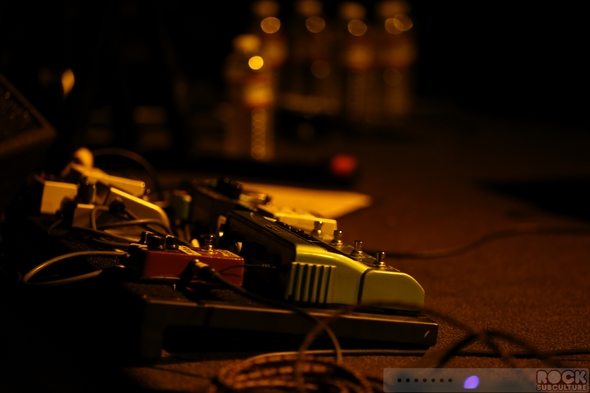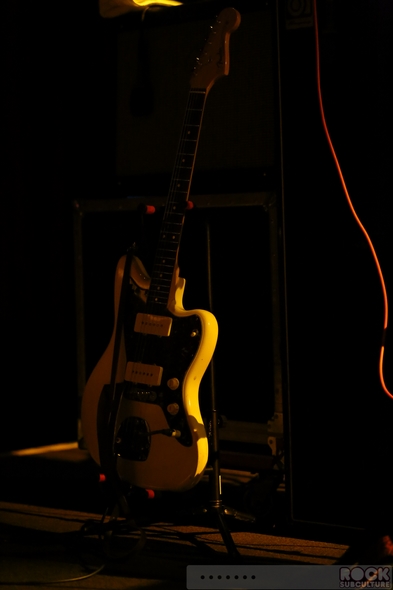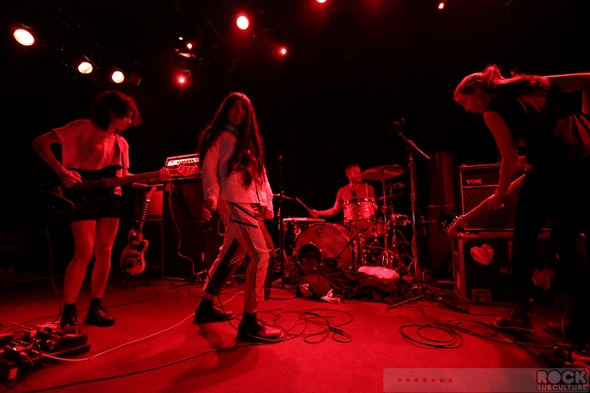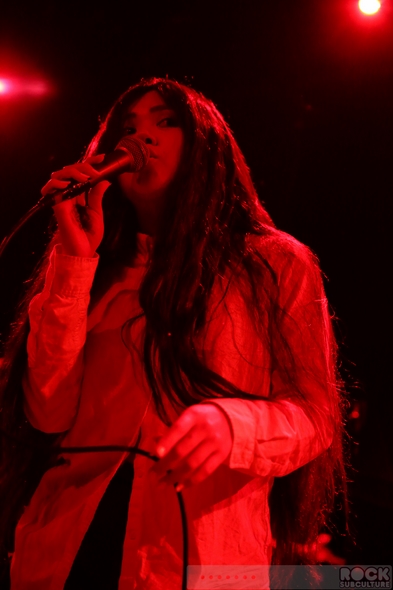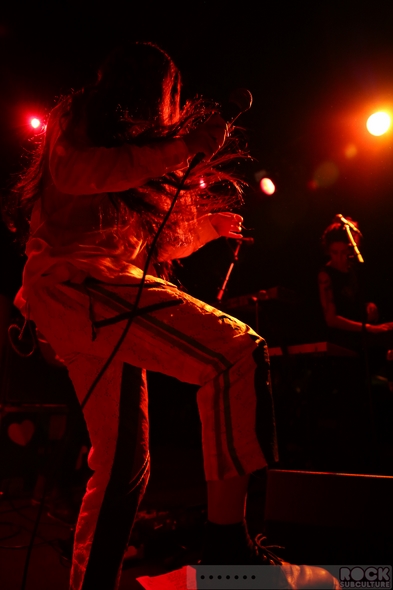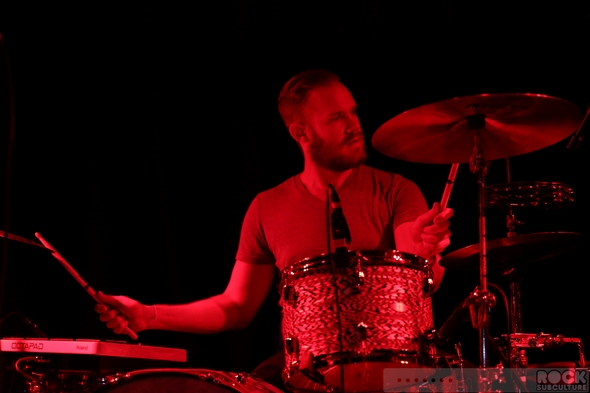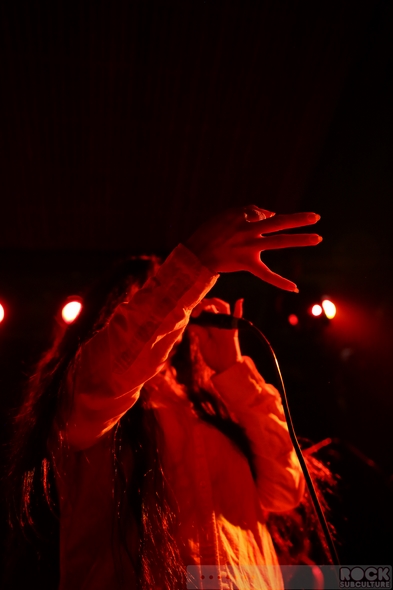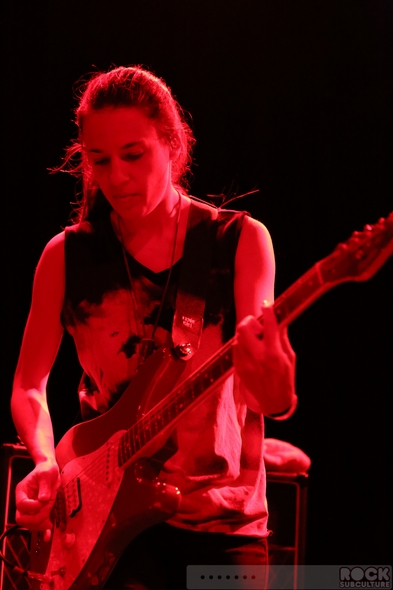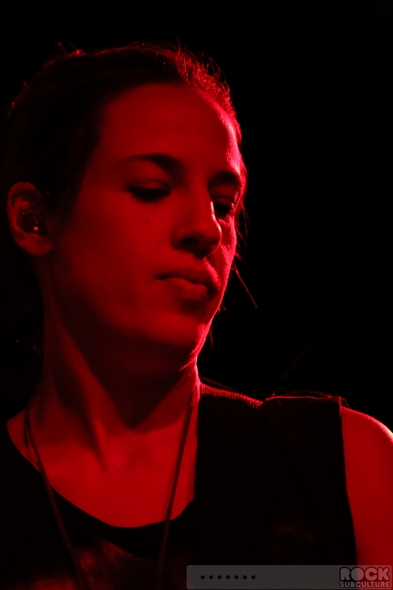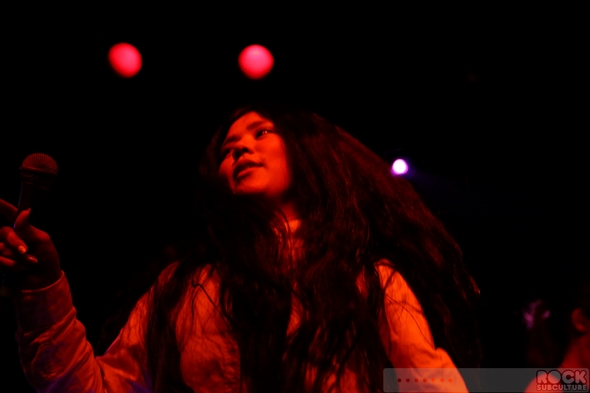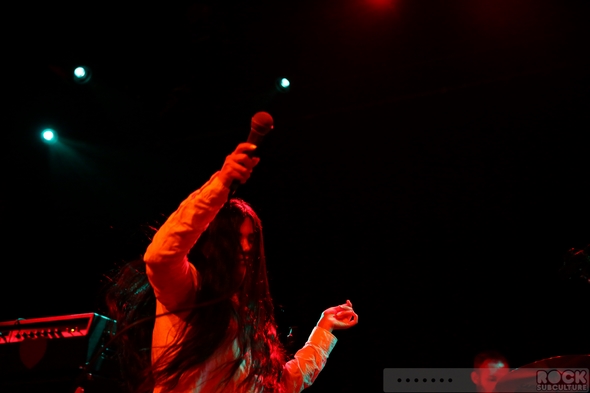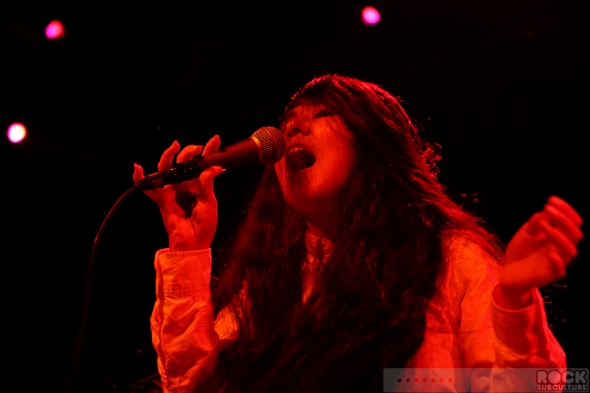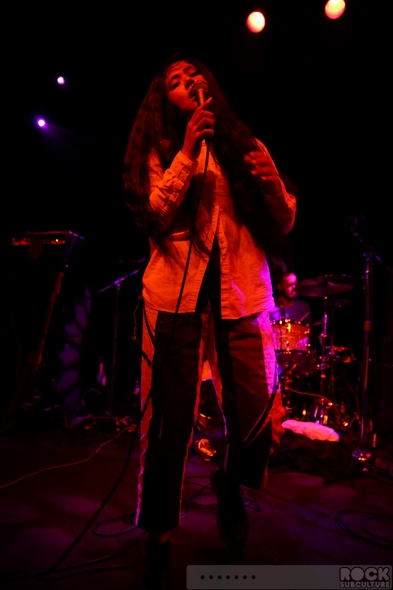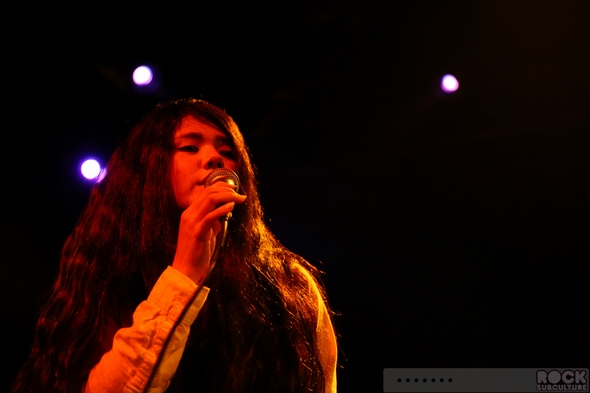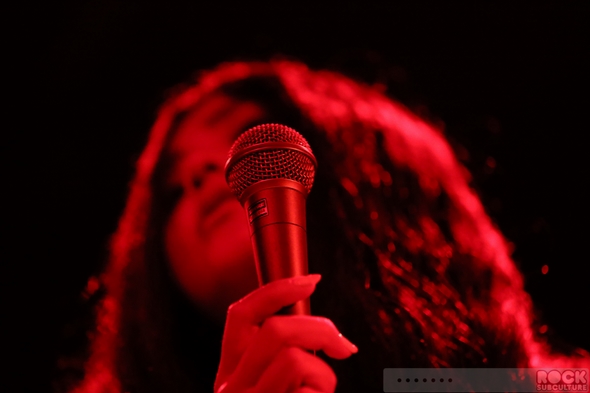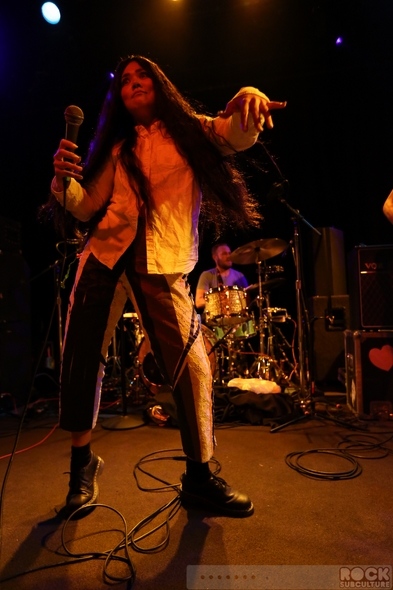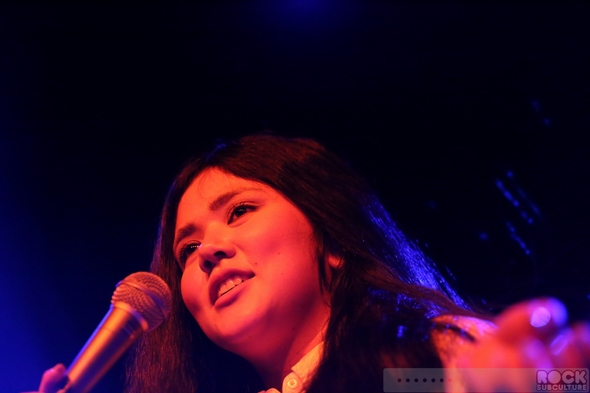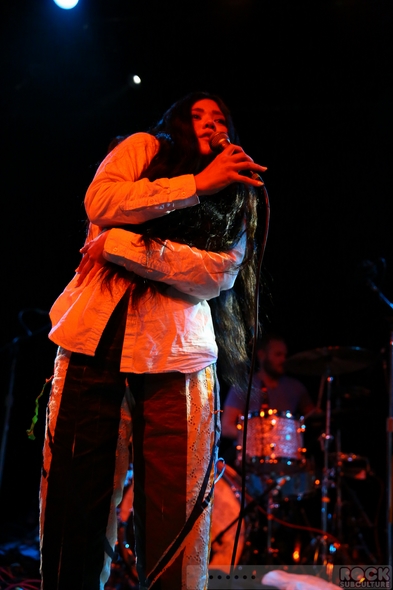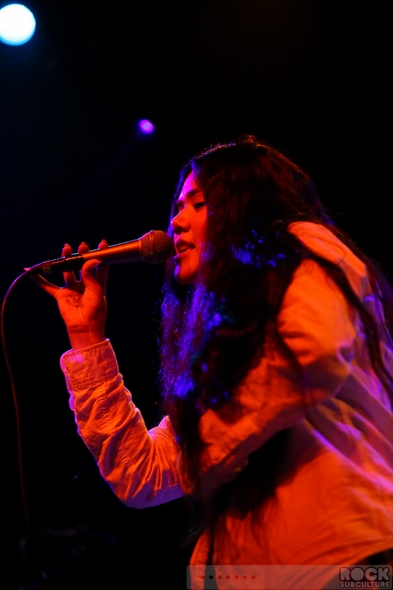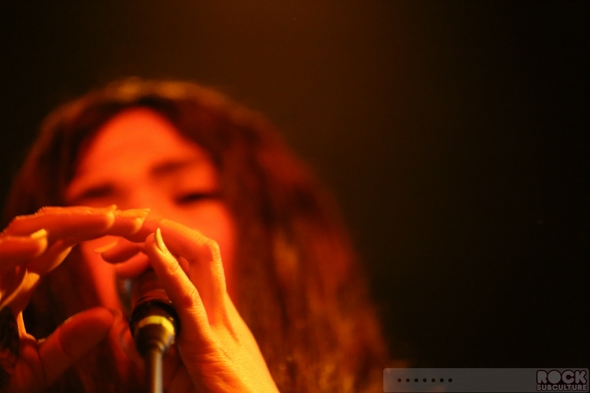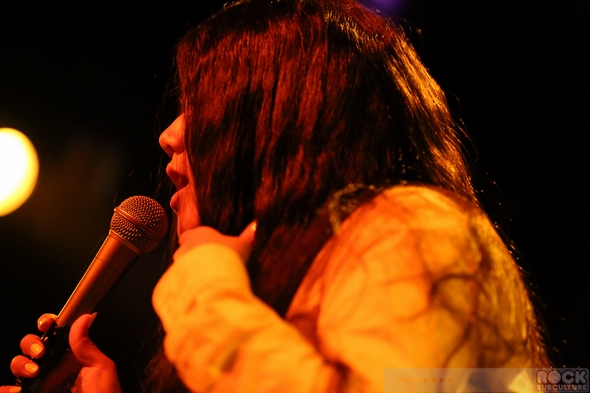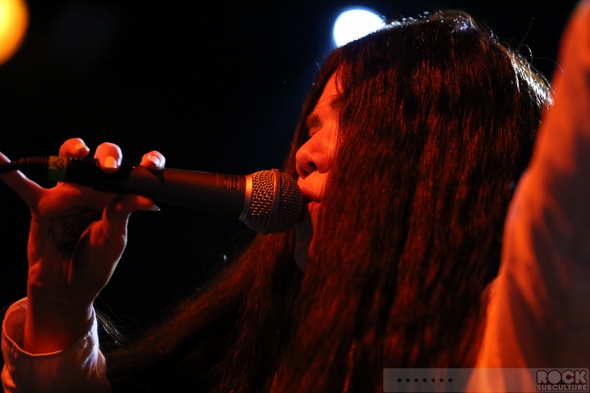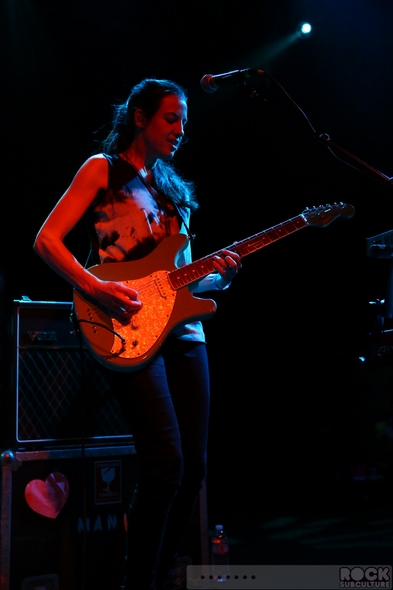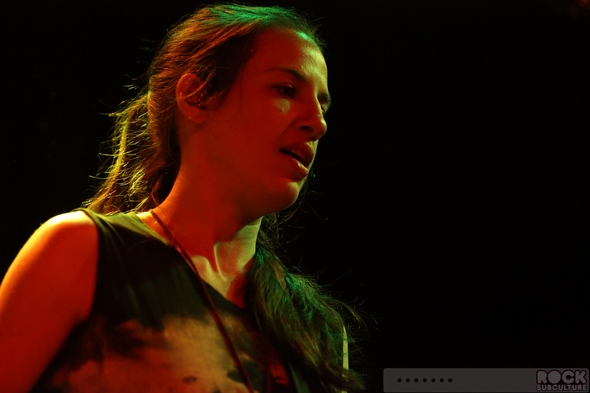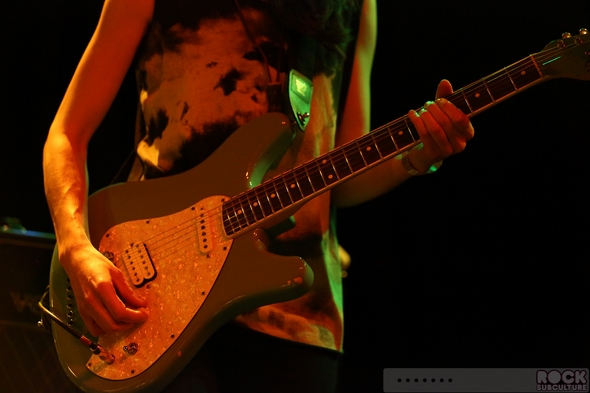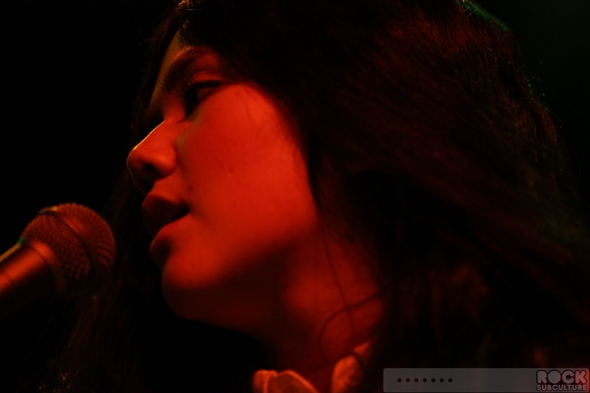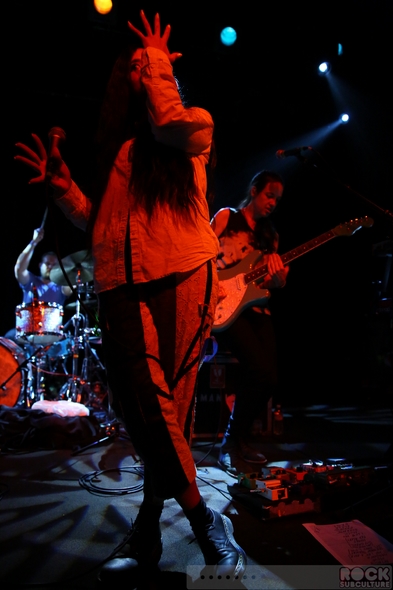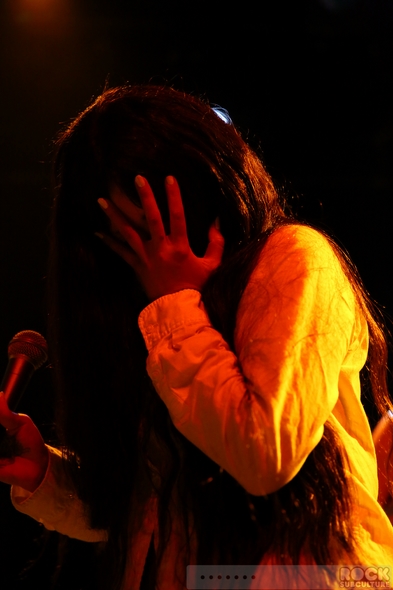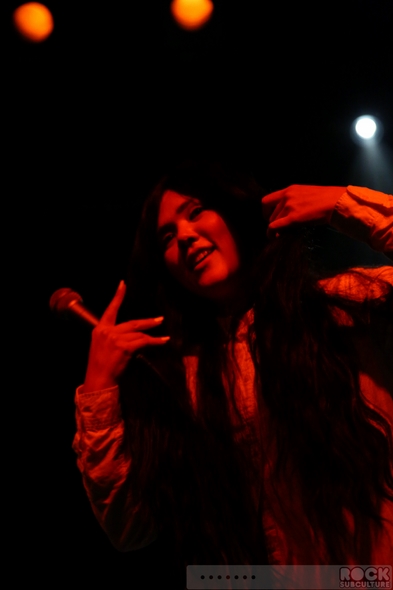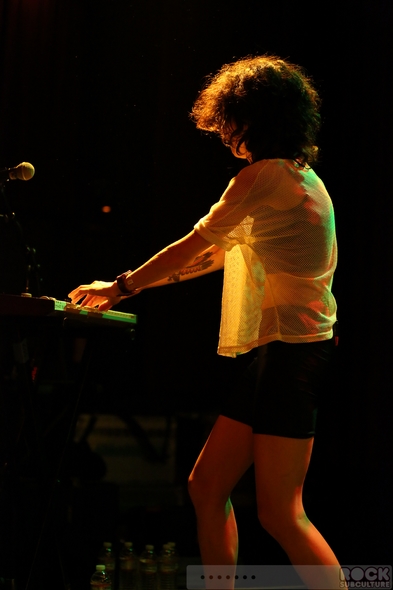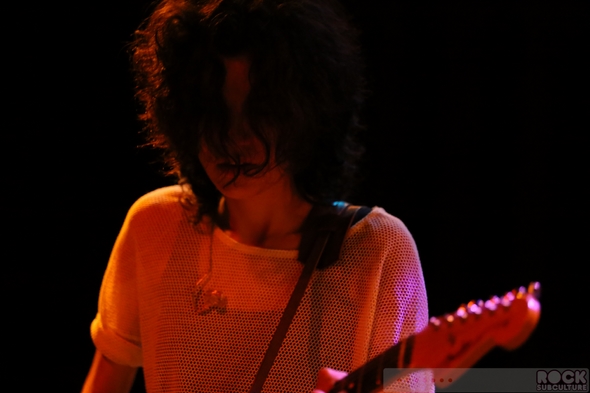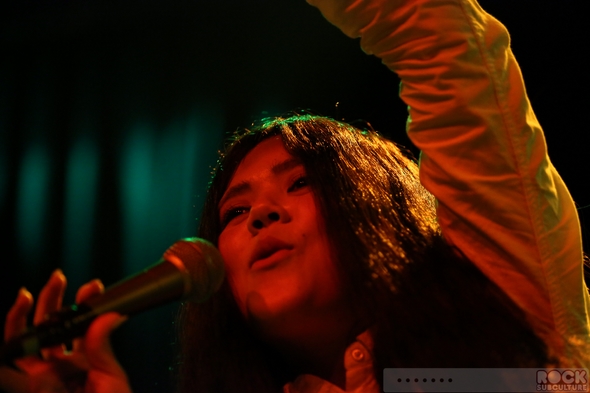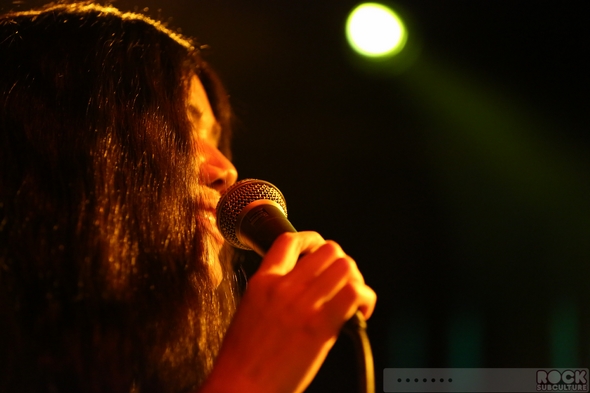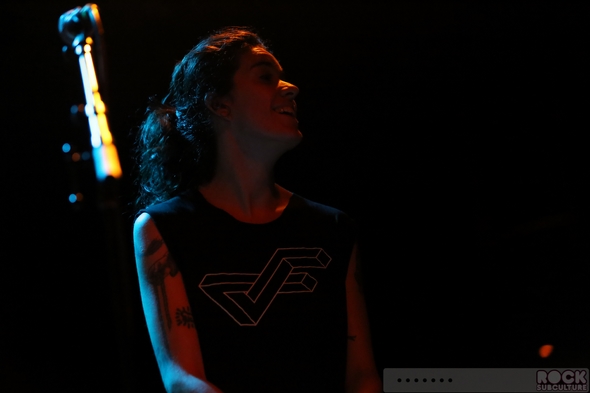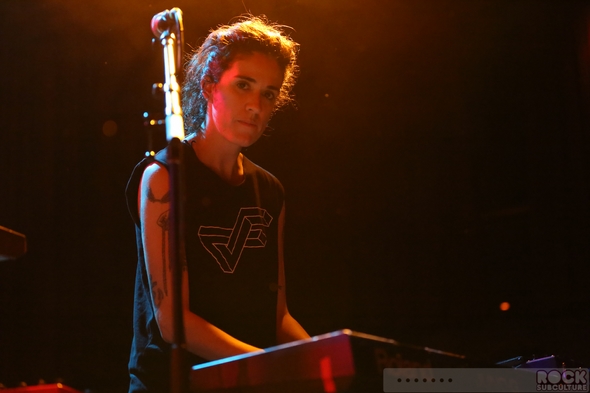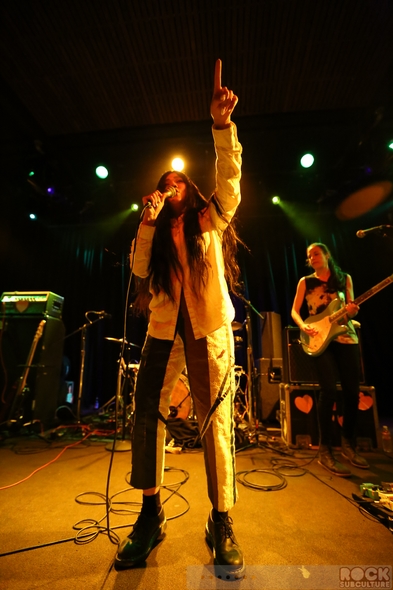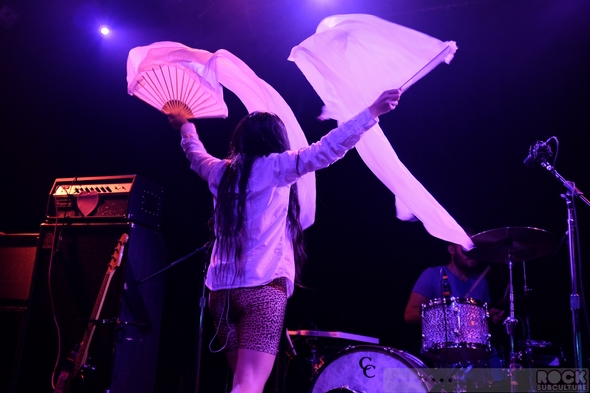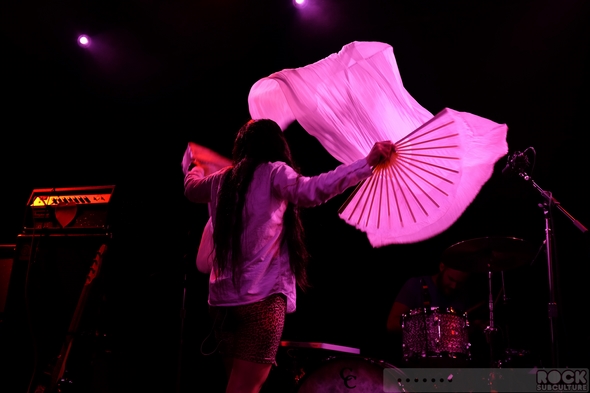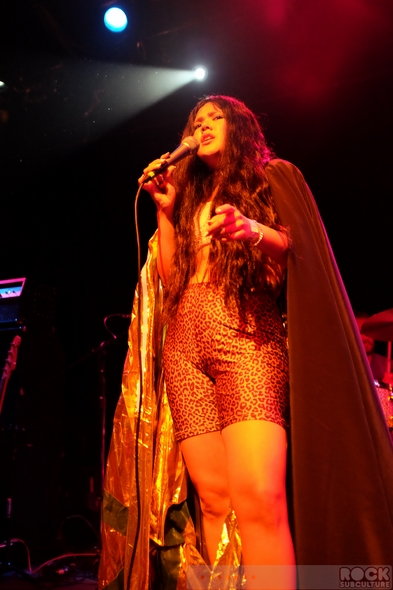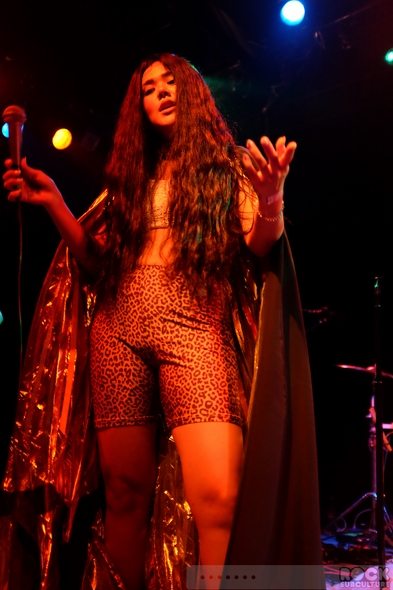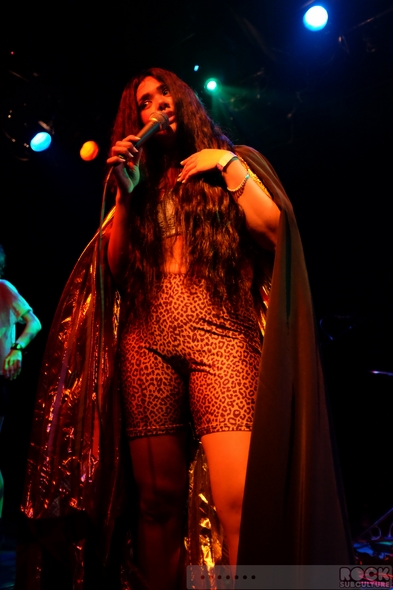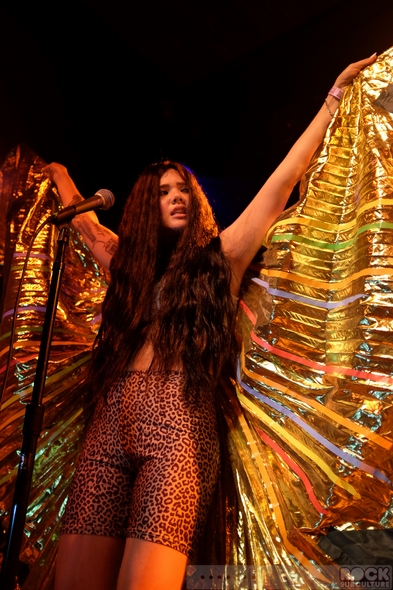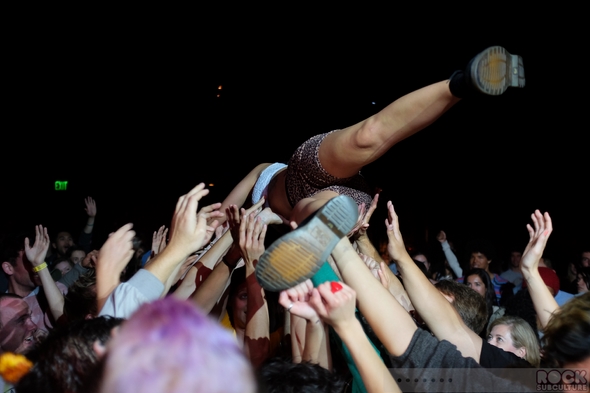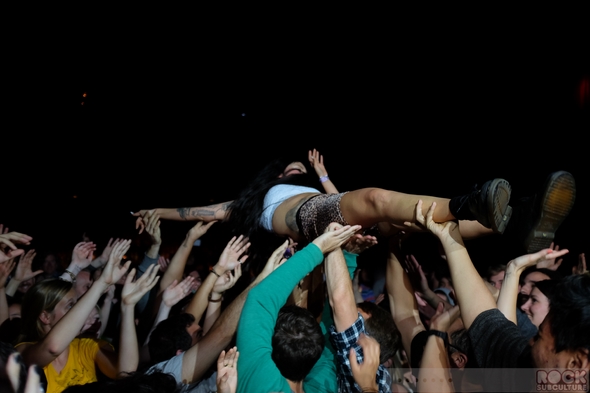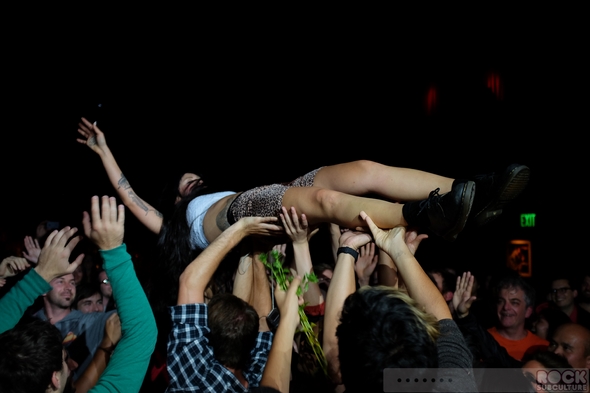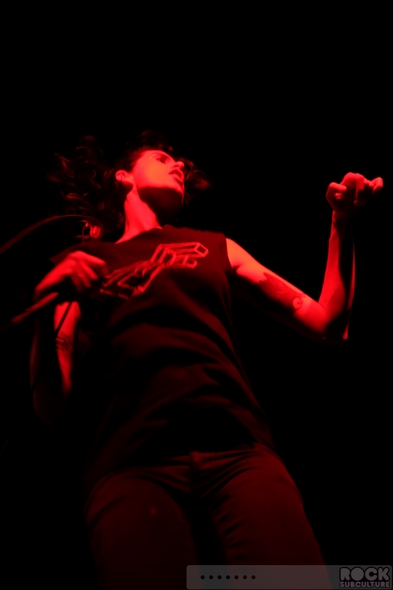 Jason DeBord