"We need a new story, Oakland.  Sometimes, you just gotta make it up.  It's called self-preservation."  It was a show that ran a full gamut of emotions, as the ever reclusive Prince opened up to a crowd of what felt like dedicated fans of the iconic artist.  The show at Paramount Theatre in Oakland was put up for sale just a few days prior and sold out instantly, so it was likely that those sorts of fans with their ear to the ground were the only ones who had a shot at getting them.  Though pricey, it was well worth the price of admission as Prince put up a "fan service" setlist that included many hits as well as favorites that you might not expect from The Purple One.  Bathed in a digital kaleidoscope of light throughout the show, Prince (with ginormous afro and shoes with flashing red lights) sat, stood at, danced around, and at one point even lay on top of a grand piano painted an appropriate shade of his signature color.  Billed as "Prince: Piano and a Microphone", he started this concept at his own Paisley Park in Minnesota last month.  But it was so much more than that… I think Prince stripped down inspires him to open up so much more, both with his emotions and his music.  Truly an unforgettable experience.
Who: Prince ("Prince: Piano and a Microphone")
Venue: Paramount Theatre
Where: Oakland, California
Promoter: Live Nation
When: February 28, 2016
Seating: Section ORCH, Row GG, Seats 2-4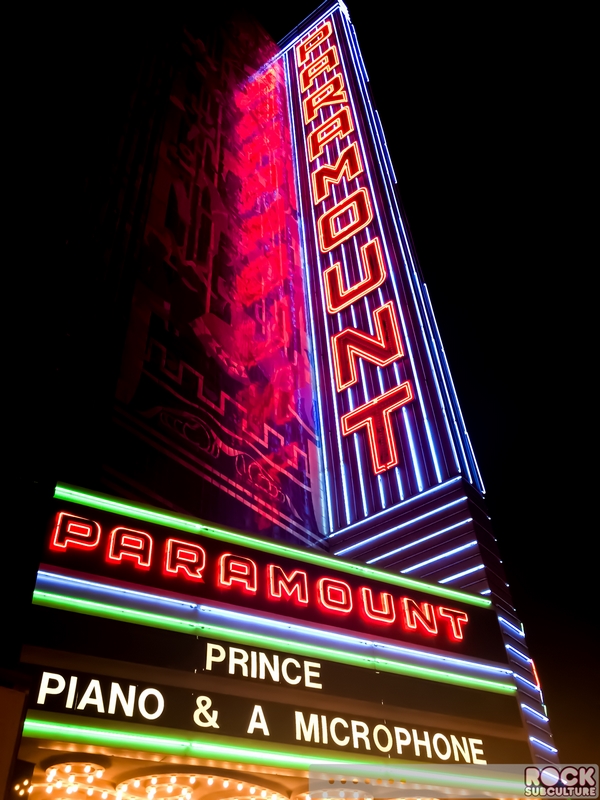 So tickets for this show went on sale Wednesday for the Sunday show, with less than 24 hours notice (much like Prince's last two visits to the Bay Area in recent years).  I knew I would be lucky to get any tickets, and that sell out would be instantaneous.  I had sessions prepped for three different web browsers (different web browsers mean different tracking cookies, so you have independent searching sessions) as well as the Ticketmaster iPhone app…  It seemed like nothing was available until about 10 minutes after the on sale time (likely to curb opportunities for scalpers).  With all of my frantic attempts with my laptop, only one time did an option come up and it was the interactive map, which promptly crashed.  About 15 minutes after the on sale time, I was able to secure a pair of tickets for my wife Shelley and I toward the back of the floor, and I bought them.
There were two shows, back-to-back, one at 7:00 and one at 10:00.  The show was at the beautiful Paramount Theatre in Oakland.  Funny enough, the last show I saw there was also a solo artist, piano, and microphone – Tori Amos.
Thankfully these was a credit card entry type of show… you needed to have the credit card used to purchase the tickets through Ticketmaster in hand to get through the door, so hopefully this helped to mitigate the scalper issues.
NO PHOTO / VIDEO POLICY
Knowing that Prince rarely allows professional press photography at his shows, I didn't even bother to put in an inquiry this time around…  I was just thrilled to have an opportunity to attend the show.  Prince is the only artist for whom I publish reviews with no photos.  I did snap one photo with my iPhone as he walked off stage at the close of his fourth encore (see bottom of article).
I last saw Prince with 3RDEYEGIRL at the Fox Theater in Oakland in 2014 about two blocks away from Saturday night's show, and at a pair of the DNA Lounge shows in San Francisco in 2013.  These shows were all about the guitar-driven band experience, with some solo work by Prince on his synthesizers for an encore.  The shows in the past few years were focused on his newer work, which was in contrast to Saturday night's show which spanned his entire catalog (with a sprinkling of covers).
This show differed from the others in recent years in many different ways – it was a completely different sort of show.
Built on the foundation of the regal and elegant Paramount Theatre, with assigned seats and ushers, it had a completely different vibe from the mostly standing, general admission shows with his full band.  People in attendance were just beaming with excitement before Prince even took the stage, and once he did, I think the excitement about it all could not be contained.  I've never heard so much screaming, cheering, clapping, and singing at a Prince show.  I think there was a bit of making up for the inability to dance and jump around.  And Prince took control of this energy, at times like a conductor ("clap!", "double time!", "sing!") and other times like a pastor ("sit down…").
It all kicked off pretty much on time at 7:00, with Prince strolling out and starting things with a mix of swagger and humility.  I can only speculate, but I got a sense that Vanity (Denise Katrina Matthews) was on his mind during the first half of the show.  One of Prince's protege's, famous as the lead in Vanity 6 and known as a singer, songwriter, actress and model, she tragically passed away this month and her funeral service was held the day before the concert.
The theme throughout the show, "we need a new story", was on Prince's mind from the start.
He started the show saying, "let me introduce myself", and went into a heartfelt and soft version of "I Would Die 4 U", though it was more of a tease as he didn't get very deep into it before talking about another solid theme, talking about how as a child he wanted to be like his father.
Giving the audience sort of impressionistic glimpses into his life, he captured a child-like optimism, transitioning into "Over The Rainbow" as he brought us quickly through his youth, talking about the assassination of JFK and the American Dream, then took a sharp turn into the Batman theme song from the 60's hit show (funny enough he did a soundtrack for the first Tim Burton film so many years later).
Then he jumped to the present, with a jumping rendition of newer track, "Big City", then taking us back around to "I Would Die 4 You".
This was all in just the first 10 minutes, so it was pretty riveting moment to moment as he opened up to his fans and put on quite a performance.  Also an interesting glimpse into how his mind puts music and emotion together.
One of just a few covers in the night, Sly and the Family Stone's "Stand!" seemed relevant to things on his mind…  "There ain't no justice no where… talk to me Flint" (there was a #JusticeForFlint concert happening in Flint, Michigan concurrently).
The rest of the main set was hit after hit after hit…  definitely a dream setlist for most Prince fans.
Setlist:
I Would Die 4 U
Over The Rainbow (Harold Arlen cover)
Batman '60s TV Show Theme (Neal Hefti cover)
Big City
I Would Die 4 U (reprise)
Stand! (Sly and the Family Stone cover)
Take Me With U
Little Red Corvette
Dirty Mind
Little Red Corvette (reprise)
Controversy
I Feel For You
The Most Beautiful Girl in the World
Pop Life
The Max
The Ballad of Dorothy Parker
Black Muse
Cream
Diamonds and Pearls
The Beautiful Ones
Thieves in the Temple
Unchain My Heart (Ray Charles cover)
It
The Question of U
Under the Cherry Moon
The Question of U (reprise)
Encore 1:
Raspberry Beret
Starfish and Coffee
Paisley Park
How Come U Don't Call Me Anymore
Encore 2:
Nothing Compares to U
Purple Rain
Encore 3:
Kiss
Black Sweat
Purple Music
Encore 4:
Prince got a little playful as he plotted out "Take Me With U", playing with plunky keys as he found the right combo to get the song bouncing, then started stomping a little, prompting the crowd to clap along.  Then asking, "you wanna sing with me?"  All those emotions swirling around like the kaleidoscope with a rainbow of colors projected behind the stage.  This was one of the more joyful stretches.  A complicated man taking us on a complicated journey…
Probably my all-time favorite Prince song is "Little Red Corvette", which boldly came next, to ear shattering screams.  This was his most emotional point in the entire show, both celebratory and sad, filled with humor and then raw pain.  As the keys got softer, "there was this one girl in particular…" then faster as he twisted it into "Dirty Mind", then slowed it back down to "Little Red Corvette", speeding it up and slowing it down, shifting from serious to playful to serious… then somber, eventually just lightly touching the keys and softly singing "girl, your moving too fast, too fast now, too fast… just recently, we lost a dear sister that was moving too fast – too fast, too fast, too fast…" bridging to a flutter of keys that sounded like angel wings…  "I may be a bit to wrong, I might be a bit too blue, baby you know what I want.  I want you.  Ohhh…  You can be with those others if you want to… that's cool…."  He gave a shout out to Oakland and then closed it with "slow down, yeah… you got to…  Ohhh…  Slow down… oh yeah…"
"My heavenly father gave me rhythm…"  Another transition, into a poppy, clap along rendition of "Controversy"…  Most songs were not played "in full", but were more organic and part of an overall megamix of hit after hit.  But "Controversy" seemed to get special play, going end to end.  I think this helped to shift his mood upward after the cathartic version of "Little Red Corvette".
Next up was "I Feel For You", which many would associate with the Chaka Khan cover (for which Prince earned the Grammy Award for Best R&B Song in 1985.
"The Most Beautiful Girl in the World" showcased yet another side of Prince, as he brought out his inner-crooner.
"You take care of me; I'll take care of you too…" A preface to another one of my favorites, "Pop Life".  It had a different, more contemplative pacing and more optimistic bent, falling apart in a cascade of keys that twisted it into "The Max" for an immediate contrast.
At this point, it was like sensory overload – all this fantastic music.
After "Black Muse", Prince went into his longest narrative about his father, while staring at his own giant shadow cast on the far wall…  "We gotta tell ourselves a new story… the only story I had was the one I made up.  I wanna be just like that dude right there… my father.  My father.  How'd he get so cool?"
Then he went into maybe the most joyful and playful song of the night, "Cream", while busting on the audience for not chiming in strong enough with "time", with the backing vocals…  "when you hear the cue for singin' that would be – the cue – for you to sing…"  Right behind was a short visit with companion piece "Diamond and Pearls".
"The Beautiful Ones" seemed to bring Prince back around to feeling internally and having a moment on stage.  "Bring to life a vision, in one's mind. The beautiful ones always smash the picture.  Always, every time".
I think the most surprising part of the setlist was the inclusion of "Thieves in the Temple" from Graffiti Bridge, an album that wasn't a huge hit commercially but that I totally love.  A really special version "Thieves in the Temple" that gave the song a totally different feel and vibe.  A similar tone carried through his cover of Ray Charles' "Unchain My Heart" and "It" from his own Sign of the Times…
He ended the main set with piano-only riffs of "The Question of U" and a flourish of "Under a Cherry Moon" in the middle.
He left the stage and returned for his first encore to thunderous applause, keeping the crowd on it's feet with fuller versions of "Raspberry Beret", "Starfish and Coffee", "Paisley Park" and "How Come U Don't Call Me Anymore".
Another exit, return, and the second encore featured a churchy "Nothing Compares To U" (which he wrote for Sinéad O'Connor) and a softer "Purple Rain".
You'd think that would do it, but the fans were going crazy and he came out for two more encores – "Kiss", "Black Sweat" and "Purple Music" and then "Venus de Milo".  I think people most lost their minds during his rendition of Kiss, with the sound of the crowd screaming downing out the speakers… "Ya'll can't blame me – I got too many hits!"
Unbelievably, he did another full show afterwards for the 10:00 show.  I didn't manage to get tickets for that one, but I have to imagine that there was something special about the first, his emotions, and his state of mind.  But I'll never really know.
In any event, what an incredible concert.  Prince and his guitar would seem inseparable, in terms of live music.  But this format was more a showcase of his soul, which shines so brightly.
Though his refrain throughout the night was "we need a new story", maybe just as powerful was his closing remarks: "Those assuming the role of God need to listen to every voice.  When someone says that their lives matter, they're trying to get your attention."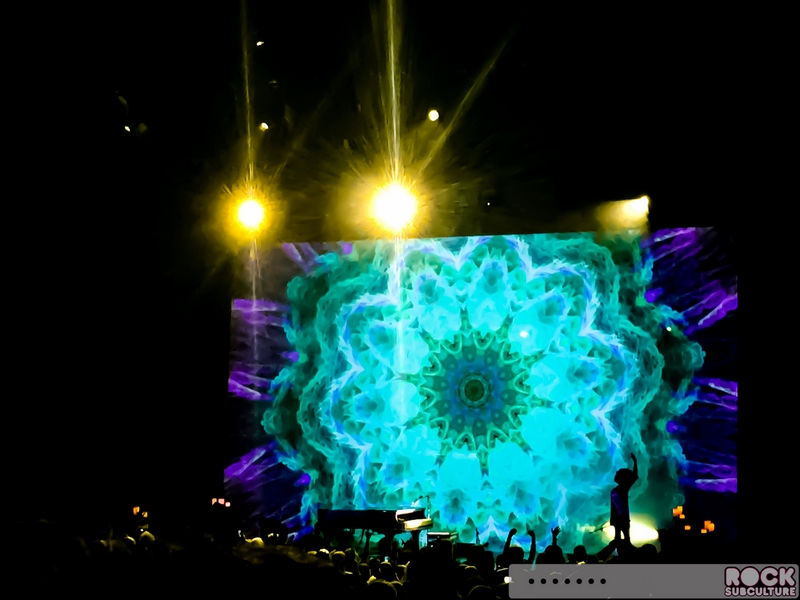 Jason DeBord