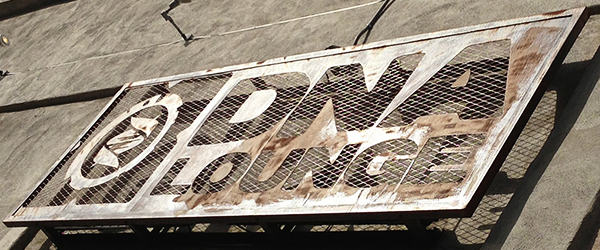 "How do you like your rock 'n roll?  I don't know about you, but I like mine funky."  Early on in Prince's "Early Show" Wednesday night – the second evening of his two-night engagement with 3RDEYEGIRL at the tiny 800-capacity DNA Lounge in San Francisco – he let us know what we were in store for over the following hour and a half.  And that was the theme of the entire night… funk.  Since I already gushed over how the "Late Show" the evening before was one of the best concerts I'd ever been to in my life, I was hoping for more of the same.  Well, it was another epic show, but somehow was altogether different from the show the night before.  This gave me a different perspective on these concerts, which as precision-driven as Prince is, the concerts overall seem very much like a ripping and spontaneous jam session.  A perfect collision of the planned and the unplanned…  I got the feeling that there is an overall framework, and incredible planning and timing in all of it, but within that framework is a genius at work – inspired, reacting, and making up brilliant music set pieces as he goes along.  He's not there to please any particular sensibility or set of expectations.  He's there to rock the place out.  And boy did he deliver.  The highlight for me was, funny enough, when he took over the bass guitar and played that thing in a way I've never seen or heard a bass played before.  And it was all about funk, without any doubt.  $250 plus fees for these shows is a high point of entry, but had I known what I was in for, I honestly would have found a way to go to all four shows in San Francisco this week, they were that amazing.  The must-see show of the year, hands down.
Who: Prince with 3RDEYEGIRL
Venue: DNA Lounge
Where: San Francisco, California
When: April 24, 2013 (DAY 2 – EARLY SHOW)
Seating: General Admission Standing (in-between center mic and right side of stage, looking at stage about 4-5 rows back)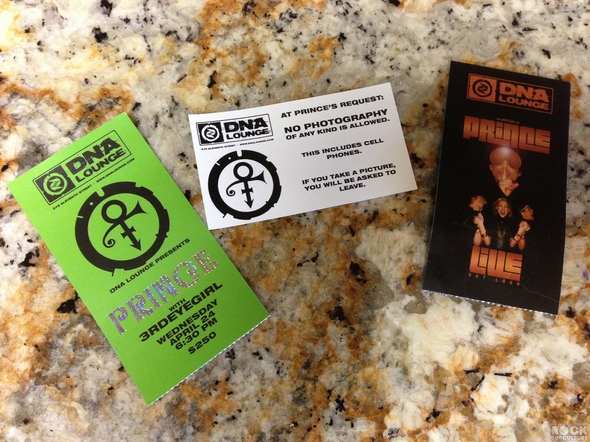 Be sure to read my lengthy review of the DAY 1 – LATE SHOW at DNA Lounge on April 23rd for more thoughts about this special concert engagement of the Live Out Loud Tour in San Francisco by clicking the image below: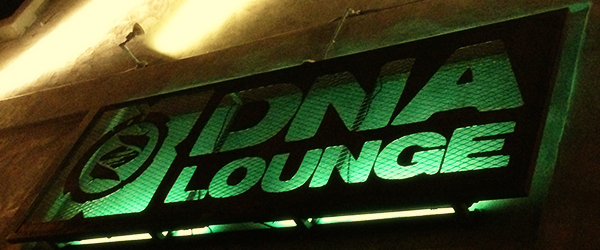 DAY 2 "EARLY SHOW" on April 24th
As explained in my Day 1 Late Show article, I've been to many, many concerts, but the stars never aligned for me and I'd never been to a Prince concert prior to these shows in San Francisco this week, though I rate him among my favorite artists.
Also echoing yesterday's review, compounded with what I saw in my second show last night, he is without a doubt the most brilliant performer I've ever seen play on a stage in any of the arts.
As is the case with Prince and made very clear in these shows, no photos are permitted, even from cell phones, so I must rely on my words to share my experience at these shows to the best of my ability.
I had a fuller pre-show experience this second night, as the first night I was running over from seeing Rodriguez at The Warfield down the street just before Prince's second show, and as such was literally walking in just as he came on stage with a ripping version of "Let's Go Crazy".
With last night's show, I arrived hours early, hoping to improve a bit in my standing on the floor in the tiny DNA Lounge.  I always enjoy chatting with other fans prior to any concert, so had ample time to do it this time around, and it seemed like everyone I'd spoken with had seem Prince many times in the past.
DNA Lounge did a great job staffing up for the event and packing people into the small venue in a fairly orderly manner.  As much as they made a big deal about photography on the first night, they did even more so last night (though during both sets I attended, I only ever saw one person take one photo with their cell phone during the actual performances).
Given my experience the night before, where I was to the right of the stage, looking at the stage, just under the balcony above and beside a supporting column, I knew that the sweet spot on the floor was just right of center mic.  So myself and some who waited in line near me all settled in just that spot, maybe the equivalent of 4-5 rows back.
There was definitely a different energy in the air, but it might have just seemed that way since there was zero pre-show waiting for me the first time, so with this show, there was significant anticipation of what was to come.
As mentioned in my review the night before, I've loved Prince since the start of the 80s, and some of his songs during that period are among my favorites.  One of my all-time favorite songs of any artist, any era, is "Little Red Corvette", but it does not seem at though that is currently in rotation.
For those who have never been to the DNA Lounge, there is an upper "U"-shaped balcony area outlining the open floor and low stage below, and Prince's staging included some large video panels behind and ample lighting and effects, as well as fog/smoke that periodically dropped down from above the stage.
Things kicked off a little late – I think it was about 8:15 by the time Prince and 3RDEYEGIRL (Donna Grantis on guitar, Ida Nielsen on bass guitar, and Hannah Ford on drums) took to the stage.  I was expecting "Let's Go Crazy" like the night before (and looking at past set lists, what seems to be the norm), but the show played out completely differently than the one the night before.  A completely different show and experience, which was awesome for me personally.
Unfortunately, I've not yet found a good record of the set list for last night's early show (I keep checking Dr Funkenberry's site for updates, and will update my article here once someone puts it together).   We were packed onto the floor so tightly I seriously had a hard time just moving my arms to make the notes that I did.  I did get a poor quality sound recording of the encore to play back this morning to piece together the encore set, which I've copied below:
Partial Set List…
Encore 1:
Purple Rain (vocals and on keyboard)
Adore (vocals and on keyboard)
Encore 2:
When The Doves Cry (sampler with vocals, sing along, with Alphabet St. "Nooo" samples cut in)
Nasty Girl (sampler) 1:51-2:15
Sign O' The Times (sampler with vocals, sing along "ooo-e-ooo, ooohhh…", Alphabet St. "Nooo" samples cut in)
Hot Thing (sampler with vocals, Alphabet St. "Nooo" samples cut in)
Chant: "Ain't no party like a Frisco party, and a Frisco party don't stop!"
A Love Bizarre (sampler with vocals, Sheila E. Cover)
Housequake (sampler with vocals, sing along)
Again, Prince's touring and supporting band 3RDEYEGIRL was fantastic – huge talent in their own right, and they seem right at home on stage with Prince.  Watching them all play together, changing things up based on subtle motions and triggers, you would think that they have been jamming together for decades.
Prince seemed to have the same outfit as the night before – all black and once his jacket was removed, a long shirt that draped down the front and back.  A friend was at all four shows, and she told me he changed things up for the 4th and final show in SF last night, wearing something more tight fitting.
As was my experience the night before, Prince fully took advantage of the tiny venue to engage the audience unlike any artist I've ever seen. Yes, the stage was low – he was "right there" – but what is he focused on? Not his guitar so much, which he shreds effortlessly… no, Prince is focused on his audience. At times collectively, but more frequently, each person there in front of him – one by one. His eyes seek out yours, and each smile, nod, pointing of the finger… he's sharing in his greatness on stage with everyone there for the show. The guy is fucking amazing.
And the expressions on his face… he is living his music. As much brilliance comes out of his guitar, it's almost like the guitar isn't up to the task of keeping up with him, and this energy is just coming from his face, like there is all of this music within him and as much as we hear it and see it, it is an endless reservoir of brilliance that can't burst out of him adequately enough.
But there was no ego about it at all. The guy lives to perform, and it is more like this gift to his fans than it is anything about him at all. I think he is one of those artists who is driven to share, and he seemed as excited to us to do it all in this special venue.  And he was very supportive of his band, giving them their due and sharing the stage and giving each of them many moments to shine and be the highlight.
Watching him at work also gave me an appreciation for what a precision artist he is… constantly being conscious of the show from our perspective, and discreetly giving cues to his technicians to adjust levels and sounds, even at times taking on those duties himself. The man's mind must be processing a million different things all at once, yet he looks like he is the host of the most fantastic of intimate parties.
Funny enough while the night before he said, "we don't mind if you lip sync a little bit… everyone else does it", last night he said, "we don't like to lip sync; here's why" and then tore into a ripping guitar set piece.
While with the show on night one it was more about newer music than the hits, that was true even more at the early show on night two, leaving out "Let's Go Crazy" completely, though in the end we were treated with a wonderful keyboard rendition of "Purple Rain" and then "Adore" as the first encore.  And the man plays a keyboard like it's a guitar.  His fingers are all over the place, with no key untouched for more than a few seconds.  A madman.
The second encore, like the night before, was a thing of genius.  The funny thing is, he plays with his older hits like they are mere toys, revisiting his childhood and tossing them around.  With just a few sampled sounds here and there – sounds now hard wired into our brains, with instant recognition – he brings our nostalgic instincts alive in a flurry of bits of songs, overloading our senses with some of the best riffs of our lives, assembled in new ways that we could never imagine.
I fully enjoyed the newer music and eagerly anticipate his upcoming album, Plectrum Electrum.
Prince did get a bit of negative press about the pricing for these shows, and the more I've thought about it, the more I feel it's really unfair to criticize him at all, if you consider what is going on in concert tours happening today.  With these San Francisco shows, Prince is playing a small 800-capacity venue, when he could easily sell out the 17,496-capacity HP Pavilion if he wanted to…  all the same, many other artists playing large sports arenas like the HP Pavilion are charging substantially more more money for "prime seats" that are actually further away than the furthest spot inside the DNA Lounge.  Pricing, especially at these giant venues, is really out of control, and dollar for dollar, you are typically getting much less than what Prince offers with these intimate shows he is doing.  At these large venues, from the vast majority of the seats, the principal artist as a whole appears smaller than Prince's entire face at the DNA Lounge.  It is a dramatic difference.  The whole of the DNA Lounge is smaller than a "VIP Pit" at these giant venues, so I think it's important to stress the differences between venues and pricing as relative in a direct comparison.  For Prince, this tour is not a cash grab.  It's not an ego trip.  It's an amazing and unique experience for fans to be part of a concert that they will never forget.
It was really a fantastic evening, and I have to confess to taking a peek at Ticketmaster this morning and contemplating a last minute trip to Vegas to catch more of this tour there… but April has been jam-packed with shows for me, and I have a conflict, so I am left to only dream about it.
I really can't recommend enough going out to see Prince live this year if you have any opportunity to do so…  it's truly one of those rare, "if you only see one concert this year…" shows that I can't imagine disappointing anyone.
Prince understands what the live music experience is all about, and delivers unlike any artist today.
As note, no photography was allowed, so honoring Prince's wishes, I have no photos from this event to share with my readers.
Jason DeBord