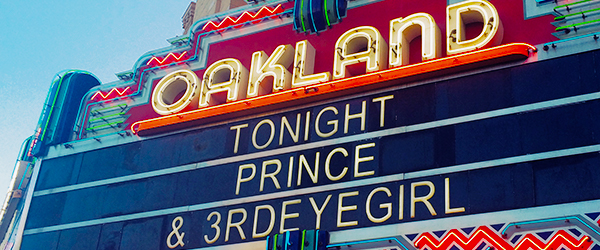 "You know how many hits I got?"  The genius at work on his keyboards/samplers toward the end of his initial set (in the midst of a freestyle mix/onslaught of some of the best pop hits of my generation – "When Doves Cry"/"Nasty Girl"/"Sign ☮ the Times"/"Pop Life"/"If I Was Your Girlfriend"/"Housequake"/"I Would Die For You"/etc…).  All culminating in a mind blowing rendition of "Purple Rain" (in which Prince made a comment about how he will never get tired of that song).  I don't know if it was just a fantastic audience at the Fox Theater last night, or if Prince simply had the power to bring us to life and in perfect unison with his music, but this one off, last minute (instant sell out) show was certainly one I won't forget.  I've never seen the Fox that rocking before (and I've seen many shows there) and I would even go so far as to say last night's show blew away his set of shows played at the relatively tiny DNA Lounge last year (see review Night #1, Night #2).  As epic as those were (and I counted the two I went to among the very best of the nearly 100 concerts I attended last year), this one bested them on nearly every level.  Truly a musical genius at work alongside the brilliant 3RDEYEGIRL, as though they came down from some other planet for a few hours to illustrate another way of life.  Words really can't describe, and without photos to aid in retelling the experience, it was really something you would have had to have been there for to fully appreciate and understand.

Who: Prince with 3RDEYEGIRL
Supporting: LiV Warfield with NPG Hornz and Blackbird
Venue: Fox Theater Oakland
Where: Oakland, California
Promoter: Another Planet Entertainment
When: March 15, 2014
Seating: General Admission Standing (Front Row Center on Second Elevated Floor Section on Rail)

NO PHOTO / VIDEO POLICY
Any Prince show is really an event, and with a few shows played in England and recently L.A., it was both a surprise and kind of not as much, really, when a rumor caught on fire this past Wednesday that he and 3RDEYEGIRL might be coming to Fox Theater in Oakland, courtesy Another Planet Entertainment.
Less than an hour after hearing this rumor, I reached out to my contact at the promoter, and nearly as quick they sent an e-mail out to their subscribers with a link to Ticketmaster for tickets to the sale, which were to go on sale just 9 minutes later (at the unusual time of 10:30 PM).  Unfortunately, that link ended up being to a dead page, but by the time I figured that out, the show had sold out!  Maybe a half an hour past that sale time, I did manage to get a single ticket through the Live Nation iPhone app, and then a second, so I was thrilled to have an opportunity to see Prince as well as to take my girlfriend to see him (she never had, and funny enough we've talked about it a lot recently, so it was serendipitous).
I've actually been dragging with a flu/cold this week, so Prince is one of a handful of artists I would drag myself to (with the 3 hour drive each way into the Bay Area) while feeling pretty fatigued.  Of course, it was completely worth it.
My buddy Nick actually arrived at the venue at 10:00 AM, and was about 30th in line at that point.  He described it as "the best concert line ever".  There was even an organized flash mob.
When my girlfriend and I arrived and parked in the lot behind the venue, we couldn't help but laugh at Bay Alarm Company's billboard, which had been plastered over with Prince's image and a "Welcome to Oakland" sign, leaving just their slogan, "IT'S LIKE YOU NEVER LEFT".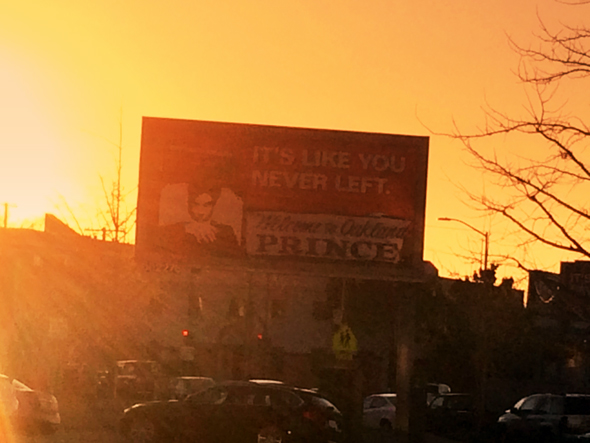 What a better marquee to see outside a venue than this?
In any event, with their no press photography/no fan photography policy, I respected that request (as I did with the DNA Lounge shows in San Francisco last year), so that is where my photography begins and ends with this review.
Things were pretty consistently on schedule, with doors opening at 8:00 for the 9:00 show.
As mentioned, I have been under the weather, so opted for the second level on the floor, which is elevated and fronted with a rail, so I had an awesome perspective for the show (in sights and sounds), peering over the main fans on the floor below, just short of level with the stage.  Plus you get that thrill from seeing a packed crowd of fans with their hands in the air, backlit from the array of lights coming from the stage.
Unlike the concert dates last year, Prince and 3RDEYEGIRL had a supporting show last night, fronted by LiV Warfield.
LiV Warfield is an amazing R&B and soul singer, and she put on a powerful set in the span of about a half an hour to get the place jumping in anticipation of the main show.  She and her cohorts packed an incredible amount of music into that 30 minute slot, with material off her new album, The Unexpected.
Flanked by an incredible band, including the NPG Hornz and Blackbird, it was a stellar show in it's own right, and all involved returned to the stage later during Prince's multiple encores to finish out the (late) evening.
Once the opening set wrapped and after a 30 minute or so intermission, the women of 3RDEYEGIRL came onto the stage to welcome the audience, tell us that they were about to put on "the best show you've ever seen", and put a reminder out about the no photo/video/cell phone policy.  There were also extra staffers on the floor prepared to eject anyone who violated this request, but in the many hours that the show ran, I never saw anyone sneak a photo of any kind.
3RDEYEGIRL are amazing artists – Prince really knows how to identify real talent – and is comprised of Donna Grantis (guitar), Ida Nielsen (bass), and Hannah Ford (drums).
The funny thing is my friend asked me what I thought they might open with, to which I guess "Let's Go Crazy" (and he countered sarcastically with his guess of "some obscure B-side from 1995"), and funny enough, I ended up being right, with a rearranged version burning on the stage.
A few songs later, Prince proclaimed, "let's take the Bay Area back to 1982" and kicked into a playful version of "She's Always in My Hair".
I tried to keep track of the set list as it went along, but eventually gave up as I wanted to really be in the moment of the show, and so below is the record of the show per Setlist.fm as of the time I am writing this article…
Setlist:
Fallinlove2nite
Let's Go Crazy (Blues style, w/interp of Edgar Winter's Frankenstein)
Funknroll
She's Always in My Hair
I Could Never Take the Place of Your Man
The Ocean (Led Zeppelin cover) (Instrumental, segue into … )
Guitar
Plectrum Electrum
FixUrLifeUp
Something in the Water (Does Not Compute)
When Doves Cry (Partial)
Nasty Girl (Vanity 6 cover) (Sample)
Sign "☮" the Times (Partial)
777-9311 (The Time cover) (Sample)
Forever in My Life
Pop Life (Partial)
Love (Sample)
If I Was Your Girlfriend (Partial)
The Screams of Passion (The Family cover) (Sample)
Housequake (Partial)
I Would Die 4 U (Partial)
Purple Rain
Encore:
U Got the Look (With LiV Warfield on co-lead vox)
Musicology (With LiV Warfield and NPG horns)
Play That Funky Music (Wild Cherry cover) (With LiV Warfield and NPG horns)
Encore 2:
How Come U Don't Call Me Anymore
Diamonds and Pearls
The Beautiful Ones
Strange Relationship
Starfish and Coffee
Do Me, Baby
I Wanna Be Your Lover
Hot Thing (Partial, with NPG horns)
A Love Bizarre (Sheila E. cover) (Partial, with NPG horns)
Mr. Goodnight (Sample, with NPG horns)
Raspberry Beret (With NPG horns)
Cool (The Time cover) (With NPG horns and audience members dancing on stage)
Funknroll
While I wrote really lengthy reviews with my thoughts on the two Prince shows I attended last year, I really don't even know how to properly approach a recap of his concerts, as words really can't do them justice, apart from going on and on about how much of a genius the man is in his artistry, his work, and his ability to bring it all alive on stage.  Quite honestly, I don't believe that there is an artist in music today that can really come close to matching what Prince does in his performances.  I've never seen such a gifted musician perform live.  Period.
He seems to have somehow figured out how to curb the aging process since he became a huge star in the early 80s, as he looks (and acts) incredibly youthful.  One of the most fun bits from last night was when his put his guitar on its stand with some real purpose, and broke out with some killer dance moves for quite a while, donging the bottoms of his pink bell bottoms, as if his feet were the clappers.
The man is just beaming with joy and good will as he performs – you can tell he loves it, and with his eyes locking onto fans' own transfixed gazes all around the venue, he wants to desperately share in this and bring you along for the ride.
The lighting was superb, and kudos to the lighting tech(s) who run these shows, as the timing and connection with every little nuance of what is going on with the action on stage (and seemingly thoughts in Prince's mind) is uncanny.  Unless somehow Prince has himself learned how to operate the lights himself via sheer force of will or maybe through some otherworldly mind control.
Like how I felt with last year's shows, overall it felt like a loosely framed jam session, and I mean that in the most complimentary way possible.  There is so much (seeming) improvisation and spontaneity that there is a sense that anything can happen, and any song (new, old, or invented on the fly) could break out into the performance.  Like I described last year, it seems to be a perfect collision of the planned and unplanned – true genius and artistry at work.
He engages the audience unlike any artist I've ever seen.  He truly feeds the audience, and then sucks that energy back out.  He seems to see a collective but also a sea of individuals.  His eyes seek out yours, and each smile, nod, wry expression, look of faux surprise, pointing of his finger… he's sharing in his greatness on stage with everyone there for the show.
And the expressions on his face… he is living his music. As much brilliance comes out of his guitar, it's almost like the guitar isn't up to the task of keeping up with him, and this energy is just coming from his face, like there is all of this music within him and as much as we hear it and see it, it is an endless reservoir of brilliance that can't burst out of him adequately enough.
As always, Prince loves to share his stage with fellow artists, and give each of them moments to shine.  Last night, one of the highlights was the succession of horn section players having their moments center stage, like some private party unfolding before the packed audience of nearly 3,000 fans.  And at another point in one of the encores (for which I lost count), Prince had fans brought up on stage to dance for what seemed like forever.  One of my favorite encore songs was "U Got The Look" with LiV Warfield taking over the female vocals.  Amazing.
But like his shows, which never seem to end, nor does his ambition to create new music.  Their upcoming album, Plectrum Electrum, is expected this year, so it will be interesting to see how additional live shows are planned (or spontaneously pop up, like this one did this week).
Prince could obviously sell out stadiums all over the world with super high ticket prices, but as with everything, he has a unique approach to sharing his art.  I, for one, really respect that he is playing these more intimate venues and creating special and unique experiences with fans, rather than merely cashing in on the past.  In any event, it was a brilliant night, and I wish I had the gift to better recount what it was like, but maybe that is the point…  to truly understand and appreciate, I think you need to be fortunate enough to attend one of his shows yourself to truly witness his gifts and artistry.  The top "must see" act of several generations, in my opinion.  Toward the end of the night, Prince continuously pledged that the Bay Area will see him again, "sooner than you think", so hopefully another visit to planet Earth is in the works.
Jason DeBord