"So this is one of your requests… I'll see if we got this right."  Tori Amos in the "Lizard Lounge" section of her performance at the Paramount Theatre in Oakland last night, wherein on this "Unrepentant Geraldines Tour" she does a few covers suggested by fans.  With Monday night's show, the first was a kind of dark rendition of the Calvin Harris and Rihanna electro-house hit song, "We Found Love".  What?  Tori Amos doing "We Found Love"?  Yeah, I know the song well, but it took my thought process a few seconds to catch up with the familiar lyrics played out in such a different manner.  As I settled into that incredible collision of techno pop and, well, however you might categorize what it is that Tori does, when she does her thing…  I started imagining what might be the most amazing cover to hear from her following that.  Immediately, I thought of "Tiny Dancer" (it has a special connection with my fiancé and I, and she was seated next to me in the orchestra pit for her first Tori concert)…  So after finishing "We Found Love" on her electric keyboard, Tori spun around and found her way to the deeper keys on her Bösendorfer piano and started into the classic Elton John tune.  I've seen, I would guess, thousands of artists live in concert – that was the first time I'd felt that maybe one read my mind.  Very surreal moment, and maybe the coolest moment for me at any Tori Amos concert (and I've been to my fair share).  She was certainly full of surprises last night, as a fan might see simply from taking a look at the set list, which had songs from her latest, Unrepentant Geraldines, going all the way back to her failed synthpop band, Y Kant Tori Read.  With the new album and this current tour, Tori has certainly hit her stride both in the studio and on the road, and she's always been one of those rare artists that is a master at both.

Who: Tori Amos
Supporting: Trevor Moss & Hannah-Lou
Venue: Paramount Theatre
Where: Oakland, California
Promoter: Live Nation
When: July 21, 2014
Seating: Section Orchestra Pit, Row Y, Seat 116 (actual second row, right of center; also photo pass first two songs  from far stage left Row G)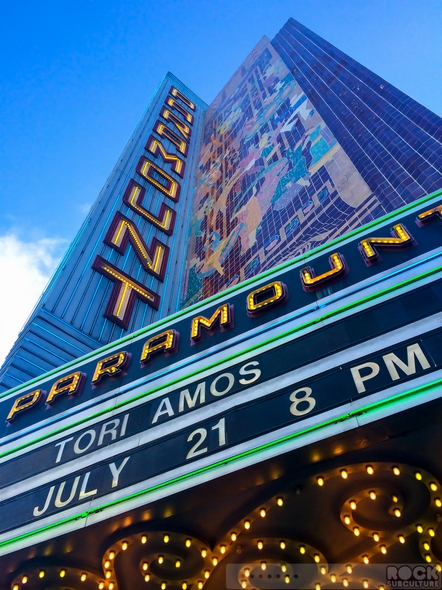 Legendary singer-songwriter Tori Amos is currently in the midst of the U.S. dates for 2014′s world tour supporting the release of her 14th studio album, Unrepentant Geraldines, which came out in May.  She is hitting U.S. cities throughout July and August.
This was actually my first show I've ever attended at the Paramount Theatre in Oakland.  I came away extremely impressed by the venue, which is simply drop dead gorgeous inside.  With a capacity of just over 3,000, it actually "feels" much smaller and intimate than venues with the overall capacity.
There was a long line outside the venue when I arrived, about 30 minutes prior to doors (which was set at 7:00).
I am a huge Tori Amos fan, but probably not in the same league as the typical hard core Tori Amos fan who knows all the lyrics to every song and all of the details about her life, etc.  She is one of my favorite artists, but my approach to her music is different – I give everything a listen but I find very strong (usually immediate) attachment to some songs and not as much to others.  But I did travel to a festival in Switzerland – Caprices Festival – last year, and I ended up covering the entire 9-day event just because I felt it was far too long since I'd see Tori in concert, and that was I think maybe the only gig going last year for her.
In any event, I was able to get media credentials again for photography for this show (as well as the one in a few days at Humphrey's in San Diego), so it is nice to be able to go to some Tori Amos concerts without leaving the country!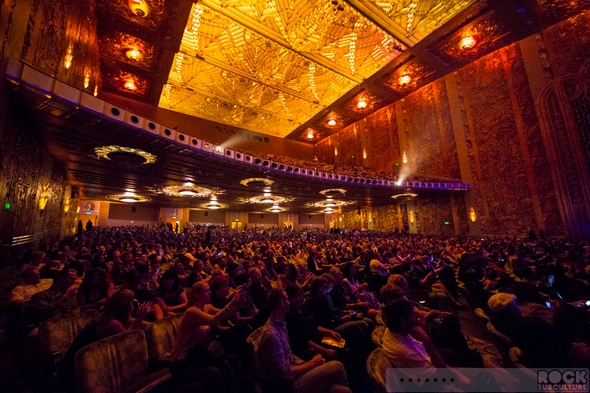 Trevor Moss & Hannah-Lou
This husband and wife duo opened for Tori last night, both armed with acoustic guitars and sharing a microphone on mic stand.
As I was shooting the show, we were escorted into the show to Row G, stage right, just as the lights were coming down…  so I spent a good portion of the first song trying to get my camera gear together in the dark, and the second trying to get a few shots where they did not appear to be conjoined at the head, given the fixed shooting angle and shared microphone with the artists.  Then we were escorted out…  so sadly I did not really have an opportunity to enjoy their performance long enough to have any substantive thoughts about their music.  Hopefully I'll get to watch them at Humphrey's on Thursday.
I have read a bit about them on the Internet (like this 2010 feature by The Guardian) and they sound like a truly fascinating duo.
You can check out this live video on YouTube for "Never More Than A Moment" for an idea of their sound and style, which is representative of their stage presentation that I did catch in part last night.
Below are some photos of Trevor Moss & Hannah-Lou performing on stage: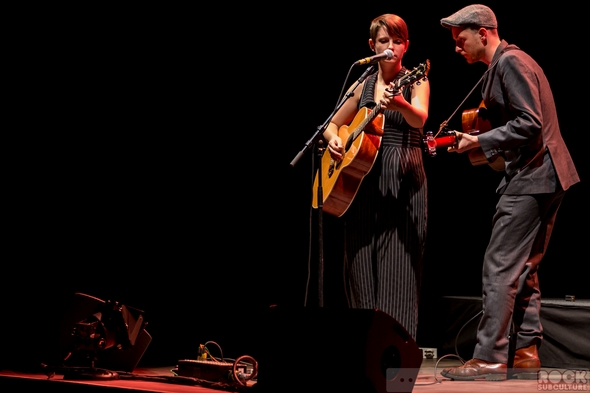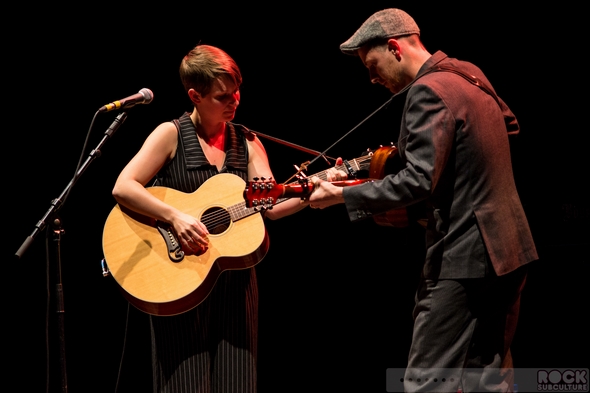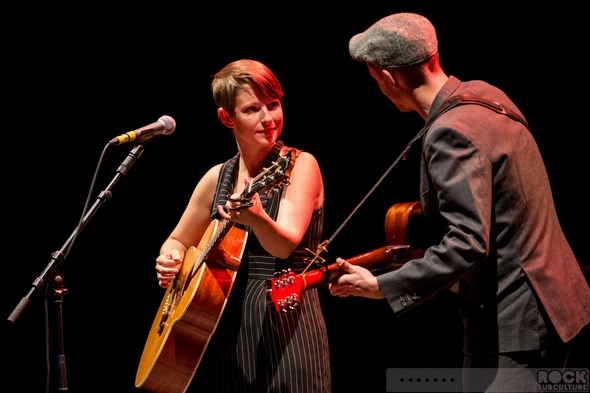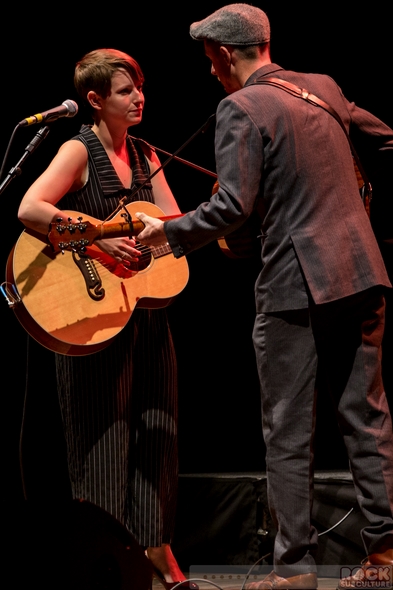 Tori Amos
As mentioned earlier, I had an opportunity to see Tori's special appearance at Caprices Festival in the Swiss Alps last year, which ended up being one of my favorite concerts of 2013.
As I explained in my review of last year's show, I first learned of Tori Amos and her music as a result of my love of comic books growing up.  I started attending San Diego Comic Con annually when I was 14 – before I was even old enough to drive – and I was a huge fan of Neil Gaiman and his Sandman series of comic books.  I would go to the convention, and in those years, artist Dave McKean (who "made" those amazing covers to the comic series) would have a booth and display his art, including the original artwork for those covers (much of which was made with real world items).
In any event, I had opportunity to speak with Neil time and again (Comic Con was much different in the late 80s and early 90s than it is today – artists and writers were very accessible), and he had told me about Tori, and then they began a series of kind of sending messages back and forth via their respective art forms, and lyrics from one of Tori's songs found their way into an early issue of Sandman, and it just so happened that I saw Neil again at a signing at a small comic shop in San Francisco, if I remember correctly.  So that was when I went out and bought Little Earthquakes, which had just recently debuted.
Unbelievable album.  Just so singularly unique, powerful, musical, and with such raw energy and emotion and power.  I've always loved piano in rock and pop songs, but it is rarely the focal point.  Tori changed everything with this album (and obviously has been a huge influence to all variety of female singer-songwriters that followed, as well as male bands with a larger emphasis on piano, I would imagine, such as Coldplay, Keane, and OneRepublic).
I absolutely loved Little Earthquakes, and it was immediately clear to me how and why Tori and Neil were admiring of each others' works.  It is as if they were spiritual twin brother and sister.
Just as rare, Tori is not one of those artists who opens large with an album and then nothing that follows measures up, or the sophomore and subsequent efforts simply don't match up to the inspiration and quality.
If you look at her prolific output, it is obvious she is always looking to grow as an artist and try new things, as well as have new things to say.  She is one of the artists who is trying to keep the album format alive, as hers always seem to be built upon conceptual foundations and new musical paths.
In addition, she does two things that I personally love, and that most artists avoid…  she rerecords and reworks her own material, and she does some of the best cover versions of other artist's work than anyone.  She has such a unique and immediately identifiable style – not just the fact that she plays piano and keyboards – but her very unique style, emotion, and delivery.  She also has a crazy ability to take requests during shows and just do a cover live and with no prep.  She is truly a musical genius, and I'm beyond trying to figure out how she does what she does – it's literally like magic.
In the past few years, she has released new studio albums with strong concepts – Night of Hunters (an all acoustic work with string and wind instruments accompanying her piano) and Gold Dust, wherein she reworks past songs (including some of my personal all-time favorites), but also in more of an orchestral style.
This year, she released the critically and commercially successful Unrepentant Geraldines, which hit No. 7 on The Billboard 200 album chart, and it marks a bit of a return to her traditional (for her) album style, following a variety of artistic endeavors, including the musical, The Light Princess,  which has played at the National Theatre in London since 2013.
I have seen Tori Amos many times, going back to her Under The Pink album, if I remember correctly, so I have seen different presentations, ranging from just her and a piano to her with a full band (regrettably I did not make any of the more recent orchestral-oriented shows).  I must admit though that I prefer just her on the stage, and I think that is when the magic most frequently happens, because more than any artists, she can be incredibly spontaneous, as was most definitely the case with the show at Paramount Theatre in Oakland last night…
Funny enough, there was actually one Tori Amos concert I attended that I did not like at all…  I don't remember exactly which one that it was, but she had a rock band with her and was playing larger venues.  I'm pretty sure it must have been in the mid to late 90s, and I think I was living in L.A. at the time.  I just remember feeling like she was being drowned out by the other musicians and the sound mix was muddy and distorted, and I actually ended up walking out I think around halfway through.  I was ruined having seen just her with her piano and keyboards in the past, and it felt like the wrong direction.
So with last night's show at Paramount Theatre, I think it was about polar opposite of that show that was not for me…
For starters, whoever is doing the sound engineering on this tour is doing a magnificent job.  The sound quality was off the charts excellent last night.  There was wonderful separation…  everything was dialed in perfectly on the levels…  the tone and quality was amazing.  Then I thought I heard little tricks with fading and what not.  It was all just brilliant – the perfect platform and foundation from which Tori could do her thing.
I was fortunate enough to have an opportunity to photograph the first two songs last night, but I did not miss much – I was able to stow my gear and return to my seat at the second row in the orchestra pit and only miss one song, which was awesome (I am a fan first and foremost).
When Tori first came out onto the stage, her outfit gave me an impression as though she was strolling out in a kimono / PJs kind of thing, which contributed along with many other things to the atmosphere, "out to play" kind of vibe of the show.
Her custom made Bösendorfer piano – at 9′ long – absolutely dwarfed her…  perched on the stage like an adoring wooden whale.
Her welcoming gestures and bow was bookended by her kind of jumping, gleeful exit at the end, like the slumber party was over, as she gave high fives to those who got up and against the stage for the encore, at her behest.
I think last night's show was all about the framework of the set list, which was a very surprising one.
With this tour, Tori has been posting a photo of the set list after each on her official Facebook page, so below is the one from Paramount Theatre last night (not my photo credit):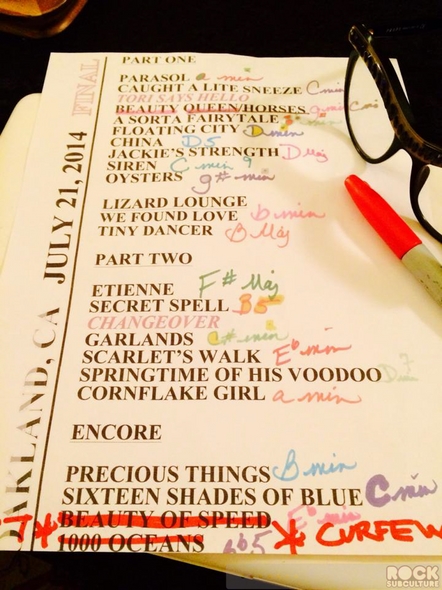 Below is the same, written out by me, with the source of each song in parentheses…
Part One:
Parasol (from The Beekeeper)
Caught a Lite Sneeze (from Boys for Pele)
Beauty Queen/Horses (from Boys for Pele)
A Sorta Fairytale (from Scarlet's Walk)
Floating City (Y Kant Tori Read song)
China (from Little Earthquakes)
Jackie's Strength (from From The Choirgirl Hotel)
Siren (from soundtrack for film Great Expectations)
Oysters (from Unrepentant Geraldines)
Lizard Lounge:
We Found Love (Rihanna/Calvin Harris cover)
Tiny Dancer (Elton John cover)
Part Two:
Etienne (Y Kant Tori Read song)
Secret Spell  (from American Doll Posse)
Garlands  (from The Beekeeper – bonus track)
Scarlet's Walk (from Scarlet's Walk)
In the Springtime of His Voodoo (from Boys for Pele)
Cornflake Girl (from Under the Pink)
Encore:
Precious Things (from Little Earthquakes)
16 Shades of Blue (from Unrepentant Geraldines)
Most definitely an unusual and surprising show…  if fans were asked to guess the set list, I don't think most people would have picked even two thirds of them.  Pretty amazing.
I guess the biggest surprise were the two songs from Y Kant Tori Read (which is only available as a bootleg), as well as that only two songs from the new album, Unrepentant Geraldines, made it into the show.
I would characterize it as "fan service" to the extreme, and quite opposite of what one might expect if thinking this was a greatest hits style tour.
The one staple hit on this tour seems to be "Cornflake Girl"; besides that, all bets are off.  I think anything could happen on this tour, but I suspect this Oakland show will go down as the one with the epic set for the true fan of Tori Amos.
I loved the show, and like most I suspect, never thought I'd see and hear "Floating City" live at a Tori Amos concert.  Ever.  And it was just magnificent.
Tori is definitely one of the most under appreciated artists of our time…  not that she doesn't get amazing recognition, but I think the public at large will never really "get" her and her work, and I suspect some future generation (when we are all dead) will have a much, much deeper appreciation for her and her music, because she is so far ahead of her time that she is timeless as well, if that makes any sense.  If time machines were possible, I would send her back to the 1700s and I think the world would be a much, much different place today.  She could show those men how to properly rock a piano…
Below are some photos of Tori Amos performing on stage: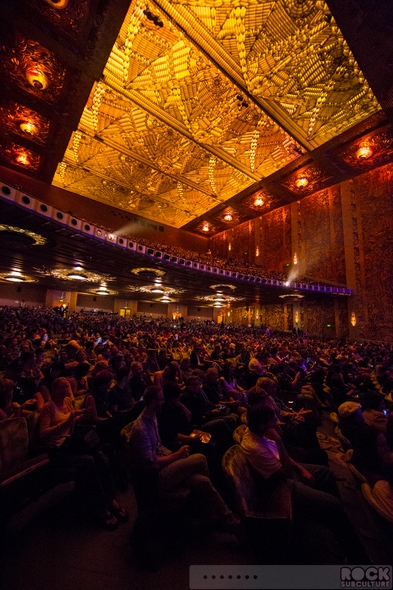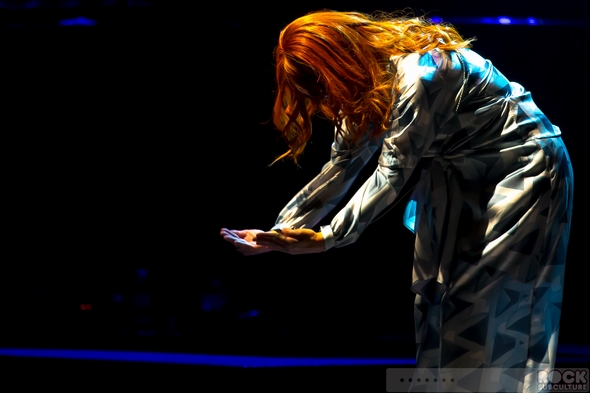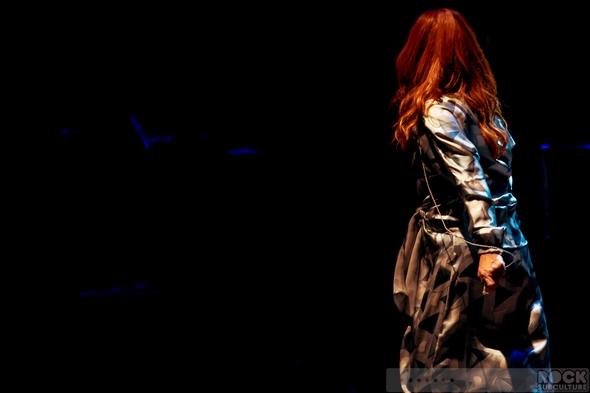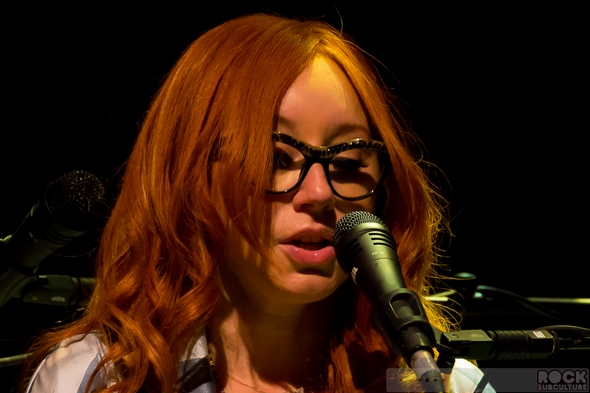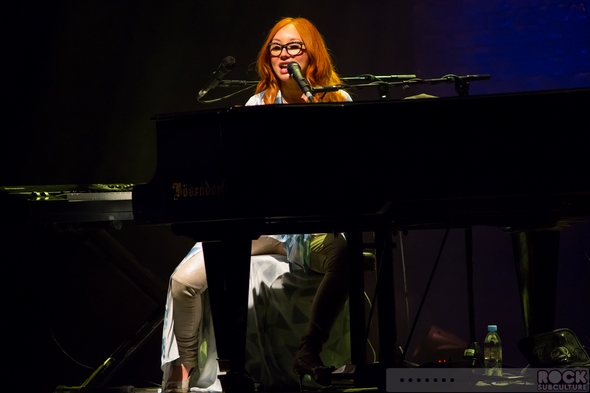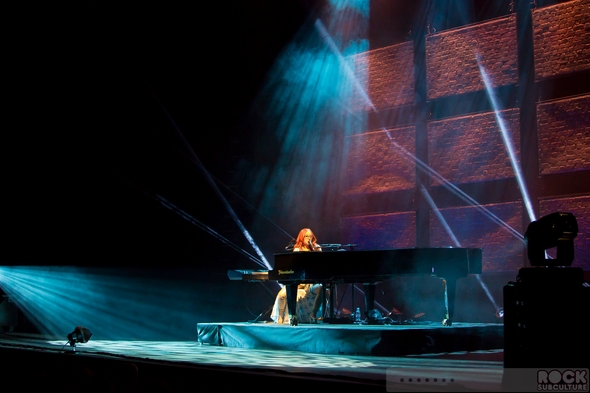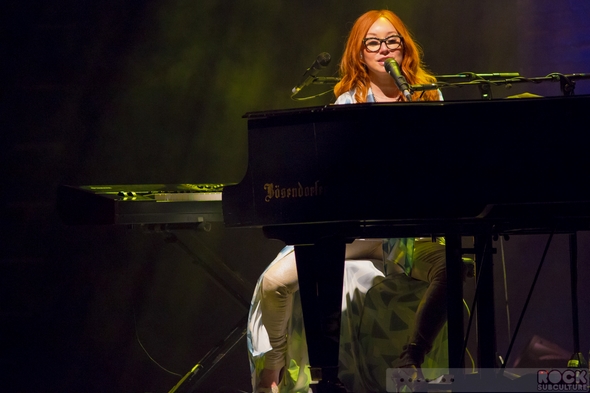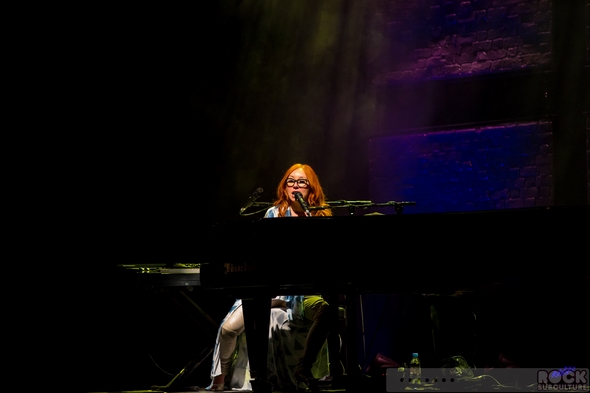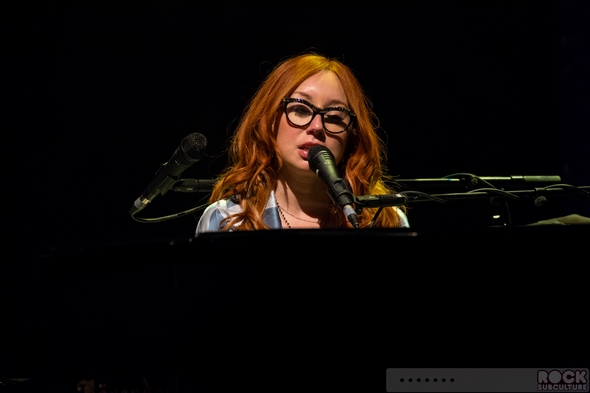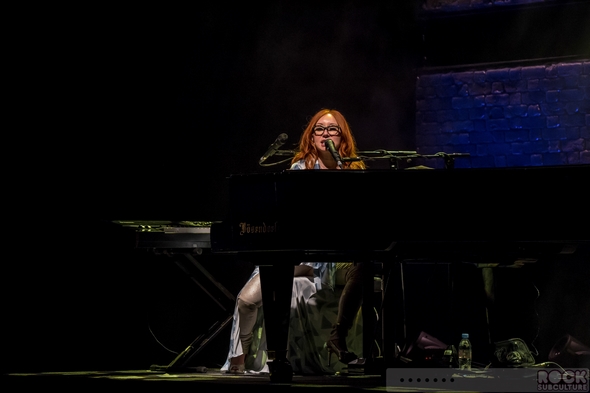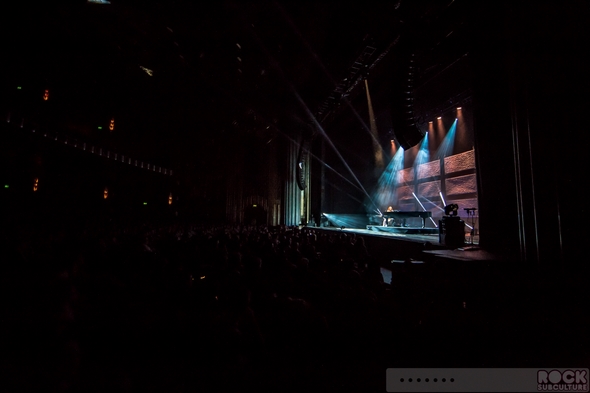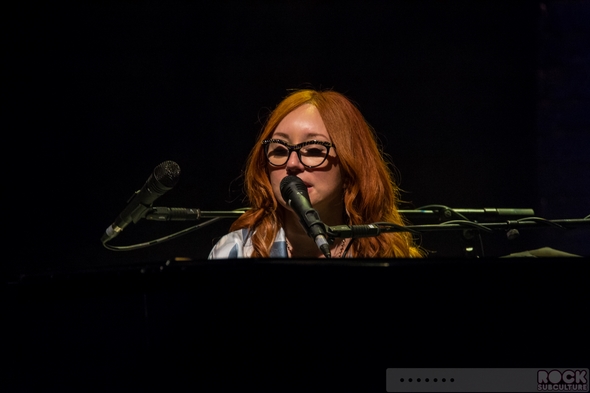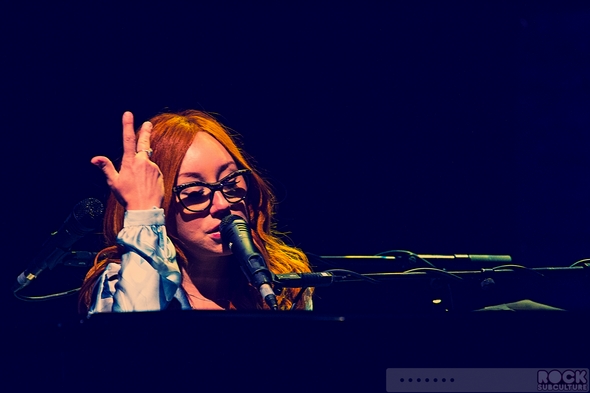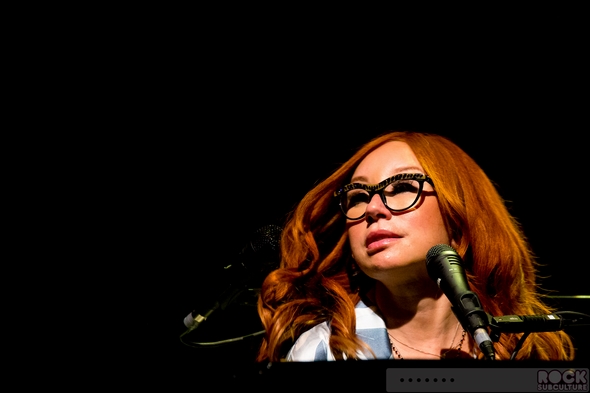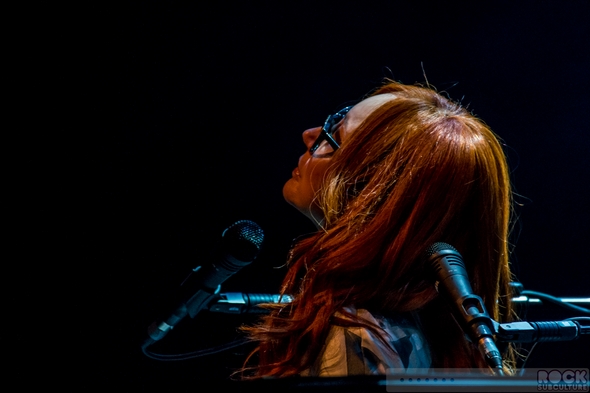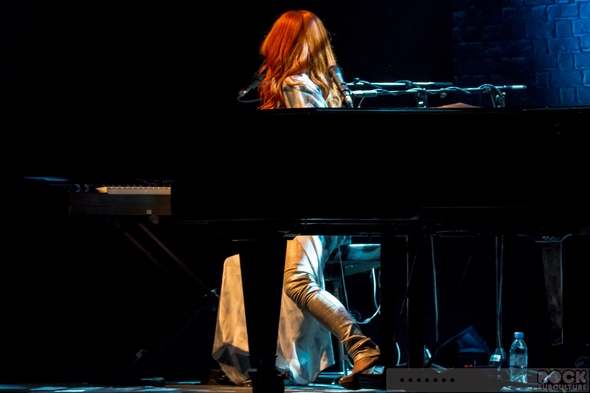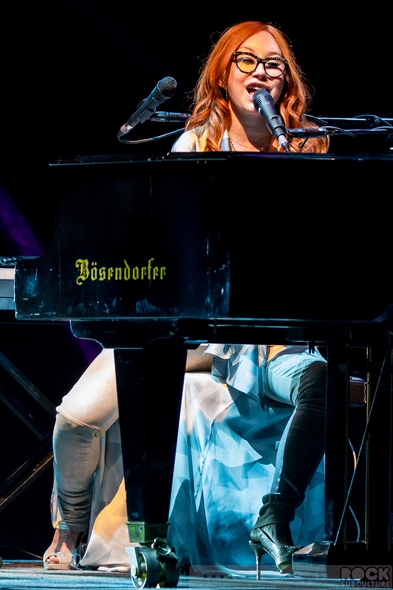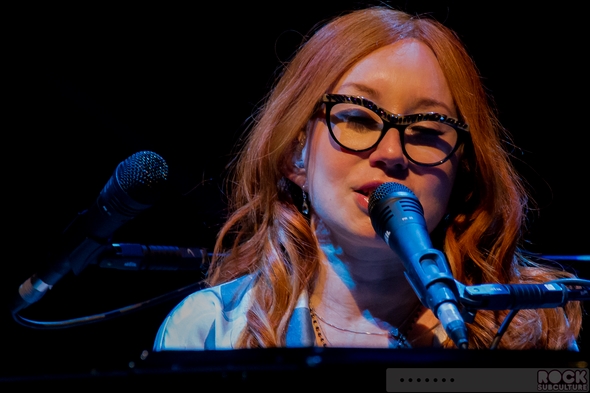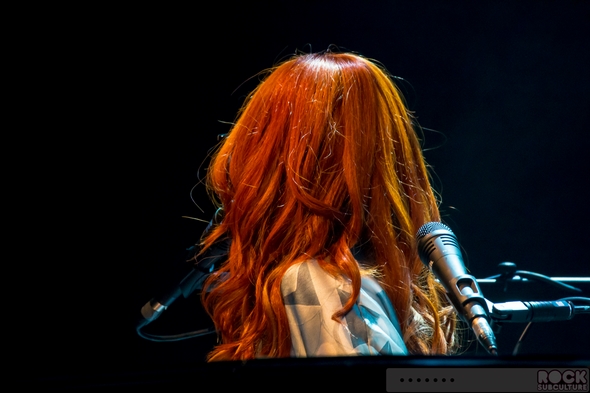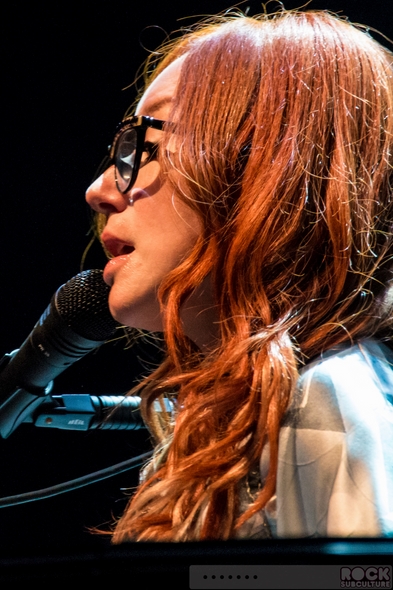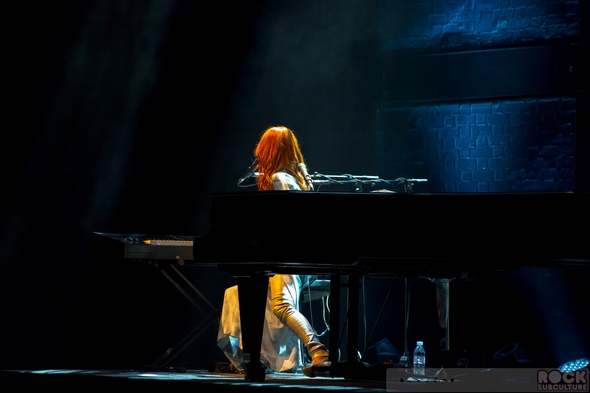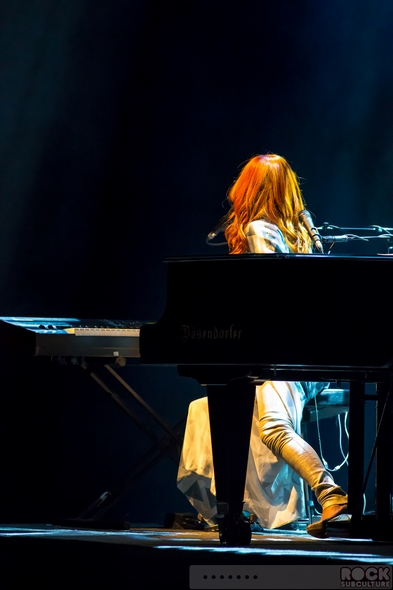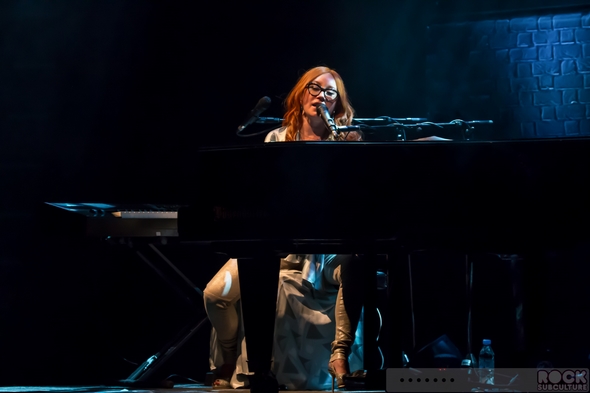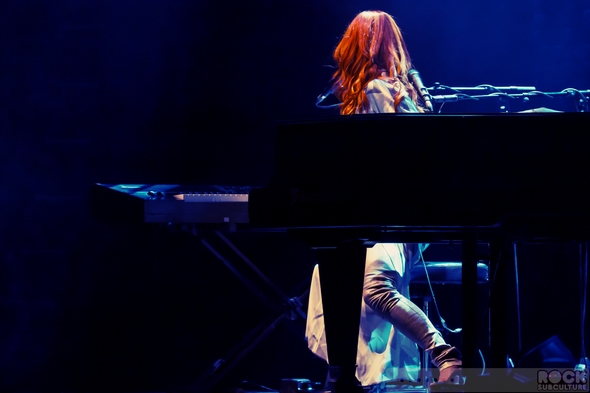 Jason DeBord