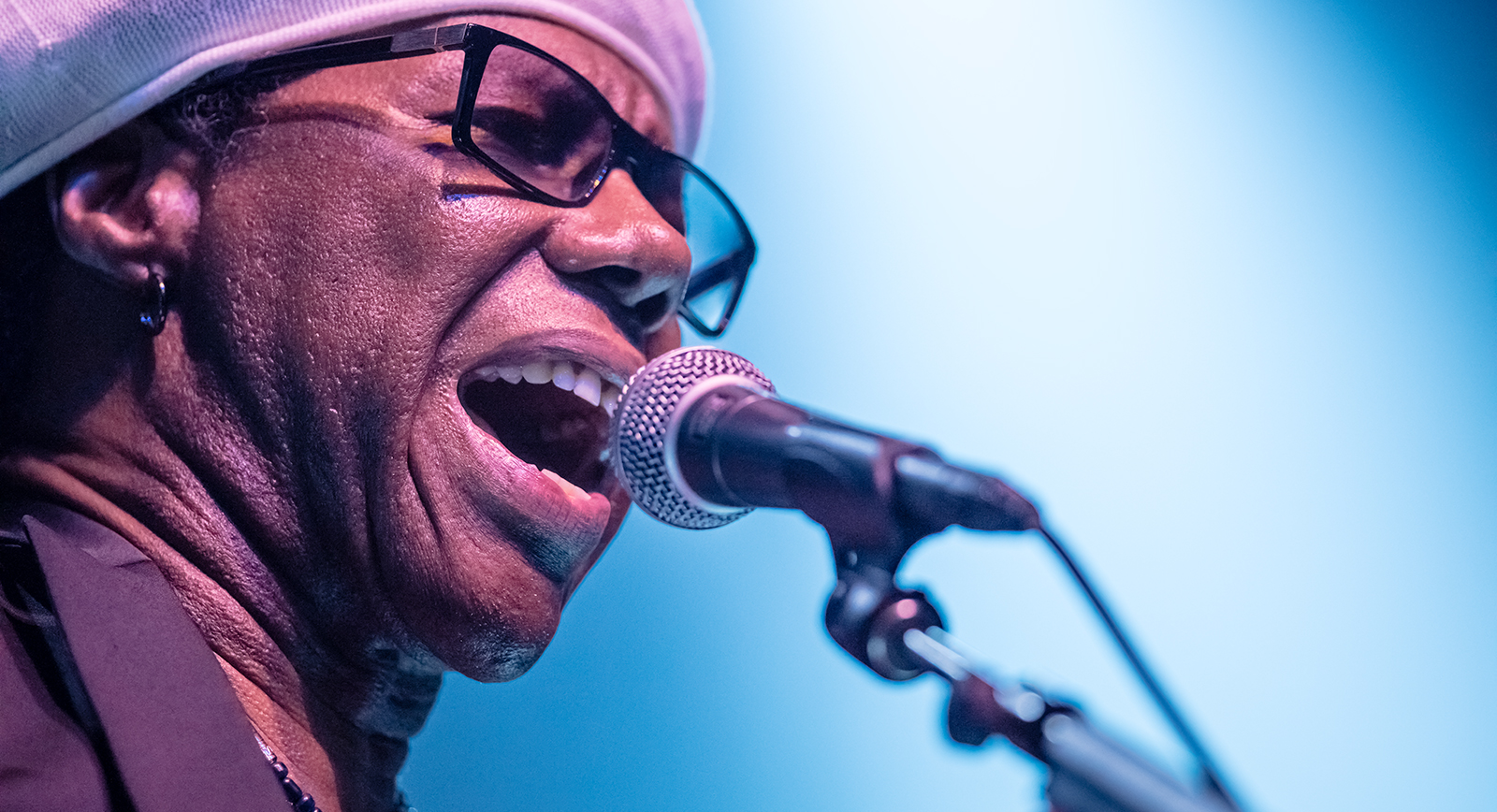 "I've got to say, you're the funkiest crowd we've ever had…"  Music legend Nile Rodgers with Chic at Fox Theater in Oakland on Saturday night, playing not only through hits by Chic but number one hits Rodgers has produced over the past several decades with top, iocnic artists.  Watching Nile Rodgers and the amazing Chic on stage really underscored how he is all about collaboration; he seems to have found his purpose in life early on in bringing the best out of other artists who were truly gifted in their own right… helping them make art that transcended what either could do on their own.  Not just a beautiful way to create, but also an inspired way to go through life, bettering other people as well as yourself in the process.  And then there is that music… all of it markedly up beat and happy and optimistic.  But Nile Rodgers also appears to be a humble man on stage, and that reflects his life's work as well, working in the background to help other artists and their songs and talent shine.  So it was quite special to see Nile Rodgers and Chic do a full concert live on stage (they will also be performing with Duran Duran in their upcoming tour).  What music, what talent, and what a way to bring it all to life in a way that makes the crowd feel that they are part of it.  Though it is early into 2016, this will certainly be one of my own favorite and most memorable shows of the year.
What: "I'll Be There Tour 2015"
Who: Chic featuring Nile Rodgers
Supporting: Todd Edwards
Venue: Fox Theater
Where: Oakland, California
Promoter: Another Planet Entertainment & Red Devil Presents
When: February 20, 2016
Seating: General Admission (with photo pass)
When I first arrived at the Fox Theater in Oakland, about an half hour after doors and another 30 minutes before the first of the two sets, I was initially struck by how empty it was – as a fan, I could have walked across the general admission floor and found a spot right up front.  I was curious about the turnout, but before it kicked off at 8:00, it was just packed with people; a really impressive showing and nearly sold out as far as I could tell.  The place was buzzing with excitement for this special show from Another Planet Entertainment and Red Devil Presents.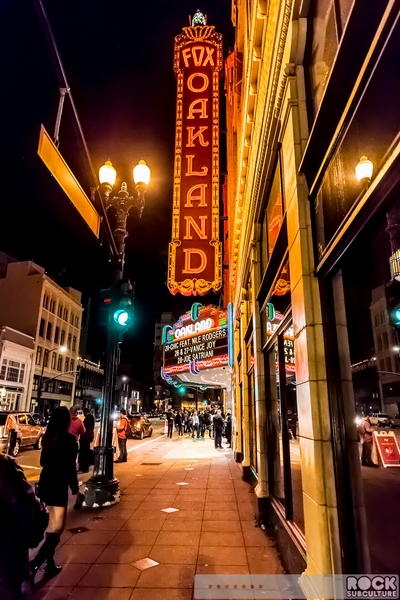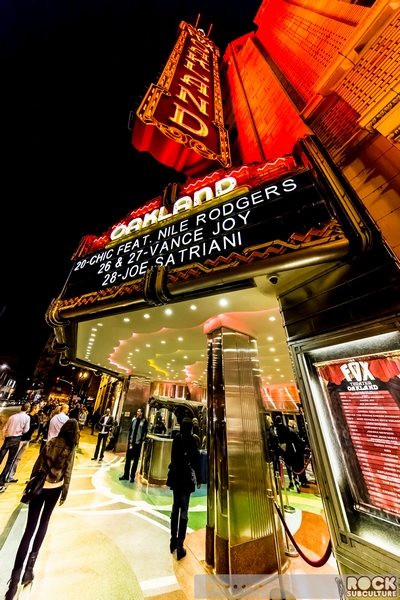 Todd Edwards
This was my first time seeing Todd Edwards spin, but it's the best DJ set (alongside local favorite Aaron Axelsen) that I've heard in quite some time.  Excellent selection of music and sounds with his own unique mixes.  Top notch, and perfect set up for the blazing show that followed.
Todd has won a Grammy award for his work with Daft Punk and collaborated with many top artists, including Hot Chip, Klaxons, Phoenix and more.
Maybe halfway through his opening set, Nile Rodgers came out to show him some love and watch him do his thing for quite a while!  Honestly, I don't remember a headliner ever coming out to hang with an opening DJ before… ever… and I've covered hundreds of artists, so it was pretty awesome to see that genuine appreciation for Todd Edwards and made it that much more fun for everyone.  Very cool.  I was even more certain that we were part of a really special night.
Below are some photos of Todd Edwards performing on stage (click any image to open a virtual lightroom with higher resolution versions of each photo):
Chic Featuring Nile Rodgers
Members
Wow, what a show!  Truly phenomenal.  Before getting into that, who is Chic and who is Nile Rodgers?
There is actually a comprehensive write-up about Chic on the official Nile Rodgers website that I'd recommend checking out…  LINK
Chic was originally formed circa 1976 by guitarist Nile Rodgers and bass player Bernard Edwards, who met in 1970 and previously formed The Big Apple Band.
Forming Chic, the band included drummer Tony Thompson, keyboardist Raymond Jones, and singer Norma Jean Wright, later augmented with additional singer Luci Martin (who was then replaced by Alfa Anderson).
Chic was unique in that their sound fit in with disco, but they were a "real" band with traditional instruments, not as studio produced as artists at the time.  They had early hits with "Dance, Dance, Dance (Yowsah, Yowsah, Yowsah)" as well "Everybody Dance".  They released their first eponymous album in 1977.
A year later, Nile Rodgers and Chic produced the Sister Sledge album, We Are Family, and later the same year their own sophomore release, C'est Chic, which featured their monster hit, "Le Freak".
In 1979, they released their third album, Risqué, which included "Good Times".
The band eventually came to an end in the early 80s…  But it is amazing how much of an impact those songs and the work of Nile Rodgers has had on the music industry then and today.  Most artists are lucky to have one moderate hit in their career, and if they are fortunate enough to produce one stellar album, the magic seems to disappear shortly thereafter… Nile Rodgers is a hit machine, and somehow has had that magic stay with him decade after decade after decade.
Those who follow this website know that my favorite music era is the 80s, and the artists that thrived in that incredible decade.  Nile Rodgers had such an influence and impact on that whole music movement.
In 1983, David Bowie and Nile Rodgers co-produced Bowie's Let's Dance, which was such a huge album in the early 80s, with "Modern Love", "China Girl", and "Let's Dance" in constant rotation on the radio and MTV.  Of all of the top artists of the time, David Bowie still towered over them as an icon.
1983 also saw the release of the first breakthrough hit for INXS in the United States, "Original Sin".  INXS was one of my very favorite bands in the 80s, and this was one of my favorite songs.  When I hear horns in any INXS song, I think of Nile Rodgers.
Nile Rodgers was co-producer on Madonna's second studio album, Like a Virgin.  Top singles from the album included the title track, "Material Girl", and "Into the Groove", collectively becoming her new trademark tunes.  As a kid, the two music events on live television that had the biggest impact on me was Michael Jackson's first moonwalk during his performance of "Billie Jean" at the Motown 25: Yesterday, Today, Forever broadcast in 1983 and Madonna's live performance of "Like a Virgin" at the 1984 MTV Video Music Awards.  These were such important songs and artists, and both have stood the test of time and are solidified as icons in music today.
In 1985, Nile Rodgers and Tom Bailey produced the fifth album from Thompson Twins, Here's to Future Days, which included "King for a Day" and a new version of "Lay Your Hands on Me". Rodgers performed their new cover of The Beatles' "Revolution" on state at Live Aid in 1985 alongside Madonna and Steve Stevens.
1986 brought a complete change of direction for Duran Duran with their release of their fourth album, Notorious, with Nile Rodgers at the helm.  This was following his work with them on two side projects: The Power Station with Robert Palmer (with the sultry "Some Like It Hot") and Duran Duran's John and Andy Taylor and Arcadia (with the funky "Election Day") with Duran Duran's Simon Le Bon, Nick Rhodes, and Roger Taylor.
Duran Duran was my first "favorite band" many years prior, and I'd mark Notorious as one of my favorite albums, with end to end killer songs with a funk vibe in the title track, "Skin Trade" (Simon Le Bon at his most R&B?), "American Science", and "Vertigo (Do the Demolition)".  Rodgers worked with them as recently as last year with Paper Gods and is, as mentioned earlier, touring with them this year.
So Nile Rodgers was a driving force in music in that era, bridging the disco and funk of the 70s and the New Wave of the 80s.
All about talent and collaboration, Luther Vandross was a vocalist on early Chic albums and Nile worked with other top artists like Diana Ross, Carly Simon, and Debbie Harry.
In the late 80s, fate would put Nile Rodgers together with The B-52's, who I see as his artist soulmates as a band that makes these infectious, happy, poppy songs that just press all the right buttons in people's heads if they are attuned to "finding their bliss"…  Rodgers produced probably their most impressive album in their career of brilliant albums, 1989's Cosmic Thing, which features end to end sublime songs, and arguably their two most famous, "Love Shack" and "Roam".  Nile Rodgers seems to be very keen in working with the best vocalists in the business and Kate Pierson and Cindy Wilson are among the top, and I think with the slightly different direction with this album it gave them a chance to shine in a different way.  And "Love Shack" is just such an amazing work, like the penultimate B-52's song – which is saying a lot.  Clocking in at five minutes and twenty-two seconds, it feels so much longer and leisurely with all it's changes and quirkiness and surprises.
Most recently, Nile Rodgers helped to create arguably the most distinctive, catchy, and successful pop song of this century, Daft Punk's "Get Lucky" featuring Pharrell Williams.  It won Grammy Awards for Record of the Year and Best Pop Duo/Group Performance.  For me, the instant I heard it, it took me back to 1984 and the first cassette tape I ever bought for myself, Michael Jackson's Thriller.  It so perfectly brings the spirit of that album back to life for me, remaking it all new but with the ghost of nostalgia.
With regards to "Get Lukcy", during the concert Saturday night Nile Rodgers stopped to explain how he had been diagnosed with cancer in 2011, and beat it a few years later.  It was an emotional and touching expression of gratitude, and while explaining it all he asked those in the crowd to turn on their lights on their cell phones:
Let's make it look like the universe here… come on doll, light it up!  Make it look like the sky; stars in the sky. 

About five years ago, I was diagnosed with extremely aggressive cancer.  And the doctor told me to go home, and get my affairs in order.  I was like, 'what was that?'  He said, 'you have extremely aggressive cancer and you need to get your affairs in order…' 

Well, I got on a plane, I went to Rome to do a show, and when I came back and asked the doctor, I said, 'now what was that you were saying again?'  He said, really Niles, I need you to come in, this is really serious – this is very aggressive, and we really don't know what the outcome is going to be.' 

So I thought to myself, what do I to help me therapeutically get through whatever they're going to do to me?  So I decided I was going to write more songs than I've ever written in my life… I was going to do more shows than I've ever done in my life.  And then we'll just see what happens. 

Five years later, I am extremely aggressive cancer free.  This next song is the very first song that I co-wrote when I got this diagnosis.  I somehow got a call from friends, by a group called Daft Punk, and a brother named Pharrell Williams.  I didn't explain my situation to them, I just started writing music and doing gigs, and it just happened that the very first song we wrote was called "Get Lucky". 

And tonight, I feel like the luckiest man in the world!  I am here with all of you, five years later, cancer free – extremely aggressive cancer free!  So if you noticed, every song that we do tonight, whether it's a Chic song, or Dianna, or Duran, or Madonna, or whatever – we gotta "Chic-ify it" – we put our own little sense of funk to it, you know what I'm saying?  That's just who we are.  I can't even talk, I'm so emotional!
Powerful stuff.  His music is so joyful, it is as though one of the purposes for his being here on this earth is to make people happy.  And he had this second chance to continue his life's work, and this song was what came as a result of new beginnings: "We've come too far to give up who we are, so let's raise the bar and our cups to the stars…"
You can learn more about his experience on his Planet C blog…  LINK
For me, "Get Lucky" is sort of akin to "Smells Like Teen Spirit" in the early 90s.  While the latter marked a dramatic shift in the direction music after it's success, I think "Get Lucky" has had a similar impact but more nuanced influences on what has followed, making elements of 70s and disco and funk and early 80s New Wave cool again.  Decade after decade, Rodgers crafts this wonderful music we don't even know we yearn for until he delivers it and we listen.
Getting back to the start of that concert, Nile Rodgers and the band strolled out onto the stage quite unceremoniously – I think even the lighting crew had to catch up and transition as they took their places in stark bright lights.  Nile Rodgers took a moment to snap some photos of the audience.
They opened with three Chic songs – "Everybody Dance", "Dance, Dance, Dance (Yowsah, Yowsah, Yowsah)", and "I Want Your Love".  Interesting to me how the first two of these early hits are about dancing… essentially an expression of joy and celebration.  Super disco, super (seemingly) simple yet complex and layered perfectly, all those sounds.  Those keys and horns, the disco guitar riffs, the funky bass, and the luscious vocals.  A simple formula but different at the time, creating imitators and influencing artists through to today; often imitated but never bettered.  And somehow his music sounds so much more "organic", for lack of a better word.  It feels real and rings true, and doesn't sound like instruments so much as it sounds like a collection of colors from a full spectrum of light.  Like the most delectable candy for the brain.
I've always been a fan of both disco and funk.  Disco is so catchy, it's like the purest, most saccharine flavor of pop music.  Funk has the best guitar riffs, and showcases the bass (whereas with most rock bands you have to struggle to identify it as you listen).
Nile Rodgers is one of my favorite guitar players, and for me it is the opposite of the "rock/metal guitarist" with the face melting solos… where you can appreciate that it looks difficult and complex but there is just nothing for your brain to latch onto and you can't follow along – it's like a wall of noise… like ten different guitarists on speed all playing over each other at the same time.  Yuck.  The Nile Rodgers style is just so infectious and bouncy and bright and catchy you just want to hear it over and over, and it beautifully compliments the vocals and other instruments he arranges with it.  Those riffs give a hook for the brain to latch onto and come along for the ride.
Throughout the show, Nile Rodgers seemed particularly enamored with the idea of playing in Oakland to a local crowd, as the first big show Chic ever played was at Cool Jazz Festivals way, way back in 1980!  He explained it to us Saturday night like this:
Our first show was in Atlantic City in a disco, and our second show was in Oakland baseball stadium and there was like 7,900 people, it was called the Cool Jazz Festival, and it was amazing!  We were out on stage with Con Funk Shun!  It was ridiculous…  Heatwave!  Cameo!  The Brothers Johnson!  I walked out on stage, I was terrified!  I never saw so many people in my life.  I looked out there, I said… Oakland!!!  So it is awesome to come back.

Something you may not know… is that in the day time, I write and produce songs for lots of other artists…  like Diana Ross, Duran Duran, like Sister Sledge, like Daft Punk, like Madonna, like David Bowie… it changed my life.  So what we're going to do now, is we're going to play a bunch of songs that were number one hits!  Here's what you have to do… when we get to the chorus, I'm gonna scream out "sing", and you know what that means, right?
Funny enough, my friend Anna was not only at this concert, but she still has the program and tickets and posted this photo on Facebook prior to the show:
Pretty awesome stuff.
Early into the set, they did a few Diana Ross covers and a few Sister Sledge covers.  With this current incarnation of Chic, all of the players on stage are remarkable.  The two female vocalists – Kimberly Davis and Folami – are stunning.  Not just blessed with amazing voices, but the ability to have the range to do all these songs in such different and unique ways.  Thankfully, the sound was dialed in beautiful (a rare, no ear plugs show for me) and all of the sounds were well separated and complementary.  So it was a real joy to hear their versions of both Chic and other artists' songs.
Later in the show, Folami maybe sounded better than 80s Madonna on their cover of "Like a Virgin", and the duo killed it on Duran Duran's "Notorious".  The horn section of course really brought the song to life in Chic/Duran Duran style.
Jerry Barnes on bass guitar is a perfect match for Nile Rodgers, with amazing chemistry and synergy with those funky basslines holding up the floating, disco guitar riffs.
Ralph Rolle held down the center of the stage on drums, and contributed crazy awesome vocals on Bowie's "Let's Dance", which was kind of a shocker.  What a talent!
Equally fun was keyboardist Russell Graham doing the robot-like vocals on "Get Lucky".
It was all like a big party, and fittingly so.
What is the happiest and most joyful event in most people's lives?  Their weddings.  And what three songs are always played at every wedding?
"We Are Family" from Sister Sledge (produced by Nile Rodgers).
"Good Times" from Chic.
"Love Shack" from the B52s (produced by Nile Rodgers).
And now you can probably add a fourth song, "Get Lucky" from Daft Punk (produced by Nile Rodgers).
No one in music has produced such an interesting collection of songs with such a strong central theme and intent: joy and celebration.
There have been so many figures in history who have made their mark with negativity – war, conquest, domination over others…
Here we have a man who has done quite the opposite – created a soundtrack for our lives to make us appreciation our relationships, our experiences, and the gift of life itself.
I would say of all of the pop artists of my own generation, two have certainly earned the distinction of being true geniuses in music – Nile Rodgers and Prince, and as I write this I'd have to include Danny Elfman as well (though long out of pop music, I count Oingo Boingo as one of my all-time favorites).  I can't image what would happen if the two of them might collaborate some day, but know it would be important.  I can dream!
At the end of the show, fittingly for "Good Times", Nile Rodgers had a young boy up front in the crowd brought up on the stage and the band was also joined by Folami's own family who danced through the encore.  True to the music, it brought out in fans what it was all about in the first place… dancing, joy, and celebration.  There aren't too many concerts this good, but this is what it is all about.
I go to a lot of concerts, but it's rare that I find myself lost in a moment, in awe of an artist, and that's exactly how I felt standing below Nile Rodgers, watching him do his thing.  A legend.
Setlist:
Everybody Dance
Dance, Dance, Dance (Yowsah, Yowsah, Yowsah)
I Want Your Love
I'm Coming Out (Diana Ross cover)
Upside Down (Diana Ross cover)
He's the Greatest Dancer (Sister Sledge cover)
We Are Family (Sister Sledge cover)
Soup for One
Lady (Hear Me Tonight) (Modjo cover)
Like a Virgin (Madonna cover)
Lost in Music (Sister Sledge cover)
Notorious (Duran Duran cover)
My Feet Keep Dancin'
Thinking of You (Sister Sledge cover)
I'll Be There
Get Lucky (Daft Punk cover)
Chic Cheer
My Forbidden Lover
Let's Dance (David Bowie cover)
Le Freak
Good Times (Snippet of The Sugarhill Gang's "Rapper's Delight")
One last point… go to iTunes and pick up Chic's latest single from last year, "I'll Be There".  As excellent as anything they've done.
Below are some photos of Chic performing on stage (click any image to open a virtual lightroom with higher resolution versions of each photo; also if the photos don't appear clearly below, you might need to refresh this page for them to load properly):
Jason DeBord