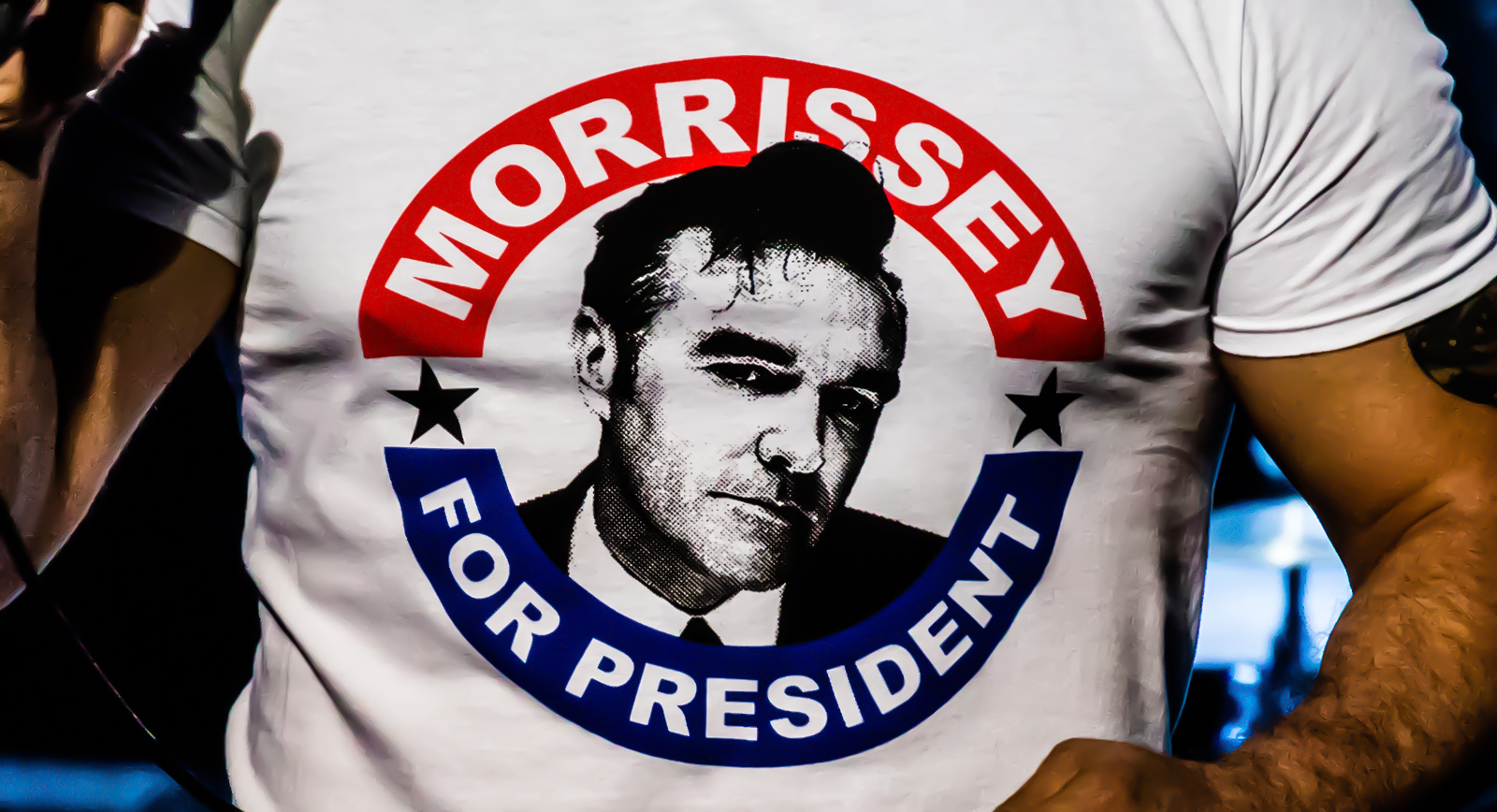 "Spread open your Golden Gates…" Morrissey always has an interesting little quip before delving into the first song of the night, and what he prepared from The Masonic in San Francisco was appropriate enough.  Having seen him one other time this year – in San Jose in July (phenomenal show!) – he seems to be increasingly jubilant this year… a turn of fortunes for sure.  He also seems much more comfortable in his own skin, and more confident (with a stellar band bringing his music alive in a way that eclipses all iterations that have come before it).  He was also quite chatty with this latest engagement on Tuesday night, abandoning at least some of the darkness fans have become accustomed to (though he did make a remark about looking to find him in a monastery eight miles south of Vienna in the future).  There is often a unique theme for each show by way of matching outfits for the band, and with this show, they all wore "Morrissey for President" t-shirts.  We can only image.  As one of my all-time favorite artists, I see him as often as I can, and it seemed most fitting to make this show my final one for 2015.  He remains one of just a few artists that can still give me that chill down my spine and make me feel like I am witnessing something genuine and important (kicking in at this show with "How Soon Is Now?").  Morrissey has a way of bringing up feelings of nostalgia and fusing it with his new works to create something special. 
Who: Morrissey
Venue: The Masonic
Where: San Francisco, California
Promoter: Live Nation
When: December 29, 2015
Seating: General Admission (also photo pass first three songs)
This was "An Evening With…" style show, with no opening/supporting band.
The show was held at The Masonic in San Franciso (also known as the Nob Hill Masonic Center), which was redesigned in recent years in conjunction with Live Nation with an update allowing for general admission on the ground floor and pre-assigned balcony seating above, set to hold around 3,300.  The show was completely sold out and packed all around.
It was originally scheduled with a 7:00 doors / 8:00 show format, but Morrissey and the band taking the stage was rescheduled to 9:00, with his traditional video montage and music filling the time in-between.
Morrissey
Members
A little background and context (because for me, some reviews are far more subjective and personal than others)… redundant if you've read my review from July.
Morrissey has long been a fundamental part of contributing to the soundtrack for my life, going back to my early teens.
As one of my favorite music artists of all-time, and more than all of them, his music has always moved me – those special moments where the words and the sound connects with me, that chill down my spine and adrenaline rush… Morrissey and his work add texture, substance, and color to my life unlike any other artist. And his live appearances have become increasingly rare, so any opportunity I have to experience it "for real", in person, I am there, as the live experience just magnifies it all.
Of all of the many artists and music I follow (my iTunes currently holds over 27,000 songs in my account – music I've actually paid for), I would have to put Morrissey and The Smiths in my top three favorite artists of all time. I'm not fanatical about it. I don't have Morrissey posters on the ceiling over my bed, nor do I pontificate on forums about him. I don't need to know every detail of his life.  So as a person, he remains somewhat mysterious to me, and I kind of like it that way. I just love the music and don't need to have an encyclopedia amount of information about him and what he does outside of making his music. I think a little mystery contributes to how we all intersect with the music and artists that we love and appreciate. And, I've found in a few cases, knowing a bit more about an artist can change things a bit, and not always for the better.
Considering all of the artists that I follow, Morrissey holds a special, singular place among them as a figure who has a lot of meaning and importance in both music and pop culture at large. He does get a lot of shit from critics and some "fans", mostly for being human and flawed just like the rest of us. He's obviously an emotional and sensitive guy, and it's too bad that as we get further along into the "information age" that a lack of respect and outright meanness permeates our culture, and I know for public figures it is a huge order of magnitude worse and the slings and arrows are even harder to escape.
One thing that has led me to develop a lot of respect for Morrissey is that he is honest with his thoughts and opinions. Getting back to culture today, we live in a world where it seems a lot of people wake up in the morning with a priority of finding something to get personally offended about… But even in this cultural climate, Morrissey seems to have found the freedom to express himself as he truly feels and believes, which is refreshing. He is an honest artist, and as personal and revealing as his songs can be via the lyrics, he has the courage to be Morrissey outside of his recorded works, critics be damned.
Review…
As with the recent San Jose show, an image duplicated on the screen above the stage served to set things up… last time it was Bruce Lee; this time around, a photo taken by Stanley Kubrick of American boxer Rocky Graziano… (cropped in this use).  Below is the original image: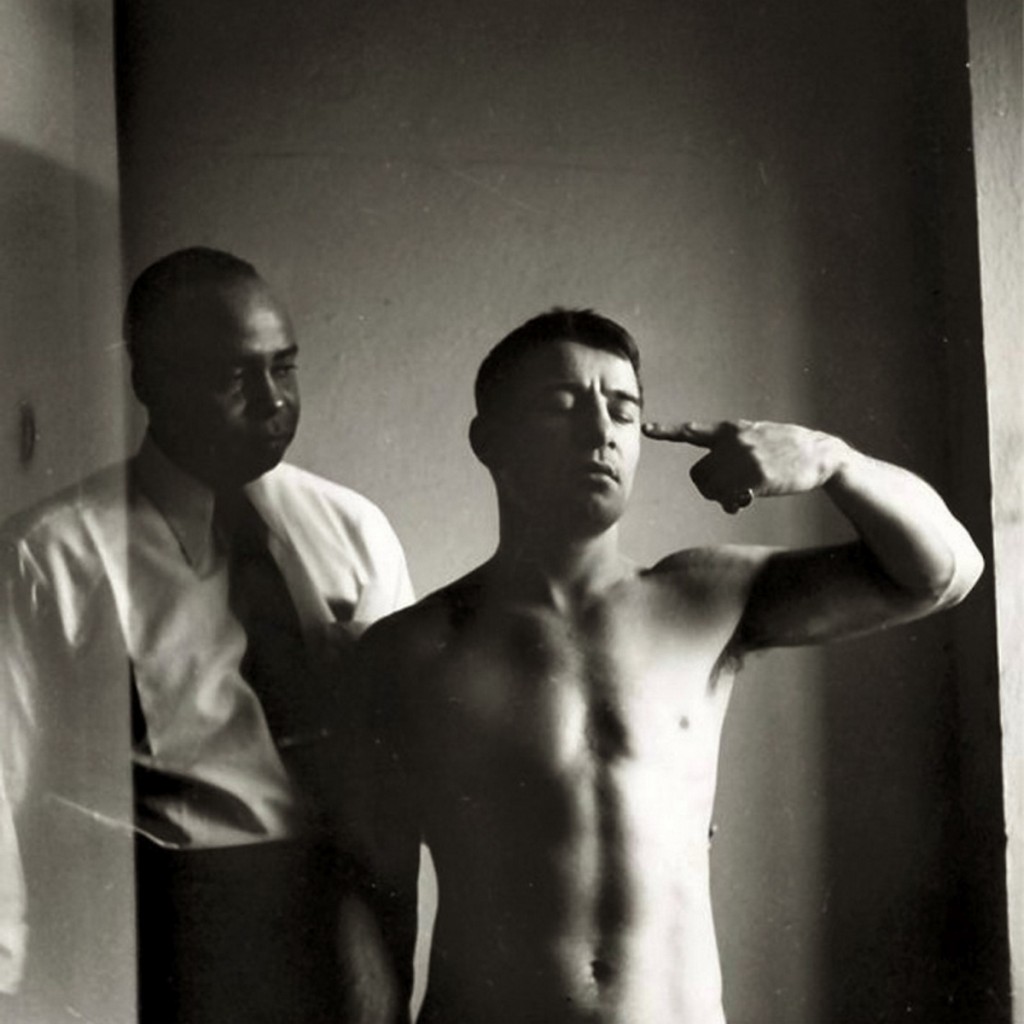 As mentioned, Morrissey opened with, "spread your Golden Gates", and then they went into "Suedehead".
Consistent with recent shows, the production, lighting, and sound was exceptional (a rare "no earplugs" concert for me).  Morrissey was spotlit with mostly bright white lights throughout the show, with color filling in mood and theme behind.
Morrissey did maybe a bit less of reaching out to the hands below, but there was quite a divide between he and crowd with the barricade, though the stage was relatively low.  He looked quite dapper (in a traditional way, with understated black sports coat and white shirt), so had more of a crooner persona on stage.
While I did my photography from right in front of the stage last time around, with this show, we were relegated to the back wall… so if you want to see close-up photos, I recommend checking out my last article.
With that last show, I missed one of my favorites, "Speedway", as I had to run my gear out to my car after the first three songs.  This time around, "Speedway" was the third of three songs that I photographed, and funny enough, most of the other photogs stowed their gear and rushed out thinking it was the end of the song when all went dark and silent about two thirds of the way through.  During that time, members of the band traded places and did a different take and ending of the song, with Gustavo Manzur at center mic finishing the vocals in Spanish (with his killer vocals).  Among the switch ups, Moz was on keyboards (well, behind keyboards with tambourine), Boz on drums, Mathew on guitar…
"How Soon Is Now?" was the first of five songs by The Smiths played during the shows sprawling 22 song set.
Well into the show, Morrissey introduced Gustavo, and then each band member introduced themselves amid thunderous applause and cheering, with Boz garnering the most enthusiasm, and Morrissey introducing himself by saying, "I'm Trini Lopez".
There was certainly bits of humor and sarcasm throughout the show…
Leading into "I Will See You in Far Off Places", Morrissey mused, "As you know, I am a weak person… Me personally, I have no will, no self-examination… which means that today, I watched CNN for a while.  And, in the middle of all the usual scare mongering, frightening, shocking, disgusting, horrible…  in the middle of it, they stopped for a commercial break and if we're all going to die, and the world's going to end… why stop for a commercial break?  A question.  An innocent question."
Soon after, "If you think it's impossible for the USA to bomb you, just wait".
There was the video screen backdrop image of members of the Royal Family with the logo, "UNITED KING DUMB".  One interesting bit for me from his recent interview with Larry King (who asked generic questions and didn't seem familiar with Morrissey at all) was that Moz seemed to be keen on Hillary Clinton for President, which surprised me a bit.  In the U.S., all political beliefs aside, with the constant Bush-Clinton-Bush-Clinton candidates taking their turns as President or running for President, it has created family political dynasties in the U.S. that aren't all that different from what Morrissey does not like in the UK with the Royal Family.  But maybe, going by the t-shirts, he's come around to another view on things and wants to take matters into his own hands?  Obviously it's all tongue in cheek, but in spite of the awkward, boring questions, it was fascinating seeing Morrissey at least grant a contemporary interview.
Getting back to the concert… still, his humor and sarcasm was mixed with some joy…
Another in-between songs quip: "Have you had a poor day?  Well… I've had a very good day.  And it's still very early.  And you never know, when your luck could change".
One of the highlights for me was the reworked version of "Every Day Is Like Sunday", with a blazing keyboard intro by Gustavo, followed by Morrissey reciting much of the latter portion of the song in Spanish.
Morrissey is full of surprises, and manages to keep his recent shows fresh and exciting, pulling songs from many of his eras and albums, which showcases his consistency as an artists as well as his ability to innovate while staying true to himself and his muse.
All in all, one of my favorite shows of the year, and leaves me with hope that these live tours will be less infrequent in the future.  He has an amazing thing going, currently, with perhaps his best band line-up ever.  They certainly have a more rocking sensibility, reminding me of the Your Arsenal era.  Not afraid to break a few guitar strings and drum sticks.
Below is the set list for the Morrissey concert at The Masonic in San Francisco on December 29th, 2015:
Set List
Intro
Suedehead
Alma Matters
Speedway
Ganglord
How Soon Is Now? (The Smiths song)
First of the Gang to Die
World Peace is None of Your Business
Staircase at the University
I Will See You in Far-Off Places
This Charming Man (The Smiths song)
Kiss Me a Lot
I'm Throwing my Arms Around Paris
Jack the Ripper
Oboe Concerto
The World is Full of Crashing Bones
What She Said (The Smiths song)
Everyday is Like Sunday
The Bullfighter Dies
Meat is Murder (The Smiths song)
Have You Killed Me
Let Me Kiss You
Encore:
The Queen is Dead (The Smiths song)
Below are some photos of Morrissey and his band performing on stage (click any image to open a virtual lightroom with higher resolution versions of each photo).  Again, for more dynamic images with more interesting variety and angles, check out my work from the San Jose show back in July.  NOTE: Please Do Not Republish These Photos On Any Other Website Or Social Media (my contract with the artist does not permit others to republish any photos on any other websites):
Jason DeBord