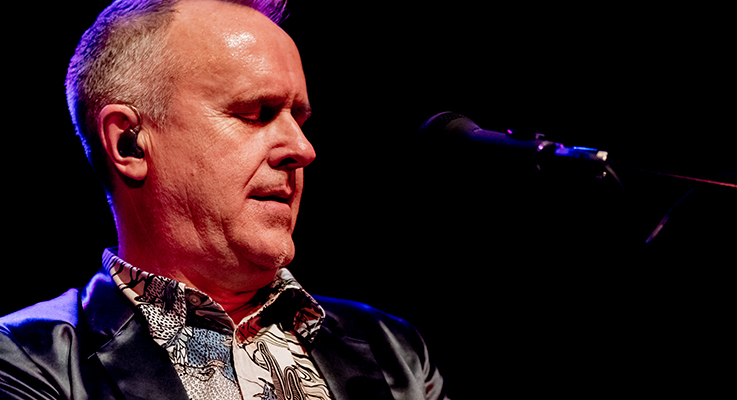 "Lyrics is everything to me…"  The very thoughtful and contemplative Howard Jones, during his intimate solo show ("The Songs, The Piano, and The Stories) at City Winery Napa on Friday night, leading into his heartfelt hit song, "Life In One Day".  The lengthy set was split between his solo performance and stories about each song, delivered with warmth, honesty, and wit, in an authentic, humble manner.  The format proved to be an amazing way in which to begin to get to know (funny enough) the man behind the music, which is something I always approach with a little trepidation (at least one favorite 80s icon proved to be a disappointment a few years ago – I wish I could "unexperience" that show).  But Howard Jones proved to be a man the audience liked to get to know well…  Mr. Jones is really not just an incredible artist, but an incredible man and I really appreciate his efforts to openly share about his fascinating life as well as pass along some life lessons.  He does this in his traditional electric shows as well, but it's not quite the same as him settling into his seat behind his keyboard with the mic volume set for discussion as well as playing, with an equally relaxed audience sitting around him.   If you've ever seen one of Howard Jones' electric live shows, I would highly recommend checking out one of these solo shows as well, as it is a totally different experience and maybe even more gratifying and entertaining.  I loved every second of it, and plan to go to another one the next time the opportunity arises.  My highest recommendation.

Who: Howard Jones
Supporting: Marina V
Venue: City Winery Napa at the Historic Napa Valley Opera House
Where: Napa, California
When: October 9, 2015
Seating: Seat 35 & 36 (seating at table up against stage, stage right of center; plus photo pass)
This show was the first of two, back-to-back concerts at City Winery Napa I attended last week (having turned out for The English Beat the night before).
Found inside of the former Napa Valley Opera House, the 1880s two-story building was transformed into a new restaurant, bar, and live event venue by Michael Dorf, who founded the Knitting Factory in New York as well as additional City Winery venues in Chicago, Manhattan, and Nashville.  There is a restaurant and bar on the main level and upstairs is the concert venue with bar and upper balcony.  Food and a deep wine list is offered in the concert venue itself, most of which is made up of small tables lined up in rows, with four to a table.  When tickets for their events go on sale, you can choose your location and seats.  The layout is great – there really isn't a bad seat in the place, and the upper balcony offers a cool perspective.
Unfortunately, back in July, they announced that they would be shutting down, and have since stated that it will be closed on January 1st, 2016.
CEO Michael Dorf posted a letter on their official site stating:
While we anticipated a challenging market given the smaller local population and high tourist traffic, we thought we could at least achieve a cash-flow positive business within a couple of years. But no matter how hard we tried, no matter how much attention and staff we brought in to make it work, the velocity of business is just not there.
The New York-based company said it is opening a new venue in Atlanta early next year with targeted locations in Boston, Toronto, and Washington D.C. to follow.
"The reconfigured Opera House, with its flexible upstairs space and restaurant improvements, is unique and drawing significant interest from multiple prospects", said Bob Almeida, chairman of the board of directors at the Napa Valley Opera House, has since stated that they "hope to have an agreement with a new operator in place before the end of the year… we do not intend to allow the theater to go dark".
Funny enough, this show as well as the one the night before with The English Beat were the first ones that I attended that were sold out, so it felt like people were just becoming familiar with what an awesome venue it is, and they have done a great job bringing top notch talent to Napa.
So in some ways it was sad Thursday and Friday night to enjoy the atmosphere, knowing that the days are numbered for the place to continue on, but hopefully someone will come in and give it another chance in 2016.
The shows for The English Beat and Howard Jones were announced in unison, so I purchased tickets for the same seats up against the stage (slightly off center) at the same time to bring my wife with me and have a nice date night in addition to enjoying the concerts.
Marina V
Members
Marina (vocals, keyboards, guitar)
Nick (guitar)
This was my first show seeing Marina V, which is made up of Marina on keyboards and vocals, with her husband on guitar (and a little assist on keyboards).  She did a great job giving some background about herself, being born in Moscow, and having pride in her heritage.
She shared with us that one of their songs – "You Make Me Beautiful" (originally written just for each other) – was released and became their most popular to date and received an award personally from Sir Bob Geldof.
As soon as she started, my wife whispered to me that she reminded her of Tori Amos (one of our favorites), so her sound and style was totally in our wheelhouse.  While different, if you are a fan of Tori, I imagine you would become a fan of Marina V as I am now once you hear some of her songs.
Following the show, I checked out her album, Inner Superhero, which is a very catchy and infectious collection of pop-oriented, vocal-driven songs with keyboards serving as the foundation of a full accompaniment of traditional rock and roll instrumentation.  Like Tori, she changes up the pace not just song to song, but within most of them, going through interesting changes, all led by her gifted vocals.
Definitely worth checking out if you have an opportunity to see them, and I'd recommend picking up the album too.
Below are some photos of Marina V performing on stage (click any image to open a virtual lightroom with higher resolution versions of each photo):
Howard Jones
As mentioned in my past reviews, Howard Jones is really an interesting figure (and legend really) in New Wave, as he somehow came to fill a singular role in all of music. If you think of the 80s, there are hundreds of artists that came to the scene in that special decade, and in that many were classified as "New Wave".
With that, somehow Howard Jones and his classic songs truly played a huge role in literally defining what New Wave actually was…  If you had to pick just one artist and top songs that have endured and are arguably representative as THE songs that singularly embody that feeling and time, I would have to go with Howard Jones and songs like "New Song", "Everlasting Love", "What Is Love?", "Things Can Only Get Better", "I'd Like To Get To Know You Well", "Life In One Day", and "No One Is To Blame".  He was instrumental (I hate puns, but that's the word that came to mind) in making the synthesizer as important to contemporary music as drums, guitar, and bass.
Really, everything about him just screams New Wave… his vocal style, delivery, unapologetic synth-heavy songs, the themes found in his music, even the fact that he's English… he is like the embodiment of New Wave.
But aside from all that, it needs to come down to the songs, and he has some of the most iconic 80s songs that were written and recorded.
He also came on the scene and got mainstream attention in 1983, which was early enough to really be a part of shaping it all.
If music is the soundtrack to our lives, anyone remotely into New Wave who was over 13 and under 30 at any time from 1983-1987 would have a Howard Jones song on their personal set list for life.
He wrote songs with words that had thought and meaning in them, not just words that rhyme. A thinker of the time, he reflected an era that in retrospect looks more and more preferable every day (at least for nostalgic souls like myself).
For me, he is the single musical artist that kind of represents all that was great about music in the early to mid-80s, in the same way John Hughes does with film.
His voice sounds exactly the same today (if not better, with more character), and completely studio quality. He also seems to be loving every second on stage, celebrating this music with us… these hits that have been long ingrained into our minds like the grooves on the vinyl that they were originally recorded on.
Howard Jones has also somehow aged really well, having just turned his internal odometer past the 60 mark. I'm guessing his music reflects his lifestyle, and gives him significant longevity.
The set-up for this solo show wa very stripped down, with a keyboard at center stage, a chair, and that's pretty much it.  Howard Jones came out and remarked on how beautiful Napa is, saying "I'm very envious of you living here…"
Going back to my review of the electric show at Harlow's back in May, I had remarked that for most shows, with my concert photography, even up front, I feel mostly invisible (in my head, anyway). So it's always a bit startling to realize what is happening when an artist directly addresses me or interacts with me. As preface to "The Prisoner" at that Sacramento show, HoJo motioned to me and said, "thiis is a song about someone who takes photographs of people… and about the theory that each picture captures someone's soul." Thankfully, he followed that sentiment by saying he didn't subscribe to it himself.
Well, after coming out to this show in Napa and those opening remarks, he transitioned to discussing the first song for the night, explaining: "I was saying to a friend of mine tonight… every time, the song that I start with, I like to kind of surprise myself and not do the same thing every time, so I've chosen a song from the Cross That Line album called "The Prisoner…""  So kind of funny and surreal again, as I sat against the stage taking photos of Howard Jones as he performed "The Prisoner" again.
With each of the songs during the set, though stripped down to just piano-sounding keyboards, they actually had a bit more richness and texture.  I was especially interested in hearing unplugged versions of songs I didn't think would be "unpluggable".
Below is the full set list from the show…
Setlist:
The Prisoner
Straight Ahead
Back In Your Life Again
What Is Love?
Joy
Like to Get to Know You Well
City Song
Everlasting Love / Twist and Shout (snippet of cover by The Beatles)
Someone You Need
Hide and Seek
Life in One Day
Things Can Only Get Better
No One Is To Blame
With "Straight Ahead", he talked about his parents (Thelma and John, now passed away) and how they ran his fan club, and that one of their favorite songs was Rodger & Hammerstein's "You'll Never Walk Alone", which was about "battling through the storm…"   So "Straight Ahead" was Howard Jones' tribute to them, and his version of that song.  It is really touching that he played this song, dedicated to his parents.  I think it's representative of his inner optimism that can be found in all of his music, and a philosophy of enduring life's challenges but acknowledging loss and celebrating loved ones and special relationships.
Howard talked about enjoying the independence of writing for his own record label, and writing more intimate songs.  He said one of his favorites is "Back In Your Life Again", which as he described it, sounds like it could be a movie, both with the story and the scene he painted of the setting.  This is one that sounds like it was written to be performed on a piano, not electric keyboards, and really showcases his beautiful voice and delivery.  Incredible!
"What Is Love?" was the first big 80s hit of the night that he played, harkening back to 1985.  The stripped down version of this song was definitely one of the highlights of the night, with powerful playing and singing.  He talked about how it reminded him of his participating in The Grammy's at the time about synthesizers and how there was controversy about it at the time.  He was invited to "put the record straight along with Herbie Hancock and Thomas Dolby, as well as… Stevie Wonder, creating a medley of their songs.  You can actually check out a really rough recording of this "Synthesizer Medley / Synthesizer Showdown" on YouTube today (LINK).  Howard recounted his time rehearsing and "jamming" with Stevie Wonder as though he was filled with unimaginable joy just thinking of it.
Speaking of "Joy", the next song played, it is one of the new tracks off of the latest album, Engage…  this was one of those ones that I didn't have the talent and imagination to have any idea of what a piano rendition would sound like, but it's just as magical as the studio (electronic) version, but altogether different.  Both give an appreciation for Howard's vocal gifts to bring so much to an accompaniment that is more stripped down – the "pop" comes from his vocal tones and delivery and unique emphasis and pacing.
I don't want to give away all of the secrets and surprises of what he talks about with each song, but it made for an incredible, memorable experience.  Also entertaining was his ability with a look, a lean, a nod… to get the audience to sing along in chorus on those popular hits, as needed.
He brings a lot of humor to the stage, even at his own expense, deconstructing the lyrics and themes and ideas behind his own work with third-party detachment.
Stripped down and slowed down a bit, it also offered an opportunity to better appreciate not only the gift of his voice, but his ability to create poppy and catchy ways in which to deliver those interesting lyrics.  Like with the song "Like To Get To Know You Well"… if the song was not released and you gave the lyrics to 100 different music artists, would any of them deliver the line "like to get to know you well" exactly the same way, with the same rhythm and emphasis?  Probably not.  The synths and keyboards on their own would sound cool, but without the special way in which HoJo creates magic with those lyrics, the songs would never have broken through the music industry across the world.  A powerful singer-songwriter is at the heart of those wonderful, magical songs.
I really loved this concert, and I'm so glad he had the creativity to give fans another side of his music and a deep look into his history and thoughts behind his own music.  It's like a tour in which he wants to become closer to his fans.  Outstanding.
As discussed with my last review,  with the release of his 11th studio album – Engage – he is as creative and relevant as ever, with fresh new songs. My own feeling is that in all this time since the 80s have come and gone, he best represents not just the style of music but the feelings of that era, and it is awesome that he continues to spread his work and message in live shows like this one. Things can only get better, indeed.
Below are some photos of Howard Jones performing on stage (click any image for higher resolution versions of each photo in a virtual lightbox):
Jason DeBord