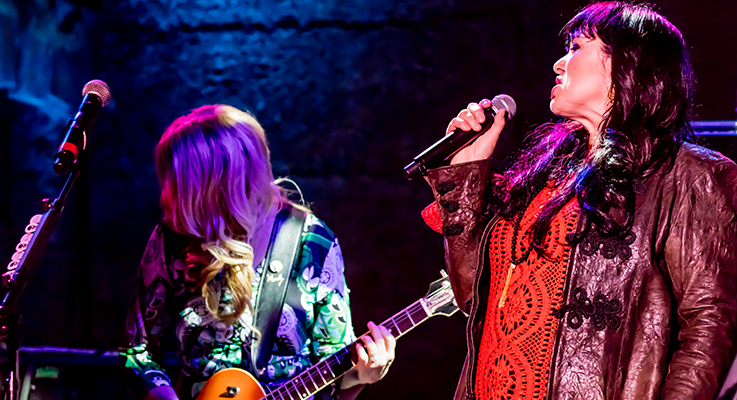 "I think we've been here like eight or nine or ten times before… you can tell we're sort of a variety band…"  Nancy Wilson reminiscing about past appearances with her sister Ann and band Heart at Mountain Winery, before diving into a stunning cover of "Mona Lisas and Madhatters".  I've been lucky enough to see Heart several times in the past few years (even a year ago at the same venue and two years ago almost to the day at America's Cup Pavilion) and one thing that I've learned with them is that every show is a completely different experience.  Slight but substantive changes to setlists and songs, different tone and attitude… they have so much range and talent and emotion, you never quite know what to expect.  Maybe that feminine perspective brings a wider gamut of approaches and possibilities?  Or the duo and their band have so much by way of musical gifts, they challenge themselves by expressing their art in a variety of ways?  In any event, this show was exceptional, with each of the sisters – as well as their stellar band – having moments to shine and showcase their talents.  The standing ovation following "Alone" was one of the most enthusiastic I've seen in a long time.  Somehow, Ann can really nail that song in so many different ways it's amazing.  As has been the case in the past few years, Heart remains the caretakers of keeping Led Zeppelin music alive and well (along with Jason Bonham's Led Zeppelin Experience, who have toured with them as well), closing out the night with covers of the classic, beloved music.  Real icons and pioneers in music themselves, they are one of the best live shows touring today, with a catalog spanning decades and reflecting different eras in not only music but pop culture and our times.

Who: Heart
Supporting: Major Powers & the Lo-Fi Symphony
Venue: Mountain Winery
Where: Saratoga, California
Promoter: AXS, Mountain Winery, and Silicon Valley Bank
When: September 26, 2015
Seating: Section 1, Row I, Seat 10 (also photo pass first three songs)
I usually attend quite a few shows at Mountain Winery and their Summer Concert Series, but this was actually my first concert there this year (wanting to relive their incredible show from last year).
Mountain Winery is definitely one of the most beautiful concert venues in Northern California, with epic views and an ever increasing number of pre-show dining options (from casual to fine dining).  It is an event/destination type of concert experience.
As for the concerts themselves, there is really not a bad seat in the house, and the sound was exceptional – one of those "don't need earplugs" shows, which is rare for me.
Major Powers & the Lo-Fi Symphony
Members
Dylan Gautschi (drums)
Kevin Gautschi (vocals, guitar)
Nick Powers (vocals, keyboards)
Major Power & the Lo-Fi Symphony had to create their own genre to describe what it is that they do:  Adventure Rock™.  Tongue in cheek or out of their minds, they follow in the footsteps of Tenacious D, from a psychological perspective.  Funny, irreverent rock and roll, with two members (Nick and Dylan) who look like they raided Captain Crunch's wardrobe; they play keyboard and drums respectively.  Kevin is the most "normal-looking" of the trio, on guitar though sharing vocals, depending on the song.  You can check out their music via their official YouTube channel here:  LINK
Currently near the end of their second Kickstarter campaign, they've met their $9,999 goal.
Below are photos of the band performing on stage (click any image to open a virtual lightbox with higher resolution images):
Heart
Members
Heart are real legends in rock and roll. Which is all the more remarkable, in that the two sisters – Ann and Nancy Wilson – are women who have been blazing a trail in a male dominated industry for decades. There influence has been of such a magnitude, I can't imagine it ever being repeated at the same scale in the future.  These two are so incredibly gifted, and I personally place them at the very top when it comes to real legends in music – their artistic and professional accomplishments are seemingly endless.  In spite of all that, they seem very down to earth and modest.  At the core though, it does appear that they love what they do, so it was maybe meant to be.
The band has sold over 30 million records worldwide, with Top 10 albums charting on Billboard in the 70s, 80s, 90s, and in the current decade, as they've been quite prolific throughout their career and have consistently produced quality work. They are those rare artists with both commercial and critical success. Heart was recently inducted into the Rock and Roll Hall of Fame, wherein they did an incredible performance of Zepplin's "Stairway to Heaven".
As with my experiences with recent concerts, I was just blown away at what an amazing band Heart is… of course everything is predicated on the music, and they are really one of the most versatile artists in music, with hard and soft rock, some songs with more pop sensibilities, and of course the jaw dropping ballads. And with that catalog of music, you never really know what kind of palette that they will paint from on a given tour or evening. But somehow it all plays out quite organically as they go from one song to the next.
I've also noticed that they do tend to rearrange the songs slightly year to year, with different pacing and flourishes.
Of course Ann's voice is at the heart of the band (I hate puns, but that is the best word to describe it).  She is peerless in rock and roll, male or female, with her undeniable gift of voice. Words cannot describe. And her instrument seems to just mature more and more and still have the ability to truly "wow" an audience unlike any other vocalist.
As mentioned in my past reviews, these songs that Heart has created are not only incredible songs, but really push the limits as to what is actually possible to pull of vocally. Ann has such power in her voice, but it is drawn quite obviously from emotion and that is something that cannot be taught to someone – she was born with this ability to translate powerful feelings into music.
And, as always, Nancy Wilson has such a stage presence, it is impossible not to be completely enthralled and fascinated watching her perform so seemingly naturally and effortlessly.  Unlike any of her peers, she brings tremendous femininity to rock music, but still has rock and roll gravitas, though in a completely female form. She is so singular in her on stage persona. For me, she is so beautiful and graceful, it is almost like watching rock star performance art, and it all seems to flow from her and so completely fits and suits their music; it is really something to behold. Of course, she is also an amazing vocalist in her own right, and funny enough, probably my favorite Heart song is "These Dreams", where Nancy is on lead vocals (I'm a child of the 80s – it was such a huge song for me and opened up my world to new music).  Nancy Wilson introduced it Wednesday night as "…a love song of interesting and unusual proportions".  Her trademark extended acoustic guitar intro for "Crazy On You" is nothing short of incredible.
Nancy's counterpart on lead guitar, Craig Bartock, always puts in a stellar performance; somewhat understated on stage (for a guitarist), all the power is in the strings and coming through the speakers.  He's been in the music business for over three decades as a musician, songwriter, and producer, also working as a solo artist.  He's been working with Heart for over a dozen years.  He seems to be a fantastic fit with the band.
As a mostly traditional rock and roll set up, each player has moments to shine, and the bass duties – handled by Dan Rothchild – kick in throughout, especially with their more rocking and thumping songs.
Ben Smith is an animal on the drums, and watching him drive the songs forward can be intoxicating.
This was the first time I've seen Chris Joyner on keyboards (in place of Debbie Shair) and he did filled out the songs wonderfully, particularly some of the 80s-era numbers like "These Dreams" where they feature so prominently.
Funny enough, one of my favorite moments in the show was their performance of "Dear Old America", a song written for their father.  Phenomenal song performed live, this one is off of 2012's Fanatic.  I noticed some of the younger fans in the crowd were particularly into it.
It definitely felt like a more intimate show, coming back to the venue for some many years it is like visiting with old friends.
But it was end to end pure bliss in music, and a real journey that just touched on what they've created for us, that continues to endure and find a new audience every day.  Classic music from real icons in rock and roll.
Below is the set list from the concert at Mountain Winery on 8/26/2015…
Setlist:
Kick It out
Heartless
What About Love
Straight On
Bebe le Strange
Dreamboat Annie
Mona Lisas & Mad Hatters (Elton John cover)
These Dreams
Alone
Even It Up
Dear Old America
The Witch (The Sonics cover)
Crazy On You
Barracuda
Encore:
Immigrant Song (Led Zeppelin cover)
Rain Song (Led Zeppelin cover)
Misty Mountain Hop (Led Zeppelin cover)
Below are some photos of Heart performing on stage (click any image to open a virtual lightroom with higher resolution versions of each photo):