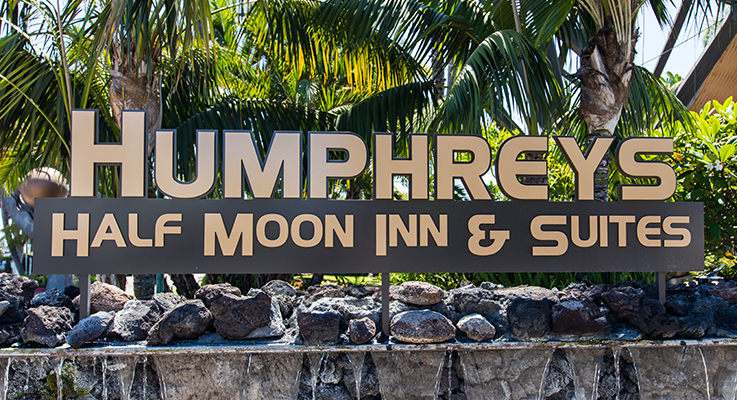 This is part of a continuing series of my impressions and experiences staying at various hotels and resorts while traveling to attend concerts worldwide. This stay was during my recent trip to San Diego in August 2015. This review is for Humphreys Half Moon Inn & Suites.
Property: Humphreys Half Moon Inn & Suites 
Location: San Diego, California (Shelter Island)
Address: 2303 Shelter Island Drive, San Diego, CA 92106
Phone: (800) 542-7400
Website: www.halfmooninn.com
Room Type/Class: (Night Two: Suite, Room 430)
Date: August 14 – August 16, 2015
TripAdvisor Page/Reviews: LINK
Booking Source: Night #1 Expedia, Night #2 Ticketmaster Lexus VIP Concert Package
Overall Rating: 4/5 [Note: Score is totally subjective based on price, location, and comparison to "like" properties within same area and price range]
This visit was to attend a B-52s concert as part of the Humphreys Summer Concert Series, and the second night of my stay was part of a "Lexus Premium Show" package that included front row seats for the show, dinner the night of the show, and a suite at the resort for one night.  We booked an additional night in a normal room for the night before as well.
I've stayed at Humphreys Half Moon Inn & Suites in the past, so knew what to expect, for the most part.
The property is located fairly close to the airport (maybe a 10 minute drive with traffic), in Shelter Island, which is a little isolated (in a good way) and on the ocean.
The resort is a bit dated in some respect, but it kind of adds to it's charm.  Check-in was easy, but because we had two nights with two class of rooms booked, we had to change rooms after the first night.
The buildings form a circle around the property, with two-story structures having rooms that face either out (to the ocean or the parking lots, depending on what side you are on) or in toward the pool and courtyard.
The first night we had a lower level room facing into the courtyard, but it was after midnight by the time we arrived, so I did not take photos of the first room.
The second night we had a suite on the upper level that faced out into the bay, overlooking the many docked boats, which was awesome.
The suites are much bigger than the standard rooms, and included a full kitchen and island with stools, family room, and separate bedroom (and a larger bathroom).  We also had a deck with sliding doors off of the family room and bedroom.
One disappointment was that we were put in a room with two double beds rather than the single king we requested, but after waiting to change rooms and then moving everything once, it wasn't worth the time and effort to make yet another room change.
Another disappointment was that early morning after the first night (arriving after midnight), the housekeeping staff were having a loud conversation right outside of our room, shouting as one was upstairs and one was at the bottom of the stairs in front of our door – this woke us up and went on for 20 minutes until I finally opened our door and asked them to please be quiet.
I do really enjoy the hotel – it had a little bit of a Hawaiian flavor to it, and it feels like you've gotten away to someplace different.
They do charge for parking ($14/night), and the Wi-Fi included in the room proved to be fairly fast and reliable.
I would definitely stay again – especially for one of their concerts as it is so convenient to see a show and then not have to drive anywhere.  The included dinner was also fabulous.
Below are some photos taken during my stay:
Jason DeBord