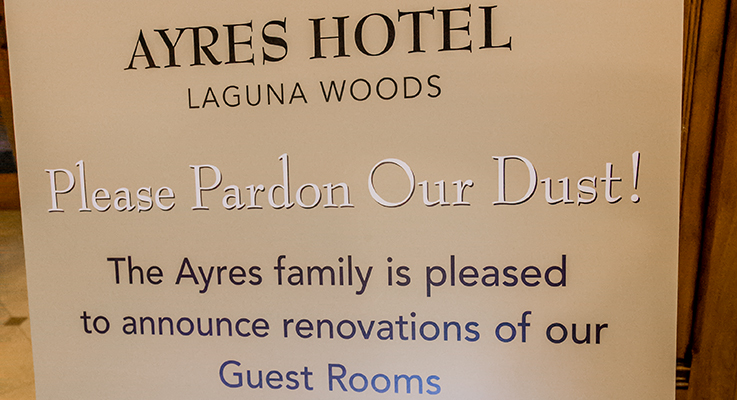 This is part of a continuing series of my impressions and experiences staying at various hotels and resorts while traveling to attend concerts worldwide. This stay was during my recent trip to Southern California in July 2105.  This review is for Ayres Hotel Laguna Woods.
Property: Ayres Hotel Laguna Woods
Location: Laguna Woods, California
Address: 24341 El Toro Road, Laguna Woods, CA 92653 
Phone: (800) 594-8412
Website: www.ayreshotels.com
Room Type/Class: (Room 214)
Date: July 17 – July 19, 2015
TripAdvisor Page/Reviews: LINK
Booking Source: Hotwire
Overall Rating: 1/5 [Note: Score is totally subjective based on price, location, and comparison to "like" properties within same area and price range]
This was my first stay at the Ayers Hotel Laguna Woods.  I was traveling by car from Southern California to the Orange County area for business, and needed a hotel in the area for two nights – the first night to sleep after an 8+ hour drive and the second night to sleep after doing photography at a wedding all day and then a concert later into the night.
Laguna Woods Village, a retirement community comprising approximately 90% of Laguna Woods, was formerly known as Leisure World.  I didn't realize this until I arrived – everything in the area skews very old/retired.
When I arrived at the hotel on a Friday afternoon, there was a lot of construction going on, apparent before ever entering the hotel from the noise and related vehicles parked in front of the lobby.  There was also a sign in the lobby addressing the noise, mess, and construction going on due to renovation.
I had booked the room through Hotwire via their secret rate (wherein you don't know what the hotel is until after you commit and prepay for the stay), so I was very disappointed that all of this construction was not disclosed – I would not have selected this hotel had I known, as quality sleep was my top priority.
I was put in a room on the second floor, directly above all of the construction underway on the floor below me.  On the main floor, to the left of center of the hotel, there was plastic laid out all over the floor, and massive renovations going on in every room, with cabinetry pulled out, painting, scaffolding, hammering, construction workers walking around smoking cigarettes, etc.  A massive construction zone that could not be avoided.
The first morning, I was woken up by loud hammering on the floor (the ceiling of the room below me).  I complained, but I was told nothing could be done until the manager returned on Monday (this was Saturday morning, and I was checking out Sunday).
I e-mailed Hotwire photos of the construction going on, and a video of the hammering, explaining that all of this should have been disclosed prior to completing my booking.
After shooting a wedding all day and then a concert at night, I returned to my room, and had e-mails returned to me by Hotwire instructing me to call to discuss the problem with them.  This was at about 2:00 AM.  I spent about an hour on the phone, and they kept putting me on hold to call the hotel to confirm all of the construction.  They spoke with the same person at the front desk two times, and both times the Ayres representative who was working at the front desk told Hotwire that there was no construction occurring at the hotel, so Hotwire said that they could not do anything to help me.
At this point, it was 3:00 AM, so I went downstairs to the front desk and asked the Ayres representative about his conversation with Hotwire, and videotaped this and put it on YouTube so that Hotwire could view it themselves (they told me that they could not open video attachments in e-mails).
The front desk representative lied to me, saying that that was happening was that people were "moving furniture".  In any event, the video is still on YouTube, so you can watch the conversation, wherein I also included photos and videos of my experience of the construction that he seemed to deny was happening at all:
In the end, after writing to both Ayres and Hotwire with a link to the video, they did the right thing and refunded my money, which I appreciate.  But I would have rather had an opportunity to stay at a hotel that wasn't under renovation in order to get proper sleep with a lot of business in the area and an 8+ hour drive on either side of my stay.  I will never stay at an Ayres property again.  Much of my frustrations could have been mitigated if it was managed properly.
Below are some photos taken during my stay (excluding the construction-oriented photos, which are included in the video):
Jason DeBord