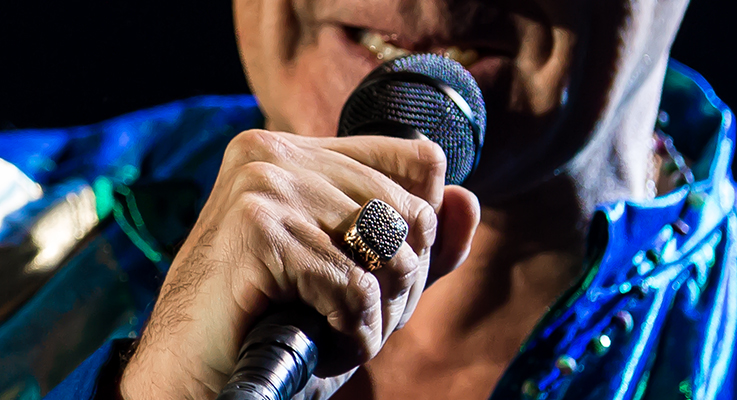 "When I grow too old to dream, remember me…"  Morrissey, though frequently employing an economy of words on stage, always has something interesting to say.  Over the past few years, he has seemed a bit preoccupied with the darker themes of mortality and retiring from live performances.  And given his track record prior to this tour just completed, it has made those shows that do come together that much more magical, as it can all feel rare and fleeting.  With the concert at The Event Center at San Jose State University on Saturday night, things seemed to come together quite perfectly (apart from the fact that Amanda Palmer sadly had to cancel her supporting set due to medical issues).  Morrissey seemed to be in a great and (for him anyway) chatty mood to boot.  The audience was stellar.  All in all, it was a fantastic show with a captivating set list and a few surprises as well.  I think this is the first time I've seen Morrissey in the past few years in which he seems really both at ease and dare I say kind of joyous on stage.  It's as if he's found a new path forward, surrounded by great fellow musicians who can create a show for themselves as much as for the audience.  As one of my all-time favorite artists, it's certainly motivated me to continue to turn out for any of his shows that I can.  There is always an element of excitement in the air as well as an overwhelming feeling of authenticity.  He is one of a handful of artists that can still give me that chill down my spine and make me feel like I am witnessing something genuine and important.
Who: Morrissey
Supporting: Amanda Palmer (Canceled)
Venue: The Event Center at San Jose State University
Where: San Jose, California
Promoter: Goldenvoice
When: July 25, 2015
Seating: General Admission (also photo pass first three songs)
There was certainly some sad and somber news breaking in the 24 hours or so leading up to this show, with Amanda Palmer candidly writing about contracting Lyme disease due to a tick bite.  The good news is that, although she is eight months pregnant, it was detected early and it will not affect her baby.  You can read all about her ordeal over on her official site here:  LINK
Morrissey said, at the outset of their one song encore, "we send our best to her".
Due to the lack of a supporting artist, things were moved up a bit in timing, and what resulted was essentially "An Evening With…" style of show.
I did not attend a Morrissey concert in 2014, as Harvest Records did not approve my press requests (pre-Harvest Records, I was always approved); so I did not have an opportunity to share some thoughts about the latest album, World Peace Is None of Your Business, in the context of a concert review…
In short, it is fantastic.  I know even with myself that with some artists that you've followed for decades, you are into the old and don't give the new a chance, but Morrissey is better than ever with the new material (a lot of which is played in his live shows, so another reason to catch up to the current).
Clocking in with 18 tracks, it is a lot of music, and illustrates that Morrissey still has a lot to say and is an unlimited reservoir of creativity.  Throughout, his voice and vocals are true to his past work but maybe with even a bit more range and character.  The lyrics, collectively, maybe his best ever?  And the band and music is amazing.  Highest recommendation.
Armed with the new music and this latest U.S. tour now under his belt, it is an exciting time to be a Morrissey fan.  Really, it is kind of a new Golden Age, feeling much more like the early 90s to me.
This was a working date night for me, so my fiancée, Shelley accompanied me (her first Morrissey concert!), so we took a quick photo outside of the venue: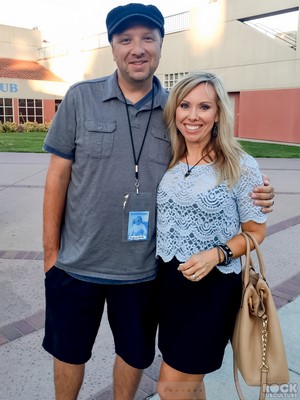 Morrissey
Members
This show was actually the final show for Morrissey's U.S. Tour (34 dates?), so I'm very happy for him that things came together and he was able to fulfill all of the dates.  Hopefully another one will happen soon!
A little background and context (because for me, some reviews are far more subjective and personal than others)…
Morrissey has long been a fundamental part of contributing to the soundtrack for my life, going back to my early teens.
As one of my favorite music artists of all-time, and more than all of them, his music has always moved me – those special moments where the words and the sound connects with me, that chill down my spine and adrenaline rush…  Morrissey and his work add texture, substance, and color to my life unlike any other artist.  And his live appearances have become increasingly rare, so any opportunity I have to experience it "for real", in person, I am there, as the live experience just magnifies it all.
Of all of the many artists and music I follow (my iTunes currently holds over 27,000 songs in my account – music I've actually paid for), I would have to put Morrissey and The Smiths in my top three favorite artists of all time.  I'm not fanatical about it.  I don't have Morrissey posters on the ceiling over my bed, nor do I pontificate on forums about him.  I don't need to know every detail of his life (I bought his autobiography on Kindle, but have been waiting for a beach vacation to delve into it).  So as a person, he remains somewhat mysterious to me, and I kind of like it that way.  I just love the music and don't need to have an encyclopedia amount of information about him and what he does outside of making his music.  I think a little mystery contributes to how we all intersect with the music and artists that we love and appreciate.  And, I've found in a few cases, knowing a bit more about an artist can change things a bit, and not always for the better.
Considering all of the artists that I follow, Morrissey holds a special, singular place among them as a figure who has a lot of meaning and importance in both music and pop culture at large.  He does get a lot of shit from critics and some "fans", mostly for being human and flawed just like the rest of us.  He's obviously an emotional and sensitive guy, and it's too bad that as we get further along into the "information age" that a lack of respect and outright meanness permeates our culture, and I know for public figures it is a huge order of magnitude worse and the slings and arrows are even harder to escape.
One thing that has led me to develop a lot of respect for Morrissey is that he is honest with his thoughts and opinions.  Getting back to culture today, we live in a world where it seems a lot of people wake up in the morning with a priority of finding something to get personally offended about…   But even in this cultural climate, Morrissey seems to have found the freedom to express himself as he truly feels and believes, which is refreshing.  He is an honest artist, and as personal and revealing as his songs can be via the lyrics, he has the courage to be Morrissey outside of his recorded works, critics be damned.
Review…
This was my first show at The Event Center at San Jose State University, and I was wondering how such a vast space would fill out for a Morrissey concert.  In the end, it was nearly sold out, and the count I heard was in the 6,000 attendee range.  Bravo for Morrissey.  That was the biggest crowd I'd seen at one of his shows since the early 1990s.  And there was some real competition with alternate shows in the area, like Culture Club playing The Greek in Berkeley (an amazing and important band who haven't played in the U.S. in 15 years).
Things opened with his traditional video montage, with some updates I'd not seen in past shows – this ran for about 30 minutes.  After dropping the curtain obscuring the stage pre-show, video was thereafter projected from the screen behind the stage during the performance, with a mix of still images and video.
The opening graphic at the start of the set was a vintage shot of Bruce Lee (flipped horizontally), which I found online and cleaned up a bit here…
The band all met at the center of the stage and bowed, facing one another, and then took their respective places.
Morrissey kind of uncharacteristically shouted (gleefully?) "San Jose!  San Jose!".  They then broke out with "Suedehead".
The lighting was fantastic, with Moz well-light in mostly white lights while the band tended to collectively be one color or another.  Morrissey was wearing a light reflecting green shirt that made him "pop" even more on the wide palette of the stage.
Morrissey always seemed to do a lot of business with his mic cord, whipping it around, and seemed to be even more animated than usual in this regard.
As a photojournalist with credentials for this show, I shot the first three songs of the set from the pit, and then collected up my gear to make my way toward the exit…
After shooting, as I made my way out of the pit, I heard Morrissey do an acapella riff from "The Harsh Truth Of The Camera Eye":
"You see, I don't want to be judged anymore…  I would sooner be blindly loved…"
So it was a surreal moment for me to be sure, since this came just as we finished our photography (one of the other lines from that song, "this photographer he must have really had it in for you")…
Because of the rules for shooting the show, I actually had to pack things up, (literally!) run my equipment out to my car, then race back to the venue to watch the rest of the show.
Regrettably, I missed one of the highlights of the concert…  Though I was pretty fast, I missed two songs completely, "Speedway" and "Ganglord".  I'm a huge fan of the song "Speedway", especially the live version (you can check out my recording of it at the Stockton show in 2012 here).
Such an incredible song, and Morrissey's delivery is so powerful; the band does a remarkable job making the live version so, so much better than even the studio recording.  There is so much building and drama in how they play this one out, particularly the part where they cut out all the lights.
Well, what I missed with the version in San Jose at this show was that after the lights cut, Gustavo Manzur took Morrissey's place at center mic and finished the song beautifully in Spanish (and he has a fantastic voice!).  Amazing.  Of course, Morrissey famously has a huge following of Spanish-speaking fans, Latino fans, and fans of Latin American descent, so the audience went wild for this very special performance.  Thanks to modern technology, I was able to watch and enjoy some of the recordings of this song made at the show and published on YouTube.
By the time I actually did make it back into the venue, they had just begun playing the first of three songs by The Smiths, "Stop Me If You Think You've Heard This One Before".
They also later did "What She Said" (one of my favorites) and, toward the end of the show, "Meat Is Murder".  They have had "The Queen Is Dead" in rotation on this tour, but not for this date.
I've always found the video playing behind them during "Meat Is Murder" to be mostly unwatchable (it graphically depicts inhuman treatment of animals in the context of livestock), but I totally understand why it is done with every show and applaud Morrissey for using his artistry as a platform to make people see this and perhaps think differently.
One thing I found interesting with the "Meat Is Murder" video and performance this time around, as I was kind of watching the stage while trying to defocus the background with my eyes, is that Morrissey would turn and watch and point to it…  I'm sure it bothers him more than anyone, but he is so passionate about stopping the brutality that he will face it himself.
These days, it seems like a lot of new music is about "nothing".  Which is perfectly fine – some music is meant to be an escape, or perhaps nothing more than background noise to set a mood.  Some of it is about things… in a bad way.  But very little is about important things (on a large scale; love songs are important, but that is the personal, not the public).
Rock and roll has a lot of its roots in protest, bringing about change, spreading awareness…  so I am glad that Morrissey continues to carry the torch.  Meat Is Murder, the album, came out 30 years ago…  and it is more relevant than ever today.  Who would have imagined in 1985 that Morrissey would still be performing this song in front of thousands in 2015?  Remarkable.
There were a lot of nice little moments throughout the show…  Morrissey sharing some thoughts on Norway…  the traditional hand over of the mic to super fan Douglas up front…  introducing Boz Boorer as the "Supreme Overlord".
It was a very fun and upbeat show, and probably the best Morrissey audience ever.
It is customary at the close of a Morrissey concert for fans to attempt to get on stage to give Morrissey a gentle hug and the like, but this one ended unlike any I'd seen before…  when I was in the pit for photography during the first three songs, I noticed a young boy up front in the crowd (there are even a few photos with him further below).  Well, during the one song encore for "Every Day Is Like Sunday", he got up onto the stage and Morrissey seemed to be quite pleased by it and even extended the microphone to him to sing the chorus, and walked around with him a bit, and altered the lyrics at one point to say "I am so glad you are here…"
Below is the set list for the Morrissey concert at The Event Center at San Jose State University on July 25, 2015:
Set List
Suedehead
Alma Matters
First of the Gang to Die
Harsh Truth of the Camera Eye (brief acapella intro into "Kiss Me a Lot")
Kiss Me a Lot
Speedway
Ganglord
Stop Me If You Think You've Heard This One Before (The Smiths cover)
World Peace Is None of Your Business
Staircase at the University
Scandinavia
I'm Throwing My Arms Around Paris
Kick the Bride Down the Aisle
The World Is Full of Crashing Bores
What She Said (The Smiths cover)
Istanbul
The Bullfighter Dies
Will Never Marry
Meat Is Murder (The Smiths cover)
I Will See You in Far-Off Places
Encore:
Amazing show.  Can't wait to do it all again, hopefully soon.
Below are some photos of Morrissey and his band performing on stage (click any image to open a virtual lightroom with higher resolution versions of each photo):
Jason DeBord