"Oakland, I want to see you go fuckin' crazy!"  One of a set of similar sentiments shouted by Charli XCX throughout her high energy performance at the Fox Theater in Oakland on Thursday night, along with co-headliner Bleachers in their "Charli and Jack Do America" tour, though the latter had already whipped the crowd into a frenzy before she even had a chance to take the stage.  At only 22 years only, Charli XCX has had a remarkably long and prolific career thus far, and in her ongoing evolution of her unique and varied brand of music, she has veered solidly into the pop diva lane of the genre highway.  It was an interesting pairing of artists, with New Jersey-born Jack Antonoff from Bleachers building and building their own set with anthem-driven pop/rock songs that are catchy and captivating (even on first listen), contrasted against England's Charli XCX pushing sexually-fused tunes with saccharine pop choruses.  As a dual headlining show, each artist seemed to bring out a different crowd, though all skewed younger.  Most certain is that each artist – though having respectively accomplished much already – will certainly continue to grow and evolve in the coming years. 
Who: Charli XCX
Who: Bleachers
Supporting: BØRNS
Venue: Fox Theater
Where: Oakland, California
Promoter: Another Planet Entertainment
When: July 23, 2015
Seating: General Admission (also photo pass first three songs of each set)
I think this has only happened once in my many years of covering concerts and publishing reviews, but upon arriving at the Fox Theater in Oakland shortly after the 7:30 time listed on the ticket, walking into the venue there was already a band performing on stage.  I thought it was an 8:30 start time, so I completely missed supporting artist BØRNS, apart from the end of their last song.  Sincere apologies for not being able to include them in my coverage here.  I always make a point of photographing and sharing some thoughts about every artist on the bill for each show I attend, so I'm sorry I'm not able to accomplish that with this concert event.  What little I heard as they finished their set sounded outstanding.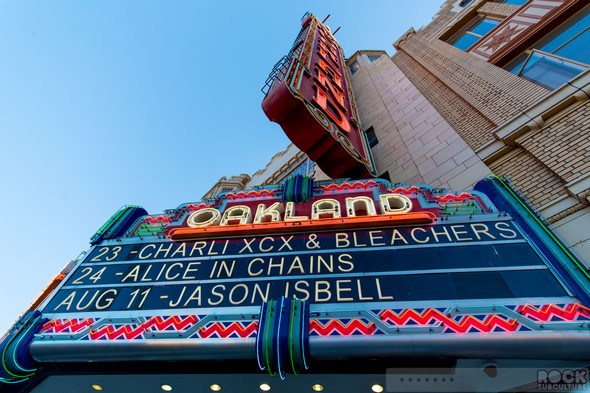 Bleachers
Members
Bleachers is a solo project by fun.'s guitarist, Jack Antonoff.  The Grammy Award-winning fun., of course, had their breakthrough hit with their anthem-driven "We Are Young".
Bleacher's first album is Strange Desire, an effort with Jack Antonoff and producer John Hill.  As a side note, none other than Vince Clarke collaborated on four of the tracks (which is exciting to me, as a huge fan of Depeche Mode, Yazoo, and Erasure).
This was my first time seeing Bleachers live, and I came away extremely impressed – most especially by their energy level and ability to ignite the crowd.
At first, I was surprised that they decided to peak so early on in the show, but then I realized that it wasn't the peak… they just kept building and building the sound and excitement, feeding the crowd and then drawing back on that same energy to propel the show to another high.
Employing two drummers on stage contributed to this idea of never letting up or giving fans a chance to catch up.
Even moving from one song to the next, there was never a pause to take in the cheers and applause, as the forward momentum was too strong to even slow down for a few seconds.
Jack Antonoff is one of those musicians who seems to have been destined to play on a stage more than in a studio.
His live show counter balance, Evan Smith, had the most to contribute with his saxophone, whether doing a solo or a back and forth battle with Antonoff on the far side of the stage, they had an explosive chemistry with one another.
One of the other photographers at the show described Antonoff to me as somewhat of a young Bruce Springstein, and I think that is an appropriate comparison in regards to what he does live on stage and how he connects with the audience.
Below is the setlist from the show at the Fox Theater on July 23rd…
Set List:
Like a River Runs
Shadow
Wild Heart
Reckless Love
Dreams (Cranberries cover)
Rollercoaster
Shadow of the City (new song)
You're Still a Mystery
Encore:
Only One (Kanye West cover)
I Wanna Get Better
Only ten songs in total, but it felt much longer (in a good way).
The surprise for me was the Cranberries cover…  such a different style (and era) of music but they pulled it off with a fantastic version.
Knowing Antonoff's fondness for Vince Clarke (and presumably the 80s in general) and given the amazing work on sax by Smith, I would love to see them incorporate an INXS cover into their live shows some day, as I would imagine it could be remarkable (and it would be awesome to see a young artist keeping that music alive).
Below are some photos of Bleachers performing on stage (click any image to open a virtual lightroom with higher resolution versions of each photo):
Charli XCX
Members:
English singer-songwriter Charlotte Emma Aitchison, recording and performing under her stage name Charli XCX, has come a long way since she began at just 14 years old playing at warehouse raves in London.
She's been quite prolific from the very beginnings, releasing singles and a debut album, 14, though none of this was done through a label until she signed to Asylum Records in 2010.
Her first official singles came in 2011 with "Stay Away" and "Nuclear Seasons", and in 2012 she released her first mix tapes, Heartbreaks and Earthquakes and Super Ultra.
It was in the Summer of 2012 that I saw Charli XCX perform for the first time, opening for Santigold at a show at Club Nokia in Los Angeles.
It was 2013 when she gained mainstream attention with Icona Pop's huge hit "I Love It", which Charli XCX co-wrote and provided vocals.  "I Love It" was decidedly more pop-oriented than her own solo material at the time, which was much darker and less melodic.
She released her second studio album, True Romance, in 2013.  In that year, I had an opportunity to interview her for my podcast, as well as catch her concert with Kitten at Slim's in San Francisco.
Charli XCX had another huge hit in her collaboration with Iggy Azalea with "Fancy" in 2014, which also saw the release of her third album, Sucker.
Interestingly, she has had phenomenal success in helping other artists break out (Icona Pop, Iggy Azalea) with much more pop-oriented material, and with the latest album and tour, she has definitely moved her own work into that arena herself.
Over the years, we've also seen her move from more of a non-band to a full, all-female band with the traditional set up (guitar, bass, drums), which I think also supports her feminist attitude.  In the live show, there was obviously some additional pre-recorded help to augment the live band.
She's definitely come a long way with regards to her onstage persona… When I first saw her perform in 2012, after taking off her top to reveal a sort of sports bra, she didn't seem completely comfortable with her own sexuality.  In contrast, at the Fox Theater on Thursday night, as curtain adorned with a middle finger covering the stage dropped, she came to the center front microphone beaming with confidence and wearing a short and revealing skirt.
She is definitely leading out with the sexuality and "in your face" lyrics with her tour today, opening the show with "Sucker" (with the chorus, "You said you wanna bang, well, Fuck you! Sucker!").  That is the direction that music for the younger set is going today – sex, shock, and more shock – but I personally feel Charli XCX has the talent to build an audience without taking the easy and obvious path that those less talented musically tends to rely upon.
I suppose it is the natural (well traveled) path forged with the ongoing transition to playing to larger and larger crowds, and the more pop and anthem songs certainly work better with larger audiences.  Played live, a lot of the songs feel almost all chorus, and Charli worked the crowd to sing along throughout.
Nearly all of the songs that were performed were from the latest album, Sucker, though also included was the new song "Mow That Lawn" (which was recently debuted live at Positivus in Latvia and Ilosaarirock in Finland).  Unlike the rest of the set, this song is not poppy at all, with a bassline that sounds more like Joy Division than anything contemporary.  So it is cool that she continues to explore her darker side as she goes forward, even if it isn't a style she is prioritizing at the moment.
Also relatively out of left field was the cover of Snuffed by the Yajuza's "Allergic to Love".
So it was not all pop, but older songs like "Nuclear Seasons" or "You're the One" certainly would not fit seamlessly into the current set (though I have to admit those are my favorites).
Below is a photo of the set list:
Below is the setlist from the show at the Fox Theater on July 23rd…
Set List:
Sucker (Sucker)
Breaking Up (Sucker)
I Love It (Icona Pop cover)
Famous (Sucker)
SuperLove
Doing It (Sucker)
Need Ur Luv (Sucker)
Allergic to Love (Snuffed by the Yakuza cover)
Mow That Lawn (New Song)
Body of My Own (Sucker)
London Queen (Sucker)
Break the Rules (Sucker)
Gold Coins (Sucker)
Grins (True Romance)
Fancy (Iggy Azalea cover)
Boom Clap (Sucker)
All in all it was an enthusiastic embrace of pop and the delivery was quite impressive, fueled by her stellar voice and natural ability to bring excitement, energy, and originality to the stage.
Below are some photos of Charli XCX performing on stage (click any image to open a virtual lightroom with higher resolution versions of each photo):
Jason DeBord