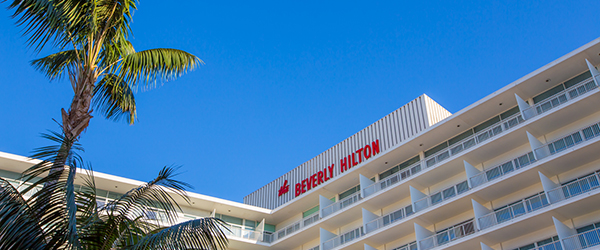 This is part of a continuing series of my impressions and experiences staying at various hotels and resorts while traveling to attend concerts worldwide. This review is for The Beverly Hilton in Beverly Hills. I would recommend this hotel based on my multiple stays for events in Beverly Hills.
Property: The Beverly Hilton
Location: Beverly Hills, California
Address: 9876 Wilshire Blvd., Beverly Hills, CA 90210
Phone: (855) 271-3621
Website: www.hilton.com
Room Type/Class: Standard (Room 603)
Date: December 3 – 7, 2014
TripAdvisor Page/Reviews: LINK
Booking Source: Direct
Overall Rating: 4.5/5 [Note: Score is totally subjective based on price, location, and comparison to "like" properties within same area and price range]

This was my second stay with The Beverly Hilton (having stayed one night back in 2012).   I was attending multiple events in Beverly Hills over the duration of the stay, all a few blocks away, so it was very convenient.
The hotel offers on-site parking in a parking garage, and check-in was fairly simple.
The property is grand, with lots to do inside the hotel itself, with shops, a bar, etc.
The room was fairly standard, but nice; aged, but shows signs of being periodically updated. Being upscale, in an upscale area, there are charges for in room candy and treats, as one might expect.
The view was superior to my prior stay (overlooking a parking garage across the way, attached to the long defunct Robinson's May); this time looking out across the street from the front of the property.
As one might expect, the service was top notch, and the room was comfortable.
I did order room service once, and delivery was prompt and the portions of high quality and quantity.
I also had an opportunity to have a meal at Trader Vics on the bottom floor, which was excellent.
It is an historic hotel and worth trying out if you are doing business or fun in Beverly Hills.  Recommended.
Below are some photos taken during my stay:
Jason DeBord