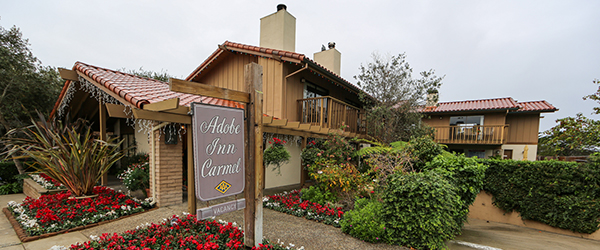 This is part of a continuing series of my impressions and experiences staying at various hotels and resorts while traveling to attend concerts worldwide. This stay was during my recent trip to Carmel-by-the-Sea in December 2014. This review is for the Adobe Inn.
Property: Adobe Inn
Location: Carmel-by-the-Sea
Address: Dolores and 8th, Carmel, California 93921
Phone: (818) 574-3323
Website: www.adobeinn.com
Room Type/Class: Standard
Date: December 18 – December 19, 2014
TripAdvisor Page/Reviews: LINK
Booking Source: Booking.com
Overall Rating: 3/5 [Note: Score is totally subjective based on price, location, and comparison to "like" properties within same area and price range]
This was for a stay for an exhibit I was having in the area, and my parents and I each booked a room.
It is in a great location if you are planning to spend time in Carmel-by-the-Sea.  Another benefit is that the property has its own underground parking facility (parking in the area as a visitor can be a challenge).
The rooms varied in layout/floor plan and were both quaint and a bit dated.
It includes a limited continental breakfast to your room, but we did not take advantage of this (and one of the benefits of Carmel and Monterey is all of the awesome places to go out to breakfast).
It was very cold weather at the time of the stay, and while there is a heating system in each room, one of them didn't work at all and it was past hours to have it fixed or change rooms.  When brought to the attention of the manager upon check-out, he did not have any suggestions for making up for a very uncomfortable night staying at the property (we recommended an adjustment to the bill but he did not accommodate).
Given the high rates for such an older property in need of renovation ($329 +$30/$40 in fees), there is not a lot to recommend here given the high competition in the area.
Below are some photos taken during my stay: