"I'm happy to live in the mystery…"  One of a seemingly endless set of poetic and thoughtful comments made on stage at The Crest Theatre in Sacramento on Sunday night.  Part of a solo performance by Colin Hay, best known as the front man, vocalist, and guitarist for the Australian, early 80s, Grammy-winning New Wave/Rock/Raggae band Men at Work.  In 1983, the band had a number one album (Business as Usual) and a number one single ("Down Under") and gained international fame with their music and quirky music videos.  Here we are, 32 years later, and Mr. Hay has cultivated not only an interesting career but an interesting life with insights and experiences that continue to guide him.  All this time later, there is no ego, no regret, and an incredible depth of self-awareness.  He seems to have a vivid and real view of the world and how it works, and seems quite settled and comfortable with who he is and his role in life as not just a musician, but as a storyteller and philosopher, with much of the latter coming in the form of brilliant comedy.  I'd been lucky enough to catch his Finding My Dance one man show in 2013, so I had an idea of what to expect, but his current tour supporting his latest album, Next Year People, was even better.  He is one of the most entertaining and gifted artists touring today, and I can't recommend enough turning out for one of his shows if you have the opportunity.
Who: Colin Hay
Supporting: Chris Trapper
Venue: The Crest Theatre
Where: Sacramento, California
When: March 22, 2015
Seating: General Admission

This show was held at the historic Crest Theatre in Sacramento, and the venue truly suited the occasion.  With 6:30 doors and a 7:30 start time for Christ Trapper with a supporting set, I think Colin Hay ended up running upwards of two hours, though I wasn't paying close attention to the clock.
The Crest is a traditional style theater with a pie shape and escalating seating going back from the stage.
It appeared that Colin Hay and his team brought in their own sound system (though I may be wrong on that) and everything sounded incredible – a lot of range and no distortion (and no need for ear plug).
The audience was very into the show and appreciative and respectful of the legend on the stage.
Mr. Hay was kind enough to do a meet and greet and signing with fans after the show.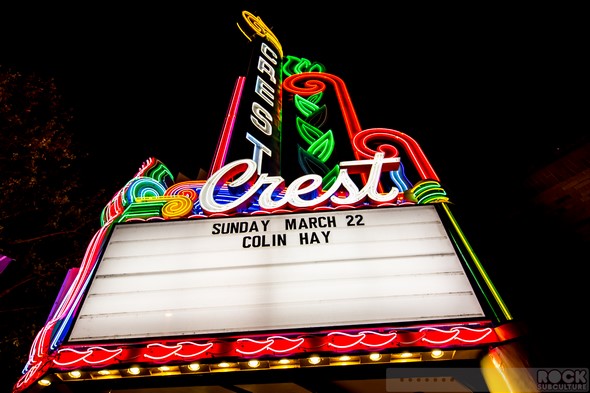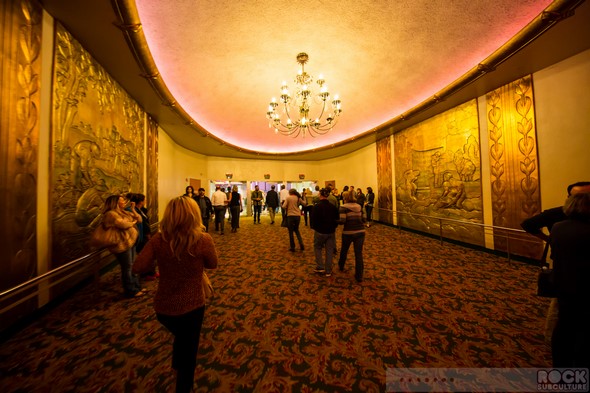 Chris Trapper
"That's right, I'm going to ask you to sing a song you don't know, by an artist you didn't come to see in the first place…"
When I saw Colin Hay a few years ago, there was no supporting act, so a set by singer-songwriter Chris Trapper was a pleasant surprise.
Born in Buffalo, New York and based out of Boston, he was the lead singer for a 90s alternative rock band called The Push Stars.
With a soft, acoustic style with a self-deprecating sense of humor, he seemed very well suited to tour with Colin Hay, and I felt added a lot of entertainment of the same vein to the night's event.
Like Colin, he has some funny stories in-between songs.  Early on, he talked about being (incorrectly) recognized at an airport as Rick Astley (while there might be some physical resemblance, he did not play "Never Gonna Give You Up".
He played a pretty lengthy set of enjoyable pop-oriented folk music, and closed out with a rocking (well, not quite) song on ukelele.
Overall, he has a sort of goofy self-awareness that he works to warm up the crowd, and sets a tone that does a great job of keeping the night consistent.
As a songwriter, he is responsible for "This Time", which was part of the Grammy-nominated soundtrack for August Rush, and also is responsible for "Everything Shines" from There's Something About Mary.
His latest album, Technicolor, came out in 2013.  You can preview his music on his official site here:  LINK
Below are some photos of Chris Trapper from his set at The Crest Theatre on Sunday night (click any image to open a virtual lightbox with higher resolution copies of each photo):
Colin Hay
As I reviewed Colin Hay's show at The Center for the Arts in Grass Valley about two years ago, some of my thoughts about that show will be shared here too…
Scottish born Colin Hay exploded onto the music scene with the first Men at Work album, Business as Usual, in 1982. Having moved to Australia in his teenage years, given that it was an Australian band singing about Australian things to a substantial degree, many probably assumed he was an Aussie as well, but really that is just one facet of his multicultural journey (he has lived in the Los Angeles area for the past quarter of a century).
Business as Usual was a huge success in the U.S., having owned the #1 spot on the album charts for 15 weeks, fueled by the hit songs "Who Can It Be Now?" and "Down Under". It was one of the most successful albums during that era, selling over 15 million copies worldwide. The group also earned a Grammy Award in 1983 for Best New Artist. As an example of the humor during his show last night, he wondered if he might have to return his Grammy if powers that be found out about his use of marijuana at the time, in light of Lance Armstrong's recent troubles with doping and being stripped of his Olympic medals…
In any event, Men at Work were one of the rare non-U.S./UK New Wave bands, which probably contributed to their popularity in that they had an even more unique sound and a different perspective from their contemporaries with their subject matter and lyrics. Their second album, Cargo, also did well, and included hits "Overkill" and "It's a Mistake".
The band really peaked with these first two albums and related tours, and then began to fragment as a different line-up, led by Hay, put out their third album Two Hearts, and subsequently the group disbanded circa 1986.
Colin Hay, the heart of the group, has remained prolific; in addition to his solo career he has also toured with Ringo Starr & His All-Starr Band.
Hay has a self-deprecating sense of humor – about himself and his work, and how he and his work are received and perceived by the public – and shared many funny lines, anecdotes, and stories about this, but all in a way in which anyone can relate to his experiences in their own way..
His solo work is excellent, and really in terms of style and substance, it is not all too different from what one who listened to Men at Work might expect. Hay has a very easily identifiable voice and style that is uniquely his own, so no matter what he is singing, he very much sounds like Colin Hay.
Compared with the show I attended two years ago, this one employed some awesome videos and images on the screen dropped in the background behind him.  Personal photos complimented some of the stories while videos were played during most of the songs.
With the videos, the subject matter well within a few categories…  nature, people, weather, and bold colors.
As he explained his childhood and talked about his mom and dad during the show, it really underscored that music and performing was a big part of his upbringing and his experience growing up.  He has now lost both of his parents, and shared some funny anecdotes about his mom, and her touring with him at a very old age (with a great photo).
A large part of his show was stories about his life, sprinkled with a lot of humor. As noted in my review a few years ago, I've always felt that the best comedians among us – those who seem born to connect with people and make them laugh – are by default really smart people, and with the best of them are real geniuses.  In that review in 2013, I talked about Robin Williams specifically, and how I felt that he had an intellect on par with Stephen Hawkings, it just manifested itself in a completely different manner.  Of course, we have since lost that remarkable person in a tragic way.  But I do get this same vibe from Colin Hay – he's an extremely sharp guy, and I think he is meant to take the stage and connect with people and make them think; to open their minds as well as to entertain them.
With his music, and that distinctive voice and what he does with it and how he delivers each line, I would argue that he sounds better than ever.  Age and experience truly suits his style, and his music.
There is a lot of consistency with that music, new and old, and the new material is fantastic.  He is definitely one of those artist, I imagine, who writes for himself as his primary audience.  At one point in the show, as preface to one of the new songs ("Mr. Grogan"), he mentioned that it has the word "labradoodle" in it, which appeared to please him immensely.   He did a back-to-back-to-back stretch of songs off of  Next Year People, which came out about a month ago.  As opener Chris Tapper mentioned, Mr. Hay is one of the most talented songwriters today, and the new album has received rave reviews, some believing it to be his best work yet.
He played three of the Men at Work songs ("just in case you're wondering if you're at the right show"), but the bulk of what was performed was from his solo career, and going by the general audience reaction, most in the theater were fans who were well versed in his entire catalog.
Going back to his stories, it is obvious that the man is a deep and thorough thinker.  He has interesting insights into the world, and much of what he shares is in the form of humor.  As an example, talking about how time flies by so fast…  but not for those who are in prison.
I think his approach to a live show is highly engaging, as his sharp wit encourages people to follow along with his thought process, like that is a journey unto itself.
But he definitely makes unique connections with an audience, and immediately disarms this with his self-deprecating humor and his leisurely approach to the concert and show itself.
I'm looking forward to seeing him perform again at Mountain Winery later in the year as part of the "Last Summer on Earth Tour" with Barenaked Ladies and Violent Femmes.
This was a really fun show, in that in addition to my fianceé coming along, I also brought my sister and 15-year old niece, and it was her first concert.
Below is a photo of the setlist used at the show at The Crest Theatre (the order was ultimately switched with "Who Can It Be Now?" and "Gathering Mercury"; "I Just Don't Think I'll Get Over You" was played in the first instance):
Set List:
Beautiful World
Family Man
Maggie
A Simple Song
Gathering Mercury
Who Can It Be Now? (Men at Work song)
Trying to Get to You
Did You Just Take the Long Way Home
If I Had Been a Better Man
Waiting in the Rain
Scattered in the Sand
I Just Don't Think I'll Ever Get Over You
Mr. Grogan
Down Under (Men at Work song)
Overkill (Men at Work song)
Encore:
Waiting for My Real Life to Begin
Next Year People
Below are some of the photos of Colin Hay from his appearance at The Crest Theatre on Sunday night (click any image to open a virtual lightbox with higher resolution copies of each photo):
Jason DeBord