"I'm going to play really small tonight…"  Kristin Hersh at the start of her special show at City Winery Napa.  I would have to say that it was maybe the most quotable concert I've ever attended, filled with an endless number of interesting comments and observations throughout her set, which was a mix of poetry readings and music from her various projects recorded under her own name, Throwing Muses, and 50 Foot Wave.  The setting within the beautiful, candle lit venue seemed perfect (Kristin's first words coming out to the stage and mic was, "it's so romantic here…").  Her comment about playing small was inspired by her own characterization of her setlist ("the tiniest setlist ever!"), which was about half the size of a Post-It Note, double-sided.  But Kristin always seems to do things different; her own way… and sees the world I think a lot differently from the rest of us, which makes her works all the more compelling (in words, sound, and delivery).  Quite the artist, it is interesting how she does not limit her expression to her incredible music, but also gives us glimpses into her world via words printed on paper ("I'm going to read books at you tonight…").  She has a sort of funny, quirky, open, and honest presentation which is somewhat disarming, in that she will then tear into a raw and emotional (powerful) song that is a shock to the system.  A singular artist, I get the sense every show she does – even the "small" ones like last night – are quite unique journeys unto themselves.  Certainly one of the more gifted and unique artists of her generation (and a real pioneer in terms of creating new pathways for women in music), she is definitely worth turning out to see live if you get the opportunity, and I would say the solo show is even more interesting than the traditional Throwing Muses concert (like the one I reviewed about a year ago).

Who: Throwing Muses
Supporting: Leslie Mendelson
Venue: City Winery Napa
Where: Napa, California
When: March 16, 2015
Seating: Floor Seats 19 & 20 (front row stage right; also photo pass)
This concert was held at City Winery Napa, which is an awesome venue.  Formerly the Napa Valley Opera House, the 1880s two-story building was transformed into a new restaurant, bar, and live event venue by Michael Dorf, who founded the Knitting Factory in New York as well as additional City Winery venues in Chicago, Manhattan, and Nashville.  With more than $3 million in renovations and a 10-year lease, it would appear that it is here to stay.
There is a restaurant and bar on the main level and upstairs is the concert venue with bar and upper balcony.
They've been putting on an excellent series of concerts since opening last year, though word is still just getting out about it.
Food and a deep wine list is offered in the concert venue itself, most of which is made up of small tables lined up in rows, with four to a table.  When tickets for their events go on sale, you can choose your location and seats.  The layout is great – there really isn't a bad seat in the place, and the upper balcony offers a cool perspective.
Leslie Mendelson
Opening for Kristin Hersh was singer-songwriter Leslie Mendelson from Brooklyn.  She said that she is currently involved in a residency program in the Bay Area (her "second home"), and has worked with Roger Daltrey and Bob Weir.
During her set, she played acoustic guitar as well as a few songs on piano.  Her sister Erin Mendelson also joined her on vocals for two of the songs.
Leslie has a very natural and authentic style, and fantastic voice.  This really hit home with her cover of The Pretenders' "Don't Get Me Wrong".  Of course Chrissie Hynde has an unworldly voice, and Leslie did a unique and fantastic version of it that really underscored the gift that she has with her voice and delivery.
During her set, she did many of her original songs, including "Jericho", "Chasing The Thrill", and "You Don't Remember Now".  You can check out her music on Soundcloud here:  LINK
She put on an excellent performance and had a charming way of engaging with the audience.
Below are some photos of Leslie Mendelson performing on stage (click any image to open a virtual lightbox with higher resolution photos):
Kristin Hersh
Some of these opening thoughts are copied over from my Throwing Muses review from a year ago…
While Kristin founded Throwing Muses way back in 1980, and has produced a wealth of albums and songs over the years. Their most recent release was their book/CD combo, Purgatory/Paradise, which was their first new studio release in a decade.
I first discovered Throwing Muses with Sire's CD Music Sampler series in the late 80s… Though Throwing Muses were included in Just Say Yes in 1987 and Just Say Yo in 1988, their music didn't grab me until I heard "Dizzy (Remix)" on the third album of that series in 1989 with Just Say Mao. With that, I tracked down all of their work and was completely hooked.
"Dizzy" was just such a different kind of song… sort of folksy (which I wasn't into at the time at all) but raw and awkward and crazy hooky.   So the first proper Throwing Muses album I bought was the one with the original version of "Dizzy" on it, Hunkpapa, which opens with "Devil's Roof", which is sort of a sister/companion song to "Dizzy" (for me anyway).
Throwing Muses reminded me a lot of Pixies, who I discovered before them, though while I generally loved everything Pixies, to be quite honest Throwing Muses were hit and miss with me. Some songs I absolutely loved, and some just didn't click with me at all.
I was big into imports, and I purchased the UK-only eponymous debut album next, and that, I think, remains my all-time favorite album of theirs (it was later released as a two disc album in the U.S. called In A Doghouse, which also included the Chains Changed EP.
"Call Me", "Green", "Hate My Way"… brilliant stuff!
Knowing years later that "Green" (maybe my all-time favorite Muses song) was the one song penned by Tanya Donelly at that time (the rest were written by Kristin Hersh) would probably explain my overall feelings about the full Throwing Muses catalog and the various spin off and solo efforts of Tanya and Kristin (in short, I think Tanya has a bit more of a pop-oriented sensibility).
So who are/were the Throwing Muses? At the heart of the band, in the beginning, was step-sisters Kristin Hersh and Tanya Donelly. Founded in 1983 while the two attended high school, "Kristin Hersh and the Muses" had a few additional members come and go, though David Narcizo was involved early on, and eventually settled into his role as drummer.
Throwing Muses put out some amazing songs across several albums, but Tanya Donelly left in 1991 after releasing The Real Ramona. She went on to play with The Breeders on their first album, Pod, and then formed and fronted Belly, and then after two releases started putting out material simply under her own name.
As much as I loved Tanya Donelly with Throwing Muses, I'm so glad she left because I absolutely love all of the material she released subsequently, outside of the Muses.
More, I really loved the Throwing Muses work that came out after she left, as well as what Kristin Hersh put out as solo work. So really it was the best of both worlds, and a lot of music generated as a result (more than would have come out, I imagine, if they stayed together).
Bernard Georges joined the band on bass guitar in 1992 with the fifth studio album, Red Heaven.
The first time I saw Throwing Muses was in 1992 at The Warfield in San Francisco, and they weren't even the headliner – they were opening for Bob Mould's band at the time, Sugar (Bob Mould was in Hüsker Dü, and appeared on the Muses album at the time for the song "Dio").
So that show I attended was on November 14, 1992, and the full live album, The Curse, was recorded just two days later, so I've always loved it as it absolutely captures the sound and set list of that one show I attended quite perfectly.
The most exciting thing that's happened for Throwing Muses fans lately is the release of Purgatory / Paradise, the book and album combo released late 2013 to critical acclaim.
I found with the show last night, blending the poetry and stories with her music worked beautifully, and it definitely made for a more intimate sort of show.  And when it comes down to it, one way or another, Kristin is a storyteller.
As a consumer of music, I thought it was interesting to pair music with poetry, a la Purgatory / Paradise, but experiencing it mixed together live, as performed by Kristin, it is really quite brilliant, and a reminder of what an amazing album the music side of the work is – that her best music is still coming.
She is a really interesting performer.  I know from her Throwing Muses shows that she tends to have a fixed, straight forward (and intent) stare over the audience.  But with this show, with poems and stories mixed in, it was a bit different for those
One of the funniest bits was Kristin talking about her son's magic powers of somehow doodling on a hotel room notepad before they ever enter for the first time.  Or filling out the hotel questionnaire about why they are there ("revenge!").
She seems insightful beyond her years, and drops little bits of wisdom and puzzles as she goes along… "by walking in circles you get to where you're going…"
You know you've had an unusual and interesting experience if you walk away from it feeling contemplative, and that's what I got from this show.
Below is a photo of Kristin's set list from the stage (though it doesn't closely resemble what actually happened, which she mentioned to me after the show):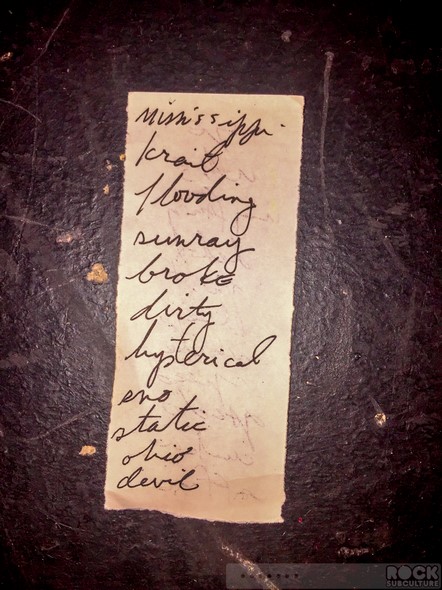 Below is the full set list from the show, as played (as good as my notes, anyway):
Poetry: …Throwing Muses is too many syllables
Song: "Your Dirty Answer" (Kristin Hersh)
Story: …about hotel rooms
Song: "Sno Cat" (Kristin Hersh)
Poem: …about a witch and a Chevy
Song: "Devil's Roof" (Throwing Muses)
Song: "Deep Wilson" (Kristin Hersh)
Story: …you can't freeze music in time
Poem: …what's fruit bread?
Song: "You Cage" (Throwing Muses)
Song: "Power+Light" (50 Foot Wave)
Poem: …there's always something there to hold your gaze
Song: "Mississippi Kite" (Kristin Hersh)
Story: …Appalachian love songs ("sometimes they kill them more than once")
Song: "Banks of the Ohio" (cover song, a 19th-century murder ballad, written by unknown authors)
Poem: …a Garden of Eden next door to McDonald's
Song: Unknown
Poem: …all I know is how it feels to be left behind here
Song: "Flooding" (Kristin Hersh)
Poem: …when we leave our beach
Song: "Sunray Venues" (Throwing Muses)
Encore:
Poem: …the ocean has never given me cause to fear it
Song: "Static" (Kristin Hersh)
Story: …I have an old lady problem
Song: "Gazebo Tree" (Kristin Hersh)
Poem: …sometimes, of course, our house is a bus
Song: "Your Ghost" (Kristin Hersh)
Below are some photos of Kristin Hersh performing on stage (click any image to open up a virtual lightbox with higher resolution versions of the photos):
Jason DeBord