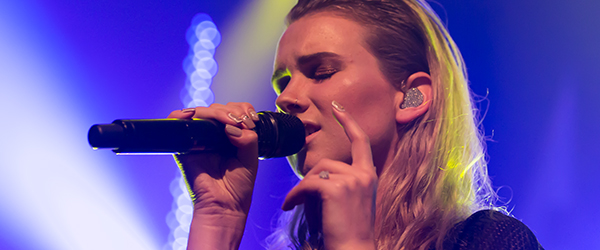 "If I was rich, I'd live here…" The modest Georgia Nott, chatting in-between songs about the beautiful houses she'd seen in San Francisco earlier in the day, at their sold out show at The Regency Ballroom Saturday night.  It was a big step up in size from the shows I'd attended last year.  Accompanied as always with her brother Caleb and touring drummer Joel Farland, it was indeed a much bigger stage this time around, which they filled with ease with their authentic set of fantastic pop music fueled by incredible melodies and heartfelt, thoughtful lyrics (and of course those soaring vocals!).  Dubbed "The Evergreen Tour", they are supporting their solid debut album released last year (which I ranked in my own Top Ten Albums of 2014).  The kiwi duo are so young that I'm really excited to continue to follow them to see where their gifts take them next.  I expect checking in on them in 2016, we will see them take on even larger stages and venues.  One of the best new artists of this era, and they put on a fantastic live show – my highest recommendation.

Who: Broods
Supporting: Mikky Ekko
Venue: The Regency Ballroom
Where: San Francisco, California
Promoter: Goldenvoice
When: March 7, 2015
Seating: General Admission (also photo pass first three songs)
I was a bit worried coming in for this show that we might miss something, as we stumbled across a construction project with street closures south of The Regency Ballroom and got stuck in a loop chasing itself at a snail's pace, though we finally escaped and made it to the venue in time for both sets.
It's been a while since I've been to The Regency Ballroom, and came away impressed.  Great staff and options for standing room only on the floor and GA balcony surrounding it with open seating.
This was my first show to test out the brand new Canon EF 11mm-24mm f/4L USM lens, which is now the world's widest rectilinear (non-fish eye) lens.  Below is a shot of Broods from the balcony above, which gives a sense of the 2,325 person capacity of The Regency Ballroom: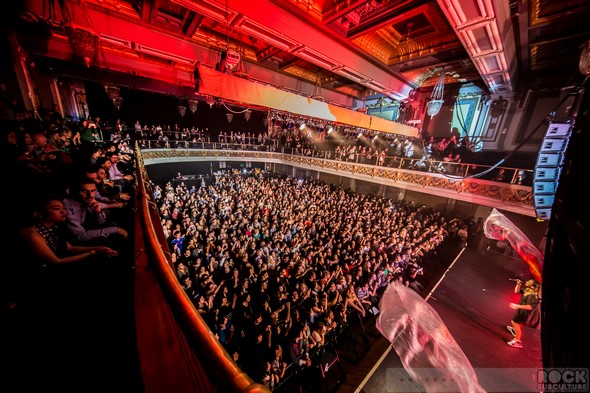 The doors opened at 8:00 with Mikky Ekko taking the stage at 9:00 and Broods running from around 10:00-11:15.
Mikky Ekko
Members
Mikky Ekko (vocals)
Dave Kwan (guitar)
Gavin McDonald (drums)
Steve Weston (keyboards)
Mikky Ekko is best known by the mainstream as the song writer and co-vocalist of the multi-platinum Rihanna hit single, "Stay".  As a fan of Rihanna myself, I mentioned in my review of her "Diamonds World Tour" in 2013 that I thought that was her best song to date, which is quite a statement given her vast collection of hit songs.  In fact, I ranked the song in my Top Ten Songs of 2013.  So in my eyes, at least, I see Mikky Ekko as a huge, burgeoning talent in the music industry.
As a producer, songwriter, and artist himself, he obviously has many diverse talents.
He released his first studio album, Time, this year.
The Louisiana-born artist had an interesting childhood as the son of a preacher, which I imagine has impacted his work.
The music on the new album and on stage is very vocal-driven, which isn't too surprising given his sublime voice.
Mikky Ekko has a great stage presence and is a natural performer.  His band bring a lot to his live set as well, as Gavin on drums brings a ton of frenetic energy and Dave on guitar transitions from quiet moments to more rocking ones with ease.  Steve provides a lot of consistency on keyboards.
They put on a great show and definitely left us wanting more with just seven songs.
Below is a photo of the setlist from the show last night…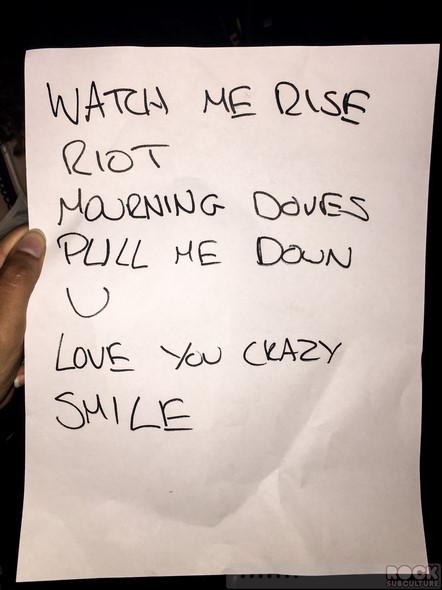 Below is the setlist from the concert:
Set List:
Watch Me Rise
Riot
Mourning Doves
Pull Me Down
U
Love You Crazy
Smile
All songs are off the debut album, Time.  Interesting, it did not include the title tong.
Below are some photos of Mikky Ekko performing on stage (click any image to launch a virtual lightbox with higher resolution versions of each image):
Broods
Members
Georgia Nott (vocals, keyboards)
Caleb Nott (keyboards, vox)
Joel Farland (drums)
A year ago, I was pretty much completely unfamiliar with Broods.  I had become a huge fan of Meg Myers (who I saw live for the first time opening for the Pixies in some of their Los Angeles warm-up gigs in 2013) and I was waiting for her to play a show in Northern California.  So as the 2014 concert calendar unfolded, she was paired up with Broods to support them at a show at The Independent last May.  I was certain to attend the show…  whoever this "Broods" band was… but I bought their self-titled EP and fell in love with their music.  After seeing them live, they made me a fan for life.
I had a chance to see Broods again in August of 2014, closer to home at the (now shuttered) Assembly Music Hall in Sacramento.  Another small venue, another incredible show.
By the time 2014 came to a close, I found that Broods became one of my favorite artists of the year…
In my 2014 Year In Review article, I ranked last year's concert at The Independent my #8 Concert of the Year, their debut album Evergreen my #8 Album of the Year, their debut EP Broods my #1 EP of the Year, and their hit single, "Bridges" my #1 Song of the Year (I also ranked seven of their songs in my overall Top 100 Songs of 2014).  So as much as anything, I think that speaks to my admiration for Broods and their work.
I've explained in a past review that I have a feeling that Broods are one of those rare artists that have the innate gift and ability to make catchy, hooky songs, just as a matter of course. As if there is no way for them to even make a bad song. It is exciting, as a music fan, that they are so young, because that means that there is much more to come in the future.  There is also a lot of substance behind the lyrics and meaning with each song, so that will go a long way, I think, to giving them real longevity.
I've enjoyed watching them grow over the past year, and going from the 500-person capacity of The Independent and even smaller Assembly Music Hall to a venue into the thousands with Friday night's long sold out show.  More interesting is the profile of the typical Broods fan, which skewed way young and female last year, in contrast to Friday night's show which seems to span age and gender much, much more widely.  Always modest, the duo and drummer seem very at ease on stage and obviously love to perform. Georgia's voice is put to the test on their studio recordings, with a lot of range and emotion on display, and somehow she manages to not only match it in a live show, but sometimes even surpass it with certain notes and flourishes.  In addition to the range is the New Zealand accent which gives even more flair to her vocals and delivery. But things usually come down to the songs, and Broods (even with just one studio album) have that covered.
I've found some newer bands with one album in the books struggle to fill out a show, often doing long intros, covering other artists, and employing other time-filling devices to make the fans feel that they got their money worth.  Broods' first album and EP are so good that they have a solid foundation for excellent shows with what they've put out to date.
Their set list also has nice pacing and shows the range of style and emotions with their music as they make their way through a set.
Over the past year I've turned my fiancée into a Broods fan, and brought her along to experience them live for the first time Friday night, and she loved the show as well.
Below is the Broods setlist from the show at The Regency Ballroom in San Francisco on March 7th, 2015…
Set List:
Never Gonna Change
Everytime
Sleep Baby Sleep
Killing You
Taking You There
Evergreen
Bedroom Door
Medicine
Four Walls

Bridges
Deep End
Sober
Pretty Thing
L.A.F.
Coattails
Encore:
Superstar
Mother & Father
They also did a free meet and greet for any fan who chose to stay after the show to meet them.
With each live show I turn out for, I appreciate Broods and their music more and more.  I really look forward to seeing them play again, and can't express how I'm excited about the prospect of new material from them in the future.  Some bands put out incredible debuts and then nothing ever manages to match up, but my instincts tell me that Broods will be the exception, and continue to learn, grow, improve, and tap into their gifts and talents.
I give my highest recommendation to see them live if you get the opportunity.
Below are photos of Broods performing on stage at The Regency Theater in San Francisco (click any image to launch a virtual lightbox with higher resolution versions of each image):