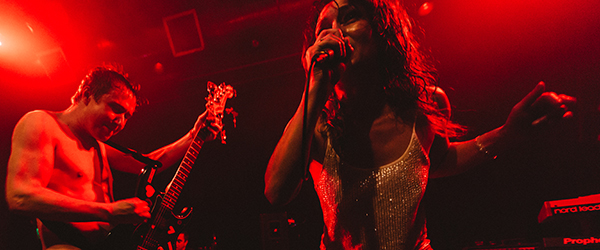 "Is that the only pair of panties we're going to get tonight?"  Lisa Light, remarking on the underwear tossed at her co-vocalist and guitarist Scott Blonde of The Lovemakers at Popscene at Rickshaw Stop in San Francisco Friday night, as part of their "My Bloody Valentine's Day Party on Friday the 13th of February".  The band seem to have a special relationship with the annual romantic holiday, though looking around it seemed to have turned out more singles looking for fulfillment than happily coupled couples.  Building on their 2014 reunion, the band seems at it's best live and on stage, literally pouring water on their hot and sultry style of retro pop and dance music.  The Lovemakers were supported with a blazing set by Beginners, who came up from their home in Los Angeles.  Filling in with fantastic DJ sets were Popscene's Aaron Axelsen and Omar.

Who: The Lovemakers
Supporting: Beginners
Supporting: DJ Aaron Axelsen
Supporting: Omar
Venue: Rickshaw Stop
Where: San Francisco, California
Promoter: Popscene
When: February 13, 2015
Seating: General Admission (front row center; also photo pass)
You can keep up with the latest with all things The Lovemakers on their official Facebook page here:
LINK
As is tradition, it was a late night at Popscene, with doors opening at 9:00 and the show going until… I think around 12:30 am (just into Valentine's Day proper!).
The space was slow to fill leading into the first set, but by the time the live music was going the place was completely packed.
Beginners
Samantha Barbera (vocals and bass)
Neeraj Kane (guitar)
Jason Walker (drums)
Honor L Nezzo (keyboards)
Beginners was new to me, and I arrived early for the show and watched their sound check…  and knew immediately I would be into their music and full live set.  Their music was very catchy and original, so was impressed right away.  When they did a cover of The Smiths' "Panic", I was completely won over (The Smiths and Morrissey are favorites of mine, so you've got to have a lot of talent and a different approach to rework their material and make it sound good).
Taking to the stage for the live show, Samantha took a few short stints on a standing drum at the back of the stage, but was mostly up front and center on her bass guitar and vocals.  She has a lot of confidence behind her unique vocals, which feature a lot of great character and showcase a keen sense of timing as she works in and out of the hooky guitar riffs.  Very alternative in approach but with really infections and engaging catchy elements that hook you in.
Since the show on Friday night I purchased their self-titled EP from iTunes and their songs are the rare kind that make you want to keep playing the same track over and over (especially "Ever Love"), so it takes hours to get a first listen to just five tracks.  You can stream it all for free via SoundCloud here…
Definitely a band to watch, and hopefully the success they deserve will find them as they have more opportunities to showcase what they have on offer.
Below are some photos of Beginners performing on stage (click on any image to view in virtual lightbox and larger resolution):
The Lovemakers
Members
Scott Blonde (vocals, guitar)
Lisa Light (vocals, bass)
Kenneth Hard (drums)
Julia Johari (keyboards)
Oakland band The Lovemakers was founded in 2002 by Scott Blonde and Lisa Light, and their self-titled debut was released in 2003. Their second, Times of Romance, was their major label debut in 2005. Their EP, Misery Loves Company, came out in 2007, and Let's Be Friends came in 2009. Afterwards, the band called it quits.
They did a reunion show for Valentine's in 2014, then another show at Popscene in July which I covered here on Rock Subculture and a few other live dates since.
The band also released the new song, "Beautiful Master", in 2014, which I feel is one of their best songs to date.
As with the show I caught last year, they bring a ton of energy to the stage and really hold nothing back.
Kenneth on drums and Julia on keyboards keep things on track from their positions at the back corners of the stage, with Scott and Lisa similarly positioned up front, making for interesting staging of men on the left and women on the right (last year the rear of the stage was flipped).
Rickshaw Stop features a very small stage, but somehow The Lovemakers with Scott and Lisa prowling back and forth make it seem much larger.
Lisa opened up the show with her trademark way of making an electric violin as sultry as hell, and Scott periodically threw up some unlikely rockstar moves with his guitar-as-prop poses on stage.
The party atmosphere was certainly fueled by the Valentine's Day theme, pulling on those familiar emotions spanning love and loss with their music.
Below is a photo of Lisa's set list from the stage at Rickshaw Stop on Friday night: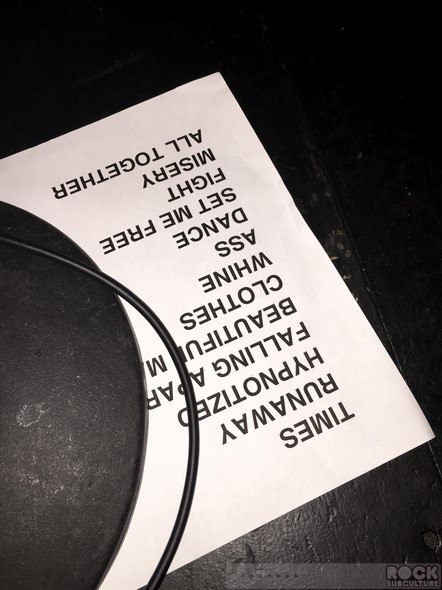 Below is the set list from the show…
Setlist
Times of Romance
Runaway
Hypnotized
Falling Apart
Beautiful Master
We Should Be Taking Our Clothes Off
Whine & Dine
Shake That Ass
Dance
Set Me Free
Prepare for the Fight
Misery Loves Company
All Together
Encore
Below are some photos of The Lovemakers performing on stage (click on any image to view in virtual lightbox and larger resolution):