"I walked out of there with not much, except a feeling in my heart that it was all going to work.  And the reason that I tell you this story, is that I want you to know that if you have a dream, and you believe in yourself, and you believe something that you really want, don't let anybody tell you that you can't have it.  Don't ever let anybody get in your way, because you can have it, and we are living proof of that…"  Optimistic words spoken by Stevie Nicks at the Sleep Train Arena in Sacramento last night, joined on stage by the core members of one of the best rock and roll groups of all time, Fleetwood Mac.  I think we collectively need more optimism in the world today, but not just lofty words and sentiments, but used to power individuals to look to themselves and their own abilities and opportuities to make their dreams come true.  Somehow, this collection of gifted artists – Stevie Nicks, Lindsey Buckingham, John McVie, Mick Fleetwood, and Christine McVie – all found one another back in the 70s and made music that has endured as classics to this day.  I first saw Fleetwood Mac with their tour in 2013, and marked it as one of the best shows of the year.  As that tour did not include Christine McVie, with her return on this year's tour, I marked this show as my top "must see" concert of the year.  It did not disappoint.  All of the players sound like they are truly at the top of their game, and they seemed to love performing as much as the audience loved watching it.  It was also a bit different than last year's tour, with even higher production standards and maybe the best sound quality I've ever heard in a sports arena.  It was truly an epic show, and Fleetwood Mac is one of those rare bands that can make playing to a large indoor arena work (I rarely go to such shows because they typically do not work on many levels).  They really exceeded my expectations with their nearly three hour show, and I think the highlight for me was "Little Lies", with Christine McVie's beautiful voice and the overlapping chorus with Stevie Nicks and Lindsey Buckingham – a real showcase for the distinct character in each of their voices but how well they harmonize and blend together to such effect.

Who: Fleetwood Mac
Venue: Sleep Train Arena
Where: Sacramento, California
Promoter: Live Nation
When: November 24, 2014
Seating: Section 108, Row B, Seats 7 & 8 (also photo pass first three songs from mixing console at rear of floor)
Current Touring Members
Mick Fleetwood (drums, percussion)
John McVie (bass guitar)
Christine McVie (keyboards, vocals)
Lindsey Buckingham (guitar, vocals)
Stevie Nicks (vocals)
Supporting Touring Members
Brett Tuggle (keyboards, rhythm guitar, backing vocals)
Neale Heywood (rhythm guitar, backing vocals)
Sharon Celani (backing vocals)
Stevvi Alexander (backing vocals)
Lori Nicks (backing vocals)
Fleetwood Mac, in it's mid-70s forward incarnation, is the band that should have never been. Originally a 60s-era British blues band, the addition of Lindsey Buckingham and Stevie Nicks had to have been fate, as there is no other real plausible explanation.
As wonderfully revealed in Dave Grohl's Sound City documentary released earlier this year, it was nothing short of a bizarre accident that Keith Olsen (Sound City's engineer) played Mick Fleetwood a track from Buckingham Nicks – "Frozen Love" – which was recorded at the retrospectively famous recording studio… and the Lindsey Buckingham just happened to be in the studio working at that moment. With Fleetwood Mac looking for a new guitarist, Lindsey Buckingham and then girlfriend and recording partner Stevie Nicks were a package deal, and music history was made.
The newly restructured band recorded their eponymous album together, which reached #1 in the U.S. and sold over 5 million copies. The follow-up, 1977's Rumours, bowed countless hits, was awarded a Grammy for Album of the Year, and has sold nearly 50 million copies worldwide, making it the third highest-selling album of all time. The biggest tracks were "Go Your Own Way", "Don't Stop", "Dreams", "The Chain", "Gold Dust Woman", and "You Make Loving Fun".
Tusk, the 1979 double album follow-up, was more experimental and long, clocking in with 20 tracks, and included more hits ("Tusk", "Think About Me", and "Sara").
Though not as commercial or critically successful, 1982's Mirage was a favorite of mine… at the dawn of the MTV era, I remember the video for "Hold Me" being in heavy rotation for a short period, at least. Of course, "Gypsy" remains one of their biggest hits.
1987's Tango in the Night was the last album with the core line-up of Mick Fleetwood, John McVie, Christine McVie, Lindsey Buckingham, and Stevie Nicks. Again, another album with fantastic songs like "Little Lies", "Big Love", "Everywhere", and "Seven Wonders". Afterwards, Lindsey Buckingham left the band and was replaced with other guitarists for the decade that followed. Stevie Nicks also left the band in 1991, and the line-up did not perform together again until requested to do so by then President Bill Cliniton for his 1993 Inauguration Ball.
The band had a proper reunion in 1997 to record a live concert for the live album The Dance. In 1988 They were inducted into the Rock and Roll Hall of Fame. Christine McVie then retired from the band and touring as Fleetwood Mac.
As mentioned, the tour is even a bigger production this year with there own set of moving video monitors which can back illuminate the stage as well as display video there and above the stage in moving rectangular blocks.  These were used to great effect to reflect the mood and themes of each song, sometimes just with color and other times with moving images and video montages.
Also as mentioned, Fleetwood Mac is one of those rare bands that can make the huge sports arena type of venue work for fans, no matter where they are seated.  In addition to the classic music and the visual splendor accompanying the sound, each member of the band takes some time in-between songs to provide context and history – about the songs, each as artists, and the band as a whole.
So while everyone in attendance at the sold out show could not "see the whites of their eyes", so to say, the band has found ways to reach out an touch the audience in other ways.
Each also had moments to stand out and showcase their own respective talents, like the unfathomable work on guitar by Lindsey Buckingham or the thundering drums of Mick Fleetwood, their were vignettes sprinkled throughout the show.
The stage set-up was near the same as last year, with Lindsey Buckingham stage left, Mick Fleetwood's massive drum kit center stage (slightly back), Stevie Nicks and John McVie slightly stage right of center, and now Christine McVie on her keyboards stage right, taking her rightful place on tour and among the band after an absence of 16 years.  Incredibly, she is 71 years old (if I had to guess seeing her last night, I thought she look fantastic if she was even in her 50s).  Amazing woman.
Having seen Lindsey Buckingham a few times recently (with the full band last Summer and his solo show as well), I feel more and more that he is one of the most under appreciated front men in the history of music.  He is a phenomenon, and he is one of the most passionate performers I've ever seen as well.  Fascinatingly, he seems to be devoid of ego when doing incredible things on stage – it's not as though he's saying "look how awesome I am", but kind of just a sheer excitement that he gets to share this music with the people who love it.  He feeds off that excitement and admiration of the crowd, and conveys a feeling that we are the motor that helps put his performance into motion.  And at the end of certain songs, he is just beaming with gratitude.
Comparing the set lists from the 2013 tour with this years, it has not changed too much, with some obvious additions with Christine McVie back in the fold (including her signature "Songbird" closing out the second and last encore); the two big hits missing this time around were "Sara" and the Stevie Nicks solo hit "Edge of Seventeen".  The one song I would have loved to have heard was their most "80s" style song, "Hold Me".  I didn't expect it (I don't think it was a very big hit for them), but I hoped it might happen with Christine McVie being back.
Below is the set list from last night's show at Sleep Train Arena:
Setlist:
The Chain
You Make Loving Fun
Dreams
Second Hand News
Rhiannon
Everywhere
I Know I'm Not Wrong
Tusk
Sisters of the Moon
Say You Love Me
Seven Wonders
Big Love
Landslide
Never Going Back Again
Over My Head
Gypsy
Little Lies
Gold Dust Woman
I'm So Afraid
Go Your Own Way
Encore #1:
World Turning (with Mick drum solo)
Don't Stop
Silver Springs
Encore #2:
Below are some photos of Fleetwood Mac performing on stage (using my professional photography gear from the rear of the arena at the soundboard; click any image for higher resolution versions of each photo):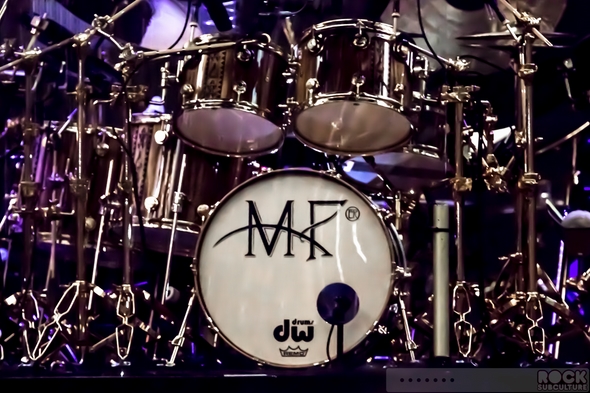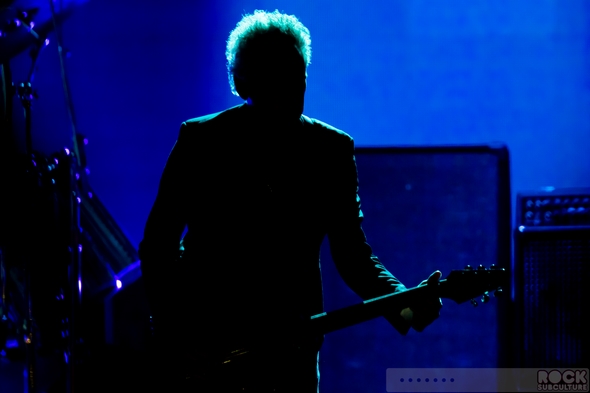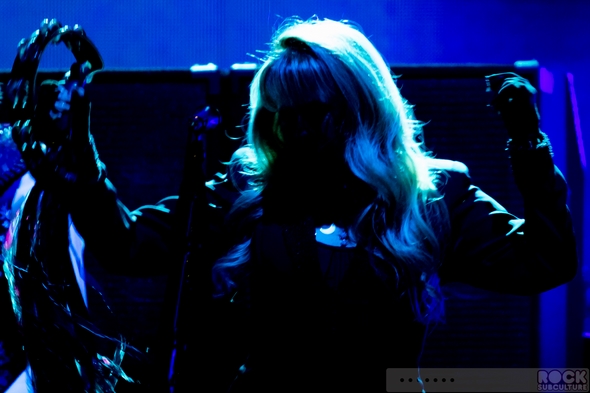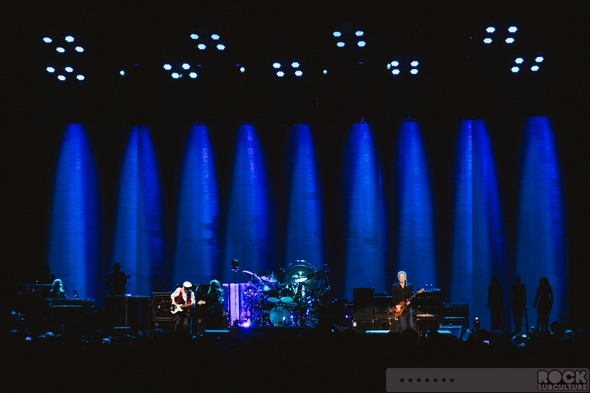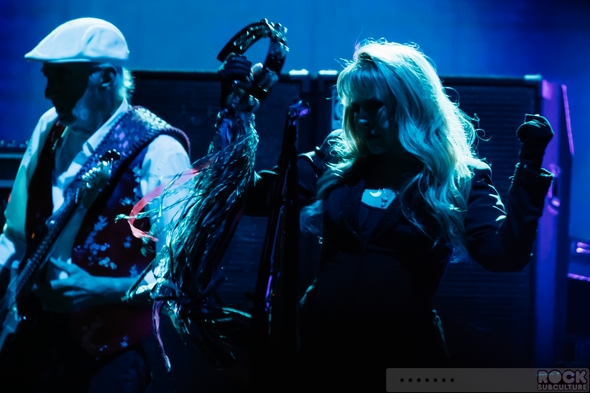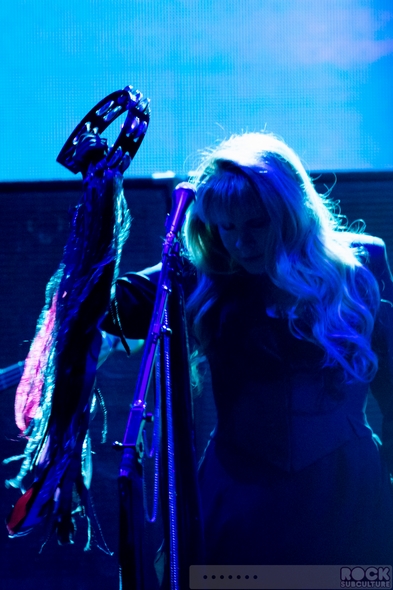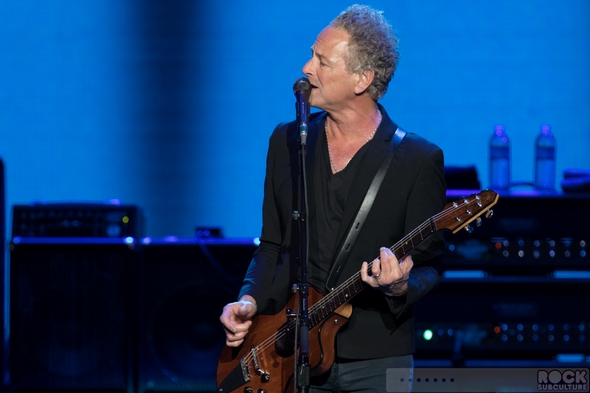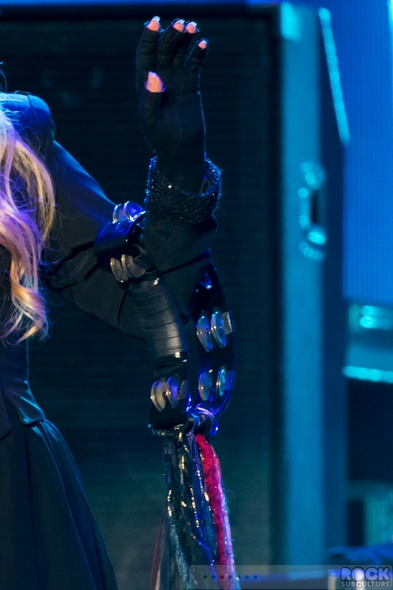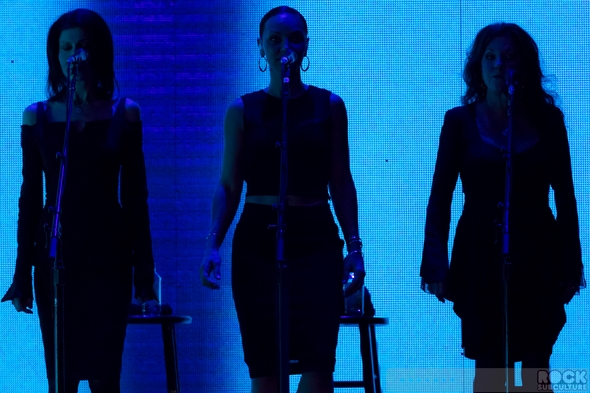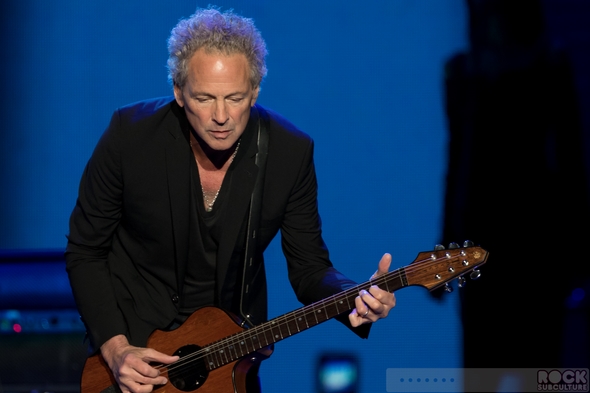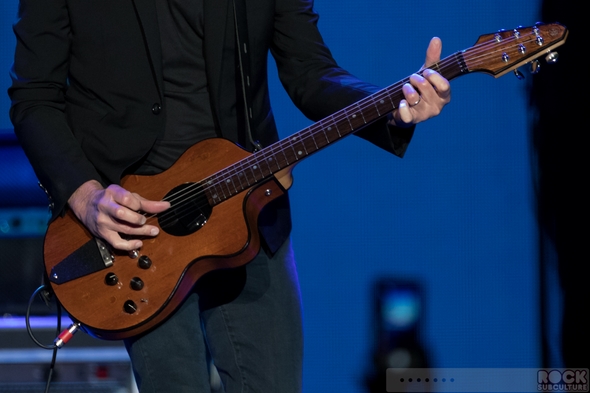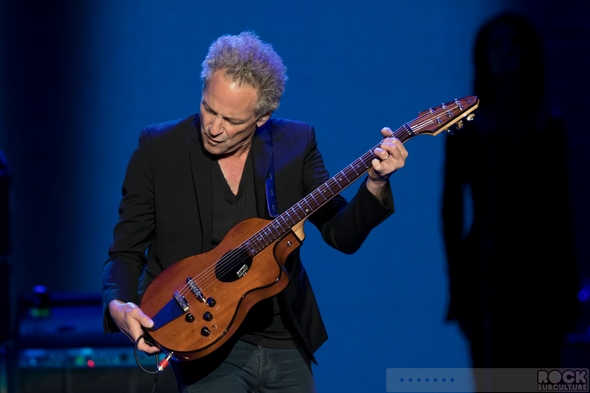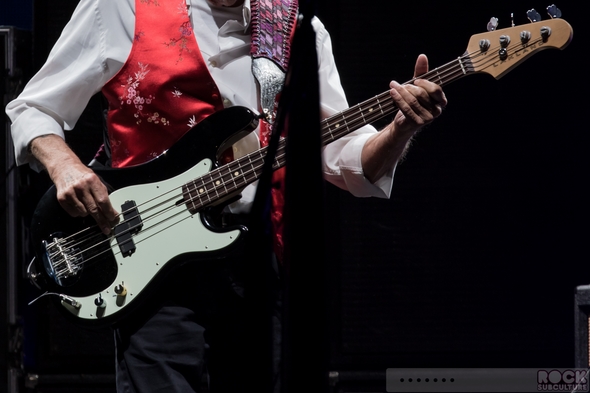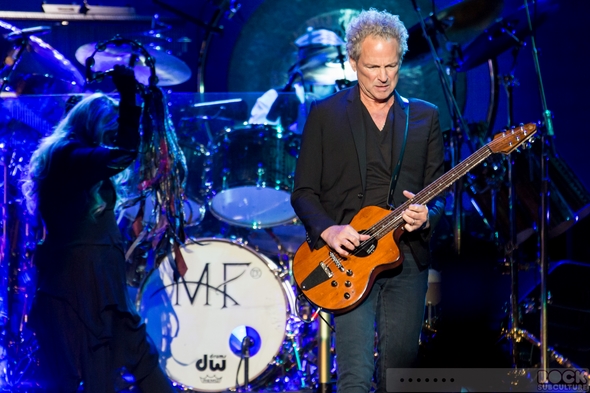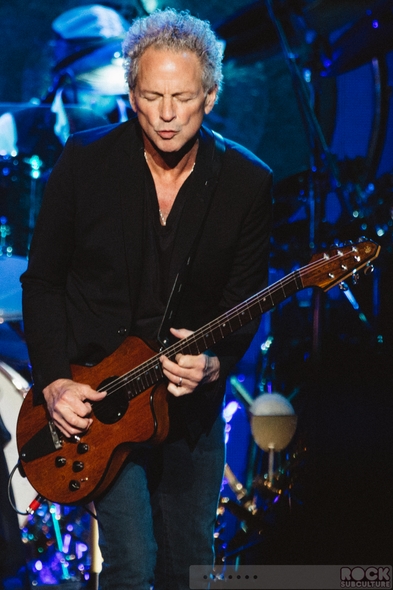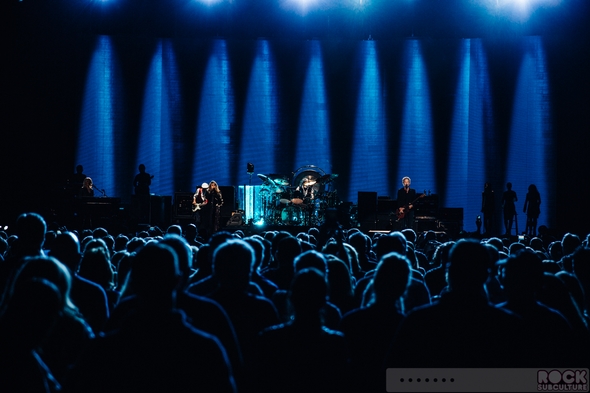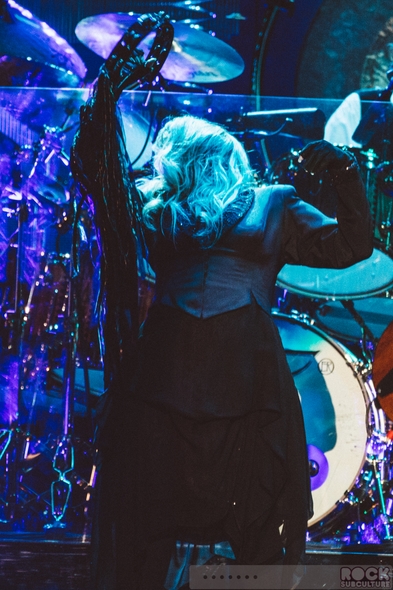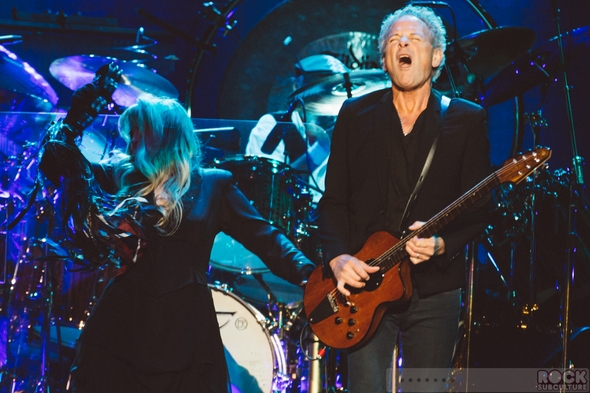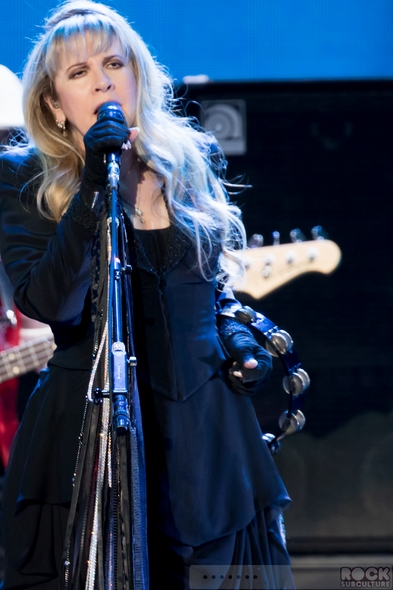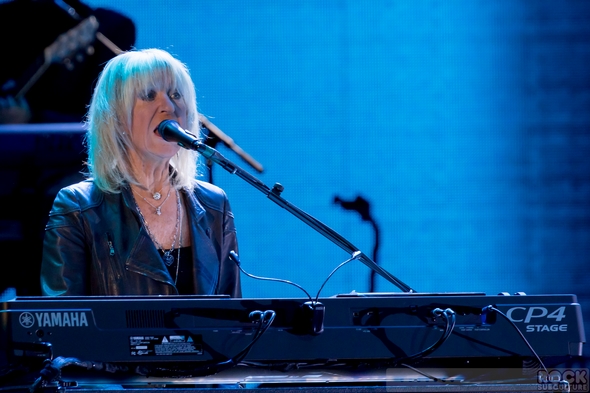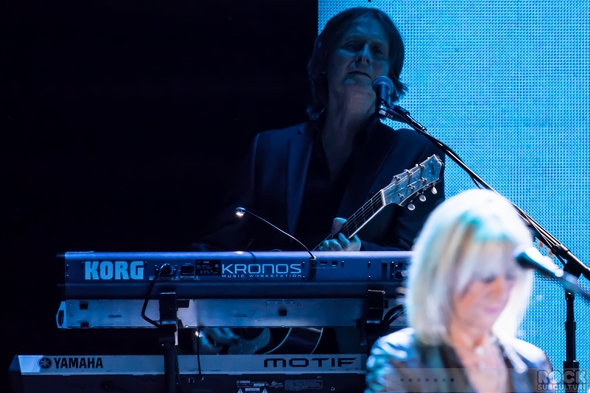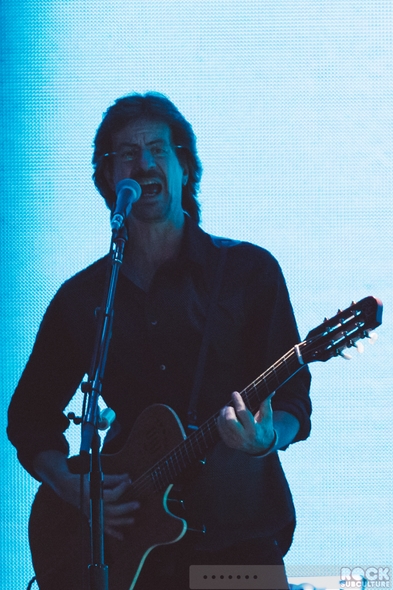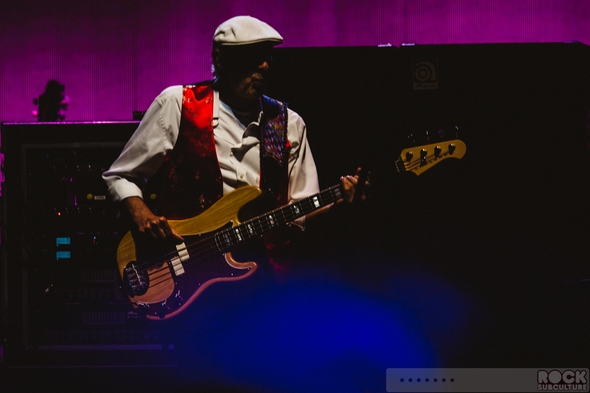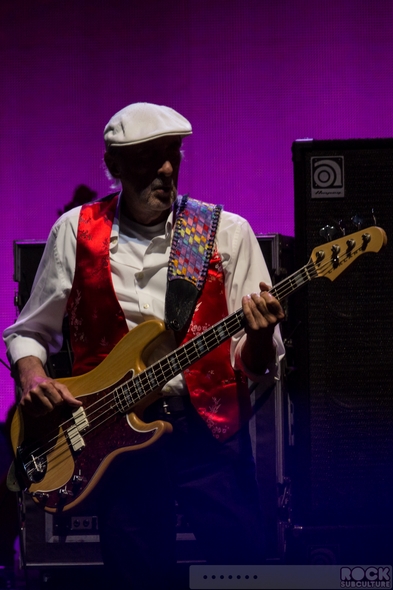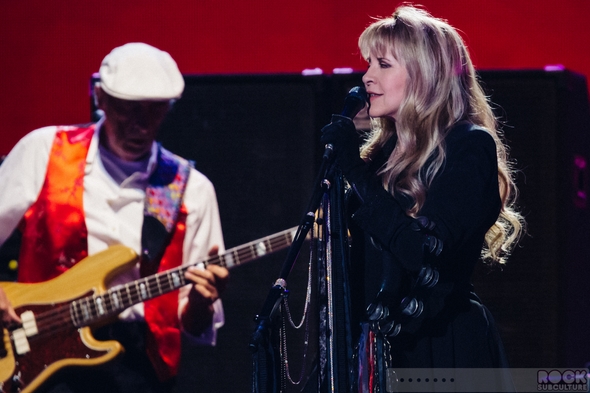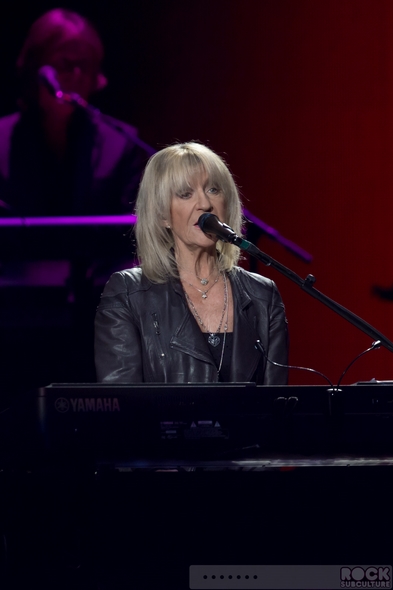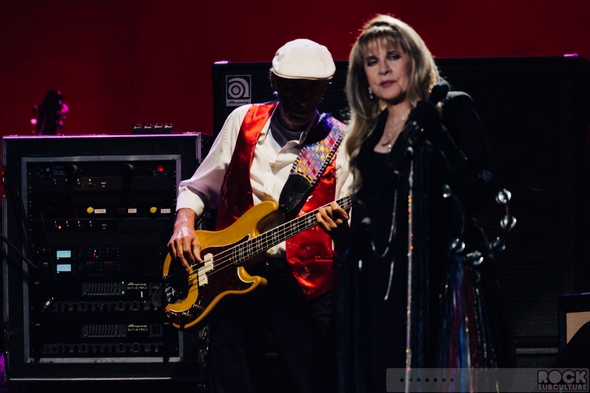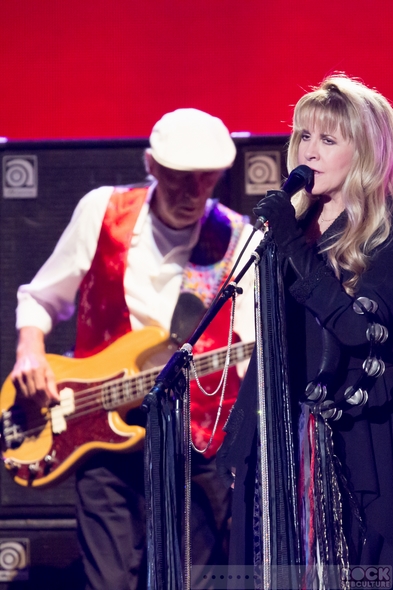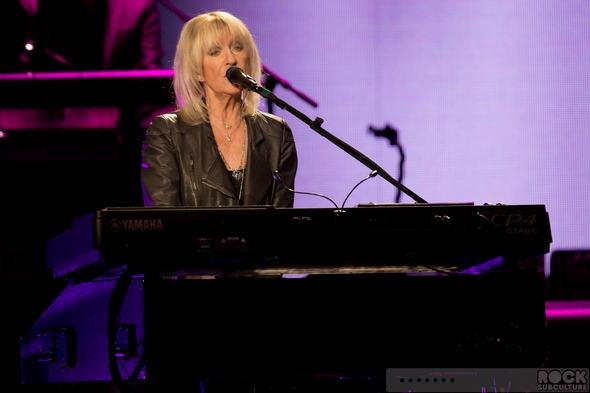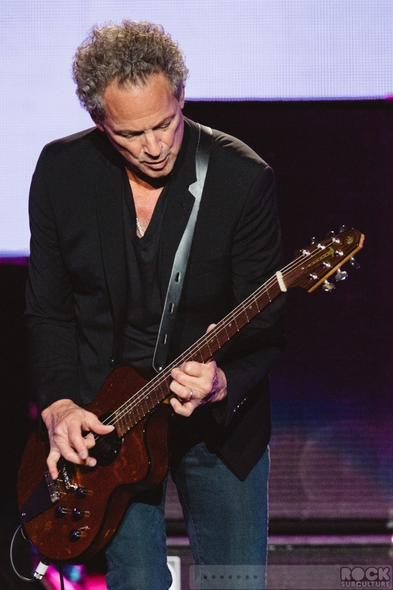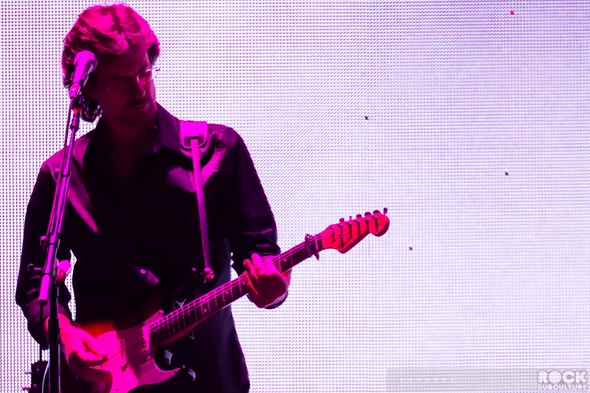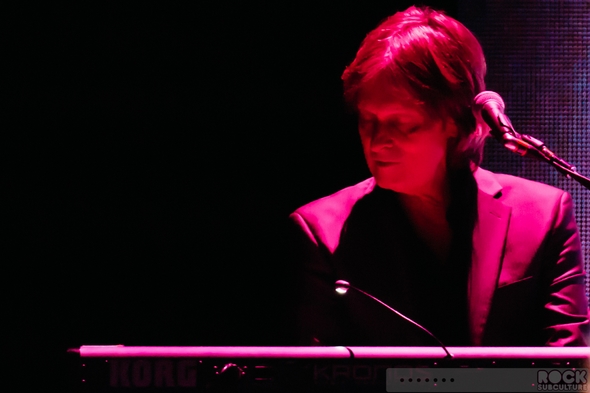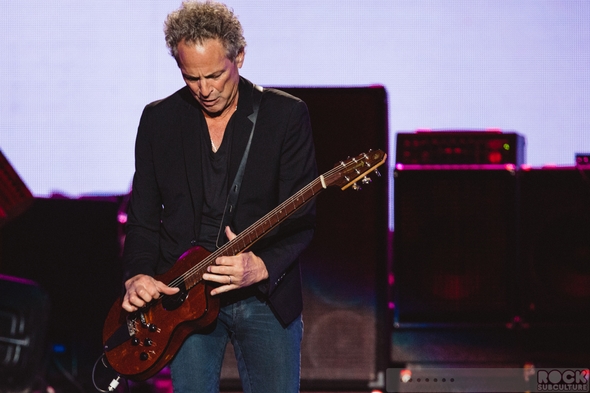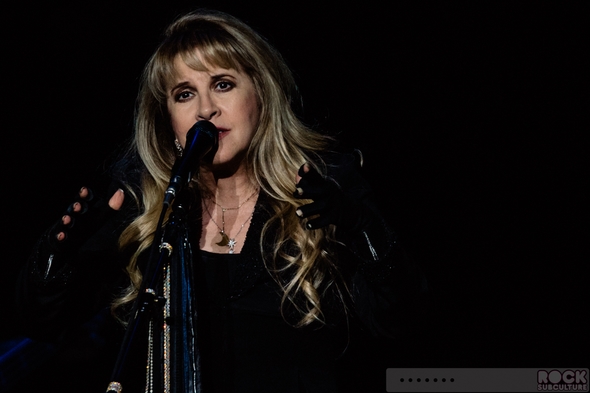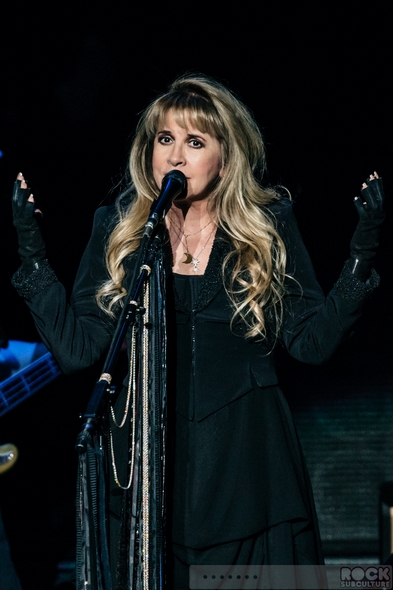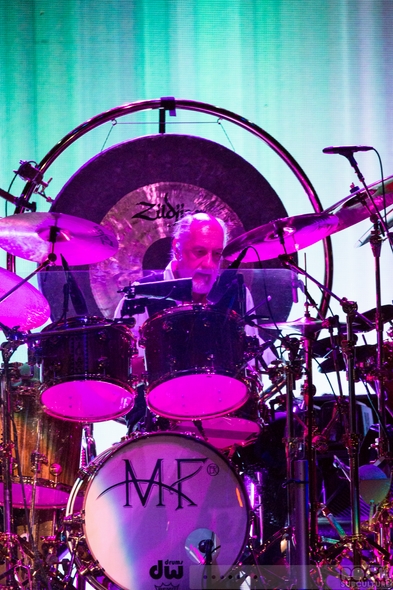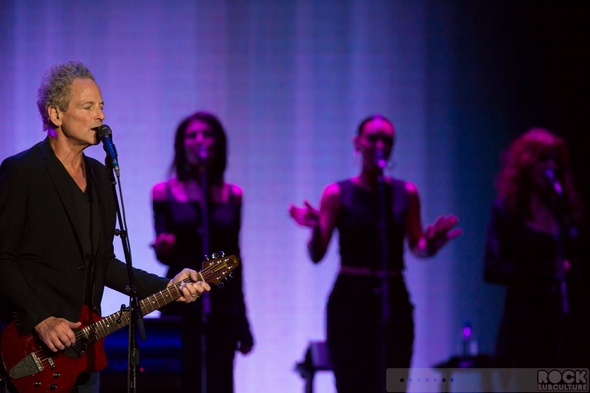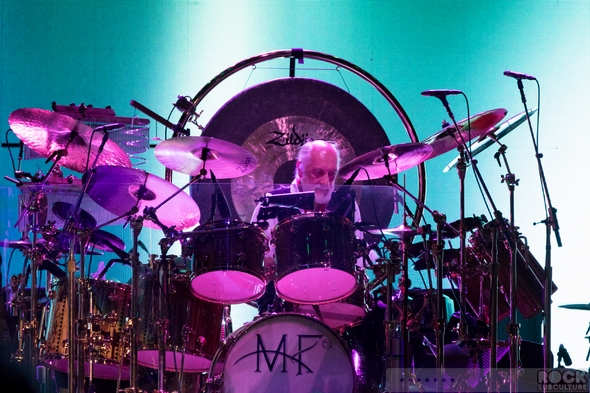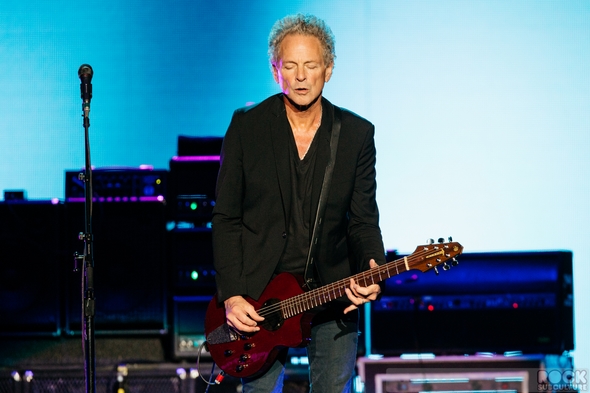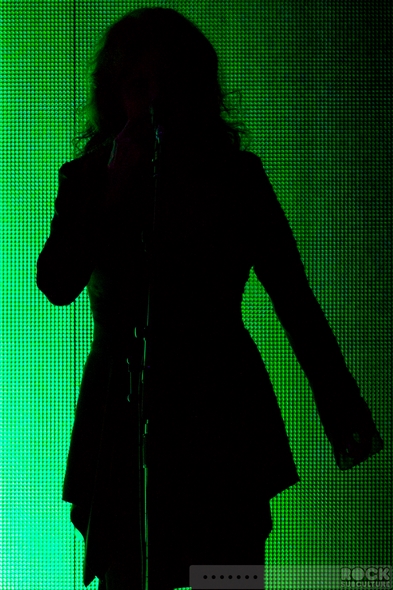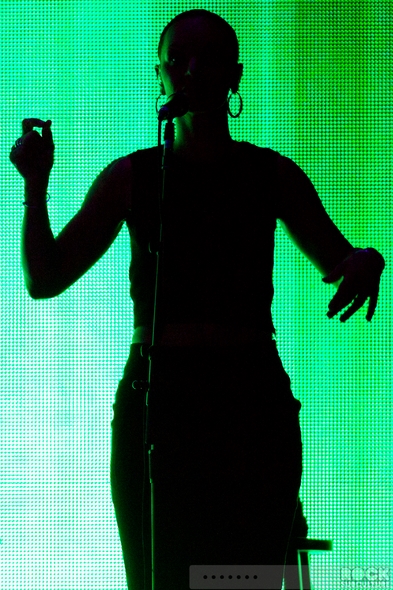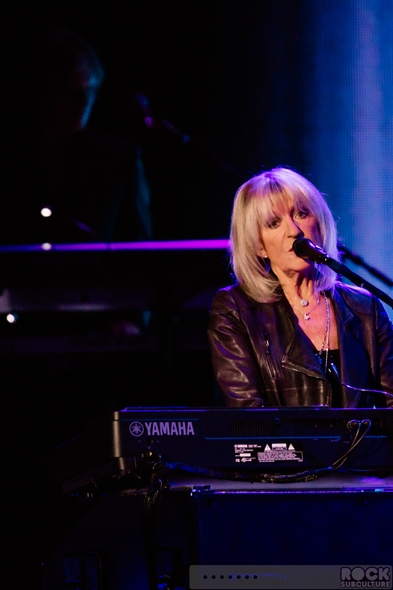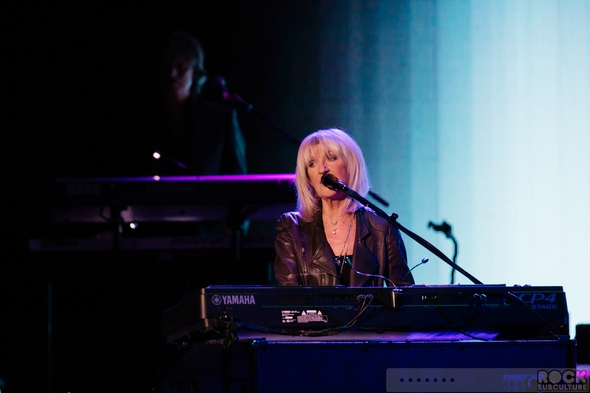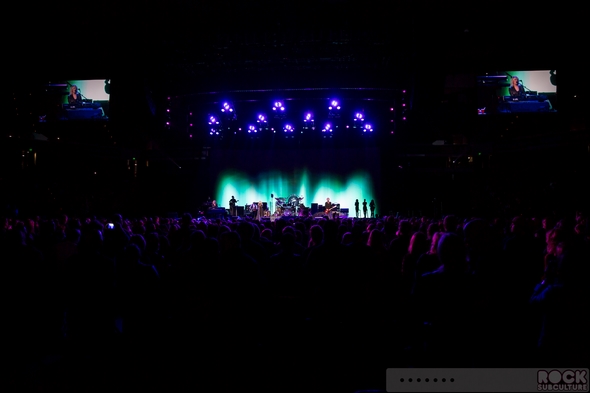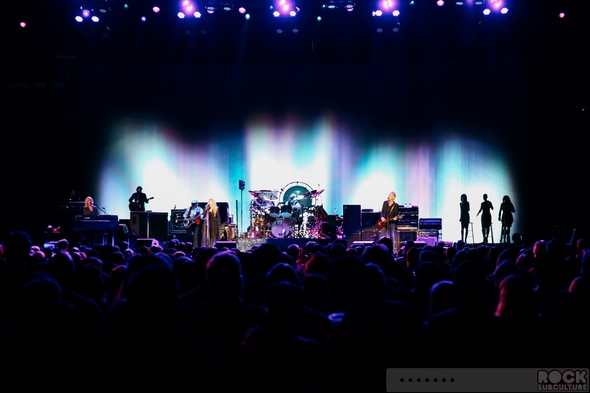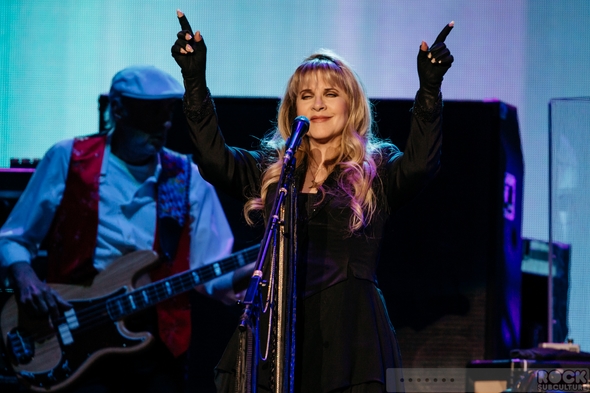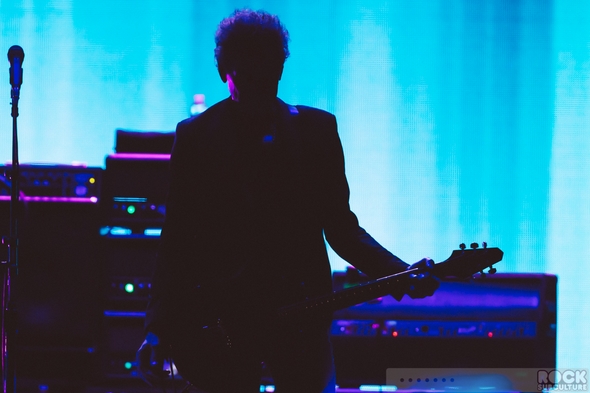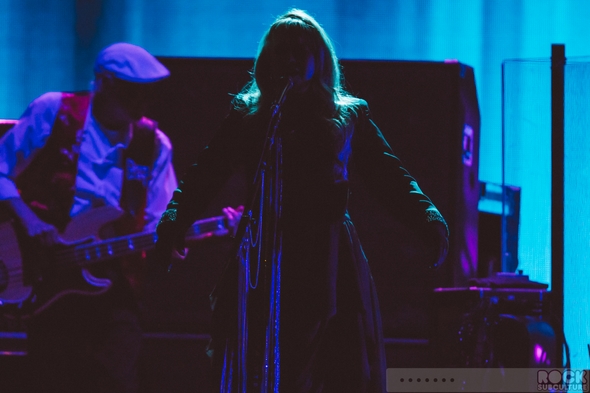 Jason DeBord