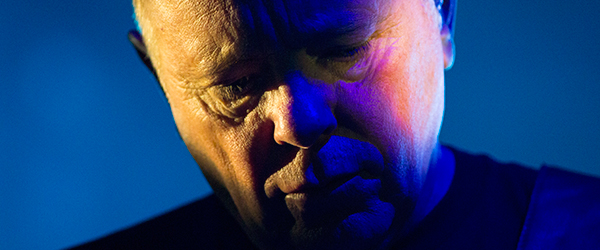 "…since we're in San Francisco, we thought we'd do something special."  Bernard Sumner, singer and guitarist for New Order, as preface to an unexpected, second encore closer and cover of "San Francisco (Be Sure to Wear Flowers in Your Hair)" at the Bill Graham Civic Auditorium last night.  One of just a half dozen dates on this North American tour, the concert showed a band that has worked to refine their live set, with updated visuals as well as a bit of tweaking and reworking of what has become their usual selection of songs.  It was definitely the best I've heard them in the past four years, and they seemed most energized during their performance of new song, "Plastic".  The sold out crowd of around 7,000 never stopped moving and bouncing as they ripped through a sequence of favorites at the end with "True Faith", "The Perfect Kiss", and "Blue Monday".   As has been tradition, they closed out with an encore of a few Joy Division covers, but the Scott McKenzie cover at the very end showed that they can still surprise when they are inspired to do so.

Who: New Order
Supporting: La Roux
Supporting: DJ Whitney Fierce
Venue: Bill Graham Civic Auditorium
Where: San Francisco, California
Promoter: Another Planet Entertainment
When: July 11, 2014
Seating: Front Row Center Balcony (also photo pass first three songs in the pit)

The Bill Graham Civic Auditorium is a very large venue with a GA floor and then seating in multi-tiered balconies all around.  The place was sold out and filled with a crowd that ran the gamut in terms of age and other factors.
With 7:00 doors, DJ Whitney Fierce got things going with a blazing DJ set that ended up framing the entire evening.
There was a lot of excitement about this show (more so than any other New Order show I've been to in recent years) and it seemed to be the place to be Friday night.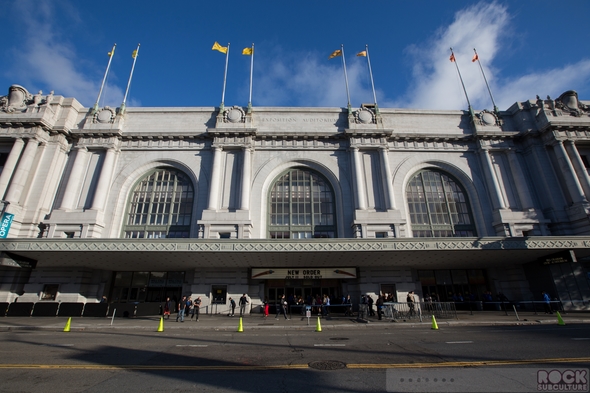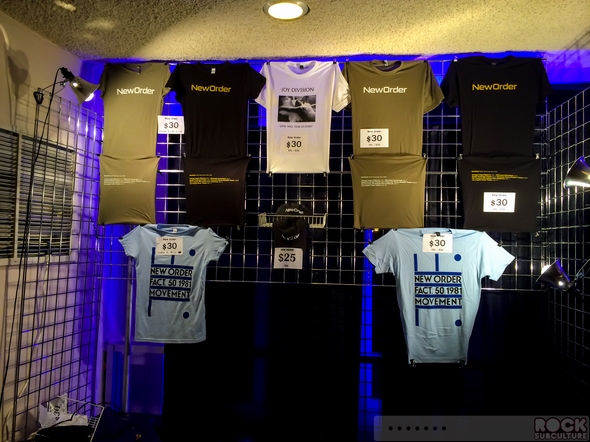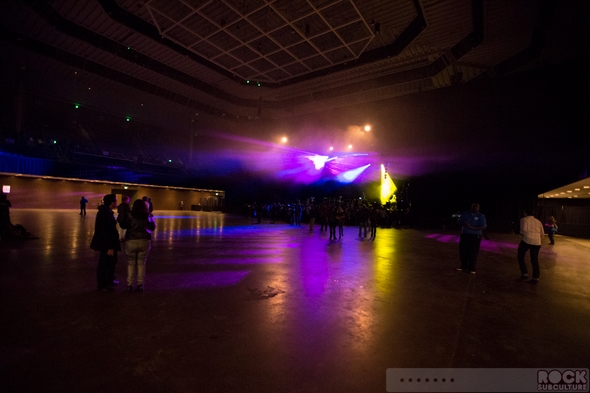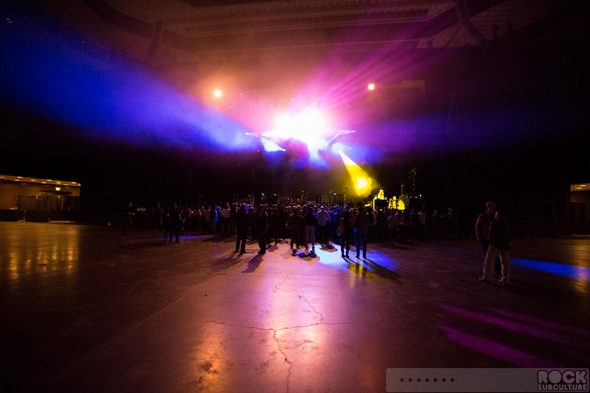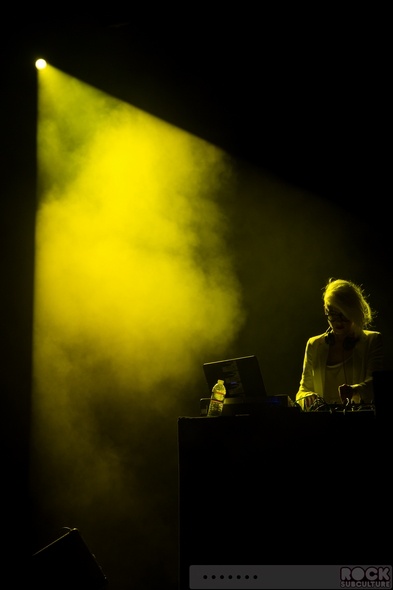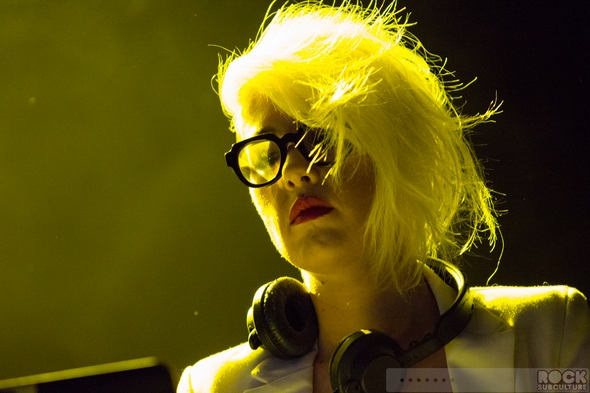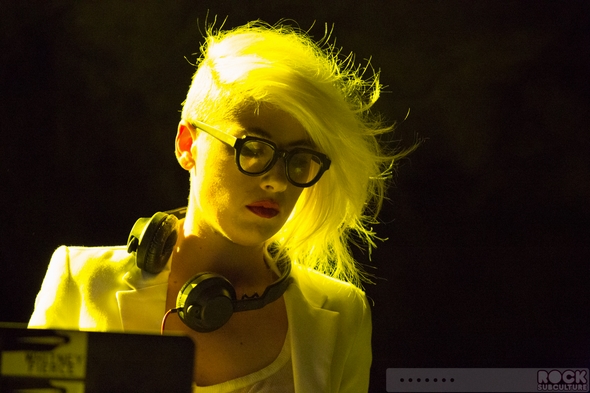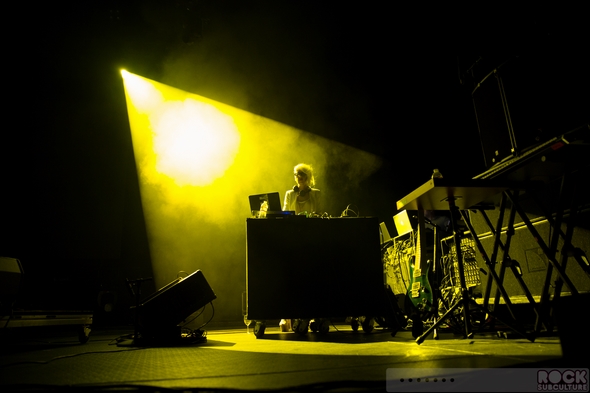 La Roux
Members:
La Roux (vocals)
Mickey O'Brien (keyboards, backing vocals)
William Bowerman (drums)
Ed Seed (guitar, percussion)
Matty Carroll (bass guitar, synth bass)
Grammy Award-winning English synthpop artist La Roux was supporting the show last night, though I would speculate, based on the crowd, that a good number of people in attendance turned out for the opener and stayed for New Order, as Elly Jackson has not been recording and performing for several years.
Founded by Elly and producer Ben Langmaid in 2006, the stylish singer-songwriter found success with a number of singles off her 2009 eponymous debut album, like "Quicksand", "In For The Kill", and "Bulletproof".
La Roux were mostly on hiatus from 2011 into 2013, and starting playing some shows last year.
The new album, Trouble in Paradise, is due on the 21st of this month, with new single, "Let Me Down Gently" having debuted in May to commercial and critical acclaim.  Showcasing her distinct vocals, the new song features a more contemporary sound compared with the distinct 80s/New Wave influence of her debut album.  Personally, as much as I love her original album, I think I would have to say that this is my favorite of her work to date.
I never had an opportunity to see La Roux years ago, so I was thrilled when I heard that she was supporting the California shows on this small New Order tour.
La Roux certainly did not disappoint, and her music translates beautifully in live form.  The sound was dialed in perfectly and her band did a fantastic job bringing it all out on stage.
Elly has a magnificent stage presence, and fit the moniker for the band in appearance as well, mixing masculine and feminine, with a stylish throwback and her distinctive hair.
Their set ran about 45 minutes or so, playing 11 songs with no encore…
Setlist:
Let Me Down Gently (from forthcoming Trouble in Paradise)
Uptight Downtown
In For The Kill
Colourless Colour
Cruel Sexuality (from forthcoming Trouble in Paradise)
Sexotheque (from forthcoming Trouble in Paradise)
I'm Not Your Toy
Tropical Chancer (from forthcoming Trouble in Paradise)
Silent Partner (from forthcoming Trouble in Paradise)
Bulletproof
Interestingly, the aforementioned hit "Quicksand" was not played, but fans were treated to a wealth of new material from the upcoming album, with about half the set made up of new songs as noted above.
I really loved her set and eagerly await the new album, and hope that La Roux find additional success deserved.
Below are photos of La Roux from the opening set at the Bill Graham Civic Auditorium last night: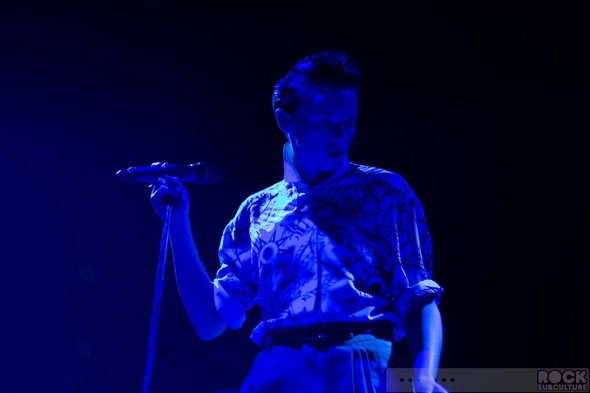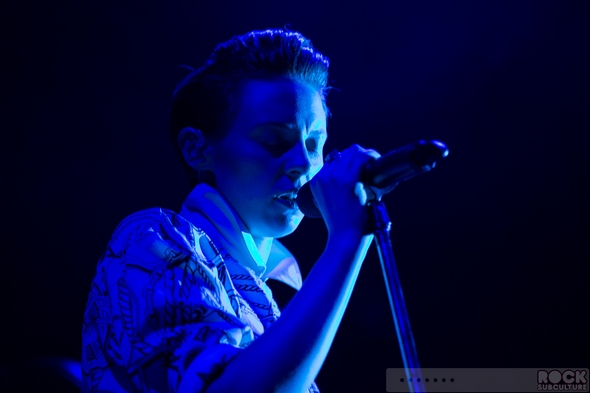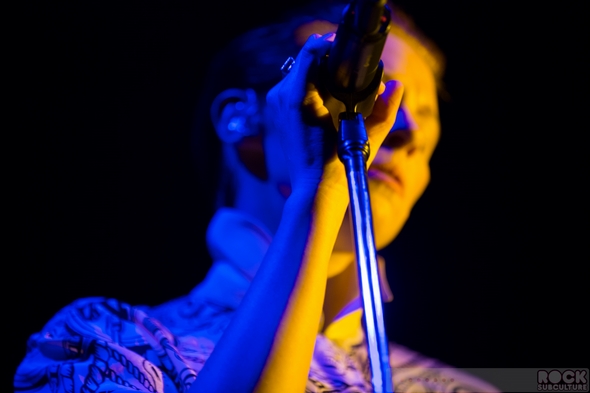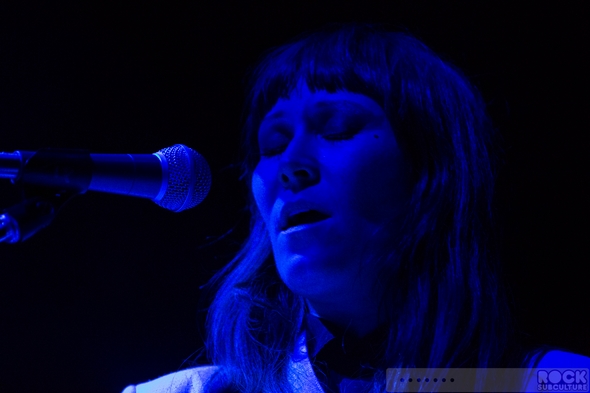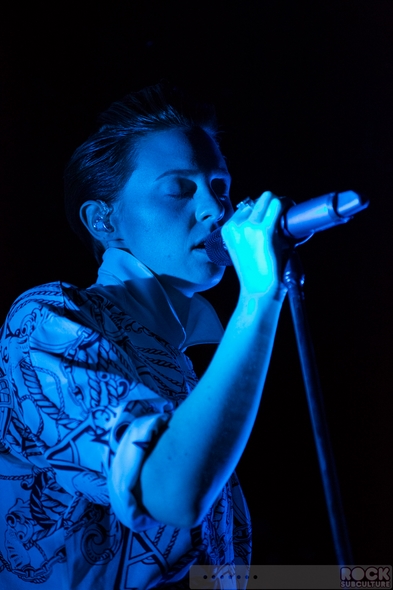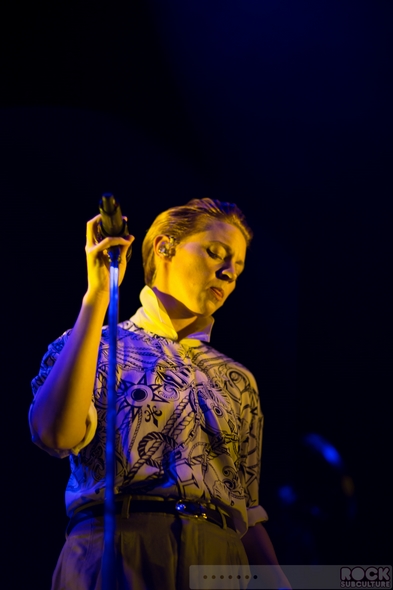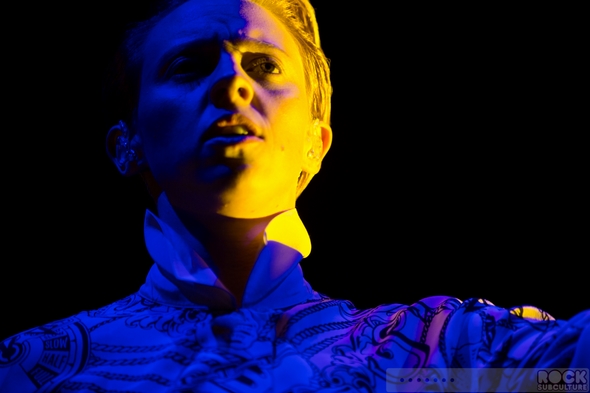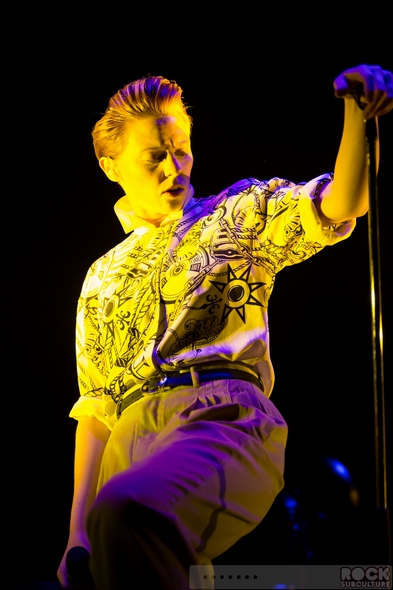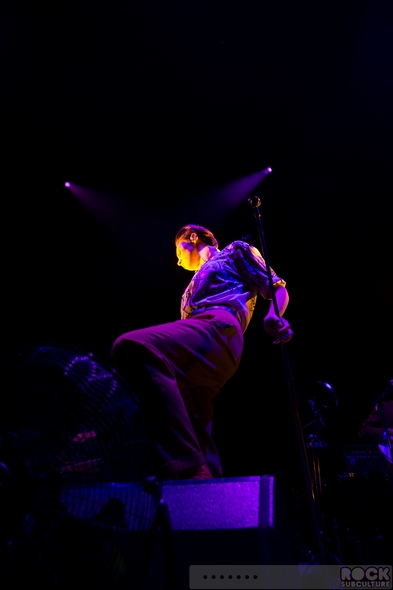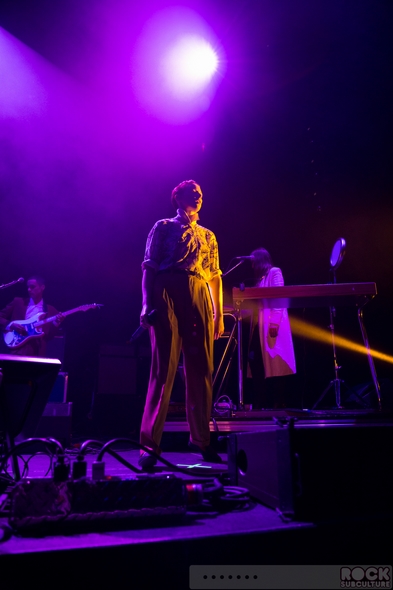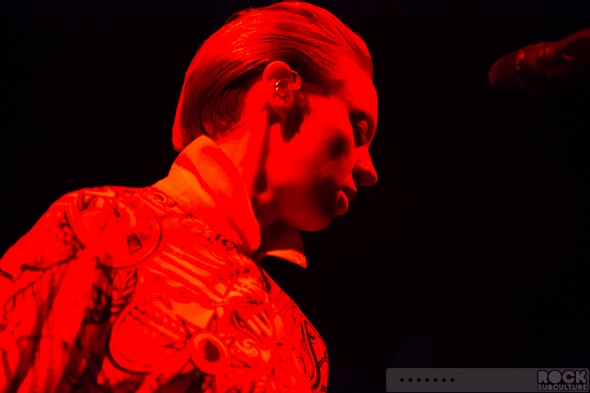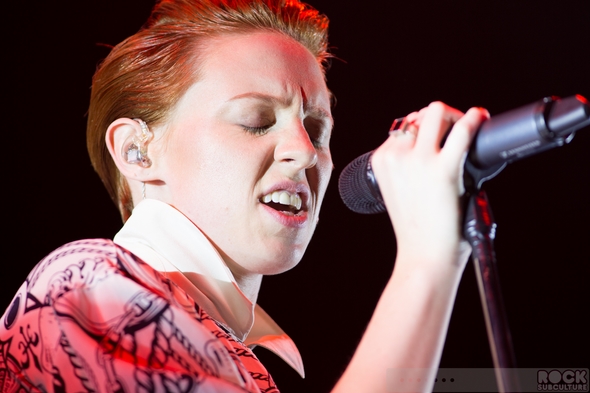 New Order
Members
Bernard Sumner (vocals, guitar, keyboards)
Stephen Morris (drums)
Gillian Gilbert (keyboards/synth)
Phil Cunningham (guitar, percussion)
Tom Chapman (bass)
I've already written much about this amazing band, as this will now be the four consecutive year in which I've turned out for their show and published a review and photos, having seen them at The Boulevard Pool at The Cosmopolitan in 2013, the historic Greek Theatre in Los Angeles in 2012 and their monumental performance at The Troxy in London in 2011.
Having seen them at a variety of locations and venues now, it is always interesting that each show takes on a character all it's own.  But New Order concerts always strike me as "event"-style shows, as many people have such a deep love for the band and their music (they are certainly one of my own all-time favorites).
As explained in past reviews, I have been a huge New Order fan going back to the early 80s. For those unfamiliar with the band, they were formed by the surviving members of Joy Division after the 1980 suicide of their lead singer, Ian Curtis. Bernard Sumner took over vocals, Stephen Morris and Peter ("Hooky") Hook continued with bass an other instruments, and Gillian Gilbert joined the reformed band, which had a strong electronic pop change in direction from Joy Division's post punk sound.
Being a British band and breaking up a few times over the years, many had never had an opportunity to see them perform live, and the last break-up, with a division between Peter Hook and the other members of the band, left most fans suspecting that they may never see the band play together again. The last time I saw them in concert prior to the new incarnation of the band was at Shoreline Amphitheater in San Francisco in 1993, more than 20 years ago. At the time in 2011, the show at the Troxy was their first gig in England in five years.
That 2011 reunion began with two concerts (one in Paris, one in Brussels) to benefit their friend and filmmaker Michael Shamberg. The reunion was not without controversy, with founding member Peter Hook, no longer involved in the band, being publicly vocal about his disagreement with the new line-up. Peter Hook (who is actually my all-time favorite bass player) has been touring extensively in recent years with his own band, playing a lot of Joy Division material and more recently New Order material as well (in an album-by-album approach).
With the current incarnation of New Order, it is comprised of original members Bernard Sumner, Stephen Morris, and Gillian Gilbert have been joined by Tom Chapman on bass guitar and Phil Cunningham as an additional guitarist. All of them, save Gilbert, are also involved in the Bad Lieutenant, a band formed following the last break up of New Order.
With each year now, it seems that the band updates and refines the video graphics that play on the screen behind them, and with the show at the Bill Graham Civic Auditorium last night, they definitely had the biggest and best lighting system and operator(s) that I've seen in their current incarnation.
In all honesty, as a performing band, they are not dynamic performers physically, with all the players being pretty stationary throughout with the exception of Bernard doing some walking about…  the one exception is Tom on bass, who performs with more energy and movement, like a guy would in a traditional rock band.  But having said that, I feel as though there is a bit of a disconnect between the band on the stage and the audience.  As they play bigger venues, the music fills, but I feel like there is a growing gap between the players and the fans.
As such, they developed an evolving and unique stage presentation that adds some energy to their set that matches the energy of their music quite well. Most of their music is pop and high energy, though they have more somber visuals accompanying that which is not so happy, like the Joy Division songs.
New Order have an incredible catalog of work – for me, each album up through Technique were absolute masterpieces (though I love what followed, I felt that their work was at its pinnacle with Technique, though individual songs on subsequent albums I still count among my favorites). And in addition, "Blue Monday", I feel, is one of the best songs and most innovative songs released in the 80s. Experiencing it live should be on the bucket list of anyone who loves music from that era.
As mentioned in past reviews, my dream is to someday hear them play "Fine Time", "Round and Round", and "Mr. Disco" from Technique, though (as expected) that did not happen with last night's show. I hold out hope that someday they will do something akin to what ex-bassist Peter Hook is doing and tour one or two full albums, end to end, along with some hits.
Since the last New Order show I attended in 2013, I subsequently had an opportunity to see Peter Hook and The Light in concert, and I was really impressed with the show that he and his band put on.  While it seems many want to put themselves in one "camp" or the other, I love all the players and I see nothing wrong with each forging their own path into the future and doing their own thing.  Each puts on a very different kind of show, and maybe that illustrates their differences of opinions in terms of music, and I think it's awesome that each are doing their own thing, and will continue to support all of the artists born of Joy Division and New Order.
Tom has really come into his own as the bass player for New Order, and now I hear some subtle changes to the familiar bass lines, putting his own signature on the classic songs.
Overall, the setlist was not too different from the shows I've attended in recent years, though this one showcased the new song, "Plastic", and the surprise encore.
Below is the set list from the New Order show in San Francisco last night…
Setlist:
Elegia
Crystal
Regret
Singularity
Ceremony
Age of Consent
Your Silent Face
Californian Grass
Bizarre Love Triangle
5 8 6
Plastic
True Faith
The Perfect Kiss
Blue Monday
Temptation
Encore #1:
Atmosphere (Joy Division cover)
Love Will Tear Us Apart (Joy Division cover)
Encore #2:
San Francisco (Be Sure to Wear Flowers in Your Hair) (Scott McKenzie cover)
I had an opportunity to photograph the band for the first three songs from the security pit in front of the stage, then sat up in the front row balcony for the remainder of the show.  I found the graphics and light display mesmerizing, and particularly enjoyed washing the splash of light hitting the exuberant crowd below.
This was definitely the best I've heard the band, though on some songs more than others.  In prior shows, the sound mix came across as though it was all funneled down to a mono output, and the distinctive clean sound for which they are known on their studio work was kind of lost, worsened by an emphasis on overpowering the low frequency.  Things seemed much more dialed in last night and the stretch of the new song and four big hits ("Plastic", "True Faith", "The Perfect Kiss", and "Blue Monday") I think were the aural highlights of the night, both technically and in terms of sheer enjoyment of the new kicking off the classic.
I think Bernard's vocals were best on "Plastic", and maybe since it is a new song, it was crafted to best fit his vocal quality and tone as it is today.  He also seemed most happy performing this song, so it was inspiring to see that maybe this indicates that their is a future for new music from the band, as I know many fans would welcome it.
As mentioned, I still pine for a hit from Technique, and I think the band could have a more satisfying set by having a few more keys/synth-oriented songs over those reproduced with the traditional rock and roll format (guitars, bass, drums), as for me, the music has been more about that style than the Joy Division set-up that started it all.
I loved the show, and look forward to seeing them again.  I love the band and love the music – but maybe there is still room for them to evolve as a live act that is more engaging with the audience on a visceral level, just as they've built on creating a more stunning show visually and by tweaking and enhancing the songs themselves, and improving the audio quality for the show.
Below are some photos of New Order performing on stage; apologies to Stephen Morris as it was almost impossible to get an angle to photos of him deep within the drum kit from the security pit (click any image for higher resolution photos):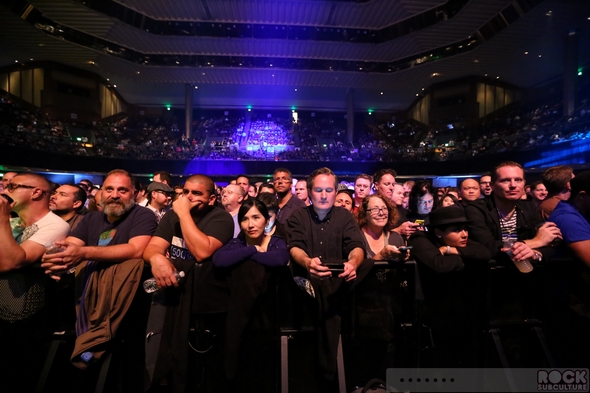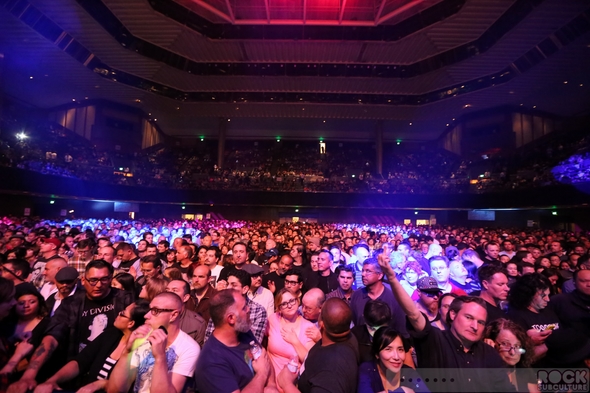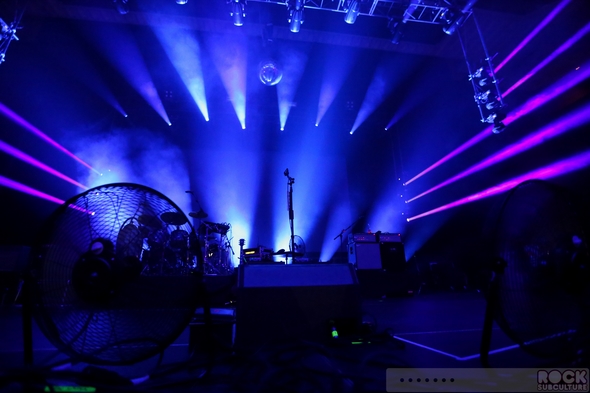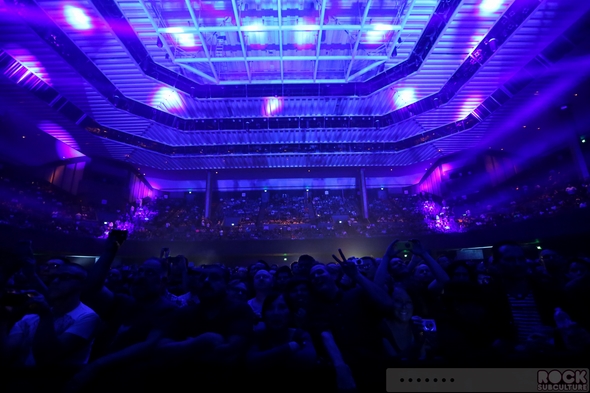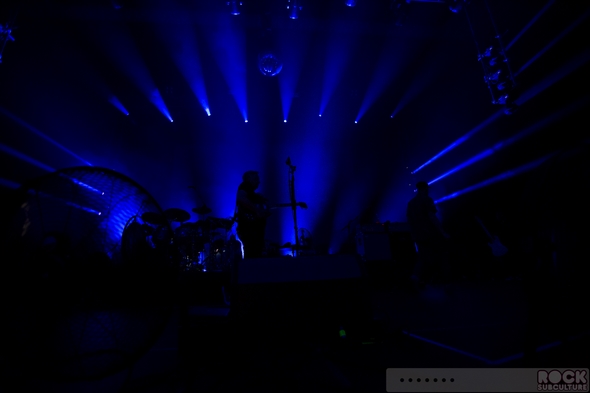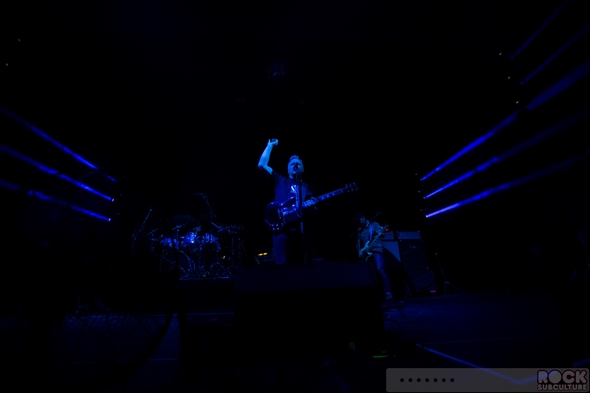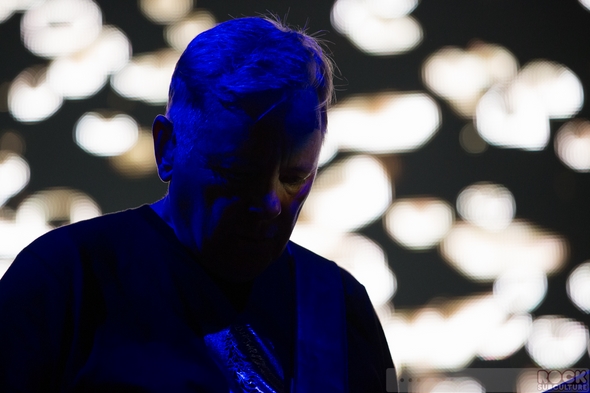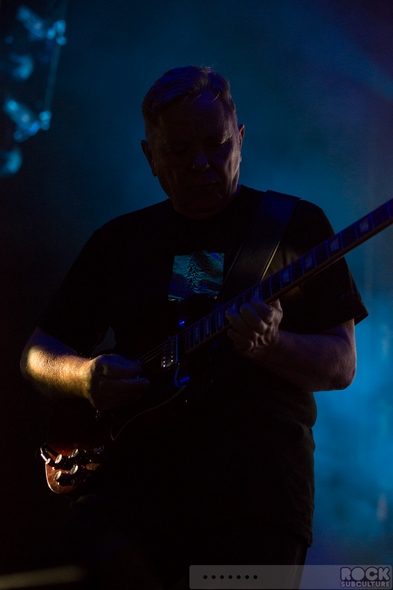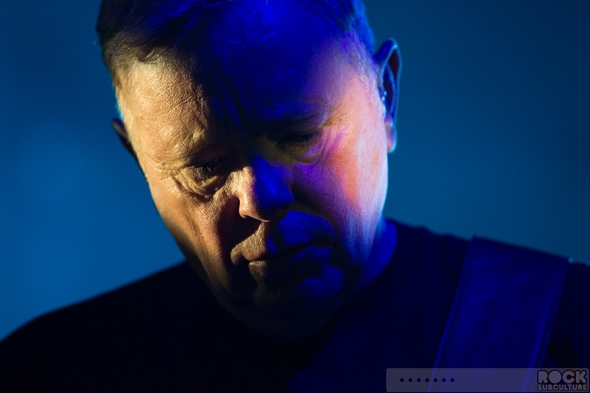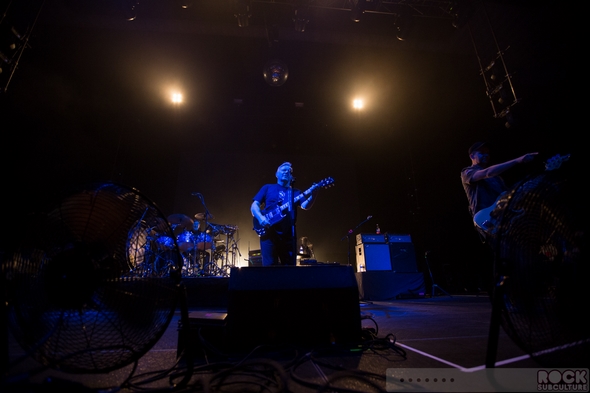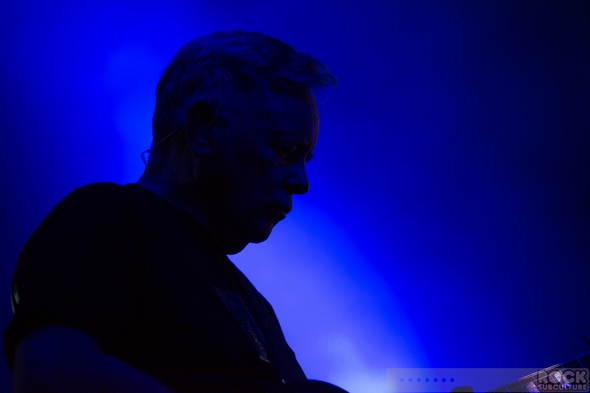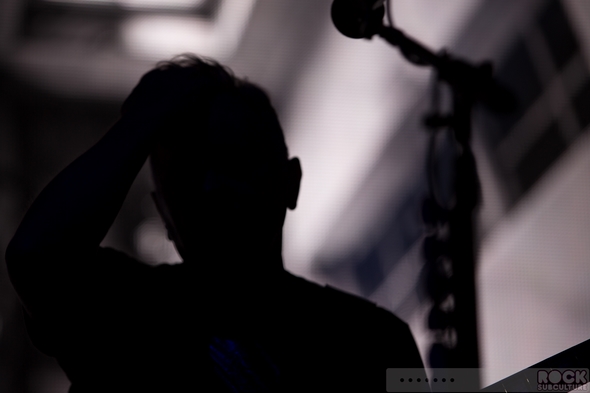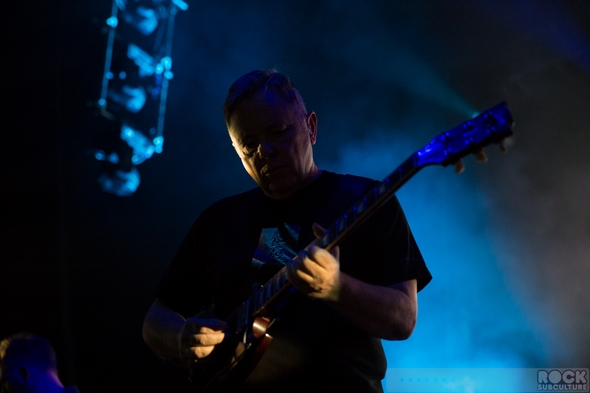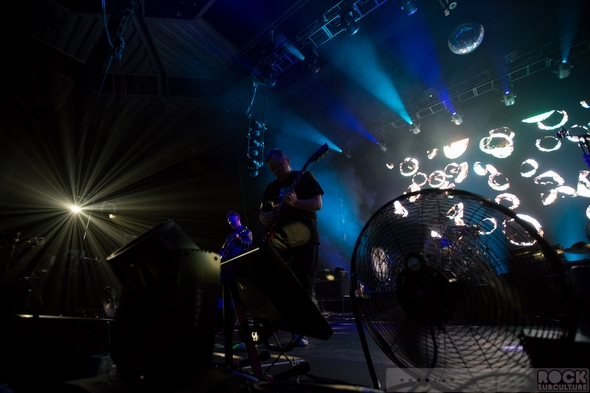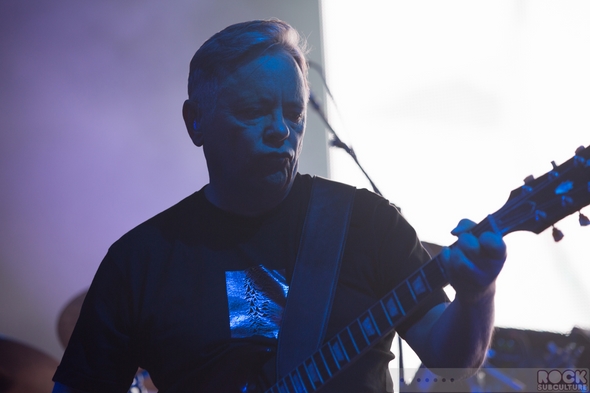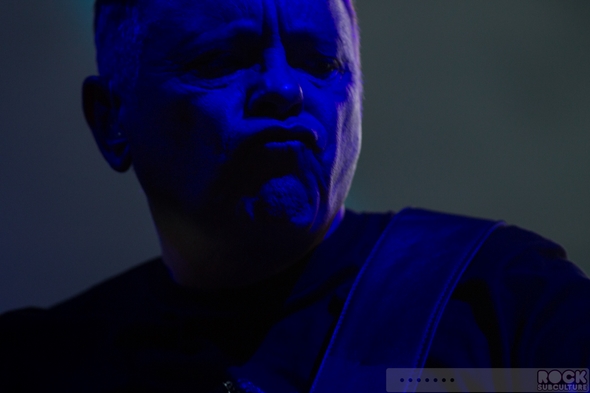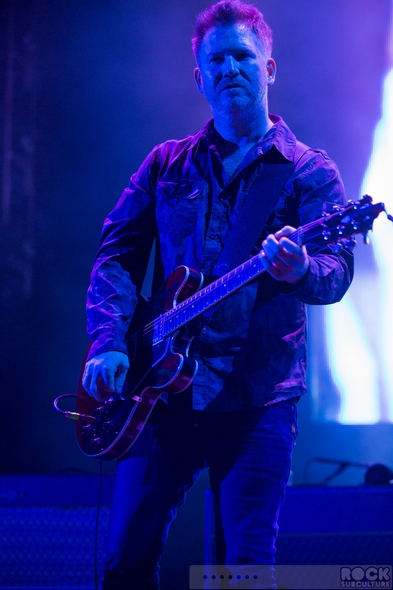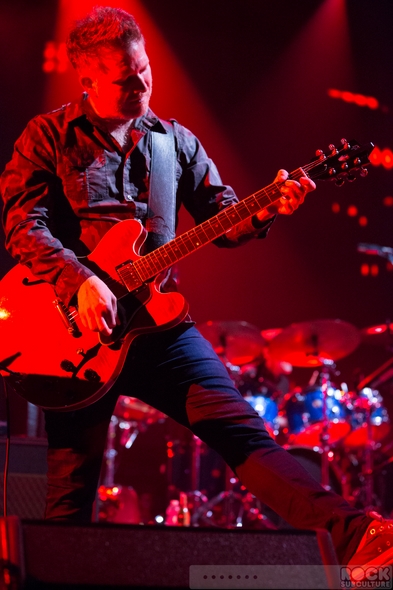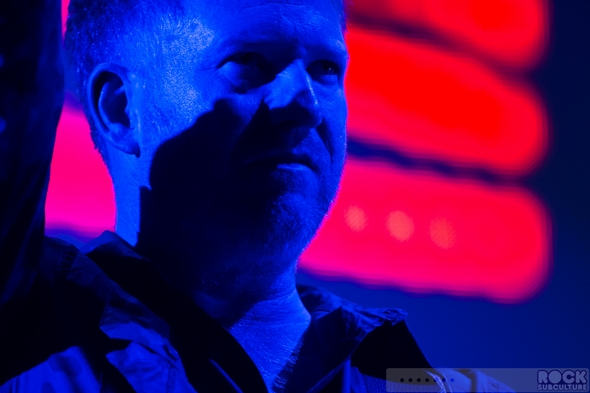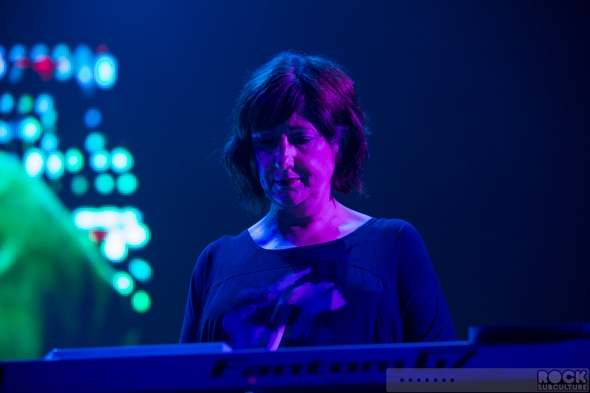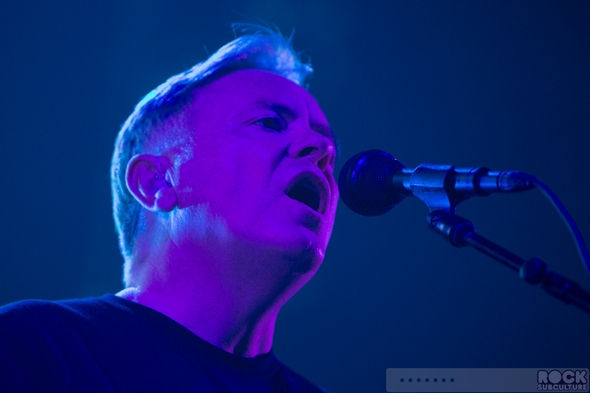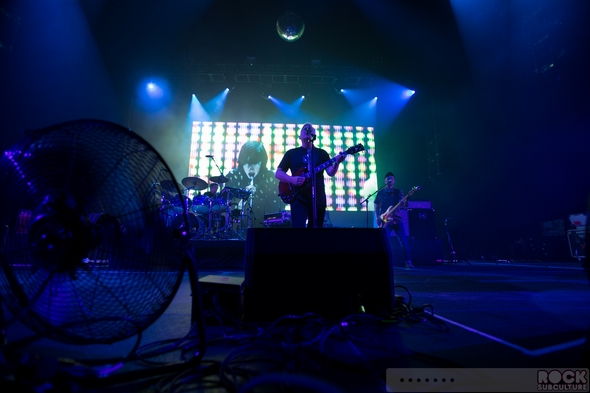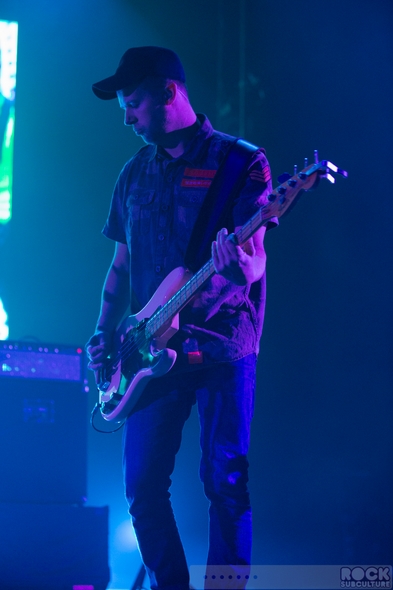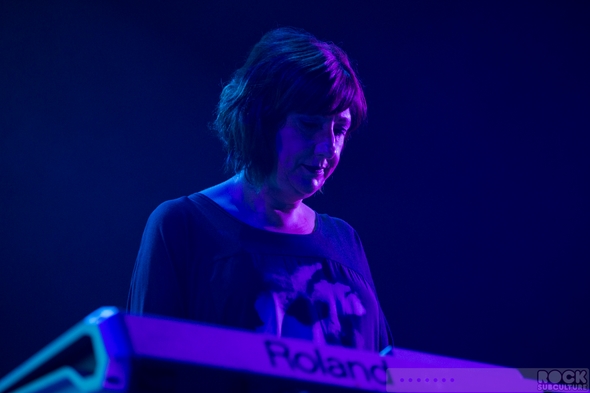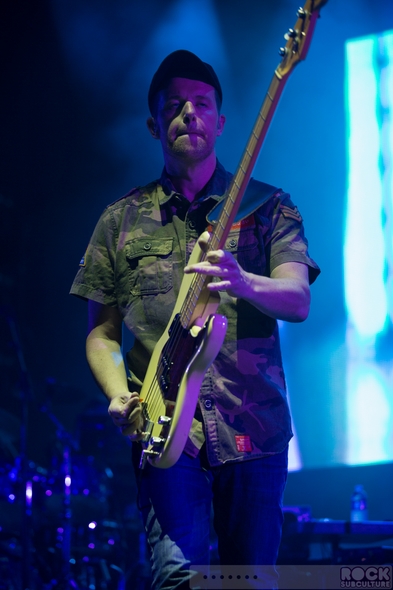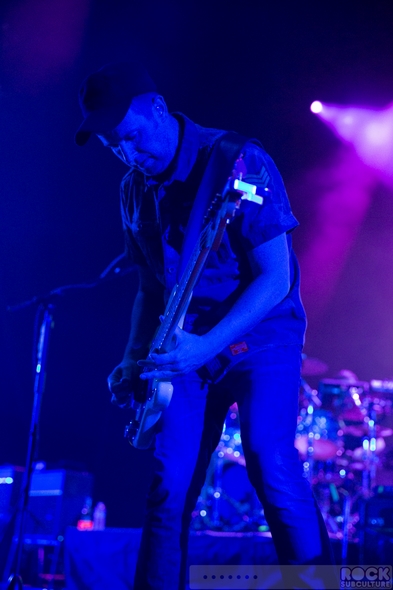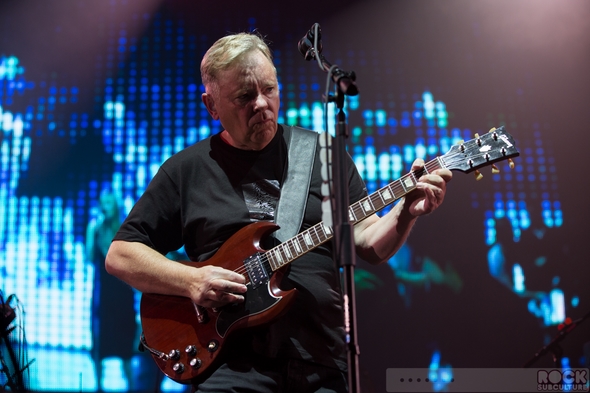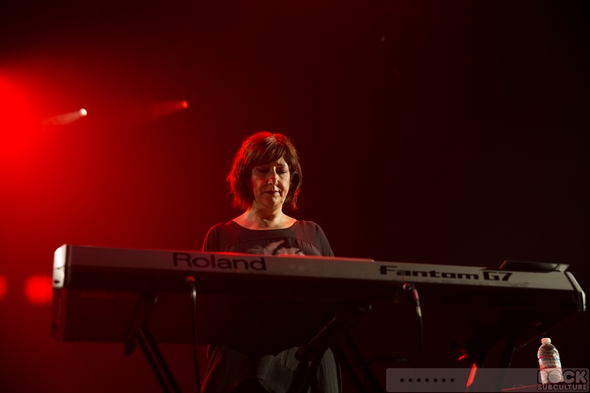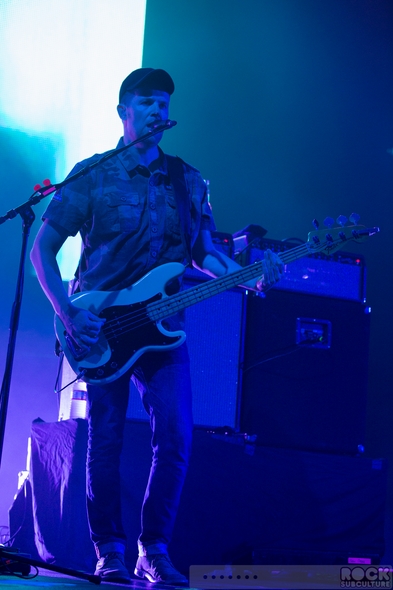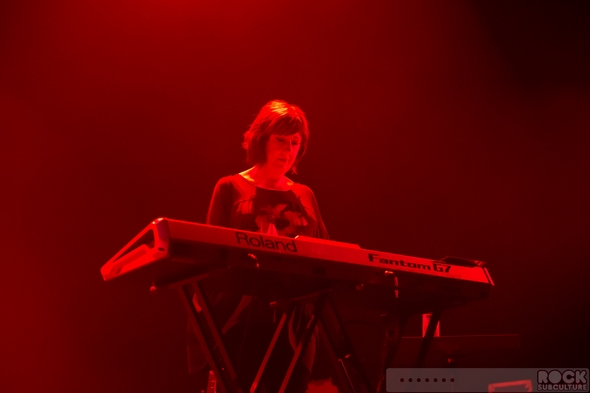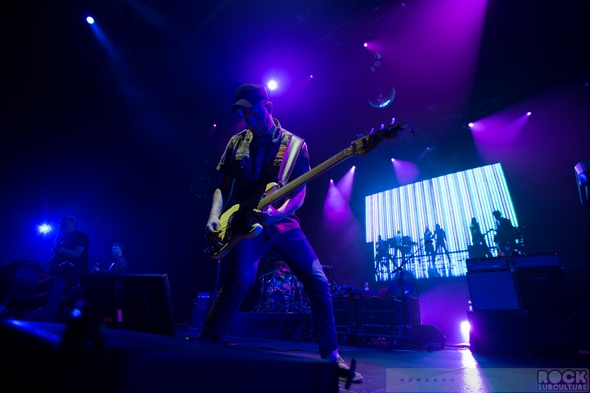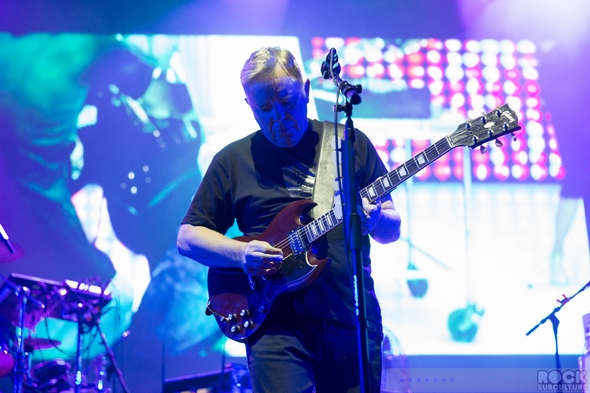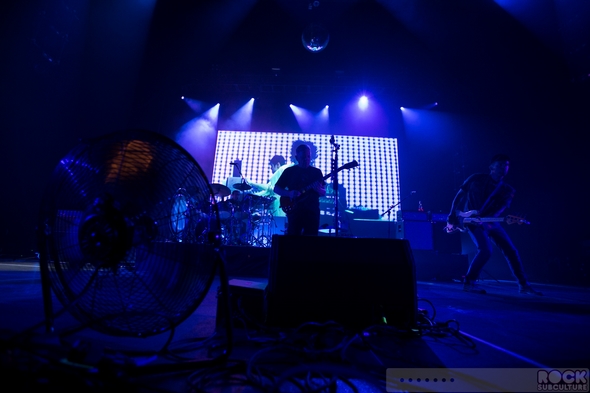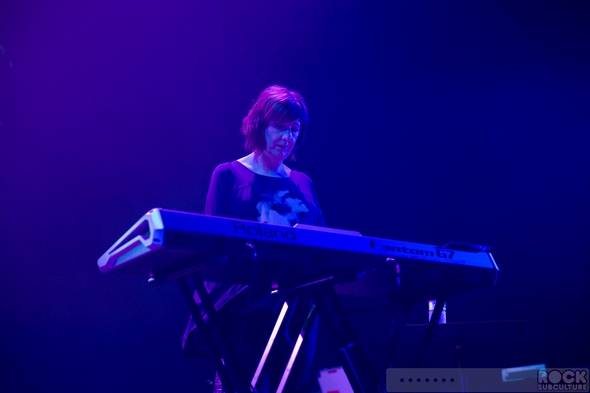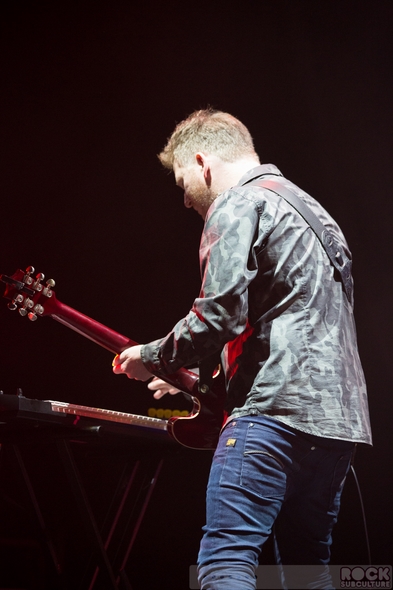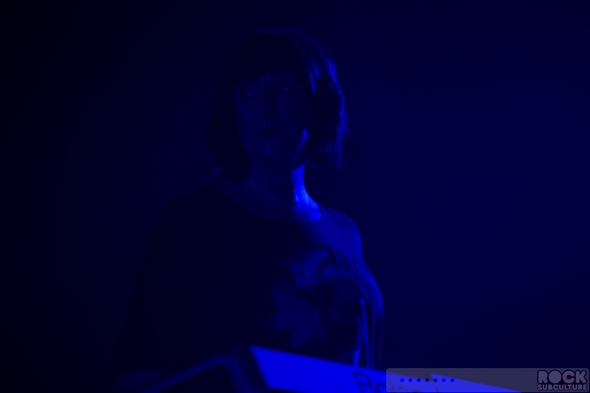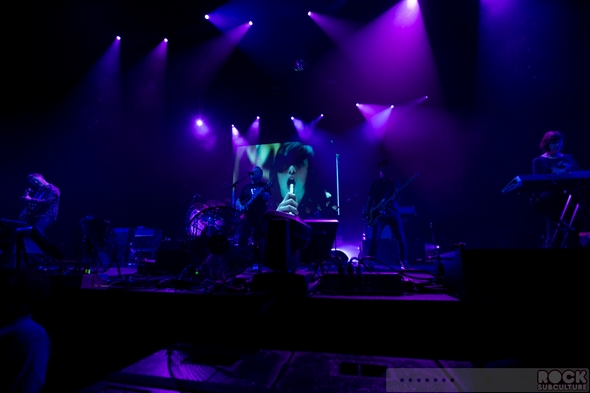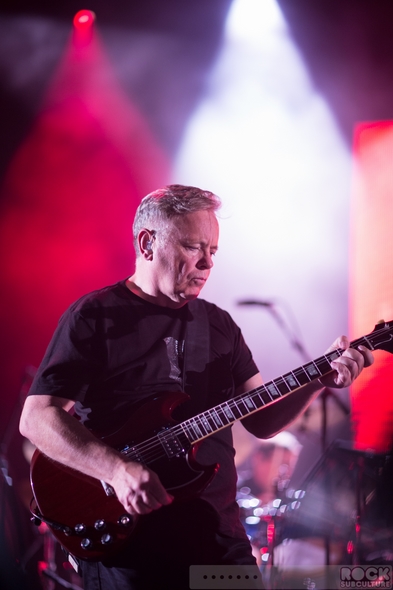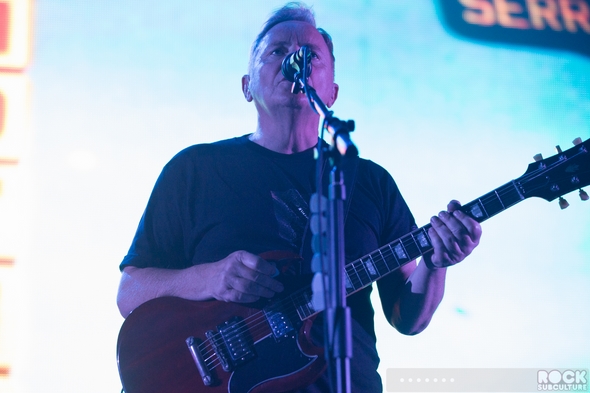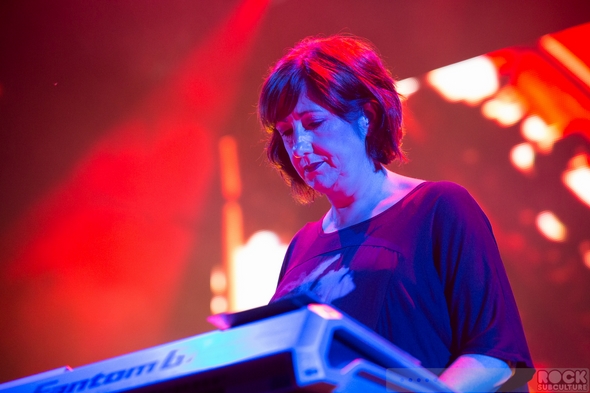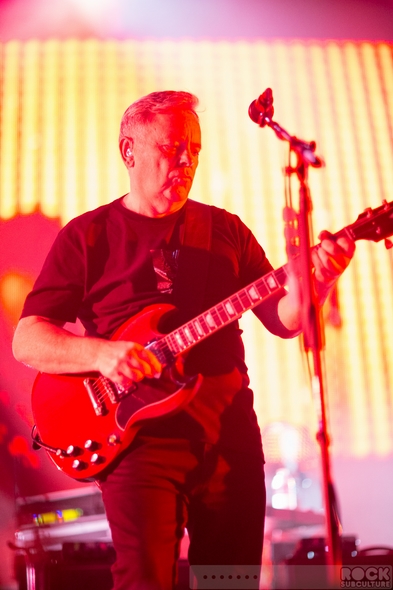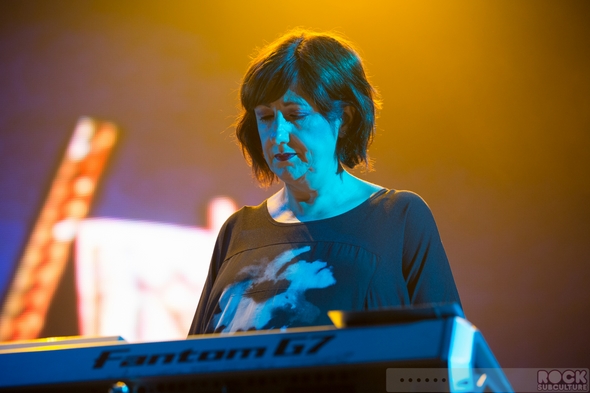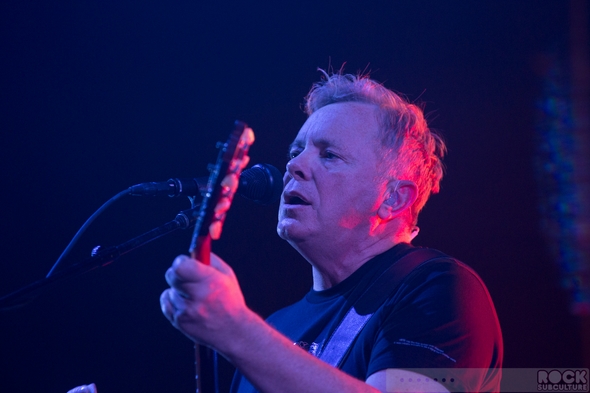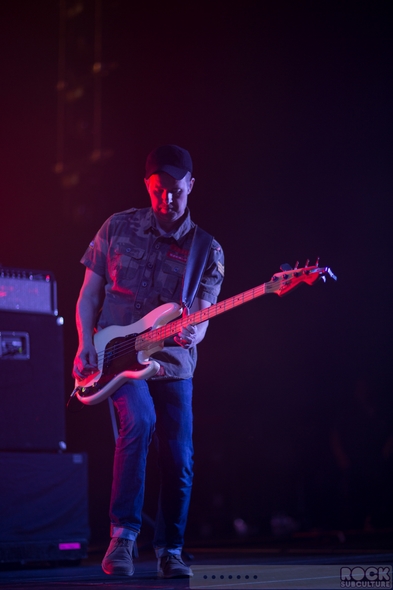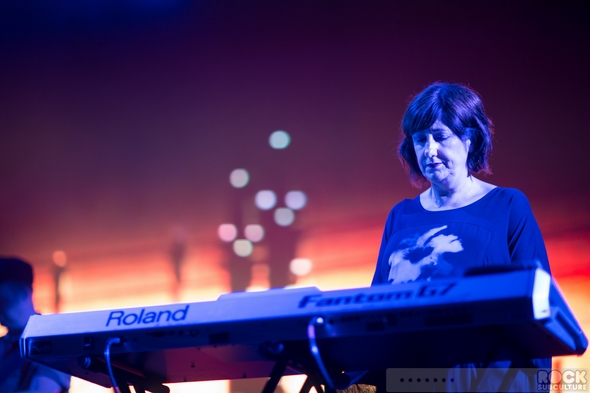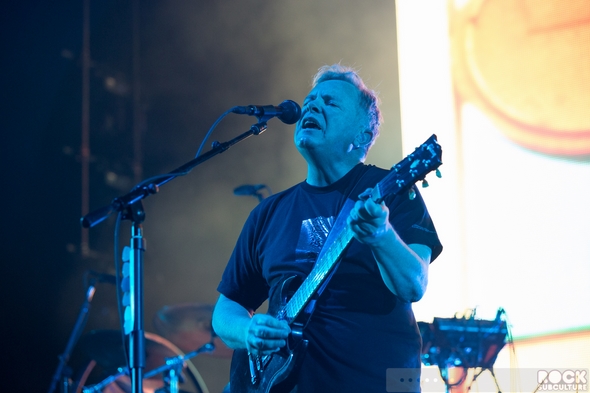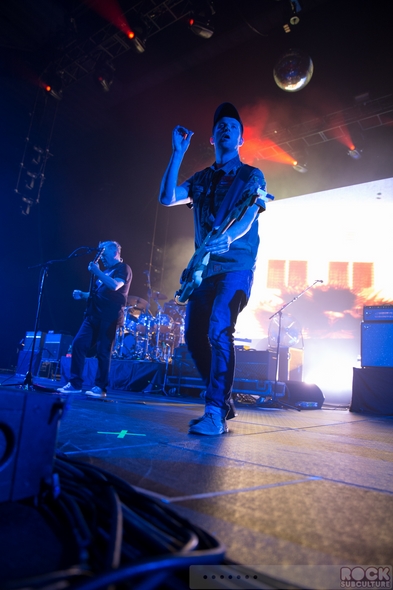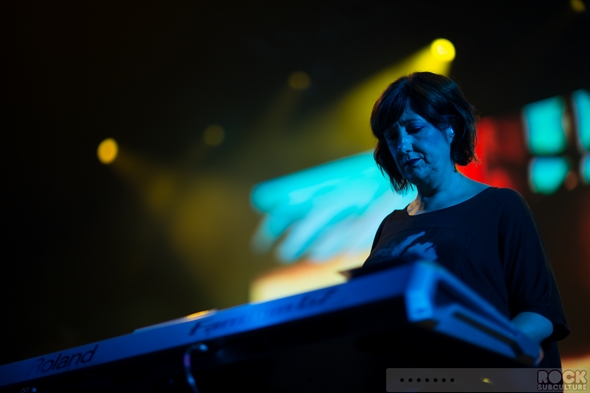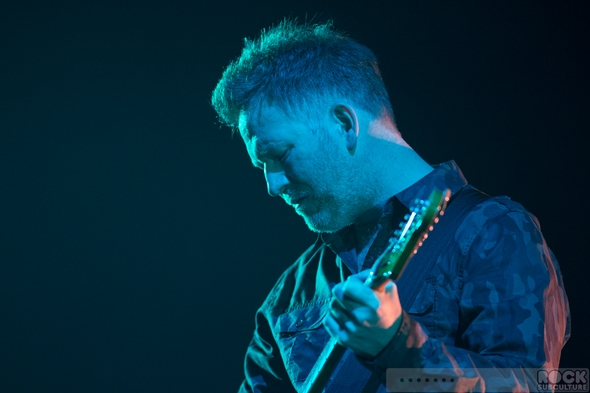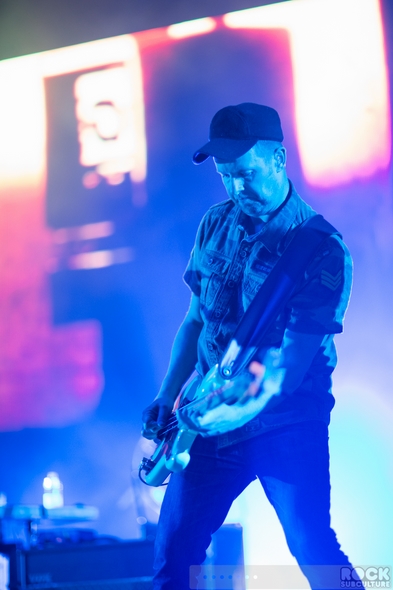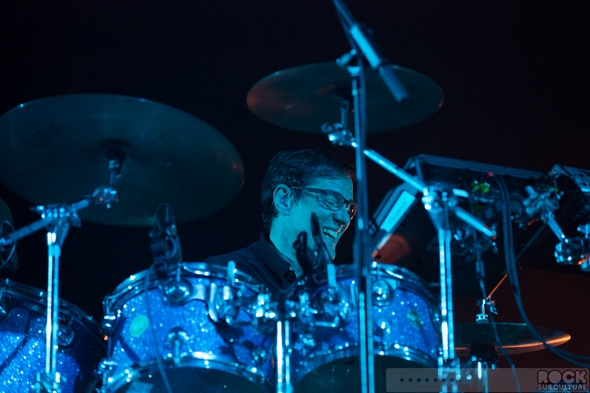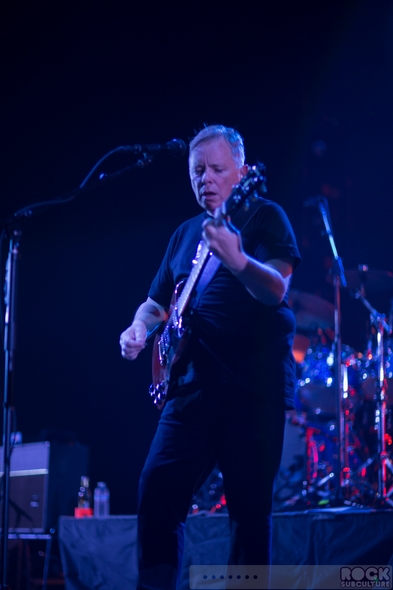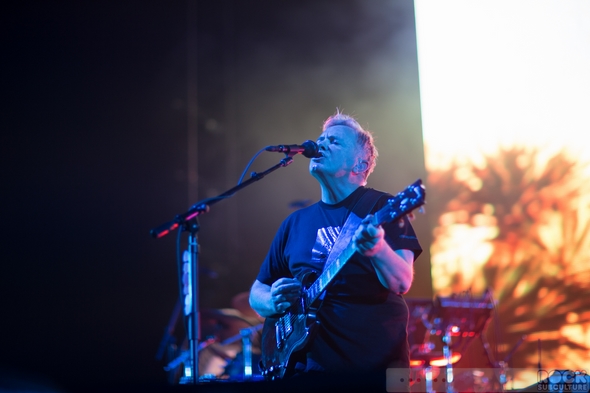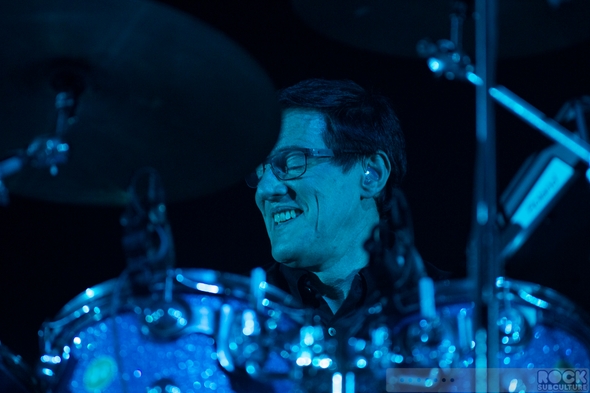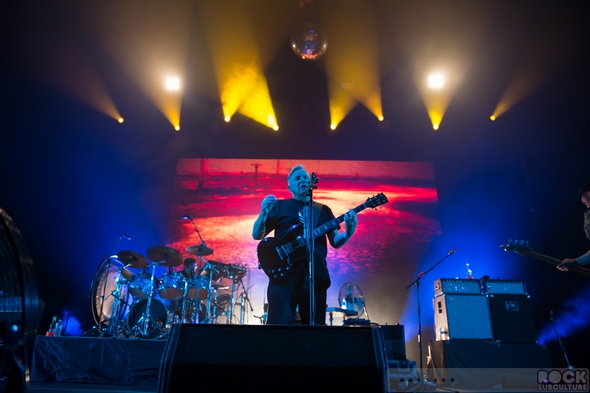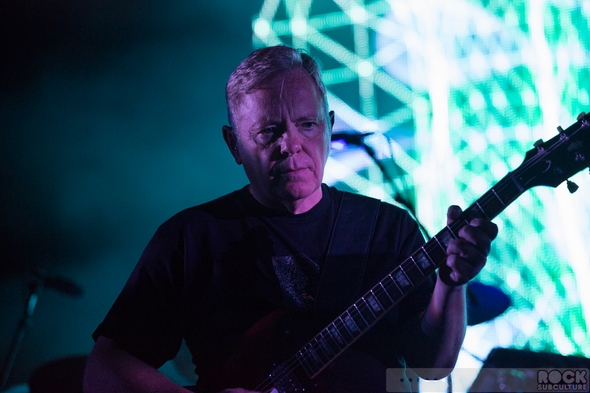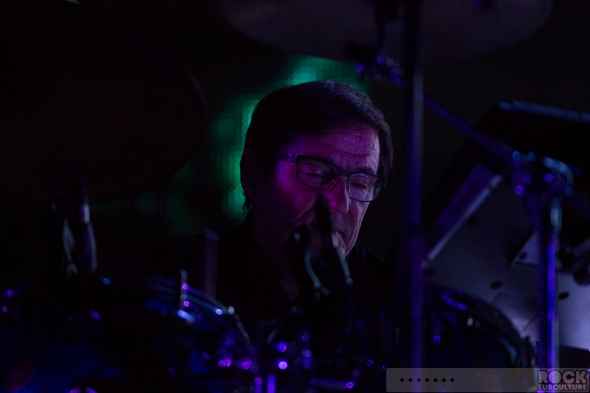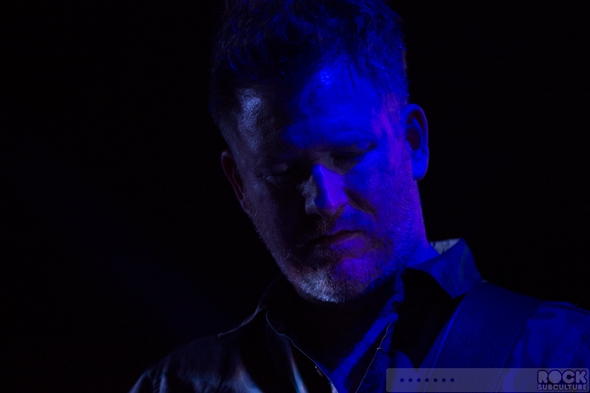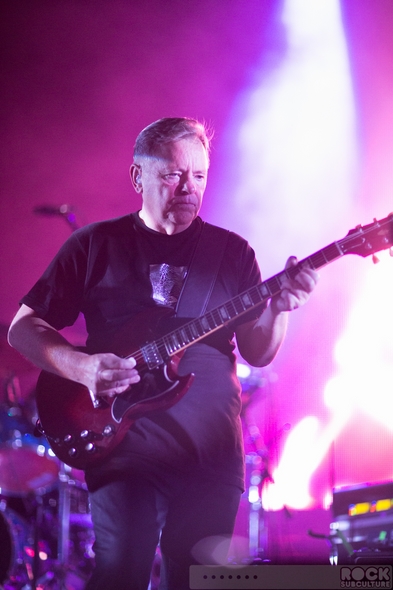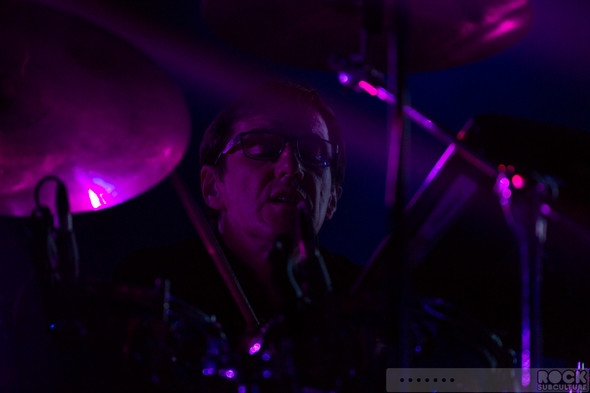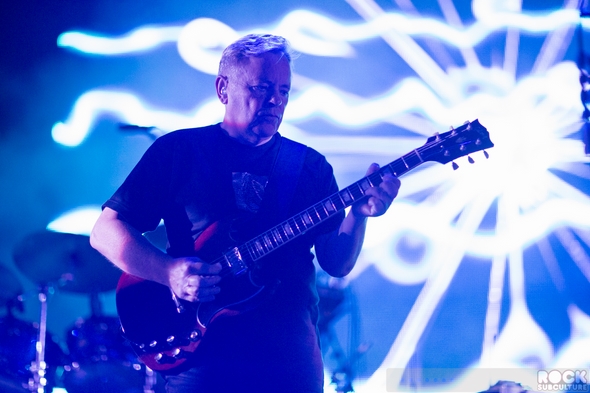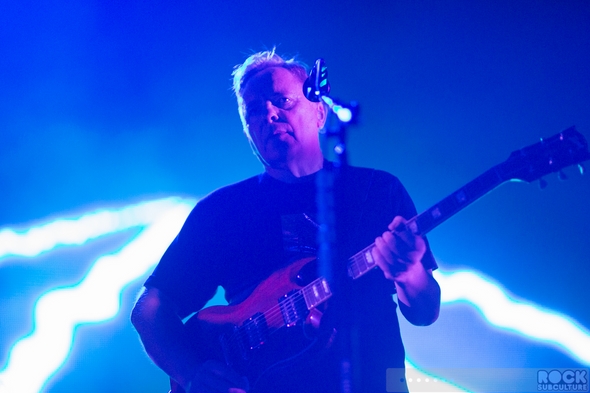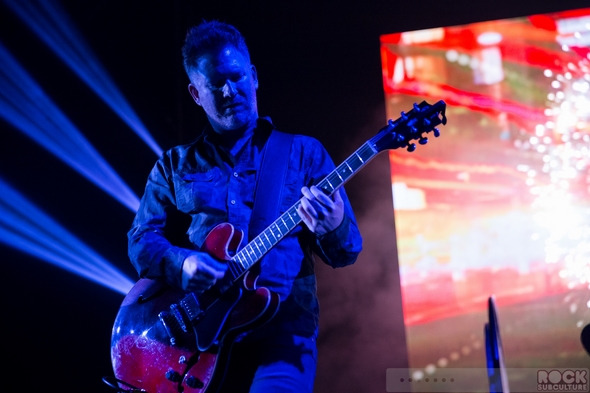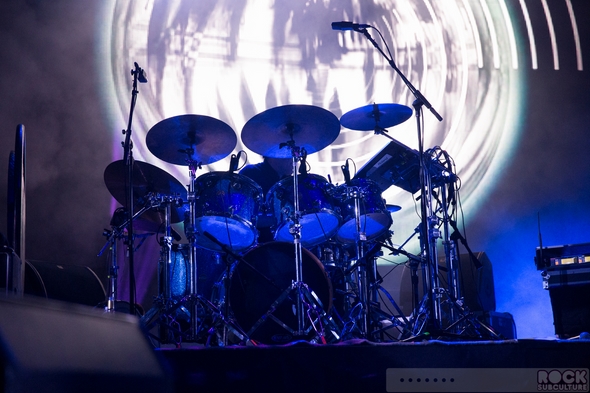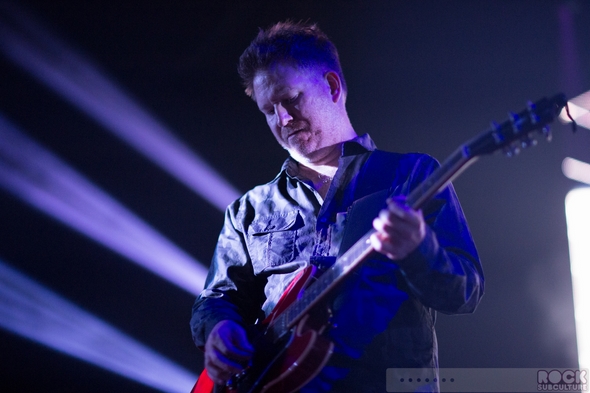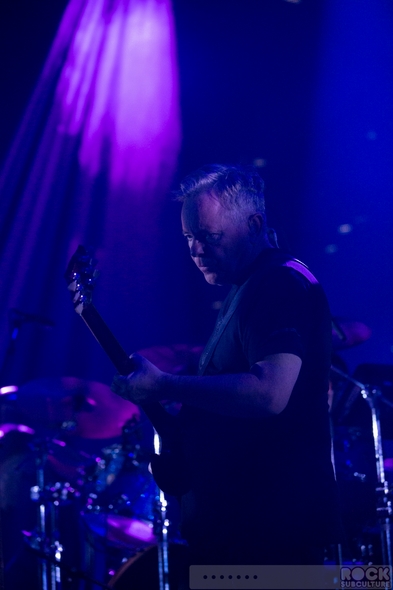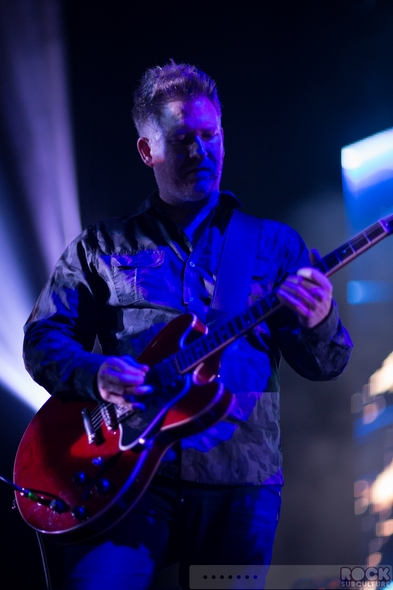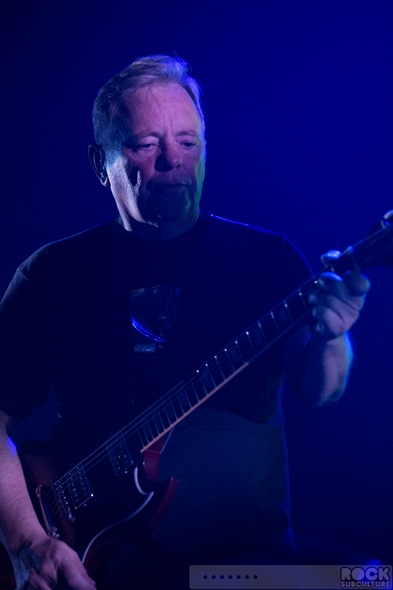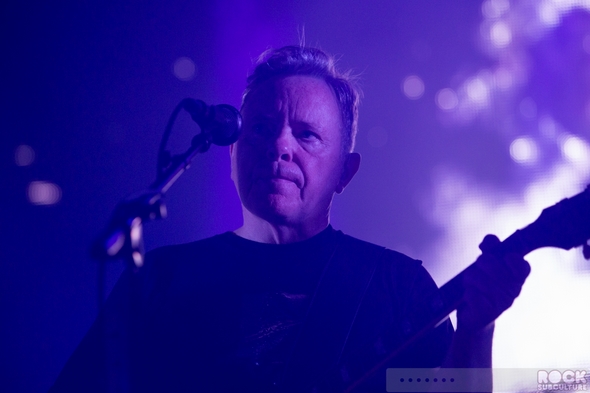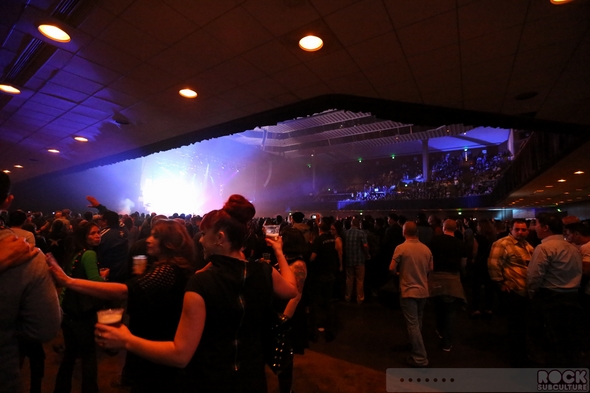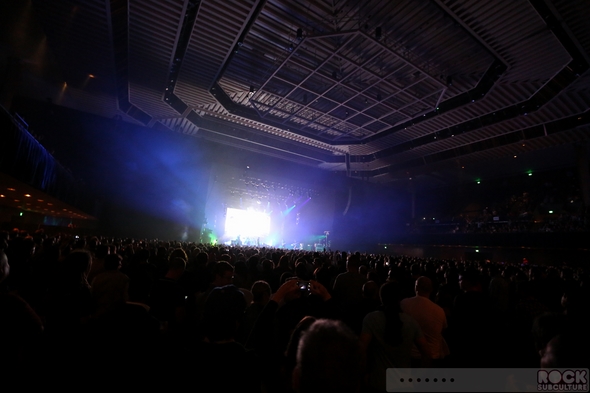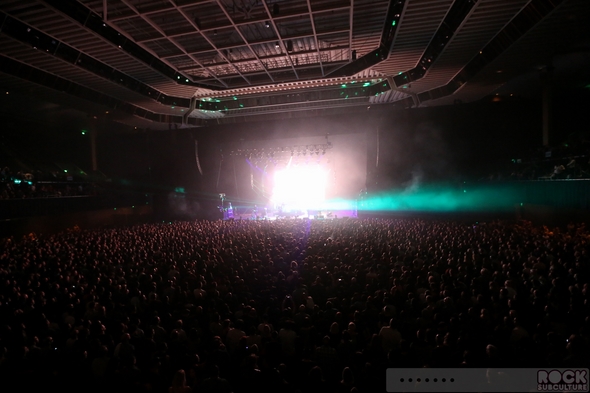 Jason DeBord