Rock icon Joan Jett with Joan Jett and the Blackhearts will be playing around a number concert dates across the United States this Summer, including festivals, fairs, and summer concert series shows at a variety of venues.. The Platinum and Gold-selling "Queen of Rock n' Roll" is best known for her string of 80s hits including "Bad Reputation", "I Hate Myself for Loving You", and others.  Her latest album, Unvarnished, debuted late last year.
The latest details and information about the tour can be found on her official site at www.joanjett.com: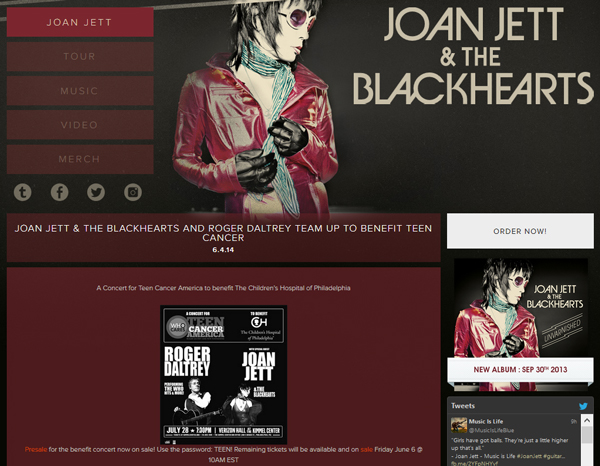 Below is the current list of concert dates as of this writing:
Jul 12
St. Petersburg, FL
Tropicana Field
Appearing at "Tampa Bay Rays Summer Concert Series"

Jul 18
Sacramento, CA
Appearing at "The California State Fair"

Jul 19
Turlock, CA
Appearing at "Stanislaus County Fair"

Jul 21
Cleveland, OH
AP Awards – Rock and Roll Hall of Fame

Jul 25
Cheyenne, WY
Appearing at "Cheyenne Frontier Days"

Jul 27
Readington, NJ
Appearing at "QuickChek New Jersey Festival Of Ballooning"

Jul 28
Philadelphia, PA
Kimmel Center

Jul 30
Columbus, OH
Appearing at "Ohio State Fair"

Aug 2
Clearfield, PA
Clearfield County

Aug 3
Decatur, IL
Appearing at "Decatur Celebration"

Aug 8
Sedalia, MO
Missouri Grandstand
Appearing at "Missouri State Fair"

Aug 17
Canada
Vancouver, BC
Appearing at "The Fair at PNE"

Aug 23
Louisville, KY
Appearing at "Kentucky State Fair"

Aug 27
Syracuse, NY
Appearing at "New York State Fair"

Aug 30
Salem, OR
Appearing at "Oregon State Fair"

Aug 31
Jacksonville, OR
Britt Pavillion
Appearing at "Britt Festivals"

Sep 1
St. Paul, MN
Appearing at "Minnesota State Fair"

Sep 6
Norwalk, CT
Appearing at "Norwalk Oyster Festival"

Sep 26
Yakima, WA

Sep 27
Lancaster, CA
Appearing at "Lancaster Performing Arts Center"

Sep 28
Bakersfield, CA
Appearing at "Kern County Fair"

Oct 26
Raleigh, North Carolina
Appearing at "North Carolina State Fair"

Nov 8
St. Augustine, FL
Appearing at "3rd Annual Old City Music Fest"
The Rock Subculture Journal will be covering the concert at The California State Fair in Sacramento.
Click on the image below for the latest and up to date full Rock Subculture Journal schedule of pop and rock music concerts/tours coming up for review (2014 Rock Subculture Schedule):

Jason DeBord