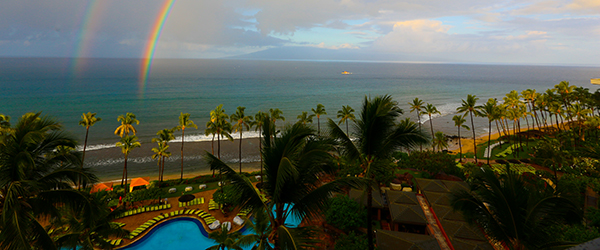 This is part of a continuing series of my impressions and experiences staying at various hotels and resorts while traveling to attend concerts worldwide. This stay was during my recent trip to Maui in May 2014. This review is for the Hyatt Regency Maui Resort & Spa in Lahaina, Maui in Hawaii.
Property: Hyatt Regency Maui Resort & Spa
Location: Lahaina, Maui (Hawaii)
Address: 200 Nohea Kai Drive, Kaanapali Beach Resort, Lahaina, Maui, HI 96761-1985
Phone: (808) 661-1234
Website: www.maui.hyatt.com
Room Type/Class: 7 Nights (Center Tower/Atrium Tower Rooms – Ocean Front – Room #2017)
Date: May 21-May 28, 2014
TripAdvisor Page/Reviews: LINK
Booking Source: Direct (5 nights), Hotwire (2 night2)
Overall Rating: 4.5/5 [Note: Score is totally subjective based on price, location, and comparison to "like" properties within same area and price range]

I have stayed in Maui many times, and this is my third stay at the Hyatt Regency Maui Resort and Spa, where I stayed one night in 2012 and five nights in 2013.
The resort offers both valet and self-park options, and since it is one of the ones where self-parking is pretty convenient, I opted to go that route (though it is a bit of a walk).
Currently and, as I understand it, though December, there is a huge construction project going on in the open space between the Hyatt Regency and Marriott's Maui Ocean Club at the north part of the property. Under construction is the Hyatt Residence Club Ka'anapali Beach. It is the size and scope of another full, single building resort, which is currently being marketed as a timeshare project.
You can't miss this project, as it is quite obvious walking or driving up to the front of the resort, along with a large crane that can even be seen from out of the area. There is a chain link fence running all along the front of this project, with vinyl installed on top of the fencing with a faux plant design over it.  One side of the Napili Tower rooms face this construction project.
As was true with my past experience, the staff at the Hyatt were top notch – friendly and professional. Check-in was smooth and easy.
The resort features an open center area with the rooms circling around, going up many floors, so the hallways are all open and on the interior side of the building going up, and therefore all room windows point out (with view varying depending on which side of the building you are staying in). In my photos below is a site map/property map to give a better idea of the layout, as well as the accompanying photos.
With this visit, I stayed at the Center Tower/Atrium Tower in one of their ocean front rooms, which offers a spectacular 180 degree view from the balcony.
During this stay, one morning there was an amazing double rainbow across the ocean, and a few of the nights there were incredible lightning storms way across the ocean (photos of both included at the bottom of this article).
The room was very nice… large, comfortable, fairly up to date (for Maui). Overall, it was nice, comfortable, and clean.
Some of the in-room amenities included a desk, two mini fridges (in my prior stay they would stock one with a pay per use feature, which is now gone), and a digital safe deep enough to accommodate a large laptop (17″ screen) as well as many cameras and camera lenses I brought on my trip, which is amazing. It is the largest in-room digital safe I've ever found in all of my travels.
The resort itself is very nice, with some great ocean views, multiple restaurants, and a huge, sprawling pool.
In addition to parrots that they bring out throughout the day, there is also a family of resident penguins, which were really neat to watch. They have little huts to sleep in, and also go swimming in their pond. Further down the property, closer to the beach, are some beautiful swans.
One of the resorts in Ka'anapali that I've stayed out multiple times is the Sheraton Maui Resort and Spa. One big difference between the two properties is the beach area. The Sheraton is famous for Black Rock and snorkeling, and has a huge beach area. Conversely, the Hyatt has a very short the beach area, with not too much beach/sand between the sidewalk running across the back and the waves of the ocean hitting the beach. One benefit is that it is usually sparsely populated or empty, so you can enjoy some solitude. I did spot several big sea turtles while hanging out on the beach. The pool area and amenities at Hyatt, in my opinion, are superior to the same at The Sheraton (and the Westin, for that matter).
Their Umalu outdoor eating area is excellent for lunch/sandwich type fare.
I had an opportunity to eat at their high end Japengo one of the nights, which was fantastic and highly recommended. One of the big benefits of visiting Maui are all of the fabulous eating options throughout the island, so one might not consider trying one of the resort-based restaurants, but this one was really good. The service and food was excellent, and they have a great menu with a lot of options. There is also a nice view closer to the beach, and timed right you can enjoy one of the amazing Maui sunsets.
Two of the days during my stay I rented the "Ohana Tent", which was very expensive but offered a ton of relaxation and privacy right on the beach.
All in all I had a very nice stay. For me, staying at resorts on Maui, I place a higher priority on the beach area, as opposed to pool area. But if you are more pool/poolside-oriented and/or you have a family, I would recommend the Hyatt. It is also a convenient walk to Whaler's Village, which is nice (and I believe that they have shuttle accommodations as well).
I really enjoyed my stay and would definitely return again.
Below are photos I took of the resort and the rooms during my stay…