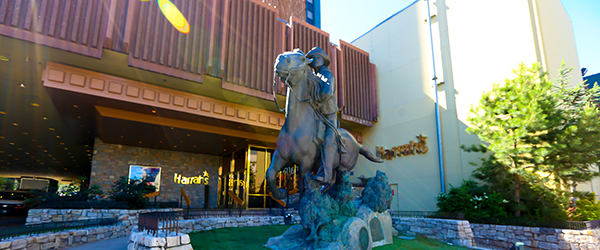 This is part of a continuing series of my impressions and experiences staying at various hotels and resorts while traveling to attend concerts worldwide. This stay was during my recent trip to South Lake Tahoe in June 2014. This review is for Harrah's Lake Tahoe at Stateline, Nevada.
Property: Harrah's Lake Tahoe
Location: South Lake Tahoe
Address: 15 Highway 50, Stateline, Nevada 89449
Phone: (775) 588-6611
Website: www.harrahslaketahoe.com
Room Type/Class: Standard King Room (Room 817)
Date: June 24 – June 25, 2014
TripAdvisor Page/Reviews: LINK
Booking Source: Hotwire
Overall Rating: 4/5 [Note: Score is totally subjective based on price, location, and comparison to "like" properties within same area and price range]
Last month I was covering one of the concerts at Harvey's Outdoor Arena and decided to stay over one night, and was looking to stay at Harvey's or its adjacent sister property, Harrah's, and ended up booking the latter through Hotwire.
I was staying just the one night, and given the concert, did not have much opportunity to explore the amenities.
Self-parking is free and easy, either in the lot behind or the garage that is adjacent.
Of course, the property is a hotel and casino, and the main floor is where the casino is located.  I don't gamble, so can't really speak to that, though walking around, it appears that the gaming areas are currently under renovation (many machines deactivated and pushed to one side of a room, carpet being pulled up, and other construction work).
Check-in was easy and the front desk manager was friendly.
The room itself was cosmetically dated, but clean and comfortable.  I stayed here a bit on family vacations growing up, and it hasn't changed too much over the years.
Interestingly, the room featured two full bathrooms – one with shower over tub, one with stall shower.  I would imagine because of the entertainment offerings in town, it gives a couple the opportunity to get ready for a night on the town at the same time.
The rest of the room was consistent with the typical 3 to 4-star hotel – king bed, sitting area, flat screen TV, mini-fridge, electronic safe (large enough for a laptop with a 17″ screen), etc.
The view was a mix of lower rooftops and a peek at the lake.
All in all, it served it's purpose and was relatively inexpensive at $109 + tax, though an additional $10.95 is charged for WiFi.
Below are some photos taken during my stay: