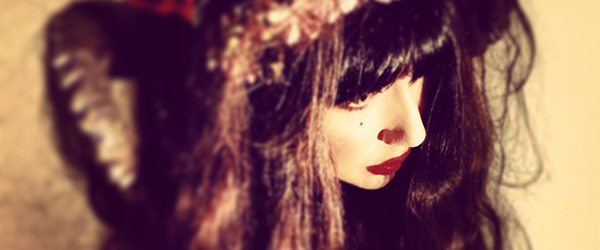 I rarely publish articles about new album releases, but this one is definitely worthy of note, and checking out…  Nostalghia's album, Chrysalis, will be released tomorrow, April 8th.  They are definitely one of the most original new artists on the music scene today, and Chrysalis is one of those unique albums that feels like a complete and purposeful work, rather than a collection of unrelated songs.  A journey between light and dark, it has enough pop-like elements to push it forward, though with a noir and avante-garde framework, it gravitates toward some of the genre space that you might associate with artists with darker viewpoints…An artist with a vision and a unique style, bits of it remind me of some other artists (Siouxsie Sioux, Trent Reznor), but overall its truly unlike any music I've heard before.  There is definitely a timeless quality to it, as you can pick up on some 80s and 90s influences, but it sounds contemporary; if anything, a bit ahead of our time.
The title track is somewhat fairytale-like with it's tempo and it's samples, but "Homeostatis" follows with some urgency and conflict, while vocally is goes into a style and range that brings Björk to mind.  "Stockholm Syndrome" is dark and less catchy, but twists the mood into something altogether more somber in the beginning, and then moves up into elements that feel a bit like Tori Amos sans piano.  While all the songs are vocally driven, I would say that the drums and beats are more vital to this music than with many artists.
"Naked as a Hand" takes things into another direction, with more optimism and pop, going through some changes at the midpoint.  Perhaps the most cinematic of the bunch, and one of my favorites, along with "Meek" later in the album.
"Cool For Chaos" brings in more of a traditional piano song, and a greatly reduced pace that is modified later into the song with some distorted guitar sounds.  I have a feeling this might be one of the best songs to watch unravel at a live show for sure.
"You & I" brings back a bit of the fairytale sound from "Chrysalis", though it sounds like maybe it is under transmission to those looking to find the signal…  "I Am Robot Hear Me Glitch" is a great companion song that follows, and the conceit kind of reminds me of Peter's Dracula song from Forgetting Sarah Marshall, in that both are kind of irreverent to where it is funny yet played straight and works.
The plucking strings on "Sunshiny Milk" really give this song life and style, setting the foundation for the singing, while the guitars do the same for "I'd Still Kill You", which has a brighter vibe to it.
Appropriately titled, "The End" builds with keyboards into an optimistic sort of ending, reinforcing the cinematic, three acts sort of framework of the entire album.
Singer songwriter Ciscandra Nostalghia, keyboardist/drummer Roy Gnan, and touring cellist Adele Stein make up the group, and the multicultural background of the artists is reflected in their work.
Ciscandra herself is not only a musician and lyricist, but a painter and illustrator, photographer, fashion designer, and poet.
Per her bio, Ciscandra was raised in Los Angeles "by her Persian mother, Jamaican stepfather, Irish-Russian father and Persian-German grandmother", and also spent time with relatives in Iran.
Chrysalis is a cinematic-like musical journal, leaving the listener to find or imagine what to attach the overall soundtrack to as they listen.
Available tomorrow, you can learn more about how to buy Chrysalis on the official Nostalghia site at www.nostalghiamusic.com: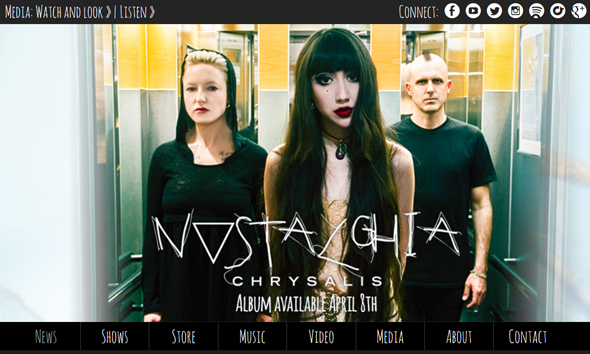 You can check out the music video for "Sunshiny Milk" below (and
additional videos on the official YouTube channel
):
Jason DeBord