When I last saw Imagine Dragons in concert, I was packed into a small club with about 500 other fans, pressed against the small stage, with frontman Dan Reynolds dripping sweat onto those of us in the first few rows.  Fast forward just one year later, and now the band is easily selling out the 17,000 capacity SAP Center in San Jose (which even the Rolling Stones had trouble filling last year), and striking less successful music bands with envy (more on that later).  With their performance Thursday night, it was fascinating seeing how they've built up a fan base, yet retained their modesty.  At one point, during an ad lib, Dan became a bit self conscious about what he was saying, stopped himself, and confessed, "it's because of you – you make me nervous…"  Honesty and earnestness is rare in rock stars these days, but I have a feeling that it is something innate in this one, and will always stay with him.  While photographing the first few songs at the start of their set, watching from a couple feet away, I saw Dan pause at one point and briefly stare out across the massive audience before him, and get choked up a little in the same way he did a year ago talking about the charity they were supporting for that small gig in San Francisco.  These are definitely genuine guys, and it certainly comes through in their music and performance.  Definitely one of the must see tours of the year, as I suspect they will get even bigger once they release their sophomore album.

Who: Imagine Dragons
Supporting: The Naked and Famous
Supporting: X Ambassadors
Venue: SAP Center at San Jose
Where: San Jose, California
Promoter: Live Nation
When: February 13, 2014
Seating: GA Standing (photo pass first three songs)
A quick note about success in the music business.  You know a band has achieved some level of success when a veteran in the industry, struck with envy, starts taking unsolicited pot shots at them, in an effort to try to scrape by with some mainstream media mentions and social media attention of their own.  And that is what happened Wednesday, as Queens of the Stone Age front man Josh Homme took some unsolicited swipes at Imagine Dragons, in front of a sea of video recording cell phones at one of his own concerts, I suppose to get 15 minutes of fame on Facebook and Twitter?

I understand why QOTSA and others collaborating at the end of the Grammys are upset with the Grammys, but Imagine Dragons had nothing to do with it.  Though I guess Josh Homme feels it's fair game to attack them as well, since they took home the Grammy Award that both bands were up for winning.
In any event, social media lit up for nearly literally fifteen minutes, as mainstream music and pop culture websites did the daily routine of scouring the Internet for any "made for an easy headline" snippet of content to fill "me too" editorial space, and Queens of the Stone Age was eager to deliver, daring to be super edgy [sarcasm] by dropping F bombs in front of an adult audience at one of their shows, and attacking a successful band that they knew wouldn't likely return the favor.  The mainstream media, funny enough, did not even have to come up with clever headlines – it was already written…

I'm generally not one to write negatively about any musical artist that has put in the work and effort to make a career in a very challenging industry.  But I've never been a fan of bullies, and people who try to prop themselves up by putting down others.  So I do have a few candid thoughts to share here for the attention-seeking band (most of which were debated privately with friends of mine Wednesday morning in a discussion about this very topic)…
It is honestly kind of sad when bands can't find the mainstream success that would satisfy them (while pretending like they are too cool for it anyway), and a newer band comes out and people actually want to listen to their music and buy their albums, which motivates the band that's never had a huge, truly mainstream hit to feel the need to tear them down. Tearing down a band that has nothing to do with them or their own music.
It's as if Queens of the Stone Age (QOTSA) have to educate their own fans on why they themselves are cool, not this other band being played on the radio and selling out huge sports arenas with ease…
And that is the music world we live in today, especially the commerce side of it – it is hit driven – not artist driven, not "cool" driven…  People want the catchy hits, to play over and over.  See: Daft Punk and "Get Lucky".  I'm not criticizing it – it is what it is – but the younger generations driving pop culture have short attention spans, sparse loyalty to specific artists, and want to hear what is good, sans filler.
So what did Josh Homme of QOTSA say to try to get attention for himself and his band, on the coattails of Imagine Dragons and that band's success, rather than on the merits of their own music and live shows?
At least he didn't drop kick any puppies into the audience…
So it's not about music, it's about telling everyone how much cooler you are, and I guess being edgy with F bombs (oh the humanity!), to try to get some attention and sell some seats on their own tour.  It's too bad, as I actually respect the band and enjoy their music, but that episode is definitely something that turns me off of them as a band, doesn't inspire me to buy their music, and doesn't motivate me to turn out to one of their shows…
Meanwhile, Imagine Dragons will be selling out arenas to people who buy and listen to their music…
As one who has personally witnessed Imagine Dragon's rise in the past year, I was looking back at my article from one year ago, and I think you could say my last line of my opening paragraph for that review was pretty prescient and dead on:
Having had an opportunity to see them twice in as many months, I can say that they are one of the most exciting bands to see play live today, and I suspect that by the end of this year, they will be playing much, much bigger venues to huge crowds, as word spreads that they are a must-see band with fantastic music.
But there tend to be two kind of impulses in life…  you are either one who waits with baited breath to tear down those who find success, or you are one who finds joy in seeing others flourish, and kind of share in that vicariously.  I'm definitely the latter, so it is awesome to see Imagine Dragons forge an exciting path forward with their music and efforts.
Getting back to last night's show, it was held at the massive SAP Center (formerly HP Pavilion) in San Jose, and was completely sold out.  The official max capacity is 17,496, though that is in the open configuration… with this show, the area behind the stage was blacked out, so I'm guessing the true count must have been around 15,000.
Funny enough, I parked my car facing the side entrance of the venue, and when I looked up, I saw my friend Nori standing in the front of the line.  He said he arrived at noon.  I think he's seen the band around twenty times, going way back to the beginning.
The way they handled entry for this show was that they had two lines at opposite ends of the venue, mixed with all ticket types (seated and GA) and let them in all at once.
Interestingly, the fans of the band came in all ages and backgrounds, from adolescent to quite a bit older than my 41 years.  There was a lot of excitement in the air, and once doors open, people continually flooded in until the place was packed to capacity.
As I was shooting, and in big arenas such as this the policy is to hold photogs backstage apart from the first three songs for the opening/supporting bands, I did not catch the full sets for X Ambassadors and The Naked and Famous, so my thoughts on them is limited.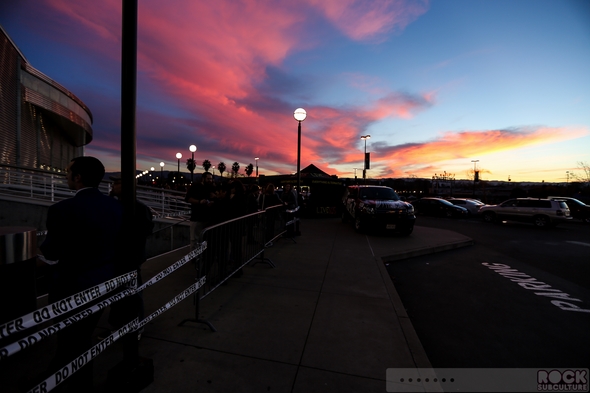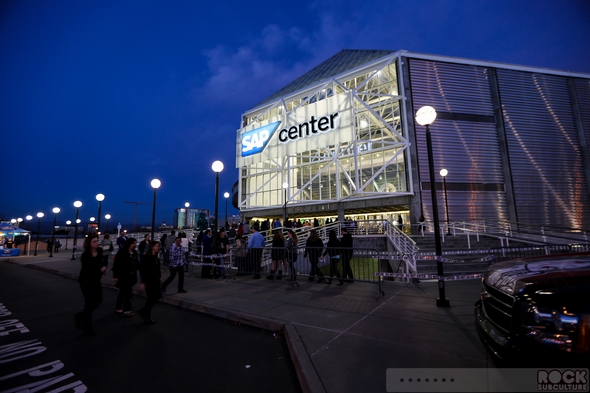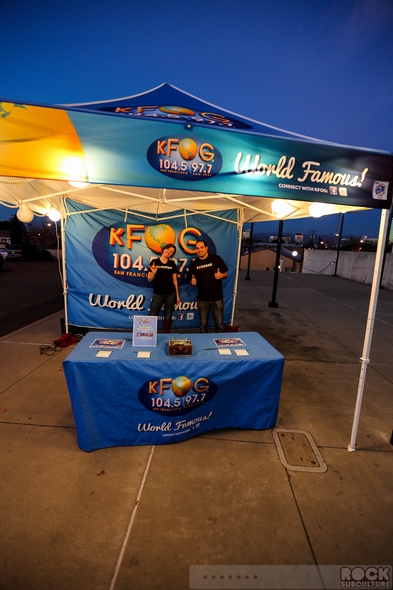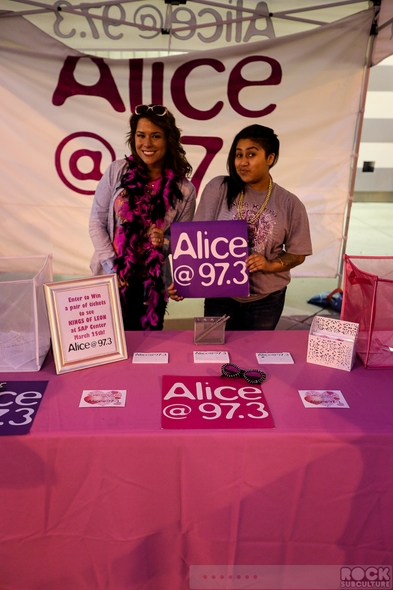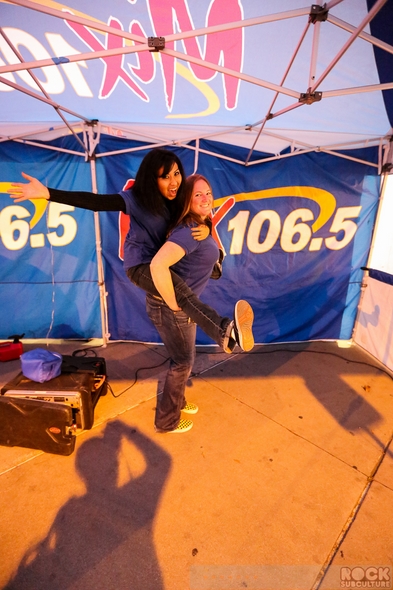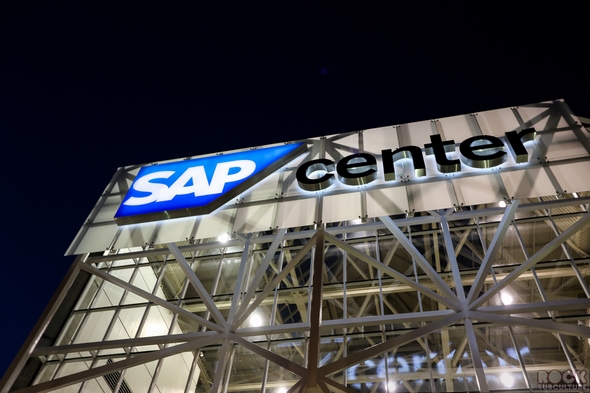 X Ambassadors
Members
Sam Harris (vocals, guitar, saxophone)
Casey Harris (keyboards)
Noah Feldshuh (guitar)
Adam Levin (drums)
I was not familiar with X Ambassadors going into this one, and as noted above, I only caught the three songs that I was shooting, so did not have a full set to evaluate.
There are an alternative rock band based out of New York, and Dan Reynolds of Imagine Dragons co-wrote the song "Stranger" off of their debut EP Love Songs Drug Songs, which hit last year.
They have a new EP out already for 2014, The Reason, which came out about two weeks ago and can be purchased on iTunes.
Front man Sam Harris noted that this was their last date for a while as they are hooking up with Panic! At The Disco this week.
What I heard was great, so it will be interesting to watch this band and see how they progress toward a full studio album.
Below are some photos of X Ambassadors performing on stage: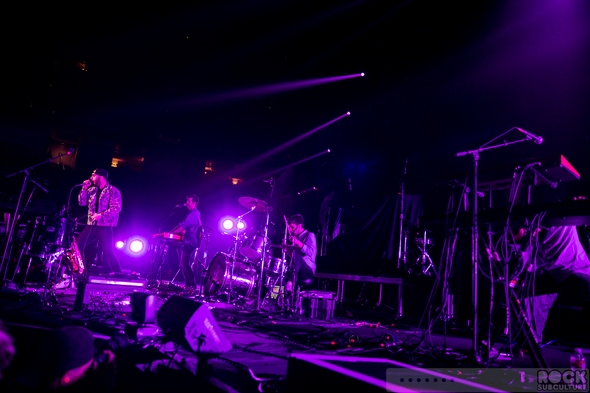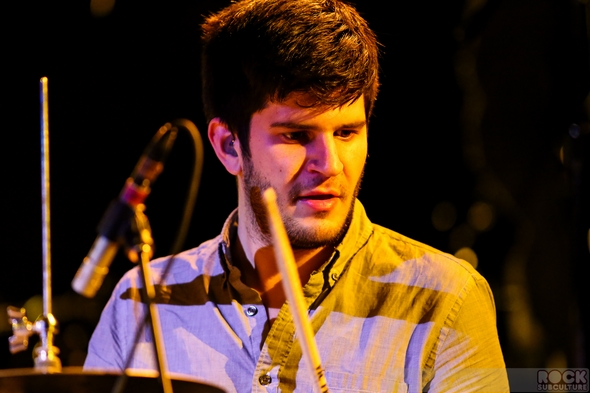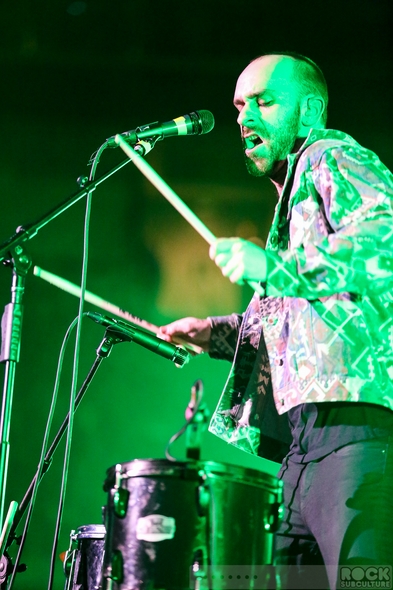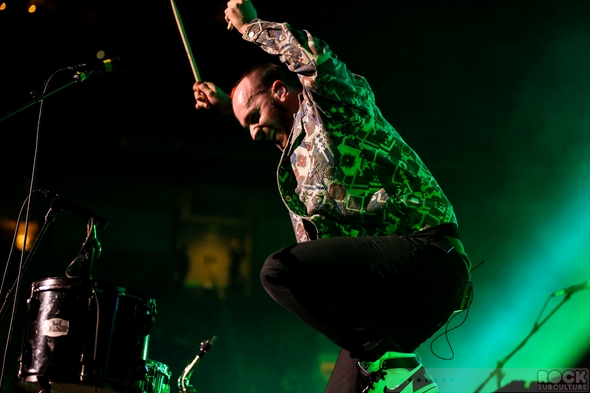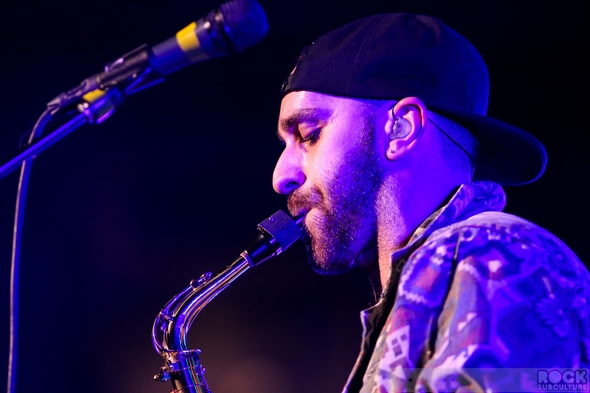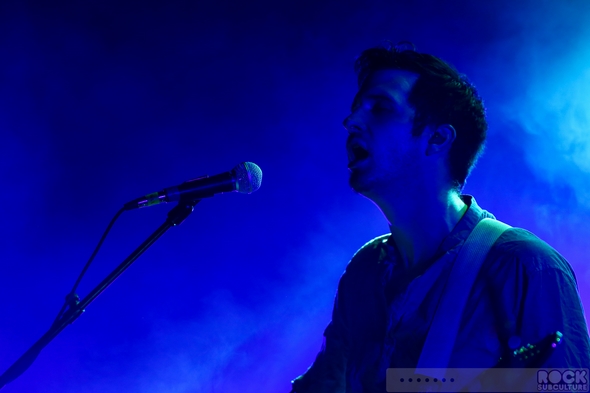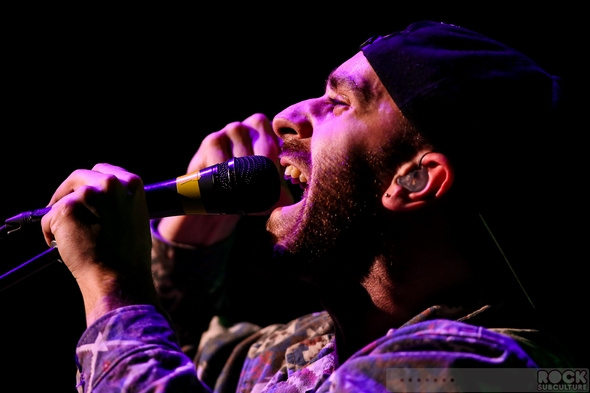 The Naked and Famous
Members
Alisa Xayalith (vocals, keyboards)
Thom Powers (vocals, guitars)
Aaron Short (keyboards)
Jesse Wood (drums)
David Beadle (bass guitar)
The Naked and Famous I am very familiar with, and love their latest album, In Rolling Waves, which came out last year.  Probably the only negative for me with this concert was not seeing their full set, but the first three songs I did catch while shooting them was amazing – really a killer band.
The Aukland, New Zealand band formed in 2008, and the released some EPs and one studio album prior.
In addition to supporting Imagine Dragons currently, the also play their own headlining shows.
For me, this performance was a tease, and I hope to have an opportunity to catch one of their own shows in the future.  I really love this band.
Below are some photos of The Naked and Famous performing on stage: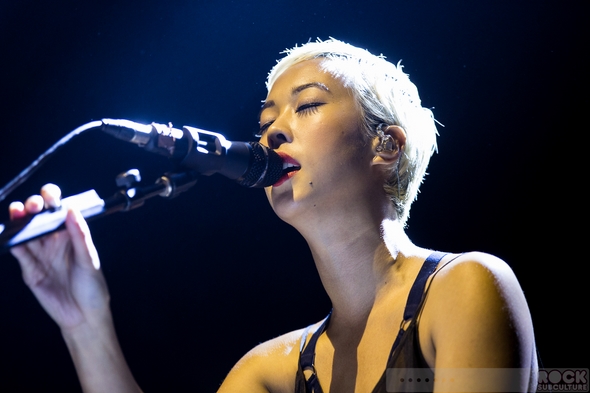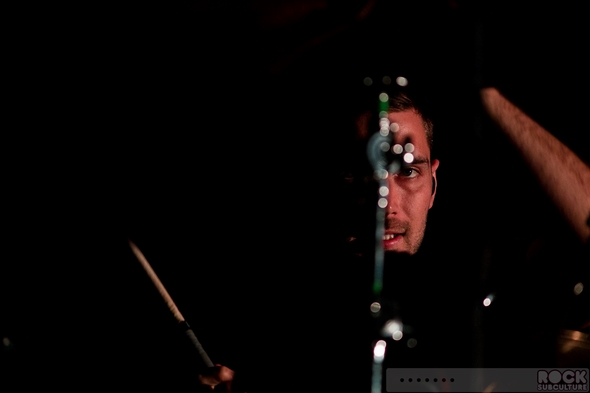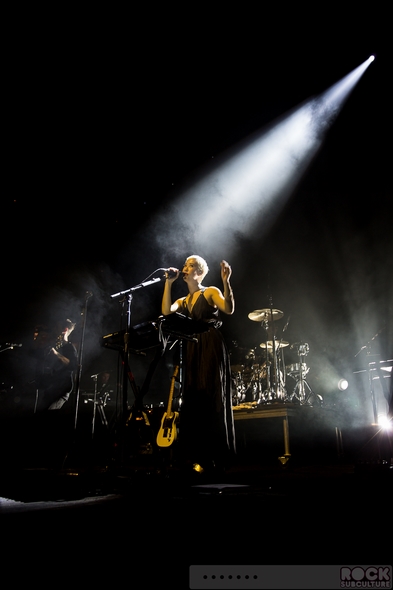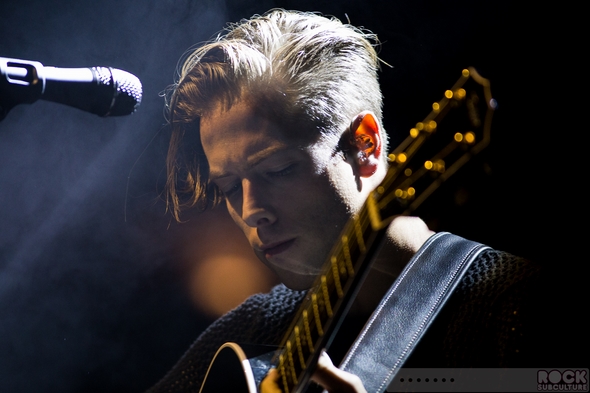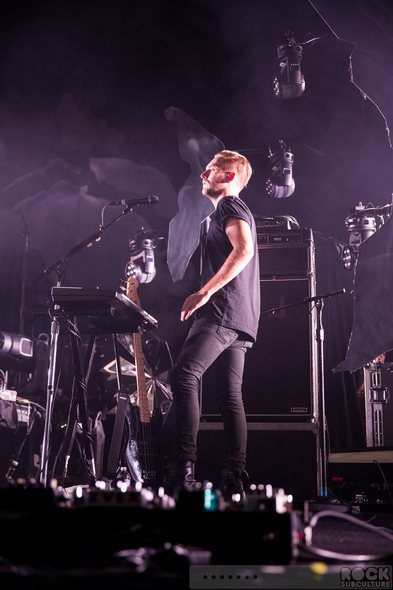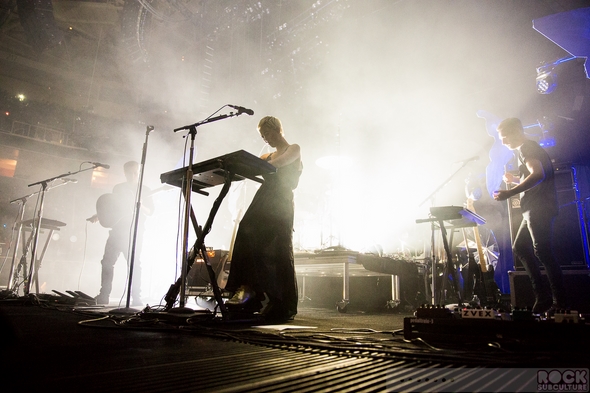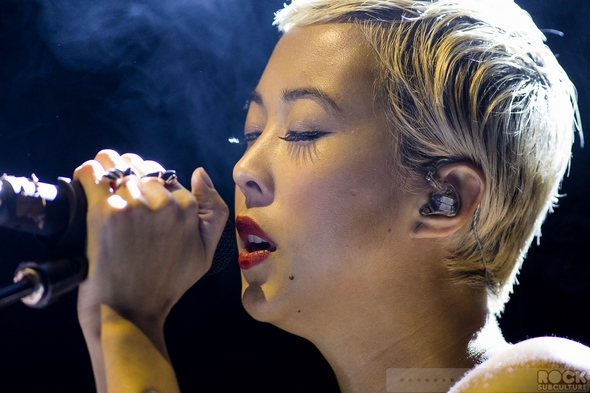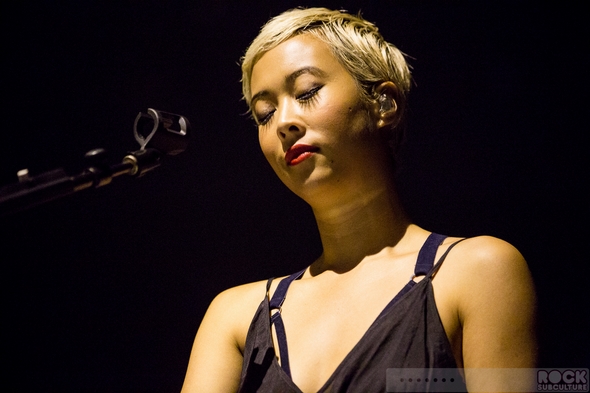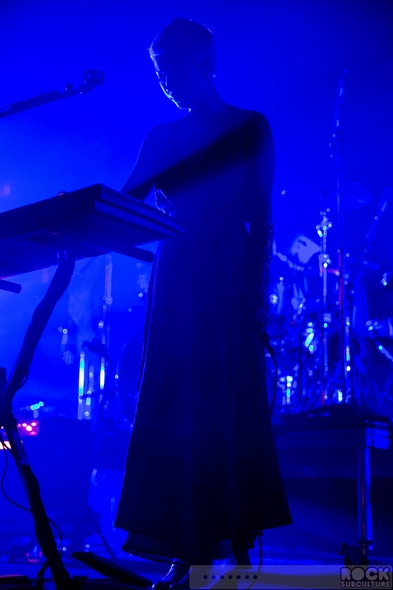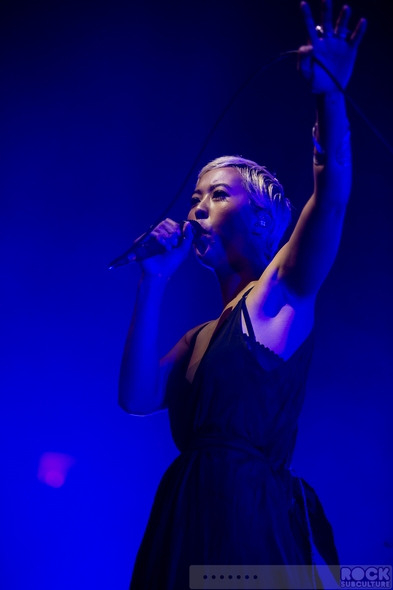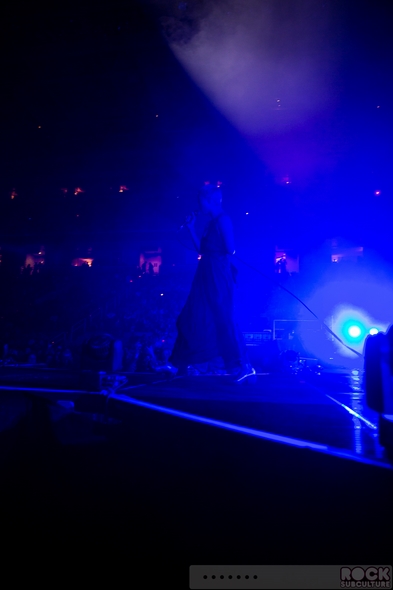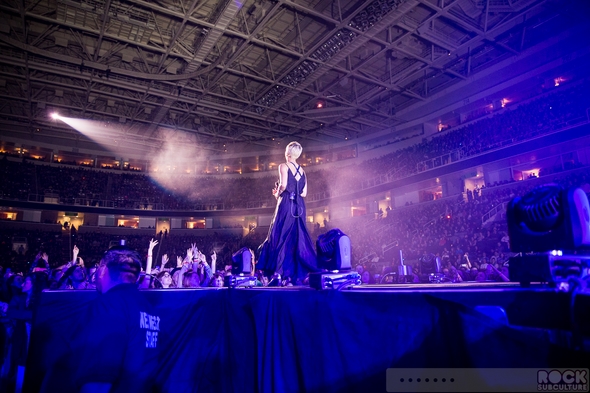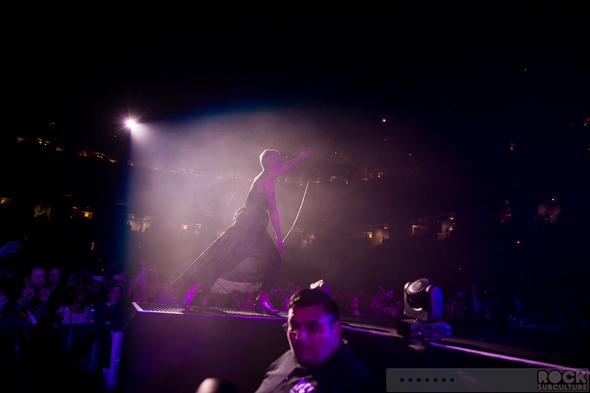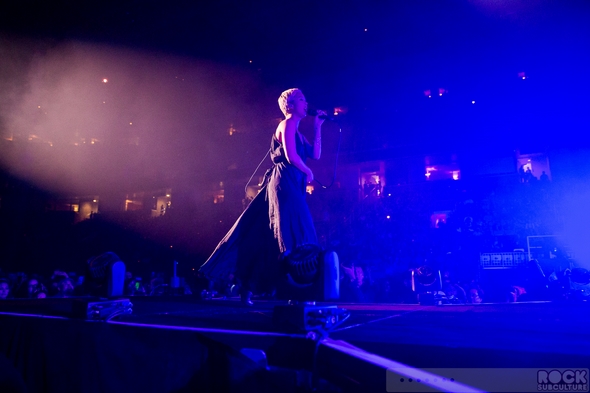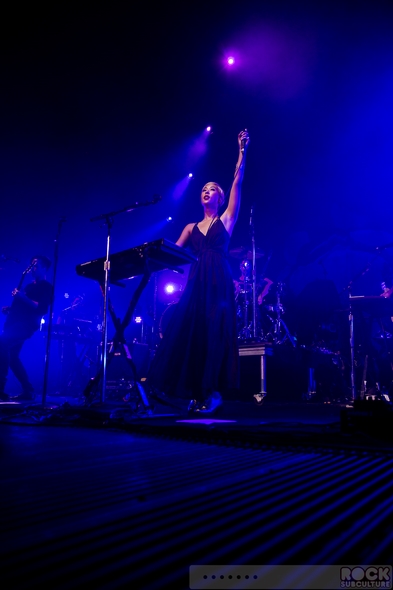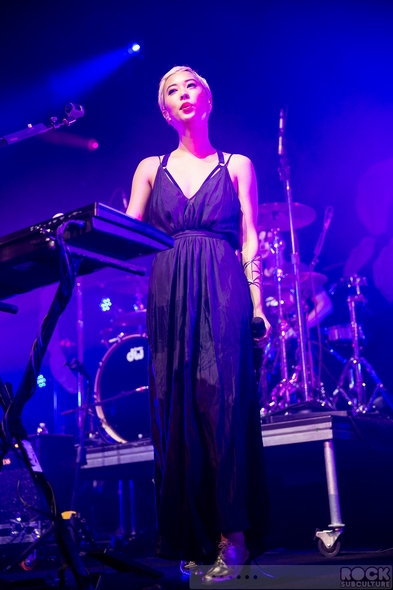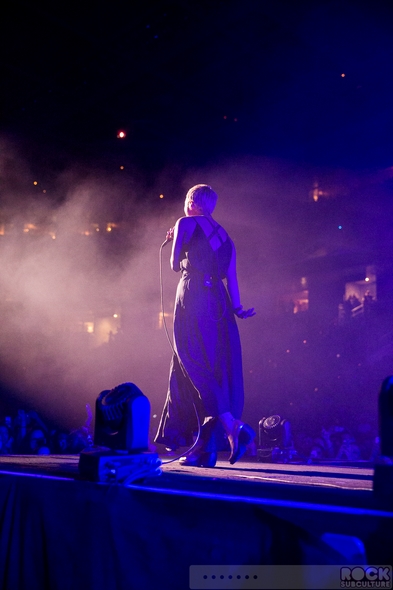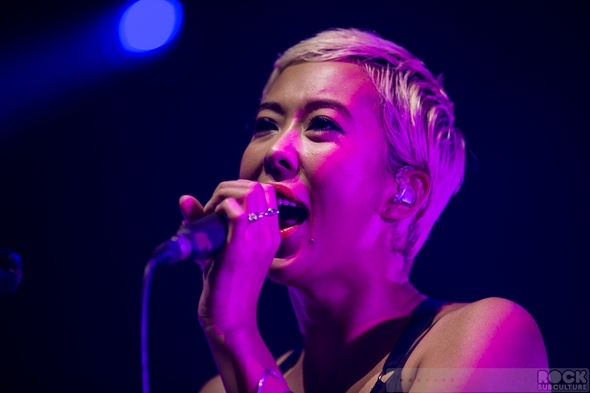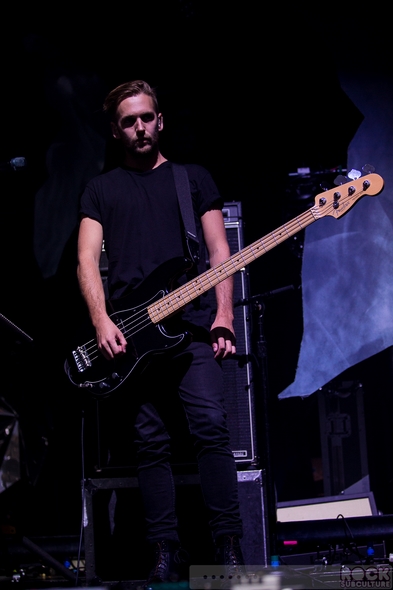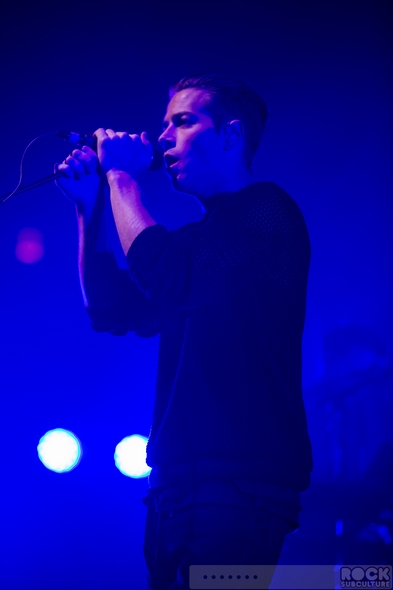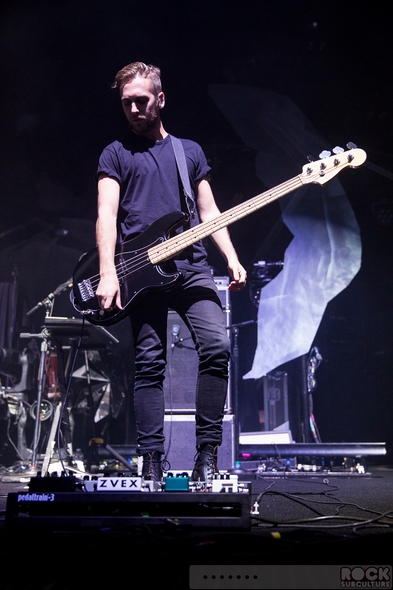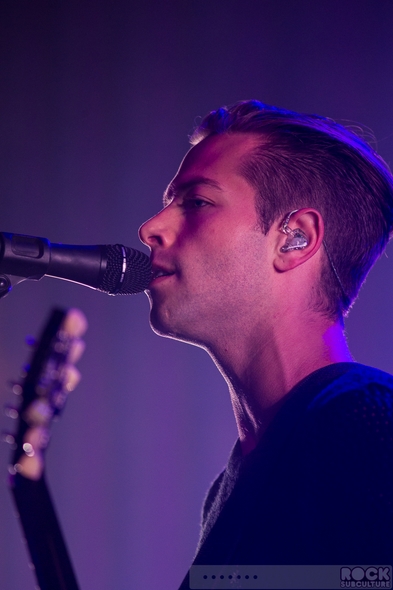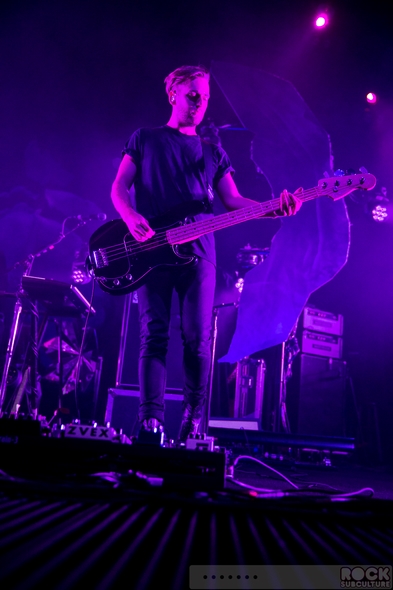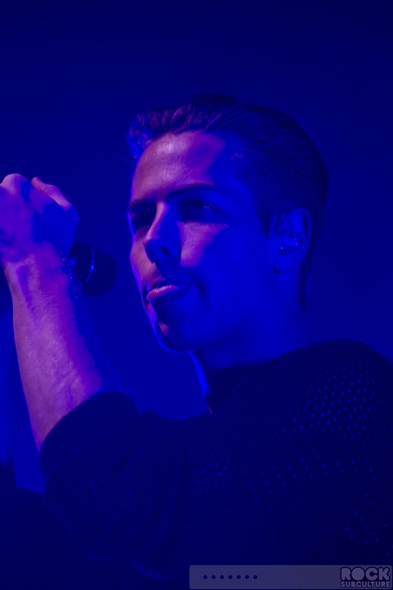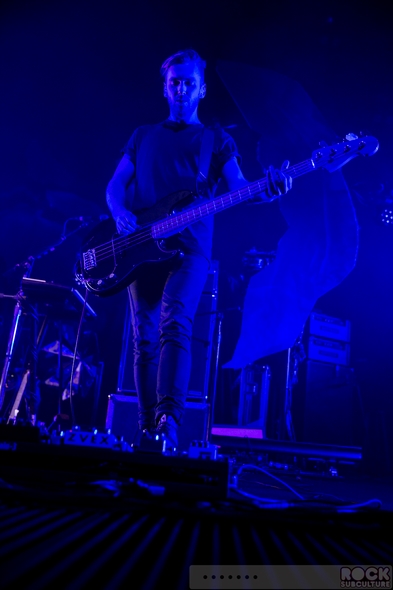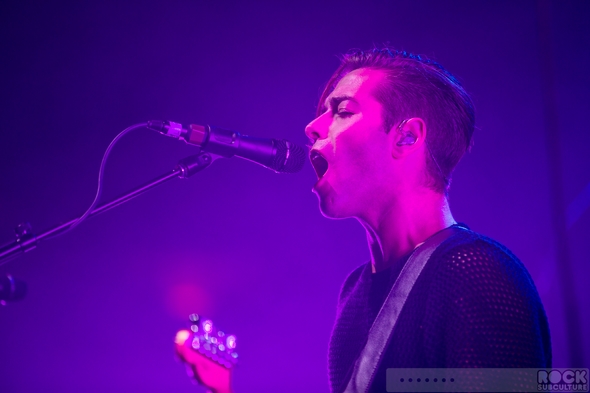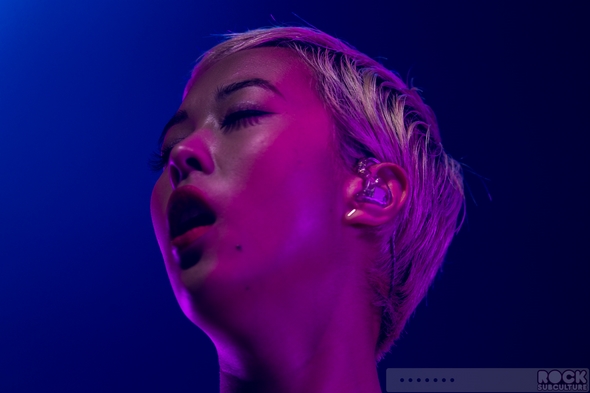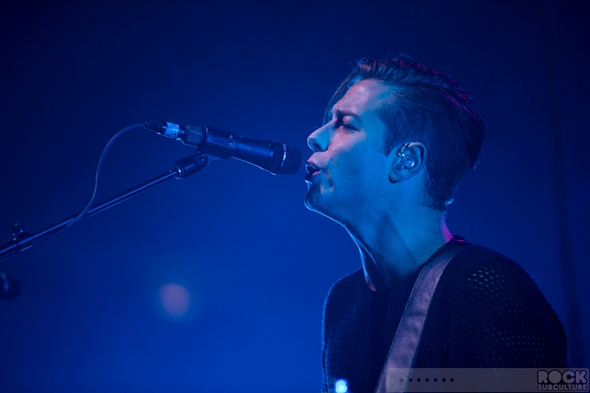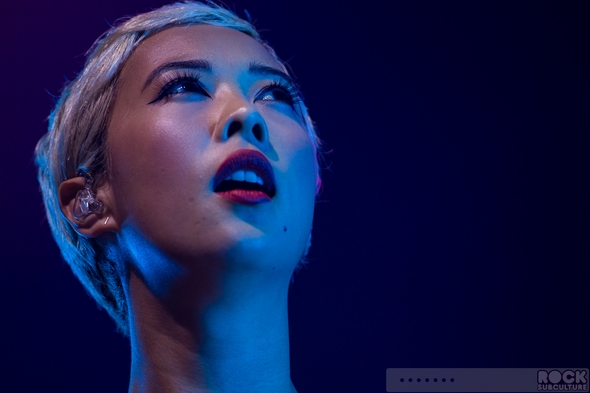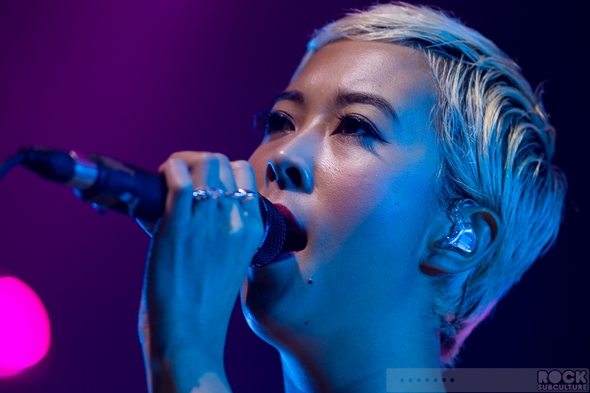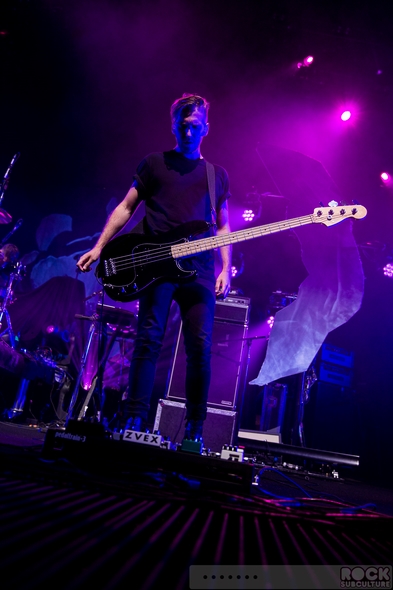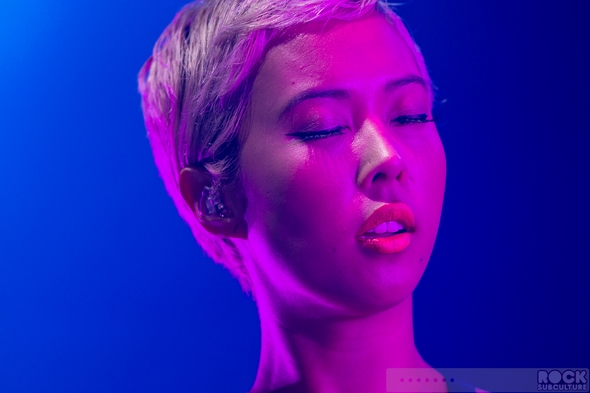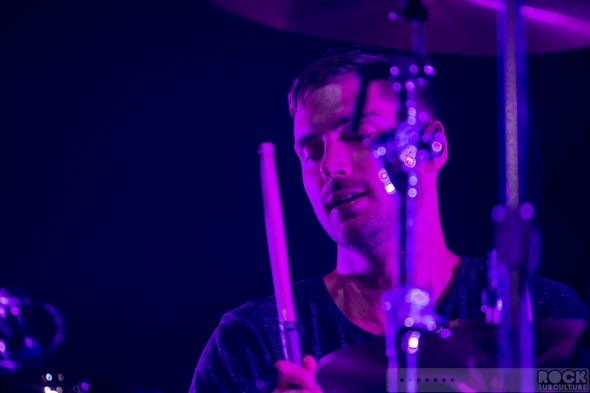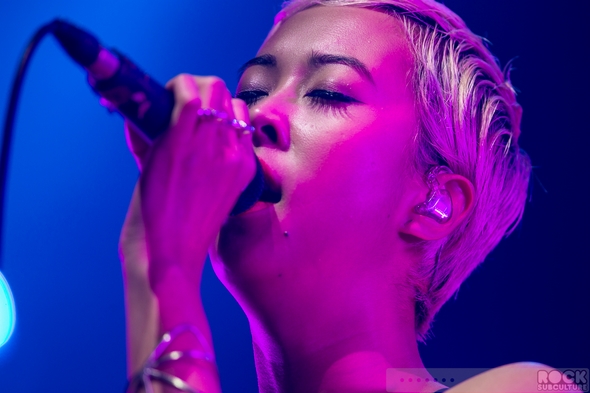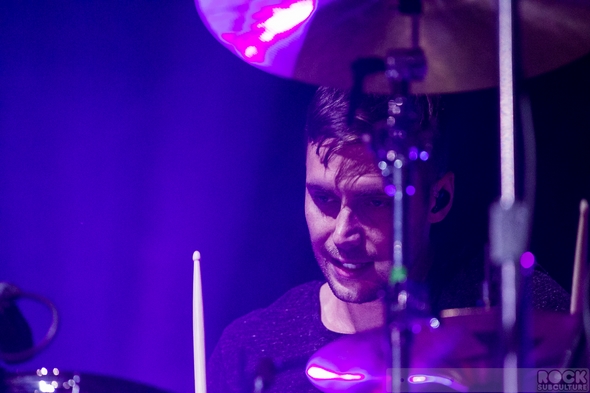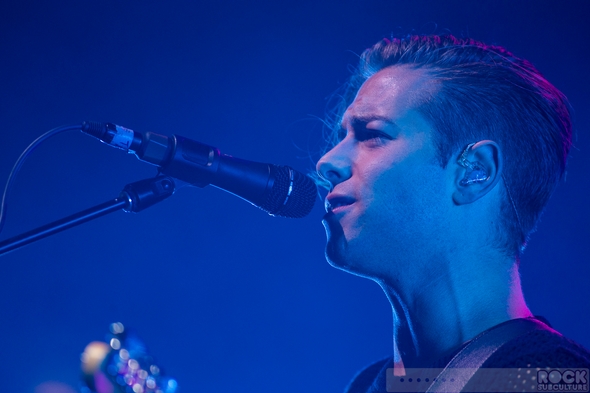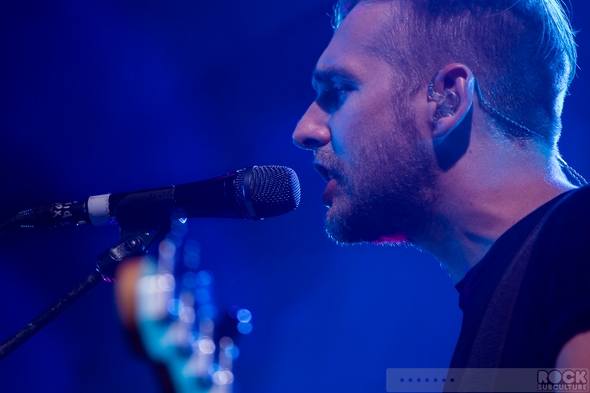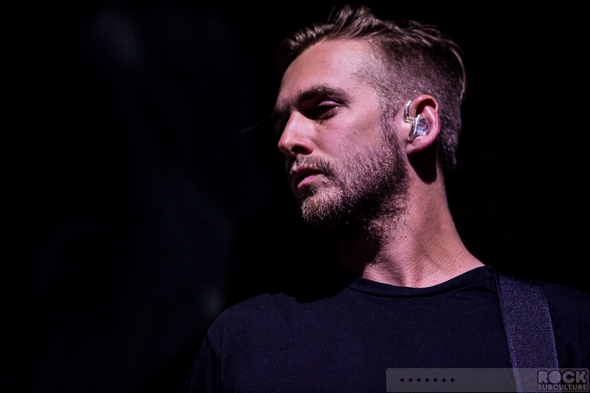 Imagine Dragons
Members:
Dan Reynolds (lead vocals, drums)
Ben McKee (bass guitar, vocals)
Wayne Sermon (guitar, vocals)
Dan Platzman (drums, vocals)
As mentioned in past reviews, for those that haven't had the privilege of seeing Imagine Dragons live, Dan's mic stand has a large vertical drum on one side and horizontal drum on the other, so not only does he sing, but at times pounds these drums to dramatically push the beat and provide a fuller sound with the band.  He gets so into his drumming, at times, that he's bouncing off the stage.
I first saw them perform at the very bottom of a six artist line-up, as part of the two night "Not So Silent Night" in Oakland in 2012, and I was just getting familiar with their music leading into the event.  This is what I wrote as part of my review of them that night:
The funny thing is, my first thought when these guys took to the stage and started playing was "who would want to follow these guys?"  Not only do they sound great, they put on a dynamic and exciting show as well.  Front man Dan Reynolds has tremendous charisma and presence, and his drumming while he's singing makes for a very unique live set.

While it took a while for the crowd in the prior night to fully come alive, Imagine Dragons had everyone dancing and moving immediately with their catchy, hooky rock music and spectacular live performance.
Their music is very beat-oriented, and his comes across very powerfully in their live shows.  Dan is a natural rock band front man.  He is so captivating as he sucks up all of the energy in the room and reflects it back, as people watch in anticipation of what will happen next.
The rest of the band all manages to keep up, performing flawlessly in a really tight set.
Interesting for me was comparing and contrasting the tiny club show I saw a year ago with the big stadium show last night.
If I had one critique, it would be that they are still learning how to fill the vast space of a venue like SAP Center, in terms of reaching the audience far in the back, as well as filling up an hour and a half with just one studio album under their belt.
I get the sense that they are still developing some of the bits that go along with the raw, on stage performance, as it is a challenge to connect with 15,000 people in such a vast space (even veteran acts face the same challenge).  But it is a testament to their appeal and popularity of their music that they can fill a space like this and still have people trying to get into the sold out show.
Not everyone can be like P!nk and do acrobatics over the heads of the audience all over the giant arenas.  Which is why I personally rarely attend these big shows, as for me it doesn't "feel" like the rock music experience fully translates beyond the GA floor, close to the stage, though some people enjoy having the "spectacle" experience from further back and into the seats, and it is more of a shared experience with friends and those around them, which is where the intimacy aspect is developed.  It is just an array of different experiences.  I personally like to see "the whites of their eyes", so to say.  To me the most appealing aspect of live music is the intimacy between the artist and the audience, and it is hard to create that in a giant sports arena with thousands of people, unless you utilize the vast space to your advantage in some way (like Coldplay with their Xylobands and use of a B Stage for a few songs).
I think for Imagine Dragons, that intimacy comes from the authenticity, earnestness, and and the fact that the band appears so humble themselves…  that draws in the audience on a completely different level, compared with the bands who have been doing this sort of thing for a living for years, who have lost touch with those roots and origins.
So Dan and his bandmates pull the audience on stage with them in a way that we can sort of experience their perspective in a vicarious sort of way, and I don't think I've ever seen another band come close to creating such an experience in such a vast space like Imagine Dragons did with this show.  Pretty special.
I did roam around and checked out the show from a variety of areas all around the venue, and found that those distant seats present a very different experience from what one might get from being on the floor, though that vicarious sort of vibe was palpable throughout the venue.
Also, with the hour and a half set, I feel like some momentum is lost filling it in with some long intros and such.  I would probably prefer an hour set that has a consistently fast and building pace.  But in the sheer economics of it, people would probably gripe that they didn't get their money worth, so I totally get it.  I think that their shows will be much more powerful still, though, once they have another album of material to play with.
Imagine Dragons did a great cover of Rush's "Tom Sawyer"…  Speaking of that cover, Dan Reynolds asked, "do we have any classic rock fans in the audience tonight?" leading into that cover.
Hearing Dan talk about their fondness for classic rock, and the band's subsequent delivery of it, makes me wonder if some future songs might steer more deeply into that style and genre.
All in all, it was an excellent concert, and the audience was certainly energized by the show, frequently participating by waving lit cell phones across the sky, singing along, and jumping on cue.
Definitely one of the newer bands today with the most potential to grow into a modern era "classic" band with true staying power.  Exciting stuff.
Below is the setlist for this show…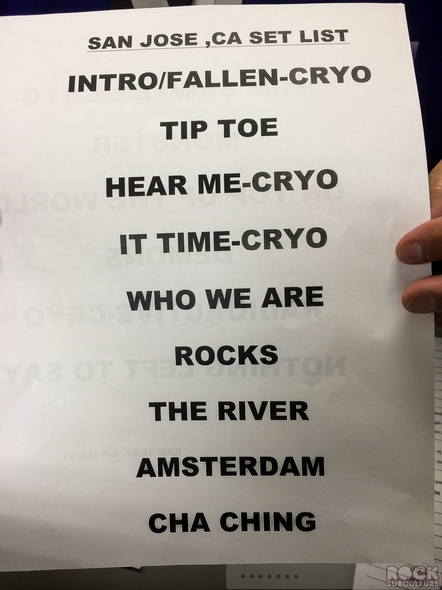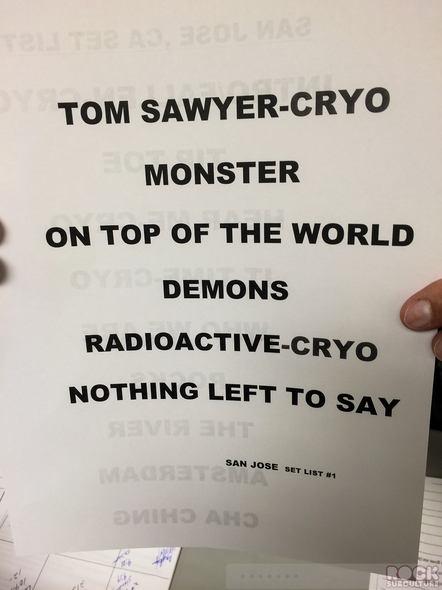 Set List:
Intro/Fallen
Tiptoe
Hear Me
It's Time
Who We Are
Rocks
The River
Amsterdam
Cha-Ching (Till We Grow Older)
Tom Sawyer (Rush cover)
Monster
On Top of the World
Demons
Radioactive
Encore
Below are some photos of Imagine Dragons performing on stage (click any image for higher resolution versions of each photo):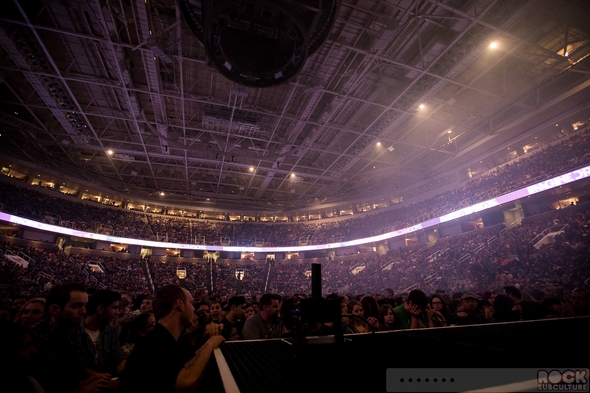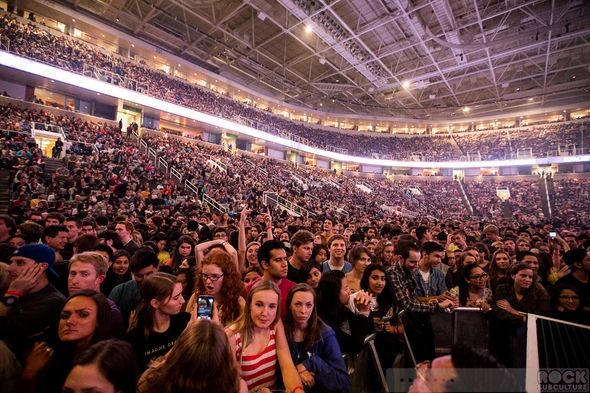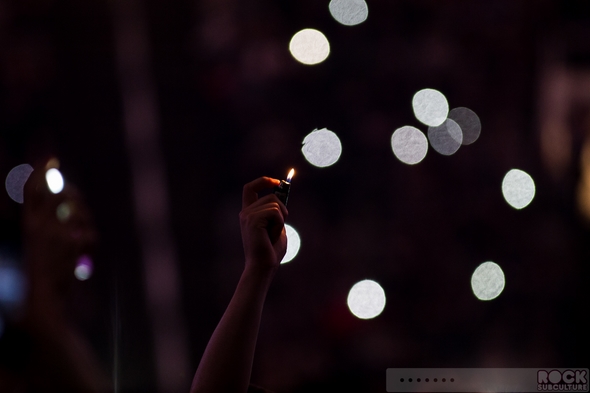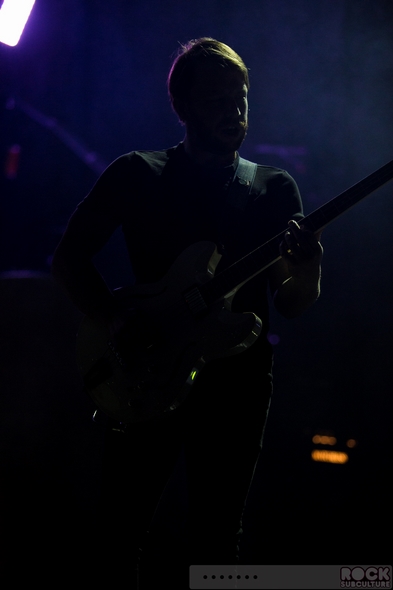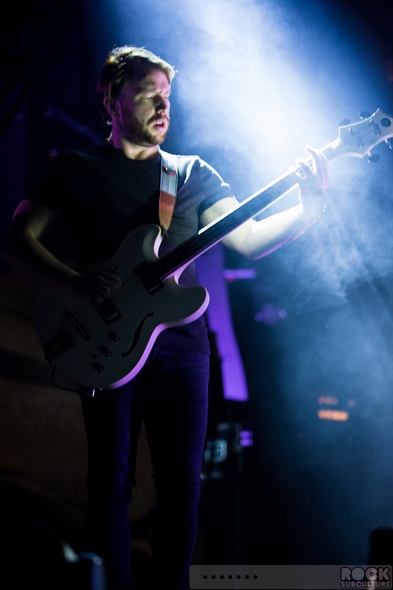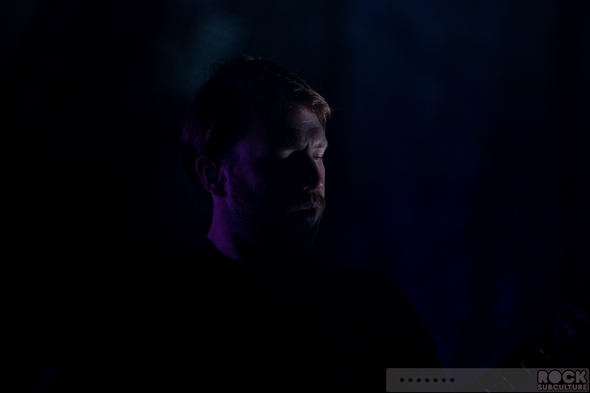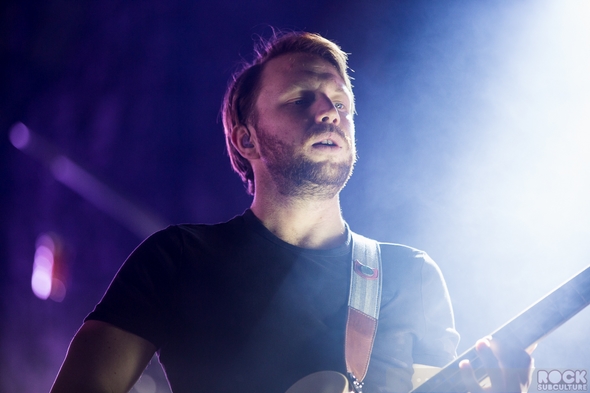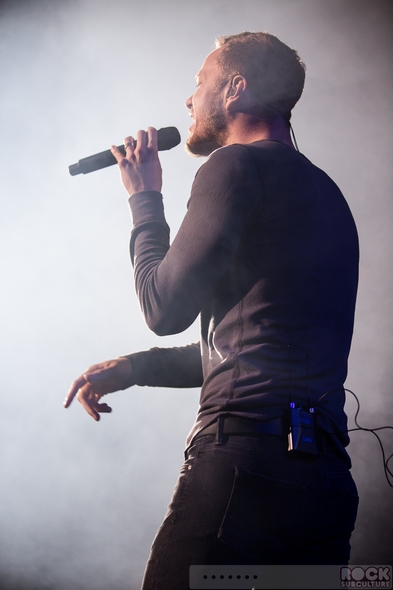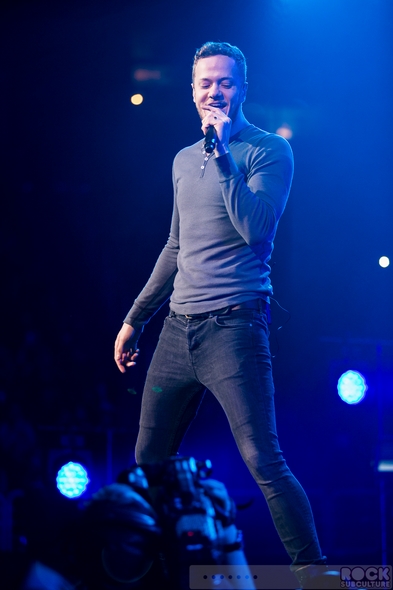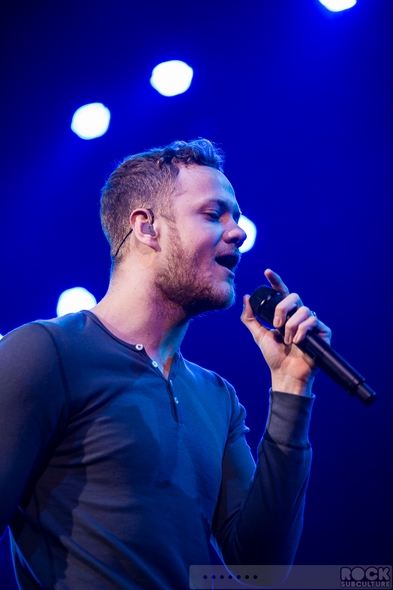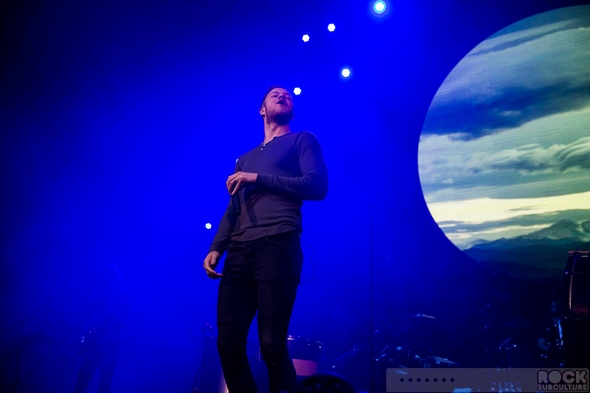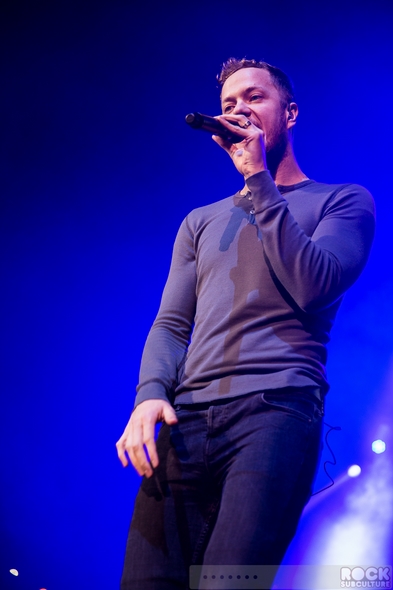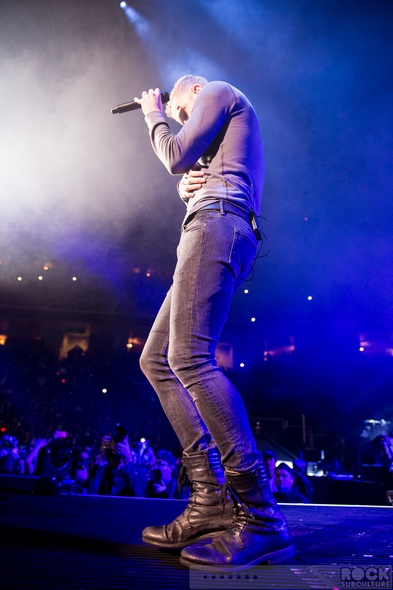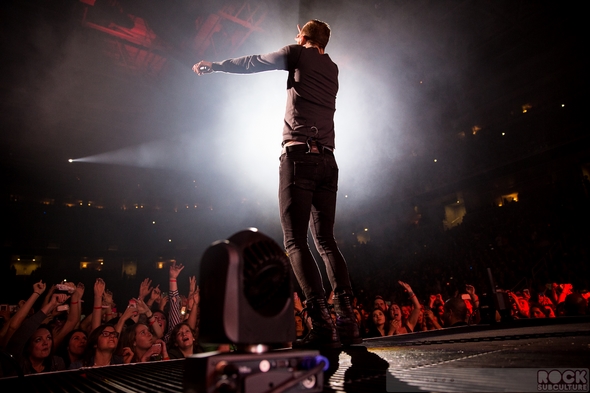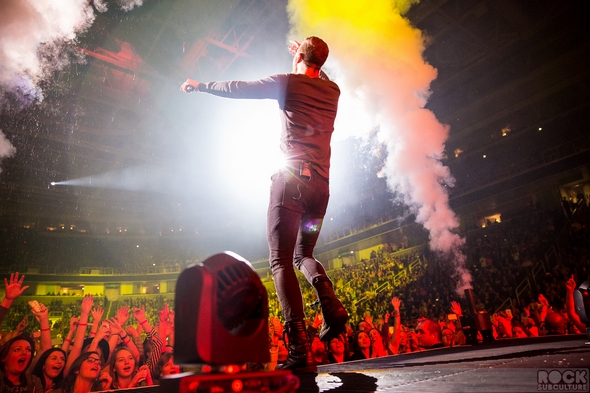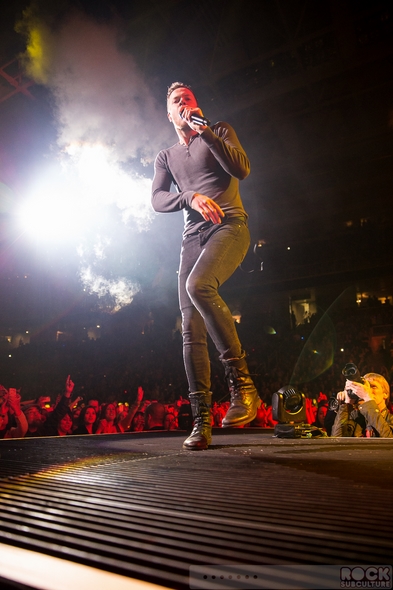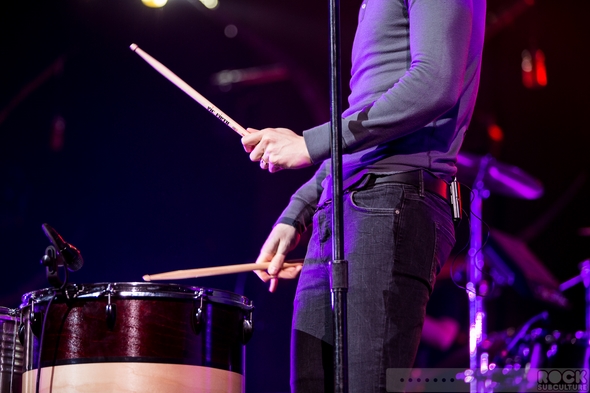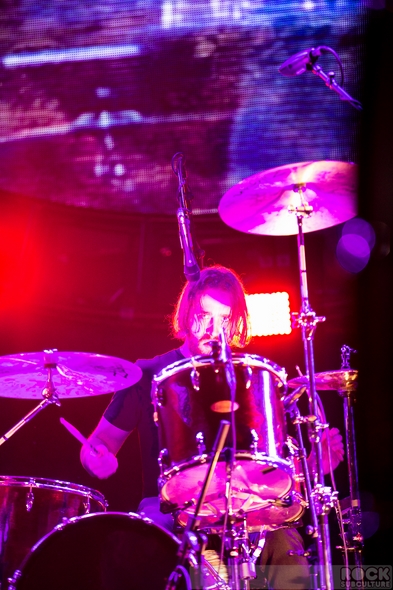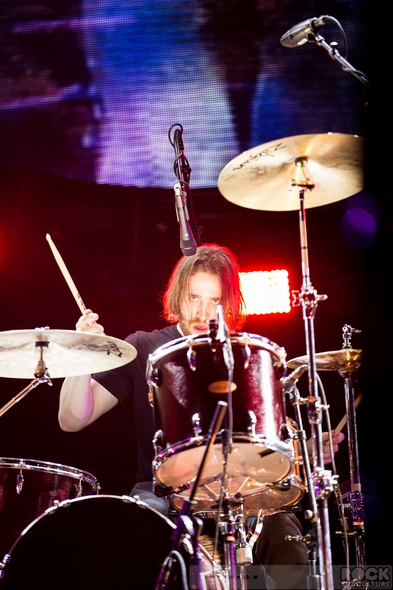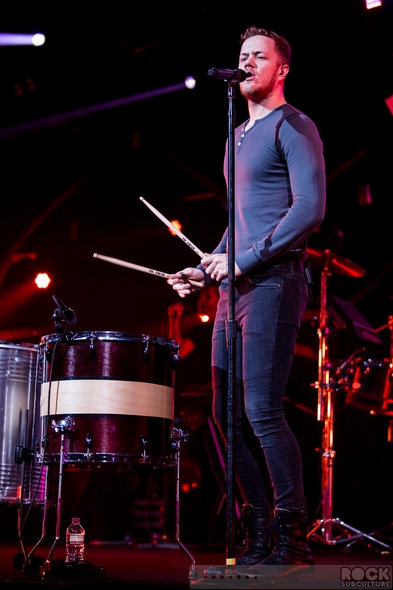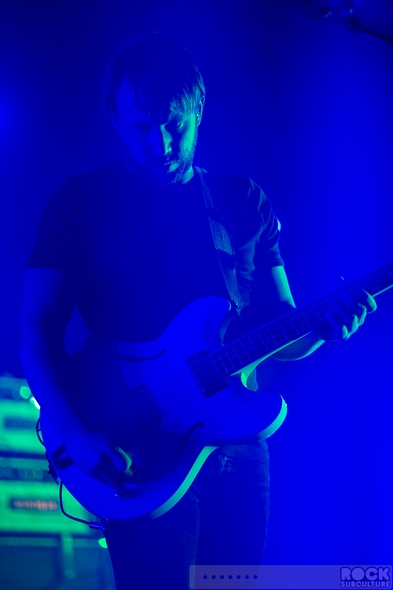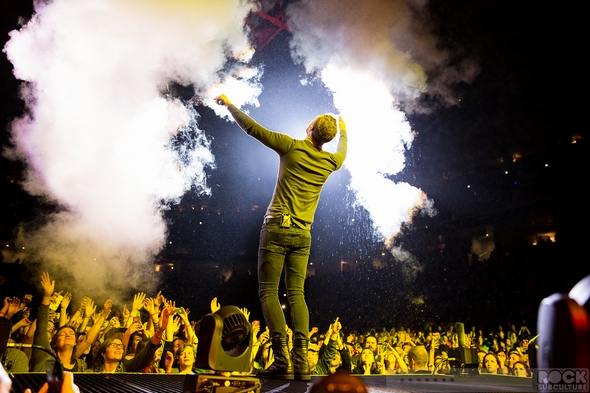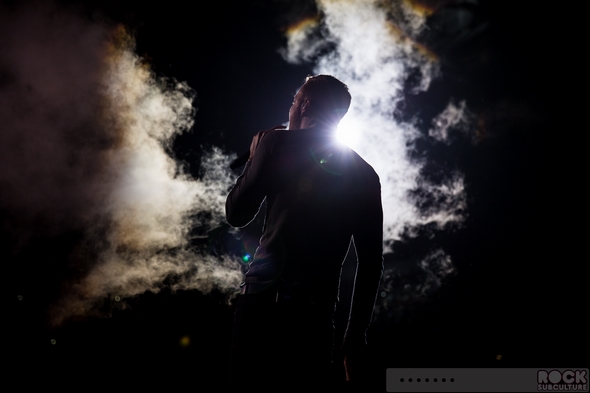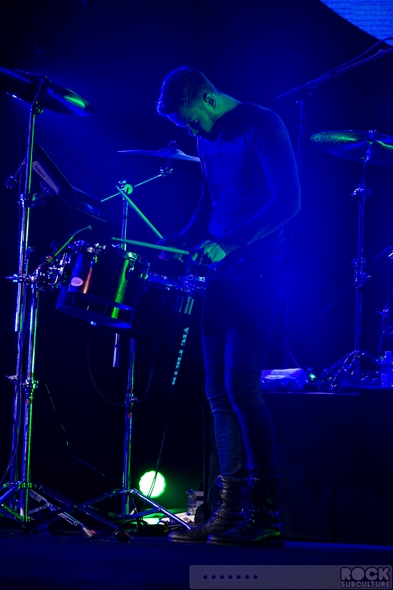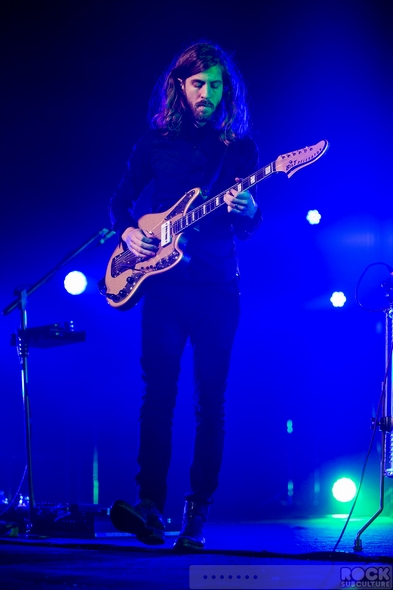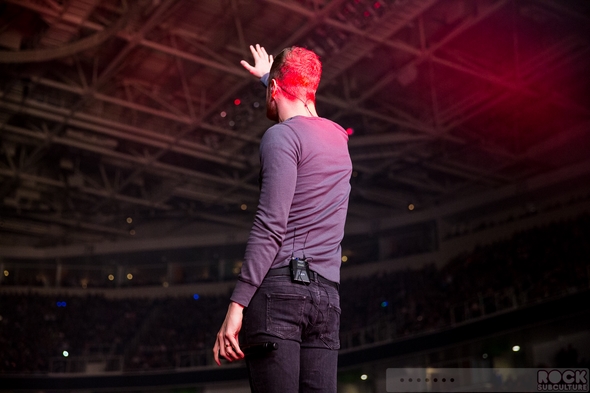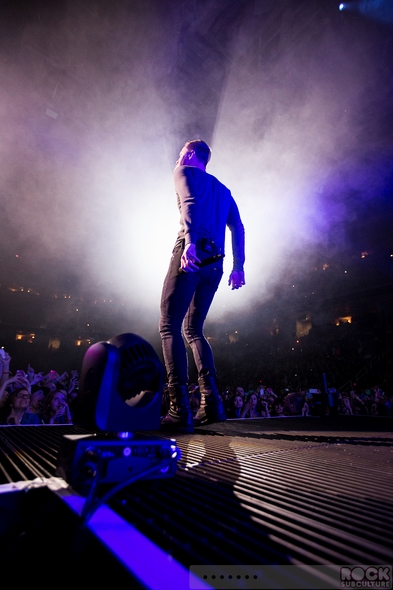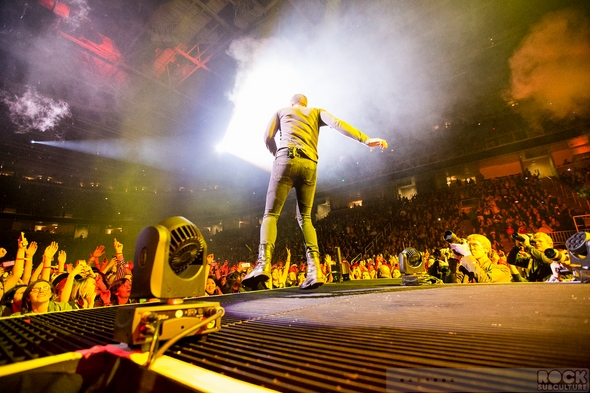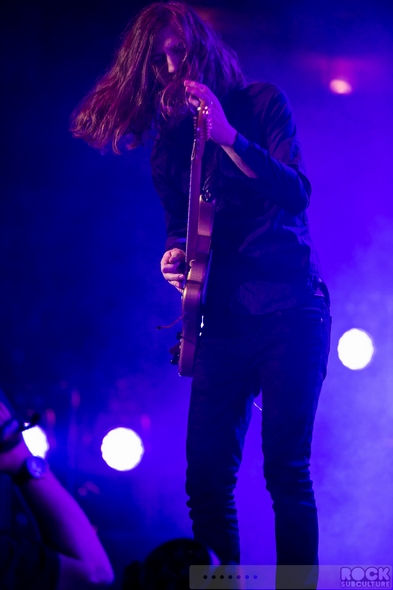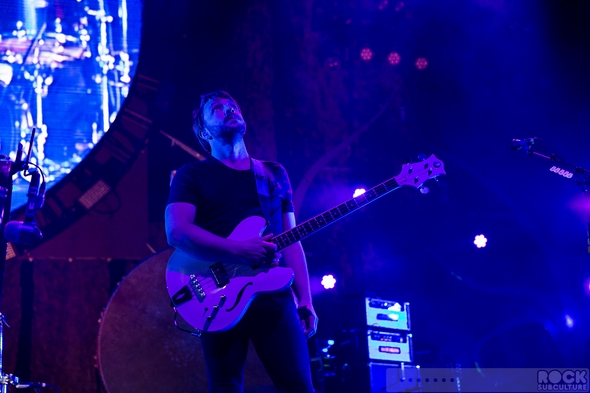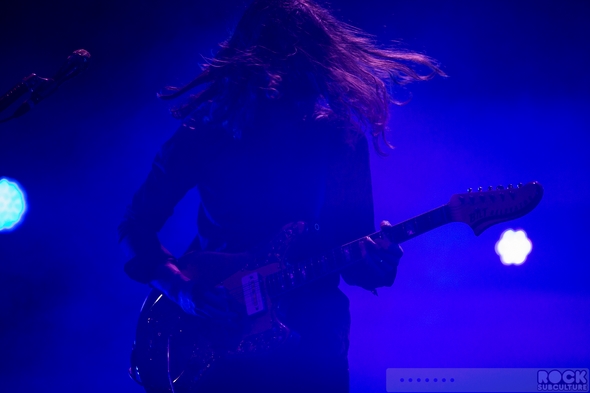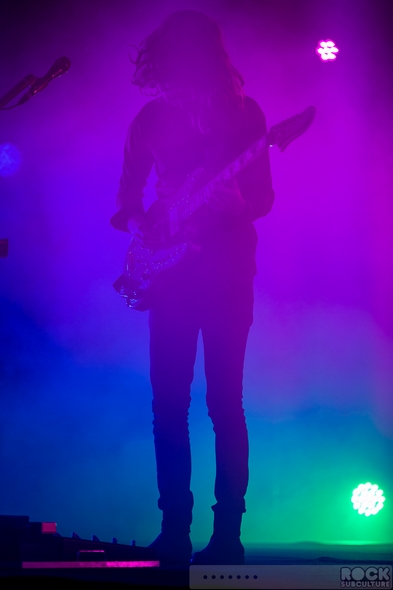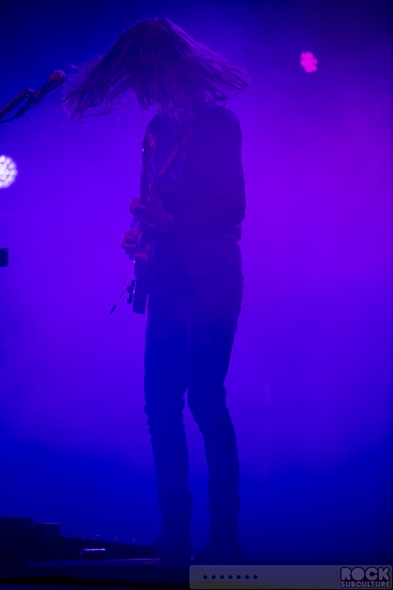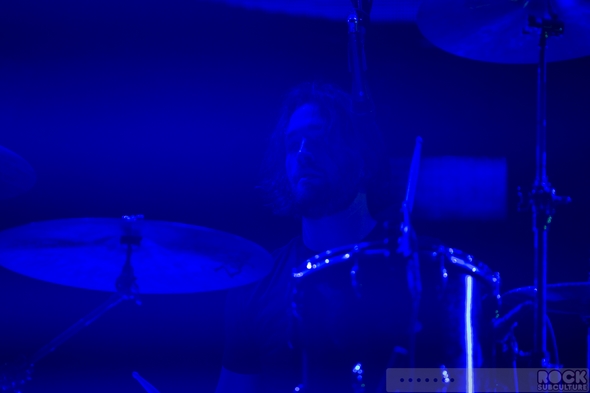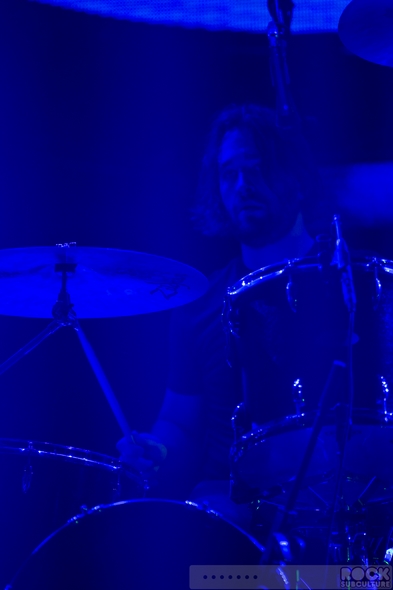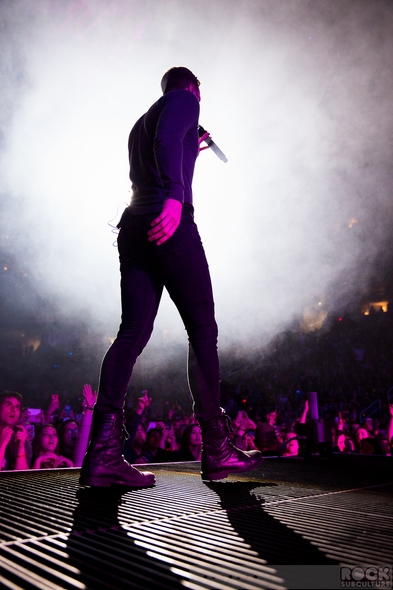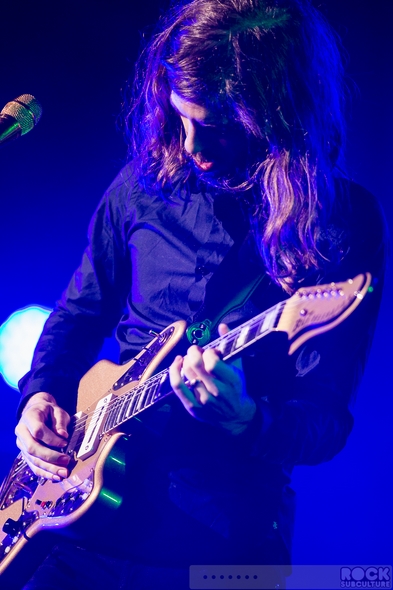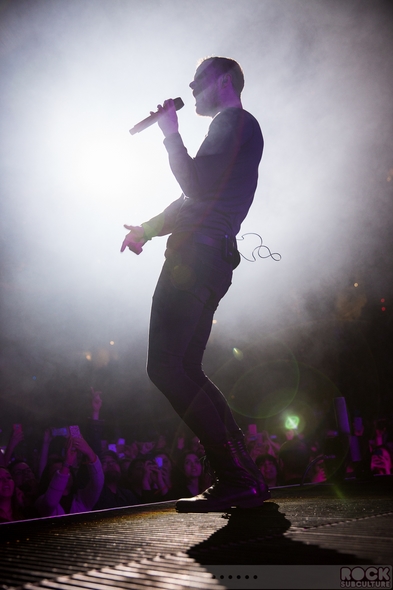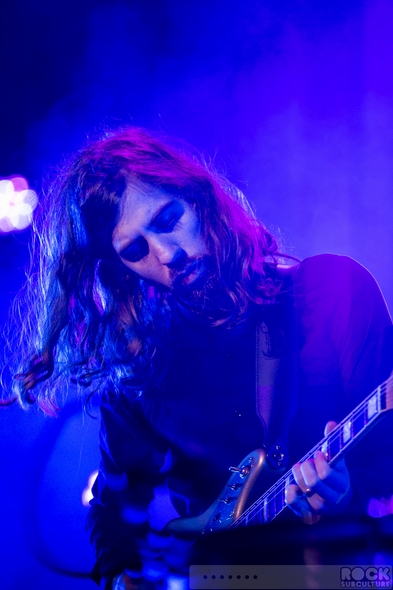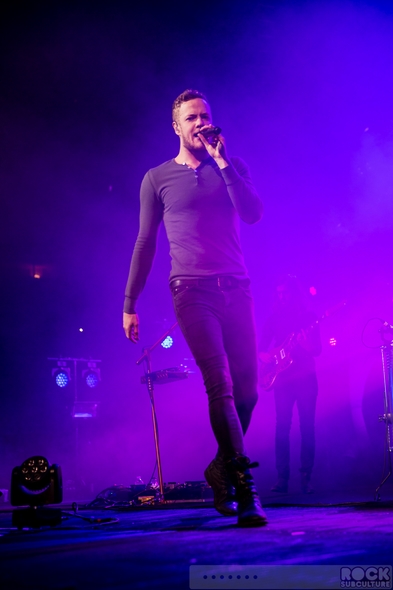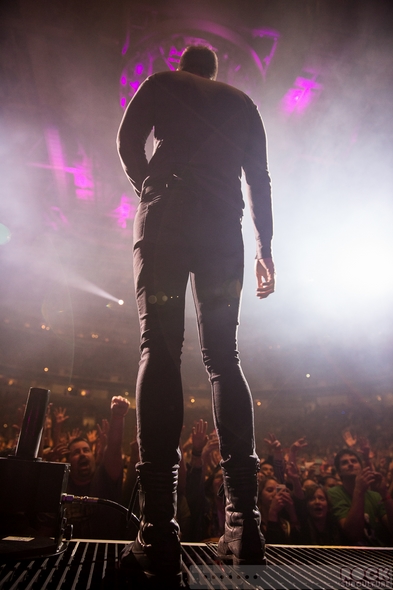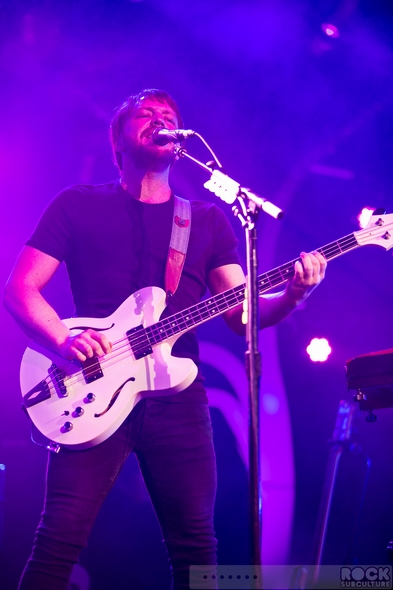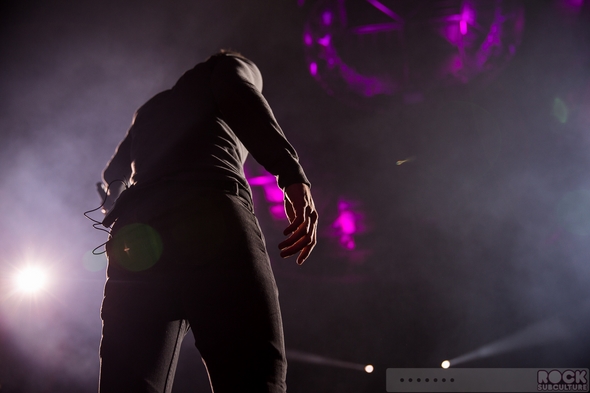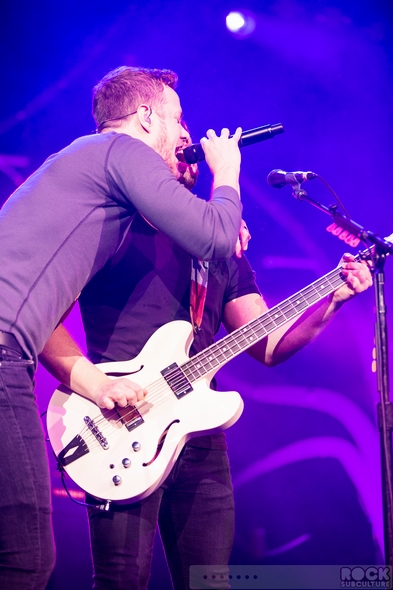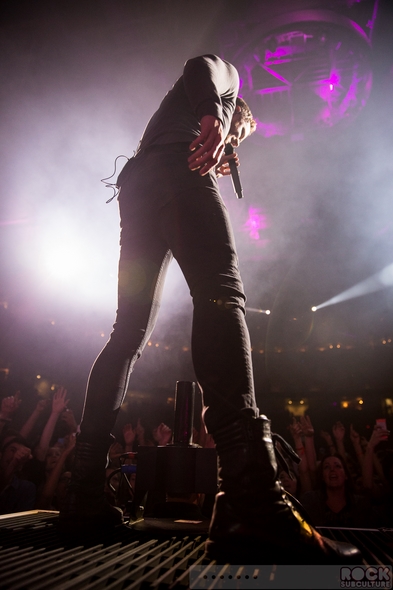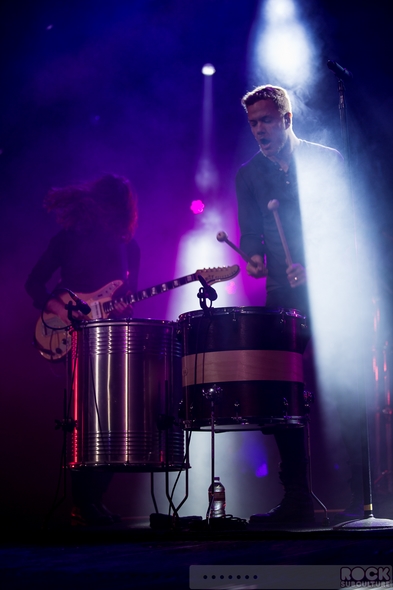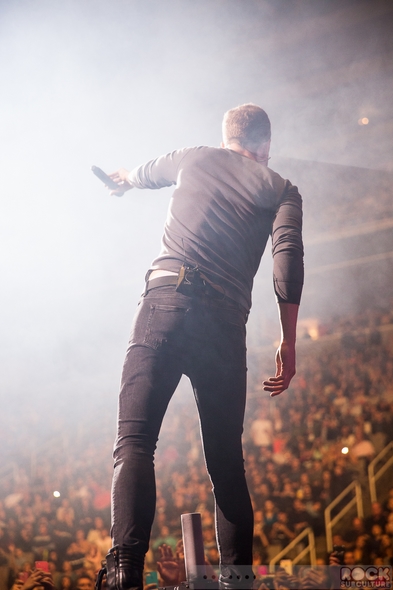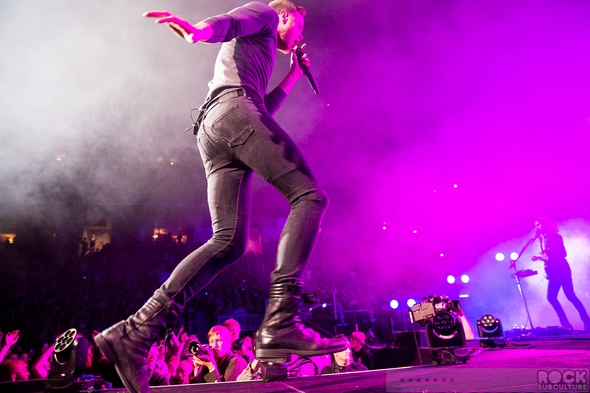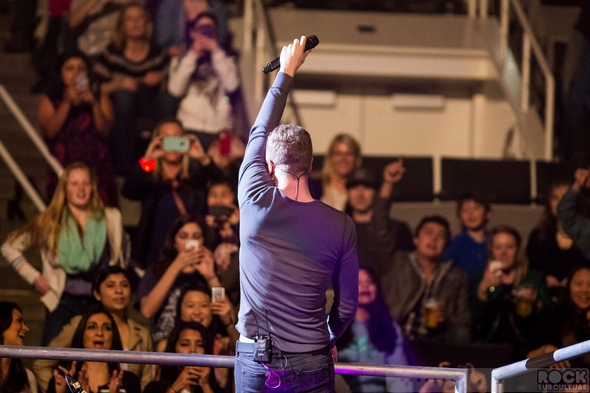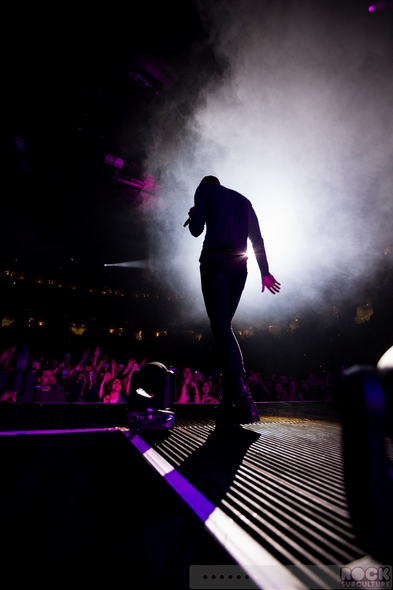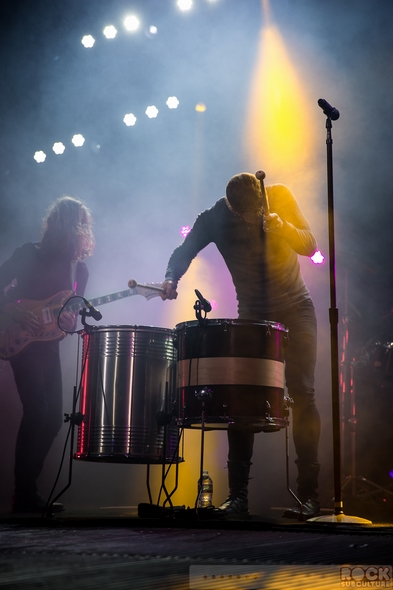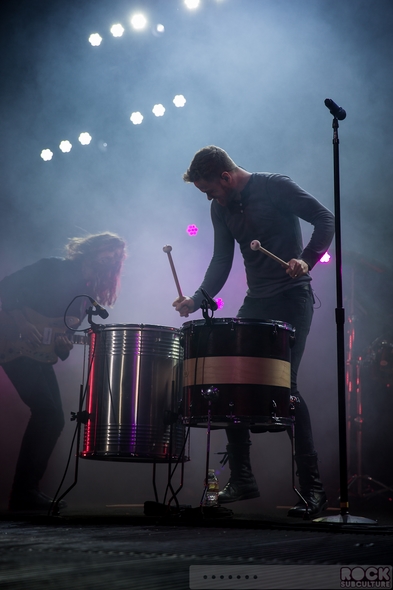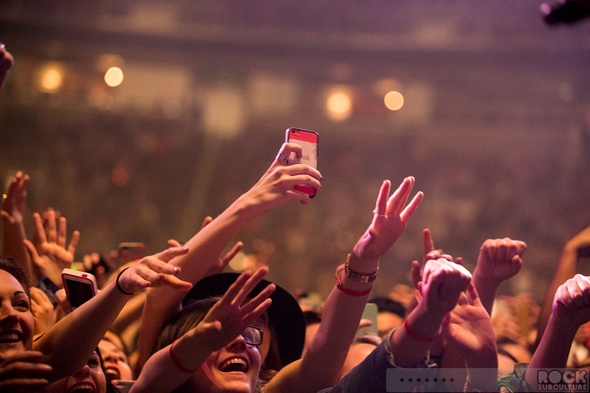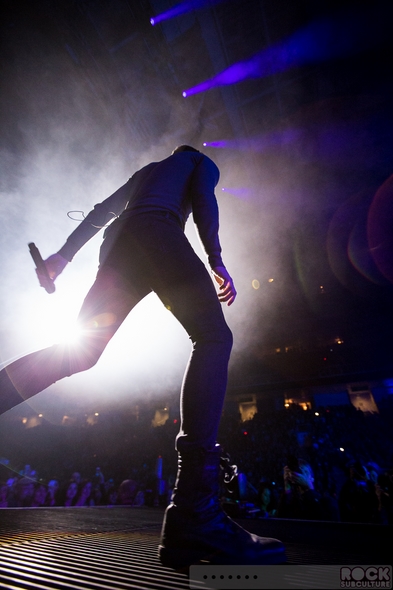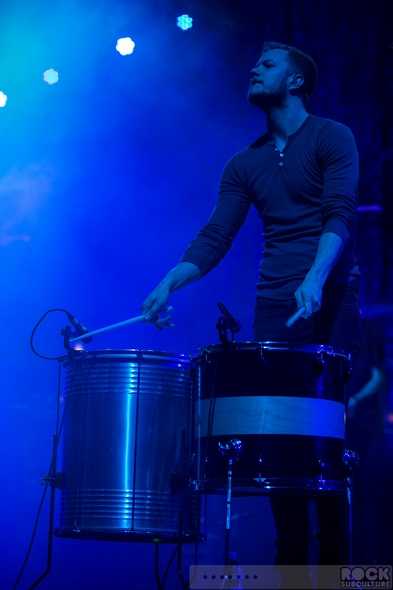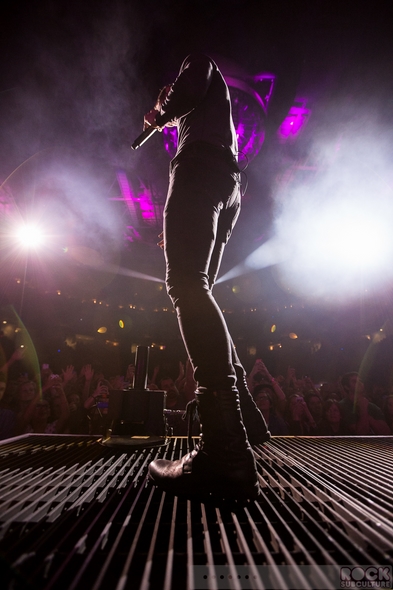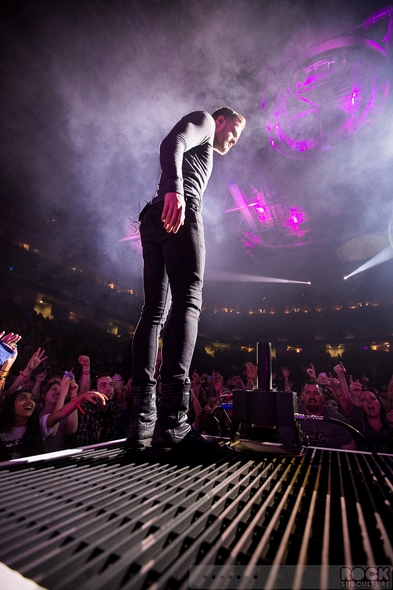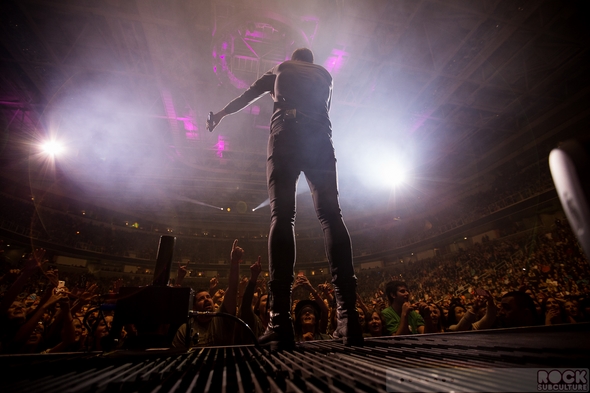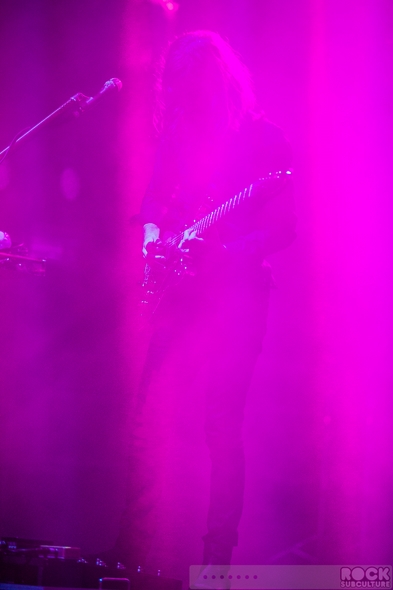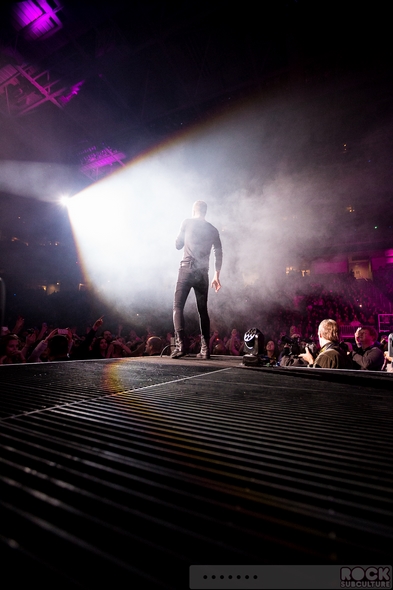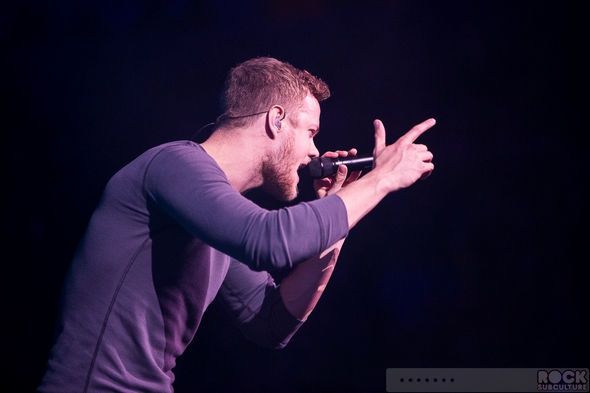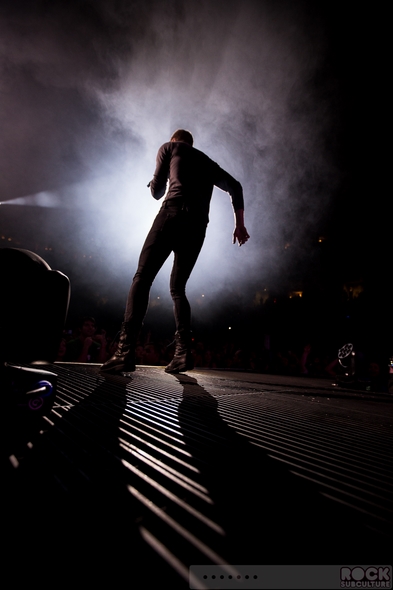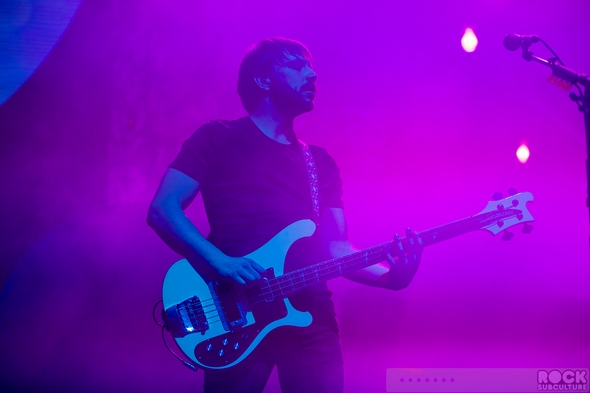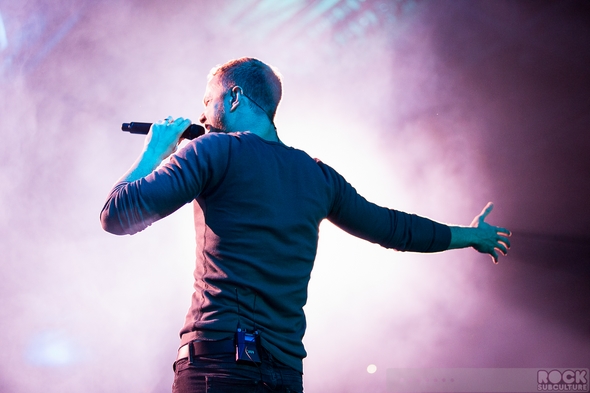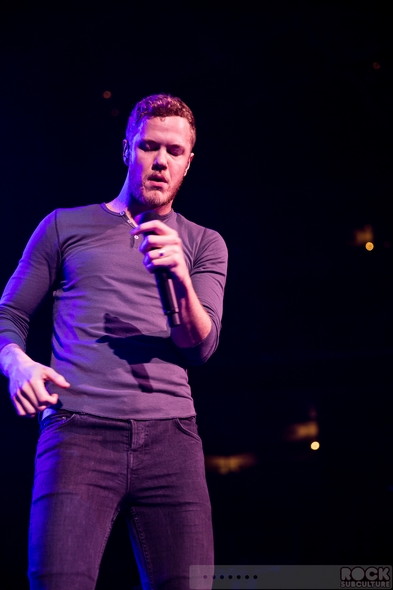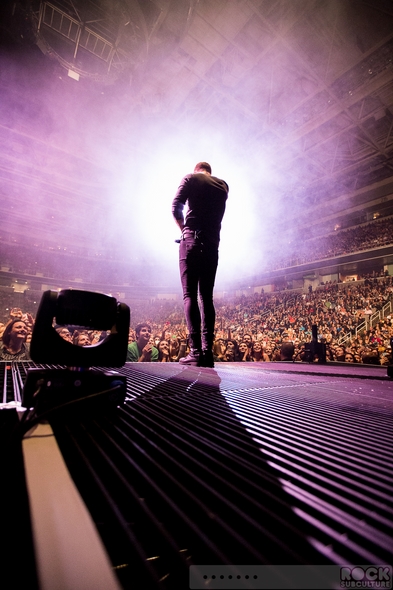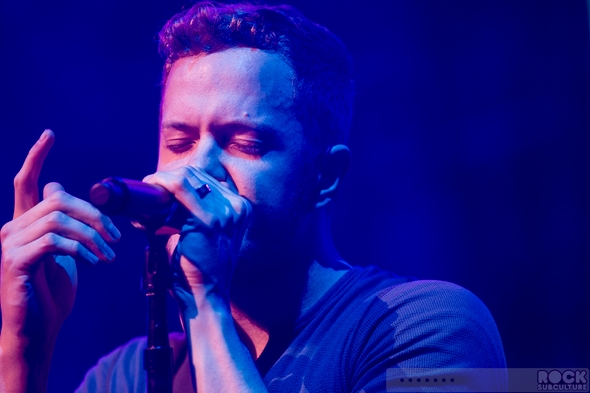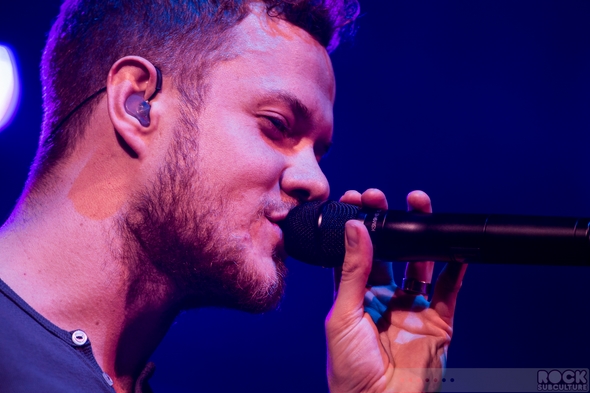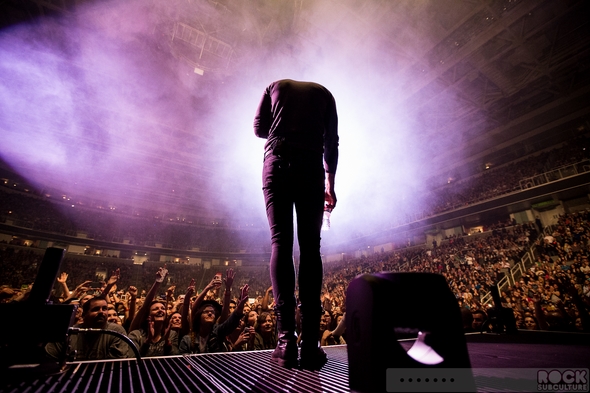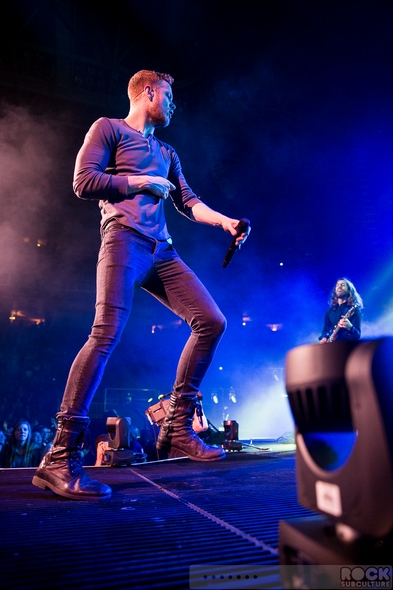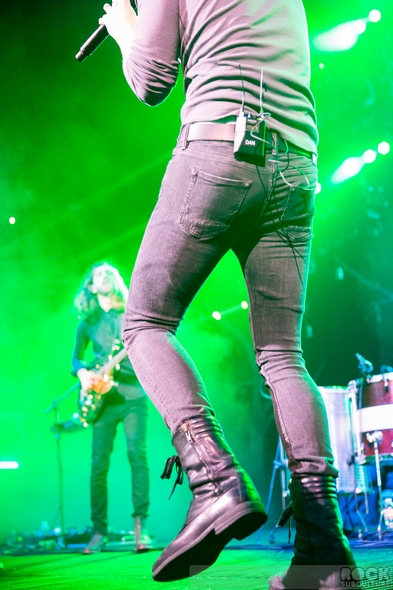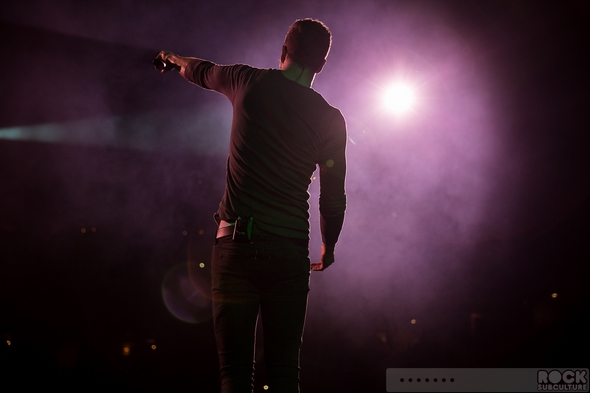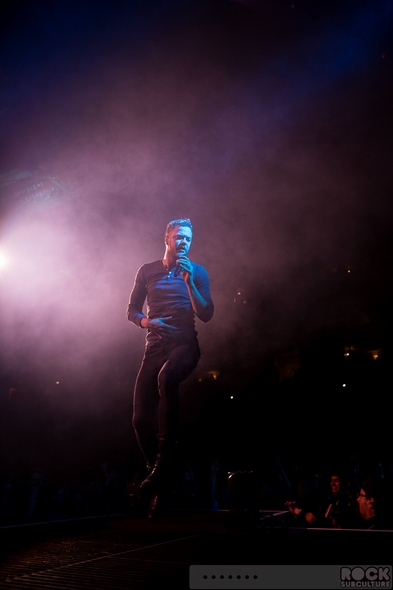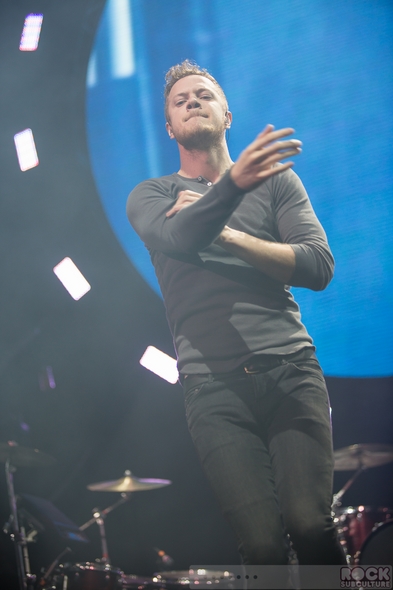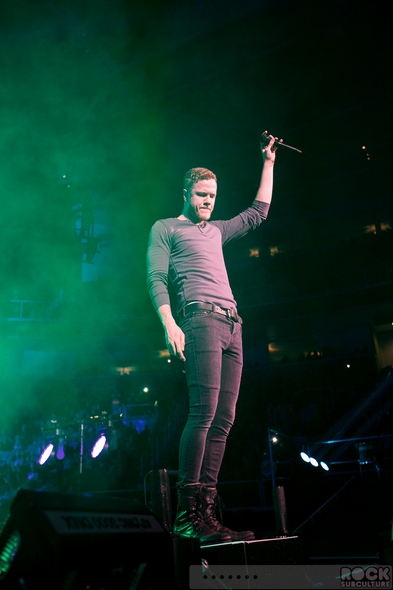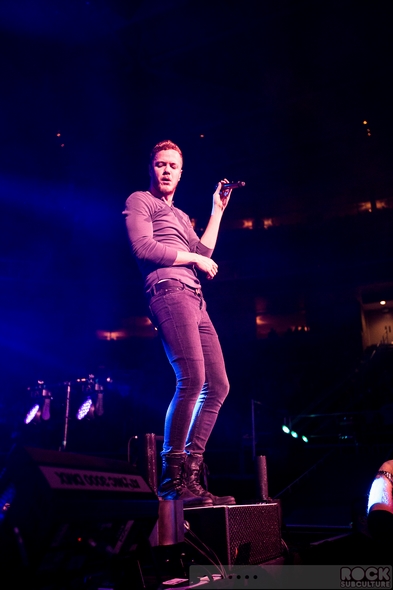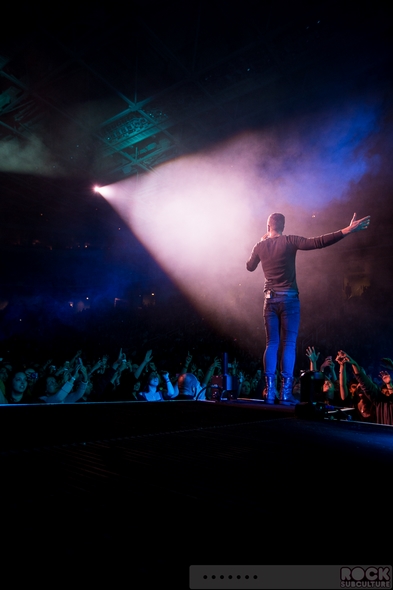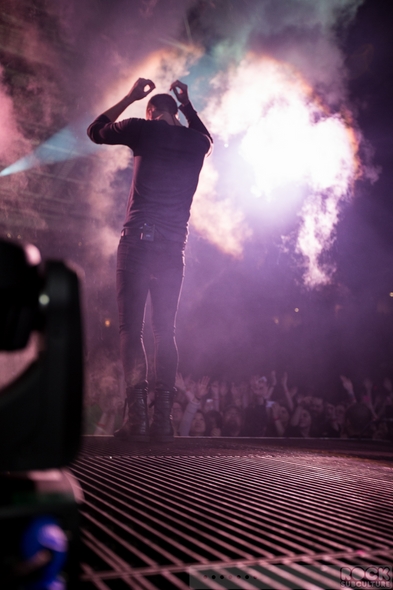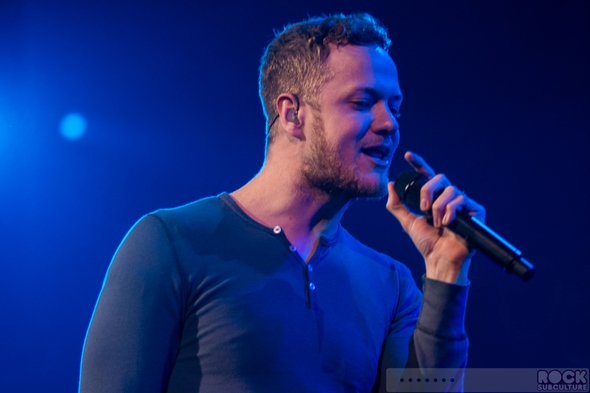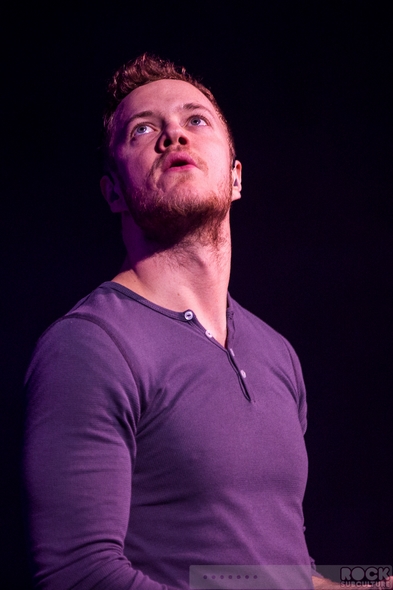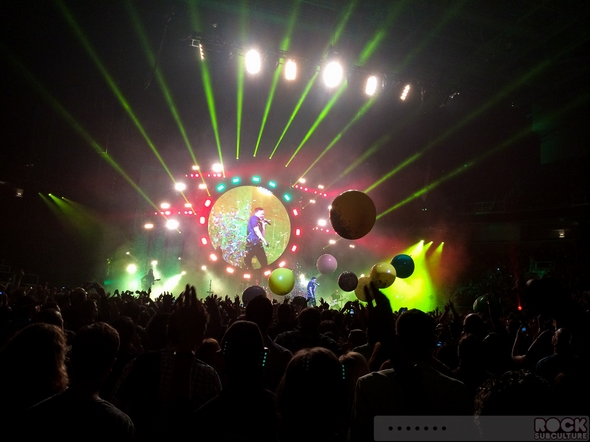 Jason DeBord