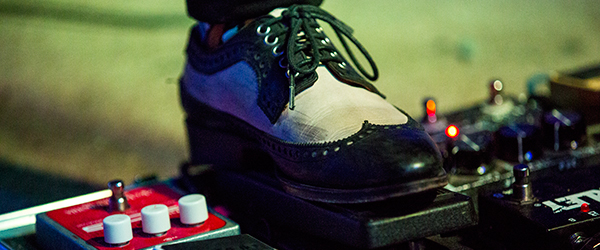 "It started off really nice today, and then just went to rain, and that is a Vancouver day as well, so I feel like I'm at home…", In-between songs, The Pack A.D.'s Maya Miller, drummer and chattier of the Canadian garage rock duo just before singer/guitarist Becky Black threw down the familiar opening guitar riff for "Big Shot" off of their stellar new album, Do Not Engage.  The pair played through quite an extensive setlist at Brick & Mortar Music Hall Wednesday night, but they play their songs probably twice as fast at the typical band, so the blazing set was over sooner than all in attendance might have hoped.  The dimly lit venue was truly electrified by their blazing music, and they are armed with fantastic songs that seem crafted to be played live.  I just discovered this band last month with the release of their fourth studio album, and absolutely love Do Not Engage.  Now, having seen them play live, they have made me a fan.  Amazing show, and I'd personally seek them out if they roll into a town near you…

Who: The Pack A.D.
Supporting: Fritz Montana
Venue: Brick & Mortar Music Hall
Where: San Francisco, California
When: February 5, 2014
Seating: General Admission (photo pass)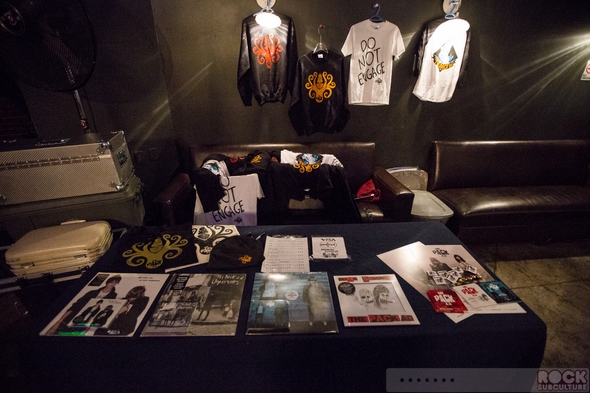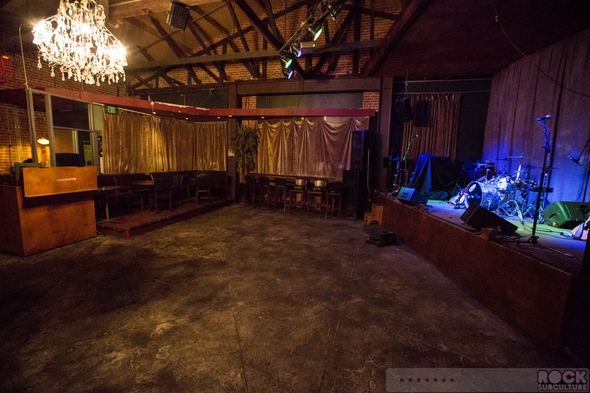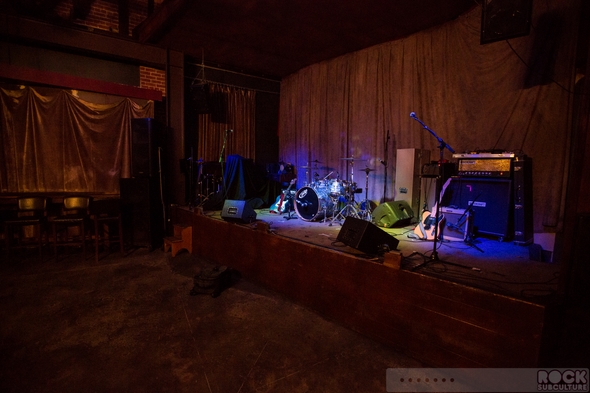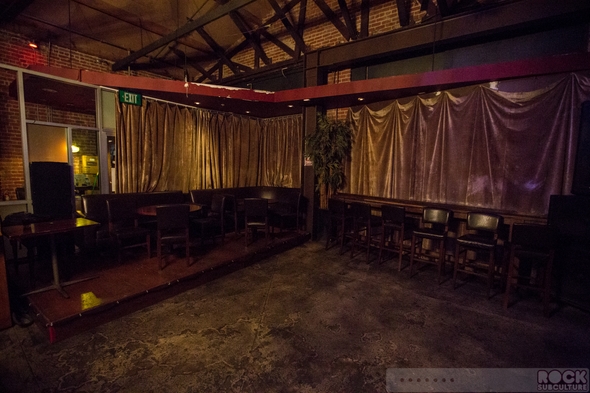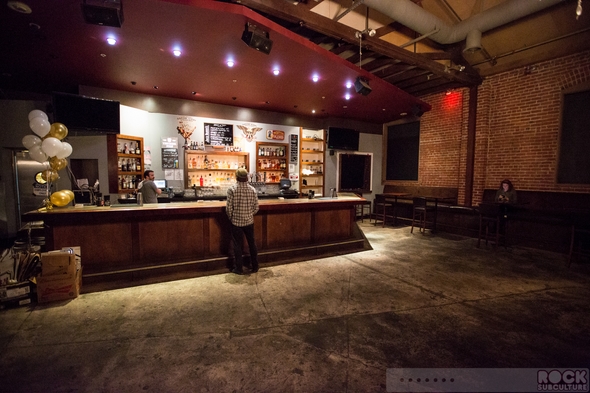 Brick & Mortar Music Hall is a great, intimate little venue in San Francisco.  As small as it is, funny enough, concertgoers seemed timid about getting too close to the stage until Fritz Montana wrapped up their set.  There was a great turn out and those who I spoke with said they loved the show.

Fritz Montana
Members
David Marshall (vocals, guitar)
Kevin Logan (bass)
Matthew Hagarty (drums)
I was not familiar with Fritz Montana prior to this event, but really enjoyed their music, and thought they put on a great show.
They are actually pretty funny, if you like irreverence, in-between songs, and I certainly enjoyed their humor.  Their wry style is captured well in their own bio on their official Facebook page:
Our story begins amidst the backdrop of the late 90's- boy bands were in control, Clinton was romping in the White House, and Leonardo DiCaprio was slipping into the abyss of the Atlantic Ocean.

With a pocketful of ambition and a long road to puberty, three young men took it upon themselves to dedicate their lives to the betterment of American Music. Unbeknownst to these young men, they would later meet, drink some beer, and write songs that would influence the course of history and change the face of rock music forever.

Makin' waves and takin' names, FRITZ MONTANA exists to disrupt the status quo, challenge authority, and make some damn fine music.
I would have seen them at Live 105's Not So Silent Night in late December, but alas I was snowed in…
You can preview their music over on SoundCloud – great stuff!
Below are some photos of Fritz Montana performing on stage: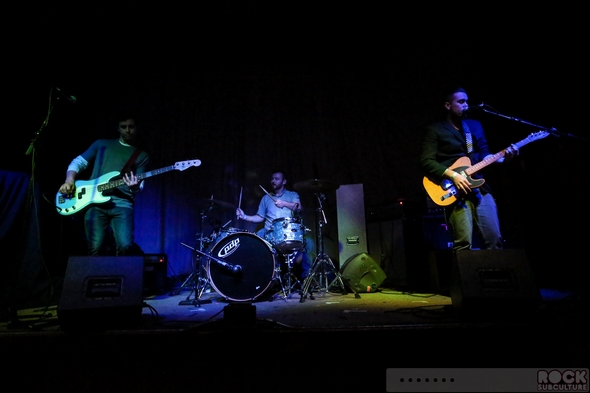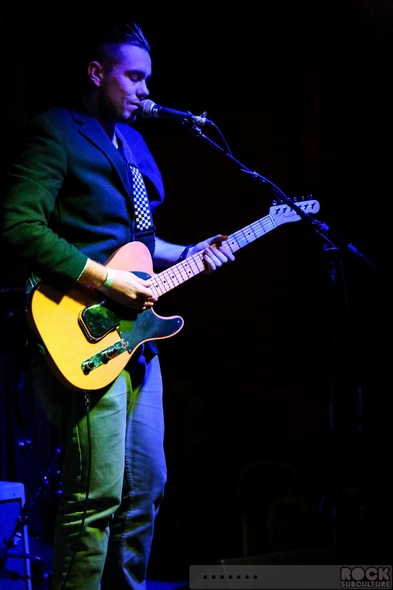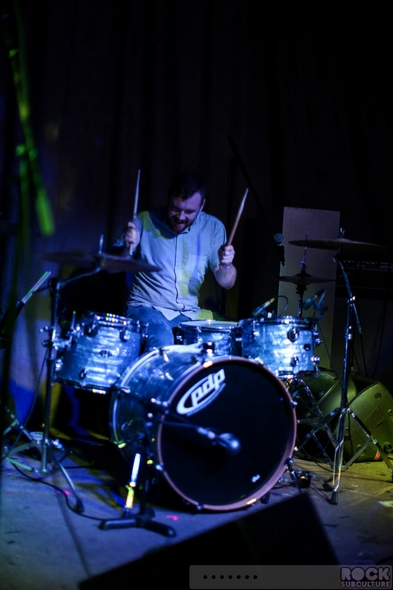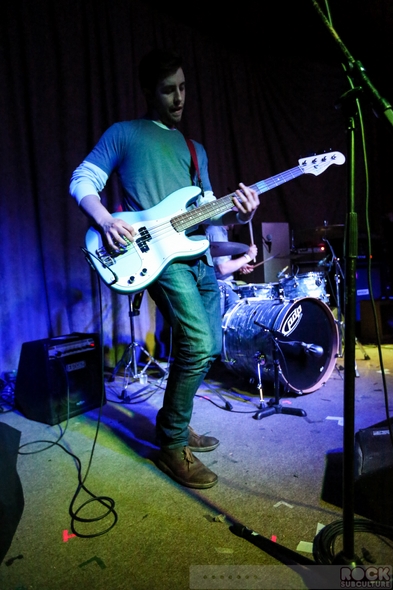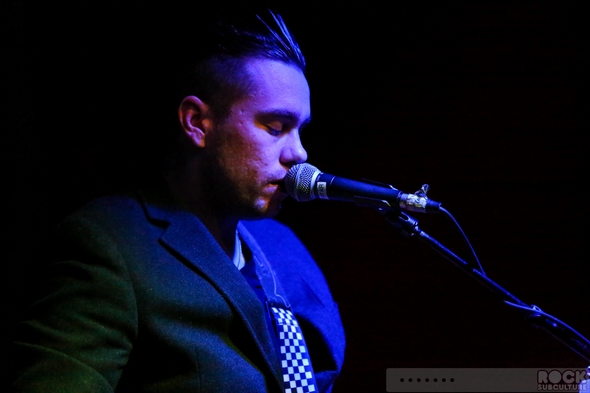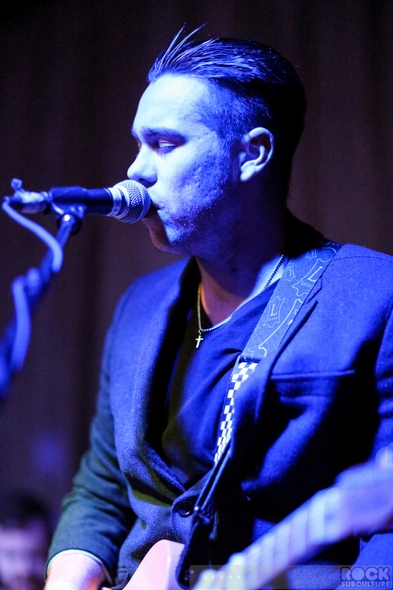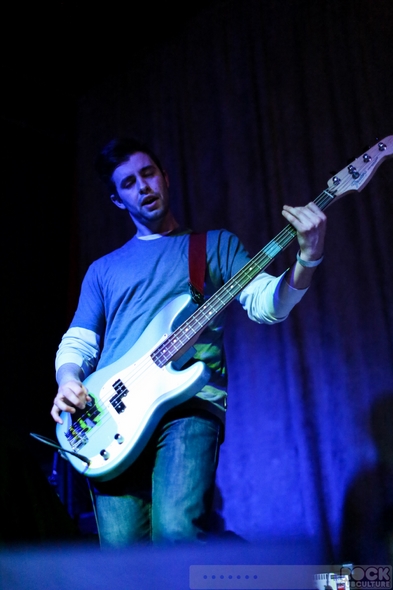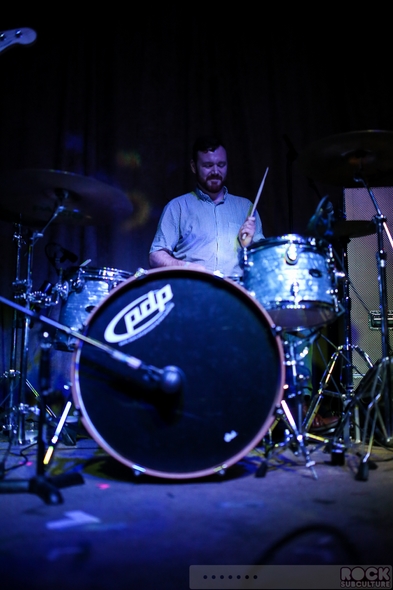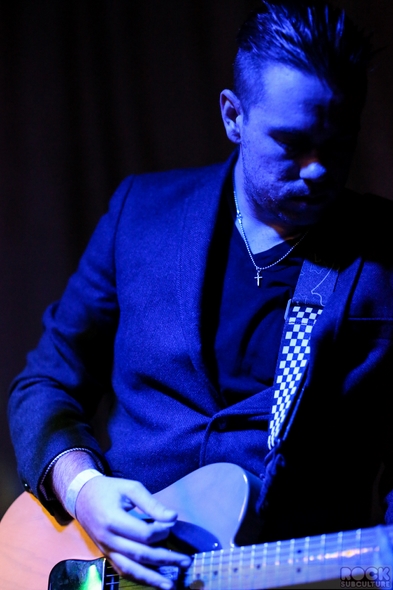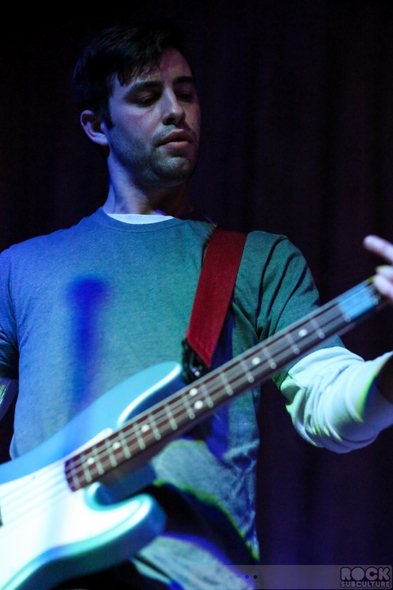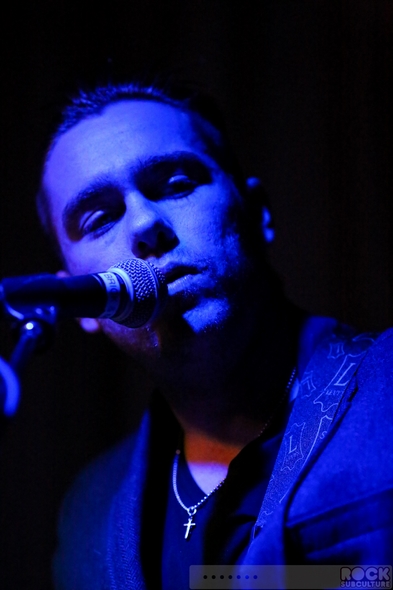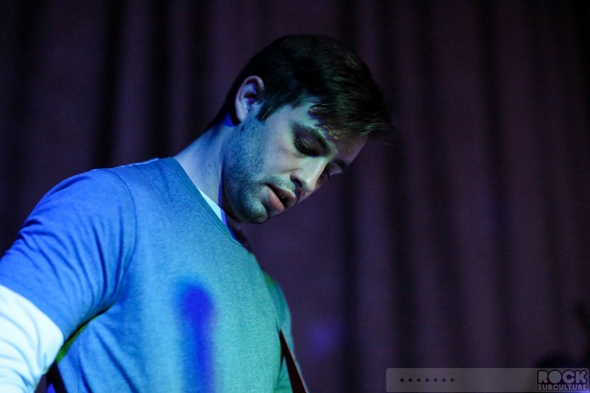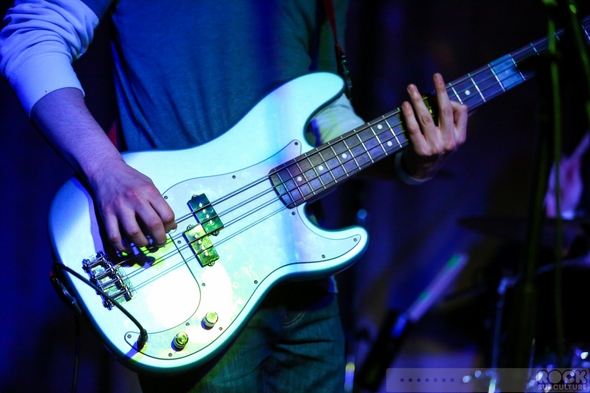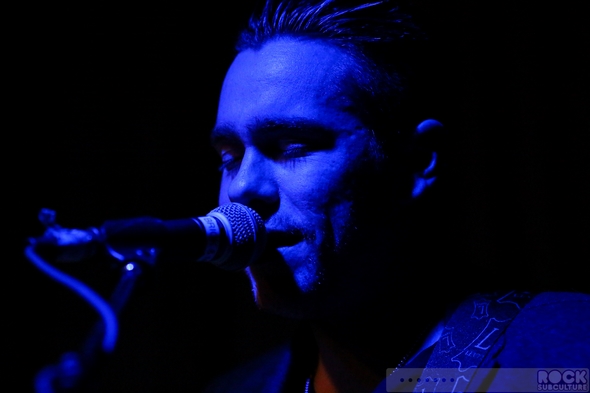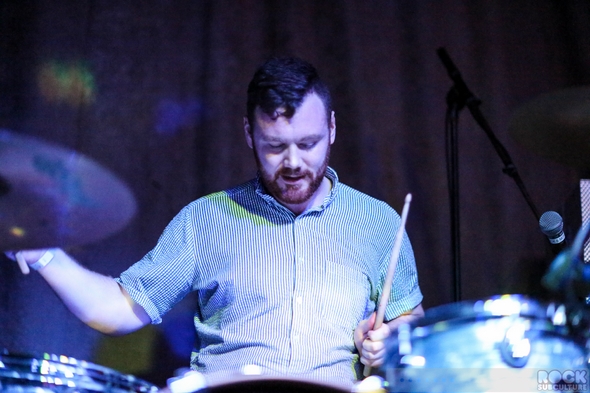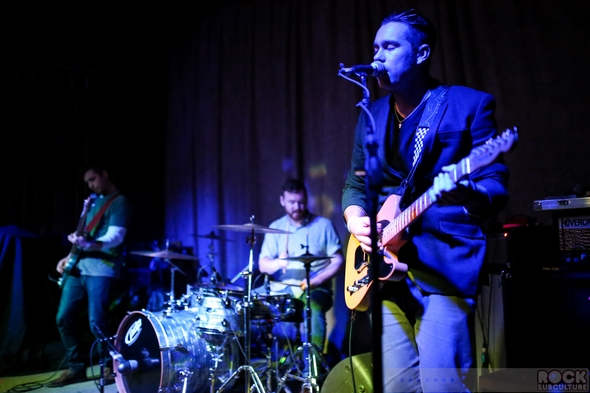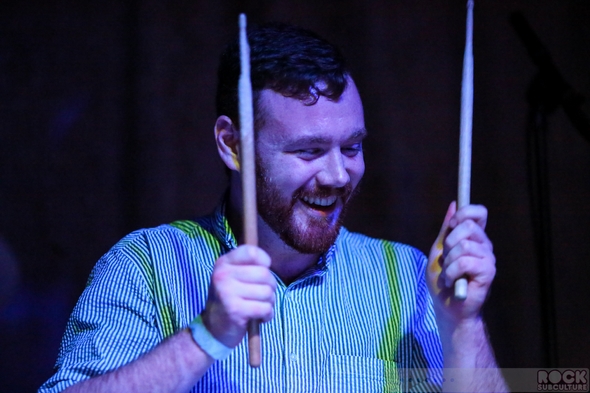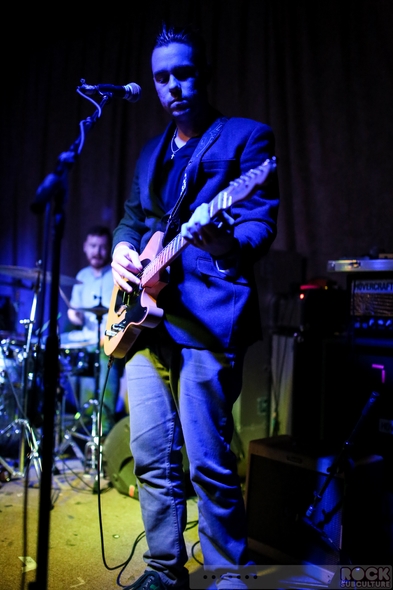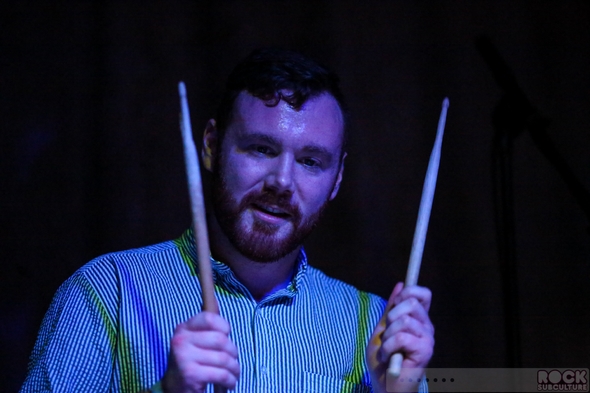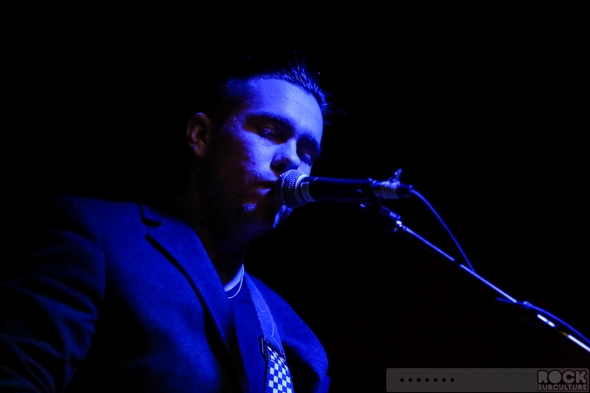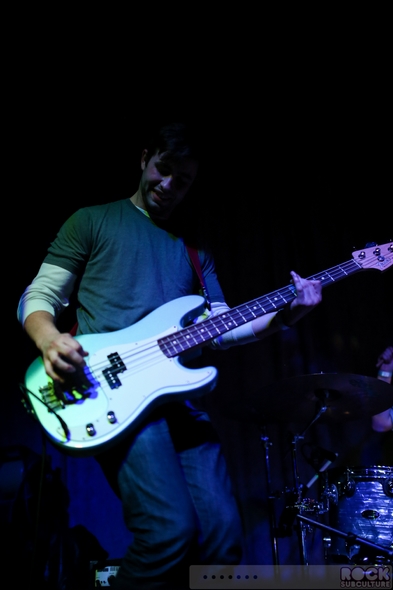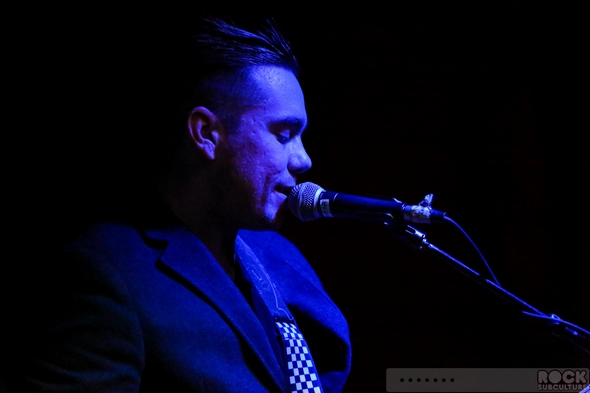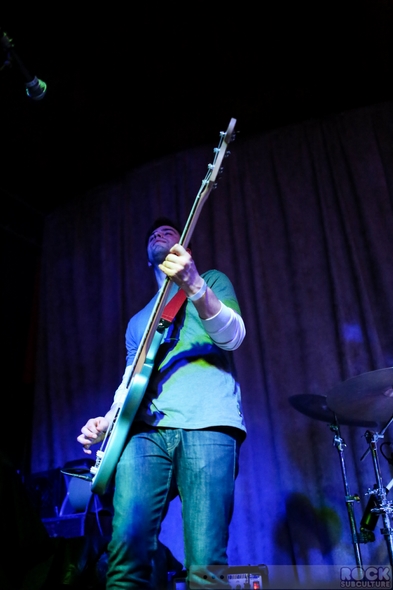 The Pack A.D.
Members
Becky Black (vocals, guitar)
Maya Miller (drums)
The Vancouver duo formed back in 2006, and Do Not Engage, which came out just a little over a week ago, is my favorite album of 2014 (one month in, but I would be surprised if it doesn't appear in my Top Ten for sure).
For me, they remind me of The Black Keys, The White Stripes, and early Throwing Muses.  I love their riffs, beats, and all the changes.  Every song is like a journey.  There is definitely no "filler" on Do Not Engage, which is the first album of 2014 for me that I listen to front to back, over and over.  Truly a great album.
Unsurprisingly, their live sound matches up to their studio sound perfectly (which itself sounds quite raw).
There is certainly a lot of music coming out of two artists, but they play together really well.
As mentioned in the opening, I'm truly a fan of them and their work, and hope to catch them again in 2014.
Below is a photo of Becky's setlist from the show:
Setlist:
Fruit Punch Mouth
Airborne
Animal
Deer
Haunt You
Loser
Rocket
The Water
Lights
Positronic
Big Shot
I Was A Teenage Werewolf
Cobra Matte
Motorvate
Creeping Jenny
Battering Ran
Sirens
Encore:
Needles
I Got You
Nightcrawlers
Below are some photos of The Pack A.D. performing on stage: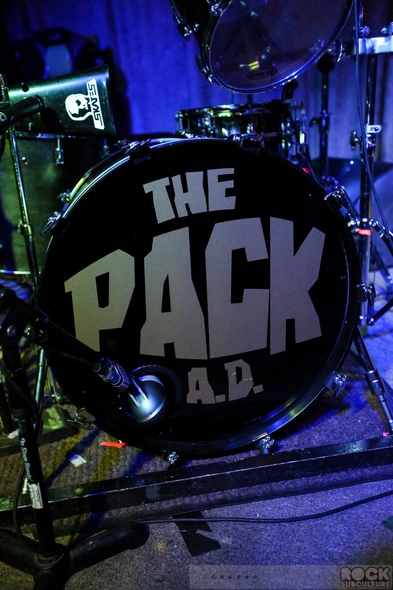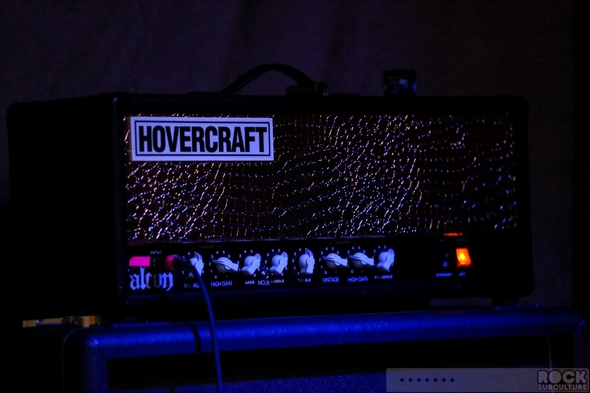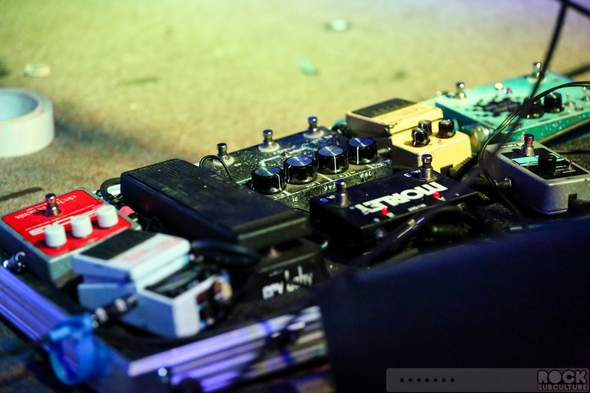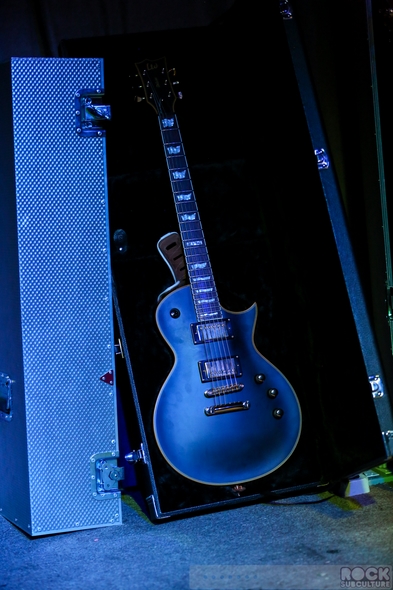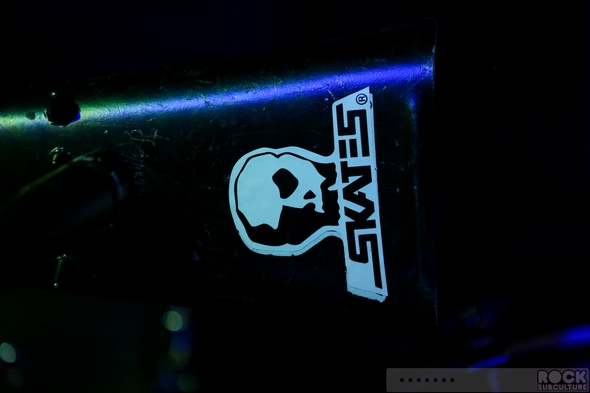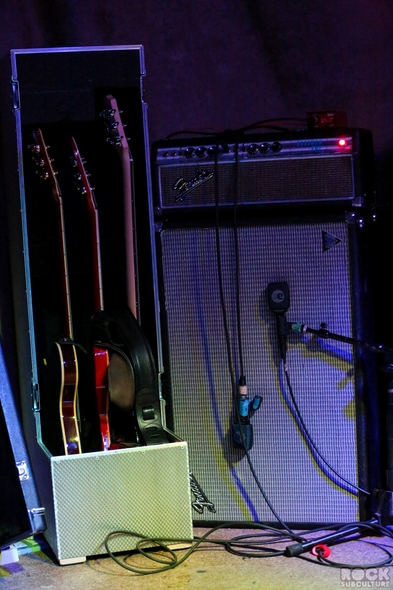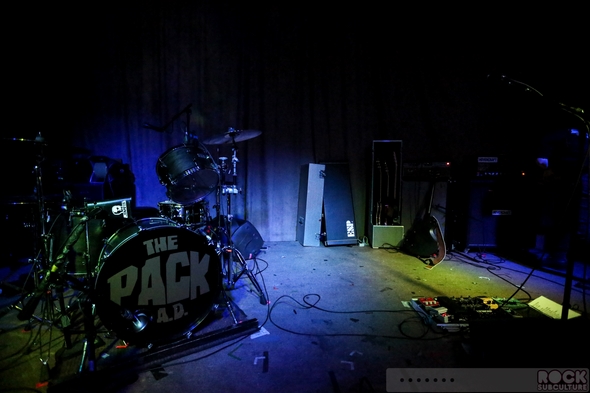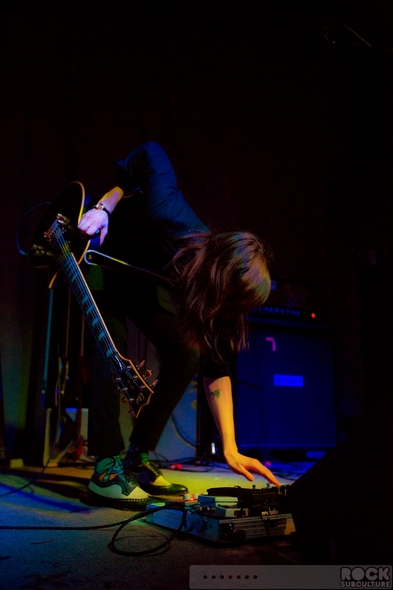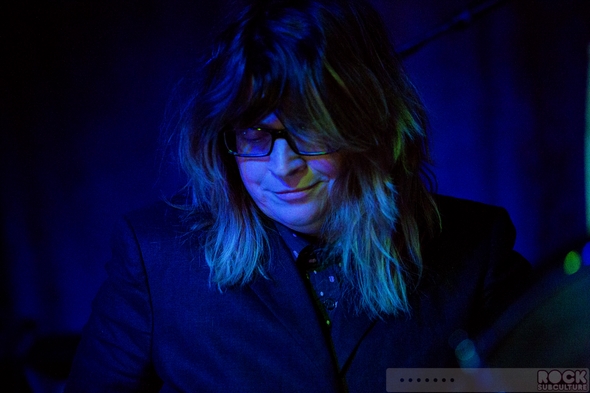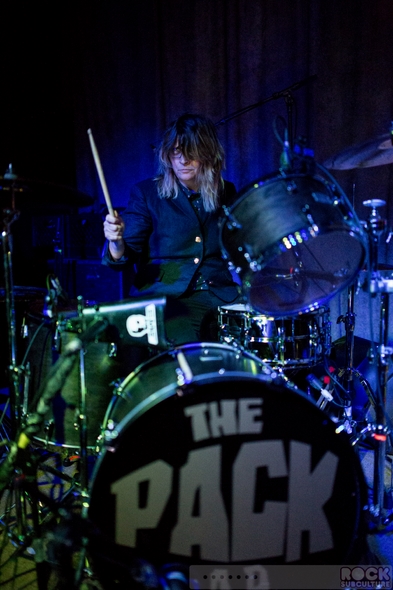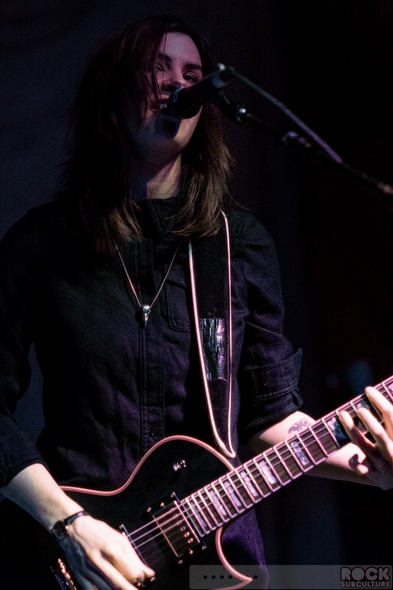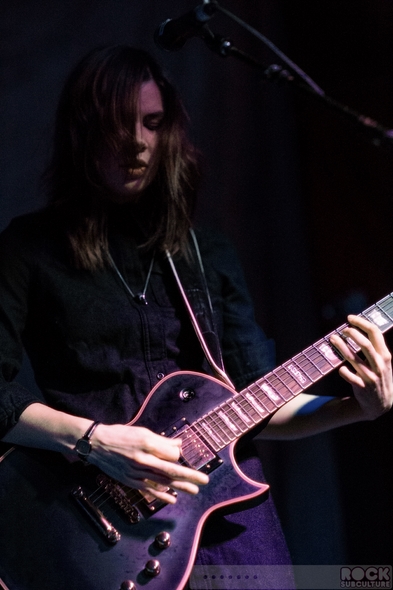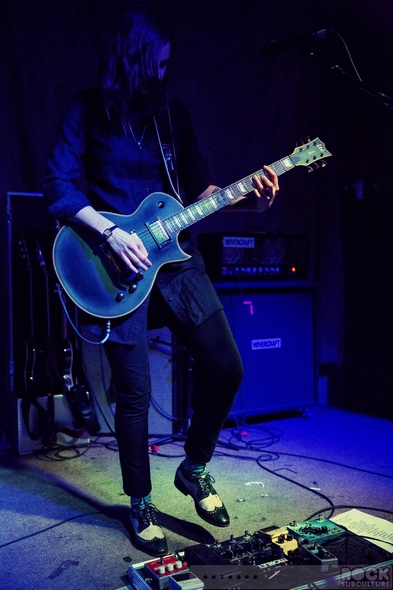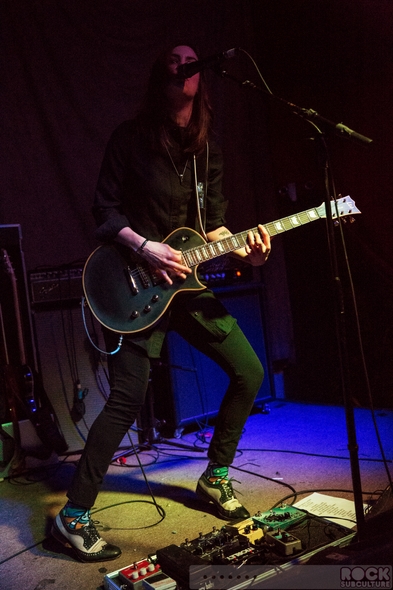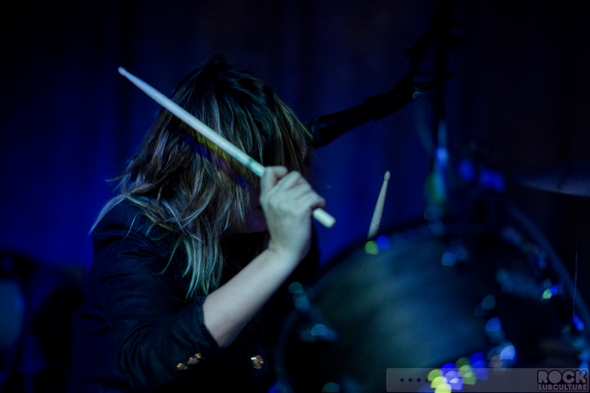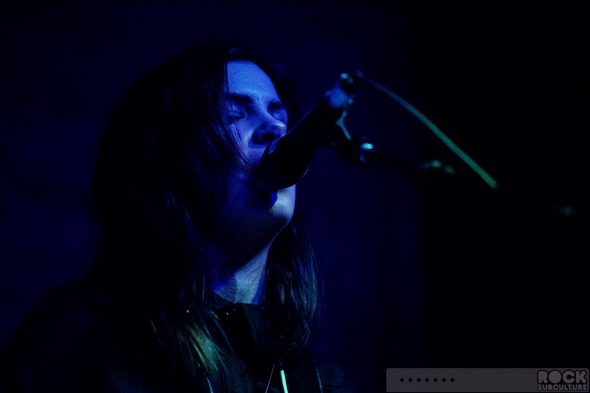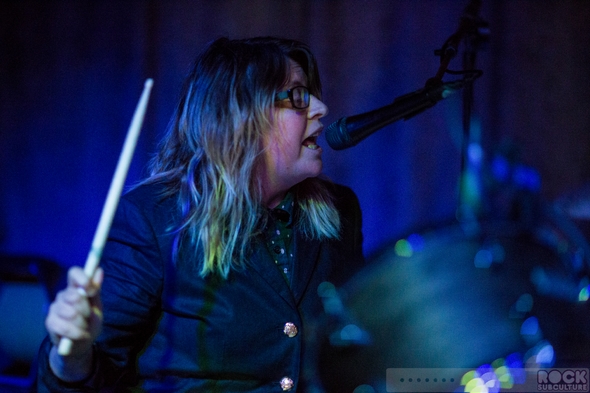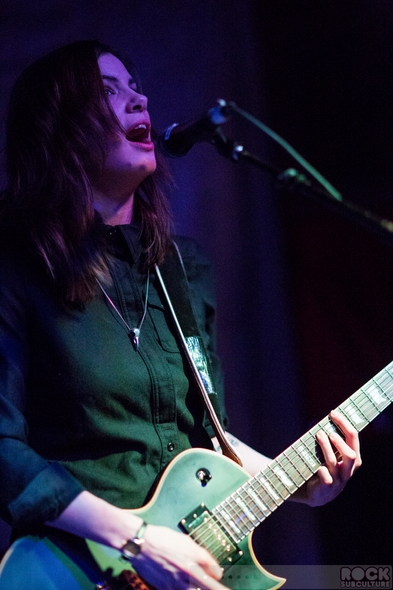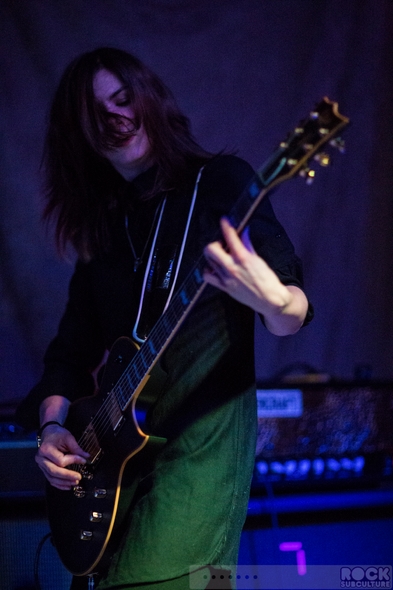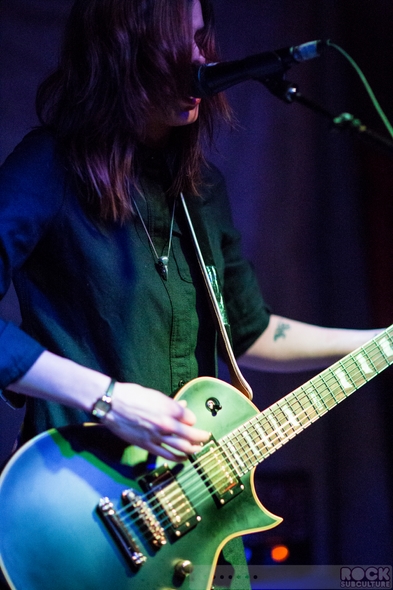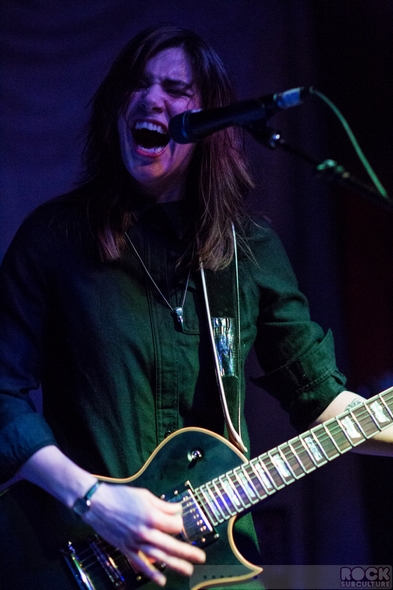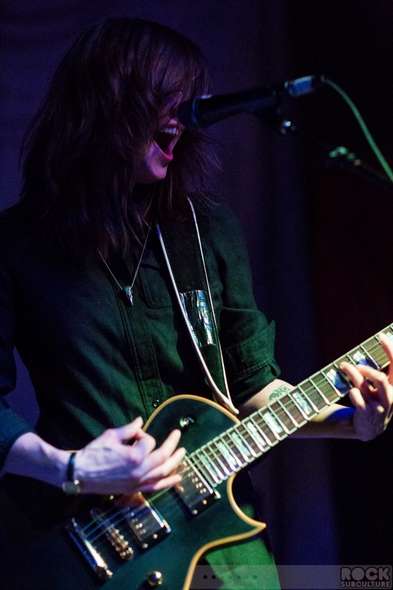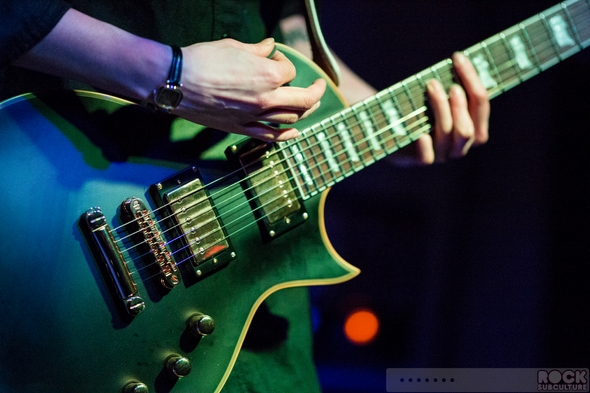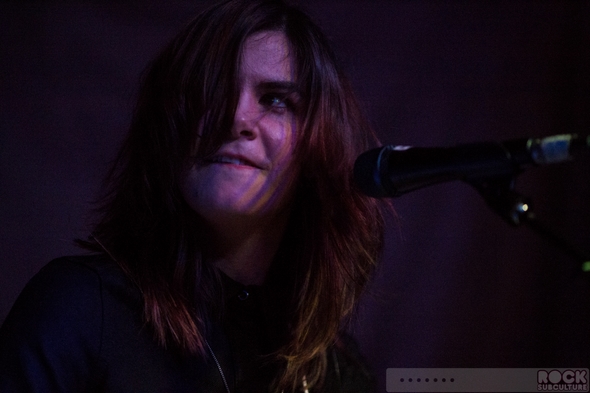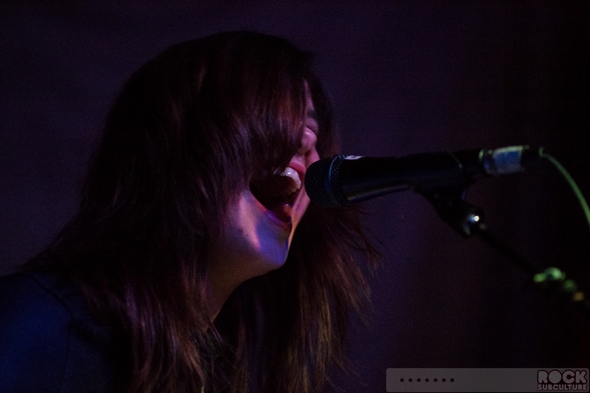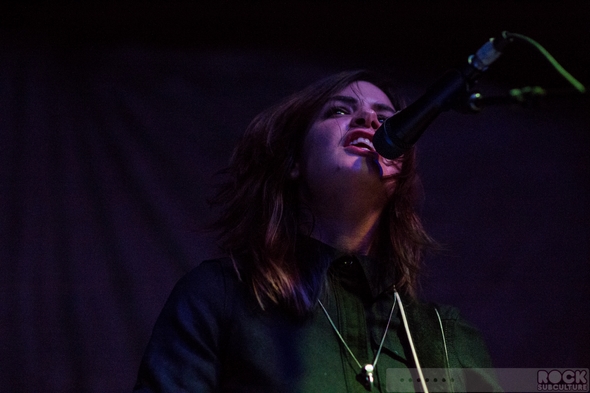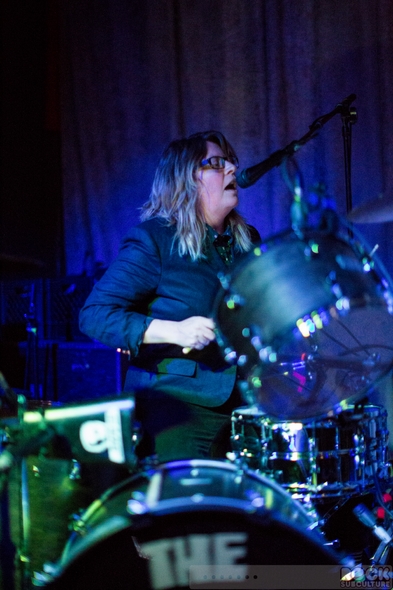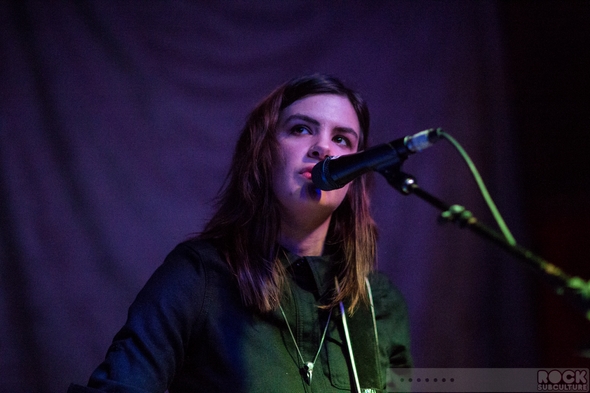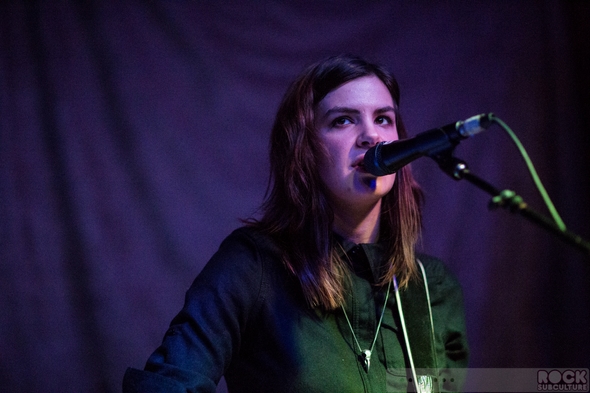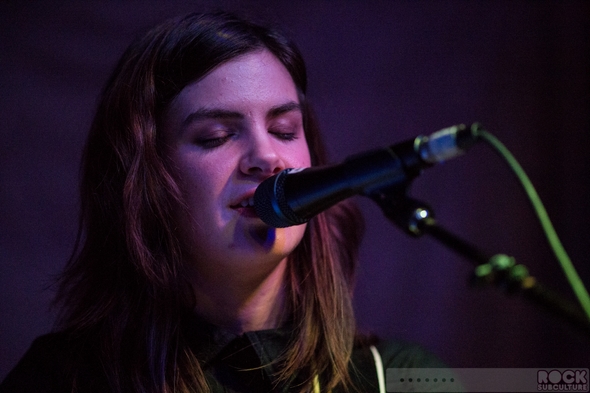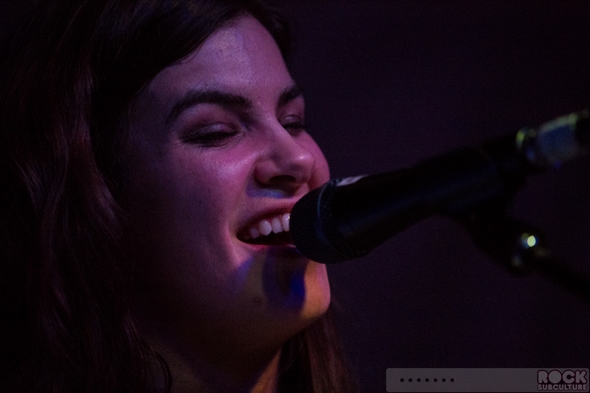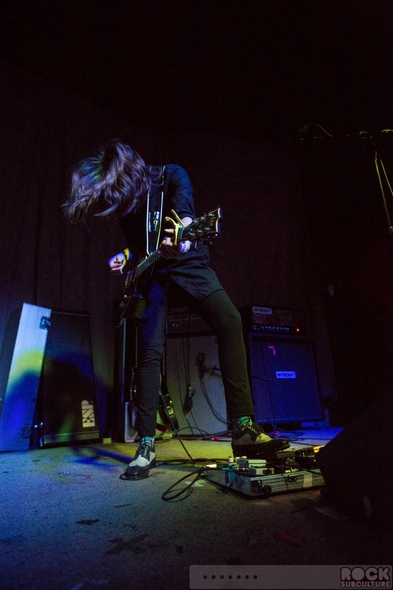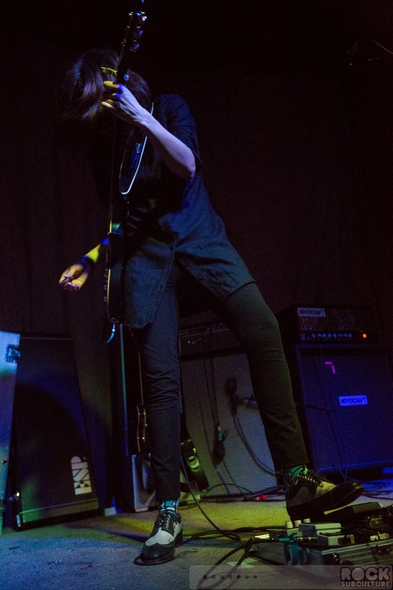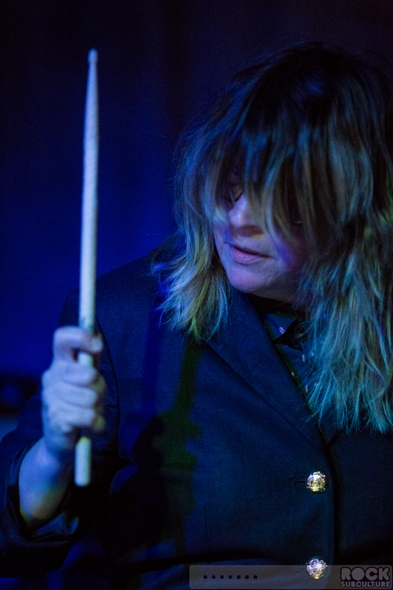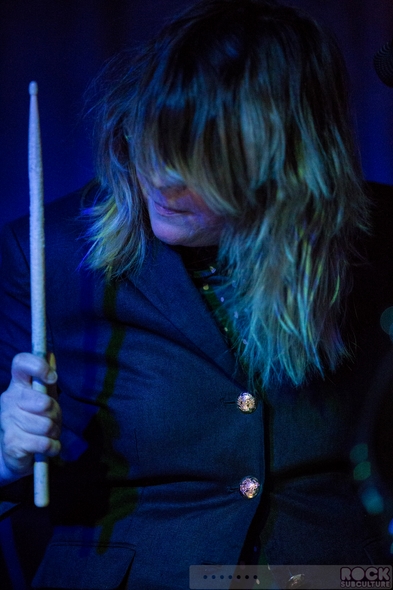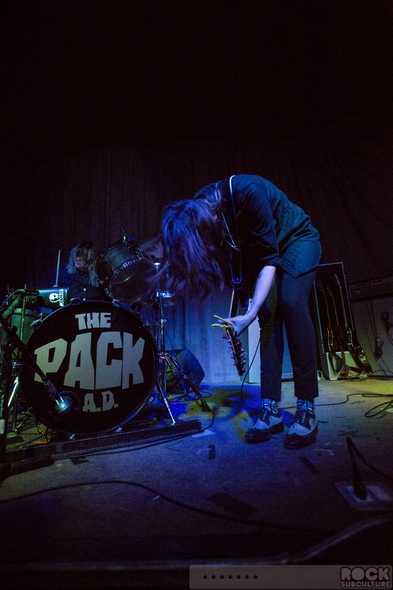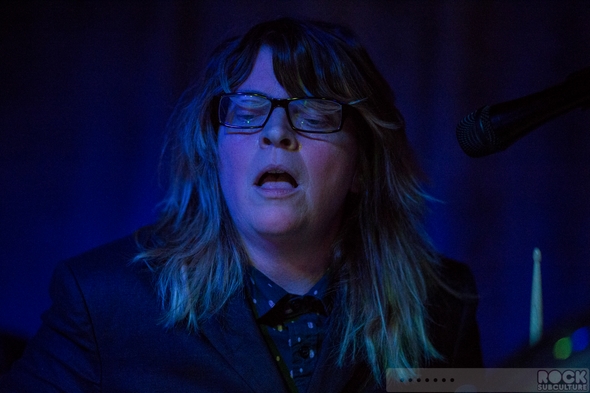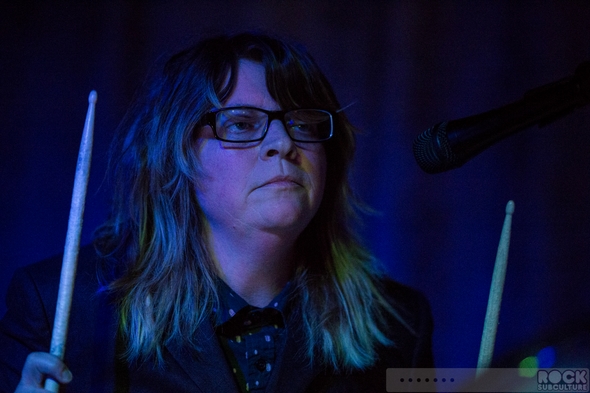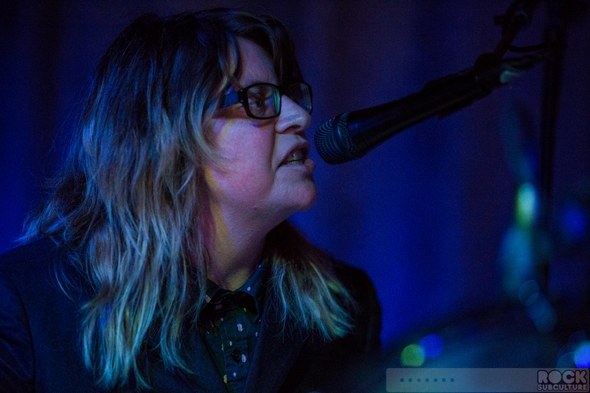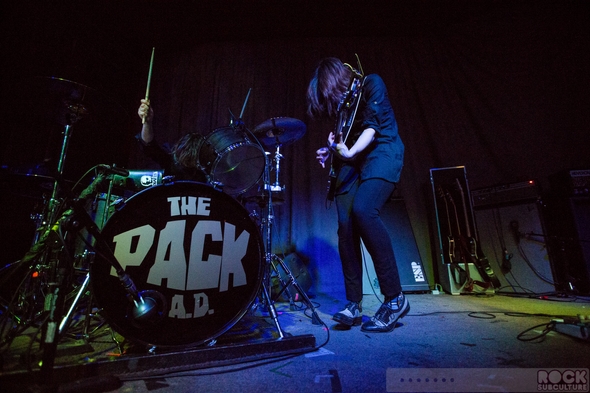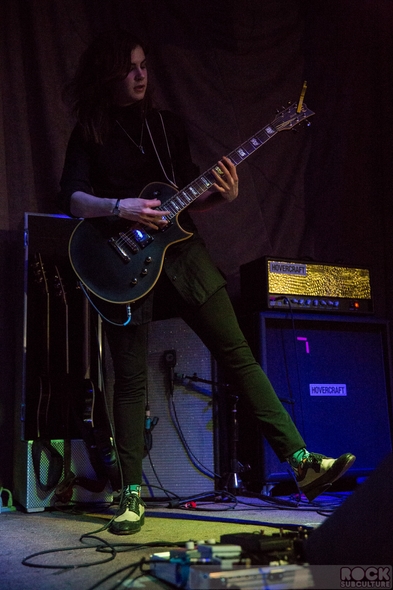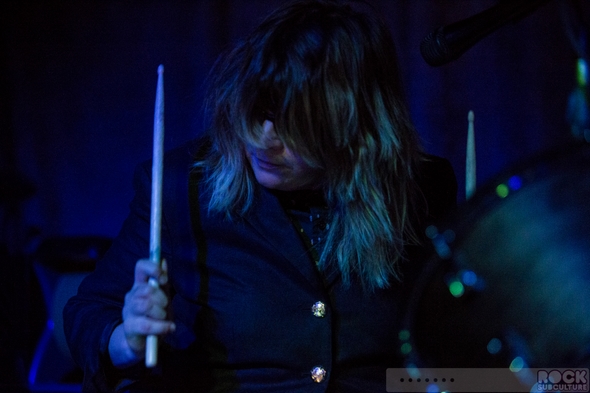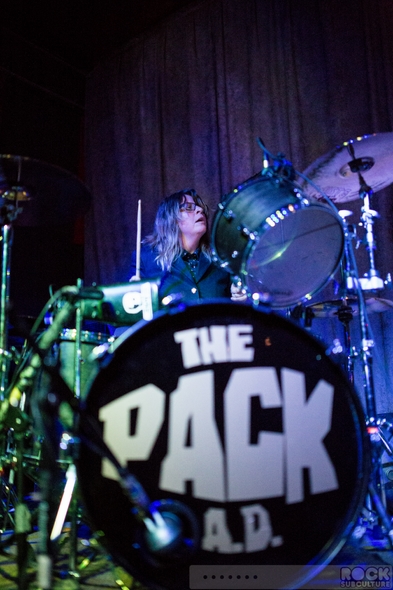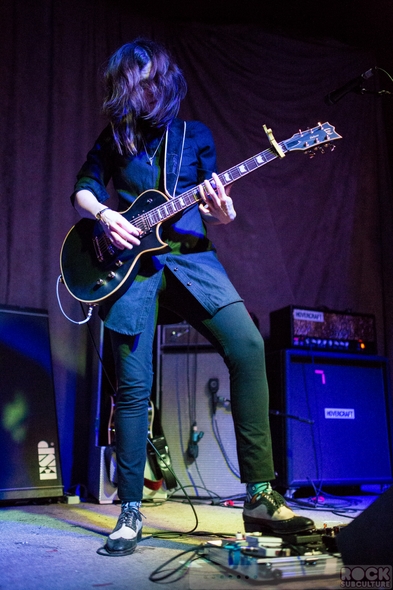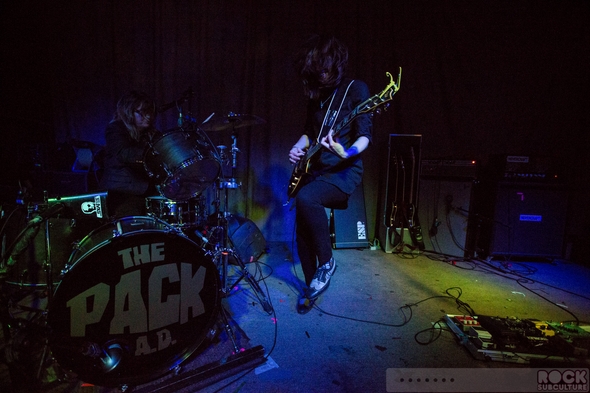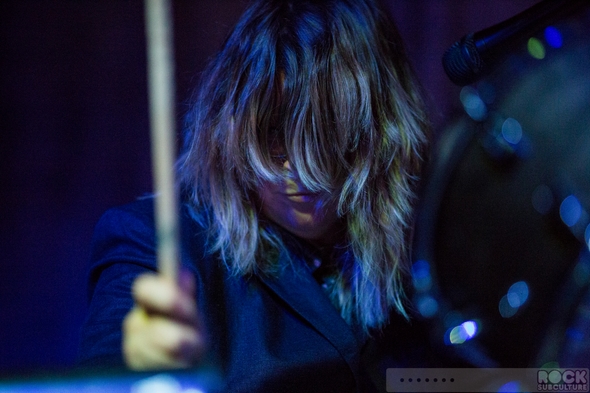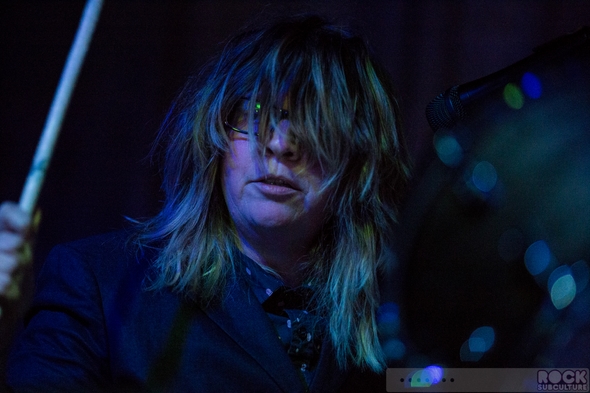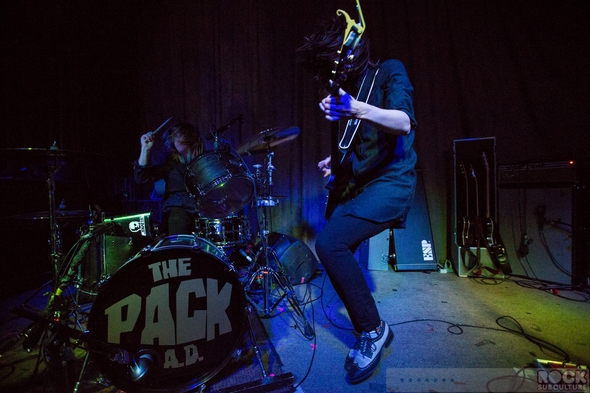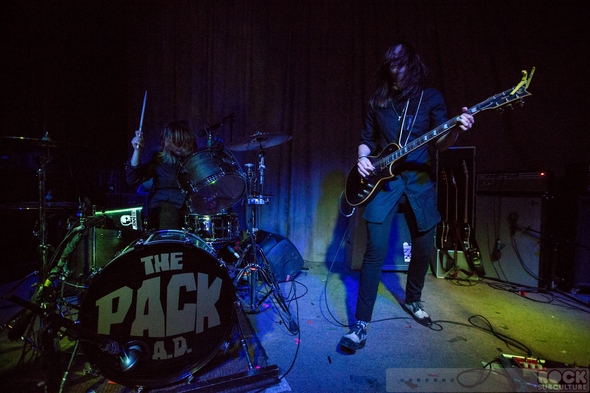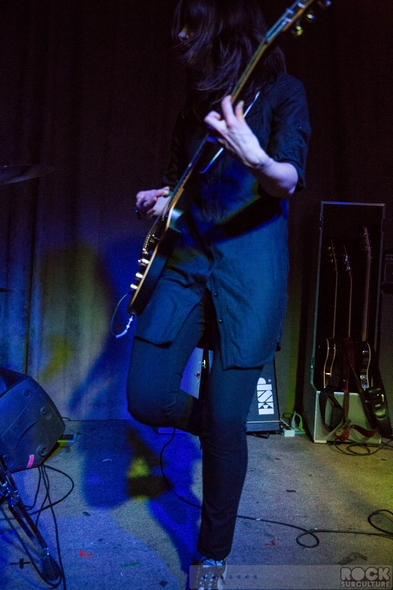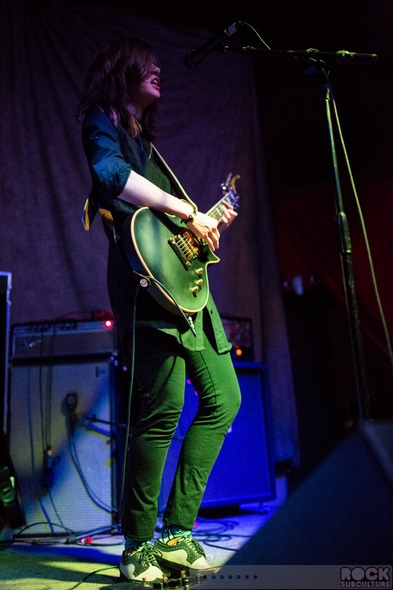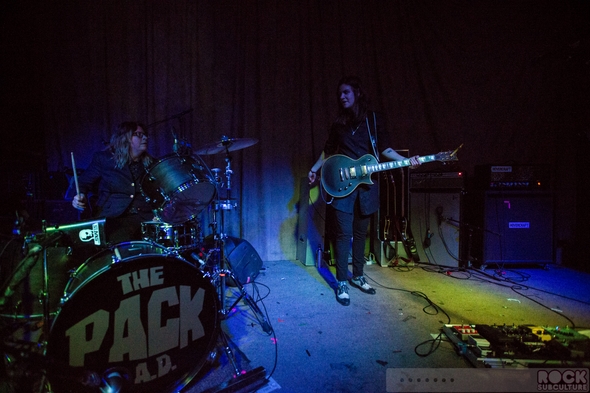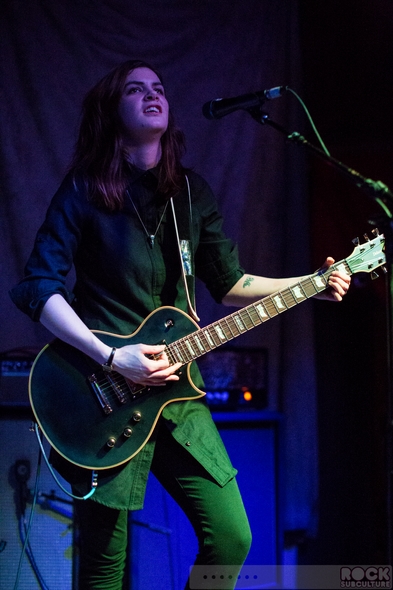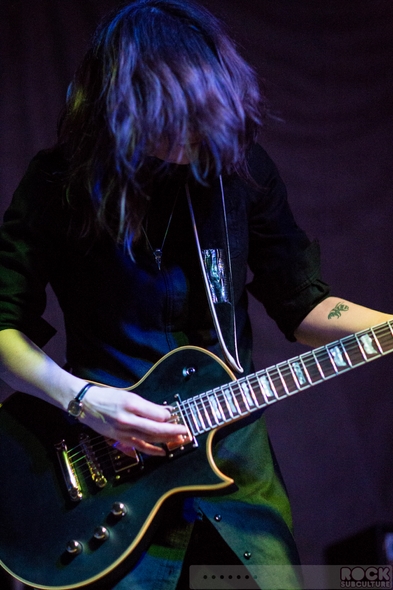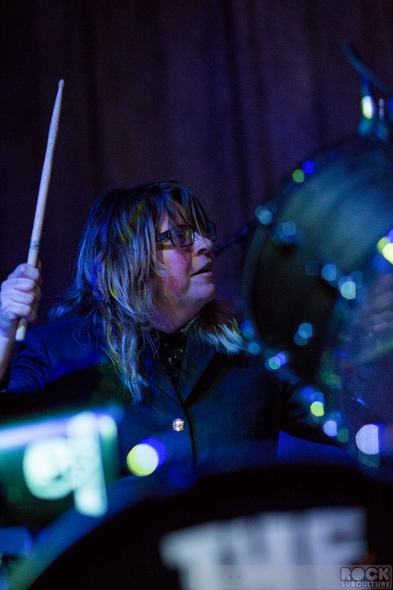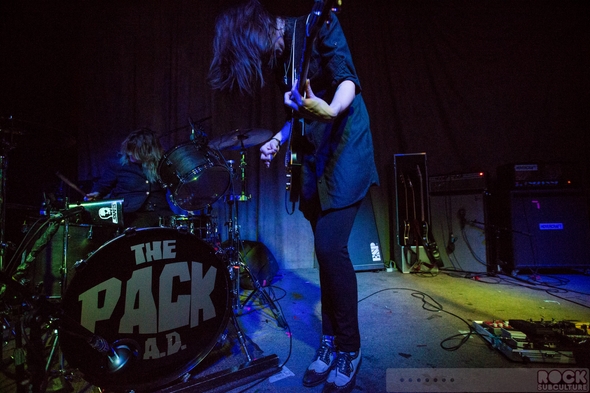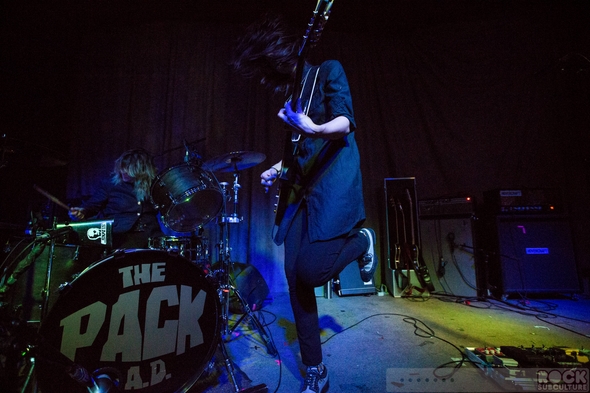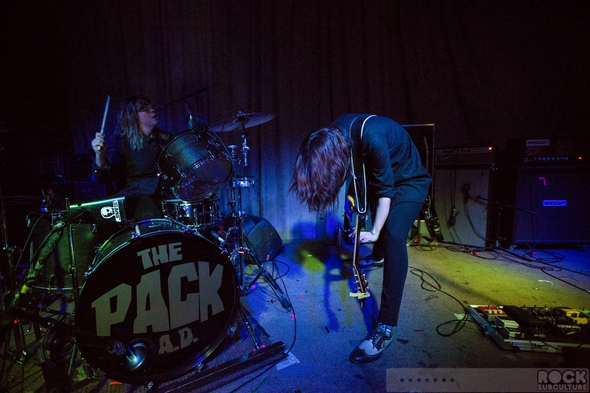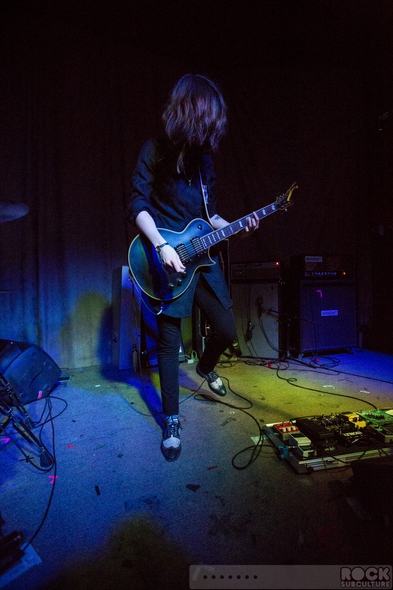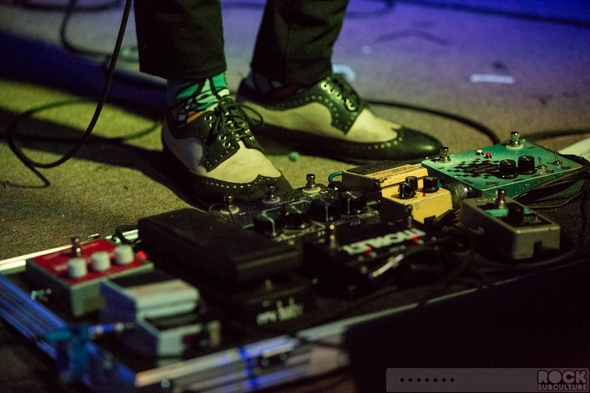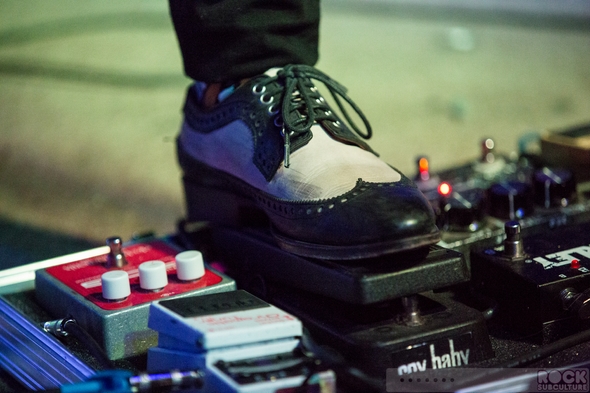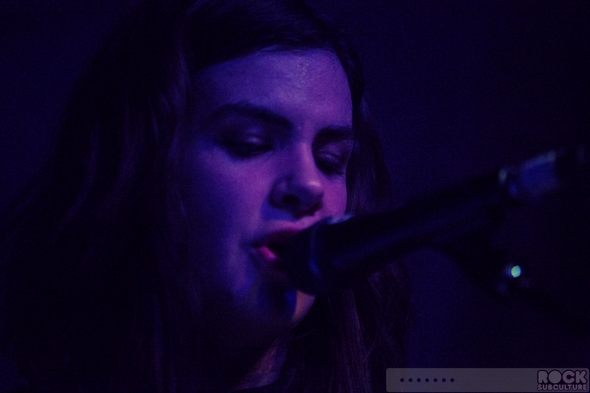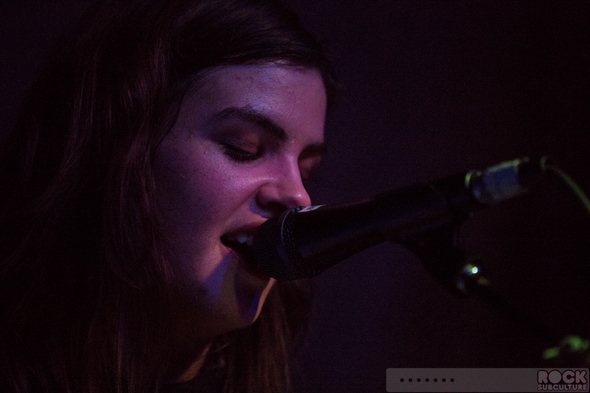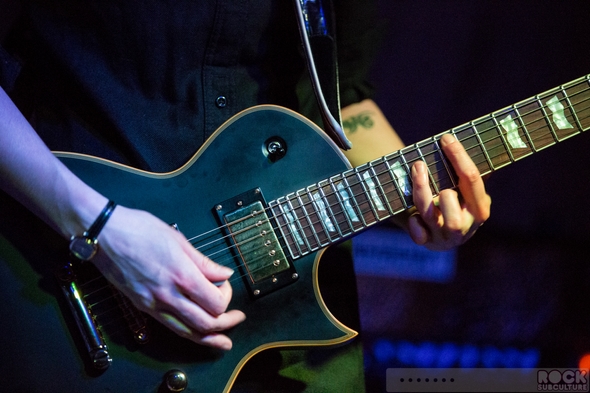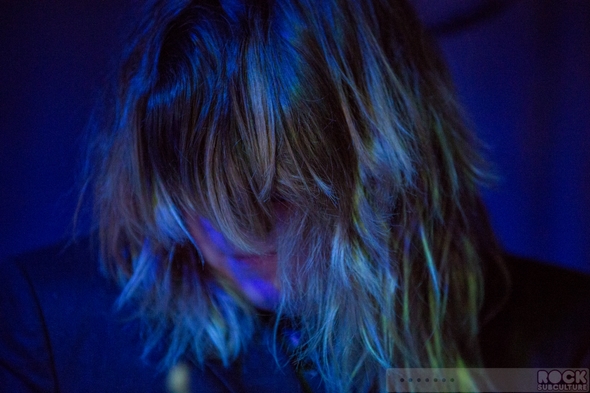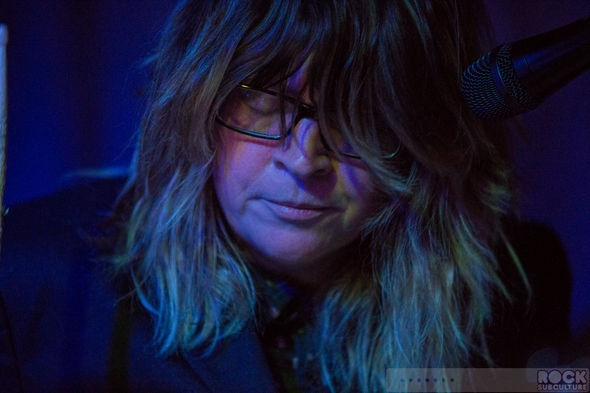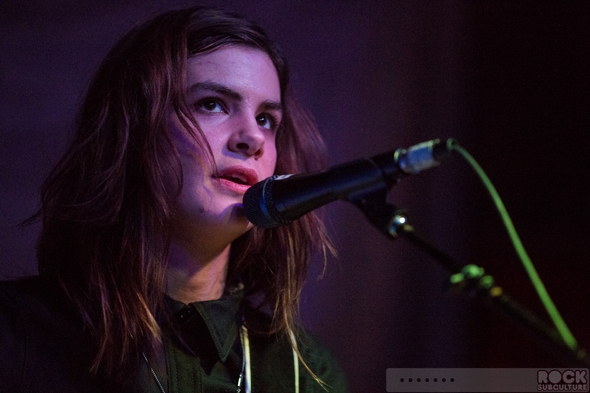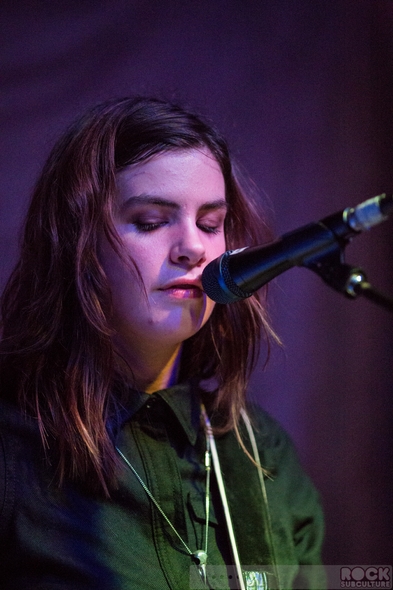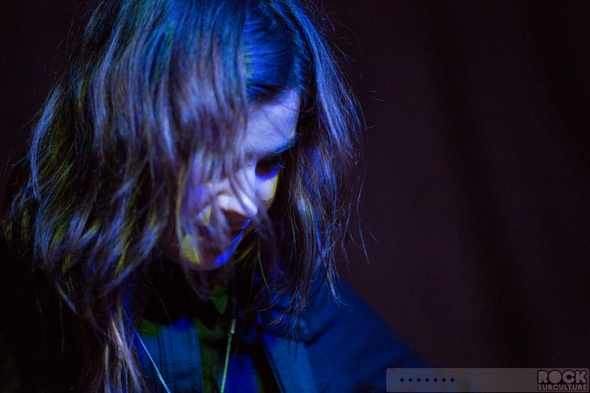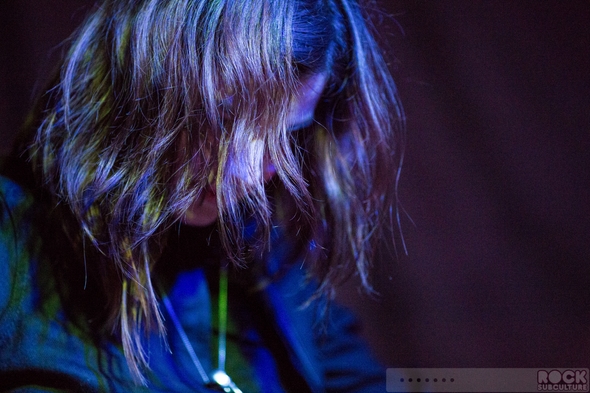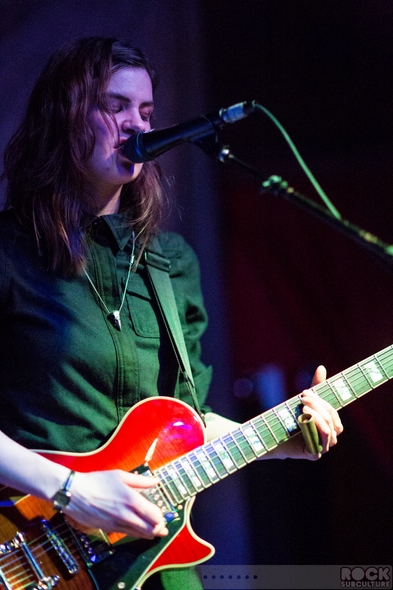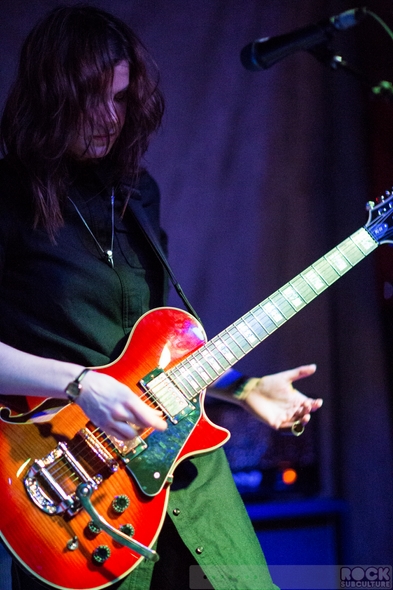 Jason DeBord