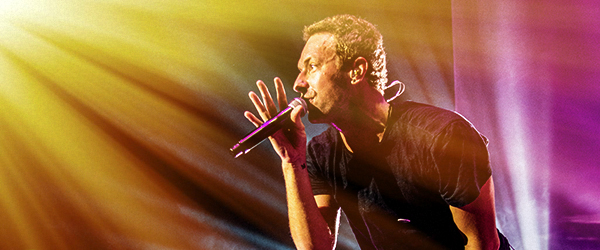 "Essentially, the word around here is grateful…"  Chris Martin at his piano, backed by the Royal Academy of Music, opening the encore for the night with a cover of "White Christmas".  I've written quite a few articles about Coldplay in the past, so any who have read them would know that they are one of my favorite bands (along with Depeche Mode and Pixies).  I hadn't seen them live since their show in San Jose in April of 2012, so it has been a while.  They took 2013 off as far as performing live goes, and have been in the studio working on new material.  The band has always used their gifts and successes in music to help others, and one of the organizations that they've been a big supporter of is Kids Company in the UK.  And, as per tradition, they tend to do a special show each year for Christmas and/or New Year's, so this year it was another of their "Under 1 Roof" multi-artist events.  Sharing the bill with them this year was Lily Allen, Ricky Gervais reprising his character from The Office performing as David Brent and Foregone Conclusion, magician Dynamo, and Rizzle Kicks, with Fearne Cotton hosting the evening, along with some surprise guests like Robbie Williams and Tim Rice-Oxley from Keane.

Who: Coldplay
Who: Lily Allen
Who: Ricky Gervais as David Brent and Foregone Conclusion
Who: Dynamo
Who: Rizzle Kicks
Presenter: Fearne Cotton
Venue: Eventim Apollo in Hammersmith
Where: London, England
Promoter: Kids Company and Coldplay Present
When: December 19, 2013
Seating: General Admission Standing Stalls (front row, in front of Jonny stage left)
This event benefits Kids Company, I thought it appropriate to highlight their Christmas Appeal…
Below are photos of the program handed out at the event Thursday night (throughout this article click any image for a higher resolution version of each photo):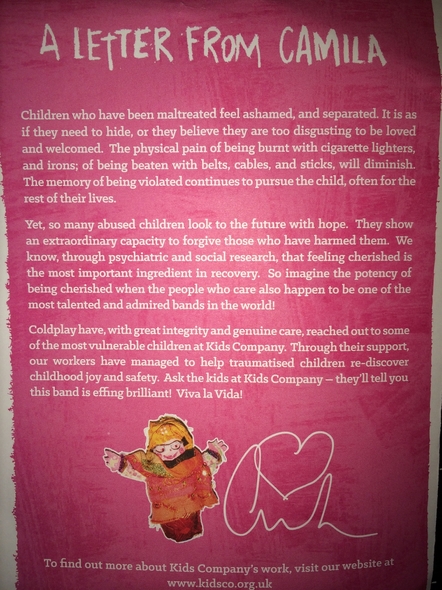 Feature Update – The New "Christmas Lights" Coldplay Video
Below is the new music video created by Coldplay for the "Under 1 Roof" event, which they published the week after the event:
Funny enough, I took a few photos of Miller filming us during that panning shot of the crowd…
Shot from video (me in silly, furry hat):
My shot of Miller filming us:
I also appear in the video running for the stage, right after they open the doors…
Background
Given that this show only have about a month between announcement and showtime, I had a little trouble finding a reasonable flight from California to London during Christmas time late notice, but bought a concert ticket on spec, just in case.  By pure luck, I ended up stumbling upon a crazy deal on a Norwegian travel site and scored a flight about half off, so it all worked out in the end.
I arrived early Sunday morning for the Thursday show, as London is my favorite city, so wanted to take as much advantage of my stay as possible.
The Bakery and The Beehive
Funny enough, in all my visits (I tend to make it to London one or two times a year), I never walked by the famous (among fans, anyway) Bakery and Beehive – Coldplay's two studios.
I found I had some time on Tuesday, and some of my Coldplay fan friends had not arrived yet, so I made my way out to North London via Tube, had lunch, and walked in the general direction in which I understood the studios to be…  my goal was just to take a few photos of the exteriors (the are on the same street, one across from the other).
I discreetly took a few distance shots, and was going to leave and noticed a trio across the street just sort of staring at the building, so I guessed they were there for the same reason.
I went across the street and asked in they were Coldplay fan – yes – and they began to tell me that they came from Australia, and had been there all day (it was about 2 PM at that point and very cold).  They said that Jonny, Will, and Guy all came out early and took time to chat with them, but that they didn't believe that Chris was there.  I asked if they were going to the concert Thursday, and they said that they were not going to be in London that long, hailed a cab, and they were off.
A little further away, and young man and two young women were sitting on a bench across the street from The Bakery, and a woman was talking with them – it sounded like she was asking them to move on, as it is a residential neighborhood.  I spoke with her for just a minute – super nice woman – and just asked if she wouldn't mind passing along my business card to Jonny at some point, just to let him know "the guy with the Viva guitar" walked by and wanted to say hello, but not to get him or anything like that…
I was talking to the young man there that is a big fan for a few minutes, and just a bit into our conversation Jackie came out with Chris Martin, they came across the street and Chris was nice enough to chat with us for a few minutes about their private gig they'd played the night before and the upcoming show that is the subject of this review.  As was my experience meeting him at the Newcastle "Hidden Gig" three years ago, he was very kind and humble – a real pleasure to talk with.
I wasn't going to ask, but at one point in the conversation, he asked if I'd like to take a photo with him, so I couldn't resist the opportunity…
Afterwards, I didn't want to overstay my welcome, so took off, heading back to the Tube Station.
Below are some photos of the Coldplay studios, The Bakery and The Beehive: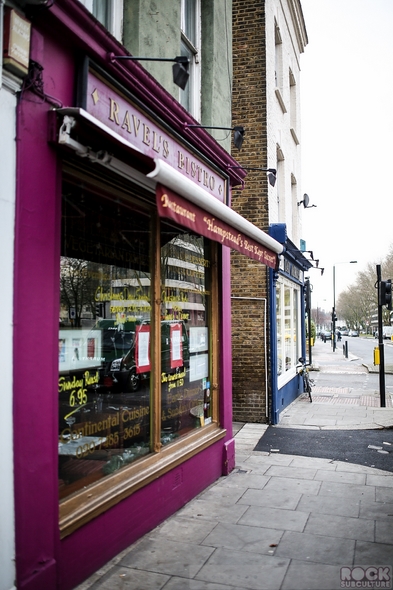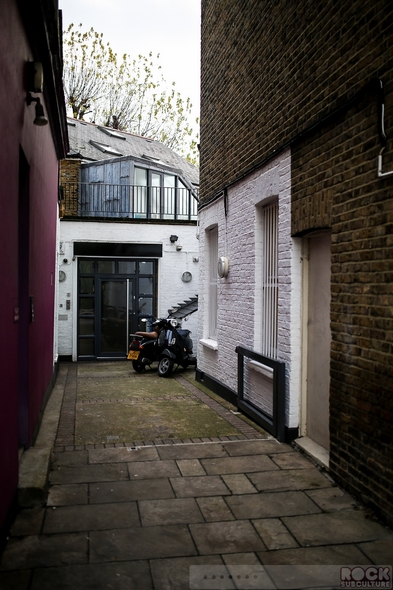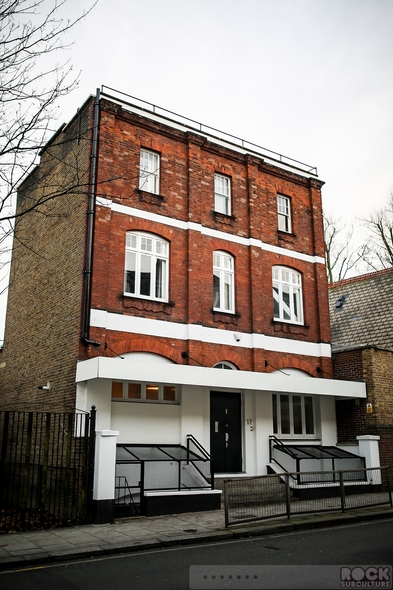 Kids Company
A friend of mine won a few items in the recent charity auction by Kids Company, so he and another friend and I went to their offices to pick up his memorabilia.
We met with Sasha, who was just wonderful to talk with about their mission, and she was kind enough to give us a little tour and talk about some of their projects and efforts helping children in the UK.
As part of their Christmas plan, they put together I believe she said 7,000 food pantries to deliver to children and families in need, to assure that they will have enough food for the holidays.  We saw palates of these food pantries believe packed up and moved out for delivery when we were there, as well as volunteers putting together Christmas gifts for the kids.  It was all truly moving to see some of the best of what people have to offer in coming together for a worthy cause.
Sasha allowed me to take some photographs for this article, to provide a glimpse not just into their efforts for helping children during Christmas time, but some of their art projects as well.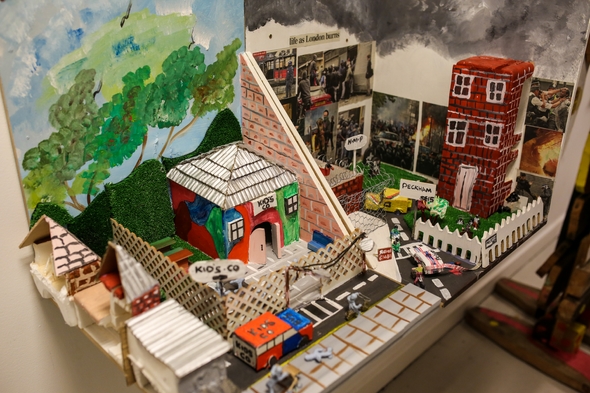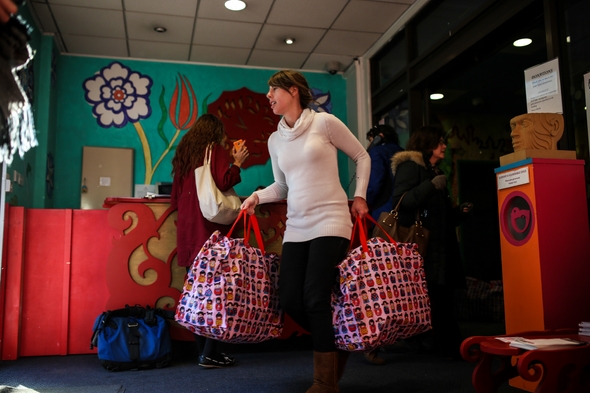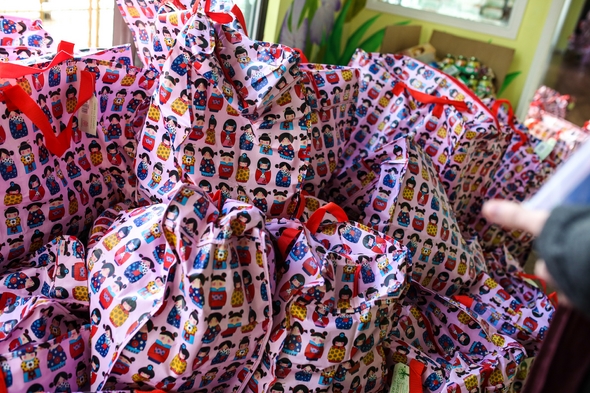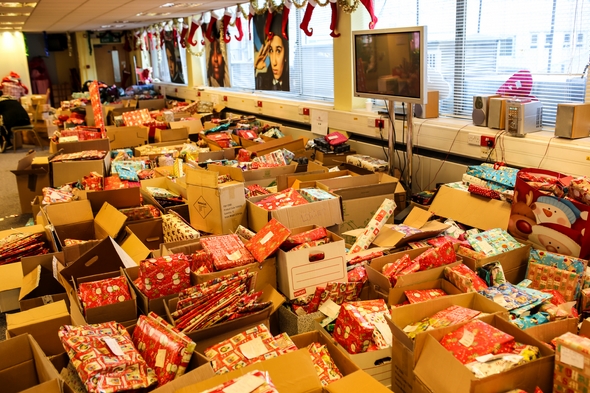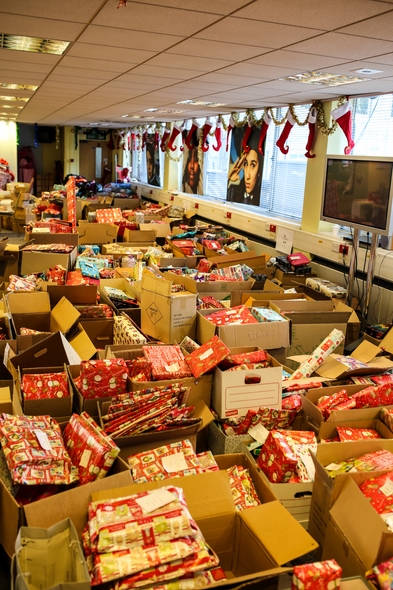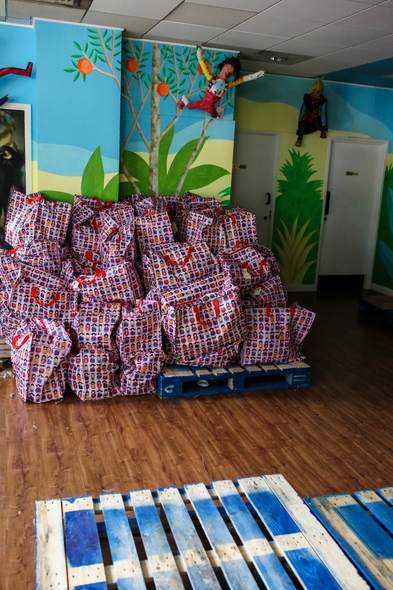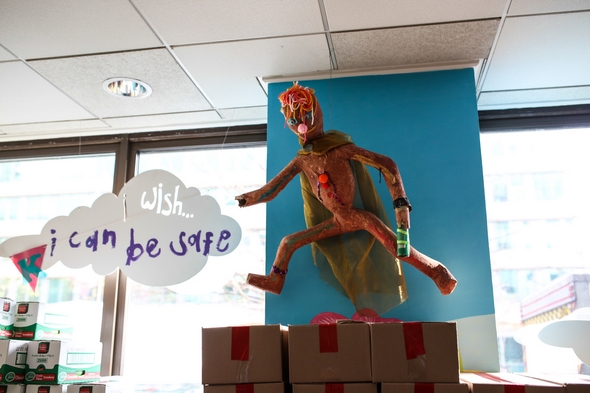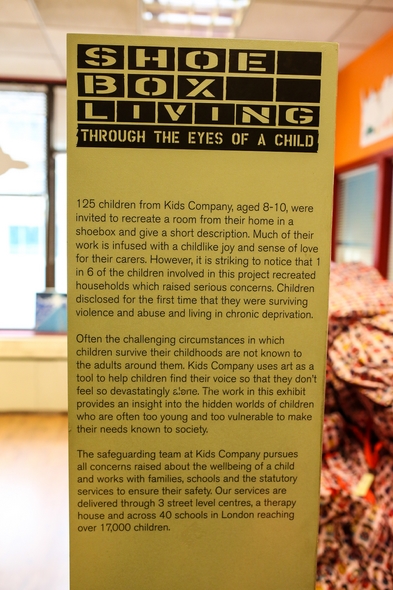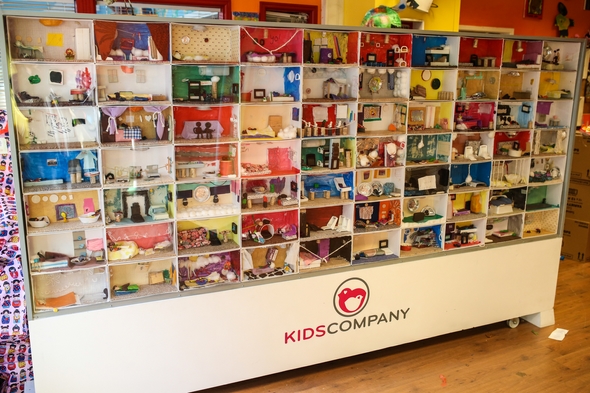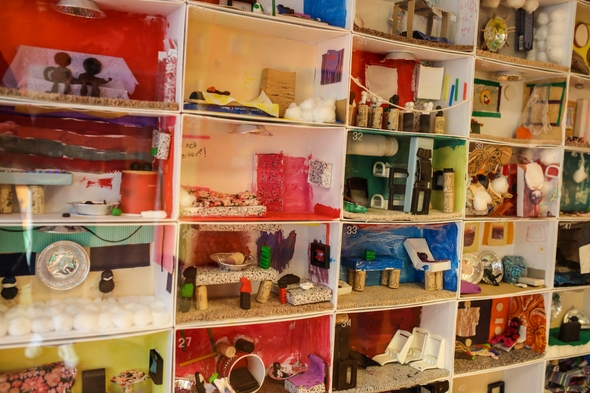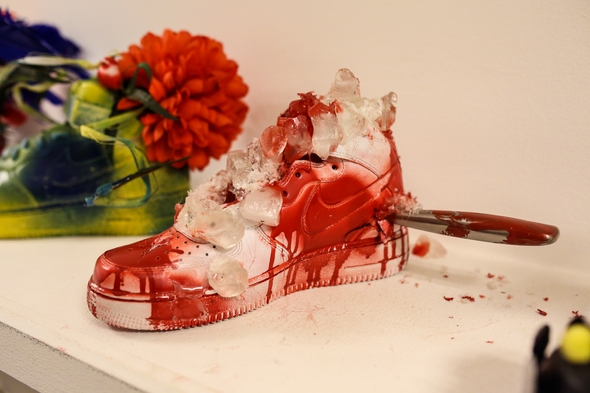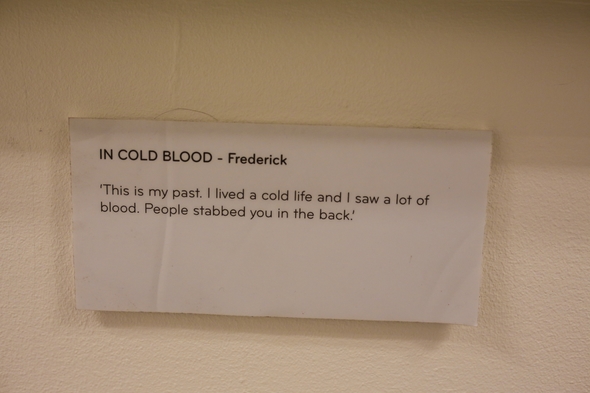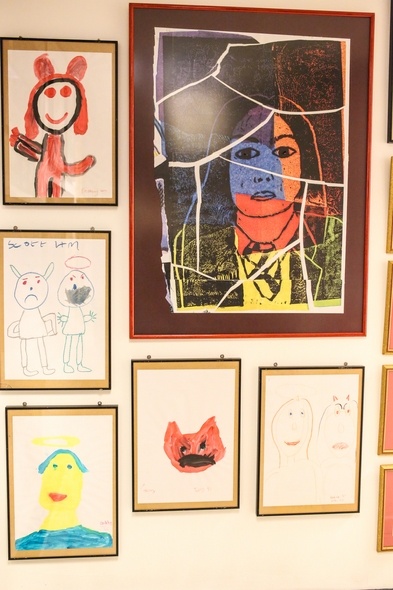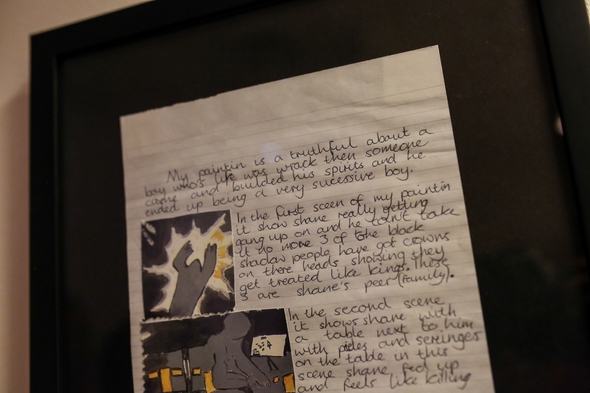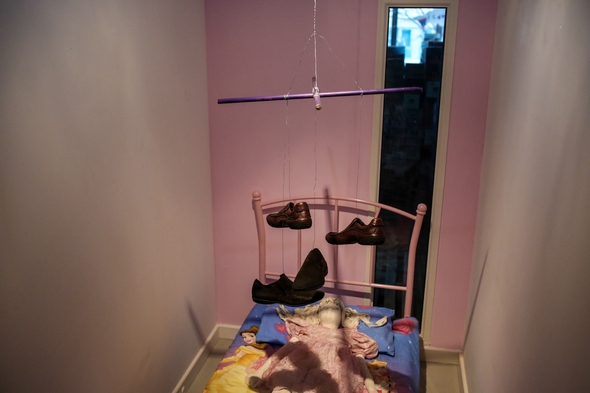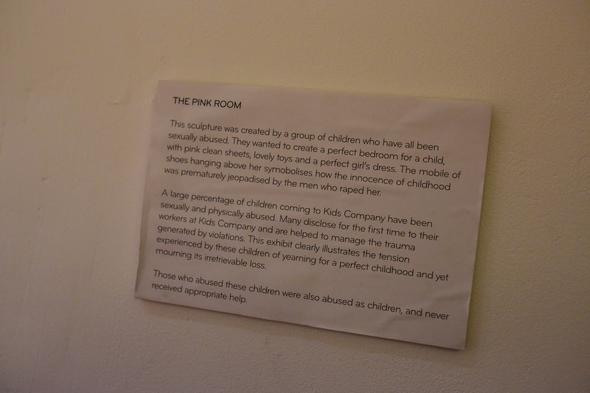 I was really, really impressed with Kids Company and their ability to help children in a variety of ways, but especially in finding productive ways to help them begin to come to terms with the most difficult of challenges and circumstances.
"Under 1 Roof" Concert
I could not be accommodated for this event under photo pass, and I wanted to enjoy the show from as close to the stage as possible, so I made the (crazy) commitment to arrive at the venue prior to sunrise, I think it was a little after 6 AM when I arrived (it took about 40 minutes to get their via Tube).
I think I was about the 10th or 12th or so person to arrive, and some had gotten there in the 5 AM time range…  It was still dark out and very, very cold, but thankfully the pouring rains that hit the night before had passed on.  Although that was probably due to the frigid cold winds!
I had a chance to meet some other fans that I knew online from Coldplaying, but had never met.  And funny enough, a gentleman that was standing right next to me at the second Depeche Mode O2 show in London back in May was the first person in line!  Small world!
With a 6 AM arrival and 6 PM doors for the show, it was quite a long wait, but fun apart from the miserable cold.  I used the time to finally start up the official Rock Subculture Instagram account (late comer, I know), and posted some photos and videos as updates throughout the day.
Unfortunately, due to the orientation of the building, we never got any direct sunlight, and zero shelter from the wind as it was coming straight at us.
When it got within an hour of doors, the line got really long outside, and I also had a chance to chat with Jason Regler (the inventor of the Xylobands) and his son Louis (who is part of the band, Too Much Lipstick), which was really nice, and they graciously allowed me to snap a photo of them to include in this feature: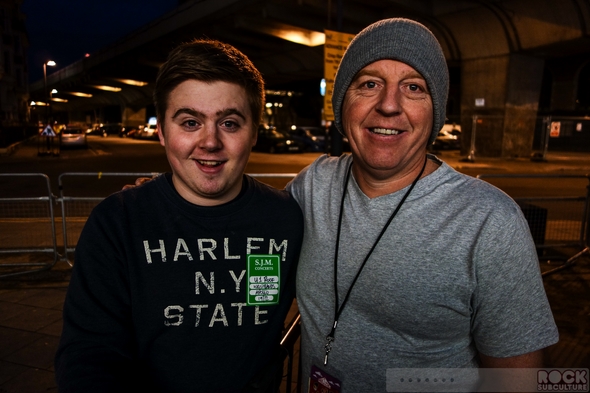 As a funny aside, the last time I took a photo of Jason, BBC lifted it from my site, cropped it, and used it in one of their own articles (after I contacted them, they did give me photo credit)…
Prior to doors, Kids Company volunteers made their way through the line handing out Xylobands, which featured a special design with the Kids Company logo with festive red, green, and white light-up bands (you can see a short video of mine lighting up that I posted on Instagram).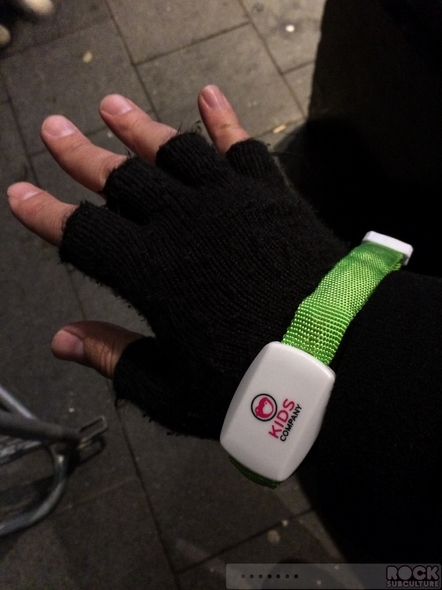 Below are some photos I took throughout the day from waiting outside of the venue: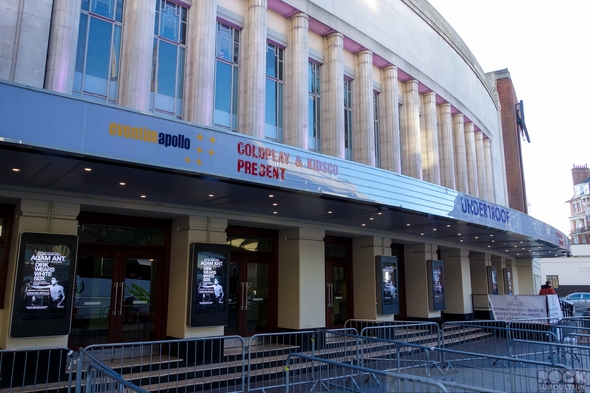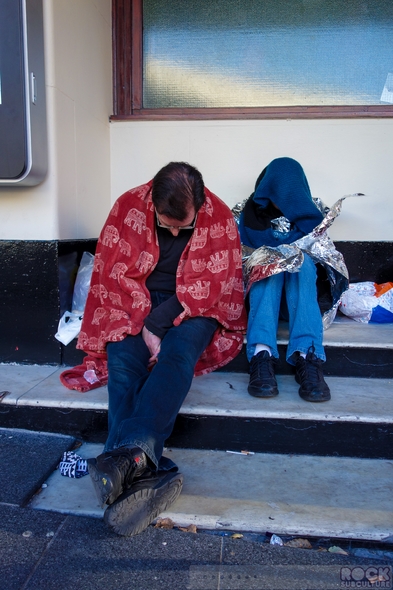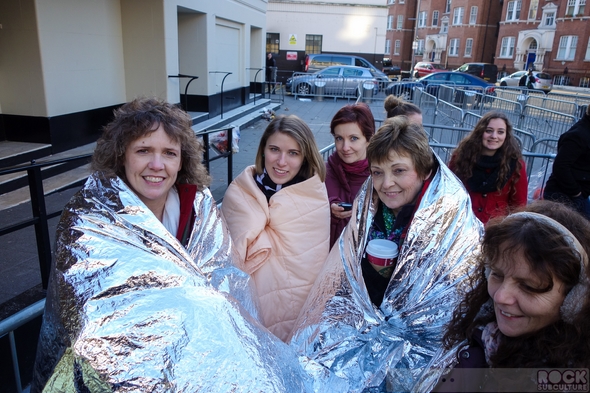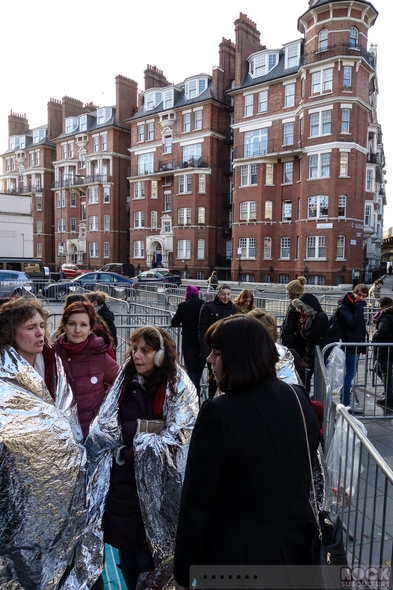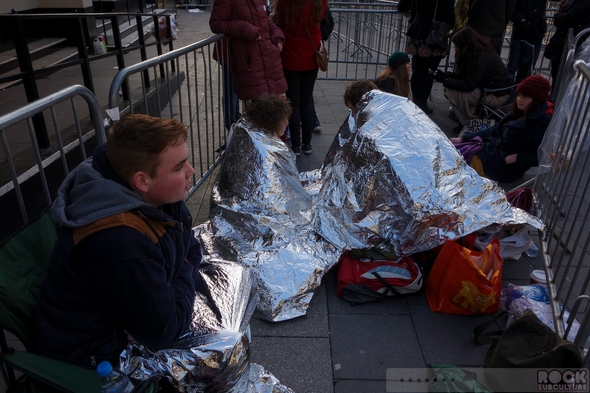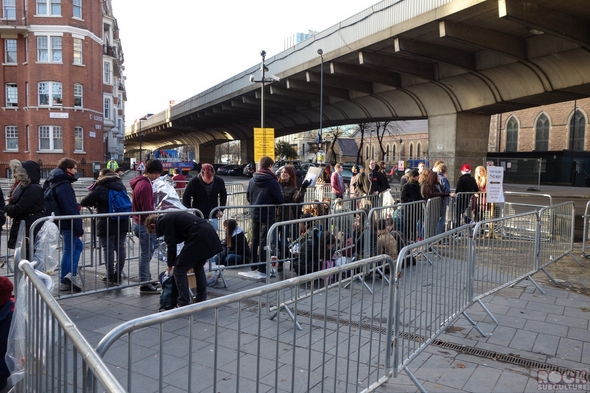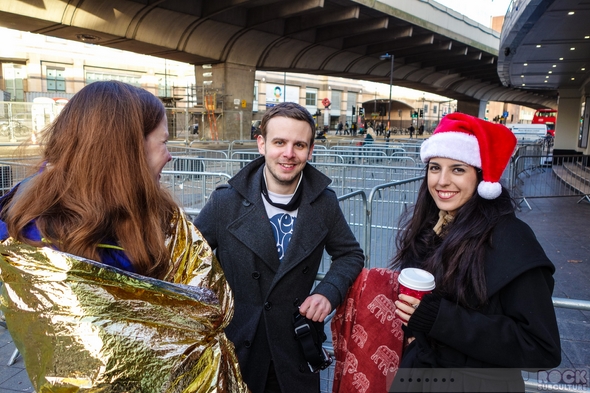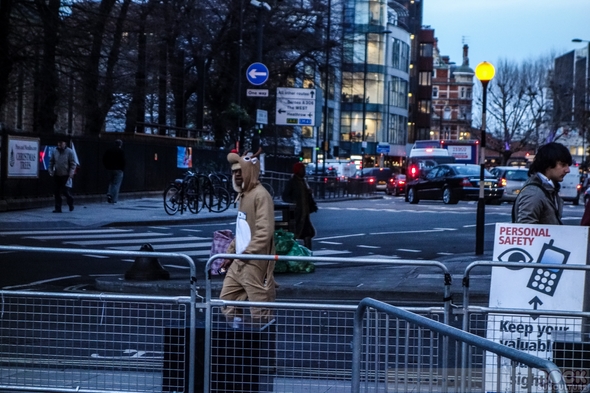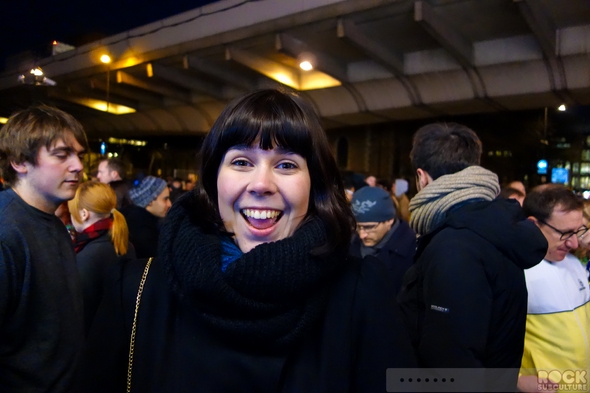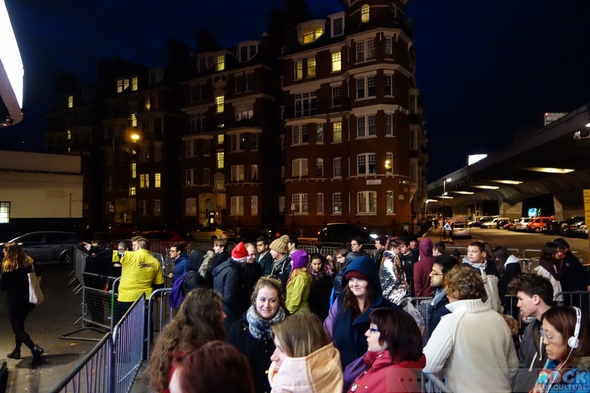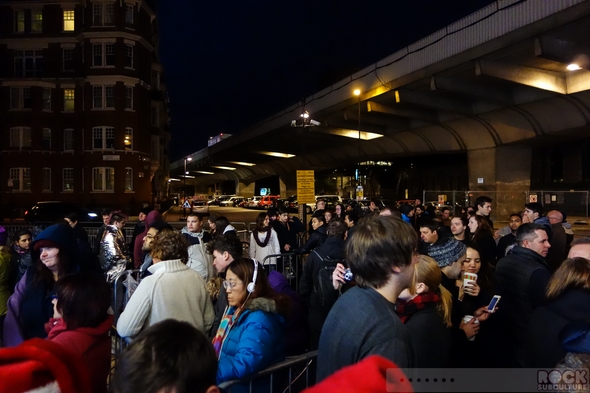 When doors eventually opened, it was a mad dash for the front of stage area, and my hope was to be center left (looking at the stage) to have a closer view of Jonny's work on guitar, and though I was in the first dozen or so through the door, the front rail was fairly filled up, though I ended up literally directly in front of Jonny, which was great.  It ends up that those who bought both the "Bronze" level tickets, which were in the balcony but early entry, and who also bought "Standing Stalls" (i.e. GA standing) tickets were able to get to the floor ahead of the crowd (though at least four of them arrived before me in the morning anyway).
As an example of only so much being in your control, and luck playing a large factor, the guys to my left on the rail hadn't lined up outside until after noon, so only waited half the time I did and only gave up about three feet.
Overall, the concert showcased great organization, and things ran smoothly from set to set, with little waiting in-between.
Fearne Cotton was a wonderful hostess as well.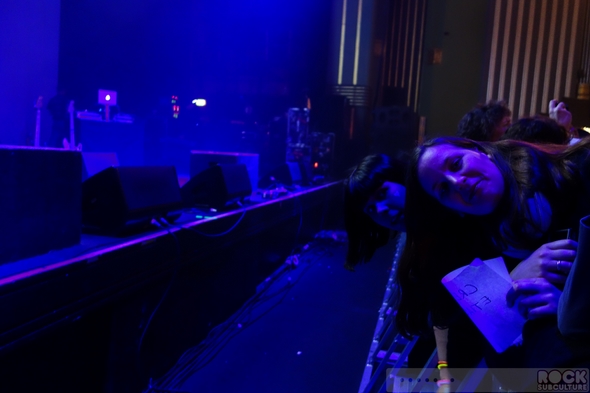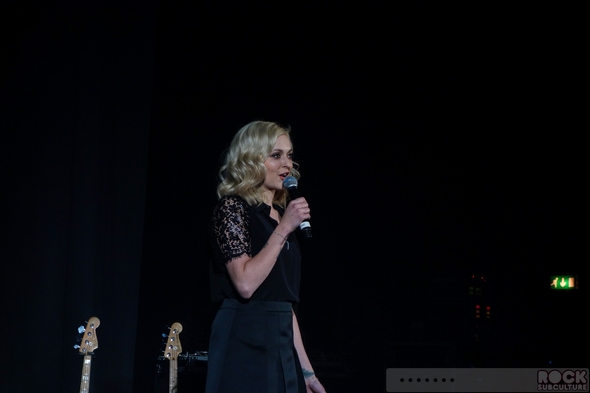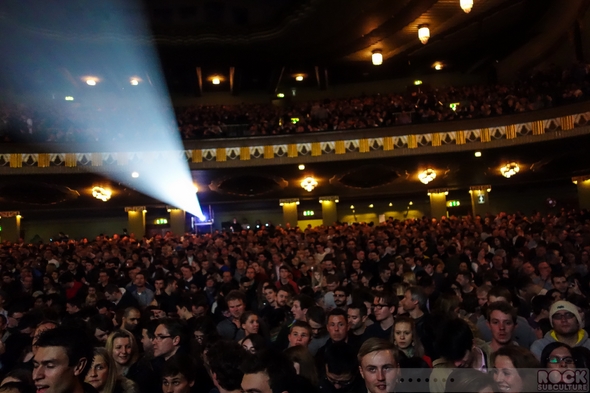 Rizzle Kicks
Rizzle Kicks is a duo I was not familiar with before this show was announced.  They are an English hip hop duo made up of Jordan "Rizzle" Stephens and Harley "Sylvester" Alexander-Sule.  They have put out two albums, 2011's Stereo Typical and this year's Roaring 20s.  They are quite successful and popular in the UK, and I gather that their base audience skews a bit younger, as a young man next to me on the rail said he listened to them when he was younger – I asked how old he is now and he said 16!
Just last week, the duo released their first "festive" song, "Happy That You're Here".
I was really impressed with their sound, energy, and music – they put on a great show and were a perfect choice to kick off the positive and festive evening of entertainment.
The duo was joined on stage with a full band featuring a drummer, guitarist, bass player, and brass section.
Below are some photos of Rizzle Kicks performing on stage: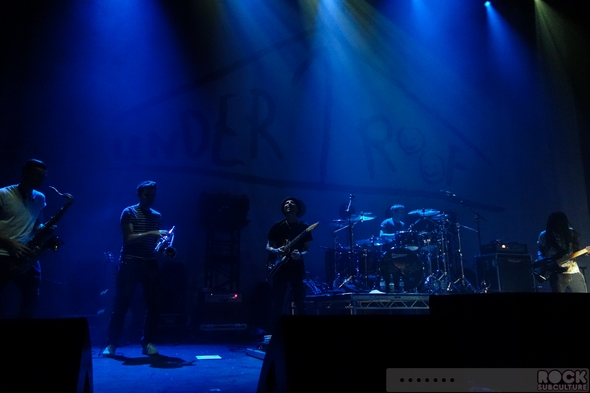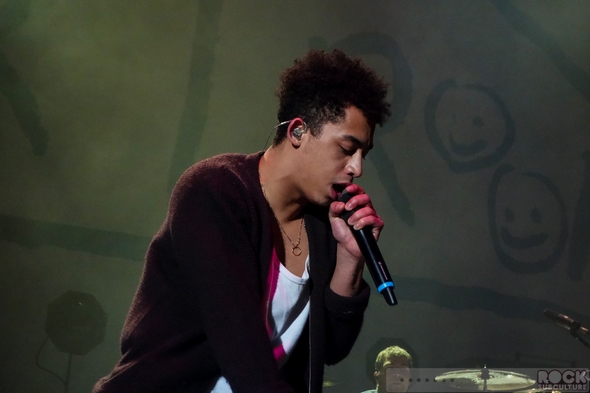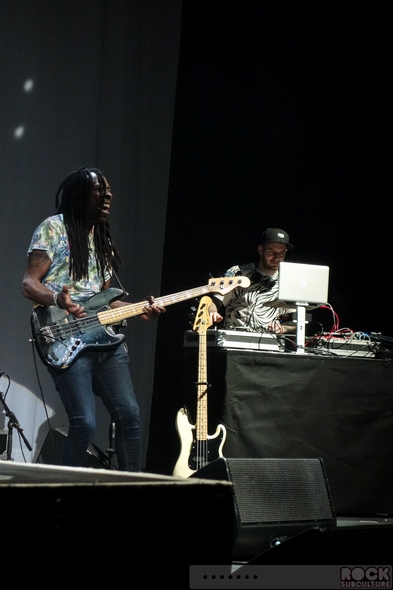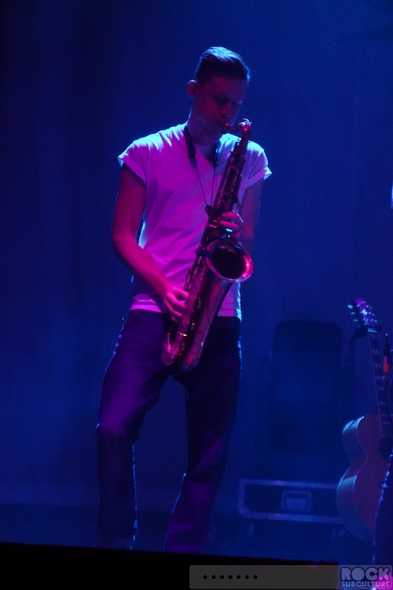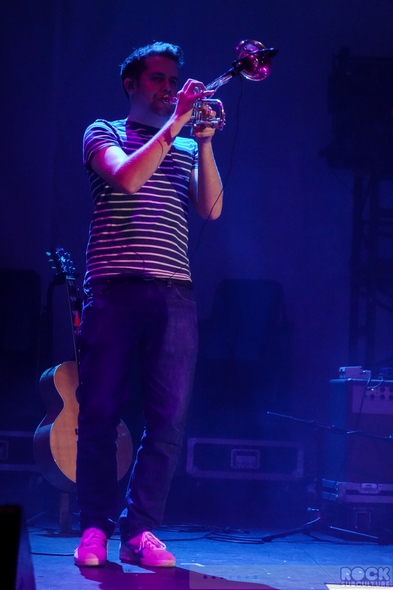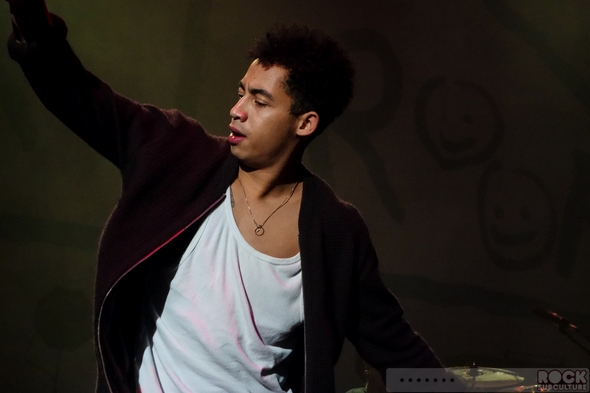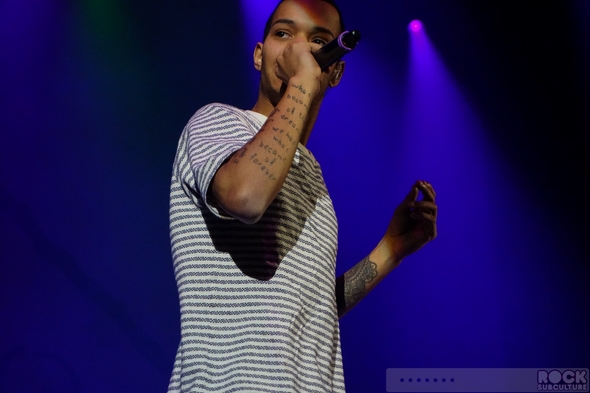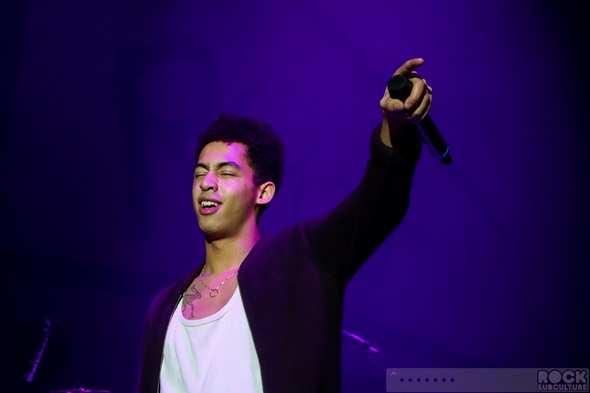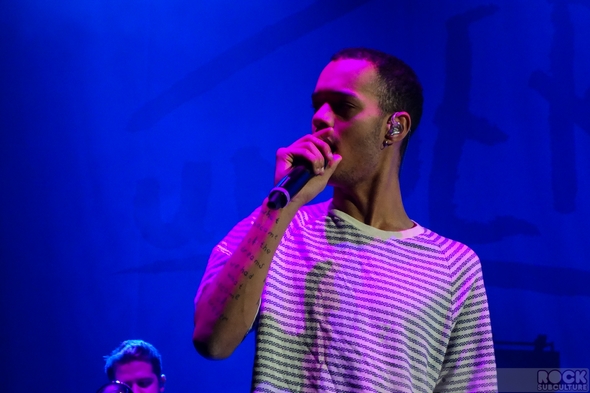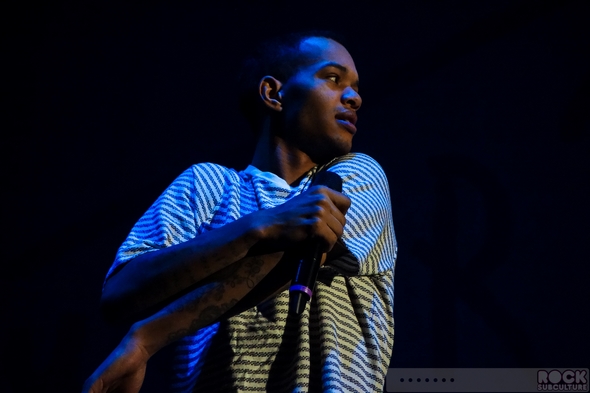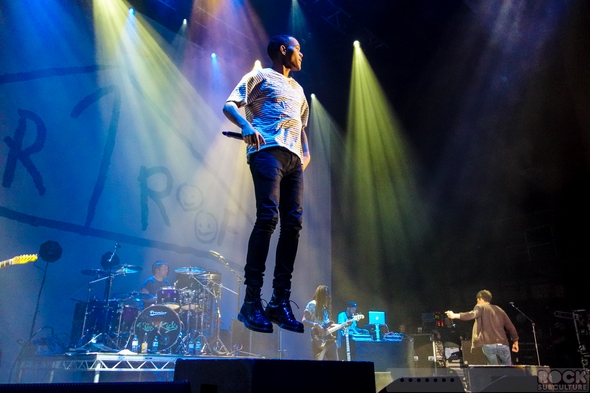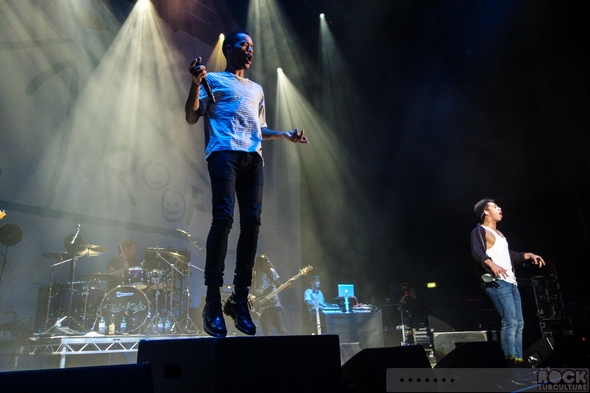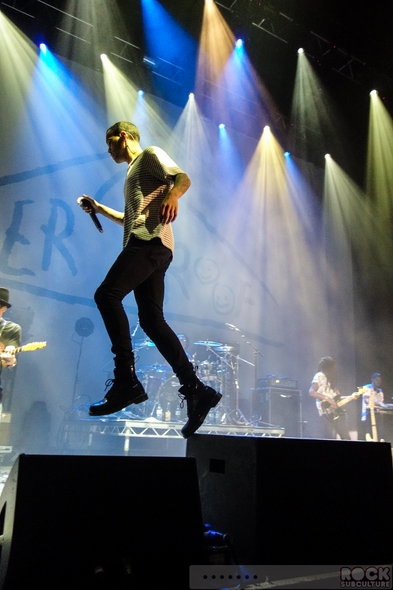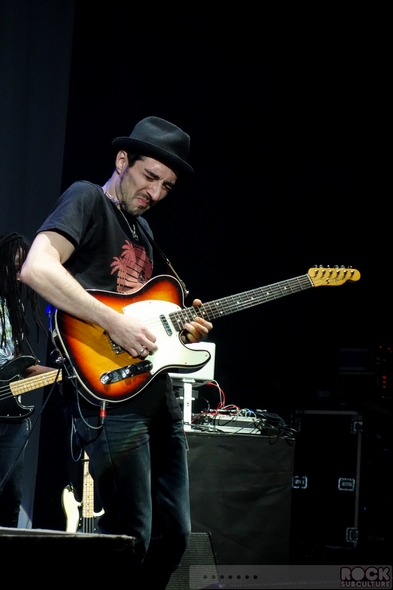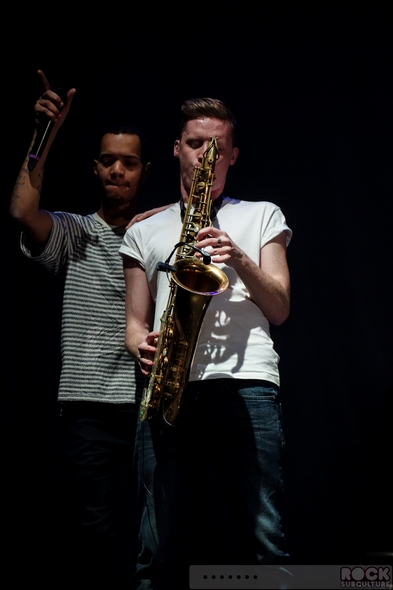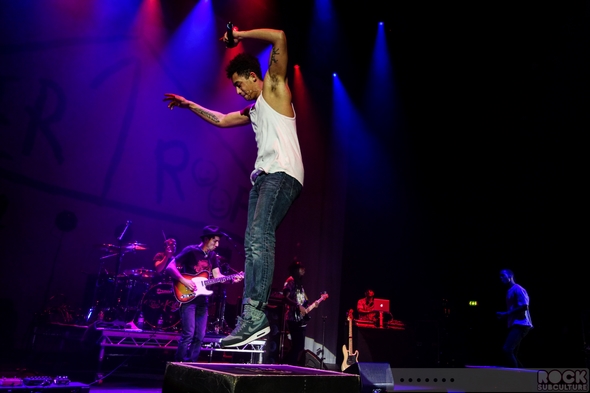 Dynamo
Dynamo (born Steven Frayne) is an English magician who has a television show called Dynamo: Magician Impossible.
I've seen a few magicians perform live, but I would definitely put Dynamo among the top.  He was amazing.  I don't want to talk about his tricks in too much detail, and possibly ruin the surprise of those who might attend one of his shows, but it was really impressive and certainly interactive.
The funny thing is that when I chatted with Chris Martin at The Bakery earlier in the week, he brought up Dynamo right away and seemed to be bursting with excitement talking about him.  Then, the night of this event, I noticed that Chris was watching from side stage, and had this look of joy and awe about him, almost like a little kid himself – he appeared to be loving it.
One of the coolest parts of his set was toward the end, when he did this thing where he arched himself backward with just one foot on the ground (see photos further below), which was quite the sight!
I really loved that he was part of this show, as again, it really contributed to the celebratory atmosphere.
Below are some photos of Dynamo performing on stage: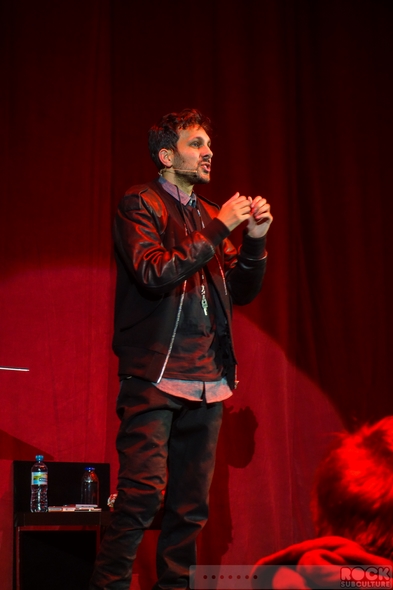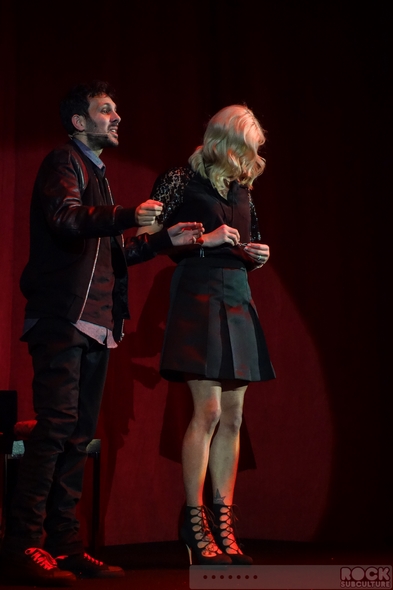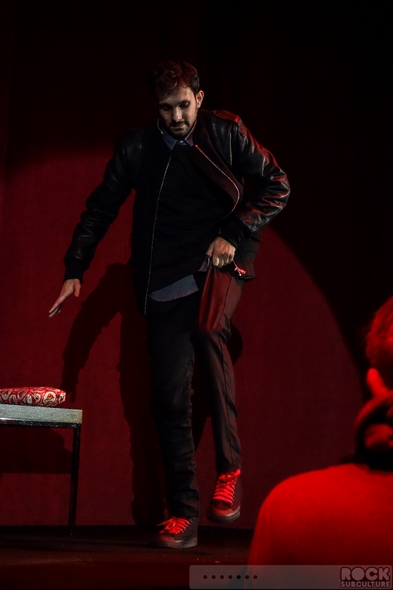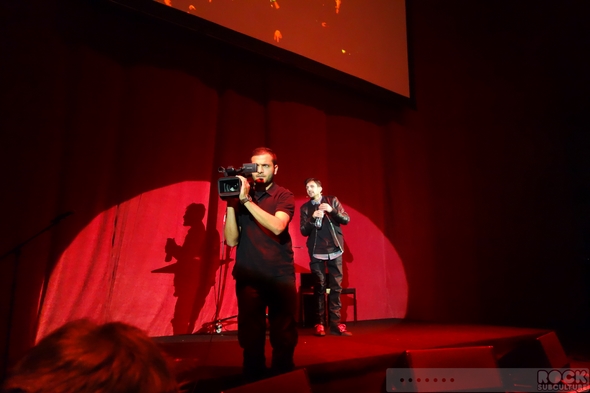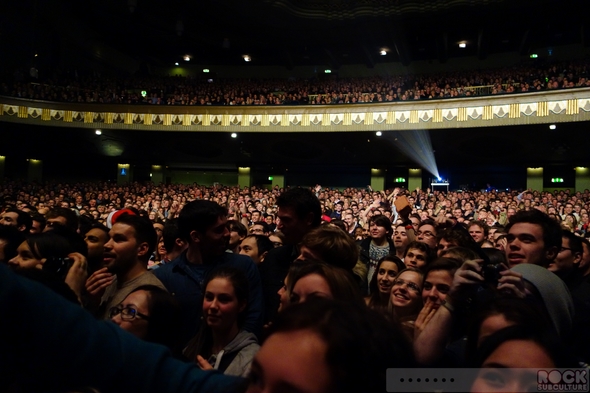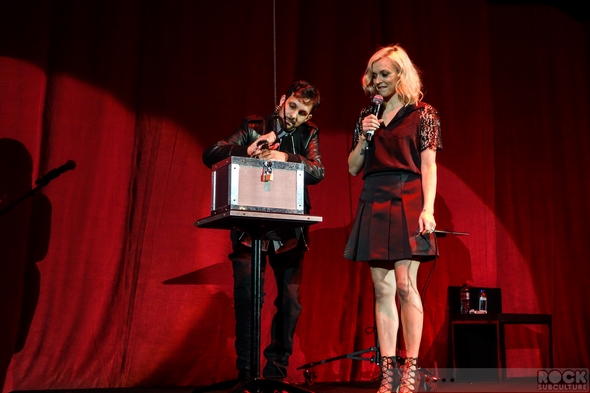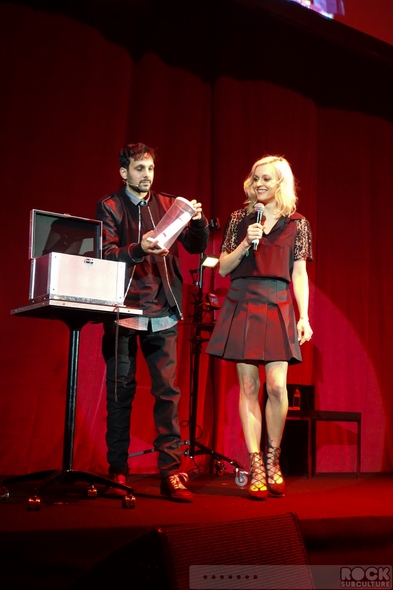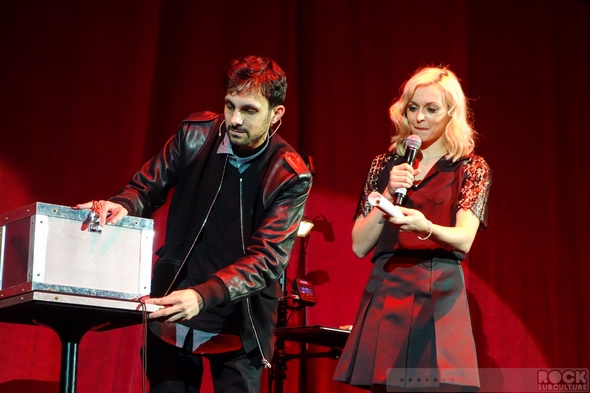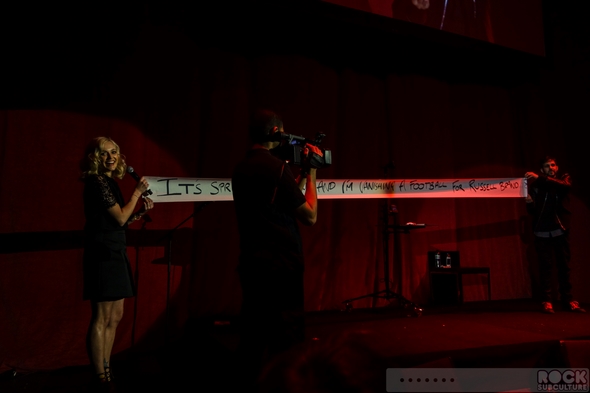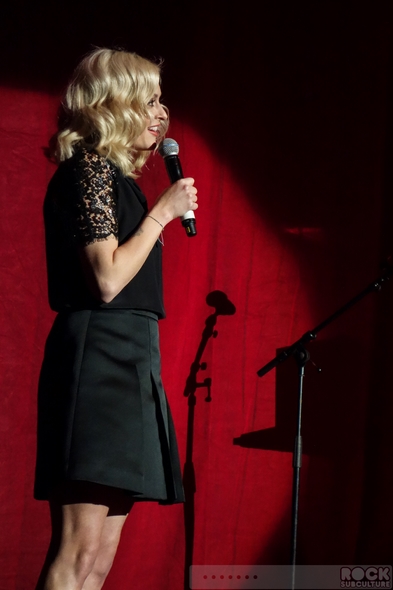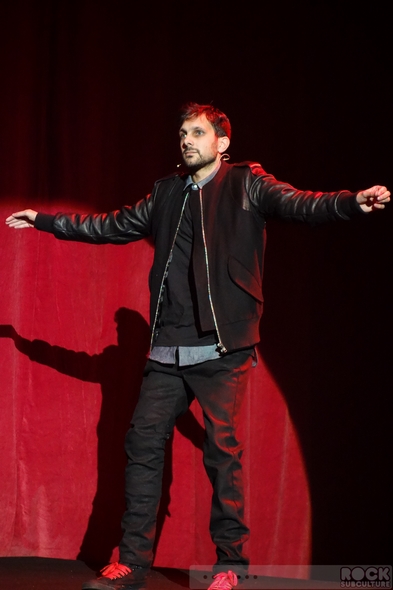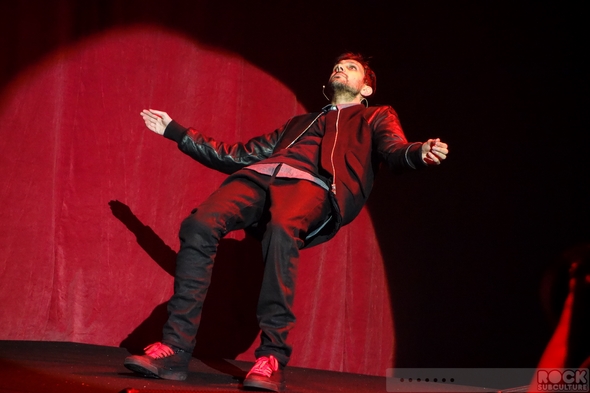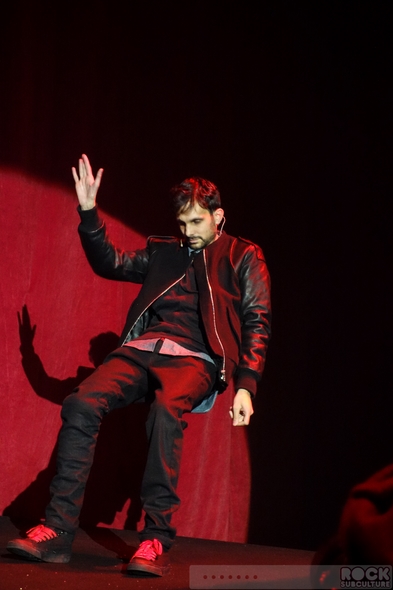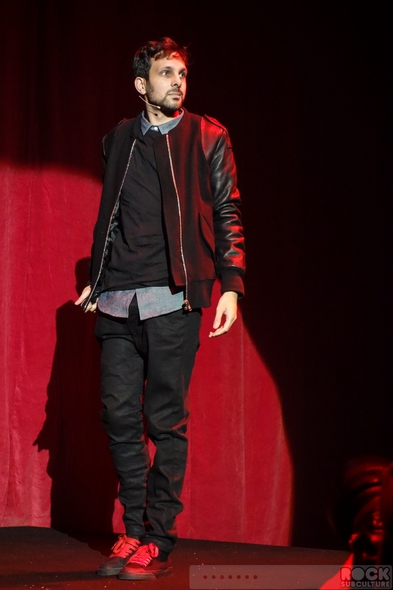 David Brent and Foregone Conclusion
David Brent is the character created and played by Ricky Gervais in The Office (the original UK version that concluded a decade ago).  He sung the song Free Love Freeway in the original television series, and that is one of the songs he performs as part of this live act.
I am a huge fan of The Office, and was before the U.S. version was developed for NBC here in the States, so I was very excited for this portion of the show – I love Ricky Gervais and his special brand of humor.
For me, it was more of a tease than fully satisfying, as I hoped there would be more between song banter and monologues, though I know that there just wasn't time for it given the format.  But at least now I can die knowing that I saw David Brent in concert in London.  How many people can say that?  Though I would have loved to have seen his special blending of MC Hammer and Flashdance live on stage…
Here is a glimpse into the brilliance of David Brent and Foregone Conclusion…
Below are some photos of David Brent and Foregone Conclusion performing on stage: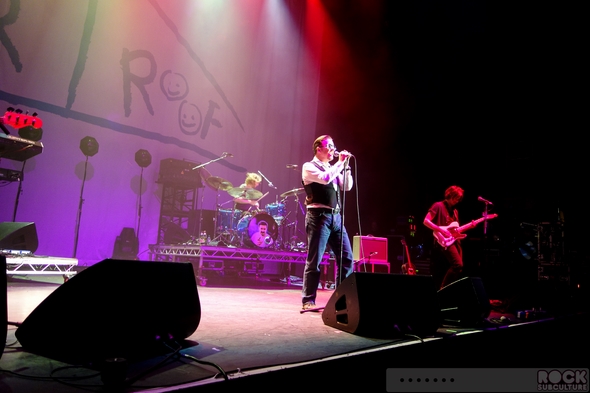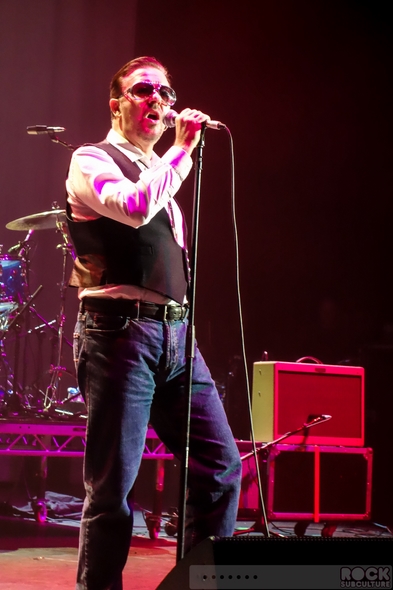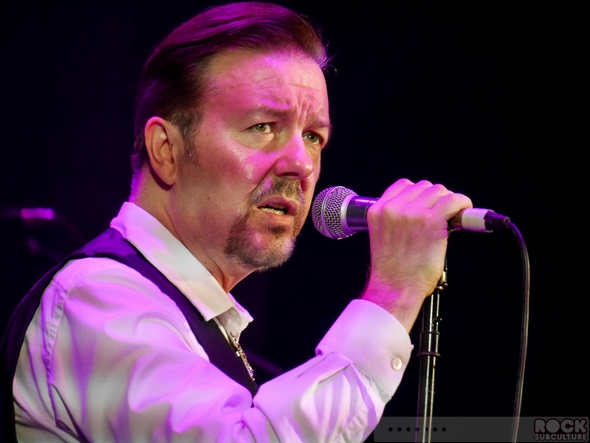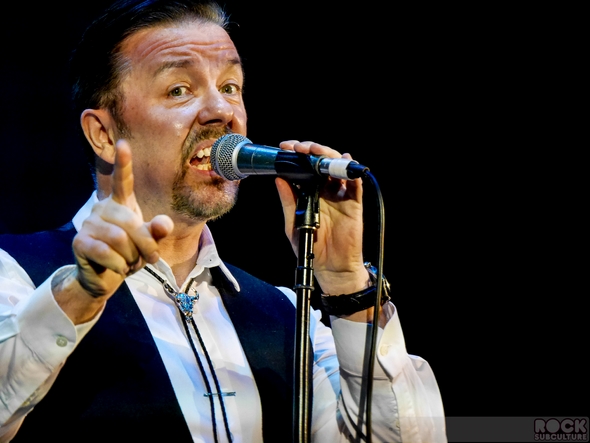 Lily Allen
This was the biggest surprise of the night for me, as I've not been too familiar with her work, apart from the obvious hits.  Her studio album debut was in 2006 with Alright, Still, which was followed up in 2009 with It's Not Me, It's You.
Last month, she released a cover of Keane's "Somewhere Only We Know" and also put out a new original song, "Hard Out Here".
For this show, Chris Martin accompanied her onto the stage, guitar in hand, and performed a duet with her for her song, "".  I actually recorded most of this, which can be found below:
I always love Chris Martin on backing vocals, as it adds a certain quality to a song, like in his collaboration with Michael Stipe for "In The Sun".
Her voice, in my opinion, is incredible – I really enjoyed her set and her music.
They explained that she does not currently have a touring band, with her absence from the road, so she had some help from others throughout her set (including Jonny from Coldplay as well).
Funny thing, after Chris Martin left the stage, Robbie Williams came out, and I would say, end to end, that was the moment that people went completely bat shit crazy – the surprise guest seemed to completely blow people's minds!  They did a duet of "Dream a Little Dream", which was awesome.
UPDATE:  One of my English friends who was with me at the Liverpool "Hidden Gig" in 2010 just tweeted me explaining that I had the same reaction to Gary Barlow's surprise guest appearance there as I did here to Robbie Williams, and that they were in the same band…  which makes me laugh at my ignorance – so we will call this "My Gary Barlow Moment"!
I honestly didn't even know who it was (I had to ask the kid next to me), but maybe I live in a bubble, or maybe he is just bigger in the UK.  In any event, it seemed to completely shock people in attendance.
Lily closed out her set with another surprise guest, Tim Rice-Oxley from Keane, who took to piano for a duet on Keane's "Somewhere Only We Know" (which is a song I've always loved, so totally thought this was brilliant).
Below is a photo of Lily Allen's set list: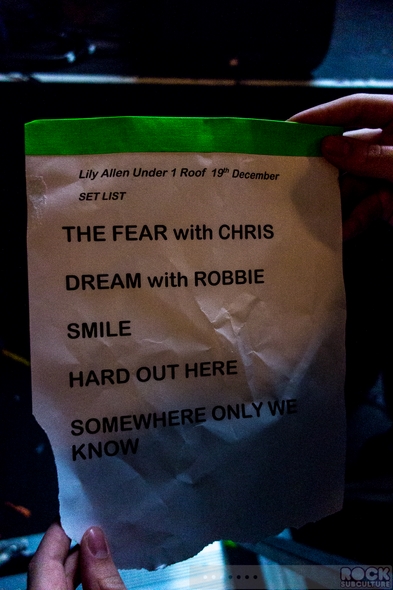 Below are some photos of Lily Allen performing on stage: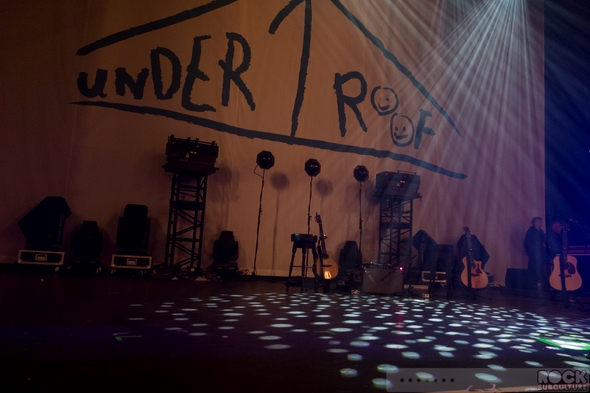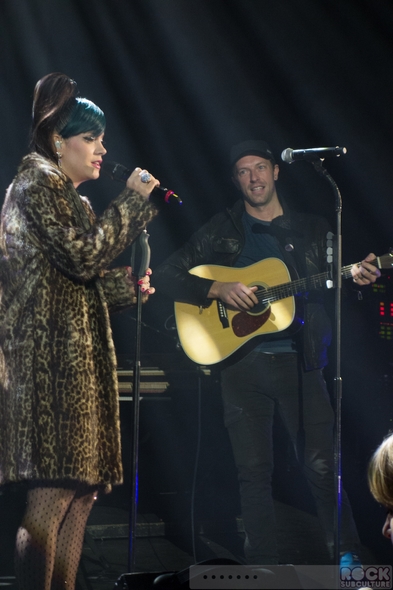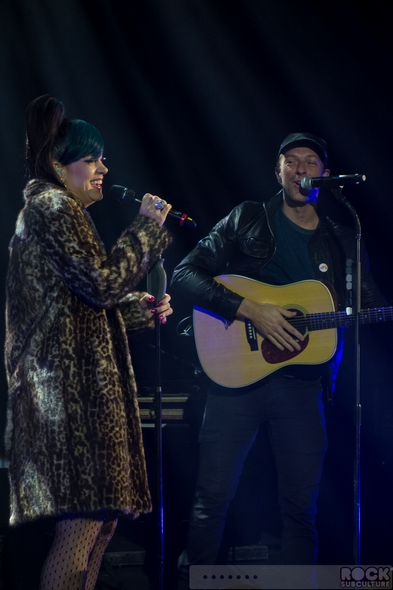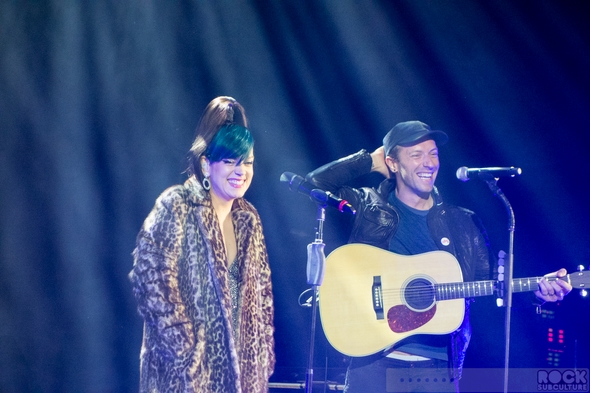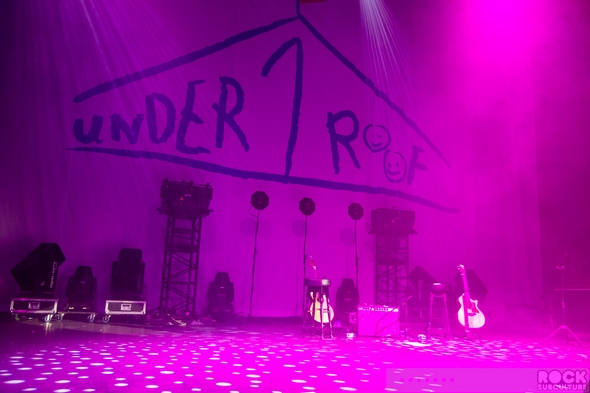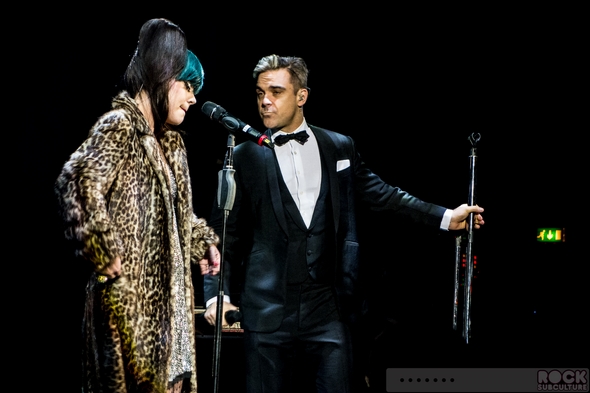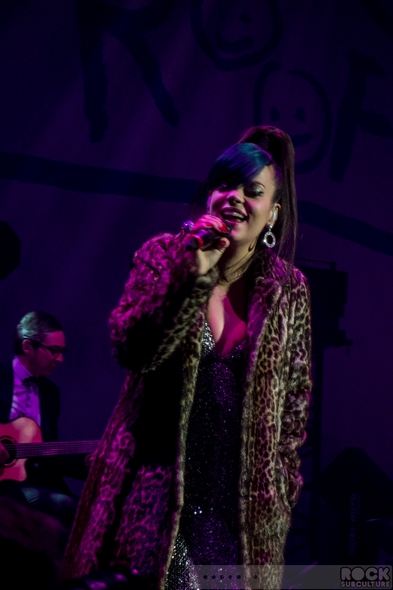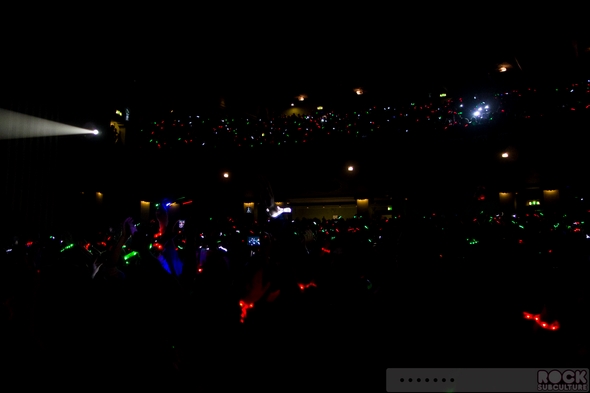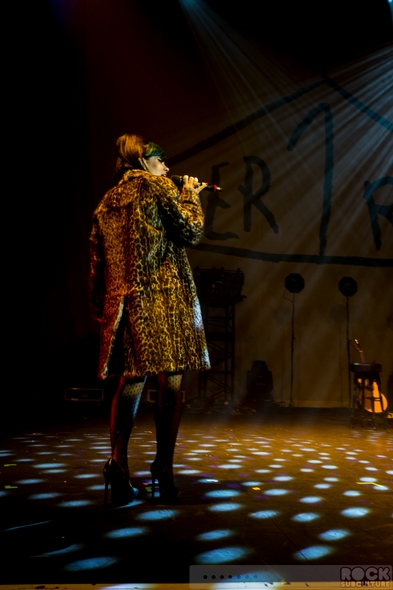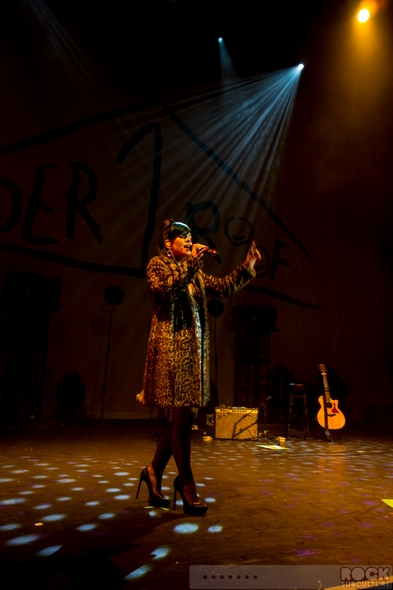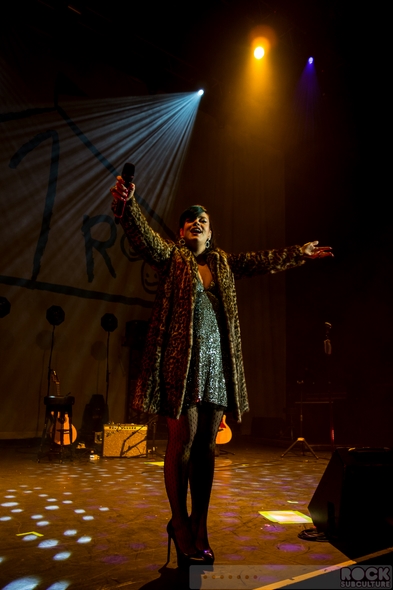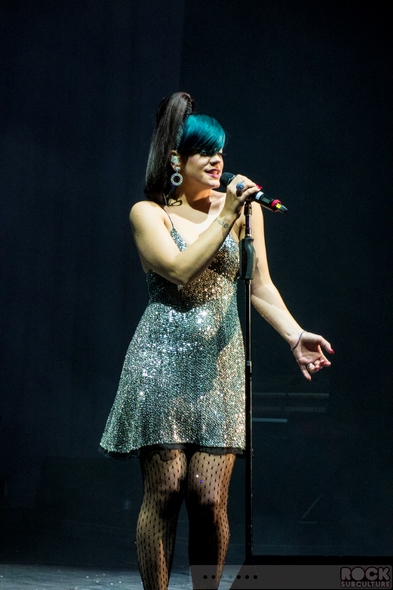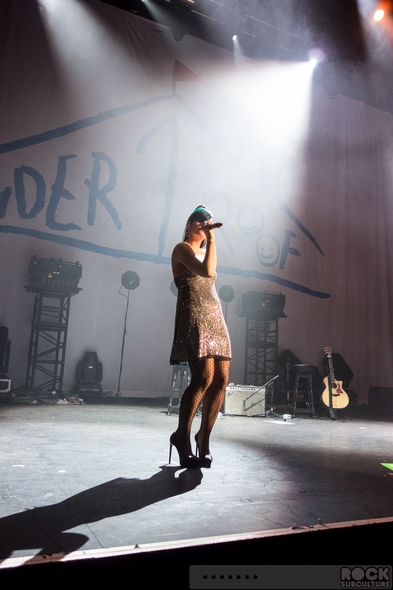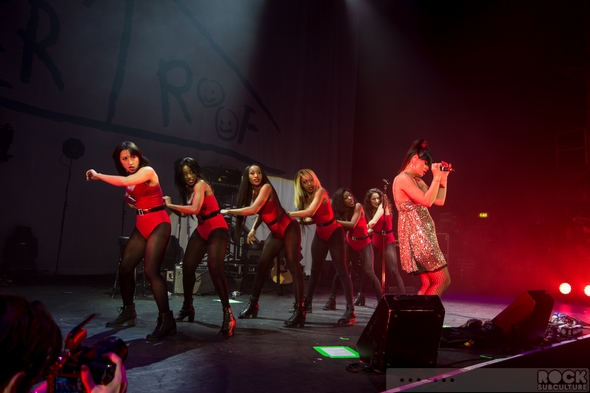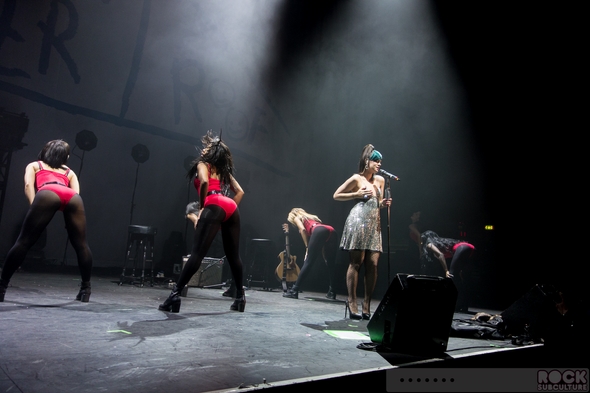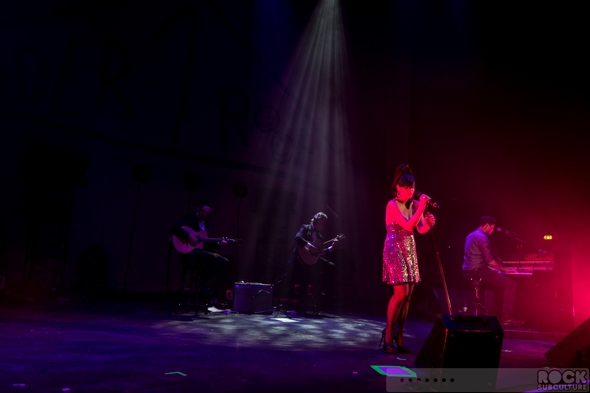 Coldplay
So I obviously came a long way to see one band, but it was completely worth it.  It really meant a lot to me to see those "Hidden Gig" shows that the band put on with Crisis in December 2010, for a variety of reasons, so it was nice to have an opportunity to keep it a tradition this year with the Kids Company event.
I've written quite a bit about the band in past articles (many of which actually pre-date the Rock Subculture Journal, and were published on my other site the Original Prop Blog and migrated over retroactively).
I was a latecomer to Coldplay, not seeing them live in concert until the X&Y tour in 2006.  It was really seeing their Live 2003 DVD that transformed me from a casual fan to a huge fan of the band, as I found that the live versions of those songs had a different sort of quality and soul to them that I didn't get from the studio recordings.
Funny enough, I had the same exact experience watching Dido's live DVD at the same time, her Live at Brixton Academy.  Both artists completely blew me away with their recorded live concerts, and I was determined to see both live in person.
I've since seen Coldplay all over California, many times in the UK, in Paris, and in Madrid.  Dido hasn't done a tour since 2005 when I became enchanted with her live DVD, even with her awesome Girl Who Got Away coming out this year.
In any event, I've been very lucky with Coldplay in seeing several special shows and also being close up front for many of them as well.
With Thursday's show, I don't know if I have the perspective yet as to how to compare it with past shows, as it's still so fresh in my mind.
Below is Camila Batmanghelidjh's introduction of the band:
Beautiful words.
As far as their set goes, I knew it would be truncated due to the format of the event, so had my expectations set accordingly.  I really wasn't sure what they would play.  I have to imagine that this must be the first concert that they've done in their career in which they skipped over "Yellow" (which is okay, just surprising!).
They kicked things off with "Clocks", which I thought was awesome, as I love the song and it has that certain sound and pace that really just gets the heart pumping and adrenaline going.
I actually did capture this on video, which can be viewed below to give a sense of the moment:
It was at that moment, that disbelief that you are finally seeing one of your favorite bands again – that affirming feeling, like the magic is still there.
All in all, they only did ten songs, but it really didn't go by fast like you might expect.
Below is the full set list from the show:
Setlist:
Clocks
Charlie Brown
Fix You
Atlas
Viva La Vida
Paradise
The Scientist
Every Teardrop Is a Waterfall
Encore:
White Christmas
Christmas Lights
I actually ended up taking photos of setlists for Chris, Jonny, Will, and Guy, after the show…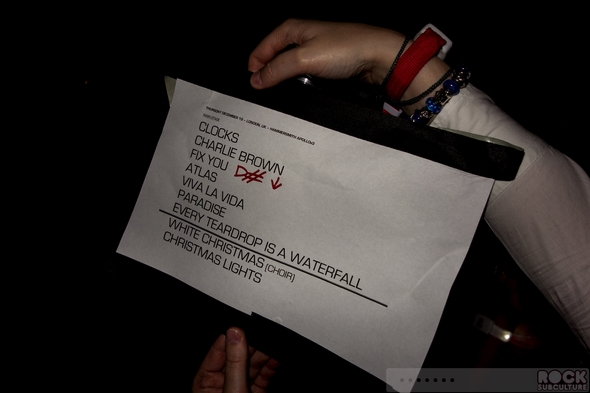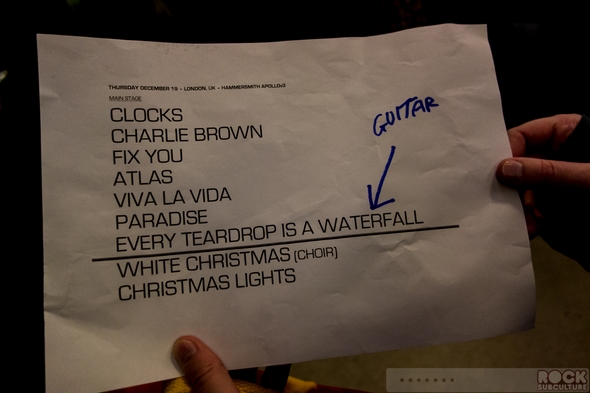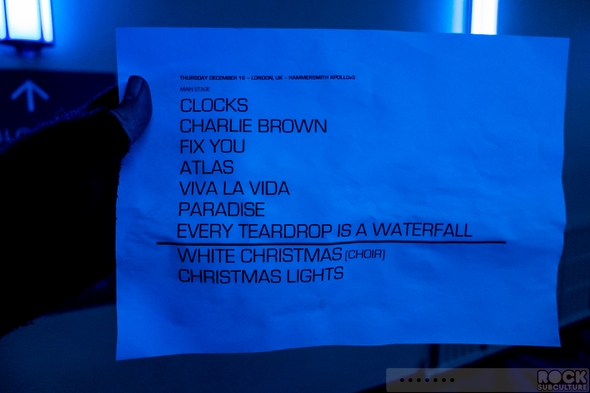 "Charlie Brown" was one of my favorite songs from Mylo Xyloto, so going from Clocks to that was amazing.  Definitely set the tone as a feel good set.
Since photogs were right in front and the stage was so low, I decided to shoot video of that as well…
The band did their fan favorite, "Fix You" next, and then went on to perform "Atlas" for the first time, which was released on the soundtrack for the new Hunger Games film this year.  To be honest, the studio version of the song didn't really do it for me the first time I heard it (it sounded like a soundtrack song, not a rock/pop song), and so I never listened to it again.  This was the first time the band performed it together live, and I thought it was amazing.  It totally reminded me of "See You Soon" from the Live 2003 DVD that made me fall in love with that band for the first time, so that was one of the highlights of the night for me, and probably the most special musical moment.
Thankfully, I captured that on video as well…
"Viva La Vida" is my favorite Coldplay song, and that was next.  Amazing.
They followed with "Paradise" from MX, another of my favorites from that album, and I did videotape that one, as it is a great showcase for the Xylobands…  I usually don't videotape that much at shows, but I knew I'd want as much to remember it by as possible.
Chris actually chatted with the band momentarily, and decided to play "The Scientist", which wasn't on the setlist, so that was a nice bonus.  Then they closed out the main set with "Every Teardrop is a Waterfall".  So though the "MX era" is over, the songs still feature heavily in the framework of their live show.
Following the first part of the set were were treated with a Christmas-themed encore, opening with just Chris on stand on piano with Royal Academy of Music providing backing vocals on stage left.  They performed a cover of Bing Crosby's "White Christmas".  Appropriately, it started faux snowing toward the end, which was a nice touch.
Then the rest of Coldplay joined Chris on stage to perform "Christmas Lights", which is actually one of my favorite Coldplay songs (even out of holiday, but especially at Christmas time).  I remember having a special moment when they played this at the "Hidden Gig" in Newcastle three years ago, so it was an appropriate way, for me, for the event to end.
And then it was all over.  It was really a special and amazing show, and they band sounded GREAT.  The sound was great, and somehow certain bits of the songs actually sounded more full and dimensional to me, and there was a lot with Jonny's guitar playing that I've never heard live before, though its likely just due to my orientation to his monitor or something, but it was just amazing.
It was a great crowd and generally everyone was in great spirits.
It really just leaves me excited about the future and seeing them again, but this experience will stay with me and keep me content for some time, as it was a long time coming.  Hopefully we'll be treated with a new album in 2014.
Special thanks to all my friends in the Coldplay fan community for all of the good will and special efforts to make it all enjoyable for everyone involved.
Below are some photos of Coldplay performing on stage: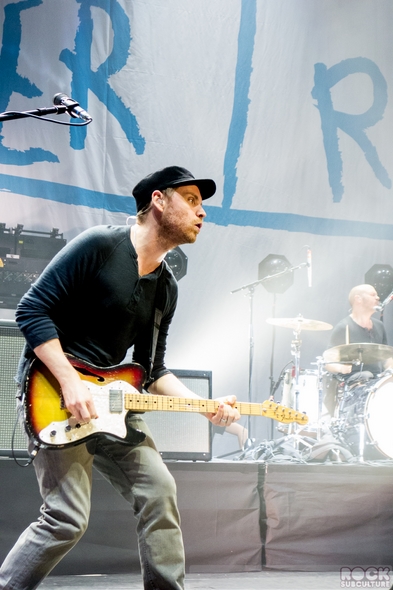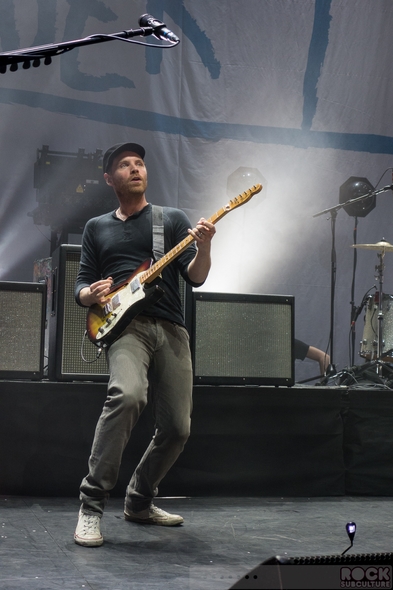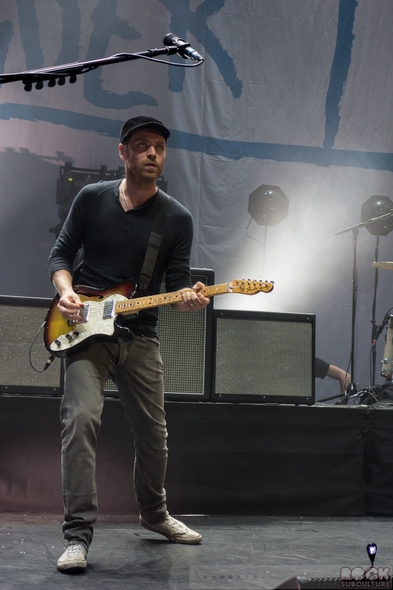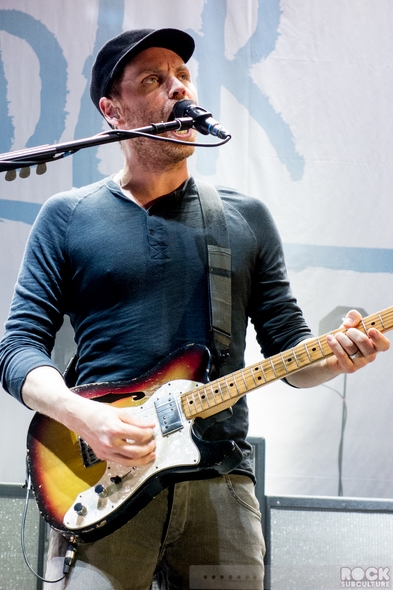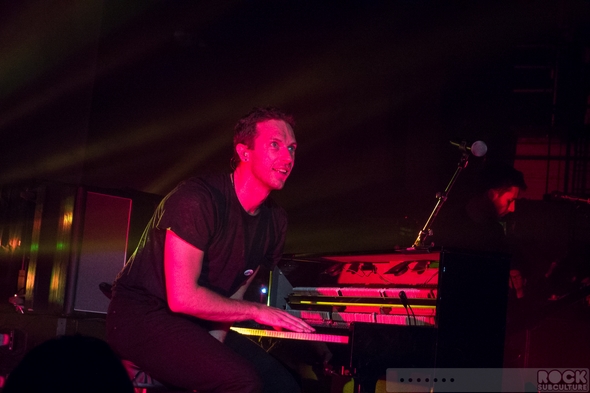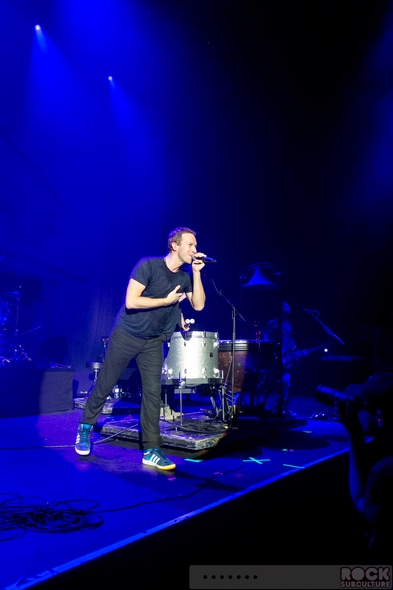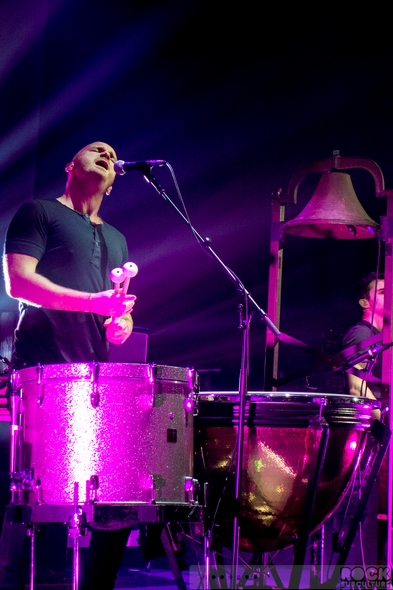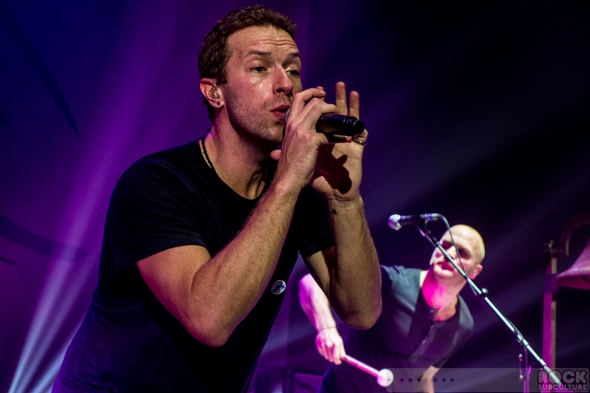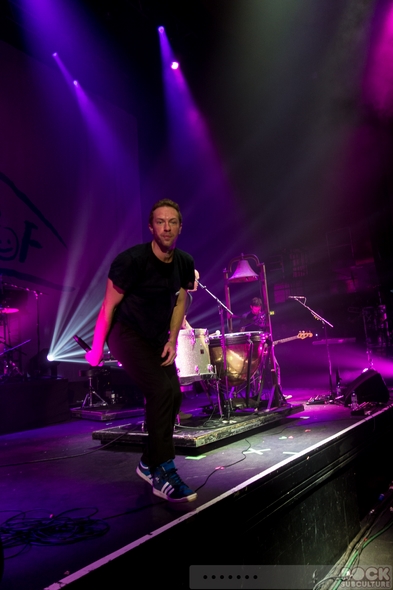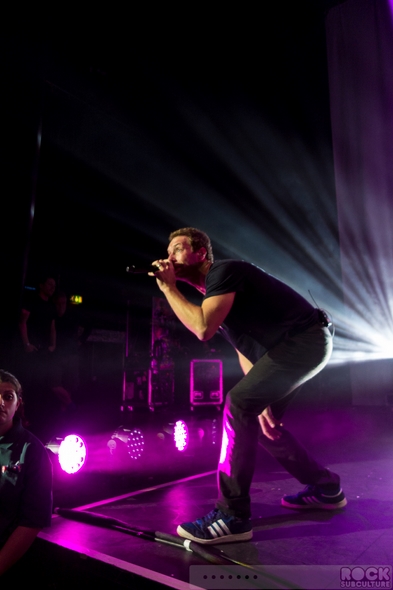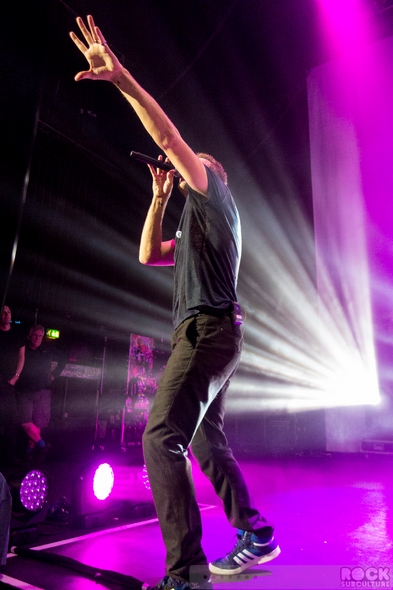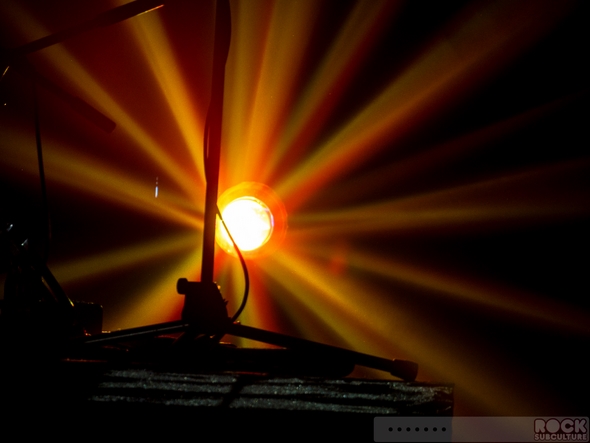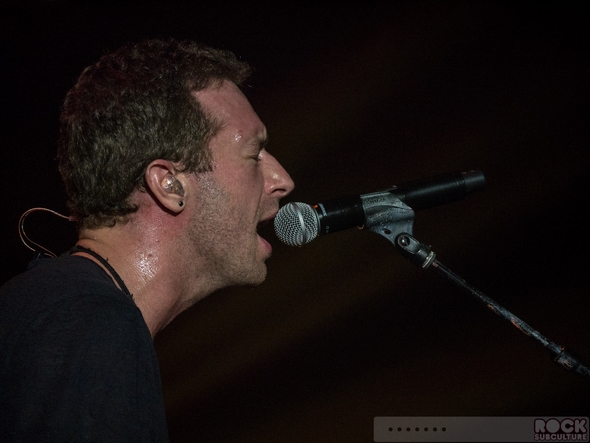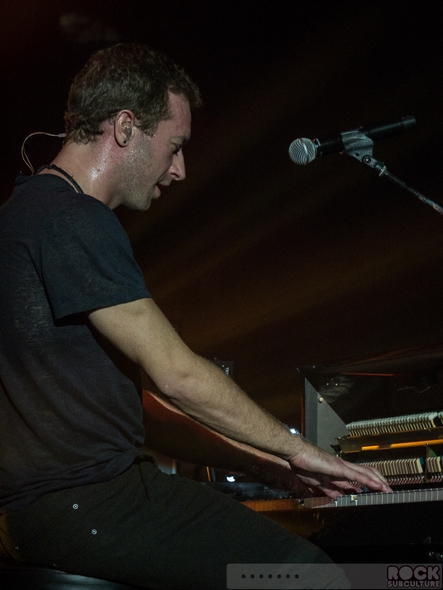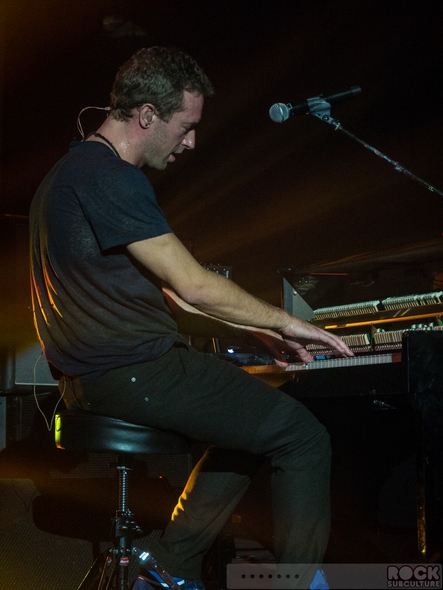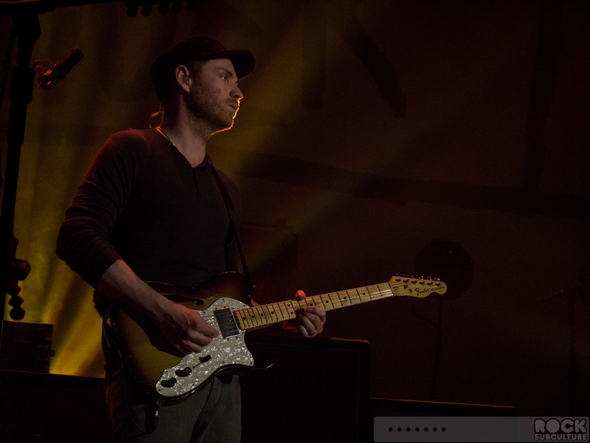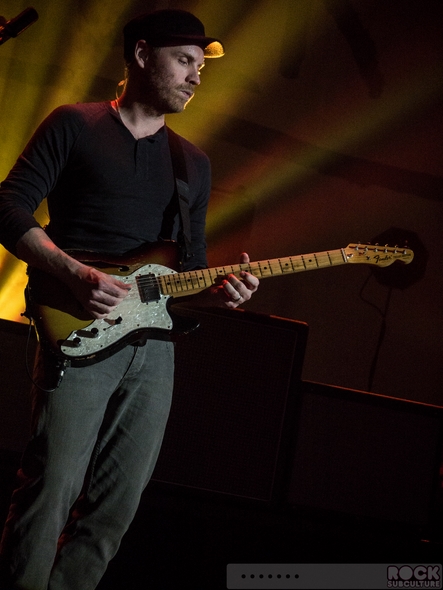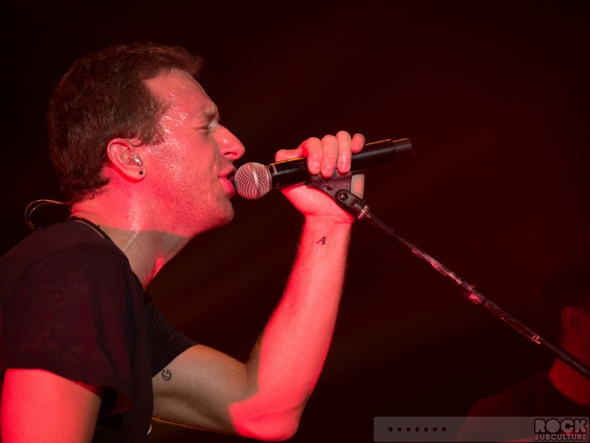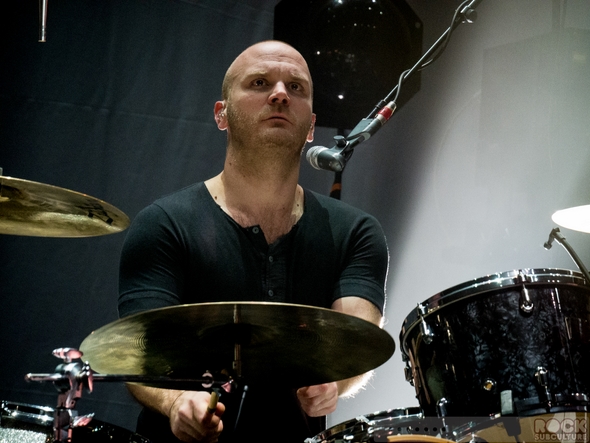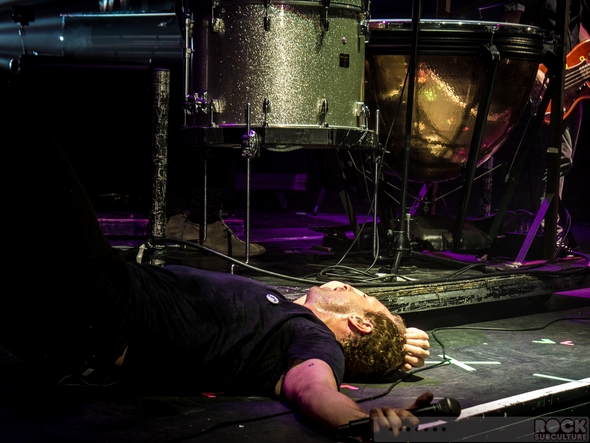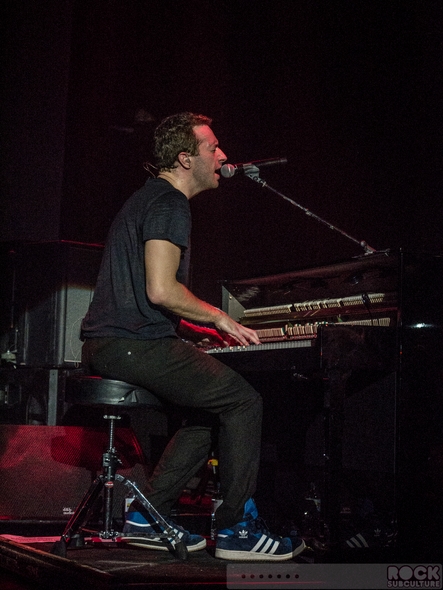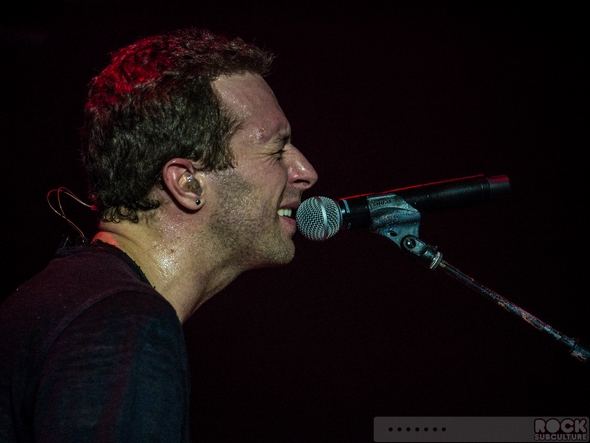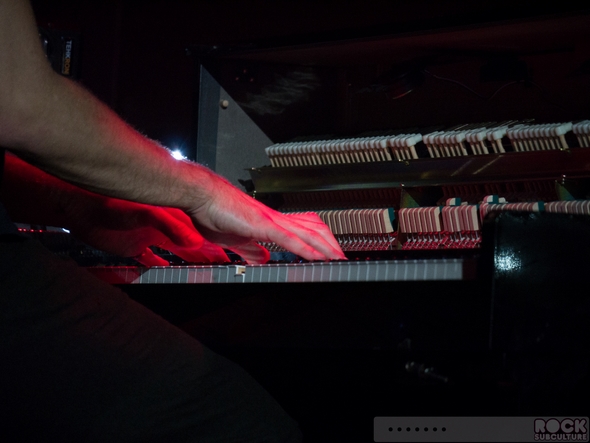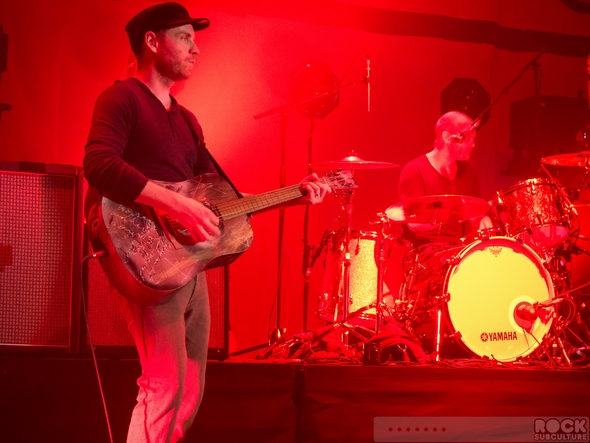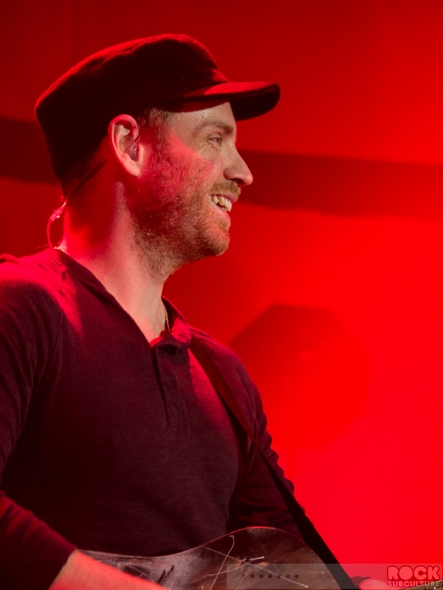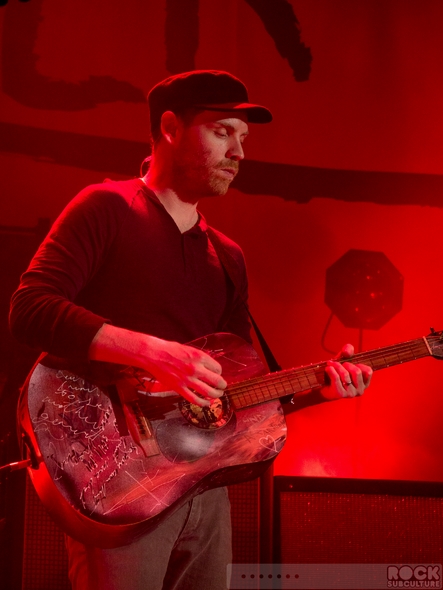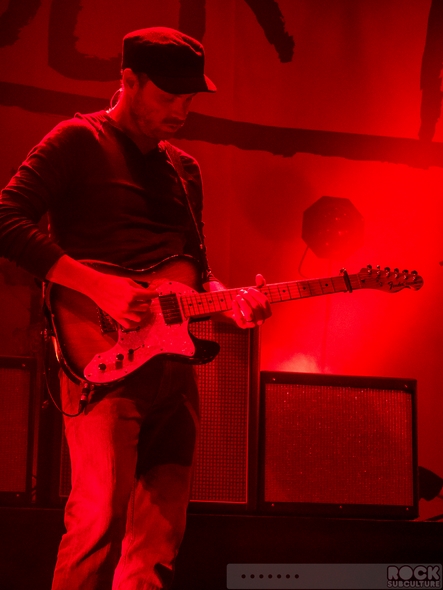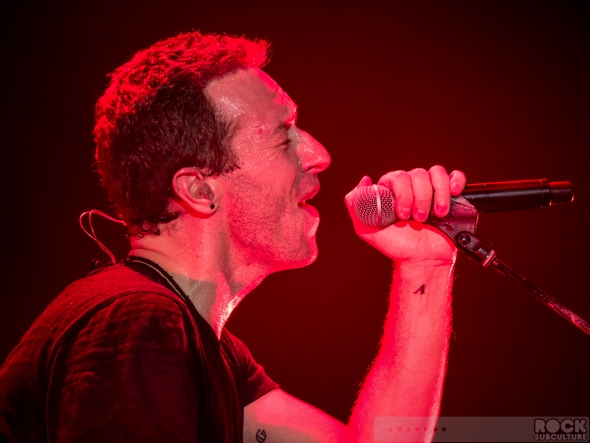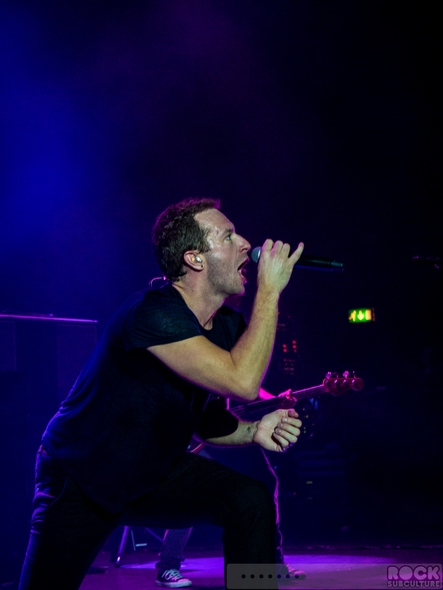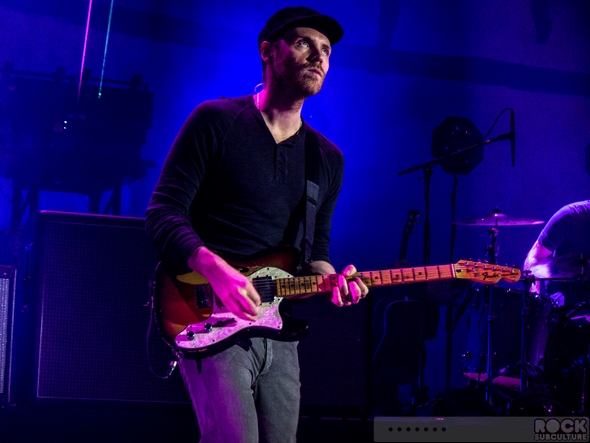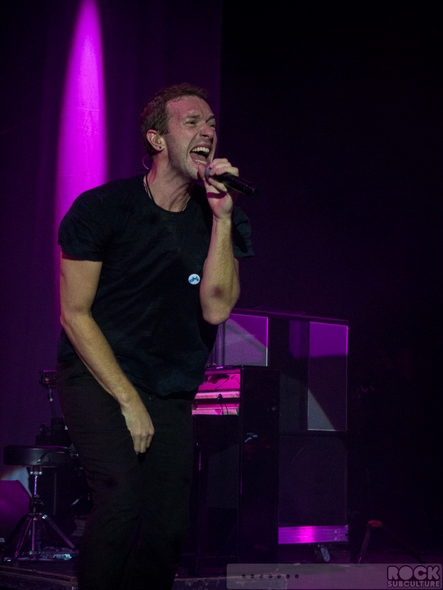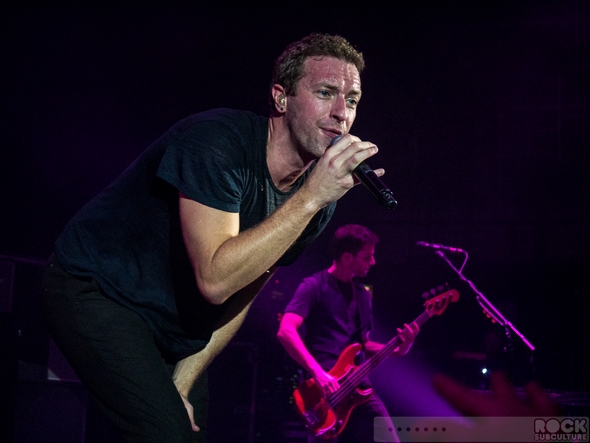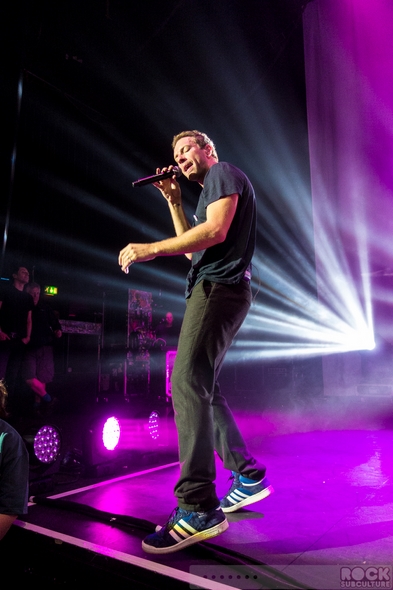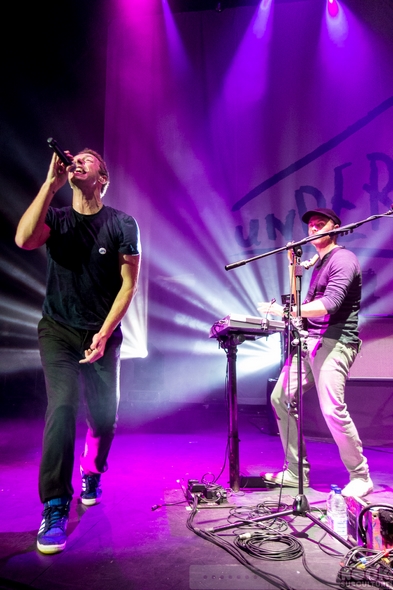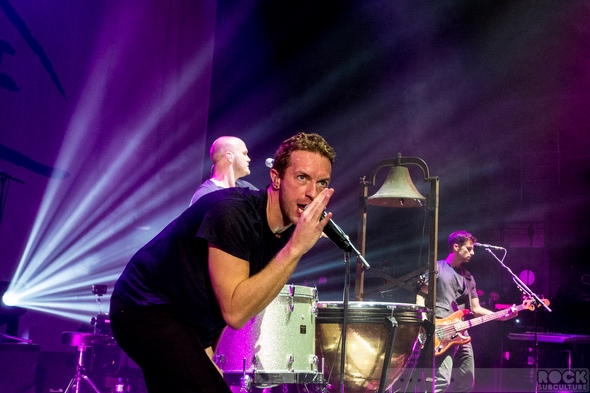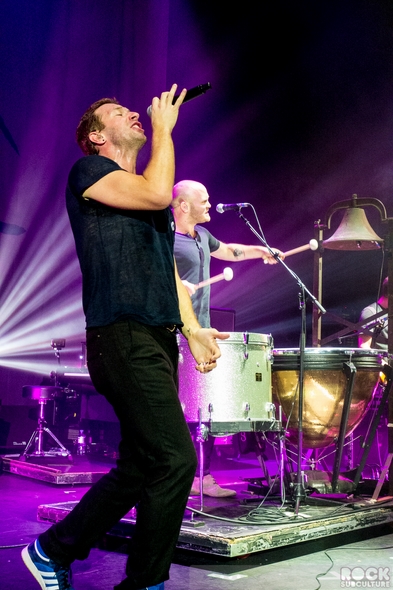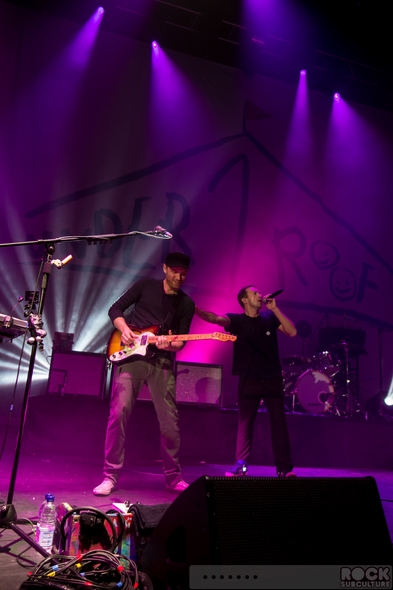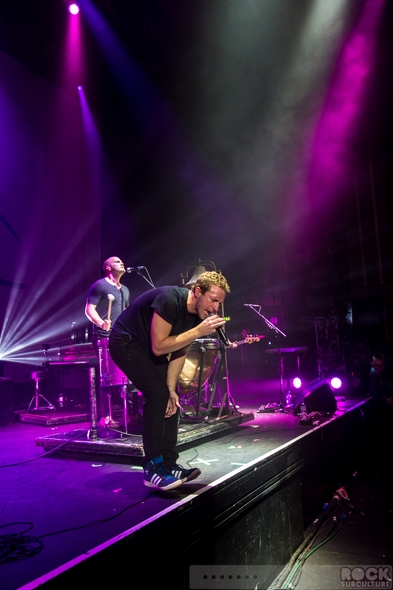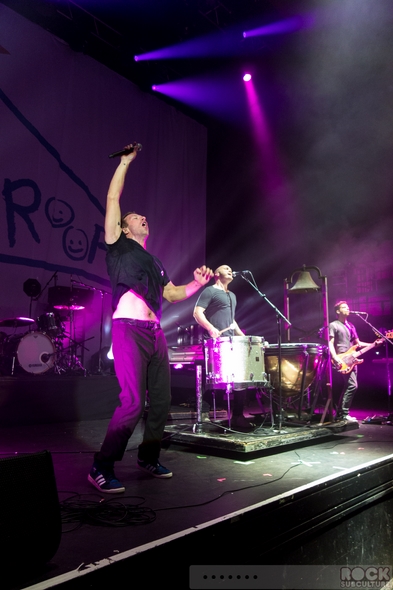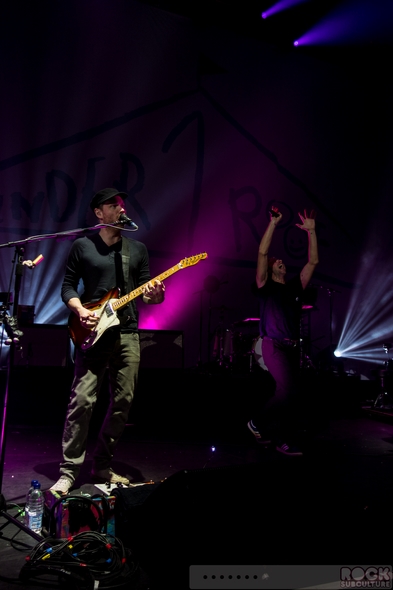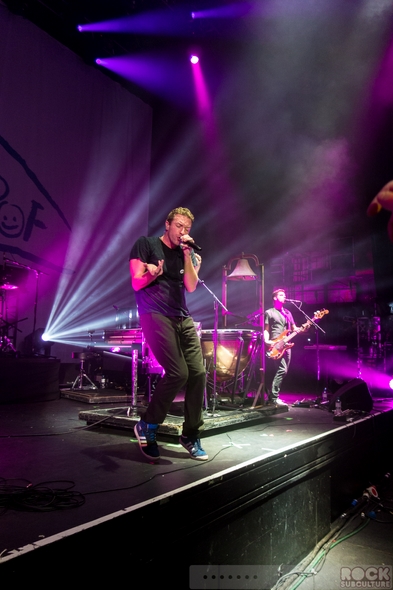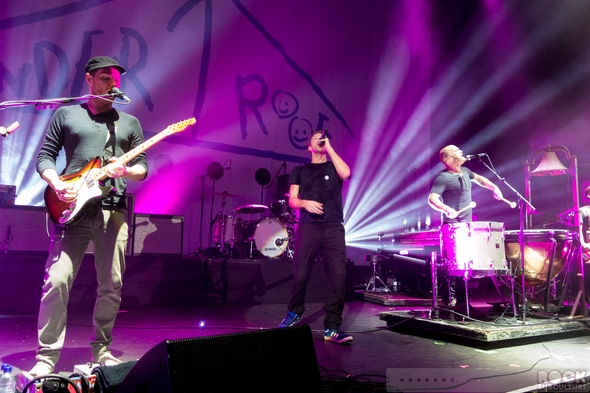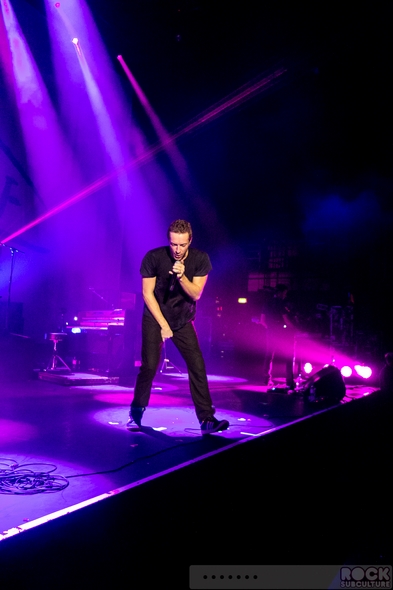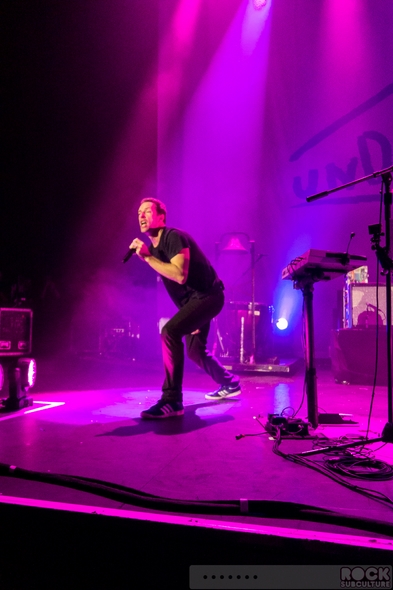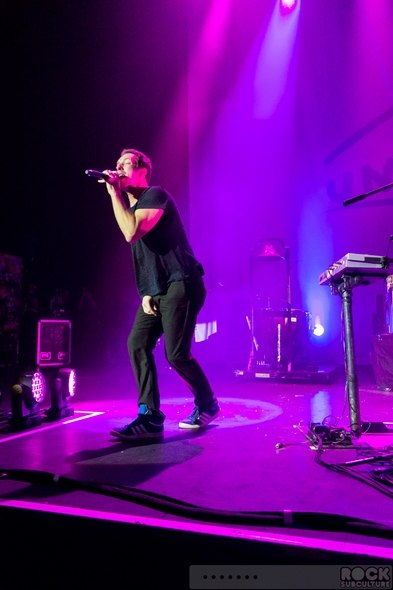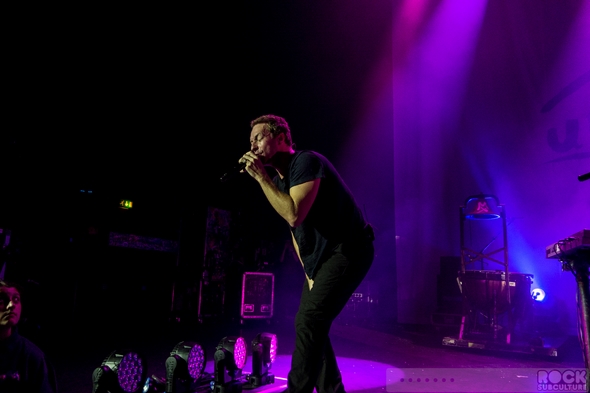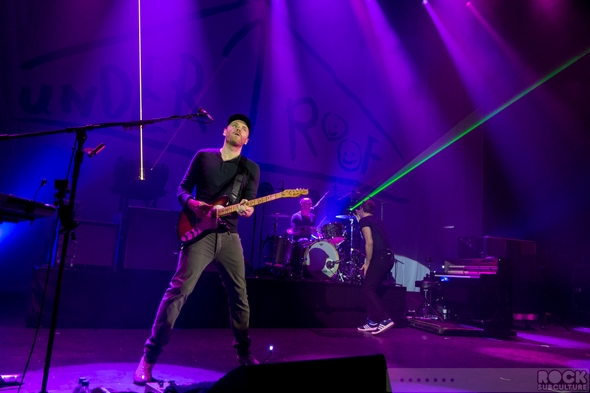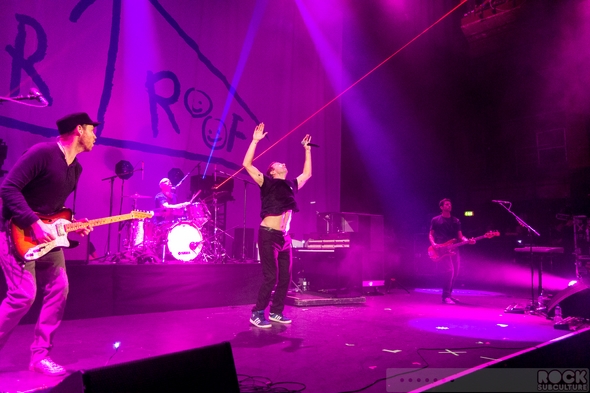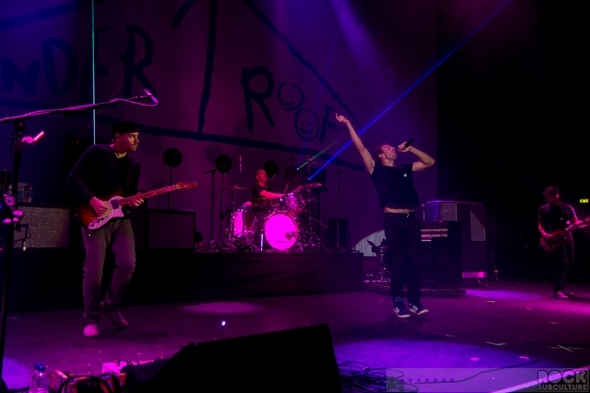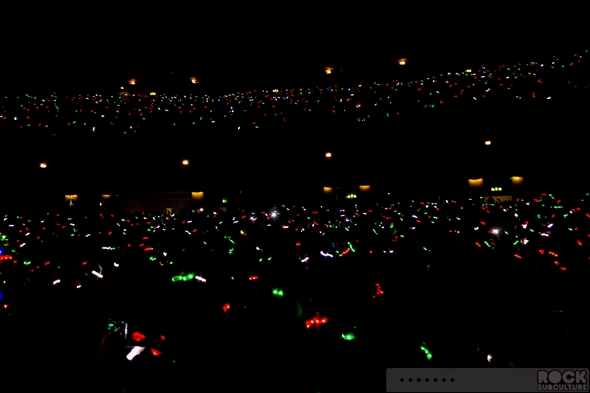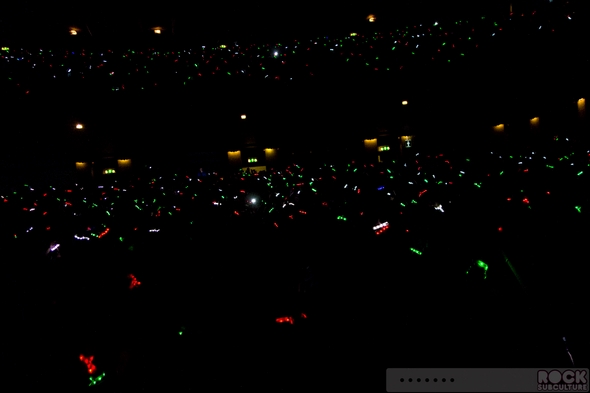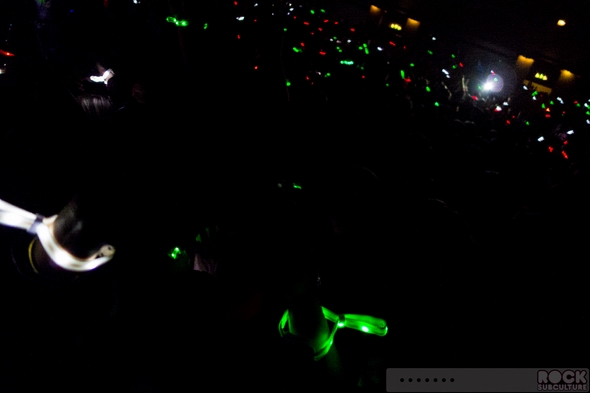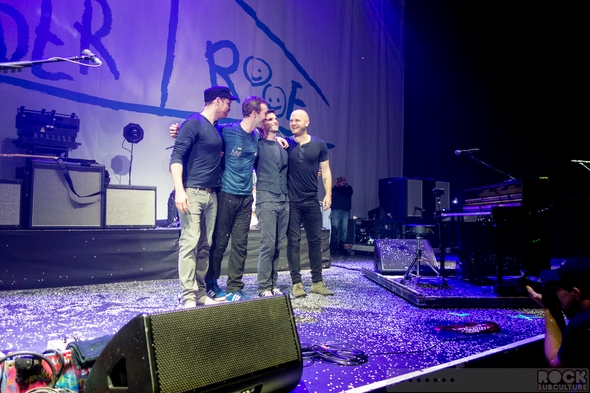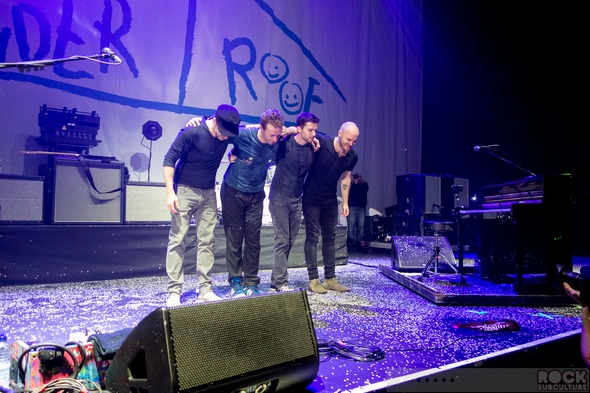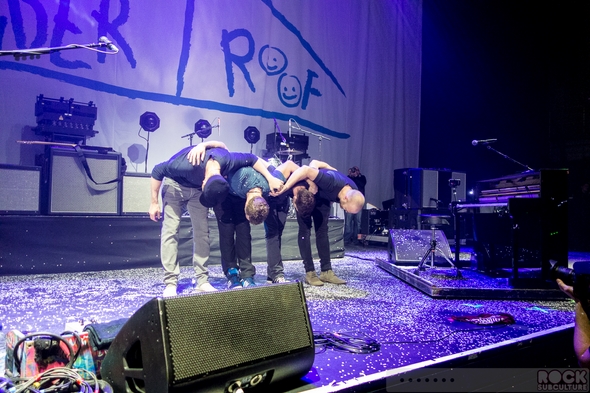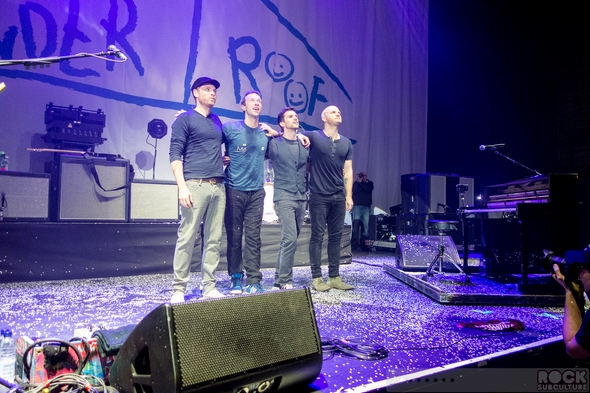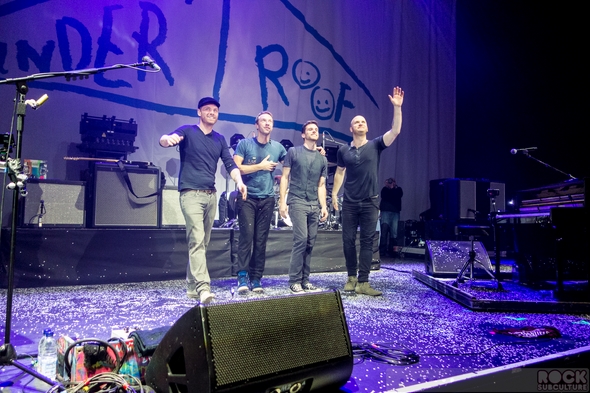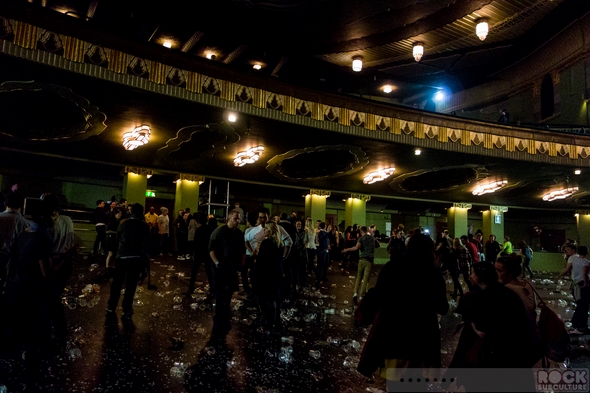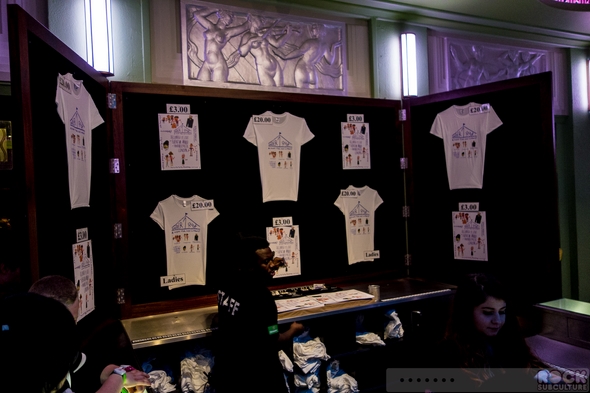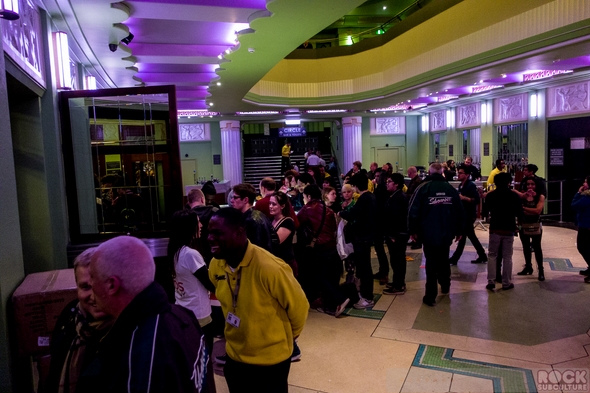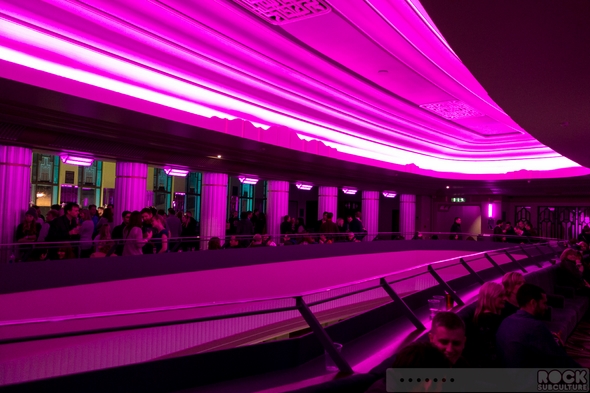 Jason DeBord