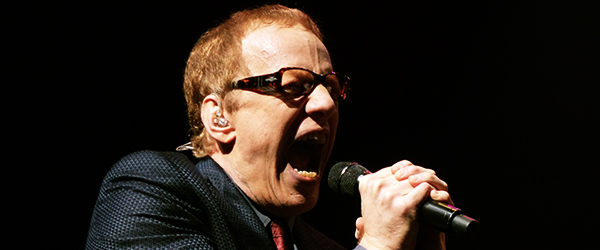 "I just want to say, I used to see this guy at really crappy clubs right down the street. And now that it's come to this, I'm like blown away.  There is no better person to spend Halloween with, than him…"   A few words from Tim Burton, paying tribute to Danny Elfman, the man who has accompanied him on quite the filmmaking journey that began with 1985's Pee-wee's Big Adventure.  I don't know if I can say that I've ever seen and heard such an impressive display of music than with last night's special event at Nokia Theatre at L.A. Live.  With the 87-piece Hollywood Symphony Orchestra and the 45-member Page LA Choir, conducted by John Mauceri, it was amazing.  I feel like Danny Elfman was a key figure within pop culture in my formative years, as Oingo Boingo was the band I saw more than any other in concert in the late 80s and very early 90s, and as a huge fan of Tim Burton's films and those consistent themes and quirky characters, I feel like I was along for the ride as well.  So when I heard about this event, I knew it was one that I could not allow myself to miss, and I am thrilled to have had an opportunity to be part of it.  Words really can't describe; if you were there and are now reading this, I am sure you can agree.

Who: Danny Elfman's Music from the Films of Tim Burton, Conducted by John Mauceri
Who: The Hollywood Symphony Orchestra and The Page LA Choir
Venue: Nokia Theatre at L.A. Live
Where: Los Angeles, California
Concert Produced By: Columbia Artists Management, LLC, Tim Fox & Allison Ahart Williams, Kraft-Engel Management, Richard Kraft & Laura Engel
When: October 31, 2013
Seating: Section Pit Center, Row 1, Seat 312 (Dead Center Front Row)
This isn't the usual sort of show that I go out and photograph and review, and candidly, I don't feel that I am really worthy to "review" it at all, but I thought I would at least share my thoughts on the concert and provide some photos, in an effort to memorialize the experience, if even only for myself.

As noted, I first became familiar with Danny Elfman through his New Wave/modern rock band, Oingo Boingo.  I was a huge fan when I started listening to their work in the early 80s, and still find many of their songs to still be among my all-time favorites.  No one else sounded anything like them, and they had such energy and a crazy pop happy sound which contrasted with dark themes, ideas, and imagery.  And what other pop or rock band had a horn section like that?  In my opinion, they never had the recognition that they really deserved, but I guess that makes sense, in that the music in many ways shared some of the same themes and ideas that later appeared in the Tim Burton films…  a celebration of the strange, the misfit, the outcast, the loner – not the kind of music that is typically embraced by the mainstream.
As soon as I was old enough to drive, I would frequently catch any Oingo Boingo concert that I could, which usually involved a long drive to the San Francisco Bay Area.  They were an amazing live act with such unique energy.  And funny enough, the first time I ever saw a topless woman in public was at an Oingo Boingo show, as someone in the crowd threw her shirt and bra on stage, and then another, and they ended up going on stage and dancing.  And I'm pretty sure the first time I told a group of loud, drunk, obnoxious guys much bigger and older than me to shut the hell up and almost gotten beat up over it happened at one of their shows as well.  I think I experienced many concert going firsts at Oingo Boingo shows…
When I moved to Los Angeles in 1995 for graduate school/film school, it was only a few months later that Oingo Boingo wrapped up their "Farewell Tour", and I was lucky enough to catch their final show ever as a band, at (then) Universal Amphitheater on Halloween.  That was the second of the two-night engagement that was turned into a live VHS and double CD live album.  It was as amazing as it was sad, taking it in and knowing I would (likely) never see them again.
Little did I know that wouldn't be my first and last "Danny Elfman Halloween"…
Fast forward to 2013, and who could have imagined all that Danny Elfman had in store for his fans over the past 18 years, though it is music of a different sort.
It is fascinating to me how Tim Burton and Danny Elfman (and frequently with them in their artistic endeavors, Johnny Depp) all found one another and collaborated to make such wonderful films.  They seem so uniquely designed to complement one another, almost like puzzle pieces completing some bizarre work of art, that it makes me wonder about the order of the universe or something.  How is it even possible?
This could become a very long article if I went into several of these films in detail, but quite a few of them had a real impact on me.
Pee-wee's Big Adventure is a brilliant film.  I can probably count on two hands the number of films I can watch over and over and never tire of in the slightest, and this definitely ranks near the top.  It has such a unique perspective, almost as though it perfectly captures innocence in a way that wipes away anything bad or negative that usually accompanies it, and is just sheer joy, with a lot of humor that somehow doesn't really have an object of ridicule.  The charm and quirkiness of Paul Reubens really delivers much of this, but without the score, I can't imagine it being even half the film that it is…
And that's kind of the thing with film scores…  it's the magic that people don't focus on.  But without it, many great films with great scores would not be great without them.
I've often used Star Wars as an example of this…  if the 1977 film came out with a score typical of banal sci-fi at that time, sans John Williams, it simply wouldn't have worked and it would not have captured the imagination of a worldwide audience.  It never would have been taken seriously, and the drama would not have worked.  Period.
Just this week (being Halloween week), I was watching a documentary on the making of John Carpenter's film, Halloween, on the Biography channel.  The director talking about showing the film, without a soundtrack, to an industry insider, and she did not think much of the movie.  He later added the (now famous) score that he himself wrote to the film, and seeing it again, it was a completely different experience for her.
Along those lines, you think of genre films with powerful moments, and much of it is tied to the soundtrack…  Alfred Hitchock's Psycho, Stephen Spielberg's Jaws, any James Bond flick, etc.
What is astounding it how well suited Danny Elfman and Tim Burton seem for one another.  They are among the best in their respective disciplines, yet are so perfect for one another they make each other that much better.  It represents a pinnacle in collaborative arts.
In any event, I happened to have been online when this concert was initially announced, and a friend figured out the pre-sale password, so I bought two tickets online that looked to be front row dead center (though you never really know until you show up).  I shared this news in a preview article I published at the end of August.  Another friend and his wife also bought tickets just a few seats away, so I've been looking forward to this for a few months now.
As it sold out quite quickly, two more shows were added that preceded this one (Tuesday and Wednesday); this concert premiered with different players at London's Royal Albert Hall with the BBC Concert Orchestra on October 7th, marking the first time Danny Elfman has performed vocals in a public performance in 18 years.
Being that it was Halloween, many concertgoers came in costume, which was also true of that final Oingo Boingo concert back in 1995, so it fueled that nostalgia for me personally.
Though I've been to Club Nokia many times, this was my first experience with Nokia Theatre.  My first impression was that it was very nice, and the people working the show were super friendly and helpful.
Since I had a VIP pass with my ticket, I checked out the VIP area for a bit, and chatted with some nice fans (see Oingo Boingo shirt photo further down).
Once inside the actual concert area, I was awestruck at how massive it was.  It's huge!
I made my way down to find my seat, and was pleasantly surprised to find that my expectations did not match reality.  I expected to find quite a distance between the front row and the actual stage, and instead it was "right there".  I couldn't believe that at some point I would see Danny Elfman perform again, and just be a few feet away.
Then there was the other thing…  the orchestra was massive…  So many artists on the stage, I couldn't imagine what it would sound like.
We were all provided with very nice and substantive programs, and below is the order of the films from which songs were performed (though the opening seemed to be more of a collage of everything than completely about Charlie and the Chocolate Factory):
Act 1:
Charlie and the Chocolate Factory
Pee-Wee's Big Adventure
Beetlejuice
Sleepy Hollow
Mars Attacks
Big Fish
Batman / Batman Returns
Intermission
Act 2:
Planet of the Apes
Tim Burton's Corpse Bride
Dark Shadows
Frankenweenie
Edward Scissorhands
Tim Burton's The Nightmare Before Christmas
Alice in Wonderland
For the first half and up until The Nightmare Before Christmas, conductor John Mauceri was literally the center of the action, as one might expect.
The orchestra was up front with the choir behind, and at the back of the stage was a giant screen that would at times show clips from the films being played, and at other times show artwork and sketches by Tim Burton (dreaming up said creations), and at other times still it would simply display a black and white drawn mosaic of  sorts (presumably from the hands of Tim Burton, but I have no idea).
The music, was sublime.  It was really quite fascinating seeing all of these true artists on stage each focused on a specific element of sound, some simple, some very complex, but all with a unique character unto itself…  like endless, complex cogs all moving in perfect harmony.  Just seeing little gestures here and there, frantic playing elsewhere, careful pulls at strings somewhere else…  and it left me wondering how a man can conceive of all of this and have such a large number of other artists bring it alive so perfectly.  It's really amazing, and as someone with zero music ability (i.e. me), it totally blows my mind.
Just as fascinating, being up so close to the action, was watching the faces and expressions of those many artists on stage – so many seemed to be loving every second of it.
But, like I said, I don't even know where to begin in either reviewing it or describing it to those who could not be there to experience it firsthand, but it was amazing.
There were many standout moments throughout for individuals on the stage, and Mr. Mauceri was always quick to highlight those individuals and moments, and seemed to enjoy the audience recognizing those artists more than himself, like a proud parent or mentor.
One of the coolest moments was a wicked violin solo by Sandy Cameron during the Edward Scissorhands section…  she was playing so furiously that strings were splaying off of her bow and dust was floating into the air like smoke.
Of course, the crowd could hardly contain themselves when Danny Elfman appeared on stage to perform vocals during the Nightmare Before Christmas section.  His voice was perfect, but more than that, he seemed to come alive as Jack Skellington – a man possessed by character.  His face, his inflections, his movement, and especially his hands and eyes.
I think though, the emotional highlight for me was the surprise appearance by Catherine O'Harra, who came out to sing the Sally part.  But that special moment was before she sang a note into the microphone… just seeing her face and reaction to the standing ovation from the crowd, I could see tears well up in her eyes at the massive showcase of appreciation from the vast crowd in the sold out arena.  Truly magical.
Another special moment was Danny Elfman singing the Oogie Boogie song, which my friend summed up perfectly – it was kind of like an Oingo Boingo-style cover of it, vocally.
I also really enjoyed Mr. Mauceri putting on his Santa hat and doing a playful and fun duet with Danny Elfman.
As I was so close to the action, I caught a few words by John Mauceri and Danny Elfman toward the end of the concert:
Going into the show, I wondered if Tim Burton himself was there to watch, or if he might take to the stage at some point to say a few words… well, I obviously gave that away in the opening, but I did capture that on video – a short snippet (this is obviously my way of accurately getting quotes for my articles), but thought it would be worth sharing here nonetheless:
They were all given bouquets of roses but Tim Burton took a look at his and tossed them into the audience (maybe they weren't sufficiently dark enough or dead?).
Another highlight was the young man Sam Bindschadler, the treble soloist, who came out at the end to provide vocals for the Alice in Wonderland segment.  What a gift.
An amazing, amazing experience, and one that I will for sure remember quite vividly, as a milestone on my journey following these two artists, Danny Elfman and Tim Burton.
Below are some photos before, during, and after the concert…  (click any image for higher resolution versions of each photo)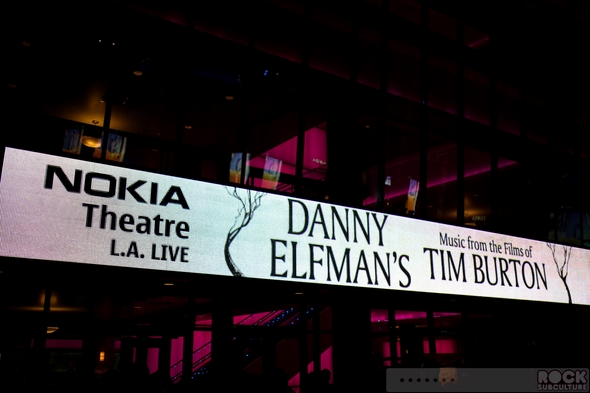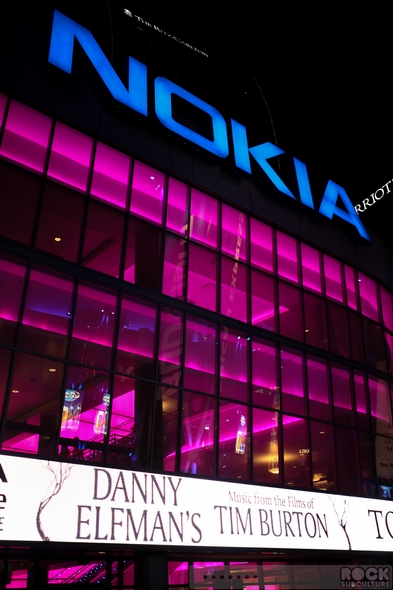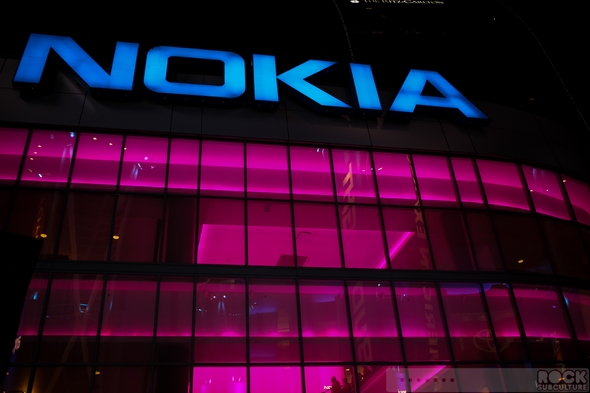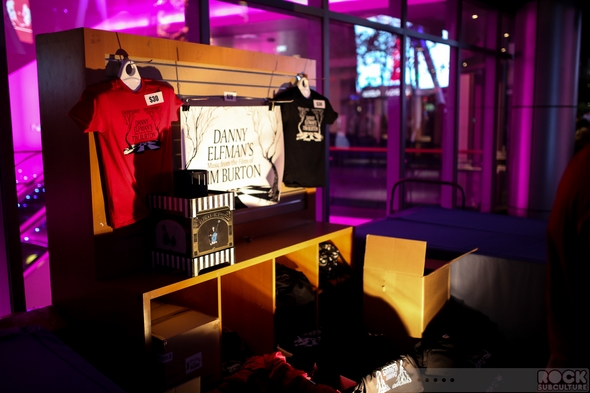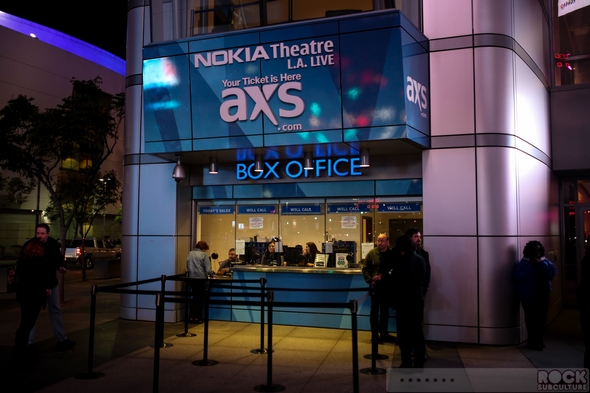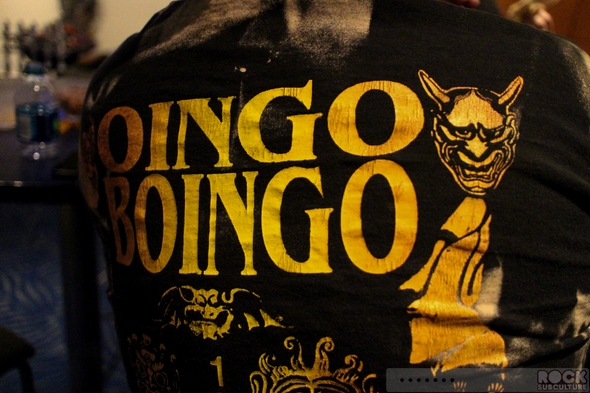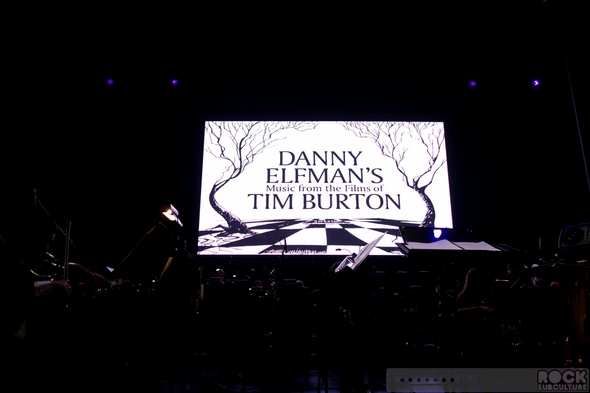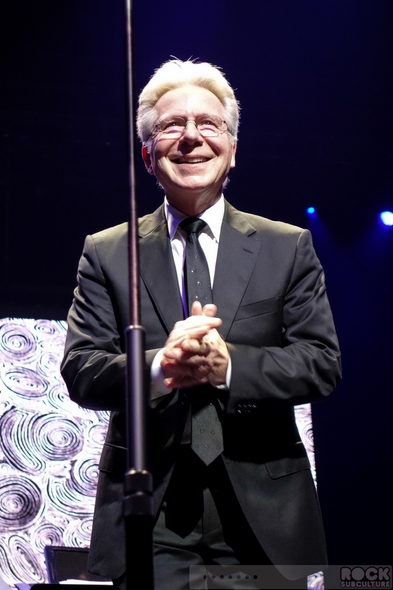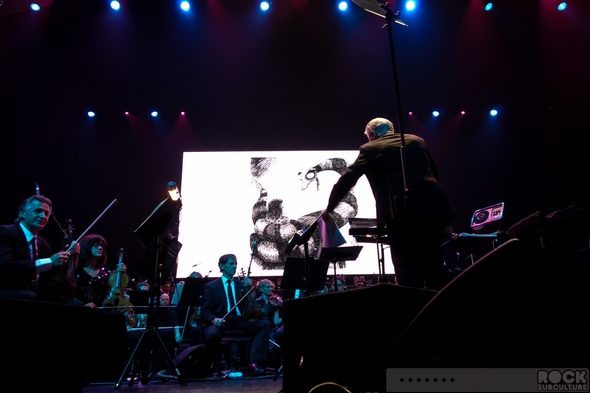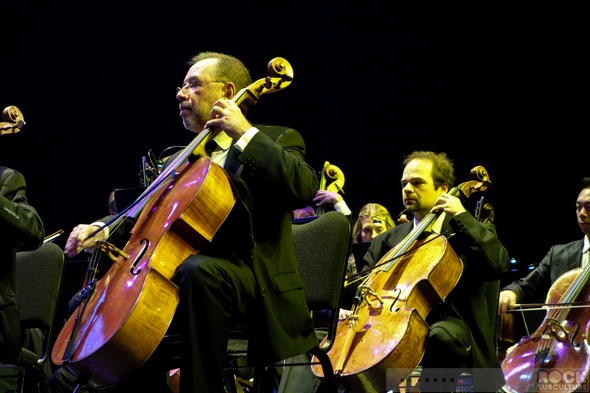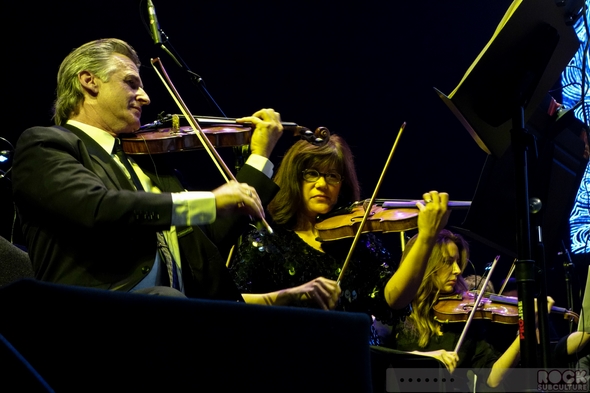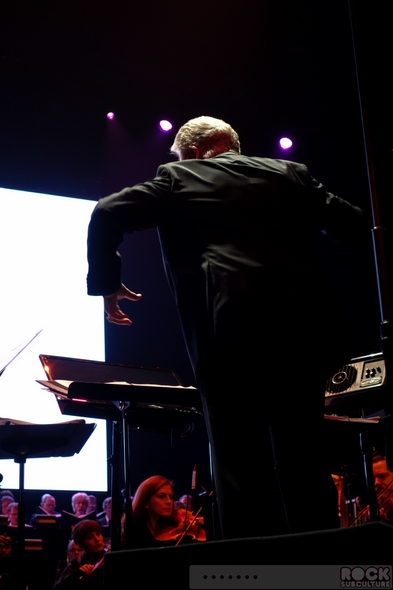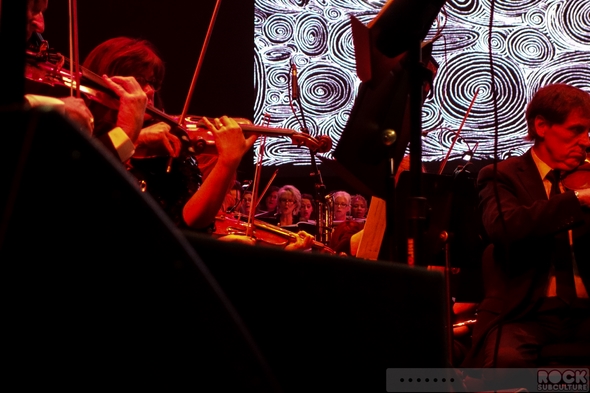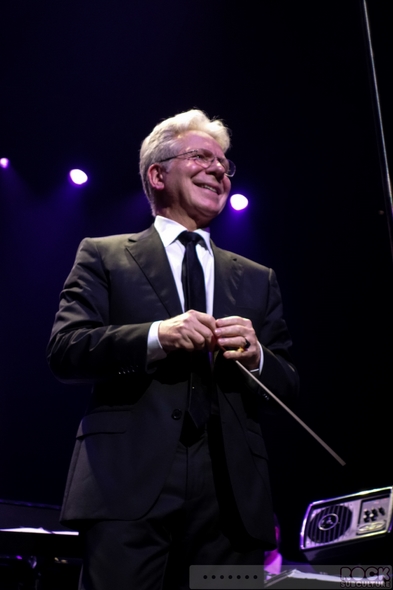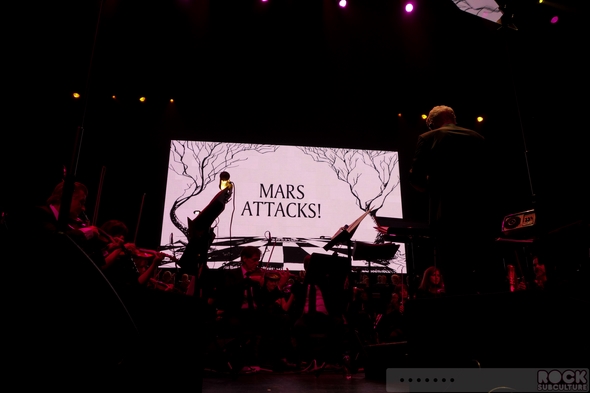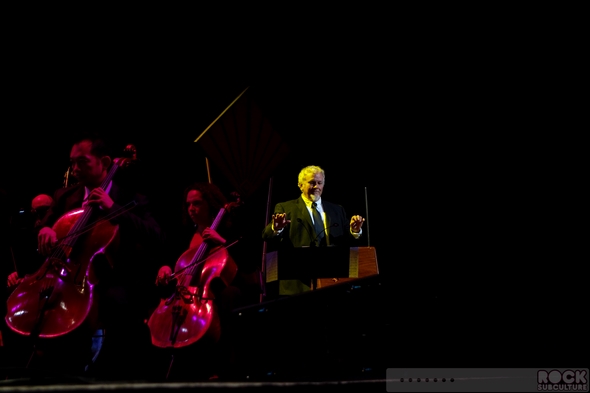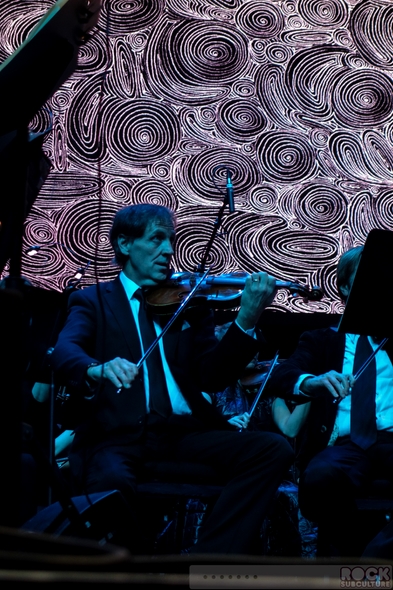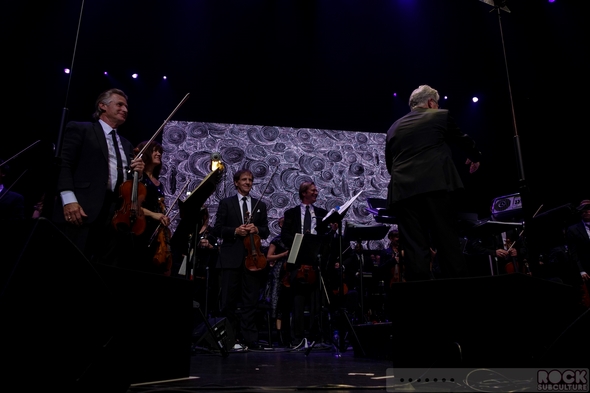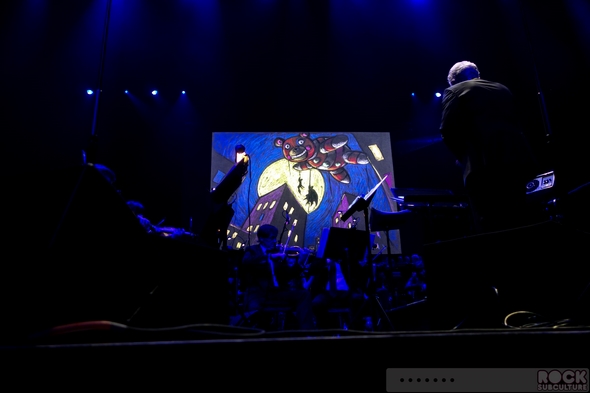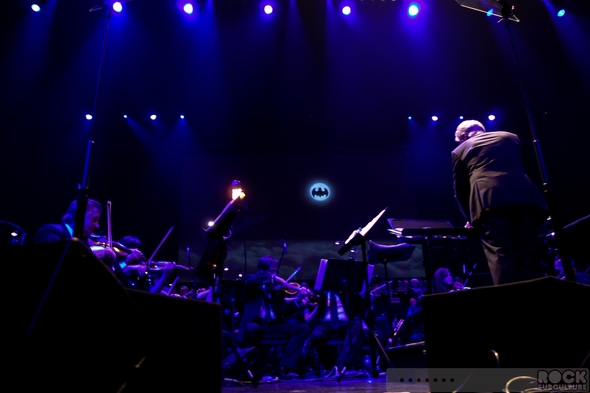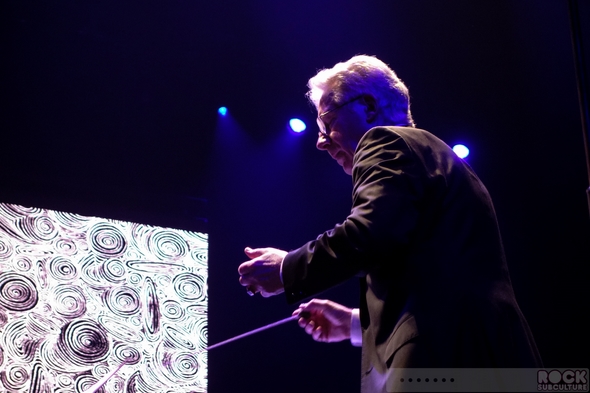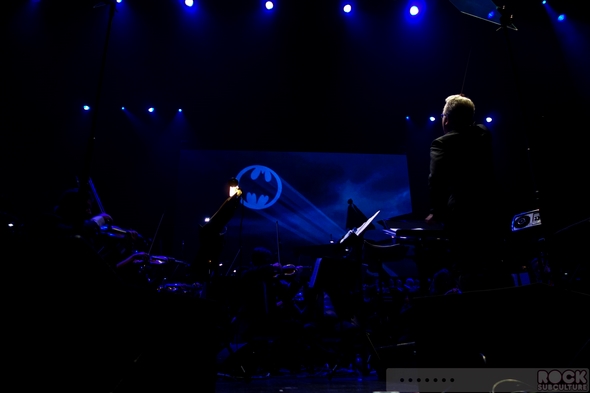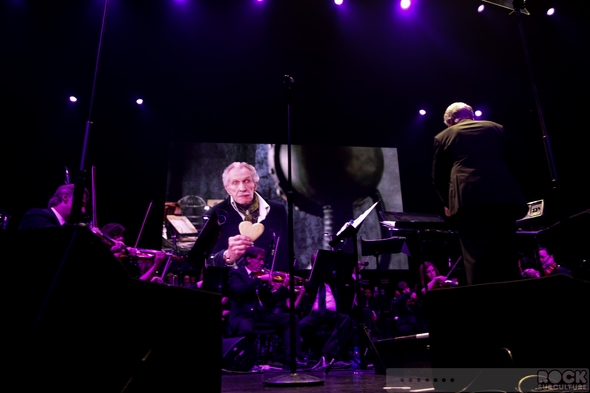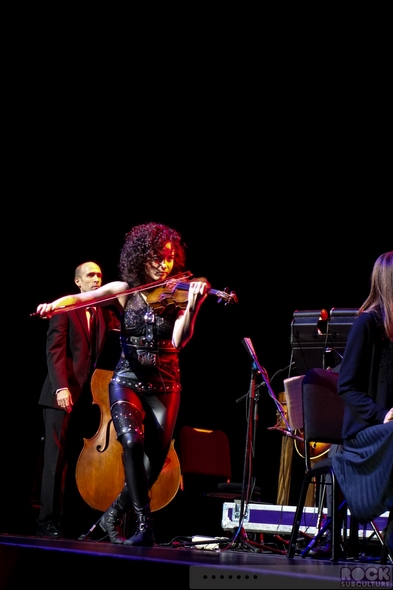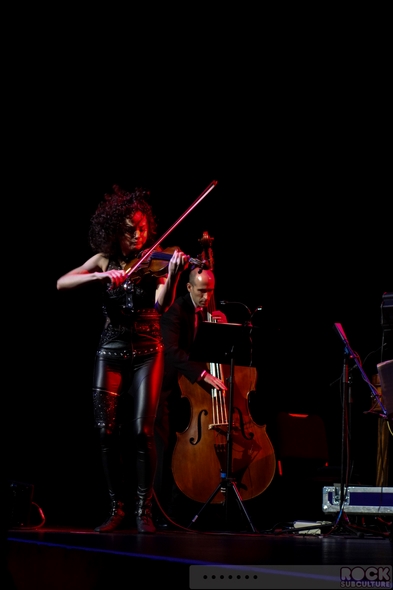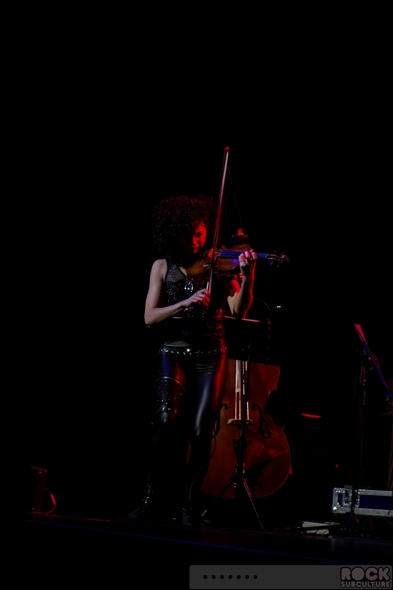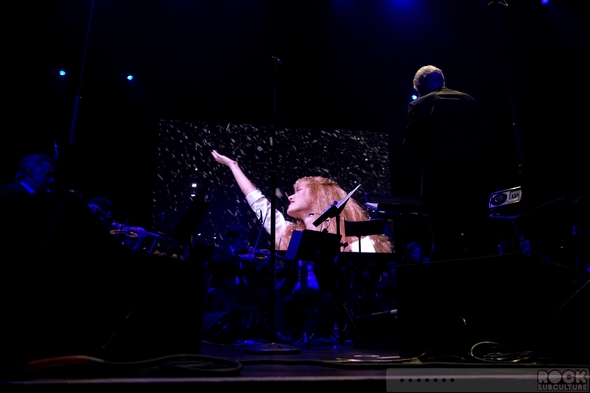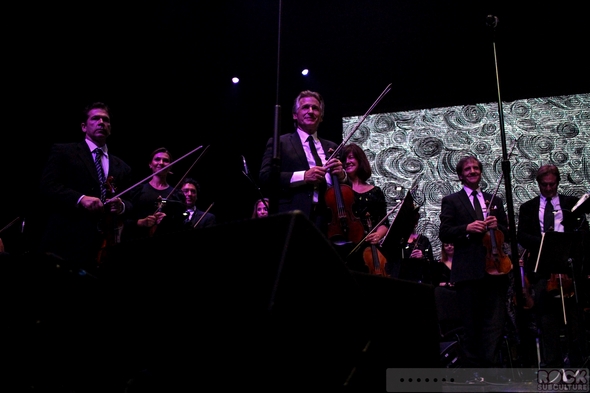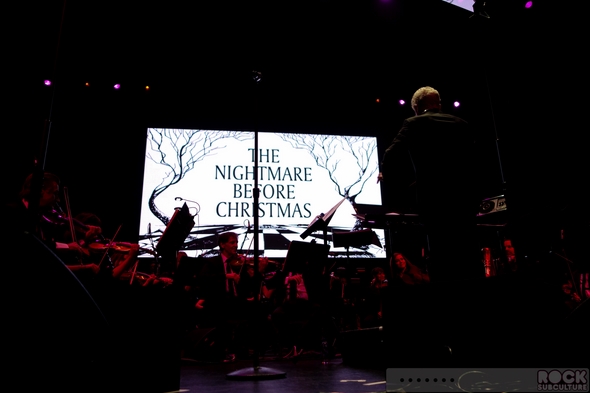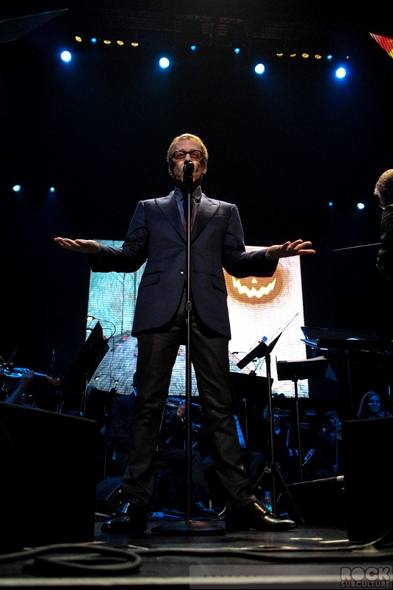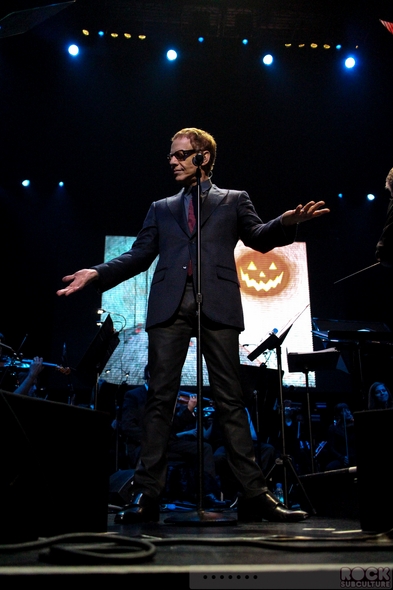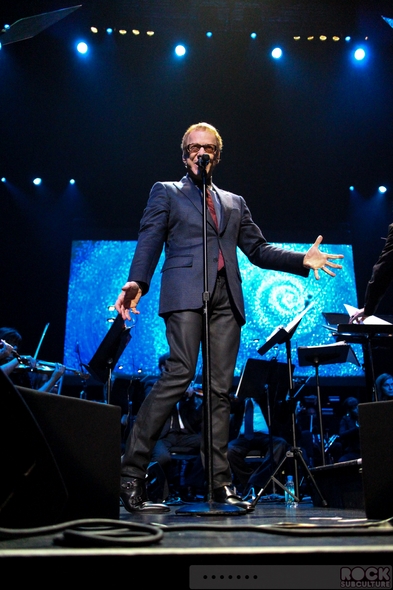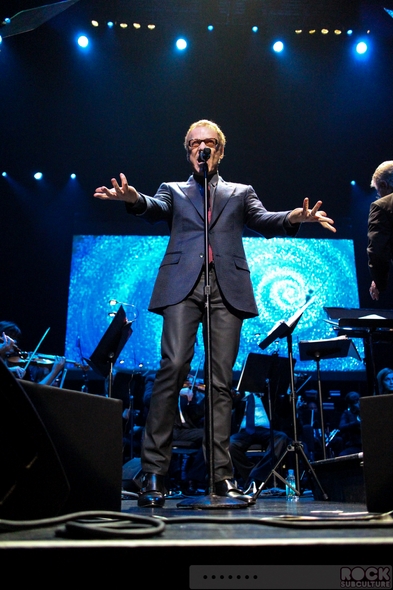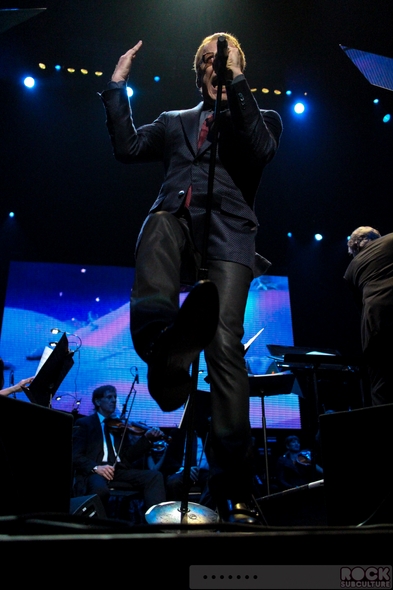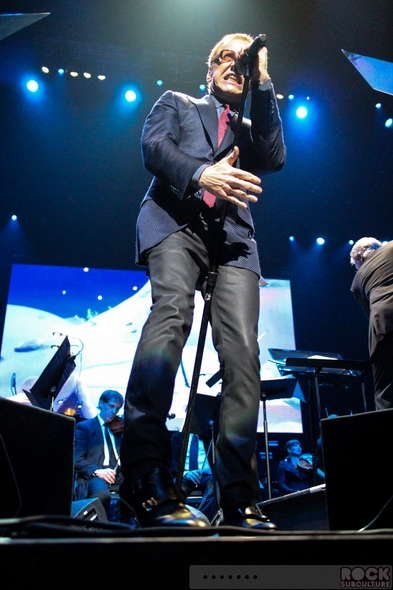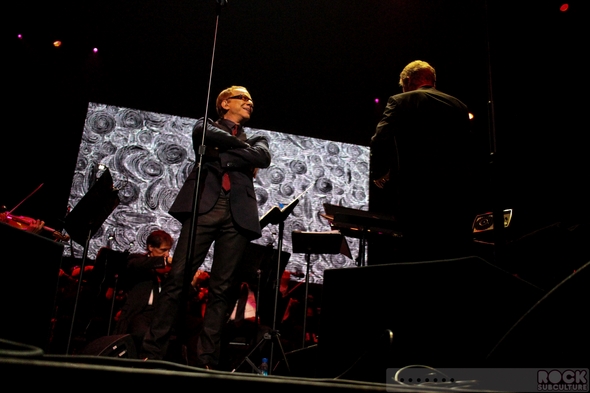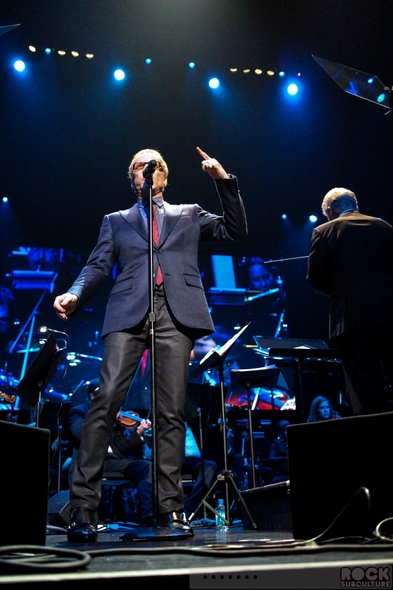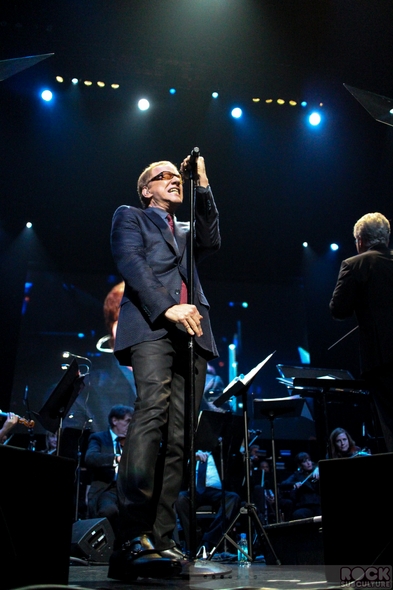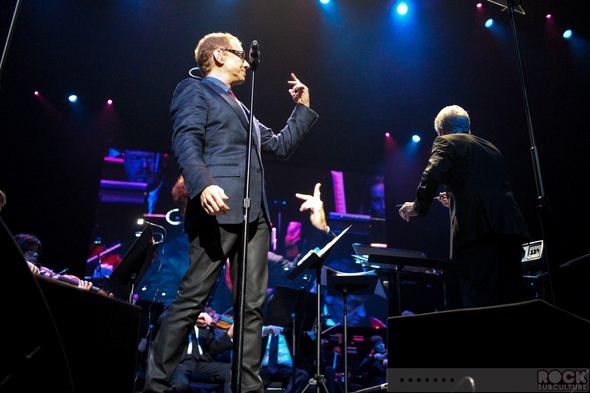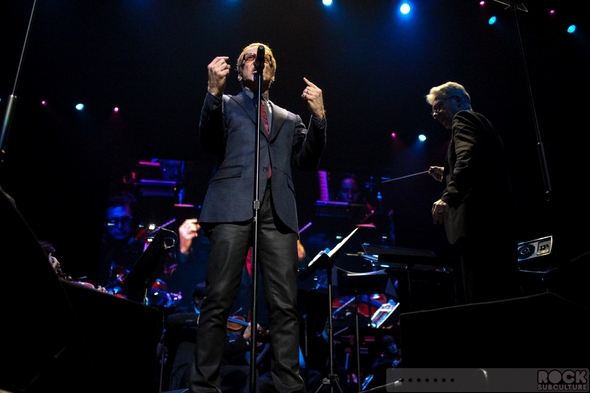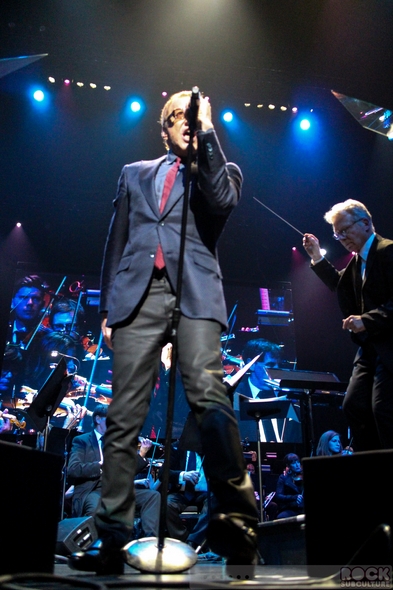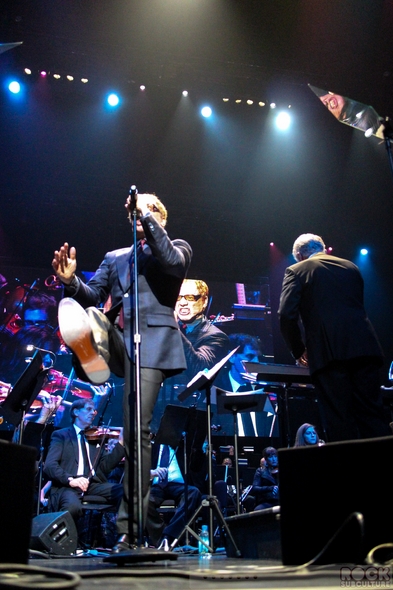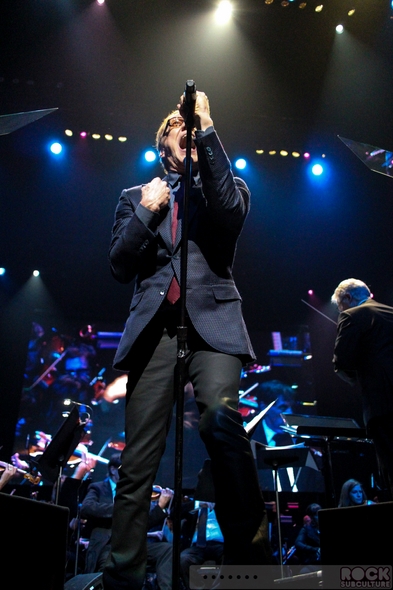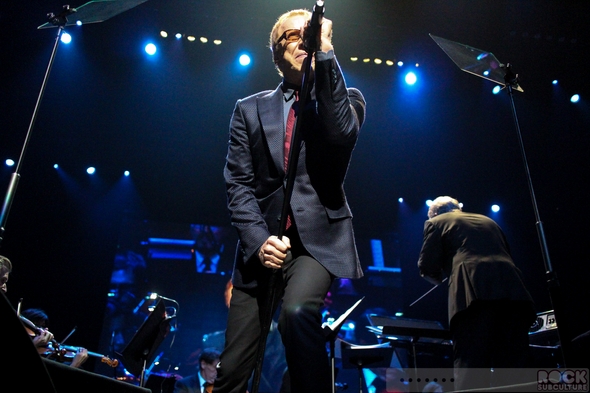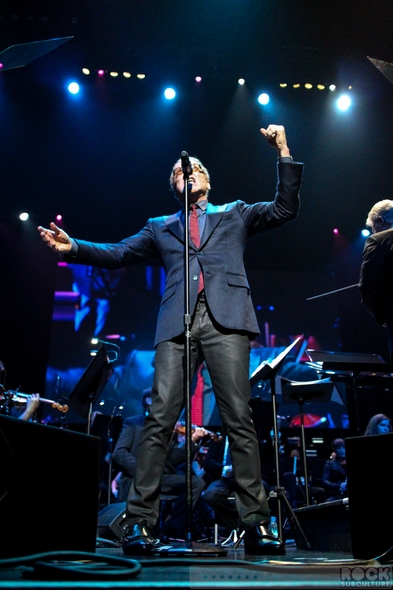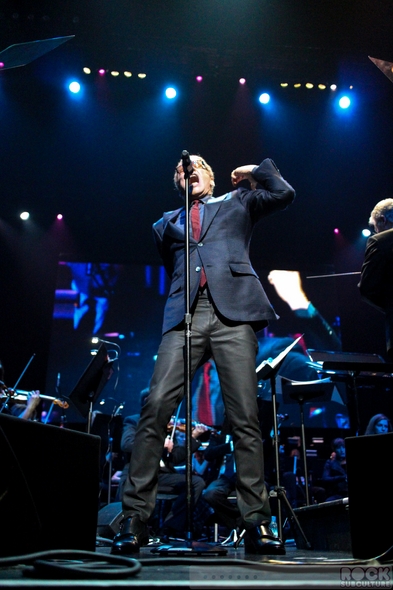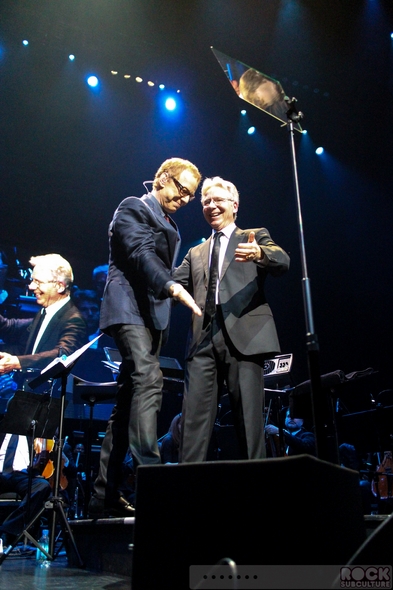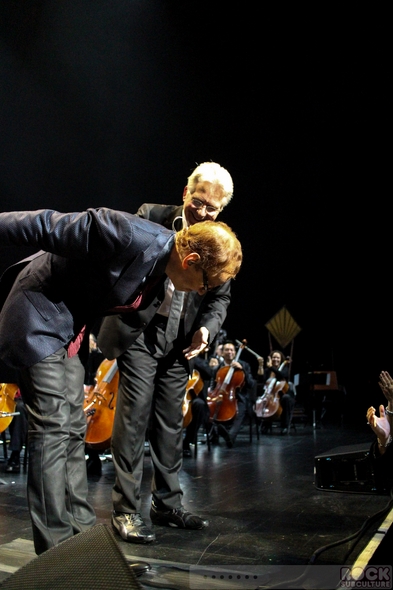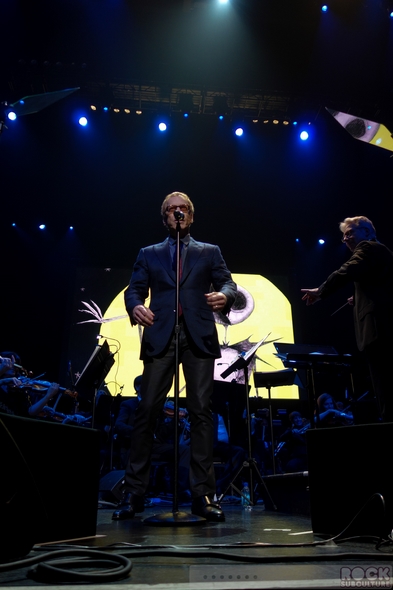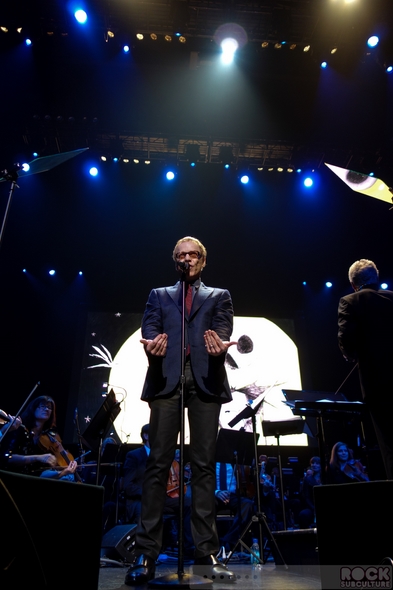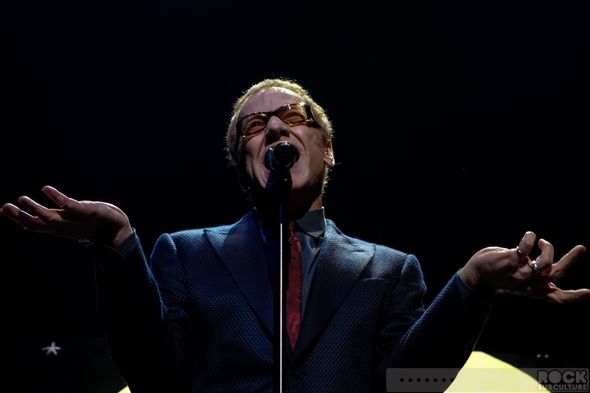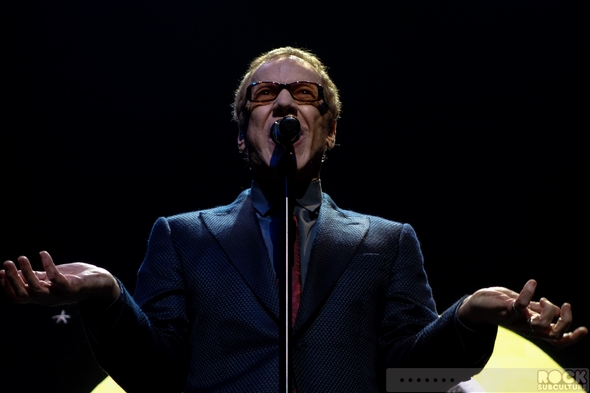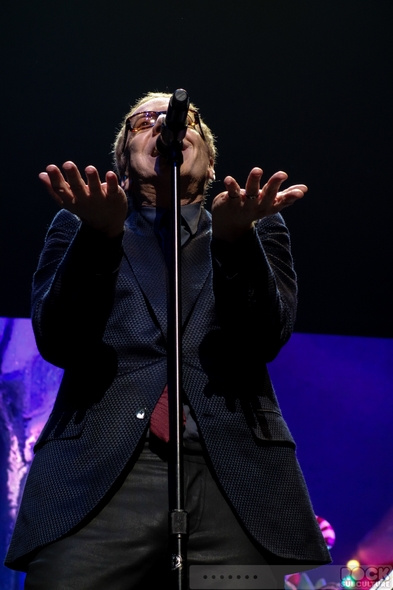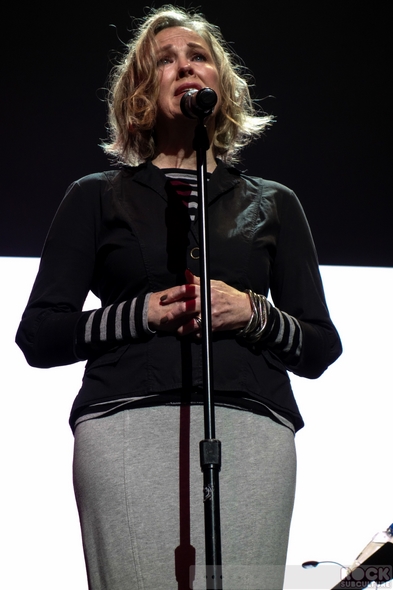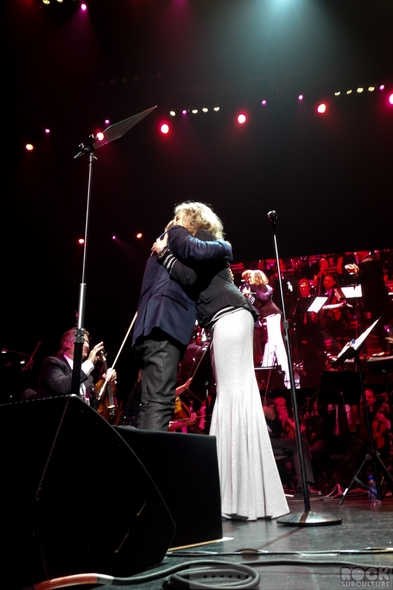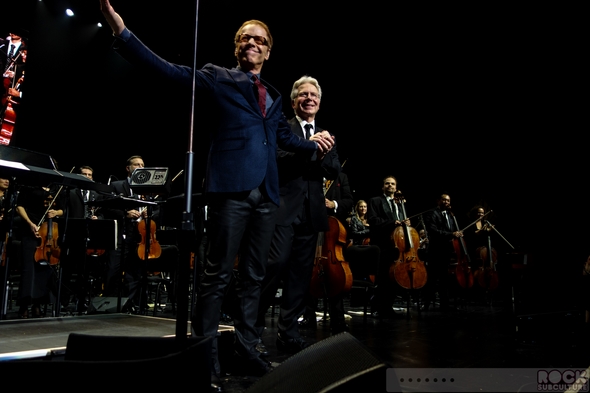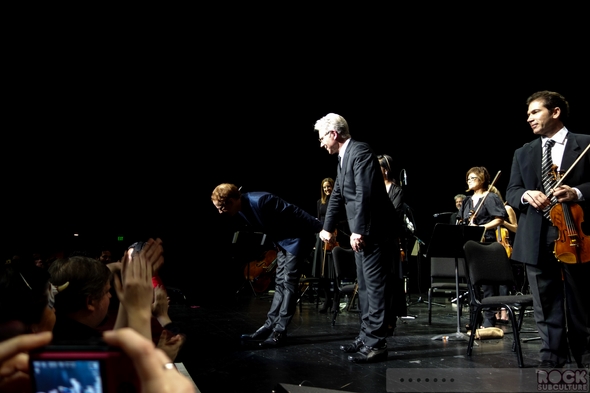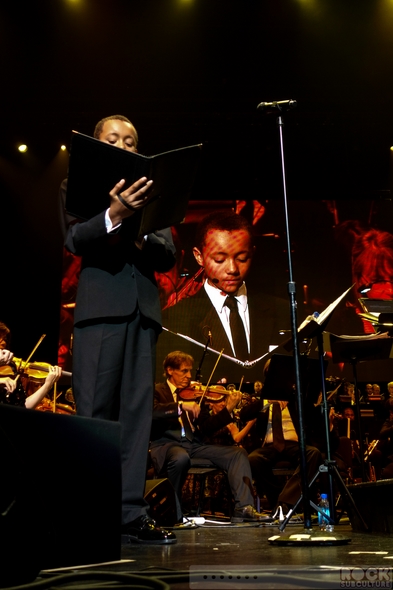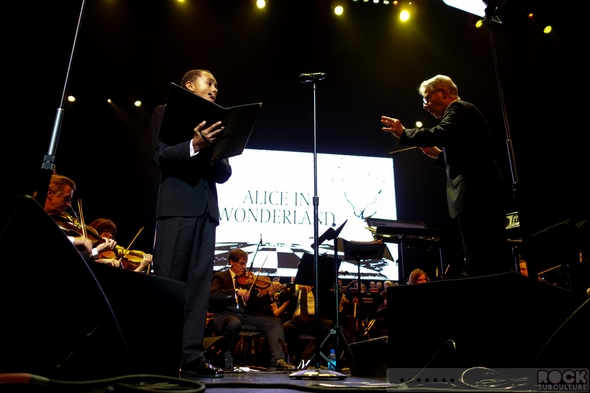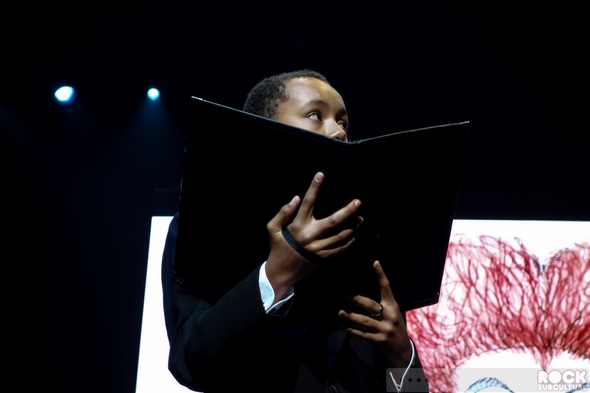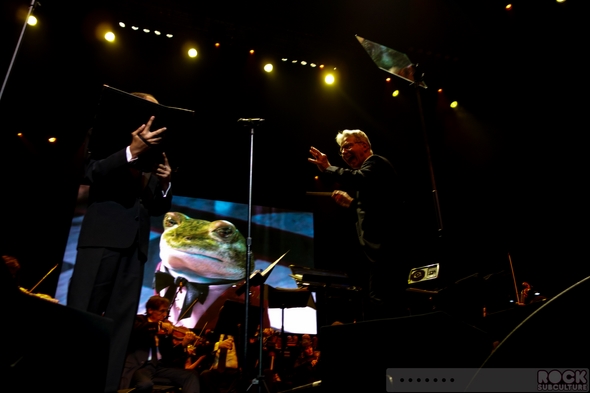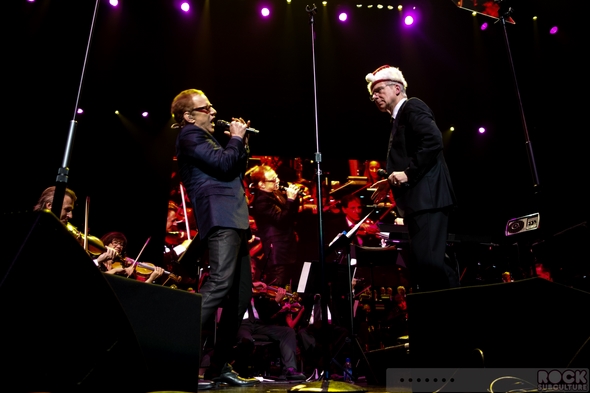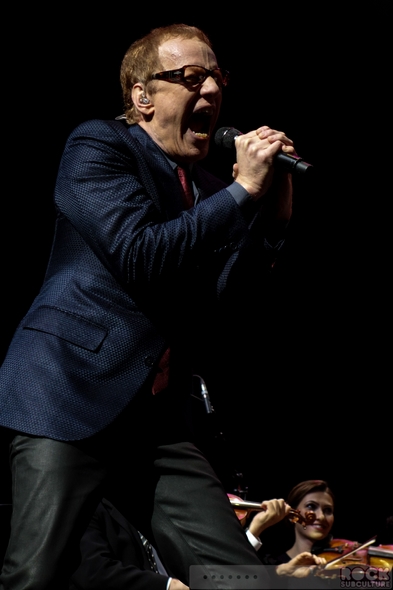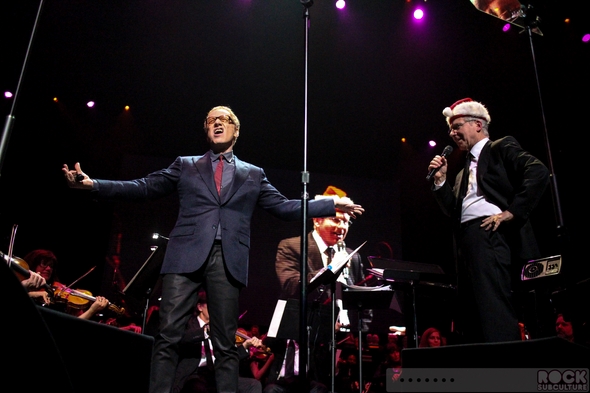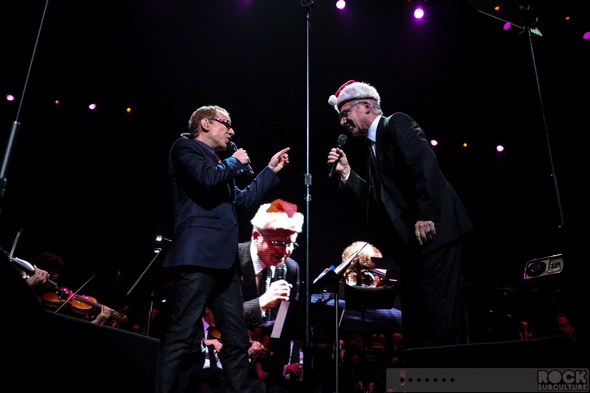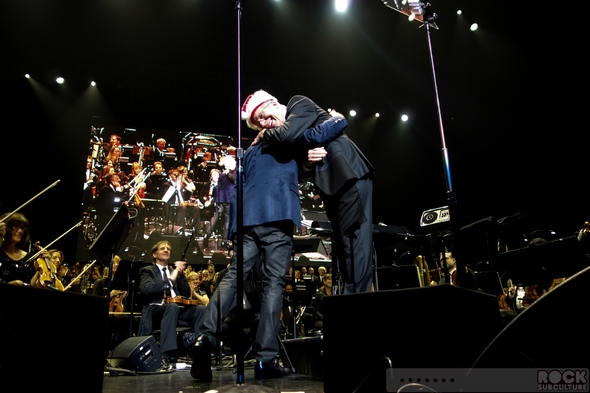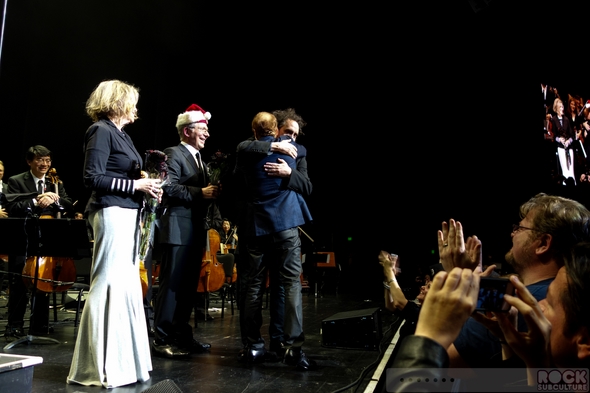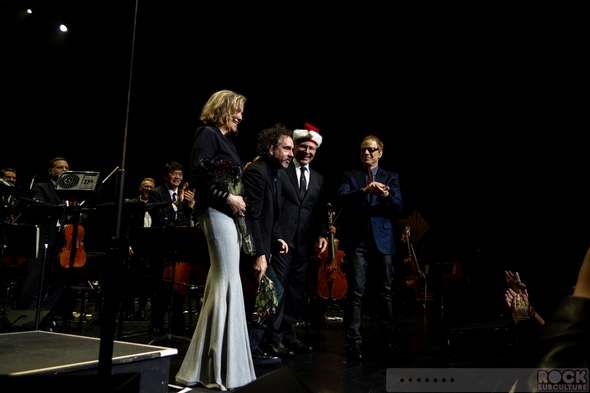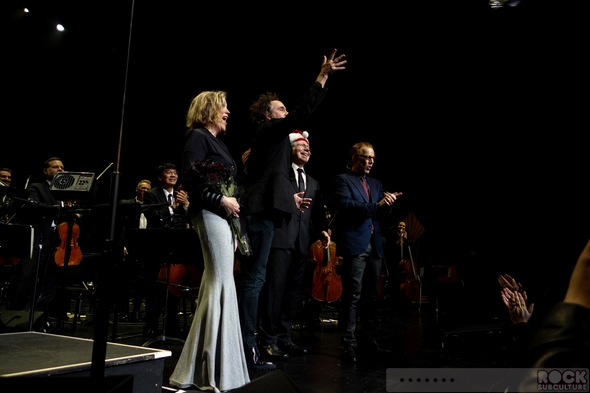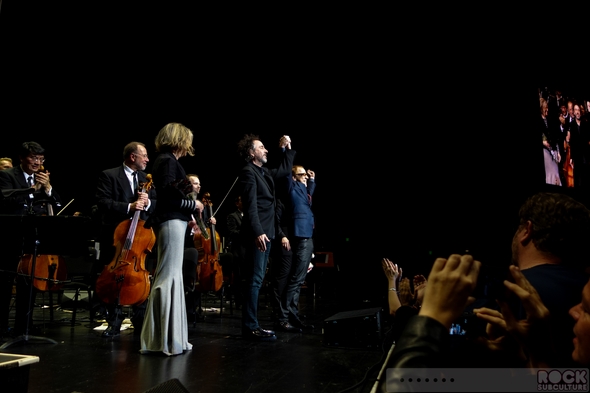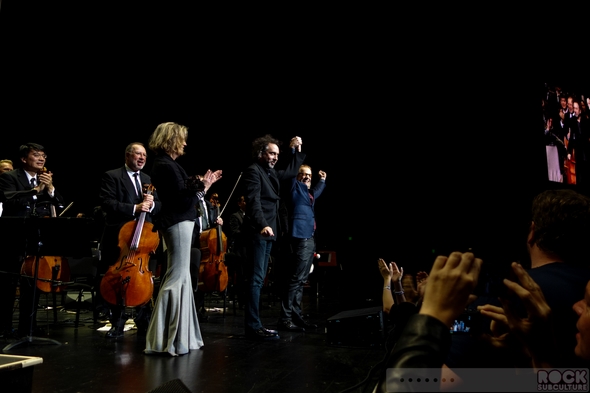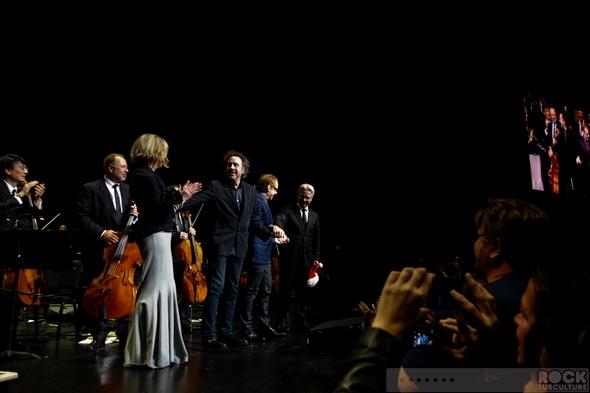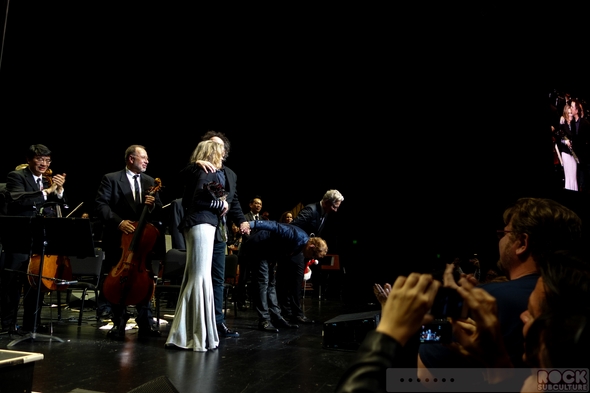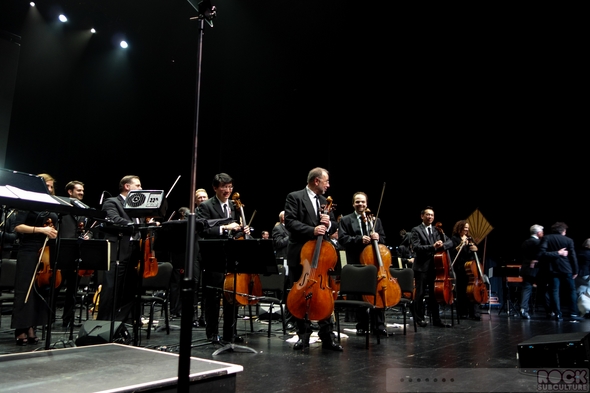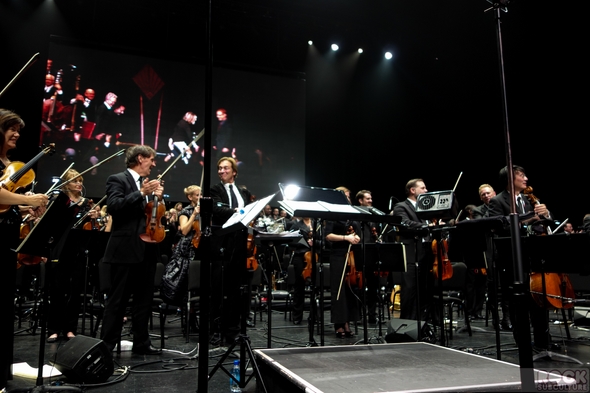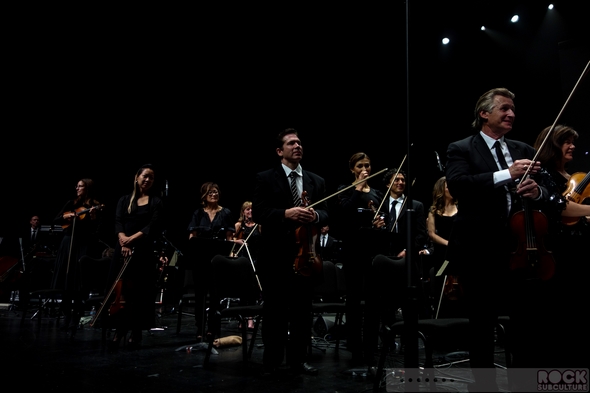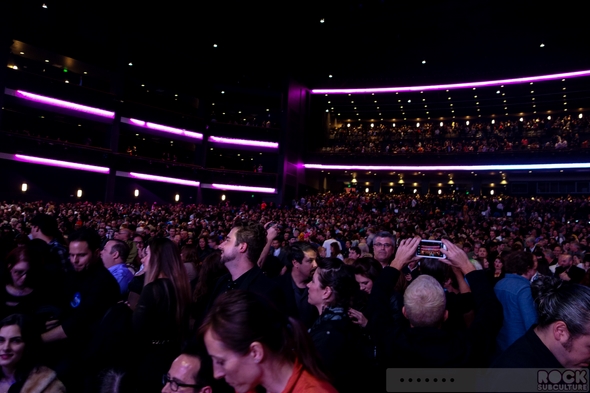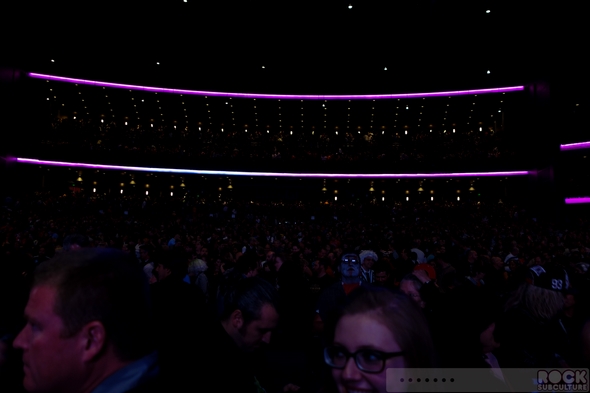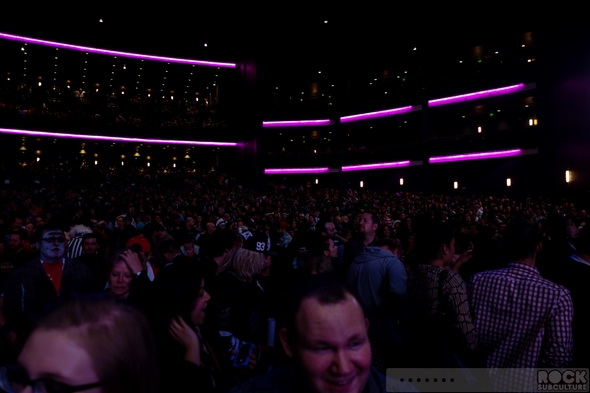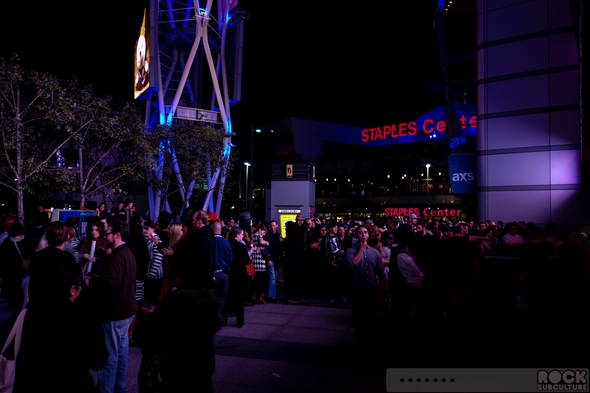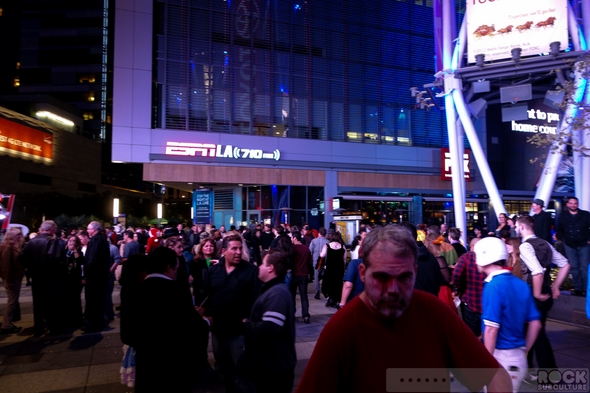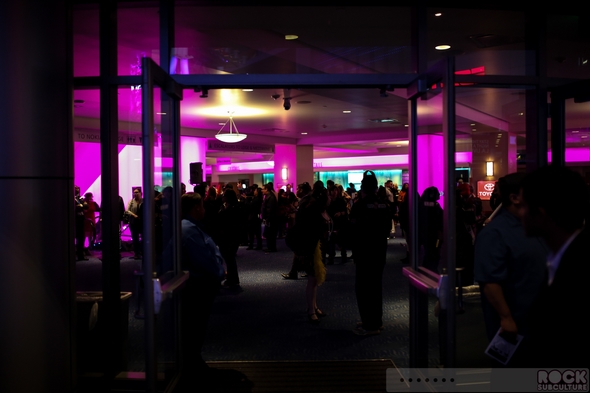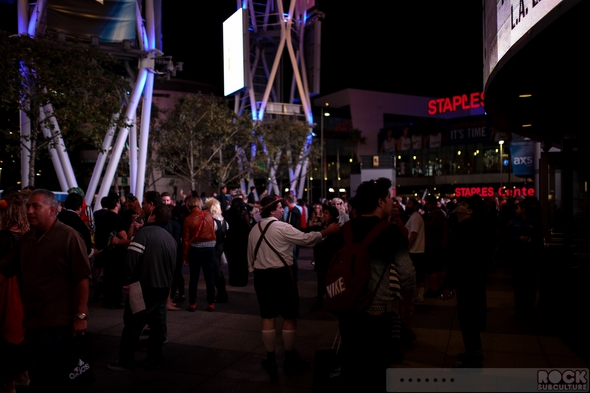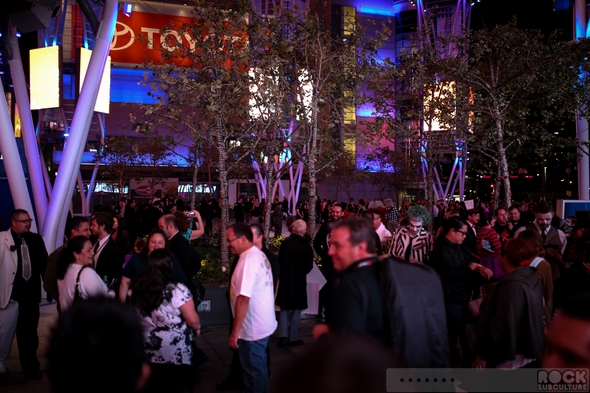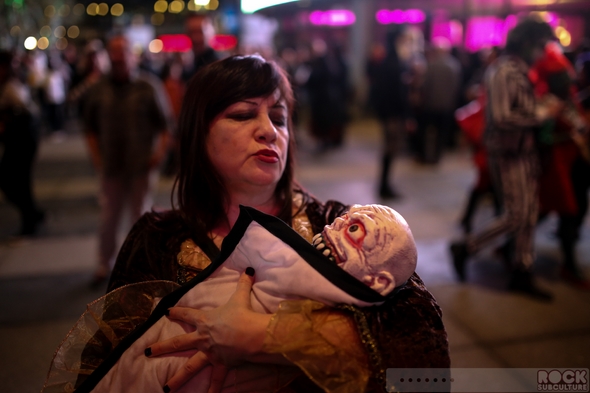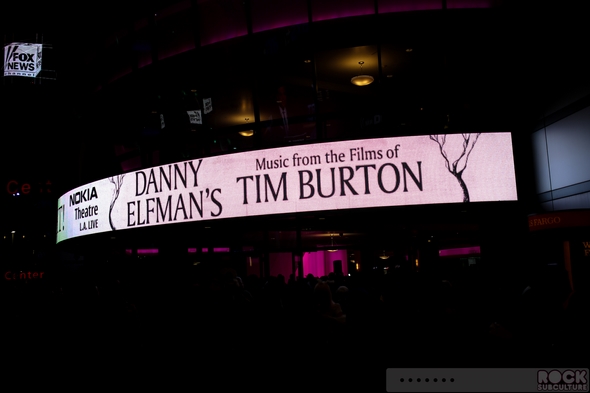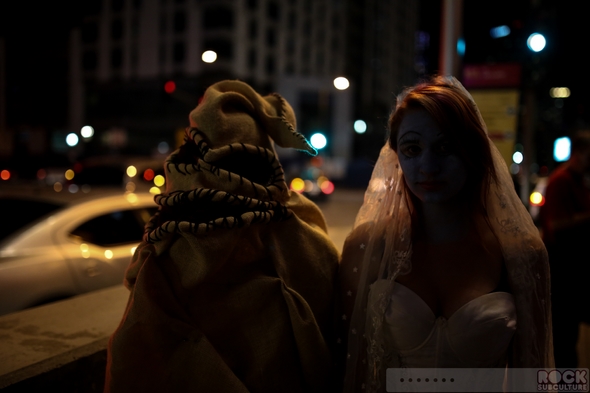 Jason DeBord