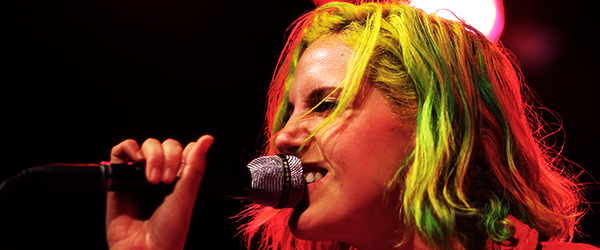 "Thank you so, so much for being here tonight.  It means so, so much to us."  Lizzy Plapinger, the "MS" in MS MR thanking the crowd at the Independent in San Francisco last night for being "early adopters" of their music, while the "MR" half, Max Hershenow, preps the crowd for the last song of the night, "Hurricane".  Appropriately enough, the new band has taken the music industry by storm with their phenomenal first studio album, Secondhand Rapture, which I certainly rank as one of the Top 10 Albums of 2013.  Their unique blend of at once dark and poppy electronic music has taken me back to those same feelings I had when I found Yazoo 30 years ago (with another male-female duo in Vince Clarke and Alison Moyet), though updated and reflective of our time today.  This was the third of three sell out shows at The Independent in the past week, which is remarkable since it was only four months ago that I saw them take the same stage supporting CSS back in June.  In much the same way Imagine Dragons graduated from The Independent (they played there as well earlier this year) to filling sports arenas, I suspect that MS MR will continue on with their upward trajectory, carried by their awesome music and brilliant live performances, which sound as sublime as the studio recordings.  This is definitely a tour that fan who are lucky enough to check out will not forget.

Who: MS MR
Supporting: Wildcat! Wildcat!
Venue: The Independent
Where: San Francisco, California
Promoter: Another Planet Entertainment
When: June 16, 2013
Seating: General Admission (front row slightly right of center mic; also photo pass first three songs for each artist)
I managed to get to the venue about an hour before doors, and two fans of MS MR – seeing them for the first time last night – had been waiting out in the cold weather since 2 PM.  By the time doors opened around 7:30, there was a pretty good line going down the block.
As mentioned in past articles, I am a big fan of Another Planet Entertainment and their shows at The Independent, which is the perfect-sized venue for intimate shows by up and coming artists.  With a capacity of about 800, the space will filled up for MS MR last night.  Tickets were originally $15, and even after two sold out shows in the days leading up, the handful of tickets (less than ten) listed on StubHub day of were priced at $60-$100 a piece.
Miles the DJ pulled in the crowd spinning records up on the balcony overlooking the general admission floor of the venue, and framed the whole night with some great mixes.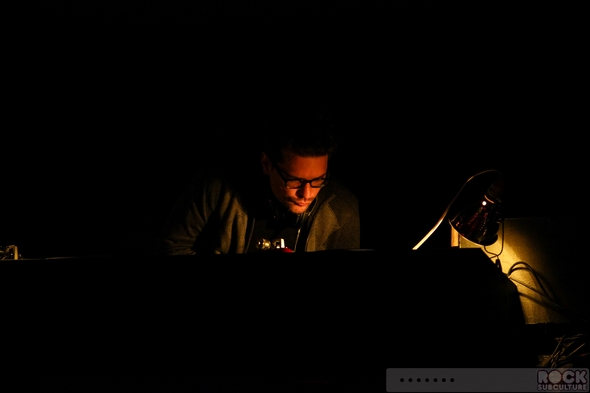 Wildcat! Wildcat!

Members:
Jesse Taylor (bass, vocals)
Michael Wilson (keyboard, vocals)
Jesse Carmichael (drums, vocals)
Wildcat! Wildcat! is a trio (though there was a fourth player on keyboards on stage; I just couldn't find his name, my apologies) that put on an awesome opening set.
I was previously unfamiliar with them and their work, and did not know what to expect.
Jesse Carmichael's full drum kit was center stage, filling the available space between Jesse Taylor on bass and vocals (on the left, looking at the stage) and Michael Wilson on keyboards and vocals (on the right), with the other keyboard player behind Jesse.
With all three guys on vocals, the traditional guitar absent, and being right up against the center of the low stage, it was kind of interesting for me in the audience, not really knowing who was supposed to hold my attention as "the lead", for lack of a better term.  It was as if they brought some democracy to the stage with their more subtle brand of rock and roll, and left the egos at home.  An approach that really suits their music, in that at times, their falsetto vocals harmonize in and out and follow the music more than lead it out.
The two Jesse's look the L.A. band part, while Michael kind of reminded me a bit of Adam Sandler (in a good way).
Overall, there is a bit of an irreverent vibe to what they do and how they bring their music alive on stage, but more importantly, their music is really, really good. I was very impressed, and it inspired me to pick up their first (eponymous) EP, which came out last month.  You can also check out their music video for "Mr. Quiche" on YouTube.
I can't really come up with any other band that they remind me of, other than that it is a familiar sort of feeling…  a good feeling.  They put on what felt like a really complete set, and I'm personally really glad that MS MR have brought them along on this tour.  Great band.  They have found tremendous power in smooth understatement.
Below are some photos of Wildcat! Wildcat! performing on stage at The Independent last night: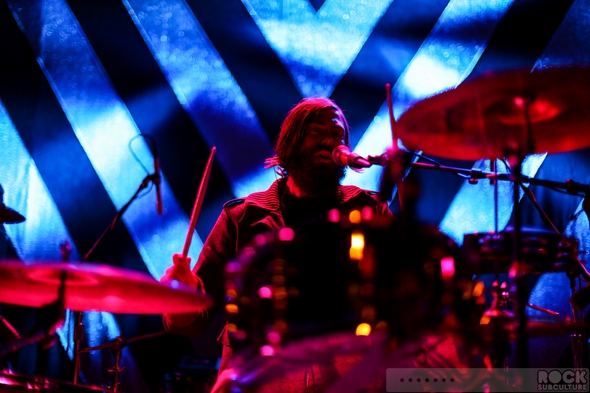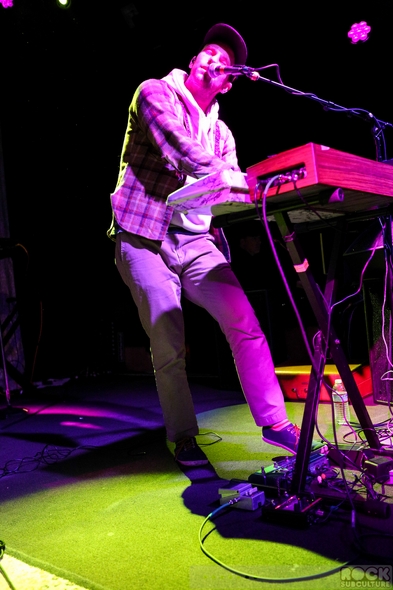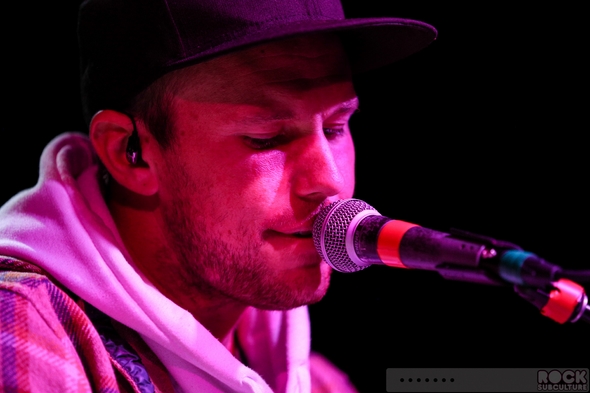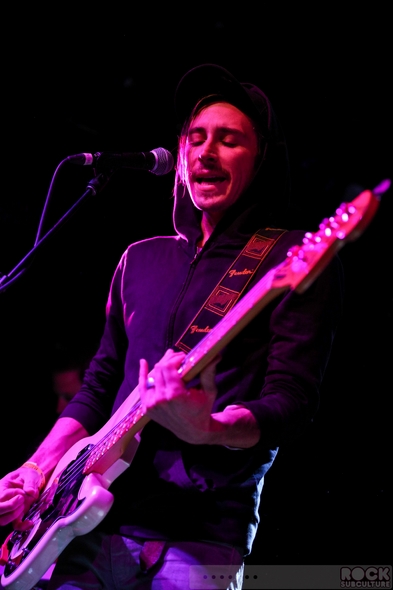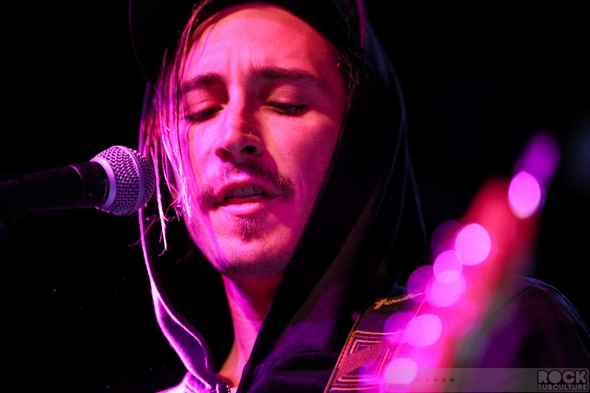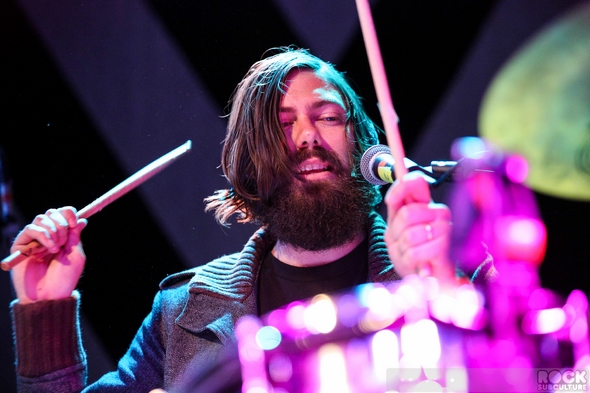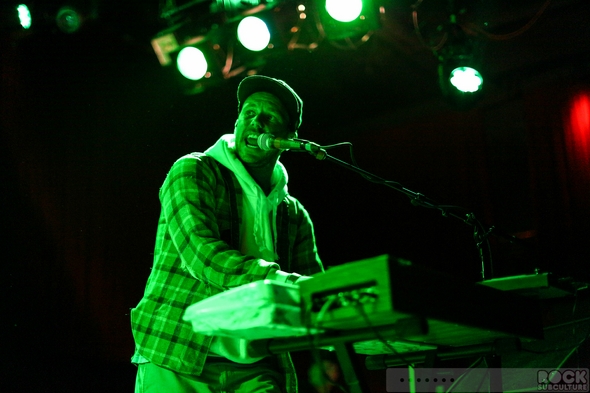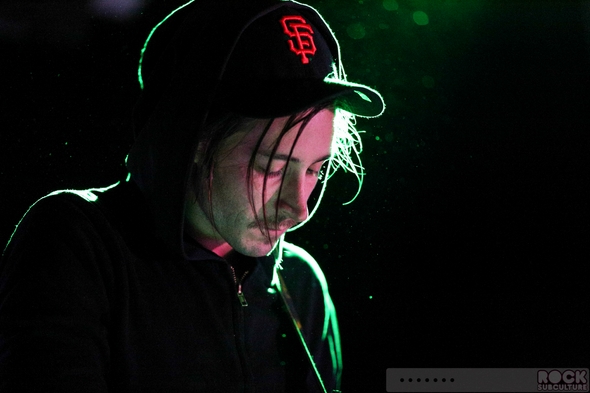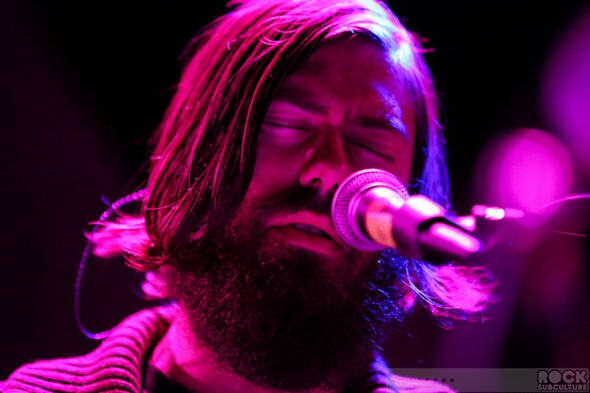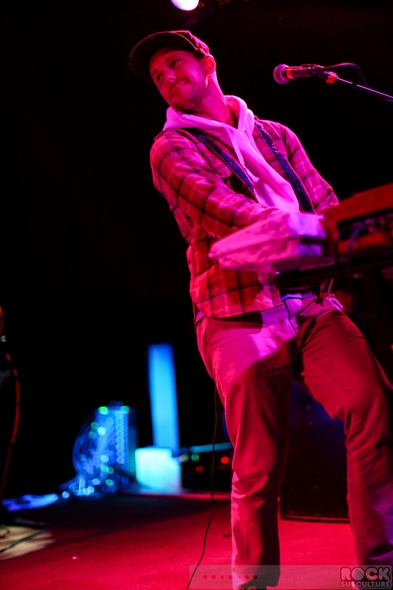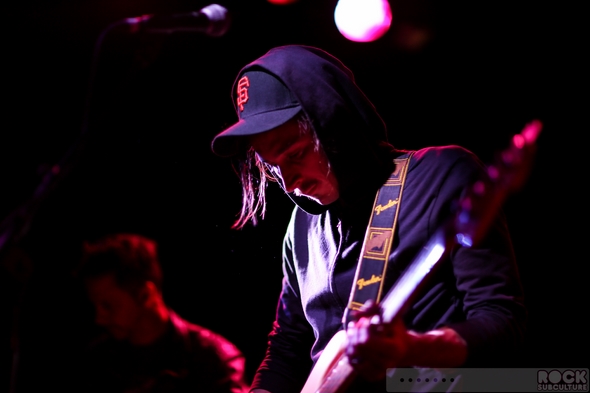 MS MR
Members
Lizzy Plapinger (MS)
Max Hershenow (MR)
Curtis Nystrom (lapsteel, autoharp, bass, and synths)
Zach Nicita (drums)
Some of my thoughts in this article have been borrowed from my recent review of the MS MR show with CSS a few months ago.
I often tell people that I don't listen to the radio, or any of the various online streaming music services… so if I don't buy something, I never hear it. In my world, its as if it doesn't exist until I find it or someone tells me about it.  And at the beginning of 2013, I'd never heard of MS MR.  I found them in Switzerland.
When I was covering Caprices Festival for nine nights in the Swiss Alps back in March, I spent a lot of time in the press office working on reviews and photos late into the night (usually 4 or 5 am). We had a shared laptop and projection screen in these offices, and some of the other journalists took on the role of DJ in playing music to keep us all entertained (and awake!), and one of the photographers with 20 Minuten played two songs over and over… Snakadaktal's "Dance Bear" and MS MR's "Hurricane". I'd never heard either, but became hooked, and purchased MS MR's Candy Bar Creep Show EP and fell in love with the band and their work. I eagerly awaited the full album, but couldn't imagine it all being as amazing as the four song EP preview (spoiler – it was).
Just days after returning from Switzerland, MS MR's PR company coincidentally sent me an e-mail about their first studio album, Secondhand Rapture, and tour dates! Unfortunately, the California date conflicted with other plans and I booked myself out of California at that time.  I was disappointed, as I hoped to see them live, but it was not in the cards this time…
Fast forward, and another opportunity popped up – a show with CSS and IO Echo at the Independent. I'm a believer that sometimes things happen for a reason, and I can't imagine a better first show for MS MR, and was glad to have had an opportunity to see CSS and IO Echo as well – but make no mistake…  I was there absolutely to see MS MR first and foremost.
As soon as I heard their music, I became an instant fan of MS MR – I just love their music. And Lizzy has such a unique voice – and delivery – that sounds like no one else. For me it was interesting to see and hear her on stage (twice now), as she sounds exactly like her studio recordings, which is what you would expect, but it's always something to have that performance right before you, and see her singing and glimmer in her eye.
Writing catchy, hooking, original and unique songs is kind of like an archeologist finding proof that Yeti exists or something, and most bands that find success in the industry typically do it built on one, maybe two hit songs that capture the imagination. Then every once in a while there is one of those bands that manage to craft an entire album of songs other artists would die for just to pick off one. MS MR is one of those artists, that somehow fashion together such a work of art with their first attempt. I am quite sure that "Hurricane" will remain near the top of my favorite new songs in 2013 by the end of the year, and the album is a lock for my own Top 10 as well. Brilliant album.
Growing up in the 80s, hearing Secondhand Rapture for the first time brought back those feelings of hearing Yazoo's/Yaz's Upstairs at Eric's… the heavy electronics and an amazing voice that just owns the lyrics, and a perfect union of a musical partnership that just sounds like it was meant to be.
One of my fantasy concert line-ups I've dreamed up would be a triple header with Yazoo, Metric, and MS MR (three favorite male/female electronic-oriented duos).
On stage, they seem like really natural performers that have their music hardwired into their brains, putting out a set that at once seems effortless and sounds spot on to the studio recordings. More, they are having tremendous fun, with a celebratory and jubilant performance.
As a follower of MS MR on Facebook, I noticed over the weekend that they canceled their show in San Diego on Saturday due to an illness that Lizzy was dealing with…  in spite of this, they showed up to do a free meet and greet with fans who opted to turn out to meet them.  Bands cancel dates like this all of the time – it's just part of the business and realities of life.  I don't remember ever hearing about a band turning out anyway to give something back to the fans.  I think that speaks volumes about them and shows how much they value their fans.
So last night, not only did the show go on, but Lizzy sounded great.  I think she mentioned something at some point about having not talked since Saturday so that her voice could recover.
I did feel like they have evolved a bit in the past four months, since I last saw them perform.  Lizzy seems so at ease as a performer (whether true or not, I don't know) and she appears to get good energy from the crowd, and comes across as very engaging.
It was great to finally see and hear them do a full set.  Below is a photo of the set list from the show (thanks to the nice young lady who took the photo of Lizzy's set list for me, which was on the other side of her mic stand from where I was standing):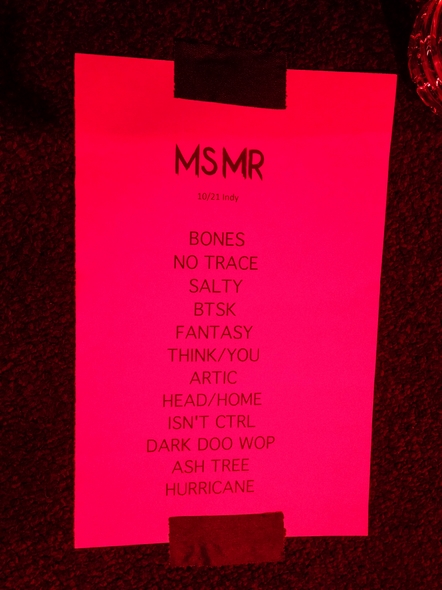 Setlist:
Bones
No Trace
Salty Sweet
BTSK
Fantasy
Think Of You
Do I Wanna Know? (Arctic Monkeys cover)
Head Is Not My Home
This Isn't Control
Dark Doo Wop
Ash Tree Lane
Dance Yrself Clean (LCD Soundsystem cover)
Hurricane
So they basically did the entire album of songs from Secondhand Rapture, save for "Twenty Seven", plus two cover songs…  Arctic Monkeys' "Do I Wanna Know?" and "Dance Yrself Clean" from LCD Soundsystem.
There was also a funny bit at the end wherein Max proclaimed that they would not be doing the traditional exiting of the stage and coming back out for an encore…  good for them!   Though it has become a given for nearly every concert, it doesn't always suit the situation and mood, and I think their straightforward approach fits their show.
For me, MS MR are definitely one of the most exciting new artists to come on the scene in recent years, so I'm happy to see them on an upward trajectory with their success and believe it will continue on…  I look forward to new music and more live shows in the future.
Below are some photos of MS MR performing on stage – click any image for higher resolution versions of each photo: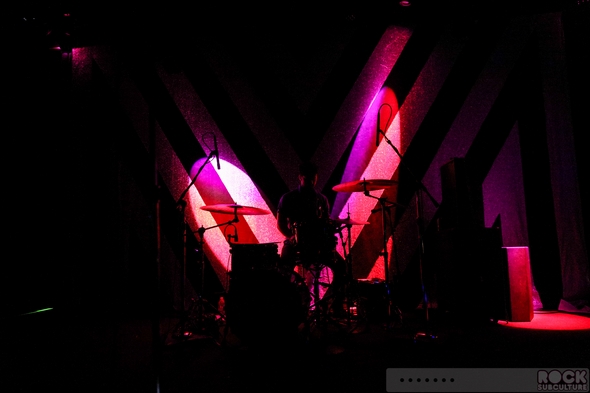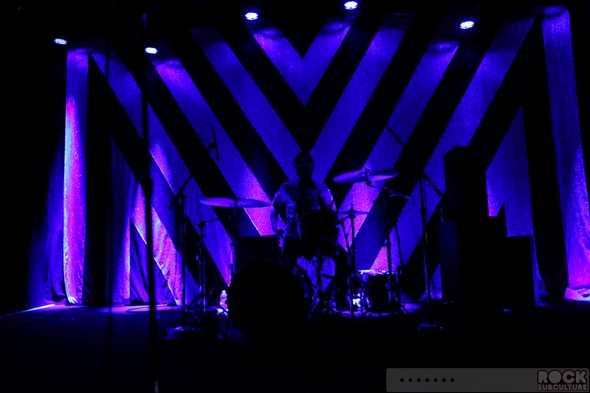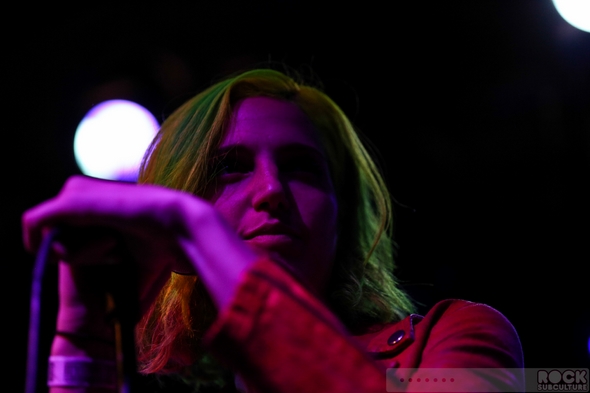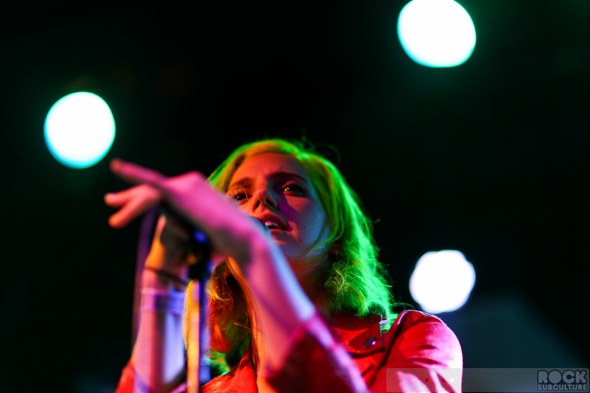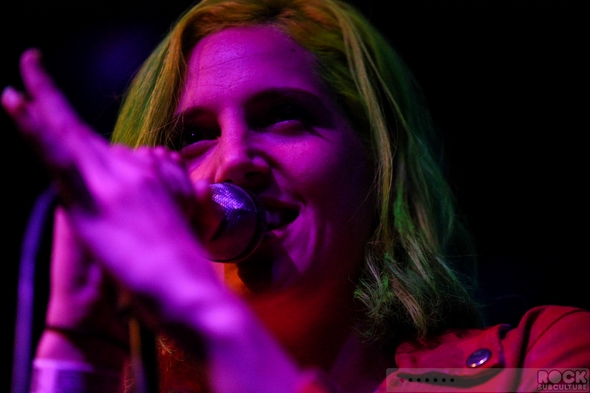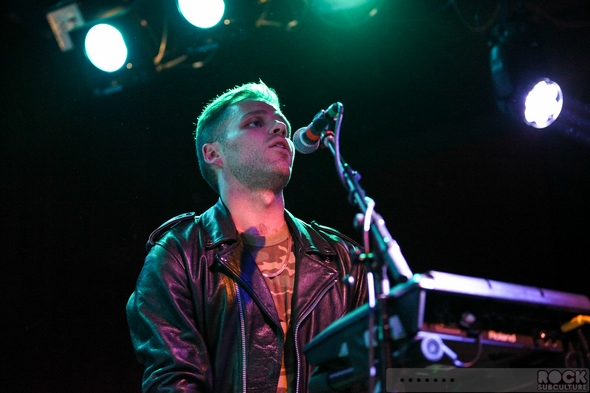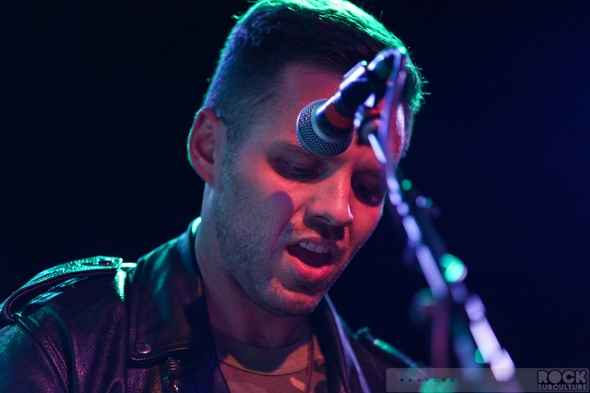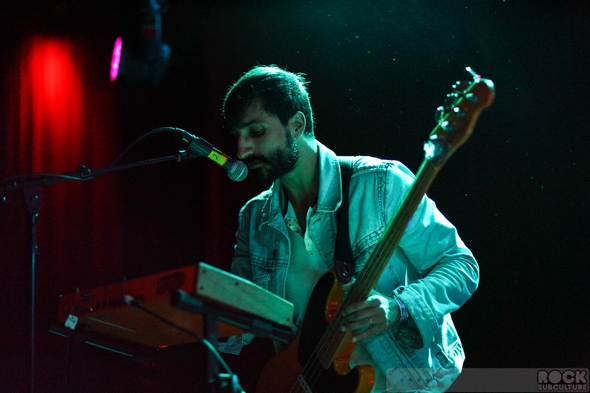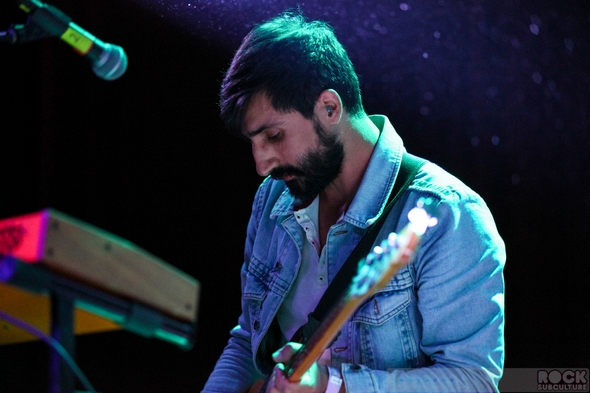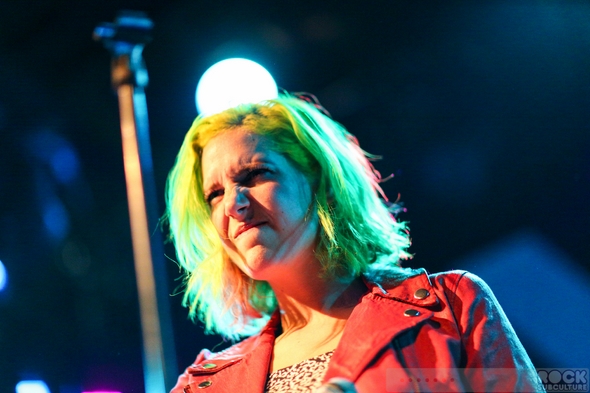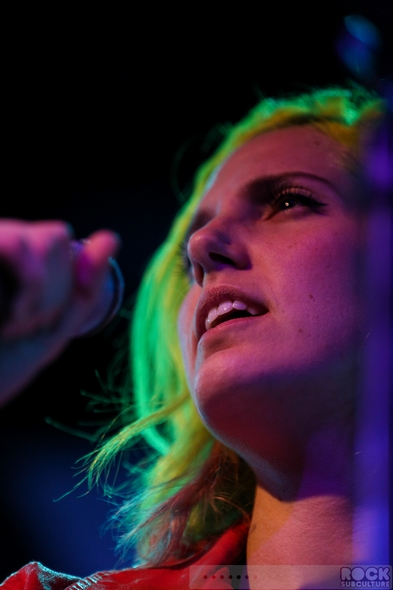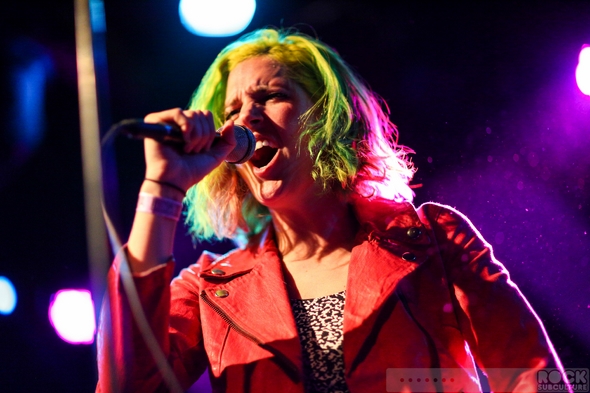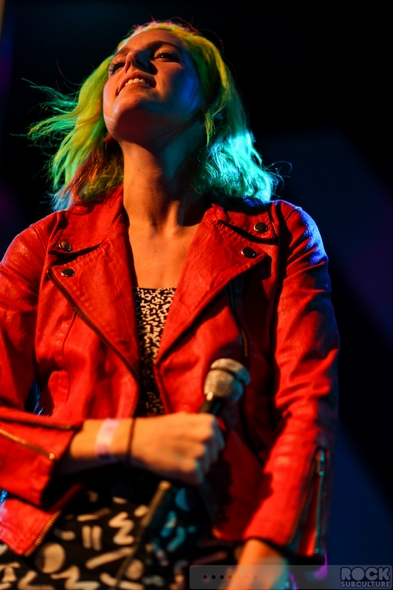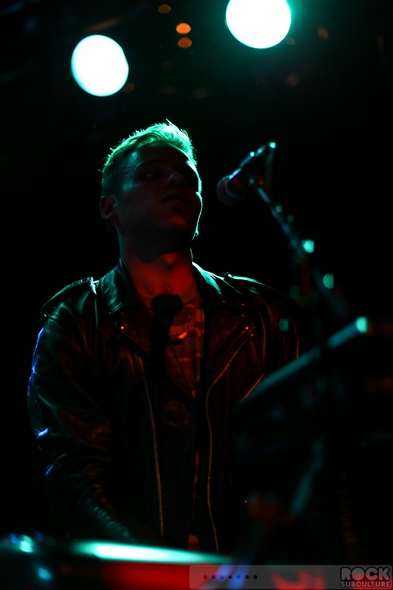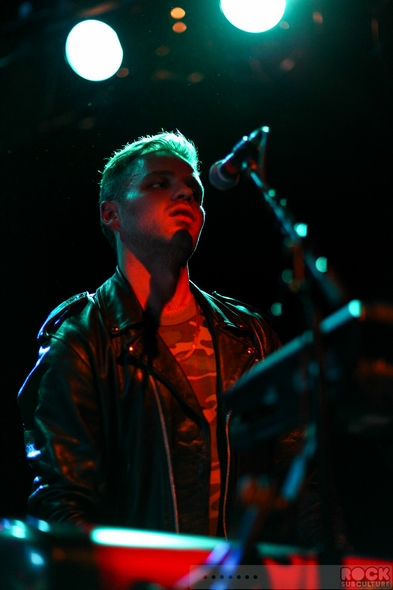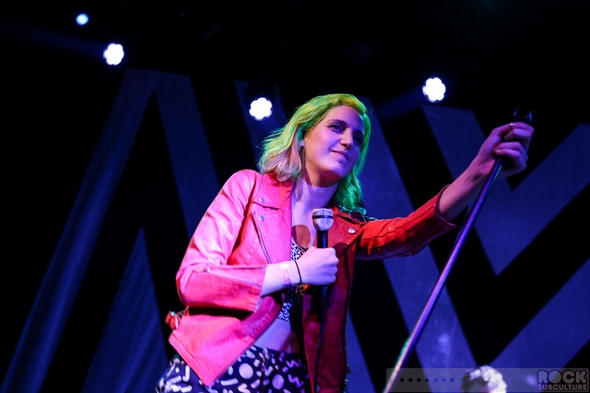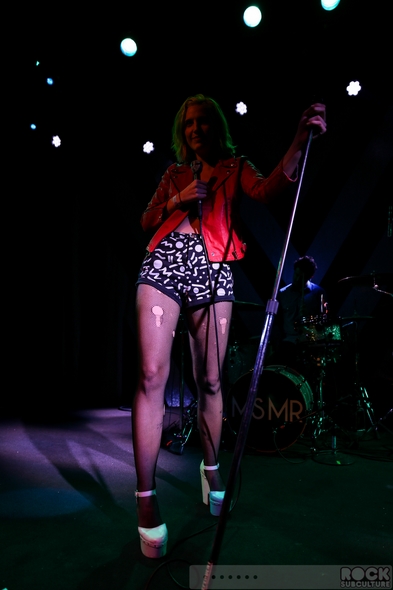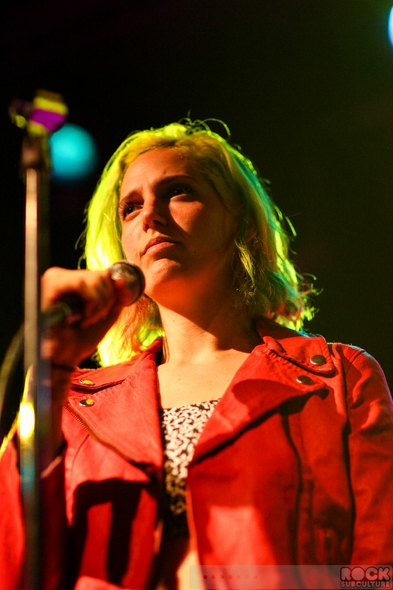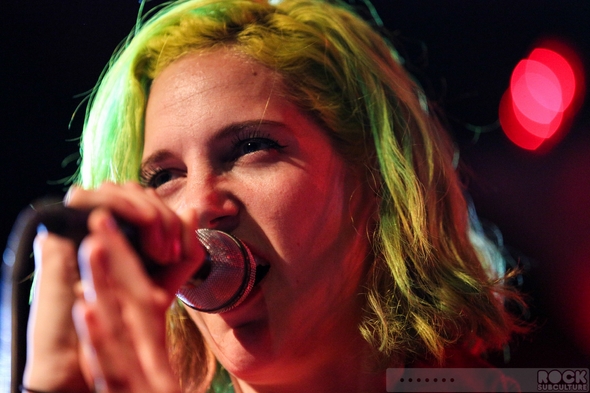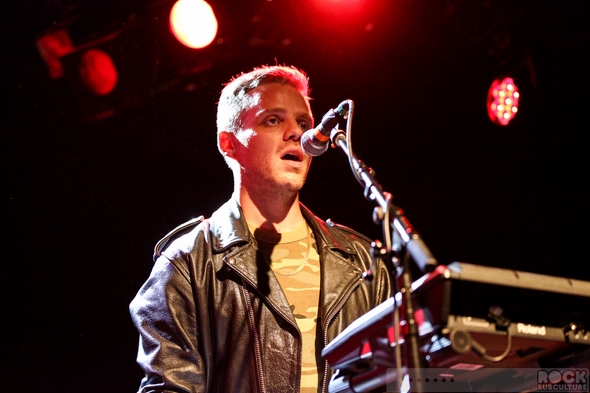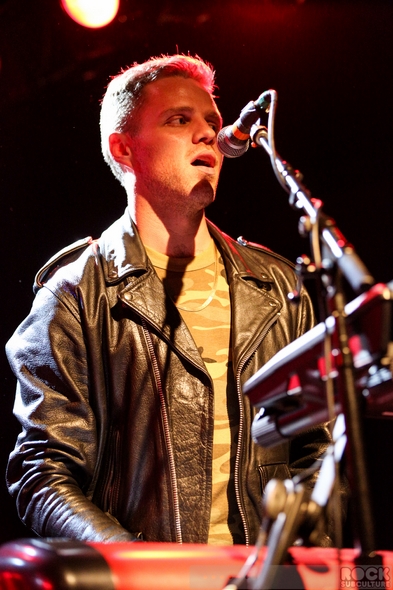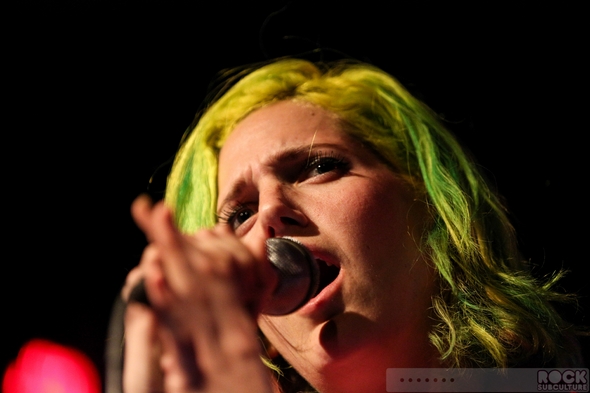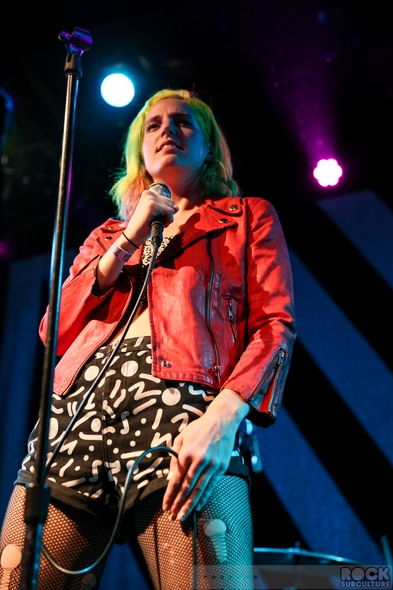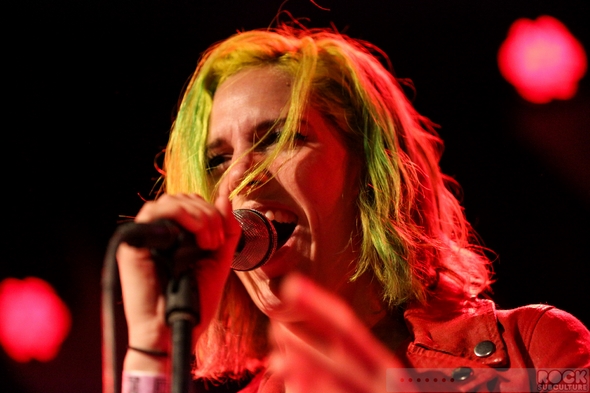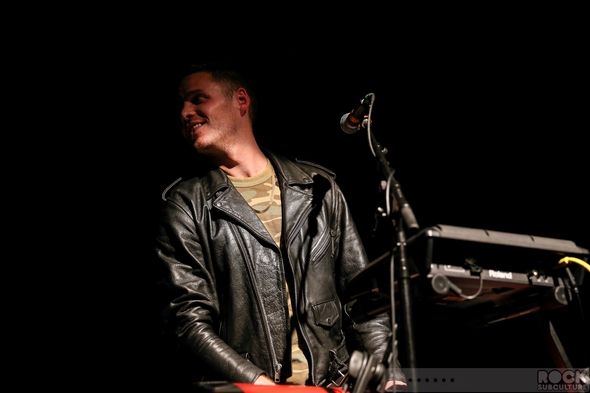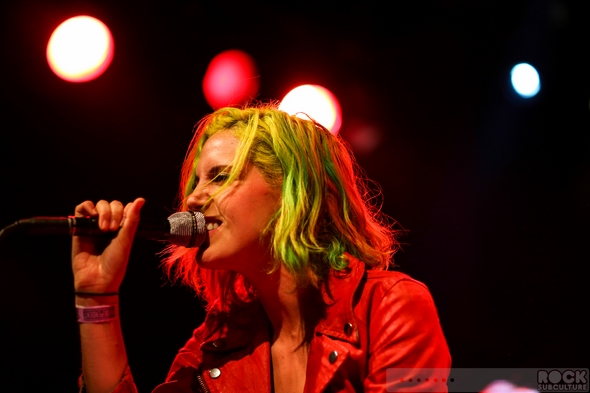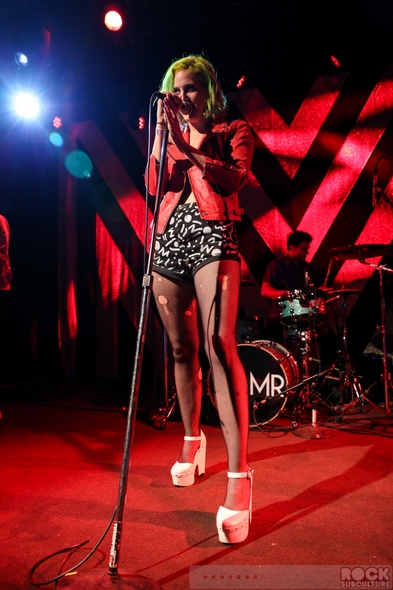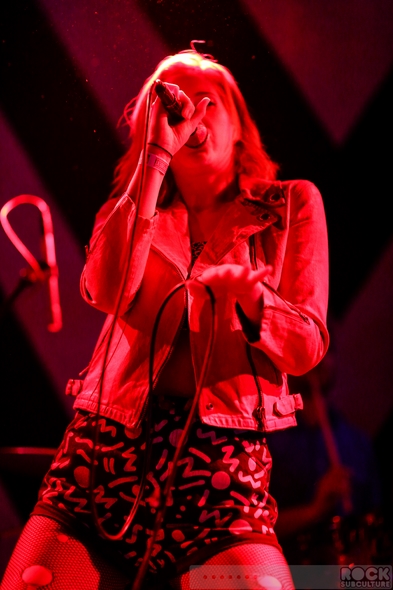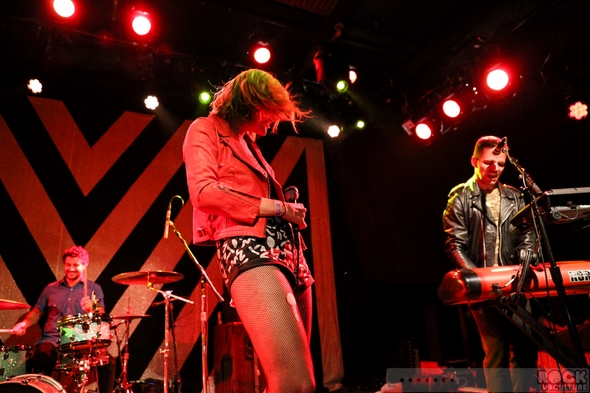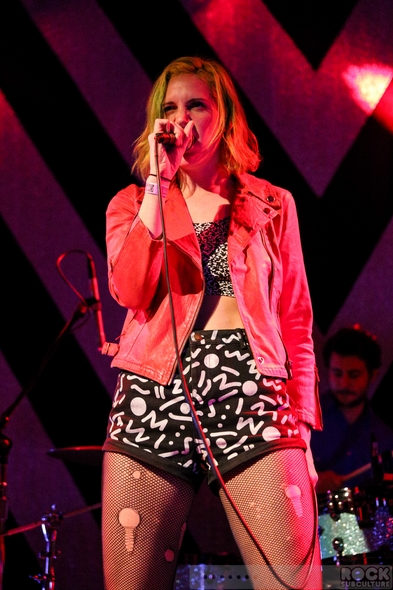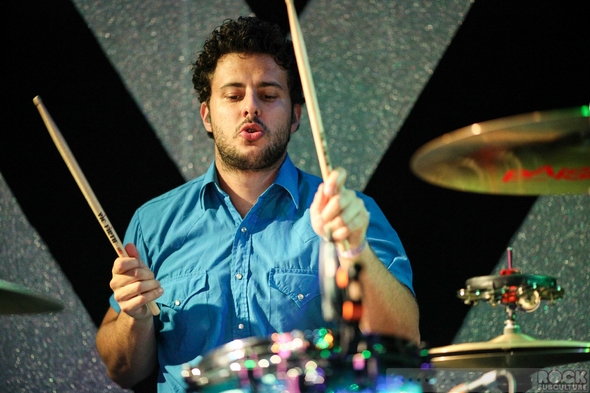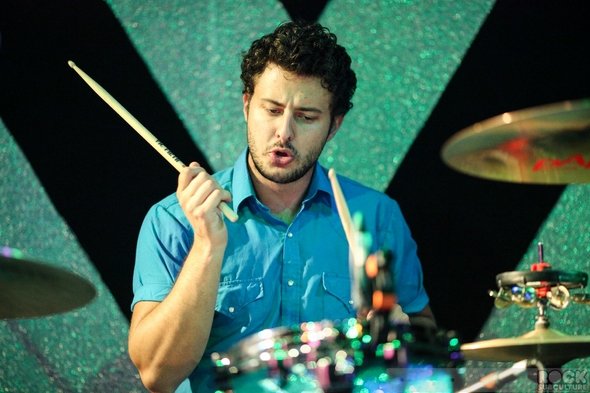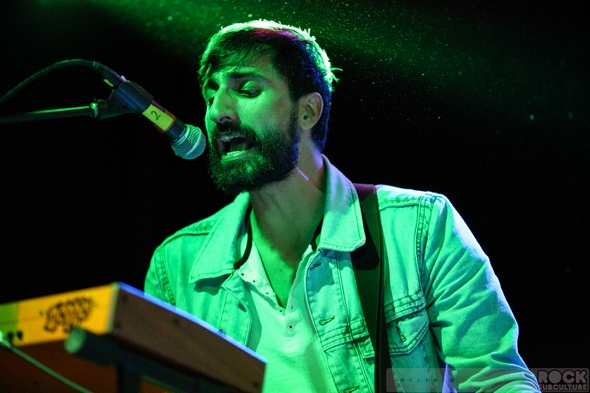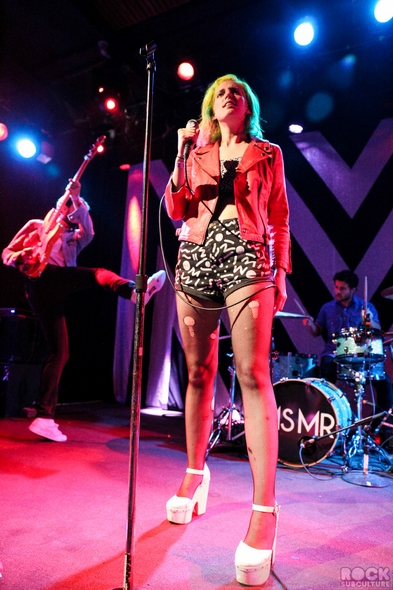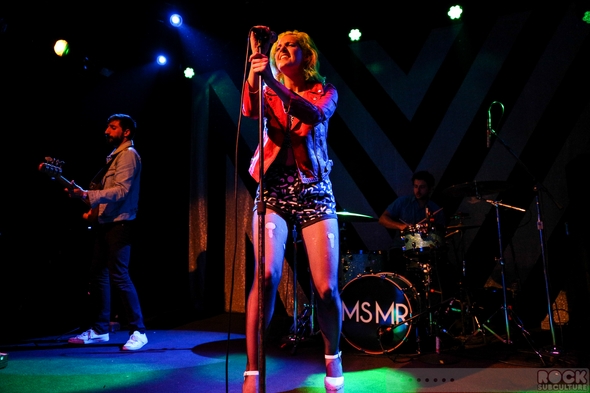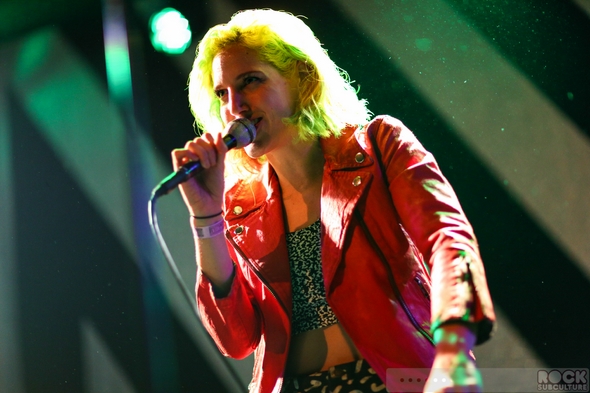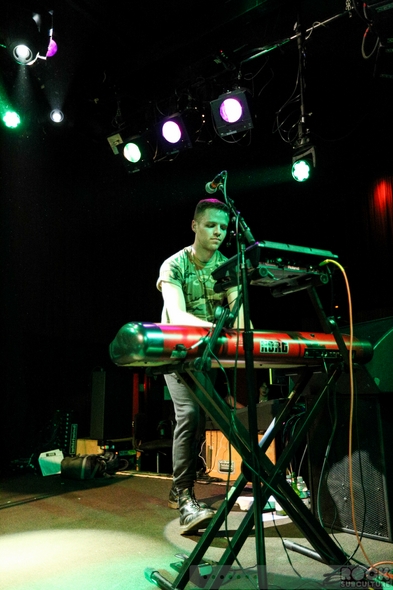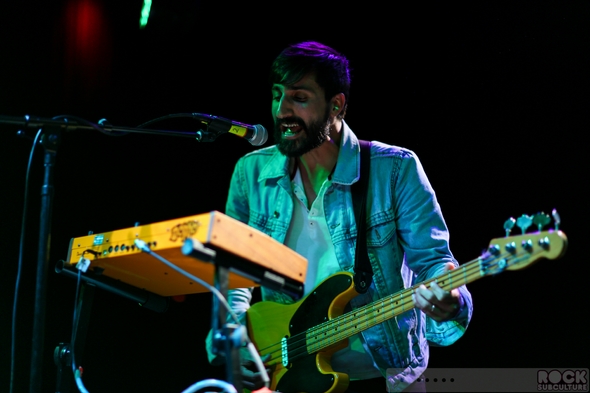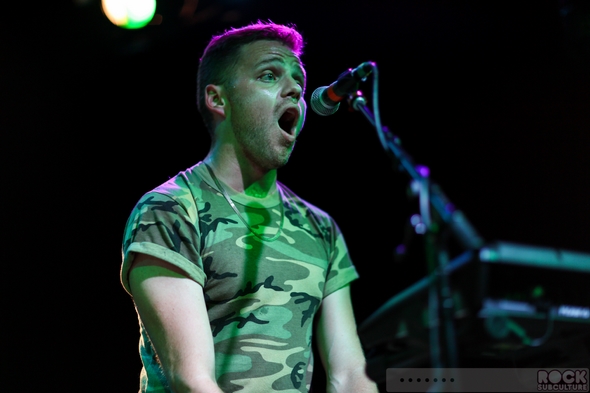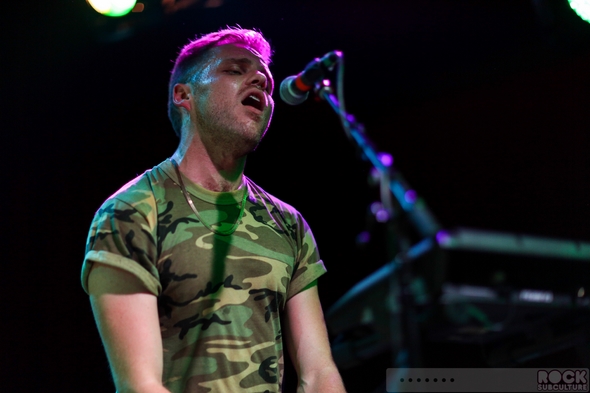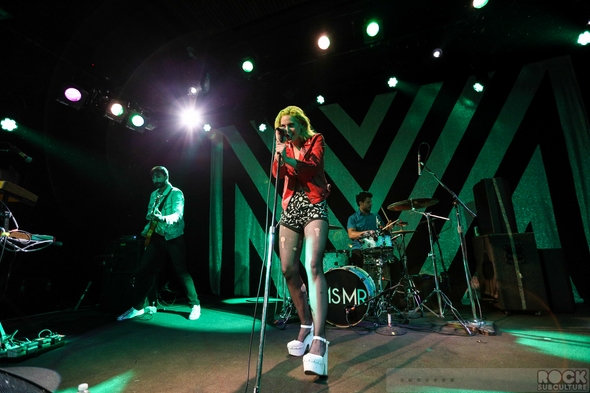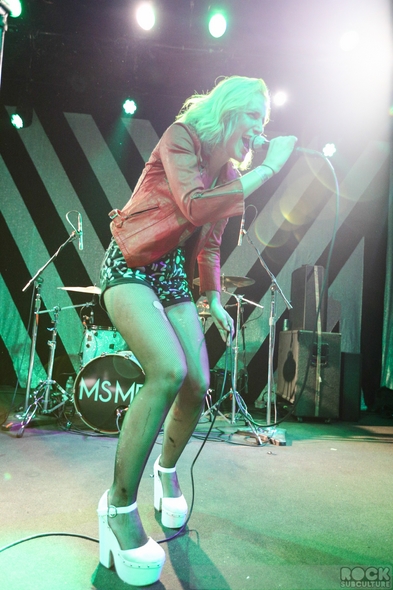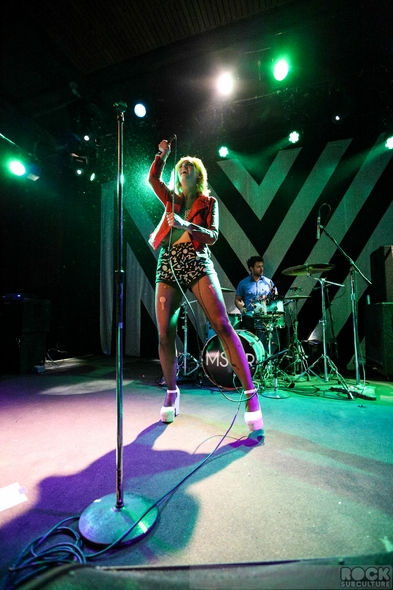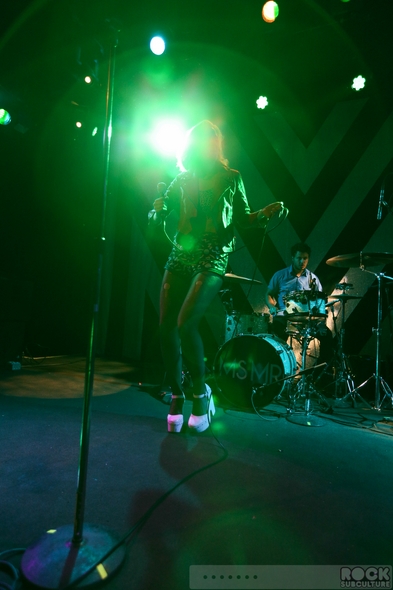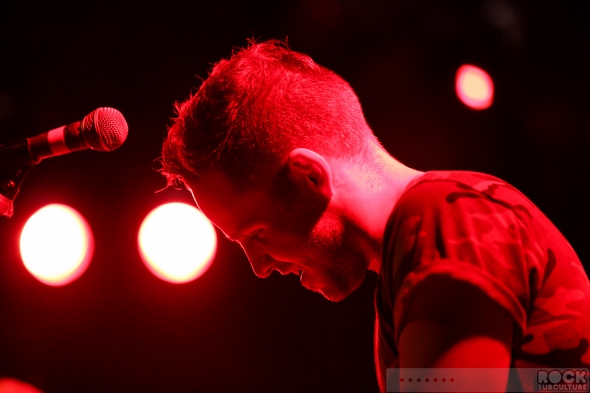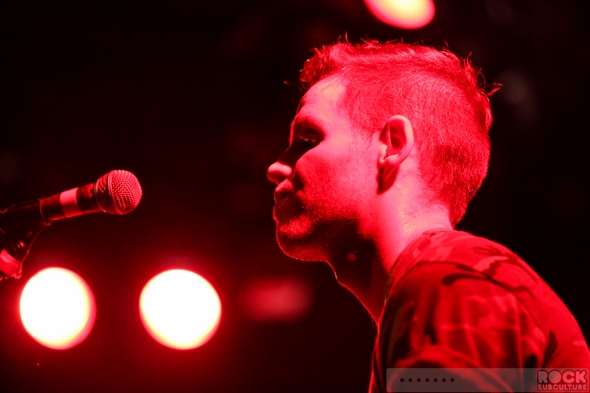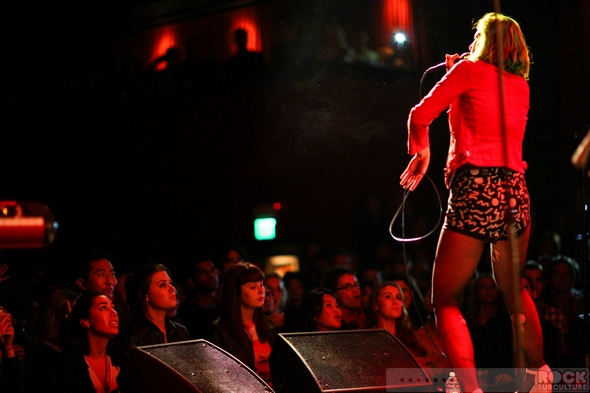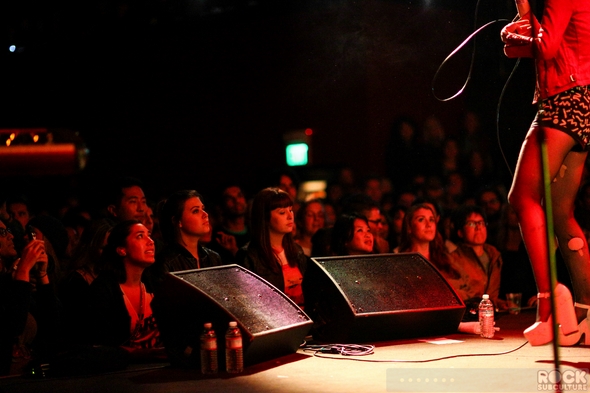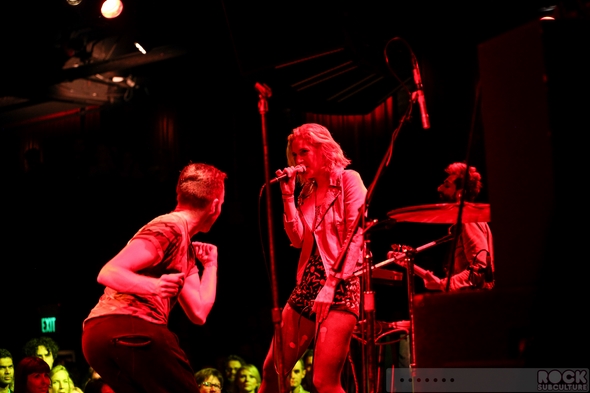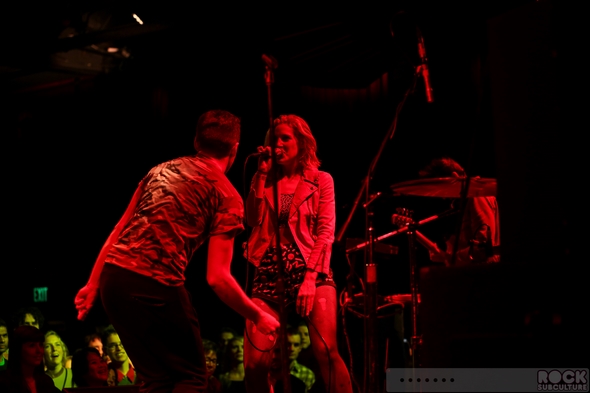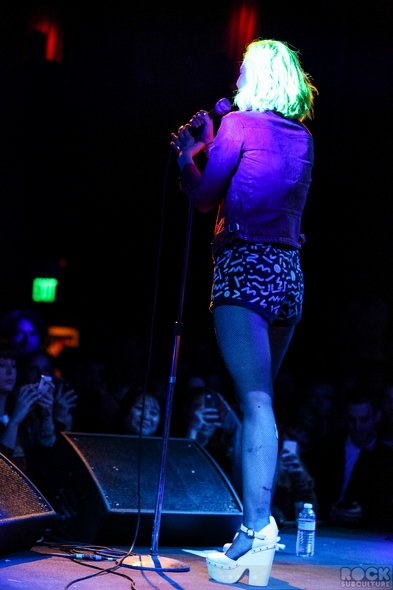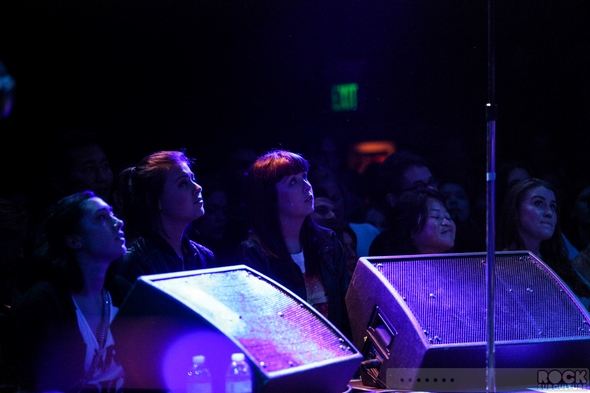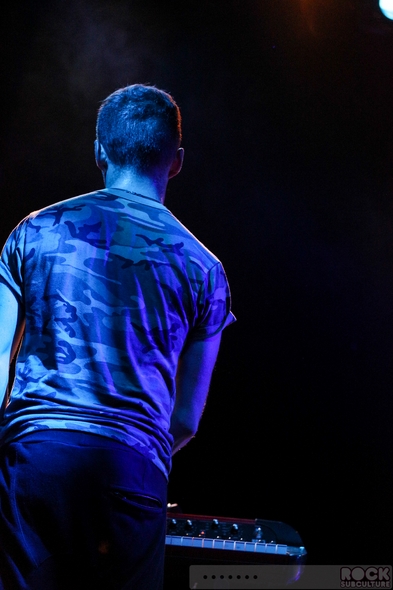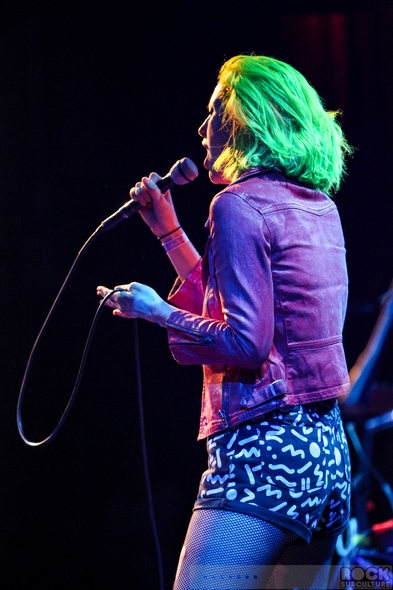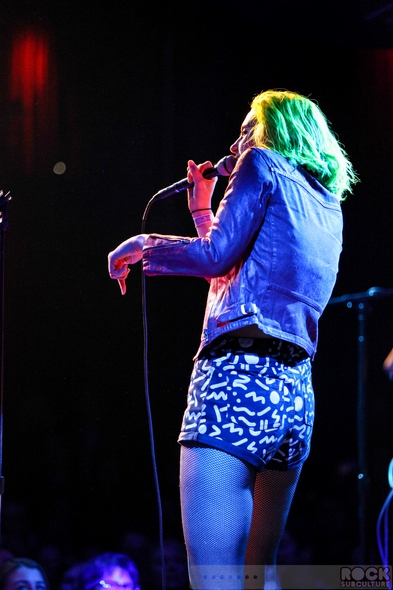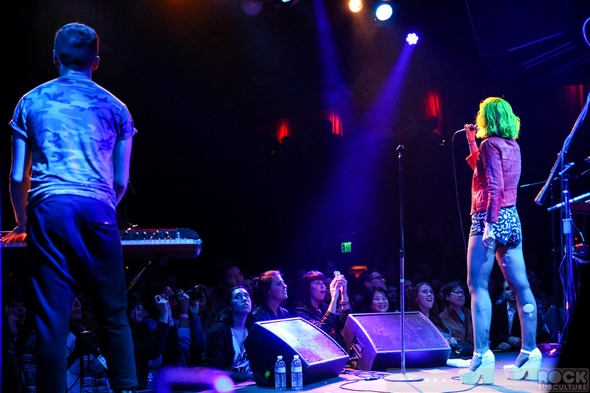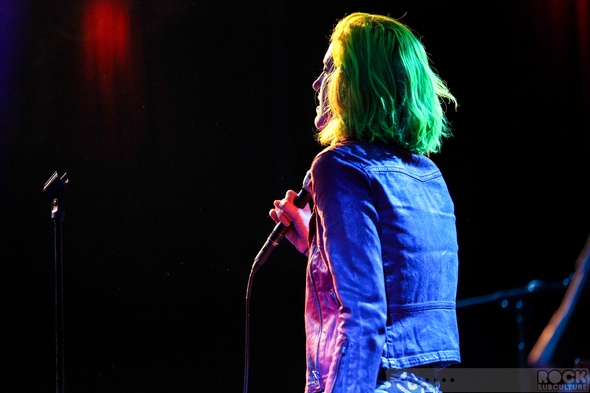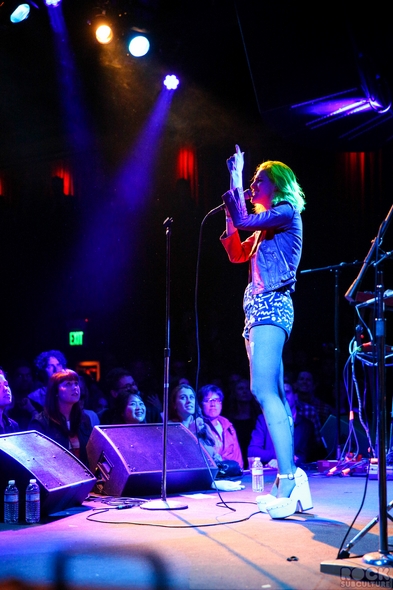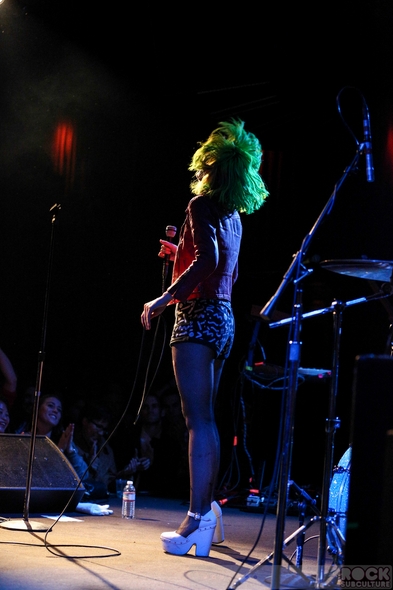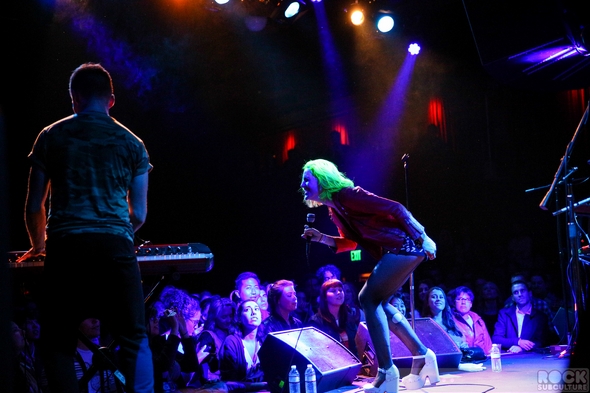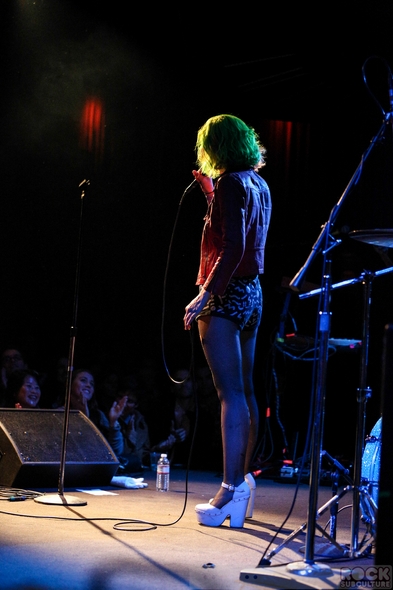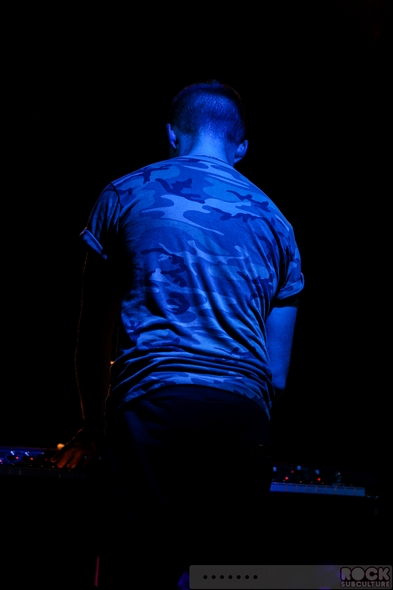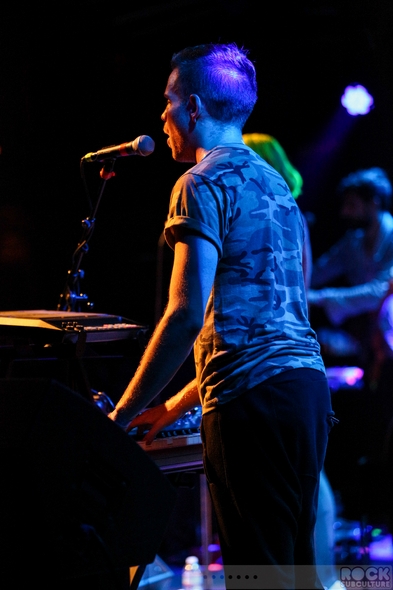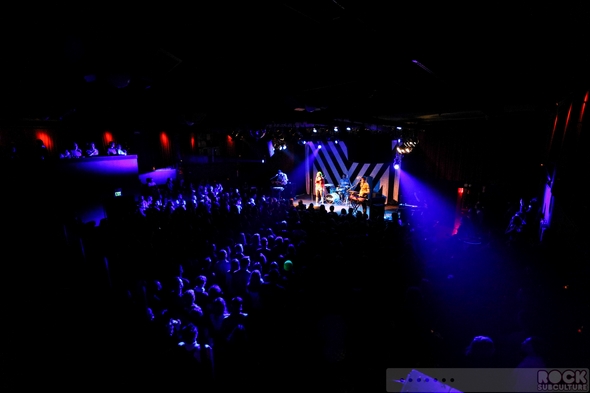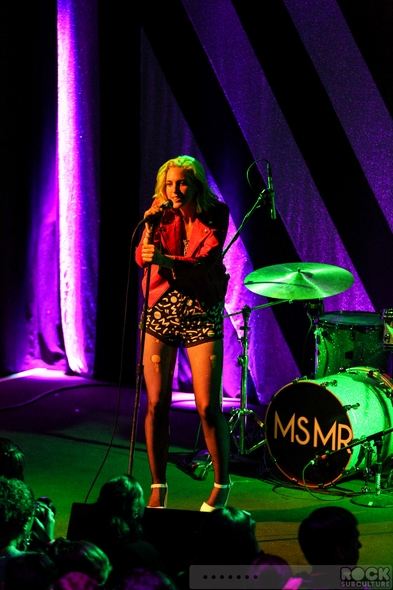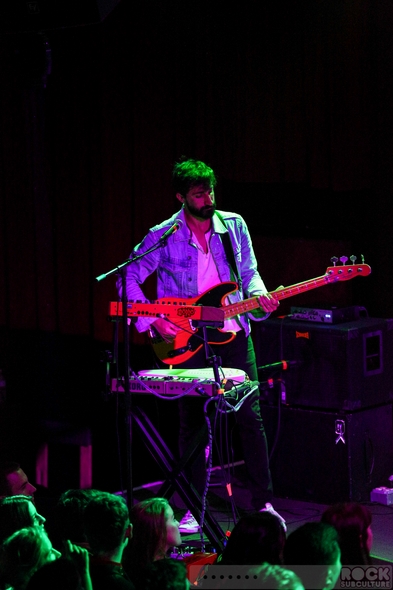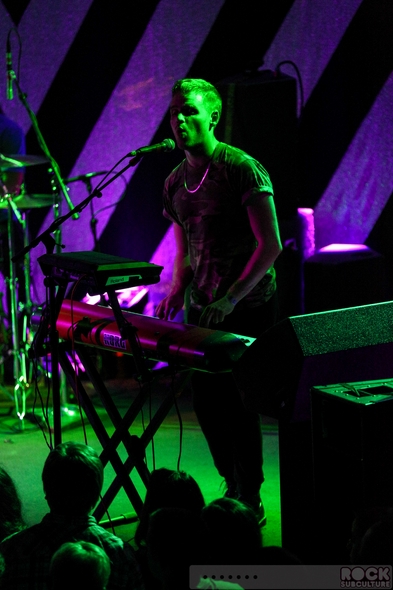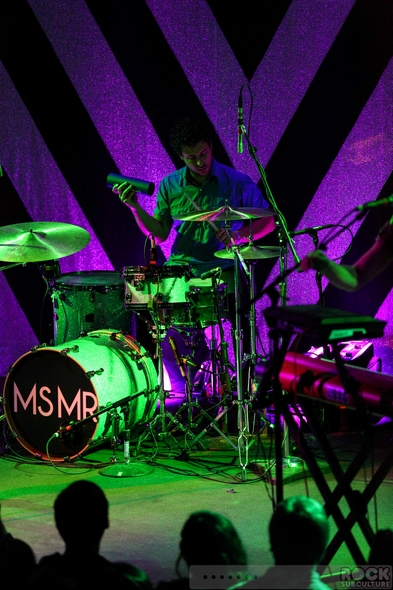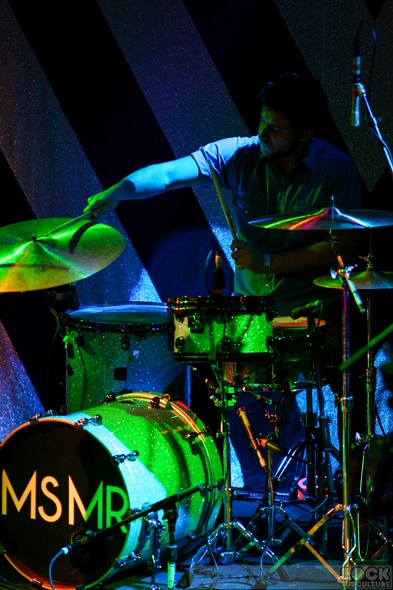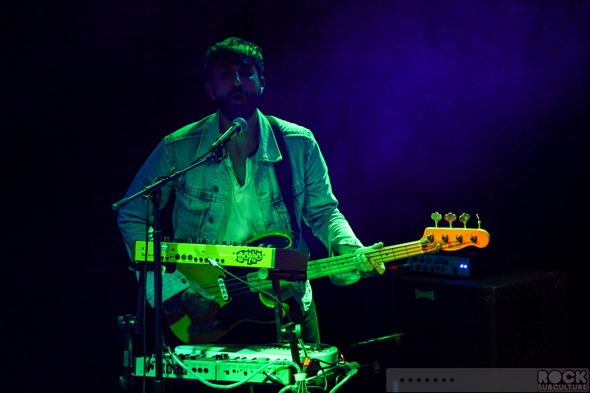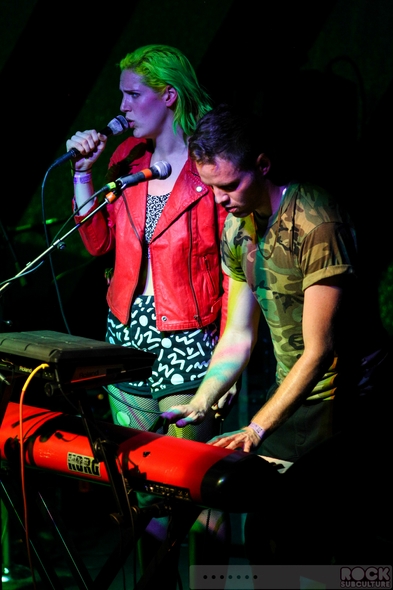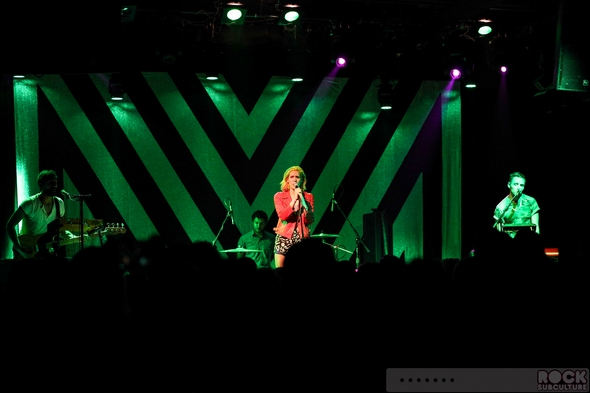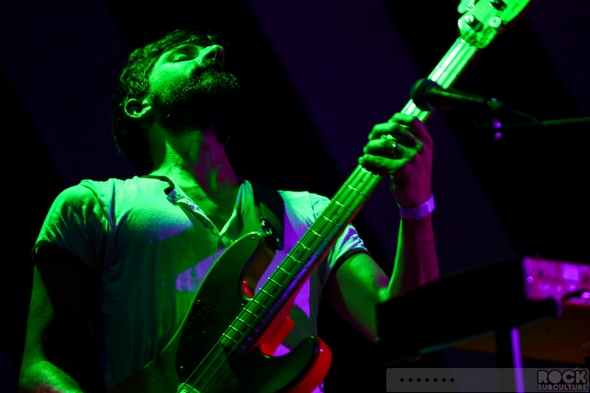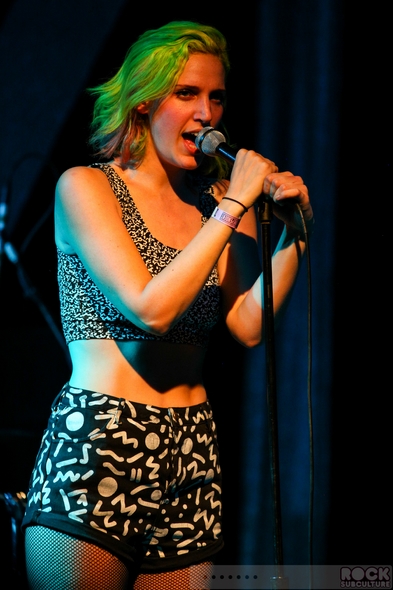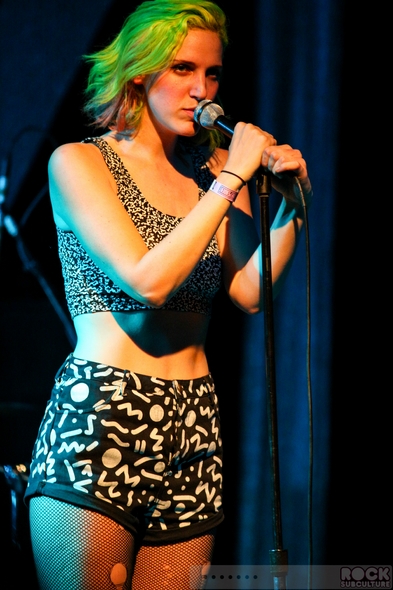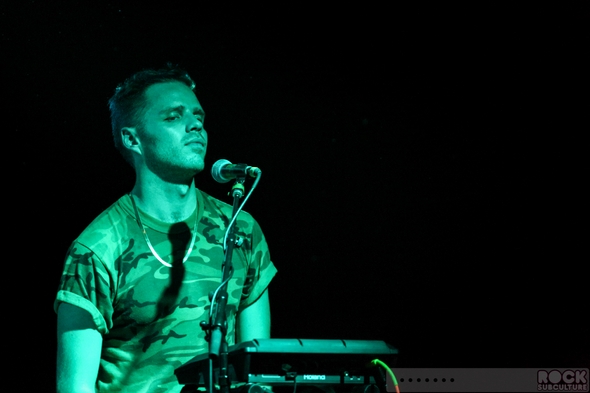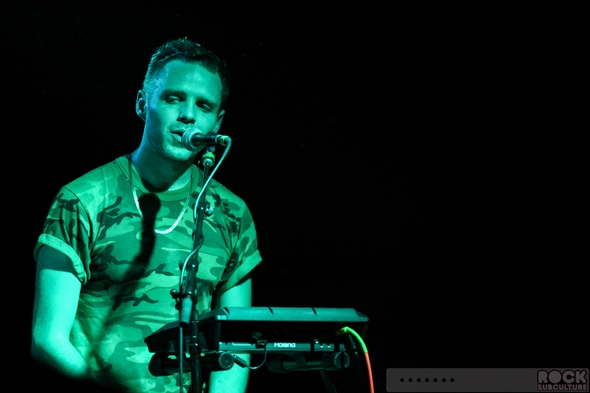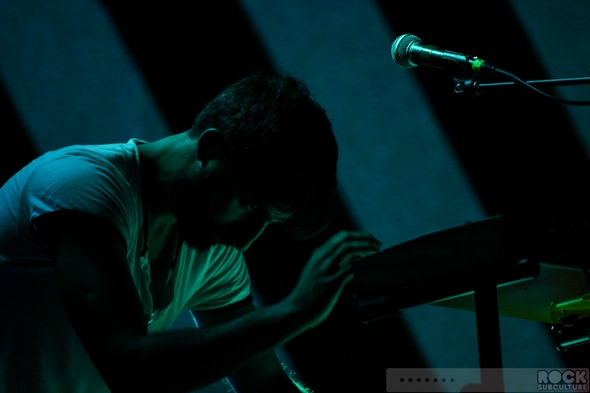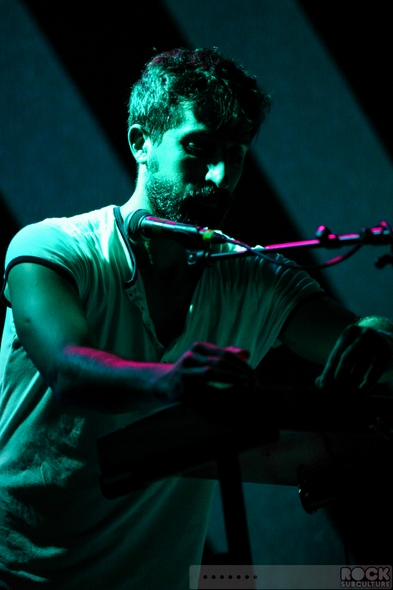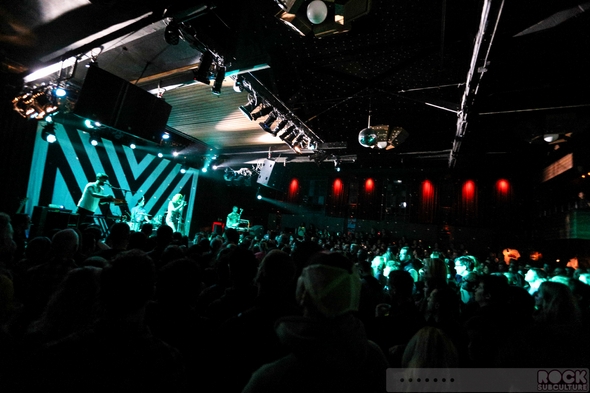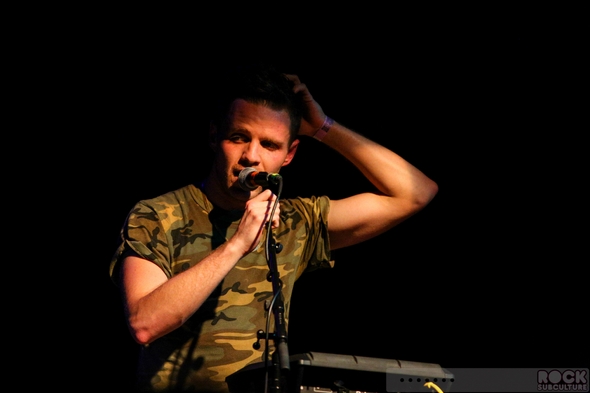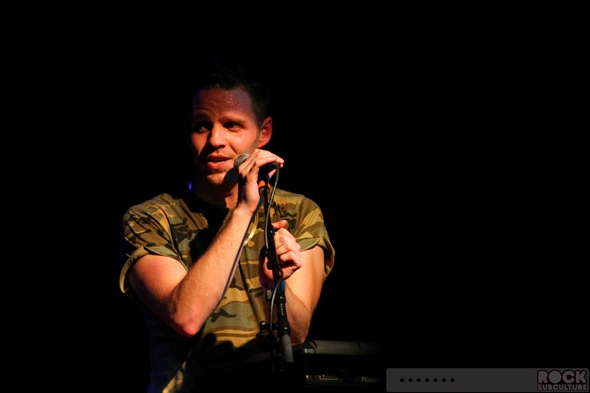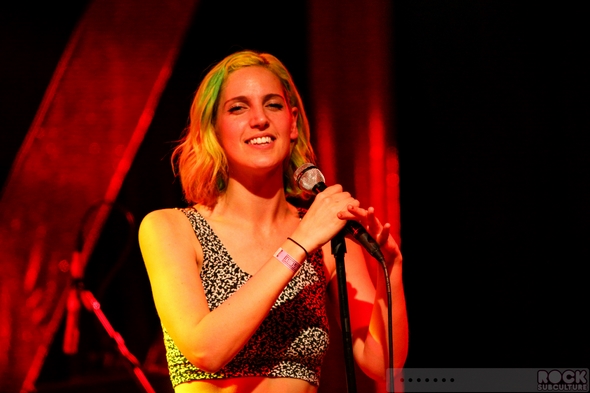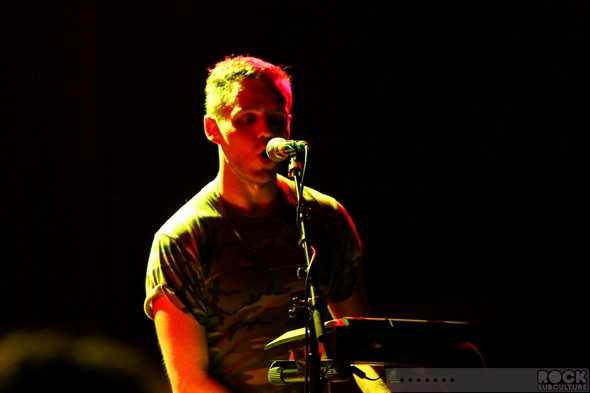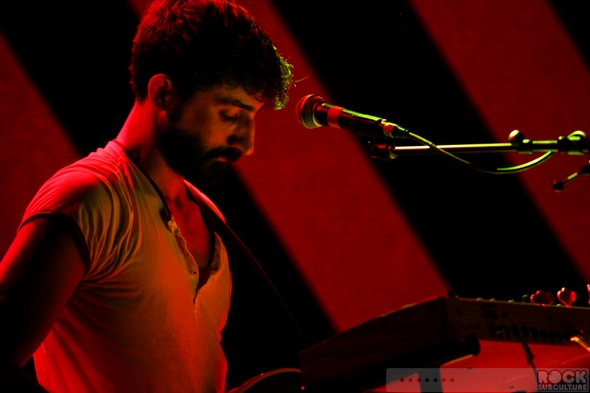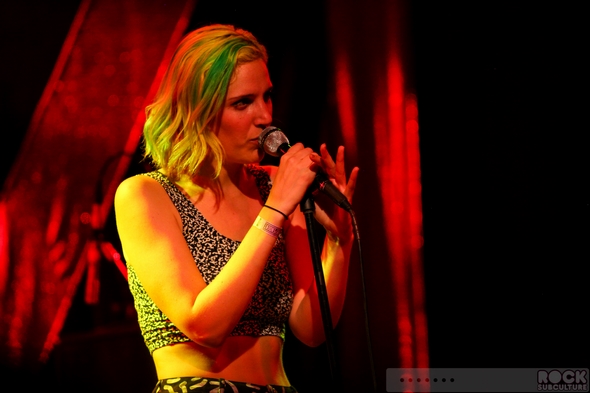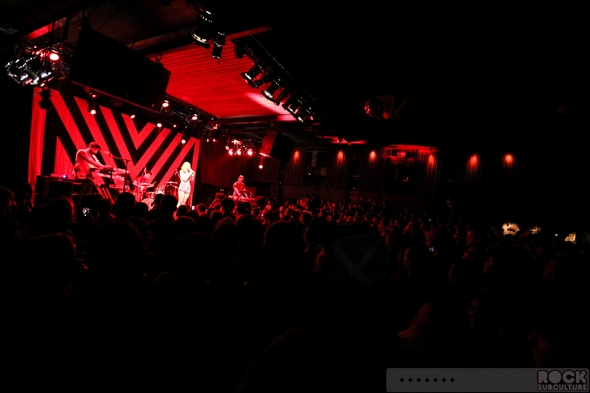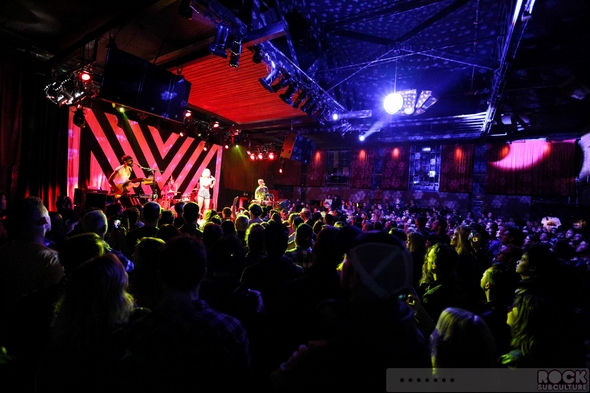 Jason DeBord