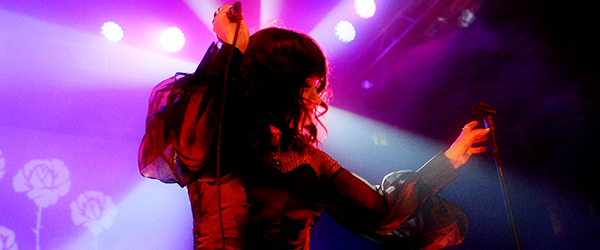 "This is actually the first song we ever wrote…  do you remember your first time?"  Susan Ottaviano, vocalist for Book of Love, providing her introduction to "It's in Your Eyes" halfway through their set at DNA Lounge in San Francisco last night, one stop in a handful of California dates this month.  The New Wave synthpop band from Philadelphia, which was formed more than 30 years ago, have started working together and recording together again, and these special concerts are a part of that rebirth for the group.  Based on the packed nightclub and enthusiasm of the crowd, they are not forgotten, and there was a large fan base in attendance, many of whom traveled special for the relatively intimate show.  As the style of music that they helped to develop back in the 80s gains in popularity today, it is exciting to see the band active and killing it on stage as if they've been active all along, rather than reuniting.  Hopefully it will mark the start of more to come.

Who: Book of Love
Supporting: DJ Shindog
Venue: DNA Lounge
Where: San Francisco, California
Promoter: Jay Siegan and New Wave City
When: October 9, 2013
Seating: GA Standing (front row; also photo pass + meet and greet)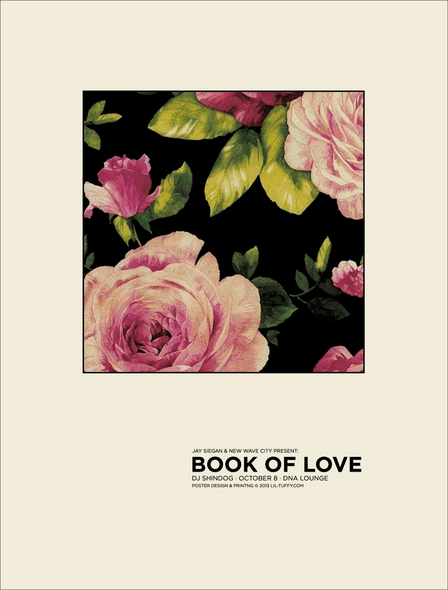 If someone asked me back in 1983 or even 1993 if I thought I'd be attending concerts for Depeche Mode, Pet Shop Boys, and Book of Love over the course of four days, I don't know if I would believe it…  but that would have given me a lot of optimism about the future of music.  For the mainstream, what is old is new again, but for some of us it never went away.
It was also kind of a surreal night for me last night, watching Book of Love perform live on a stage in a small club that was similar to the one I'd seen them play on back in 1991.  Funny enough, I skipped my high school senior prom to go to a Book of Love concert, and that was the first and last time I'd seen them since the show at DNA Lounge last night.  I still have the flyer from that event from over 20 years ago: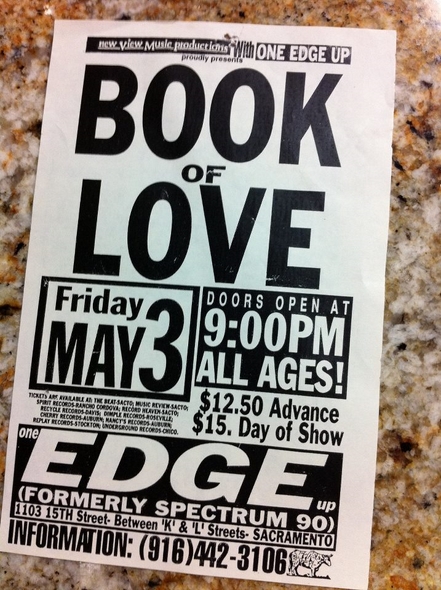 I arrived at DNA Lounge about a half an hour prior to doors, wherein fans were lined up outside.  Interestingly, it was nearly all men waiting to get into the show, though once things got filled in later, it seemed to be split about 50/50.
DNA Lounge was the perfect venue for this show, with it's two tiered layout and great sound.  This is the same venue where I saw Prince earlier in the year (Night 1, Night 2).
Book of Love
Members
Susan Ottaviano
Ted Ottaviano
Lauren Roselli Johnson
Jade Lee (not present on this tour but still with the band)
I had the pleasure of talking with Susan back in July with this mini-tour was first announced, and you can listen to my interview podcast here:  LINK
The band of course is made up of Ted and Susan Ottaviano (no relation; completely coincidental that they share the same last name), Lauren Roselli and Jade Lee.
Famously, they toured with Depeche Mode in 1985 and 1986 as part of their Some Great Reward and Black Celebration tours, and had a number of huge hits of their own, including "Boy", "Pretty Boys and Pretty Girls", "I Touch Roses", and their (sort of) cover of Mike Oldfield's "Tubular Bells" from The Exorcist.
Their debut eponymous studio album was released in 1986, though it was not mastered on CD until November 1988.
I remember that I had bought my first CD player in early 1988 (the first CD that I ever bought was Best of OMD, which came out in March 1988) and my first introduction to Book of Love and their real quality of their sound of music in this new format was the Sire Records sampler CD Just Say Yes Volume II: Just Say Yo.  It was a phenomenal CD series, and that particular one had "Tubular Bells/Pretty Boys and Pretty Girls [Regan's House Medley]".  People forget how poor the sound quality was on cassette tapes (and of course younger generations have never heard one played), and Book of Love had that clean, layered, perfectly arranged sound that was something new and fresh.
I can't stress enough how much that 14:26 long track completely blew my mind, and made me a lifelong Book of Love fan.  It was such an incredibly inventive and perfectly produced piece of pop music, that still sounds better than most of what is being made today, and still sounds contemporary.  I loved the intensity, the changes, the contrasts.  One of the best mixes of two pieces of pop music ever, and funny enough, matched by Depeche Mode's own "Behind The Wheel/Route 66 (Mega-Single Mix)" which was included on the same sampler.  Both were brilliant mixes of an original and inventive cover.
Their second studio album, produced by Flood, was released in June 1988, so I remember buying both the first and second I think later in the year.  They were very prolific in that time, and followed-up a few years later with Candy Carol in 1991, which was the tour with which I saw them live in concert.
Their last original studio album was Lovebubble in 1993, and then no new music was recorded until their did their best of in 2001.  Of course, the entire music industry and landscape changed drastically in 1993, with Nirvana shifted the world toward raw guitar sounds, and the synthesizers that ushered in the 80s were suddenly something of the past.  The band split up to pursue different things.
In April, the band reconvened to do a one-off show in Houston at Numbers Night Club, and it was over the summer that they announced these October dates here in California.
So how was last night's concert?  It was awesome.  I expected maybe some rust and/or missteps, given how much time they have been off stage, but the only hiccup was a funny moment of less than a minute, in-between songs, in which Susan inadvertently switched off her mic, which she realized and self-corrected to some laughs.
As mentioned, there was definitely an intimate vibe in the air.  Everyone in attendance seemed especially excited that we were all actually at a Book of Love concert.  From those I polled, I would say it was maybe a turn out involving 50% of people who had seen them before and 50% who hadn't.
Below is the set list (I believe this is correct – please let me know if I've made any errors)…
Set List:
Enchantra (Intro)
Modigliani (Lost in Your Eyes)
Still Angry
Happy Day
Alice Everyday
Lost Souls
It's in Your Eyes
You Make Me Feel So Good
With a Little Love
S.O.S. [ABBA cover]
I Touch Roses
Boy
Book of Love
Encore:
Tubular Bells/Pretty Boys and Pretty Girls
Something Good
Everything sounded great – Susan's voice, the music, etc.  Obviously, the album with the most number of songs that were played is from the original, Book of Love ("Modigliani", "Still Angry", "Happy Day", "Lost Souls", "You Make Me Feel So Good", "I Touch Roses", "Boy", and "Book of Love"), with much less from Lullaby than might be expected (just "With A Little Love" and "Tubular Bells/Pretty Boys and Pretty Girls"), just "Alice Everyday" from Candy Carol, their cover of ABBA's "S.O.S." and the aforementioned "It's in Your Eyes" (which was never on a studio album), along with the new song at the end ("Something Good"?).
They closed things out with the new song, which sounds really nice, and very much in line with their classic material.  It is a slower, steady, more deliberate song.  I really liked it a lot (actually caught it on my phone so I could play it back), and look forward to the studio version.
Book of Love is one of those funny bands who have a pretty good variety of kinds of songs, so I think there probably wouldn't be a lot of agreement among fans as to which should be represented in a show.
My personal favorites that weren't played last night would be "Wall Song", "Counting The Rosaries", and "Orange Flip" from Candy Carol, "Sound And Vision", "Trouble In A Bubble", "Chatterbox, Pt. 1", "Salve My Soul", "Enchanted", "Tambourine", and "Leap of Faith" from Lovebubble, and pretty much the entire album for Lullaby, especially "Witchcraft" and "You Look Through Me".
Again, the whole night had a surreal feeling for me (and it probably didn't help that I'd been traveling for seven days leading into it, averaging 3-4 hours sleep every night).
The stage was well lit, with the occasional gust of smoke, and it all kind of unraveled quite quickly, and was over before I had a chance to really let it sink in.  Though it was not short (running for maybe an hour), it was so greatly anticipated about a band I never expected to see again that it passed by quickly.
I am really looking forward to see and hear what the band comes up with next, and have confidence that I will again have a chance to see them take the stage again someday.
Below is a video I shot of their performance of "Boy":
Below are some photos of Book of Love performing on stage (click any image for higher resolution versions of each photo):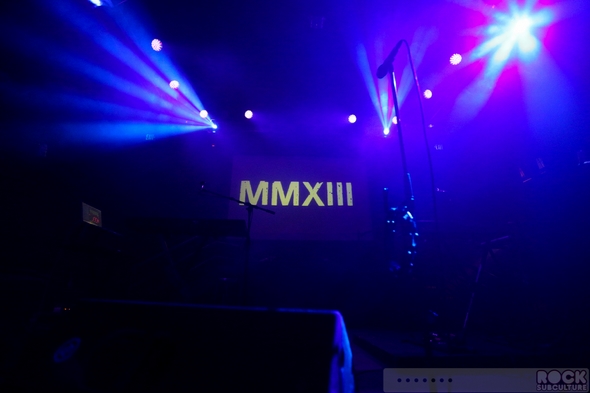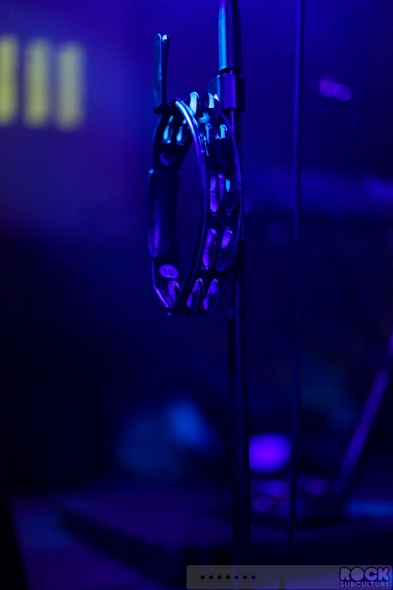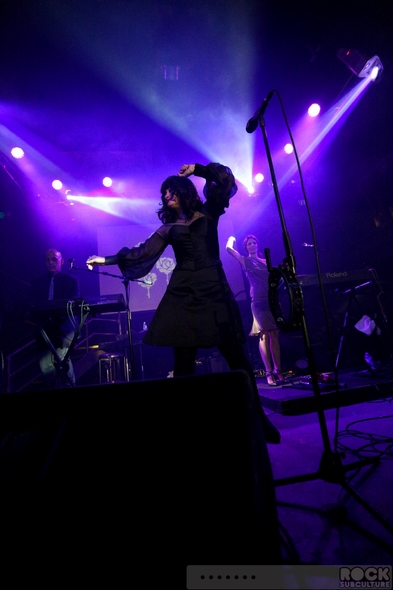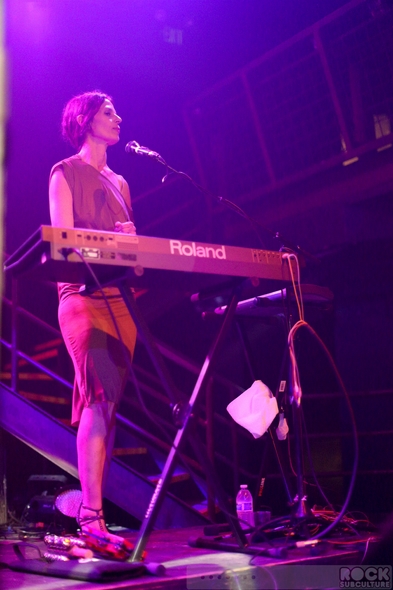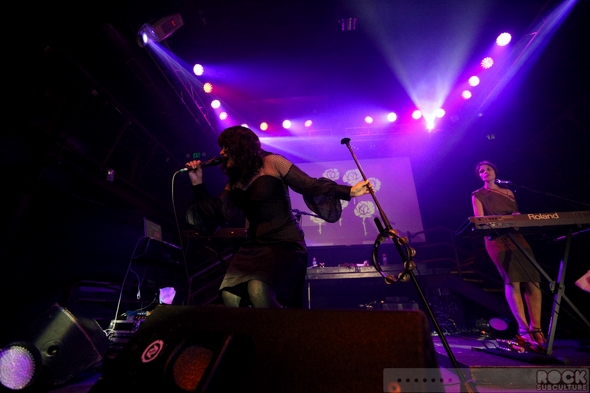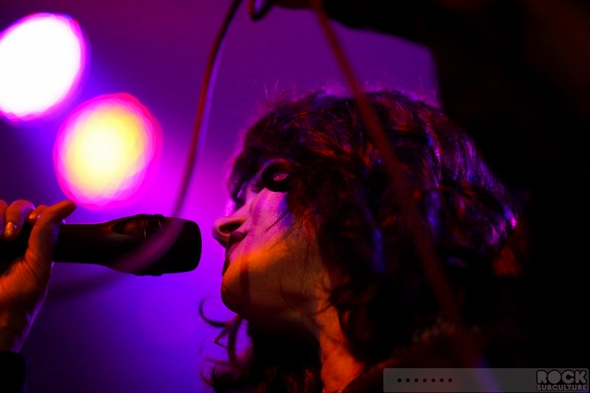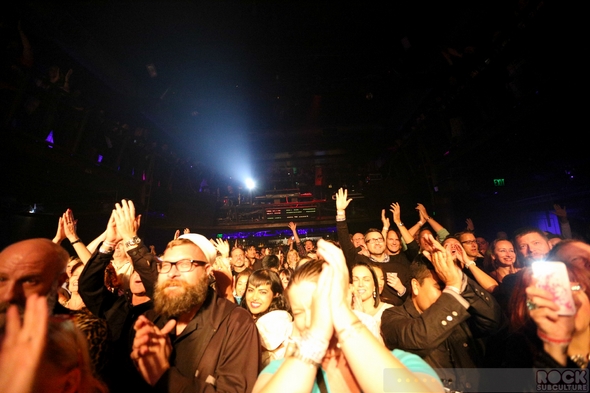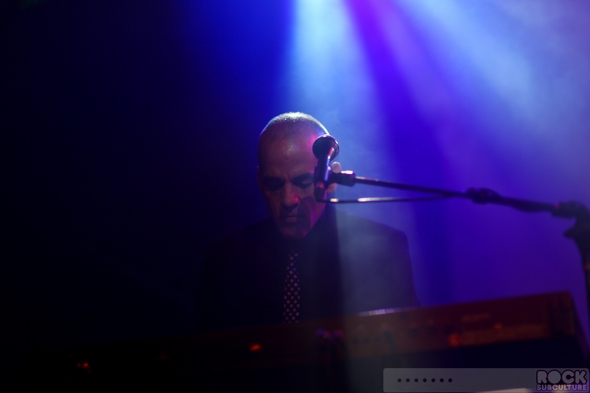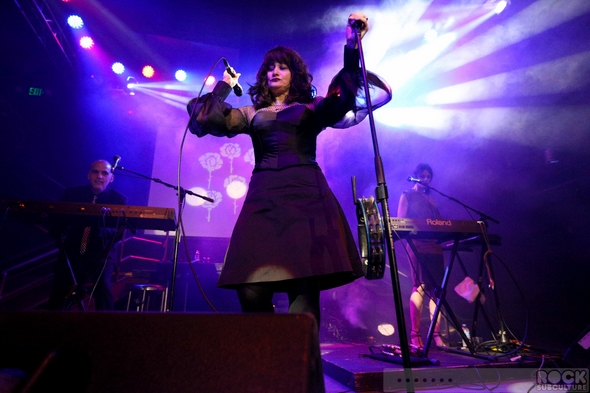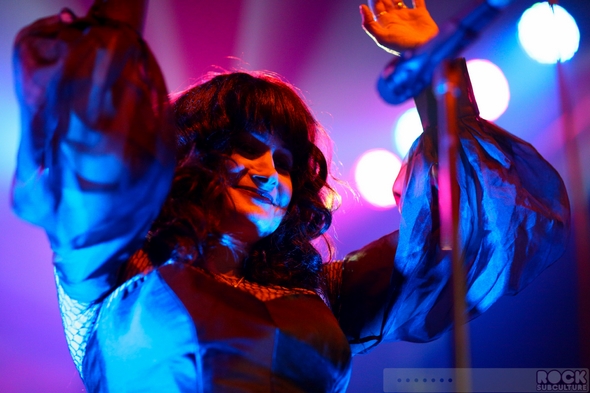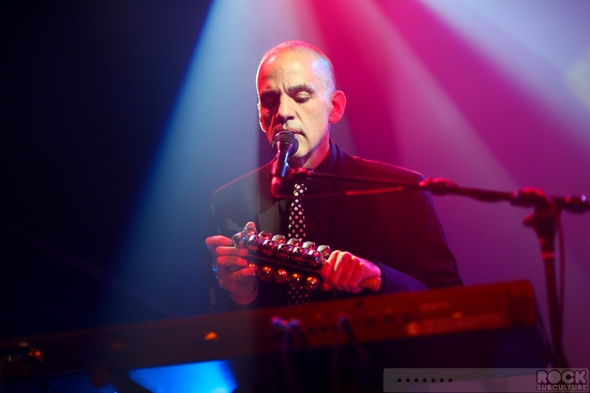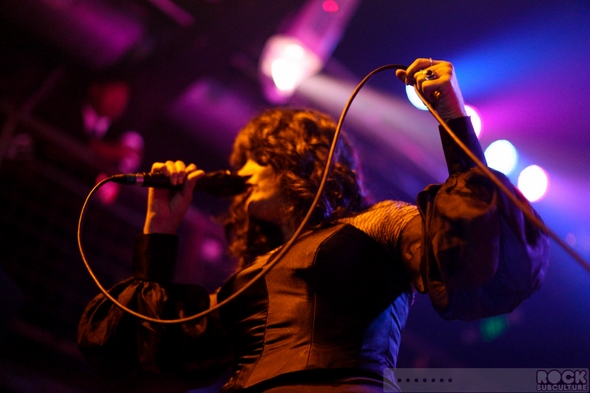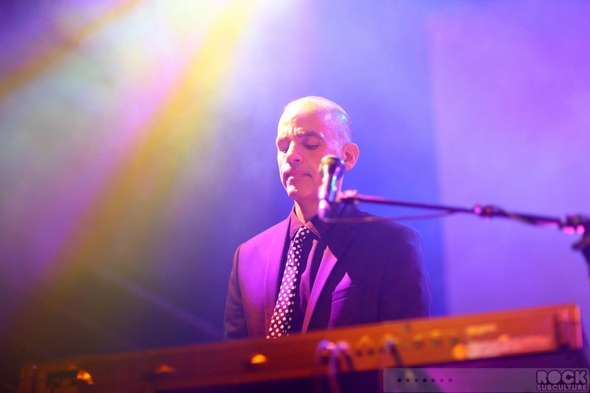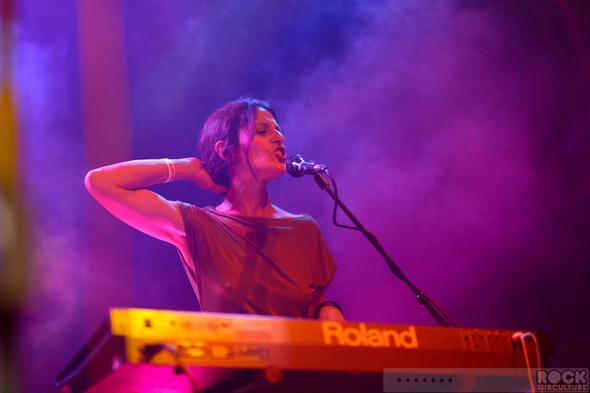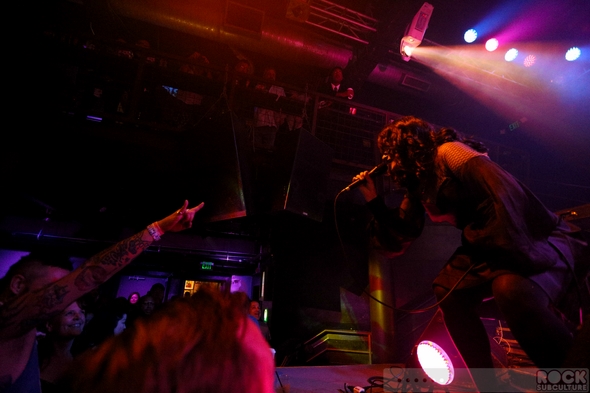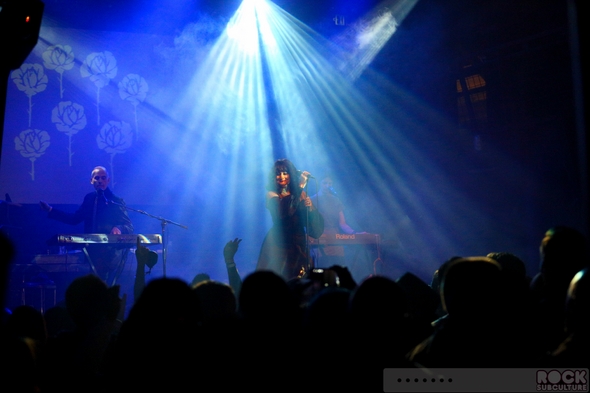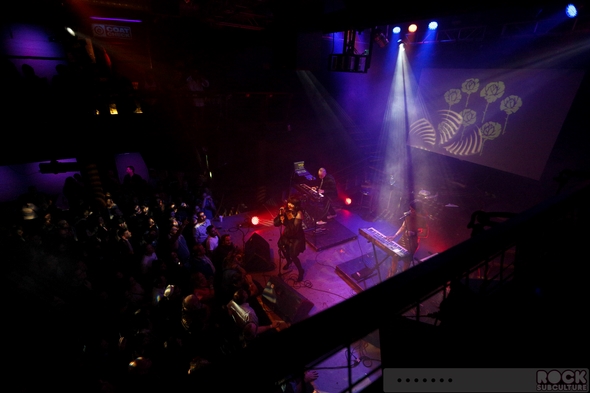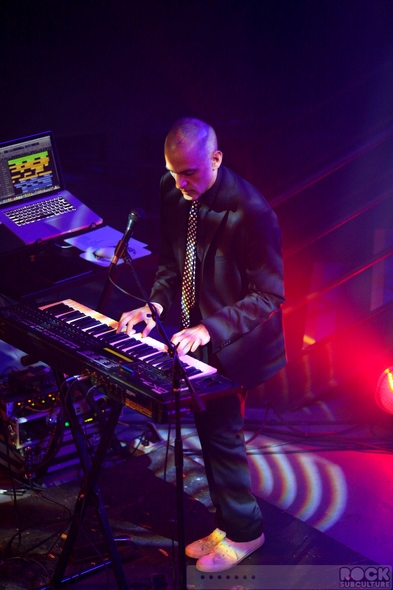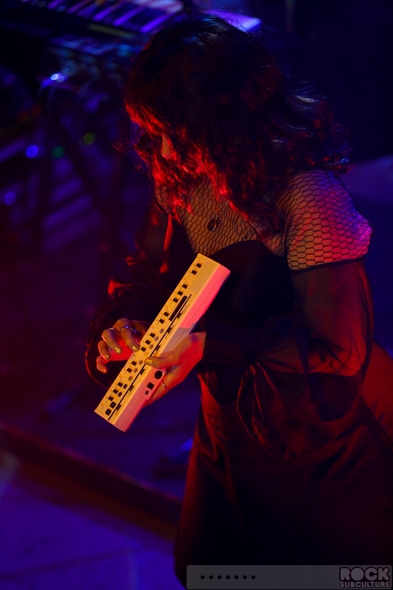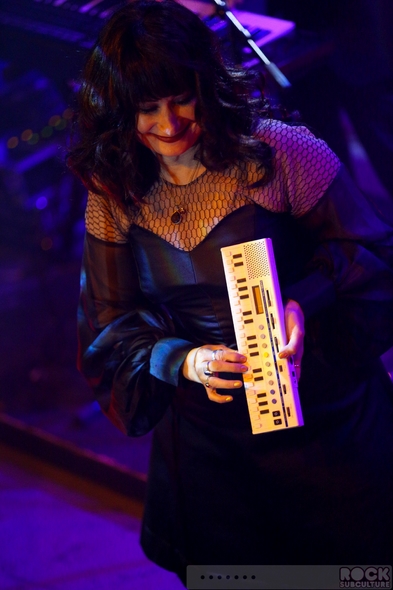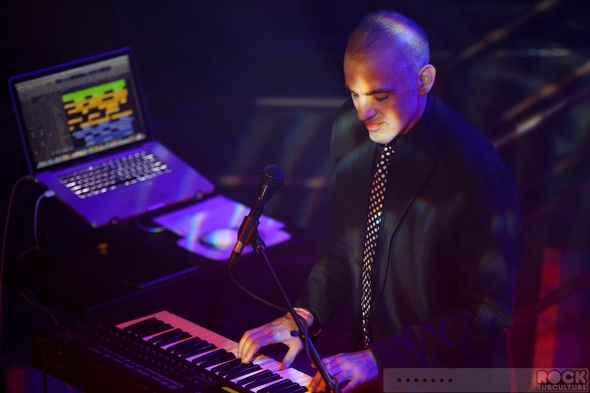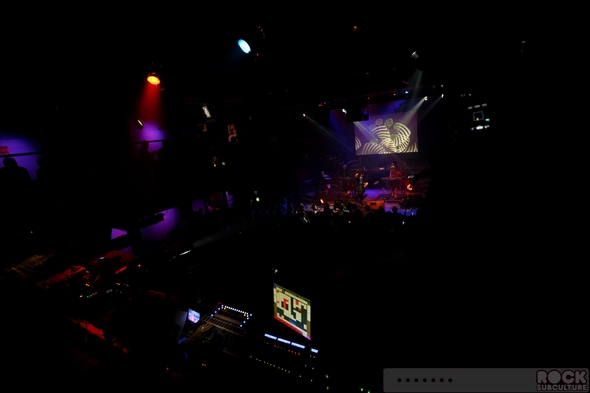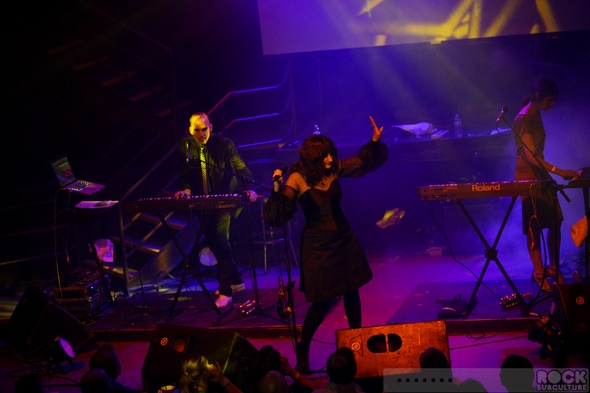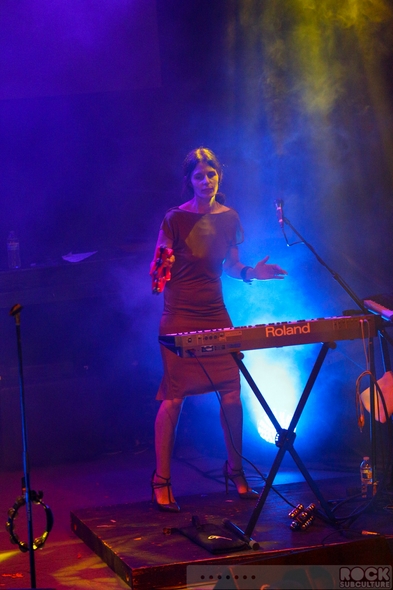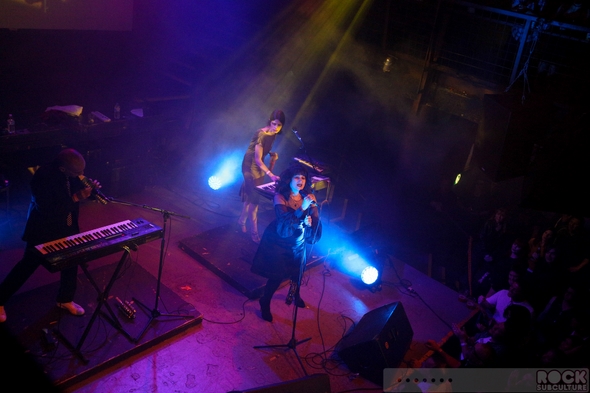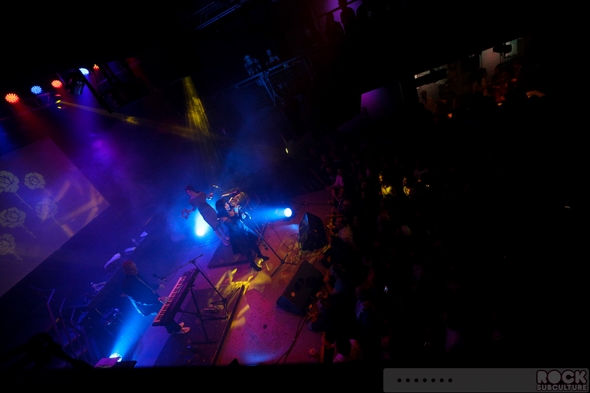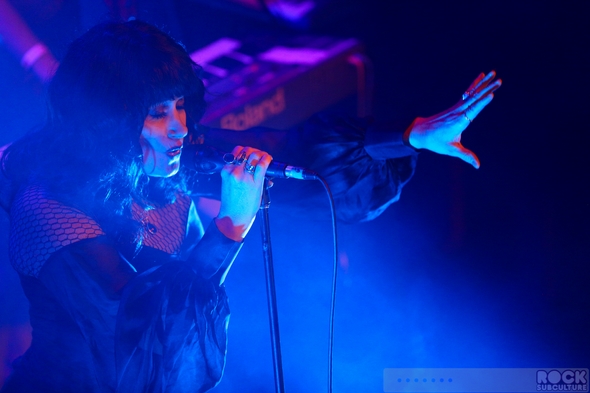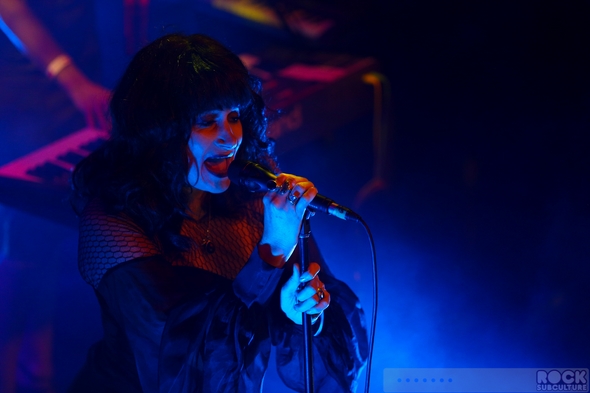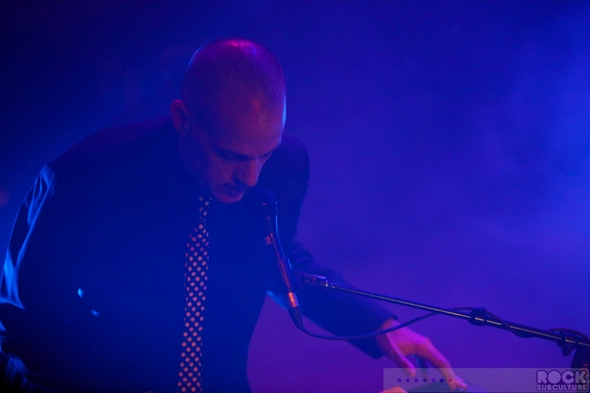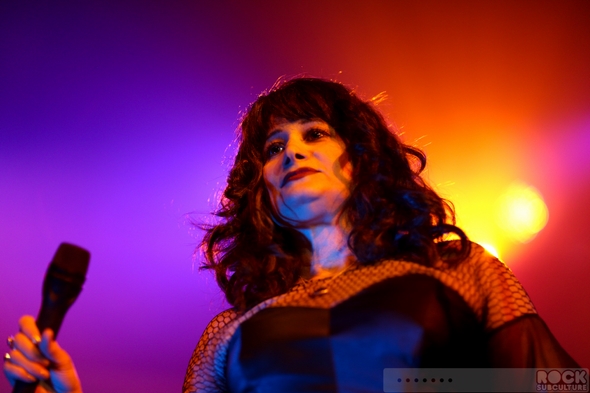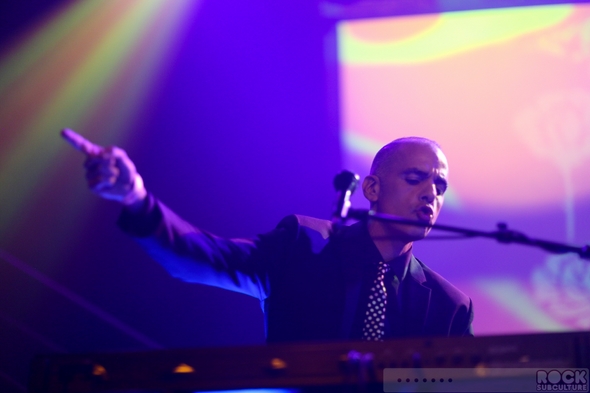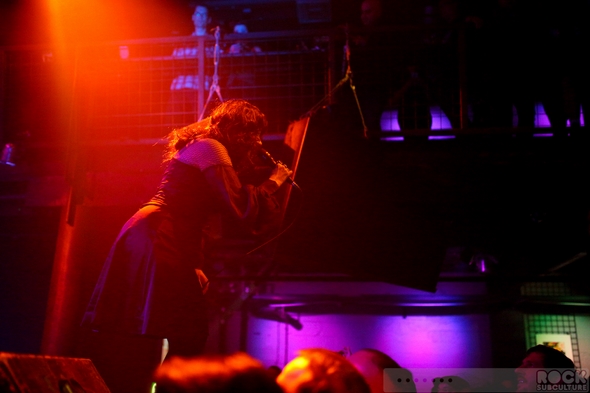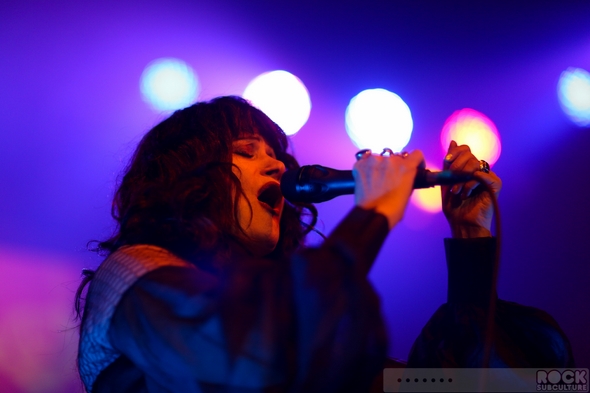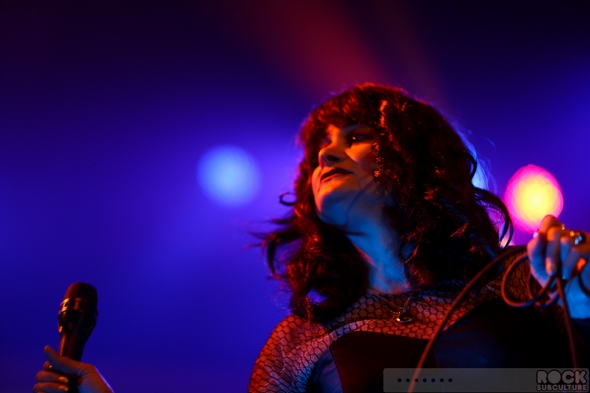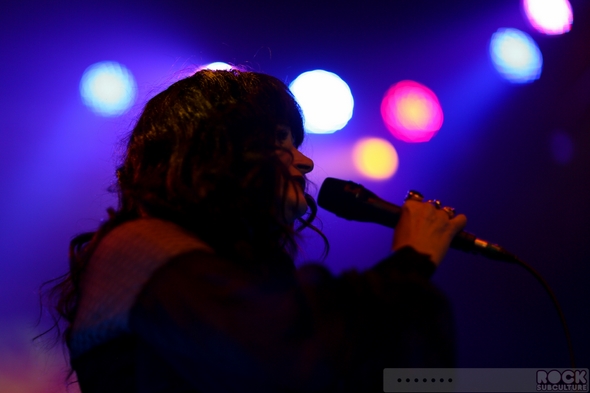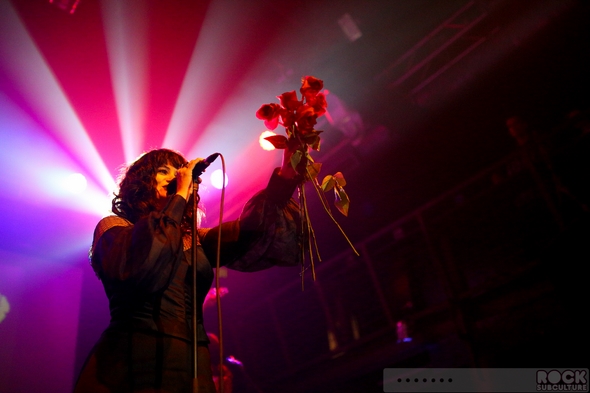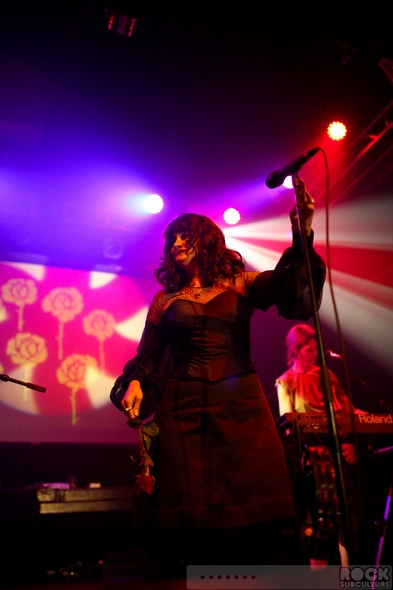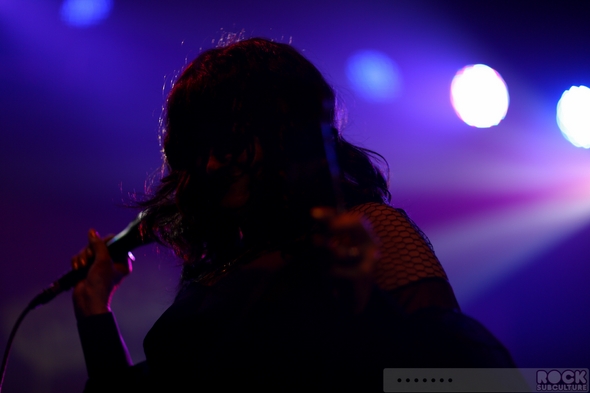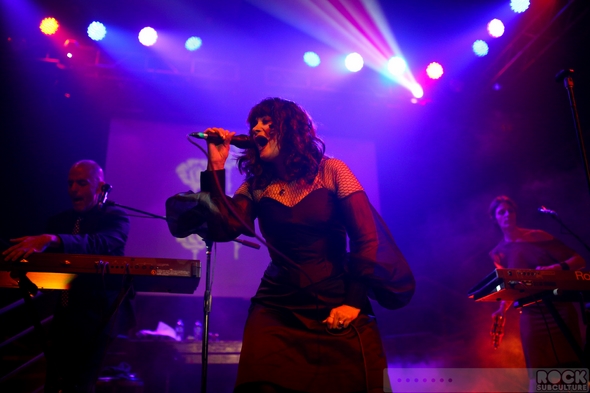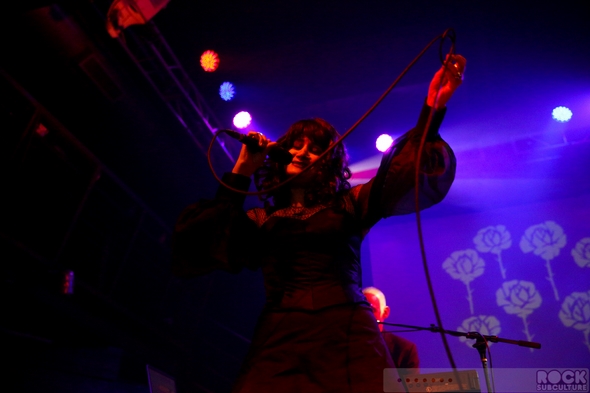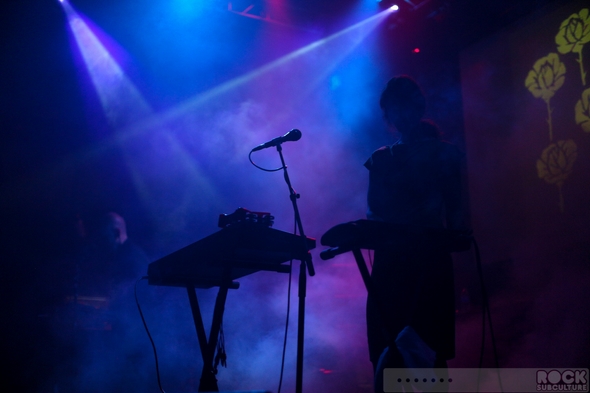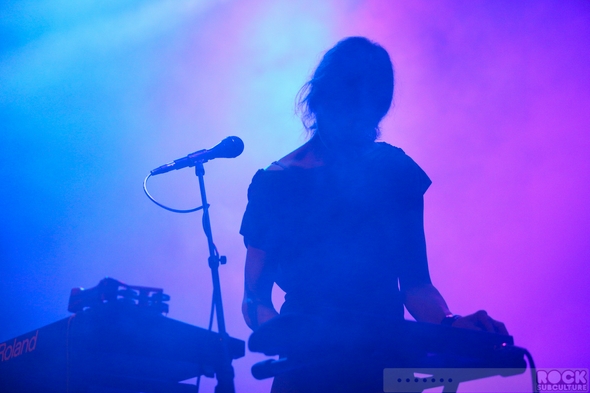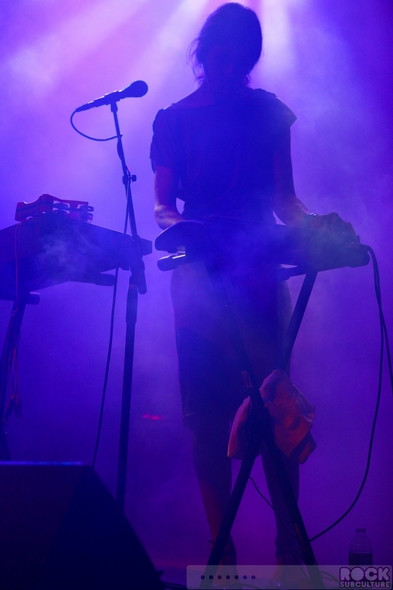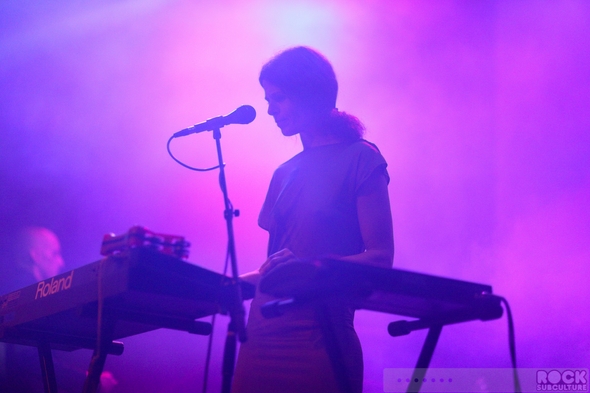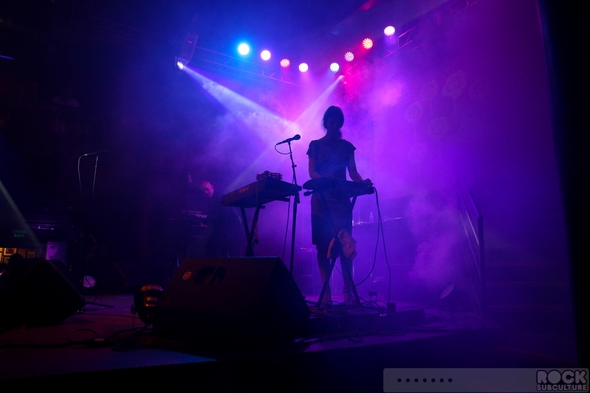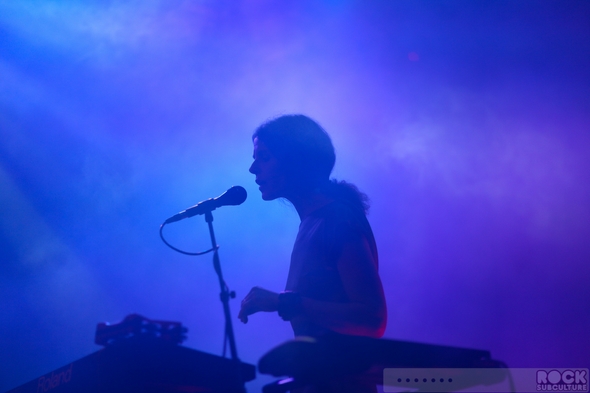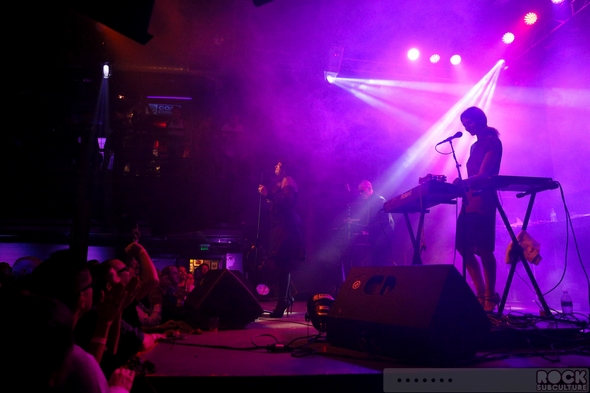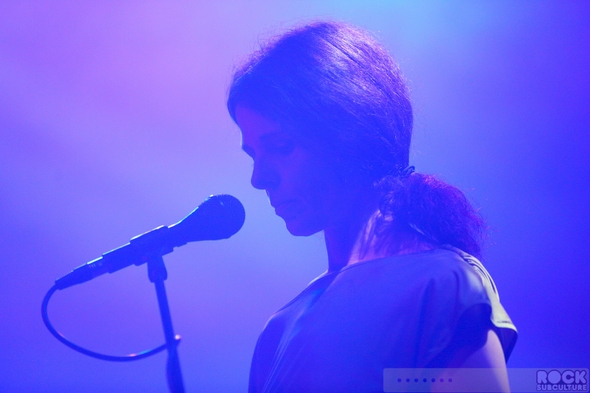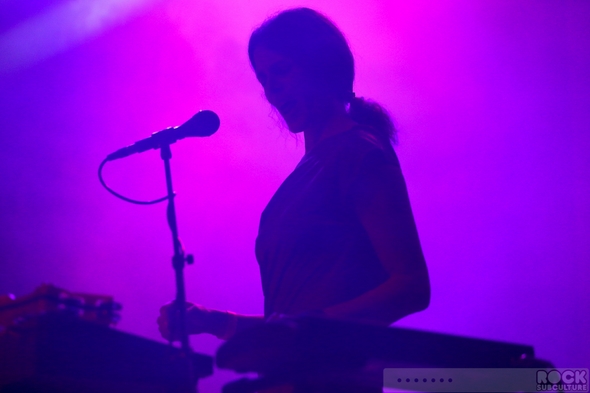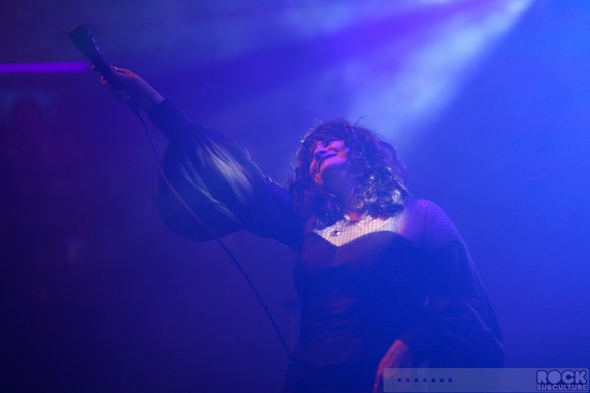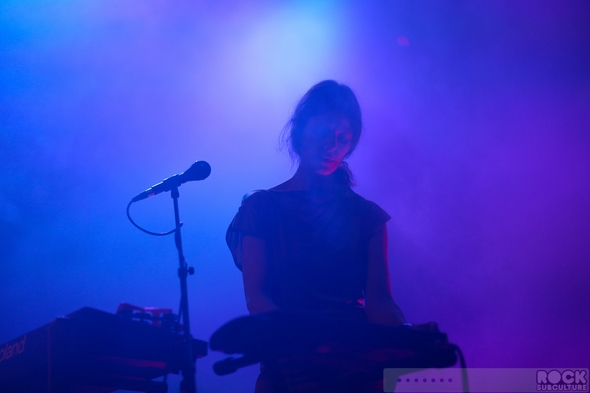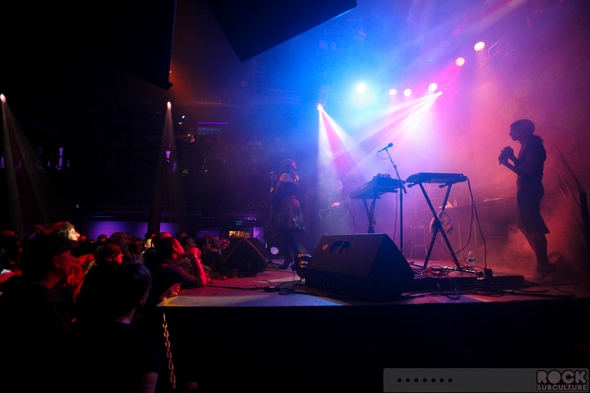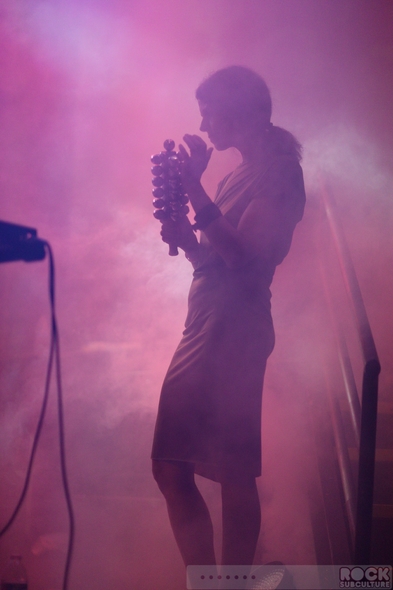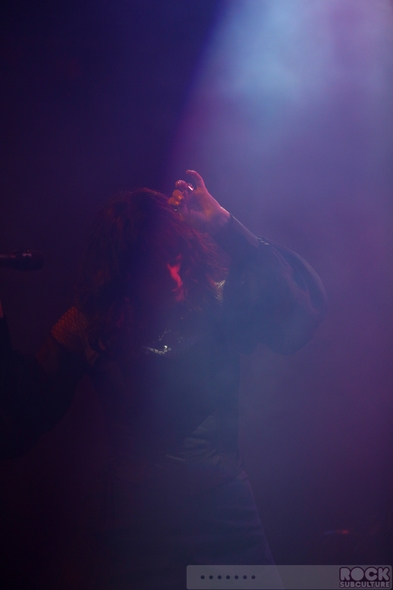 Jason DeBord