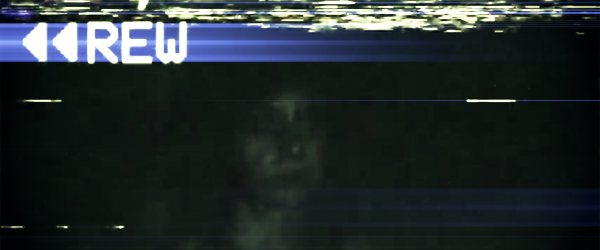 As reported recently, there has been a lot of news coming from one of my all-time favorite bands, The Pixies, who will be playing four special concert dates in Los Angeles next week at El Rey Theatre and Mayan Theater, with new bass player Kim Shattuck.  Last month The Pixies released one new song (as a free MP3 download) and two versions of a music video of the same (Ver 1, Ver 2).  This week The Pixies have released EP-1, a new 4-track EP with all new material written by The Pixies and recorded at Rockfield Studios in the UK almost a year ago with producer Gil Norton.  They have special artwork for the EP created by Vaughan Oliver.  Full details can be found here: http://newpix.es/ep1Below is the specially created artwork for this EP: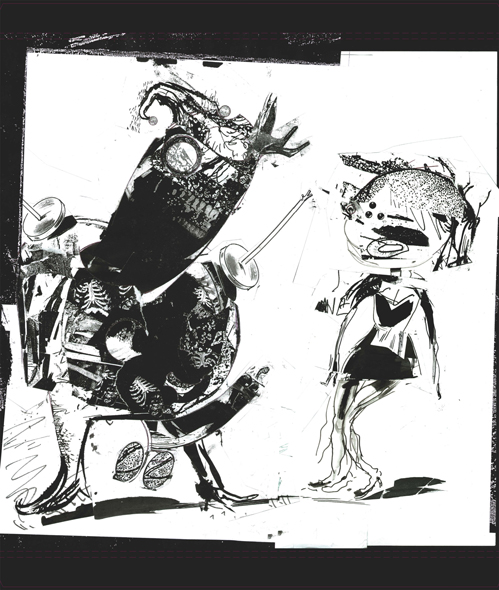 Of course, the big question (and concern) is, "how is the music?"
I've always been in the "leave the legacy" camp…  as I mentioned, The Pixies rate among my top three favorite bands of all time, and I found all of their catalog to be beyond brilliant.  So how could anything new possibly measure up?
Well, having listened to the new EP extensively, I am shocked that it absolutely does.  It is as if they didn't miss a beat and what they are doing now builds on the past, and is just as amazing as anything they've done in the past.  So on a personal level, I am more excited about this band than ever, and very excited to have an opportunity to catch multiple shows in Los Angeles next week.
Below is the music video for "Indie Cindy":
There are a variety of special packages available for purchase with this new music, including a variety of digital-only options as well as packages with vinyl and shirts with the special artwork.
The new tracks are:
Andro Queen
Another Toe in the Ocean
Indie Cindy
What Goes Boom
The band took the time to share some thoughts about each of the new tracks, putting them into some context with their existing catalog and history:
Andro Queen
JOEY SANTIAGO: With most of the material, Gil (Norton, producer) had us really, really focus on the subject of the songs and had us try to score it, cinematically. It was a good way to approach it, because he knew that, post-breakup, I had worked, scoring for films and television. It was a completely different vibe from 20 years ago, which was a theory-based approach, my "Pixies Theory," if you will, which is… I bend a note and then another note and it just wriggles around – that's basically it. I can just look at the chord and write down the notes that I would play. It's instinct and I know it'll work from the sound of it; I might do a tweak here and there, but 90% of it is right there. With Andro Queen, as far as recording that, it was one of the newer songs that we put together in the studio. My interpretation of it is someone that's coming from outer space, and my input was trying to score it. On the solo, there's an atmospheric part that we did to kind of emulate "outer space."

BLACK FRANCIS: I based a lot of the poetic meter on a famous old song called "The Great Pretender," which was written by Buck Ram. It's a very well organized and particular song, lyrically; and I based this song on the rhythm and the length of the lines and the number of syllables in that skeletal structure. I've never done that. I worked a long time on it and it wasn't easy to do; I'm not even sure where the music came from, because usually I write the music first and then the words. This was one of those rare instances where I wrote the lyrics first and put music underneath that. It was an interesting exercise.

DAVID LOVERING: It's all rudimentary stuff: rough rolls and bi-stroke rolls and some syncopated stuff. I'm quite surprised that I pulled it off because I thought that was going to be the hardest song for me to play. There were a lot of ideas that (Black) Francis had that were things that I would not have done. That was fantastic for me because it gave me another window to look at and an opportunity to try new things. There's so many different parts to Andro Queen and I had to get over that; but it worked out great and I'm very, very happy with it. I have no clue about the lyrics to this one – or any of these songs – because I don't follow lyrics at all. I'm about the melody and the flow of it. Maybe it's just because I'm a drummer and I'm thinking of all the other things.
Another Toe In The Ocean
BLACK FRANCIS: This song started out as a kind of psychedelic, environmentally concerned song and I think the end result is far more abstract. It was like working on "Monkey Gone To Heaven." At the heart of it is some kind of environmental observation but the end result is much more abstract with echoes at the core feeling or sentiment. So this song is like that and for me it's much more about depression, alcoholism. Something like that.

JOEY SANTIAGO: This is a good example of where my "Pixies Theory" wasn't coming across with Gil. So we added a lot of tremolos, which is very surf-y. Duane Eddy, Link Wray and all that stuff. On that I used Gil's Stratocaster to get that sound.

DAVID LOVERING: The chorus is all four-on-the-floor with a kick drum. These are the only Pixies songs where I've done that. Thud, thud, thud and going with the ride cymbal. And this came about because it was partially what Gil had done with a drum machine before I got there, to the studio. It was pretty interesting and it was great for me because it's like being in a cover band! You don't have to be inventive; you go and play what you've heard before. So that worked well on this one.
Indie Cindy
BLACK FRANCIS: Yeah! It's sort of one of our epic songs. If there was going to be a name for this collection of music, I guess it would be "Indie Cindy." It feels like the cornerstone for this body of work. I feel very confident about the lyrics and the music. It's funny; the verses of that song were recorded by Joey in his hotel room in Massachusetts. He was visiting me and helping me put together some demos and we were doing some recording in his hotel room late in the evening. That particular vocal, the spoken-word part, we just liked so much; and it's easy these days in the digital world to hold on to artifacts from the process as you're going along that we incorporated it into the final piece. It's a plea: not a romantic plea, but a plea. It's all in the title; I think that says it all.

JOEY SANTIAGO: That's a fun one! (Black) Francis came up with that riff in the beginning, which is really, really mathematical. I think it's our favorite new one to play just because it's really challenging. It's a got a lot of schizophrenic changes on it and I particularly like that chorus section where there's that swell on the guitar. And when I started playing it with that volume swell, it sounds like a harmonica; and I just said "Wow!"

DAVID LOVERING: That was a fun one to play. I really like it a lot. At first, the time changes around the chorus got to me but now it's the easiest song to play. I think this is my favorite song of all the songs we recorded.
What Goes Boom
DAVID LOVERING: That was one of the early ones that we worked on before we went to the studio. It's kind of a ballsy song with real balls-out playing and it harkens back to a lot of the harder-edged Pixies stuff, which is my favorite stuff to play. Anything like this, the punk stuff or fast, is just fun to play.

JOEY SANTIAGO: There's a bunch of chord changes going around and I stuck with an E minor triad to give it that tension. There's a song we do called "Vamos" and there's a solo section where I have freedom to "go shithouse." Since the reunion, there are sounds that I've been coming up with and it just got condensed into this one song, with me going shithouse. I also like it when the music changes and I don't.

BLACK FRANCIS: It's got kind of a metal riff, which I think that on occasion we all really enjoy playing, even though we're not a metal band. We sometimes like to lock in on something that could be for a metal band. So I like that. It's about a girl. A girl who plays the bass guitar. I wouldn't be the first to write a song about some gal that plays bass.
Per The New York Times,  (see Pixies Motor On, With New Bassist), the EP-1 released yesterday is one of "a series of mini-releases it plans to put out sporadically over the next 15 months".
Below is the official news release from the band on the world tour (updated with the new U.S. dates playing this month):
July 1, 2013
PIXIES ANNOUNCE FIRST LEG OF WORLD TOUR
THE PIXIES ANNOUNCE LEG ONE OF EXTENSIVE WORLDWIDE TOUR
Band Will Debut Brand New Pixies Material

Armed with "Bagboy," the band's first new song in nine years, the Pixies will launch the first leg of what will be a massive global tour on Sunday, September 29 in Paris, France. This will kick off the first tour the Pixies have done in nearly two years, and will give them an opportunity to do something they haven't been able to do in two decades : premiere brand new Pixies songs, the first collection of new material since 1991's Trompe le Monde.

Log onto pixiesmusic.com/new for complete on-sale dates and ticket purchasing information.

For this tour, which will feature a brand new stage set and production, the Pixies – Black Francis – guitar/vocals, Joey Santiago – guitars/backing vocals, and David Lovering – drums/backing vocals – will be joined by bassist Kim Shattuck. Shattuck played bass for the all-girl L.A. garage rock band The Pandoras, and then was the guitarist for the pop punk band The Muffs. The four have been holed up in an L.A. rehearsal space getting ready to offer the most wide-ranging concert set-lists of Pixies music in the band's career.

"Along with everyone's favorites, we'll be playing songs that we haven't played in ages or never played live before," said Black Francis. "Songs like 'Brick is Red,' 'Havalina,' 'Tony's Theme.' and 'Sad Punk.' We've probably rehearsed some 80 songs, so we'll be able to change up the set at the last minute if we feel like it. We're all really looking forward to this tour."

Pixies 2013 Tour Dates:

09/09 – Los Angeles, CA @ El Rey Theatre

09/10 – Los Angeles, CA @ El Rey Theatre

09/11 – Los Angeles, CA @ El Rey Theatre

09/12 – Los Angeles, CA @ Mayan Theatre

09/15 – Chicago, IL @ Riot Fest

09/17 – New York, NY @ Bowery Ballroom *

09/18 – New York, NY @ Bowery Ballroom *

09/19 – New York, NY @ Music Hall of Williamsburg ^

09/20 – New York, NY @ Bowery Ballroom #

09/25 – London, UK @ iTunes Festival

09/29 – Paris, FR @ Olympia

09/30 – Paris, FR @ Olympia

10/02 – Brussels, BE @ Ancienne Belgique

10/03 – Brussels, BE @ Ancienne Belgique

10/05 – Amsterdam, NL @ Paradiso

10/06 – Amsterdam, NL @ Paradiso

10/08 – Berlin, DE @ Huxleys

10/09 – Berlin, DE @ Huxleys

10/10 – Prague, CZ @ Lucerna Music Hall

11/01 – Vienna, AT @ Gasometer

11/02 – Geneva, CH @ Thonex

11/04 – Milan, IT @ Alcatraz

11/05 – Toulouse, FR @ Le Phare

11/07 – Madrid, ES @ La Riviera

11/08 – Madrid, ES @ La Riviera

11/09 – Lisbon, PT @ Coliseum

11/11 – Luxembourg, LU@ Rockhal

11/13 – Copenhagen, DK @ Falkoner

11/14 – Oslo, NO @ Sentrum Scene

11/15 – Stockholm, SE @ Munchen Brewery

11/18 – Dublin, IR @ Olympia

11/19 – Dublin, IR @ Olympia

11/21 – Manchester, UK @ Apollo

11/22 – Glasgow, UK @ Barrowland

11/24 – London, UK @ Hammersmith Apollo

11/25 – London, UK @ Hammersmith Apollo

* = w/ Reignwolf

^ = w/ Meg Myers

# = w/ Parquet Courts
Click on the image below for the latest and up to date full Rock Subculture Journal schedule of pop and rock music concerts/tours coming up for review (2013 Rock Subculture Schedule):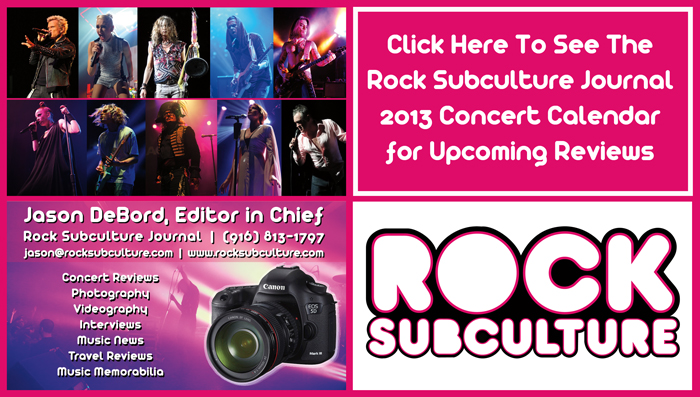 Jason DeBord