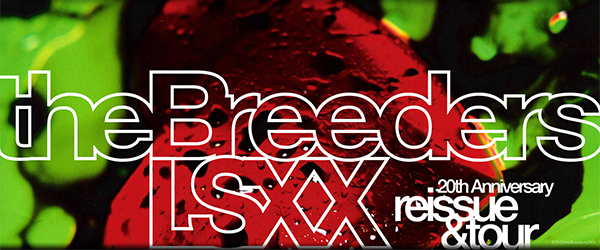 Picking up from my announcement last January about the European and UK dates by The Breeders and their celebrating the 20th anniversary of the second album, Last Splash, the band this month kicks off the North American leg of their tour, which continues on to Mexico and Australia in October.  Amidst all the concert dates will be the special deluxe vinyl reissue of the album due out from 4AD on September 2nd, as well as new music coming from Kim Deal.  The 3-CD reissue is available directly from 4AD today HERE.
The band began as a spin off project for Pixies bassist Kim Deal and Tanya Donelly of Throwing Muses, and their work was an amazing fusion of the best both bands had to offer, yet different and distinct enough to sound completely new.
Following Pod, the first album, Kim Deal brought in her twin sister, Kelley, for their Safari EP, whereby Tanya left both The Breeders and The Throwing Muses to form Belly. The Pixies broke up in '93, and then a new line-up of The Breeders (Kim Deal, Kelley Deal, Jim MacPherson, and Josephine Wiggs) recorded Last Splash, which was released August 31, 1993.
While I'd seen The Pixies and The Throwing Muses several times in the late 80s/early 90s, I'd only seen The Breeders one time – on the bill (along with L7 and The Disposable Heroes of Hiphoprisy) with Nirvana in April 1993 for a special benefit concert for Bosnian rape victims.
Original label, the legendary 4AD, will be putting out a deluxe reissue of Last Splash – LSXX – in just a few more weeks:
The Breeders are pleased to announce the availability of the LSXX vinyl deluxe edition on September 2nd via 4AD. This long-awaited deluxe compilation includes 1993's Last Splash on 180gram 12″ vinyl along with four coveted 10-inch EPs (Safari, Cannonball, Divine Hammer and Head to Toe), a second 12-inch disc comprised of Last Splash demos and a 1993 BBC Radio Session, as well as Stockholm Syndrome, a 12-inch record that captures the band on fire on the final leg of the Last Splash European tour.
In more news, the video for the newest release of the Kim Deal Solo Series, "Are You Mine?", can be seen here:
This 7-inch release and its digital download version are now available at www.kimdealmusic.com.
You can keep track of news and updates on the official site, www.TheBreedersLSXX.com, as well as sign up for their newsletter and connect with them on Facebook and Twitter:

The concert dates over the next three months include:
08/23/13 – Los Angeles, CA – El Rey Theatre (SOLD OUT)
08/24/13 – Los Angeles, CA – FYF Fest
08/26/13 – Santa Cruz, CA – Rio Theatre
08/27/13 – San Francisco, CA – The Fillmore (SOLD OUT)
08/28/13 – San Francisco, CA – The Fillmore
08/30/13 – Portland, OR – Wonder Ballroom (SOLD OUT)
08/31/13 – Vancouver, Canada – Commodore Ballroom
09/01/13 – Seattle, WA – Bumbershoot Festival
09/06/13 – Knoxville, TN – Bijou Theatre
09/07/13 – Raleigh, NC – Hopscotch Festival
09/27/13 – Urbana, IL – Canopy Club
09/28/13 – Champaign, IL – Midpoint Music Festival
10/09/13 – Miami, FL – Grand Central
10/11/13 – Zapopan, Mexico – Teatro Estudio Cavaret
10/13/13 – Mexico City, Mexico – Corona Capital Festival
10/26/13 – Melbourne, Australia – All Tomorrow's Parties
10/28/13 – Sydney, Australia – Enmore Theatre
10/29/13 – Brisbane, Australia – Tivoli Theatre
10/31/13 – Perth, Australia – Astor Theatre
The Rock Subculture Journal will be covering one of the San Francisco dates at The Fillmore later this month, where the band is expected to play both Last Splash and Pod in their entirety.
Click on the image below for the latest and up to date full Rock Subculture Journal schedule of pop and rock music concerts/tours coming up for review (2013 Rock Subculture Schedule):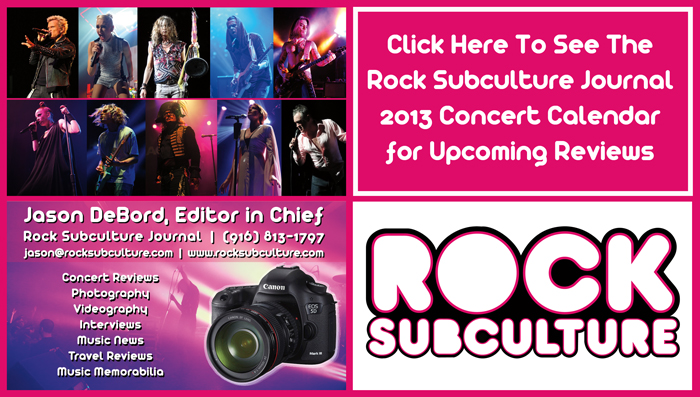 Jason DeBord