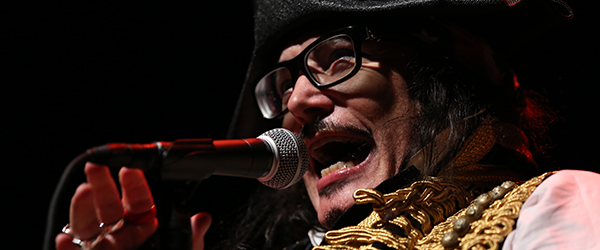 "This is a song for you young lovers out there.  I was in love once.  When I picked my guts up afterwards, I wrote this tiny little song, I hope you enjoy it; it's called Wonderful."  A twisted sort of sentiment about his most mainstream song, New Wave icon and post-punk pioneer Adam Ant and The Good, The Mad & The Lovely Posse kicked on their 40-city North American tour in San Diego last night, at the classy Balboa Theatre.  Adam Ant launched his first album in 18 years, Adam Ant is the Blueback Hussar in Marrying the Gunner's Daughter, earlier this year.  Somehow last night's show felt even more spectacular than the one I caught in San Francisco last year.  Adam Ant was like a rock star possessed; perhaps more confident and somehow… joyful?  At one point deep into the set, he tossed his mic stand, which landed on his bass player's effects pedals, completely shorting them all out.  One of the stage crew came out and messed with it briefly, then unplugged it and plugged him directly into his amp…  the relentless onslaught of music could not be stopped, or even paused due to technical difficulties…  and the near sold out crowd was perhaps treated to a more raw version of what was planned.  A lot of music acts continually reinvent themselves, over and over, sometimes to the point where they become a series of completely different artists.  Adam Ant is different.  He is today what he was more than 30 years ago, in terms of his identity, style, and sound.  He has evolved, of course, but stayed true to what he was and has always been – one of those rare artists who maybe got it perfect the first time.

Who: Adam Ant
Supporting: Prima Donna
Venue: Balboa Theatre
Presented By: Goldenvoice
Where: San Diego, California
When: July 17, 2013
Seating: Theater Seating (photo pass first three songs)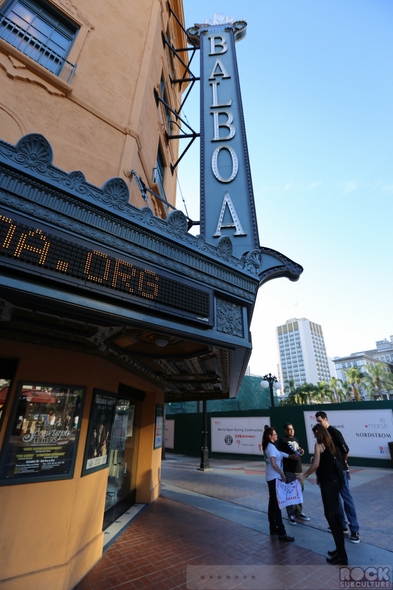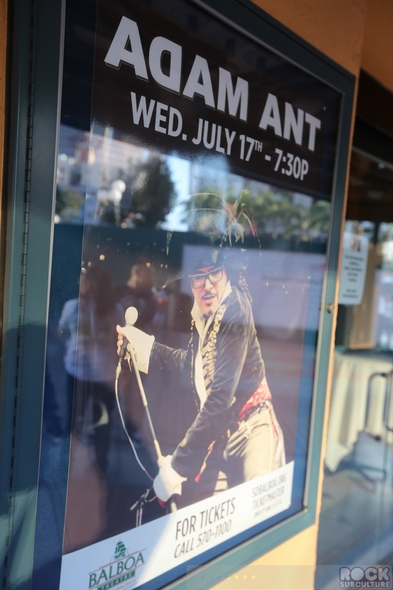 As mentioned in my review last year, who would have imagined when he came on the scene in the mid to late 70s that not only would Adam Ant still be selling out shows, but he'd still be relevant (and, looking backward, prescient) well into his late 50's. Truly an artist musician, Adam Ant has created a culture and world all his own, and it is definitely a fun place to visit.  The material on his new album – which I reviewed earlier this year – is really as great as his classic songs, and as performed last night, it all worked together quite seamlessly.
By way of context, and likely out of unintended coincidence, this debut concert date for this new North American tour just happened to fall on "Preview Night" for Comic Con International: San Diego (i.e. San Diego Comic Con), which somehow seemed a bit fitting.  Ordinarily, with people showing up for an Adam Ant concert with Adam Ant-inspired wardrobe and make-up, such fans would draw special attention by the general public.  In downtown San Diego with Comic Con going into full swing…  not so much.

So it was a pretty fun atmosphere in general, and as it was my first visit to Balboa Theatre, it was a great opportunity to check out this venue as well, which was very impressive.  Excellent staff and beautiful theater.  I was wondering how it would all unfold, as the Adam Ant show I went to in San Francisco last year at the Regency Ballroom in San Francisco was all general admission standing, and this was all theater-style assigned seating…  There was a recessed pit area filled with numbers rows of temporary seating, about three rows deep.  As Adam Ant came on stage there was a bit of back and forth between audience and staff, and eventually what worked out is that those three rows were allowed to stand up against the stage, but it was limited to those ticketholders.  That didn't stop the rest of the audience from standing where they were though, and it was a really great crowd.
Prima Donna
Supporting Adam Ant on this tour is Los Angeles-based rock and roll band Prima Donna.
As part of my preview for this tour, I had a chance to talk with singer-guitarist for Prima Dona, Kevin Preston, earlier this month.  You can check out my interview and podcast with Kevin Preston by clicking on the image below:

I've really come to love Prima Donna's music – After Hours and their latest, Bless This Mess – so was really excited to check out their live set.
Before they even came out on stage, I knew I was going to see a rocking set, but also one put on by serious musicians.  You could tell by the care with which their gear was set up on stage that forethought and style goes into everything they do, as each instrument was set on stage in a way which illustrates how each player has an important, featured role in bringing their music to life.
As they began to play, it was also obvious that they had their sound dialed in perfectly, and their live sound is really pretty close to their studio sound.  But they are definitely a band made to play live, and definitely charged up the audience for the night with their unique mix of sounds, spanning rock and roll, glam rock, punk, and alternative.  They kind of struck me as the sort of band that would have played in the fictional town of Santa Clara in The Lost Boys (1987)
If the band was destined to play live, Kevin Preston for sure is meant to front a rock band – he seems to have it all, including rock star moves.  One in particular was one of those things you witness, but your brain can't quite process, as he dropped to the ground to knee level, with his legs below the knees bending sideways on the stage…  I had a chance to talk with Kevin about this a little after the concert, so we had some laughs about it (he said he would show me how to do this when the tour wraps back up around Northern California later this year).
In any event, they are a great band that put on an amazing performance, which makes me believe this is one of those groups destined for great things in the future.
Below are some photos of Prima Donna performing on stage (click on any image for higher resolution):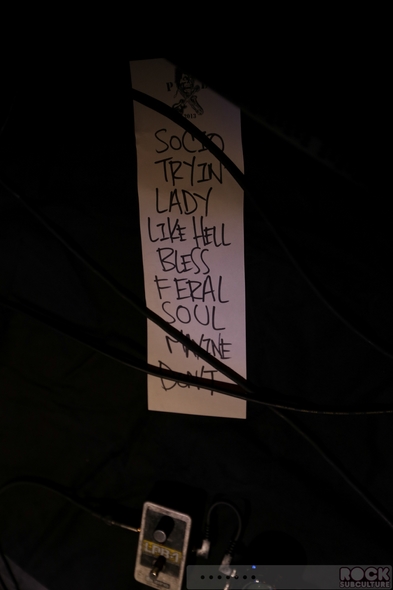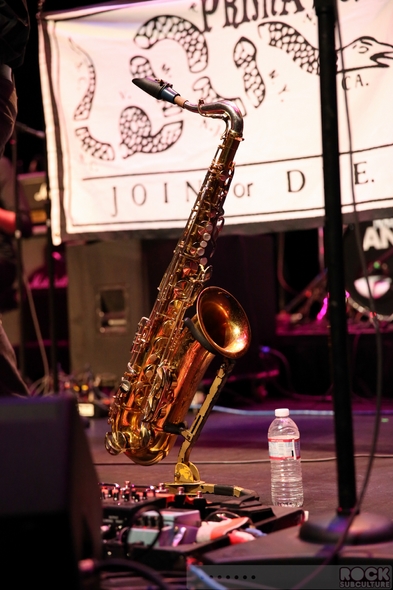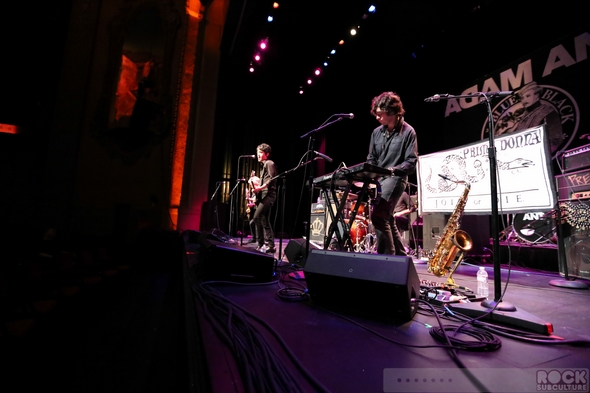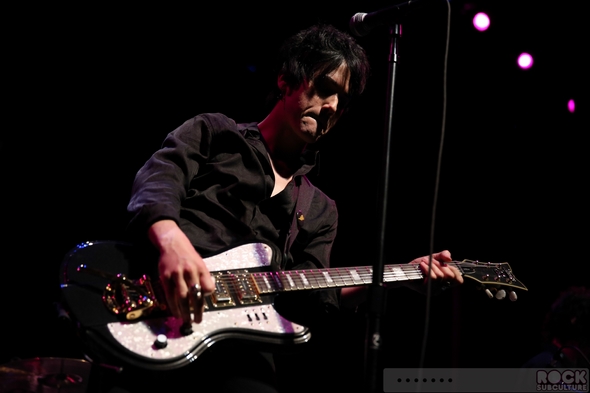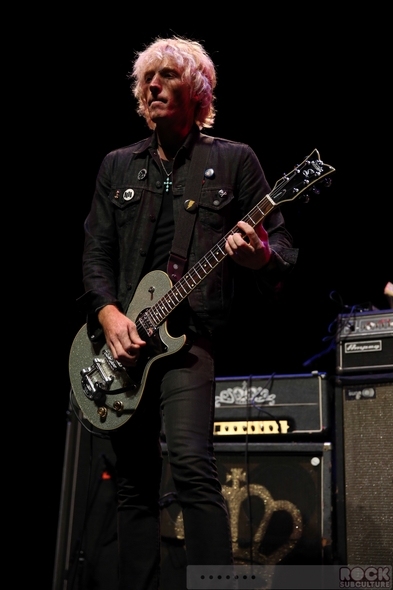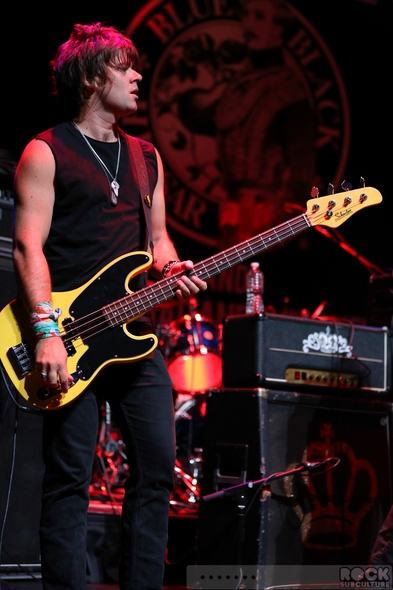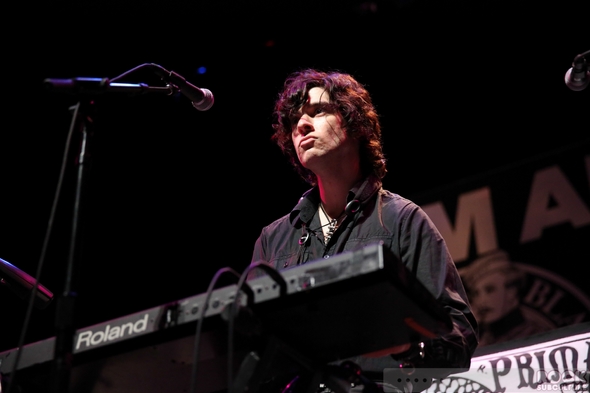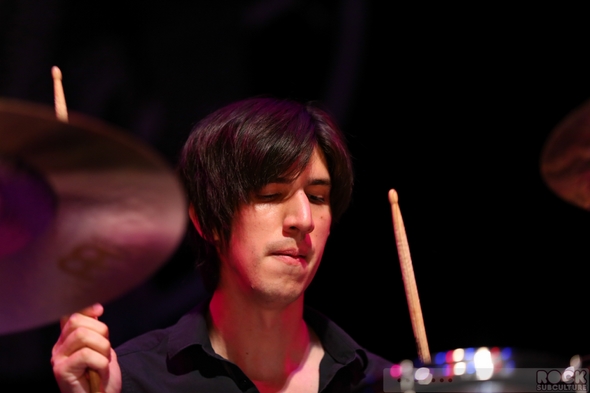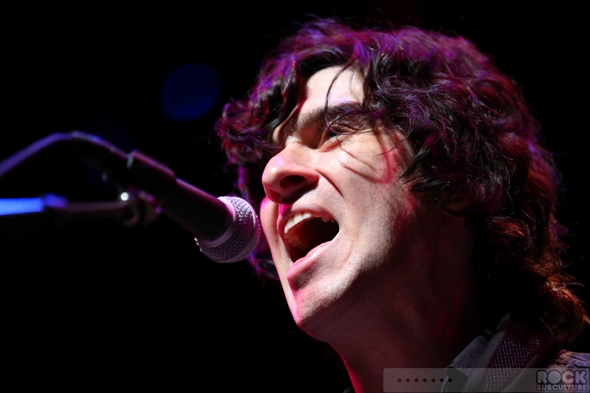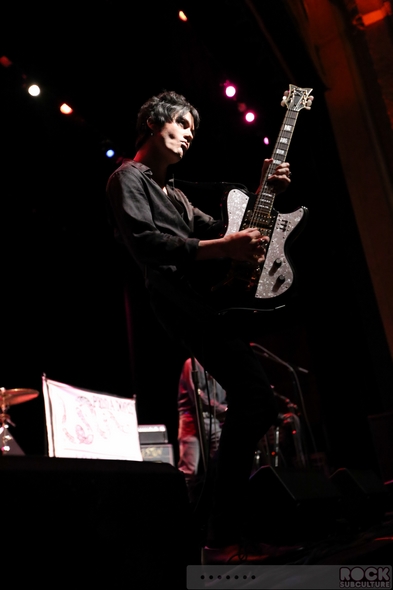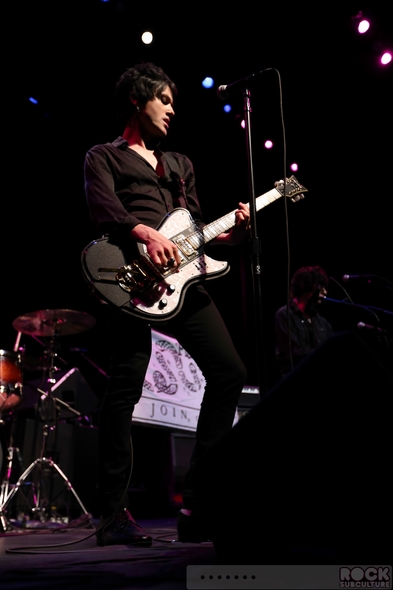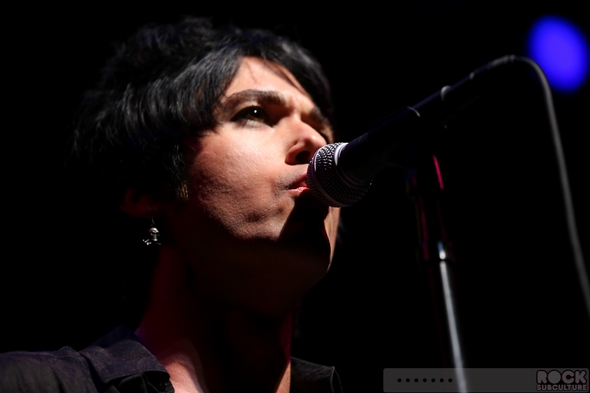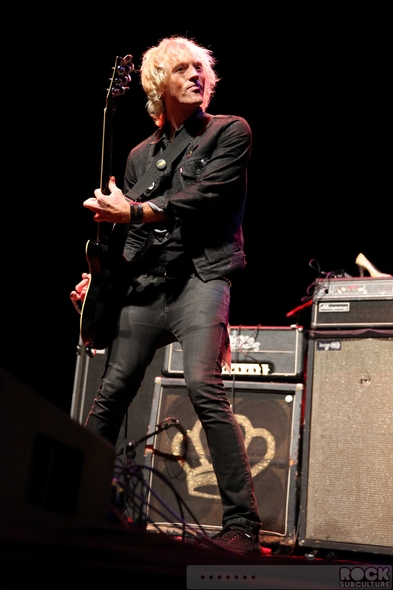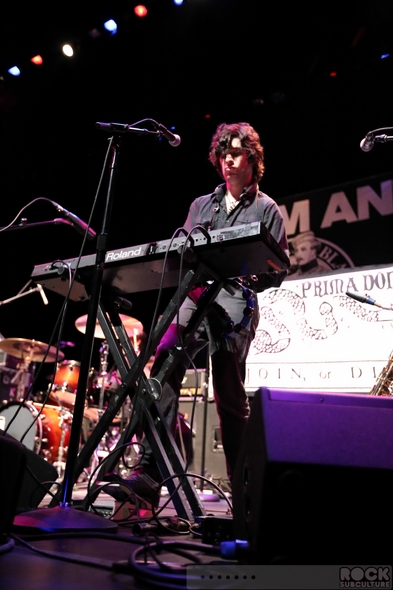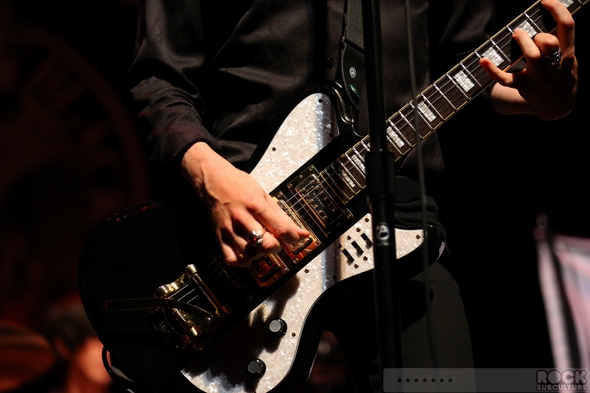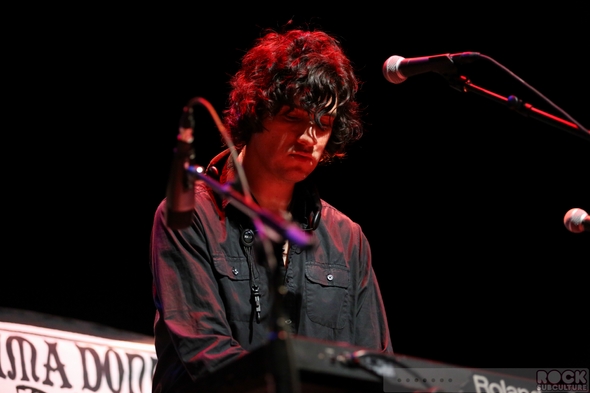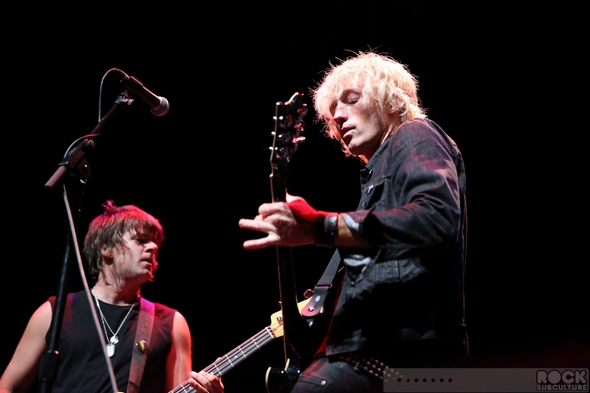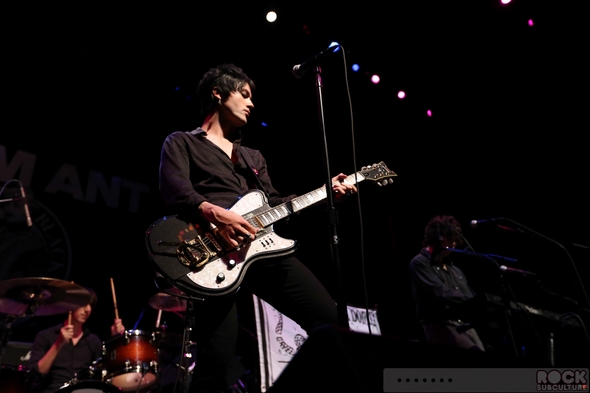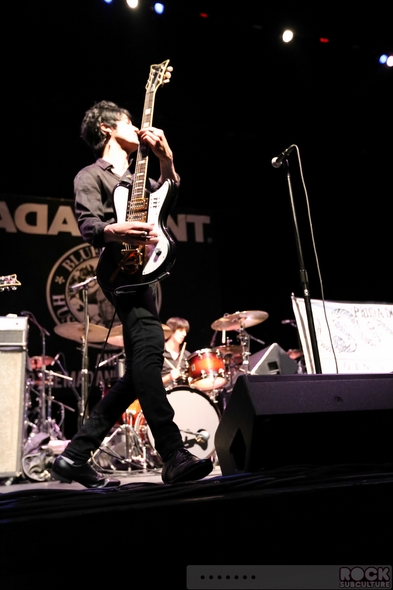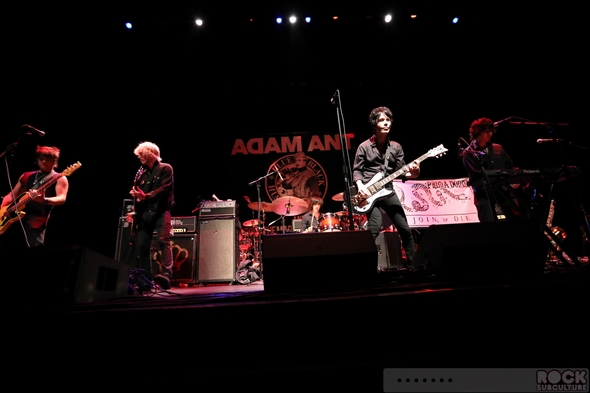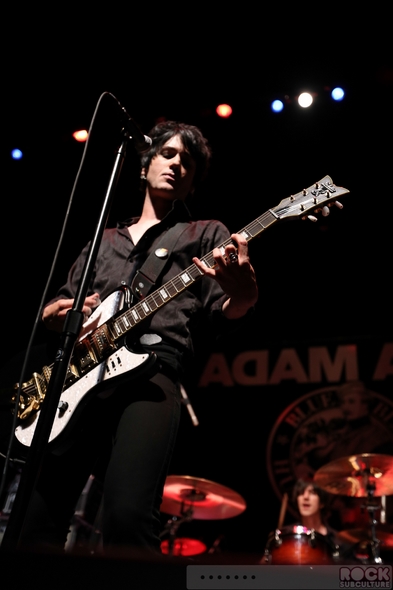 Adam Ant
As I've shared a lot of thoughts about Adam Ant in the past nine months, with the past tour and new album, I thought I would preface this article by summarizing some of that as preface to my thoughts on last night's concert.
Adam Ant is truly a legend of the New Wave, especially its origins in the early 80s. Responsible for an incredible body of work with many hits featuring a unique blend of musical styles and innovations, he was just as important as a figure in his influence on his peers and subsequent artists, not just in music but fashion as well.
Born Stuart Leslie Goddard in the mid-1950s in London, he initially studied graphic design at the Hornsey College of Art, though ultimately dropped out to pursue a career in music. Though I would imagine that his interests in graphic design carried over into his music as well, and was in some ways instrumental to his understanding of and capitalizing on the shift of popular music to having a vital visual component as well. With the advent of MTV and music videos, Adam Ant capitalized, and featured prominently in rotation on MTV in the early 80s as part of the wave of UK imports, thought the Adam and The Ants videos employed his unique and distinctive style and imaging.
Prior to launching his own "Ant"-branded band, he played bass in a group called Bazooka Joe, which headlined a live concert in November 1975 which featured the first public performance by the Sex Pistols, who were their supporting act. He then formed a new group called the B-Sides. In 1977, after overcoming some personal issues, he adopted the name Adam Ant, and he reformed the B-Sides as Adam and The Ants. It was around this time that Adam Ant also began acting, and was in Derek Jarman's film Jubilee, which also featured some of their music in the soundtrack.
Their debut album, Dirk Wears White Sox, was released in 1979. Adam Ant approached Malcom McLaren (the Sex Pistols manager) and asked him to manage their band; McLaren ultimately convinced the entire band, sans Adam Ant, to leave the band and reform as Bow Wow Wow with adolescent Annabella Lwin fronting on vocals.
The band was reformed by Adam Ant with all new players, and the released Kings of the Wild Frontier in 1980, which led the New Romantic movement. "Antmusic" reached #2 in the UK singles charts. They quickly followed with another album, Prince Charming in 1981, which included two #1 UK hits, the title track and "Stand and Deliver". The two songs, as well as hit "Ant Rap", included pioneering music videos.
Only a year later, Adam Ant decided to disband the group and record and perform as a solo artist, Adam Ant. Friend or Foe came out shortly thereafter, in 1982, which featured the hit "Goody Two Shoes", which reached #1 in the UK and #12 in the U.S.
Continuing with his prolific recoding regimen, his second solo album, Strip, was released in 1983. Phil Collins even served as producer and drummer on two songs, including the title song, which was banned (both the song and the video) in the UK.
His third solo album, Vive le Rock, debuted in 1985, which resulted in a subsequent career shift from music to acting, which was his focus for the remainder of the 80s.
Adam Ant ultimately returned to music, with a new album, Manners & Physique, in 1990.
No new work was published for another five years, but Adam Ant had arguably his biggest mainstream success with the title song of that 1995 album, Wonderful, which was quite different from all his music that preceded it.
Adam Ant has been involved in a good share of struggles and drama throughout his life, much of which is recapped in his Wikipedia entry, and featured in a UK television documentary, The Madness of Prince Charming, which portrayed his struggles with mental illness and bipolar disorder.
In spite of all his challenges, he has remained a very prolific artist throughout his life, and has had a steady touring scheduled in the UK in 2010 and 2011. His current U.S. tour was originally slated to begin in February, though it was postponed until this month. His latest album, Adam Ant Is the Blueblack Hussar in Marrying the Gunner's Daughter, is now slated for release next year. And Adam Ant continues to be involved in more than just music and touring, with a photo exhibition – Adam Ant – Dandy In The Underworld – having run in London last year, a planned documentary film, and his own fashion label.
So… Adam Ant… I first learned of him via MTV and mix tapes from my older sister's friend. This was circa 1981 or so… just as I was hearing acts like The B-52s, Duran Duran, Billy Idol… his music most definitely sounded very "foreign", and the vocals and layered drums played a big part of that for me. So he along with a handful of others were instrumental in the dramatic shift in the sound and style of music from the 70s to the 80s.
One of the first videos I remember seeing was "Desperate But Not Serious", which featured horns (which aren't part of his current live tour) and dual drummers (which are part of the stage performance today). Also a longstanding fundamental part of his image – his overt sexuality in themes, ideas, and images (in fact, at one point MTV named him their "Sexiest Man Alive"). Another early favorite was "Stand and Deliver", with his Victorian/pirate outlaw style appearance and trademark painted stripe across his face. "Goody Two Shoes" was more of a rockabilly throw back type of sound – a song you could imagine Elvis singing (or even the Stray Cats).
The new album, Adam Ant is the Blueback Hussar in Marrying the Gunner's Daughter, is a collaboration with long-time writing partner Marco Pirroni as well as Boz Boorer (well known for his work with Morrissey).  The first single, "Cool Zombie", is a fusion of old and new.  The familiar Adam Ant-style chorus (though sans chatting and war drum beats) but featuring a decidedly non-Antish American southern drawl, the lead vocals have a Dylanesque style and delivery.
Adam Ant's current touring look is also reflected in the new video – another contrast to be drawn between the image of Adam Ant circa the early 80s that we all remember, compared with today.  While back in the day he had soap opera / fashion model good looks, today he appears a bit more larger than life – like some kind of other dimensional pirate conqueror, who maybe sees the world a bit more clearly than the rest of us.
Clocking in at 17 tracks, the album offers quite a bit of music to explore.
With last night's concert, they kicked things off with the new song, "Marrying the Gunner's Daughter", which for me, sounds quite different from Adam Ant's past work.  But it doesn't really sound like anyone else at all, either.  Really an interesting song (interesting in a good way), and it goes through more changes than most of the songs on the album.
Also in play on the new tour is "Vince Taylor", which has a bit more of a groovy, 60s throwback sound to me – with really nice guitar riffs, and simple structure that really works.
"Hardmentouchblokes" was also played last night, which, instrumentally, really sounds like it has a much stronger Boz Boorer rockabilly influence to me…  comparing with Morrissey, the equivalent to his catalog would be the Your Arsenal sound with tougher, distorted guitars that feature more prominently.  This more aggressive sound pairs nicely with "Shrink", which follows (also part of this new set), though it has a much more contemporary sound, faster beat, keyboards, and electric guitar.  I can imagine Trent Reznor covering this song.  Another highlight of the new album – definitely one of my favorite tracks.  Totally new and different sound for Adam Ant, and it works brilliantly.
Overall, the new album is a very impressive work from an artist who has not released a new full album for such a time.
So with last night's show, Adam Ant put on a 29-song set, which is listed below…
Setlist
Marrying The Gunner's Daughter
Dog Eat Dog
Beat My Guest
Kick
Ants Invasion
Hard Men Tough Blokes
Stand And Deliver
Shrink
Room At The Top
Kings Of The Wild Frontier
Wonderful
Whip In My Valise
Vince Taylor
Stay In The Game
Cool Zombie
Strip
Desperate But Not Serious
Cleopatra
Never Trust A Man With Egg On His Face
Zerox
Vive Le Rock
Antmusic
Goody Two Shoes
 Car Trouble
 Prince Charming
 Encore
Press Darlings
Lady/Fall In
Red Scab
Physical
On tour with Adam Ant are the following musicians:
Jola & Andy Woodard (drums)
Joe Holweger (bass guitar)
Tom Edwards (guitar)
Not to get too technical, but to give some idea of how the show opened…  Adam Ant's bandmates came on first, and built up expectations for what was coming, and then Adam Ant burst onto the stage – jumping, spinning with his mic stand – and my first thought was that my shutter speed was inadequate…  I was not prepared.
And it never really let up from that opening moment, as Adam Ant commanded the stage and showcased his signature moves and poses.  And that way that he peers out into the audience.  The man is full of character, and has a way about him that you can't quite figure out…  Is it all an act?  Which bits are laced in some self deprecating sarcasm?  Is he in character?  Where does Adam Ant, stage performer, and Adam Ant, the man, cross and intersect?  Or is he exactly the same on and off stage?  How much is performance art, and how much is genuine music icon persona?
I don't really have answers to any of these questions, but it doesn't really matter – in fact, the mystery really adds to it all.
Regardless, Adam Ant still kills it on stage, and relentlessly tears into his material, new and old, and I certainly loved the show he and his band put on.
He still has the came capable voice, and is really an underrated guitar player (while it was a mix of songs where he played throughout, he playing was spot on).
The audience was really eating up the show, and it was also kind of fun to watch his interaction with the audience.  Adam Ant is a different sort of performer…  After shooting and stowing my gear, I watched the rest of the show from front row off to the side, so had a good vantage point to take it all in – the action on stage as well as the full audience.  Adam spends a lot of time looking out across the audience at large – I think maybe taking it in more in the abstract.  So at those points where he connects with the audience up front, when he does look at you, it is in kind of a surprising, startling way, as he suddenly locks onto you with his eyes, just as you've gotten used to him looking over you…
But as I watched, one of the thoughts that jumped to the front of my mind is the influence that Adam Ant has had on the entire music industry.  Like at one point – and I don't even remember what song they were playing – I felt like Adam Ant had tapped into a formula that would later, in part, be adopted by bands like The Pixies a decade later…  that kind of erratic post-punk sound laced with irreverence.  Adam Ant blazed so many trails in music – style, sound, fashion, attitude, experimentation – that sometimes you forget how many of these trends and ideas you can follow directly back to him.
And getting back to my opening…  the idea that he kind of is what he is – he is and will always be that identifiable at his core artist – what an opportunity to see him live on stage.  Because in many ways you feel as though you are being transported back to that simpler, cooler time.
Up on stage in his revolutionary garb, Adam Ant is like some kind of being from another world, taking you on a journey to a place and time that never really existed, except for some fantasy alternate reality in the early 80s that he invented seemingly wholesale at the time, and has kept preserved and waiting for us year after year.  And with this new tour, it's an opportunity for each of us to go back and visit.  And, of course, Adam Ant provides the soundtrack for this journey.
Below are some photos of Adam Ant and The Good, The Mad & The Lovely Posse performing on stage (click on any image for higher resolution):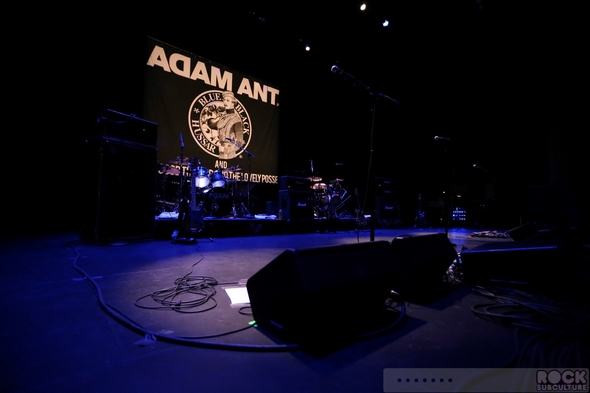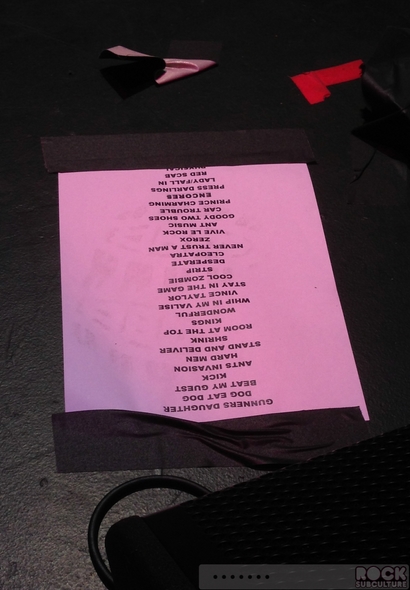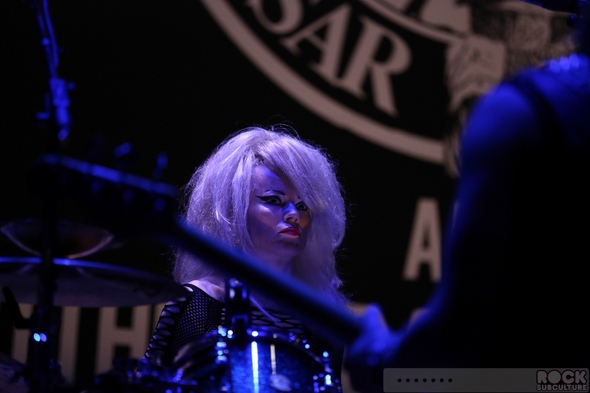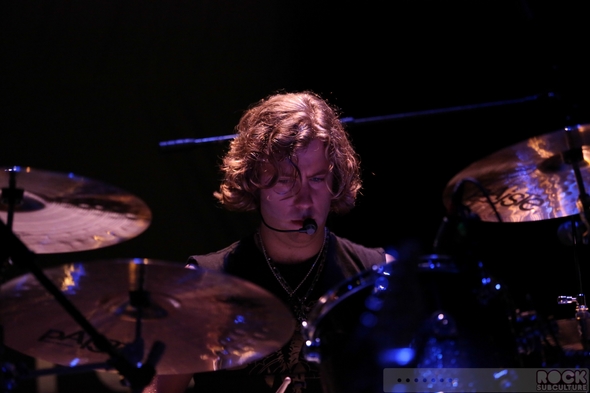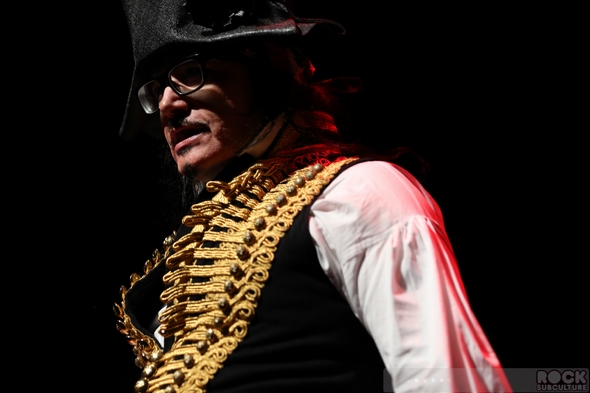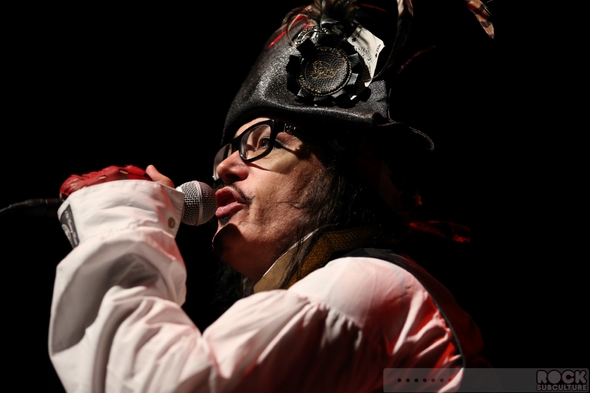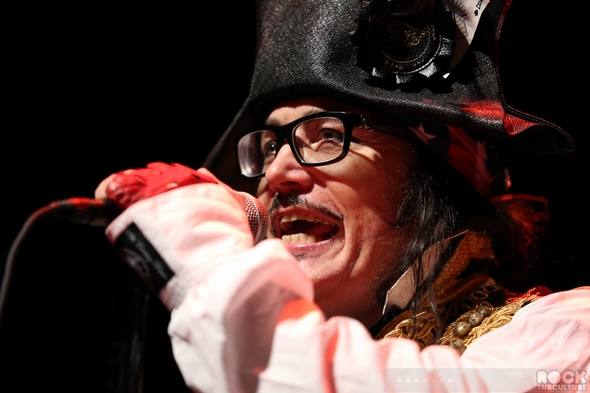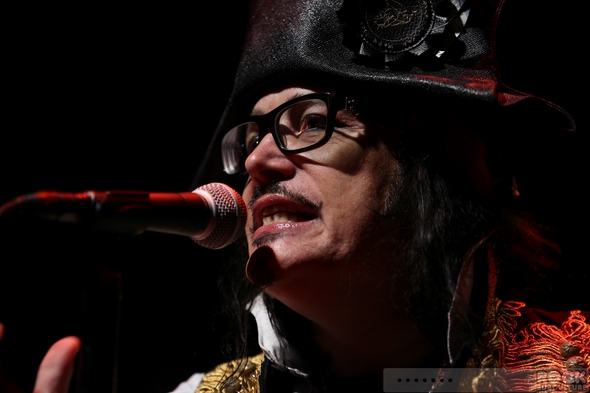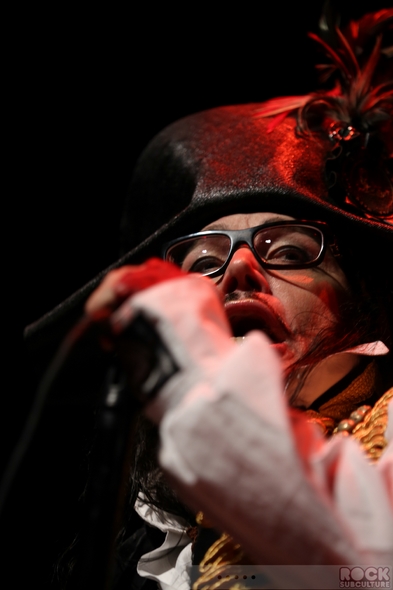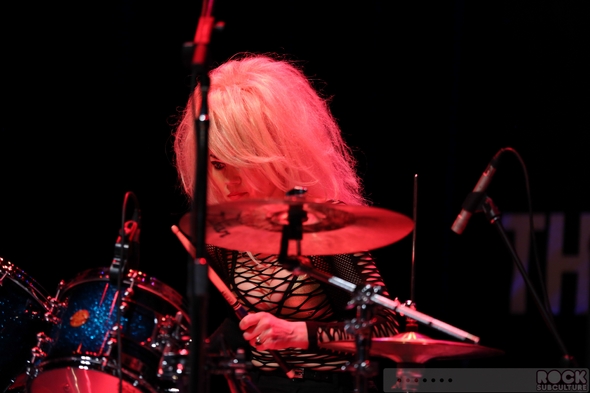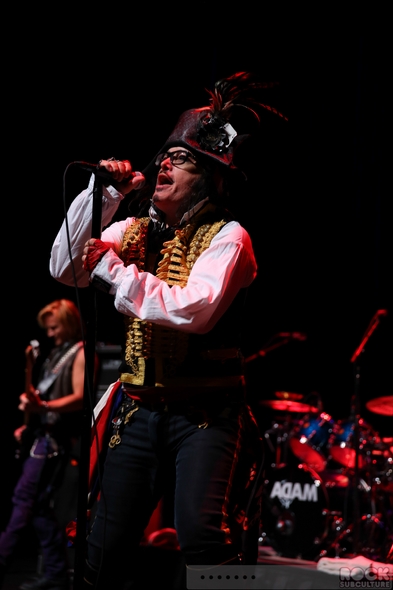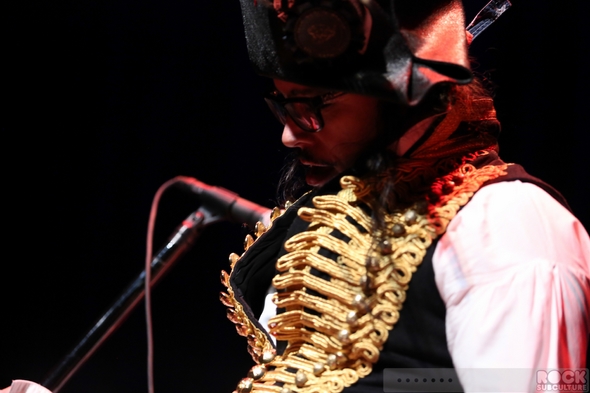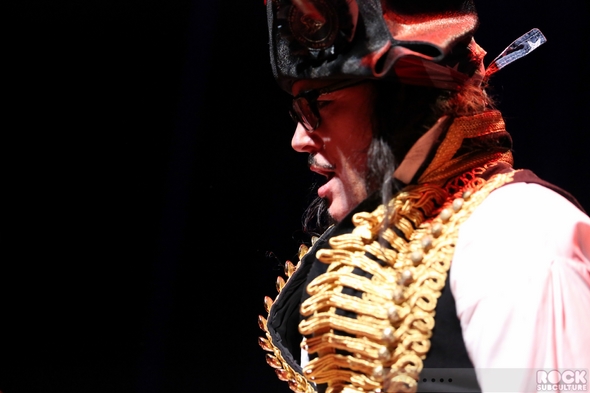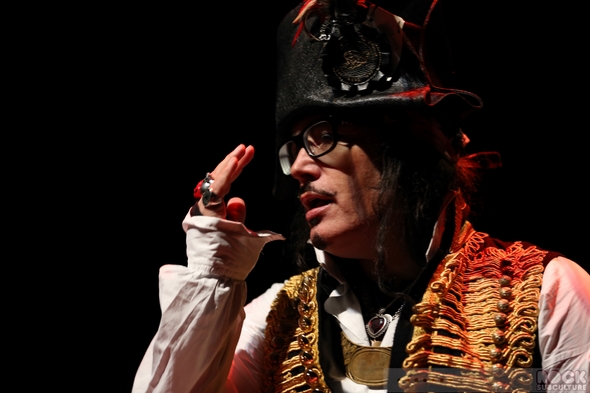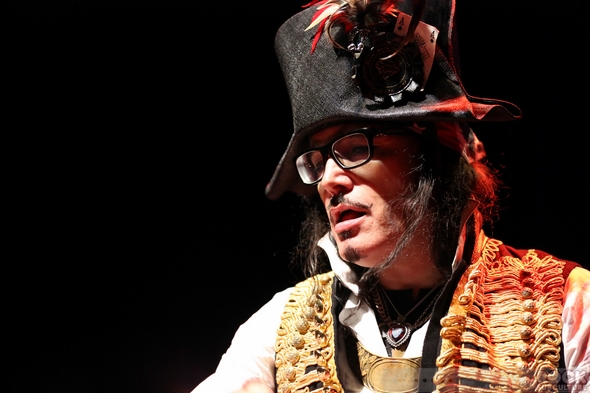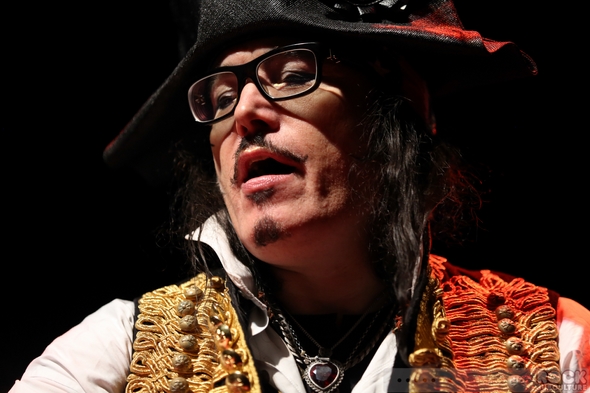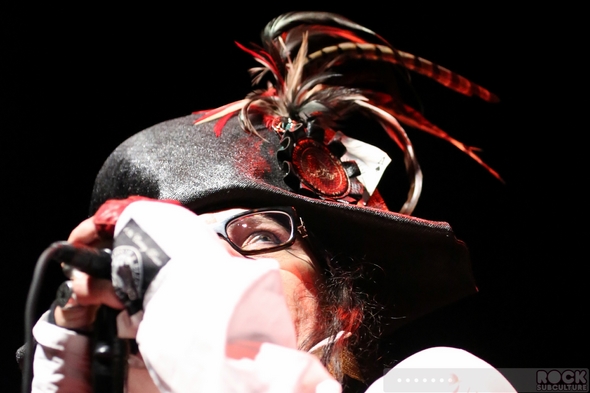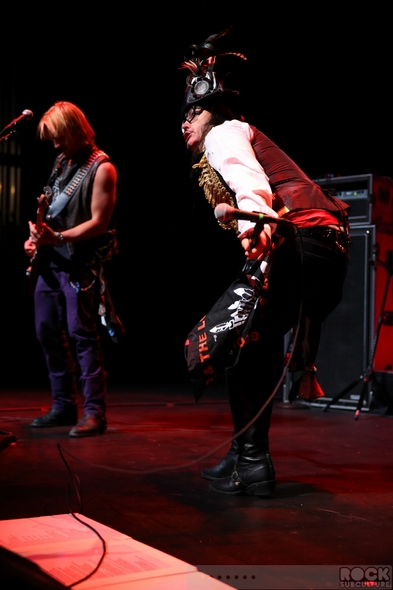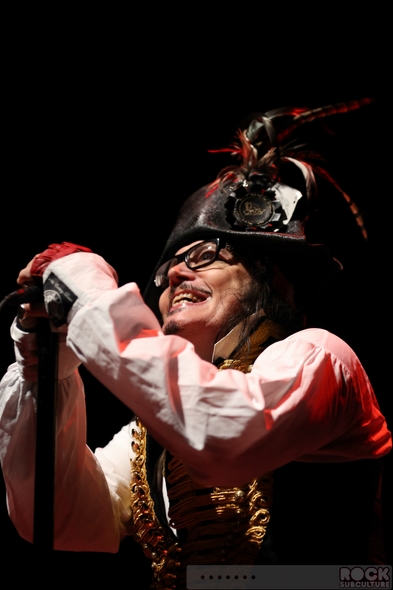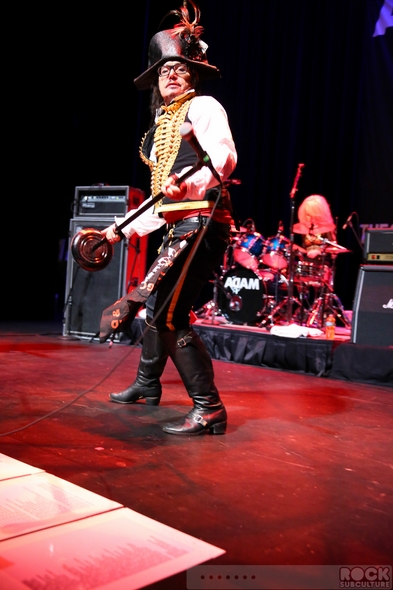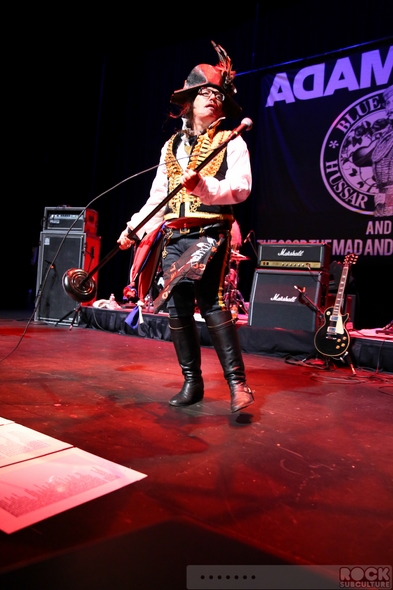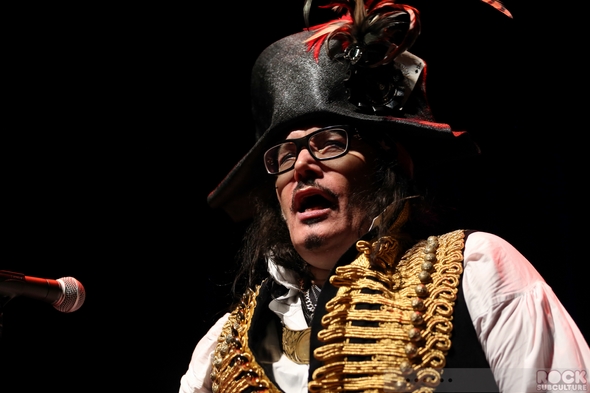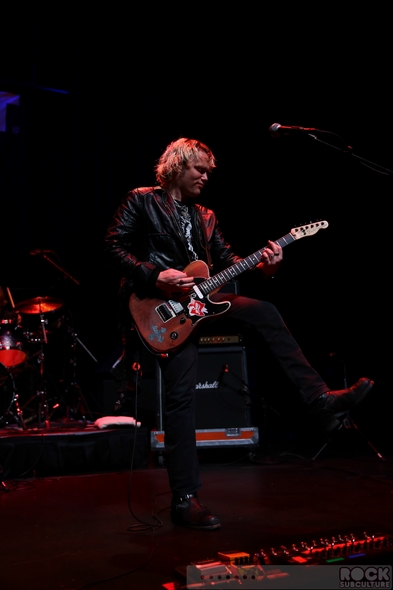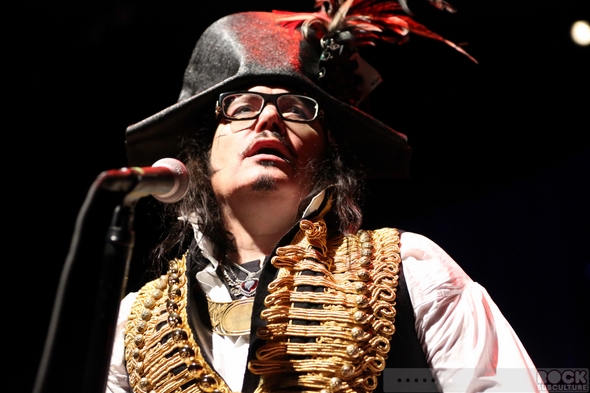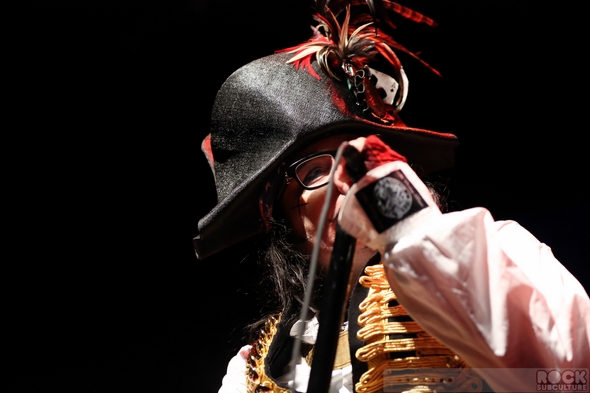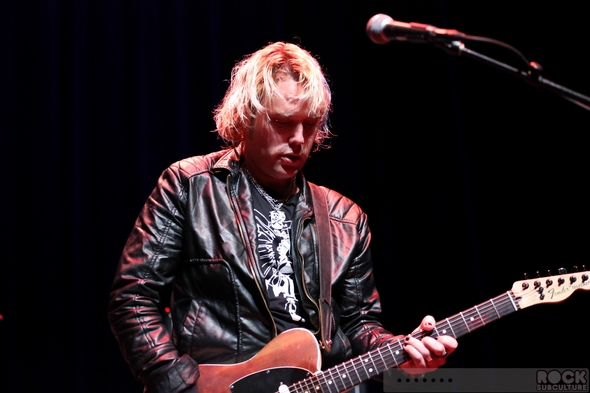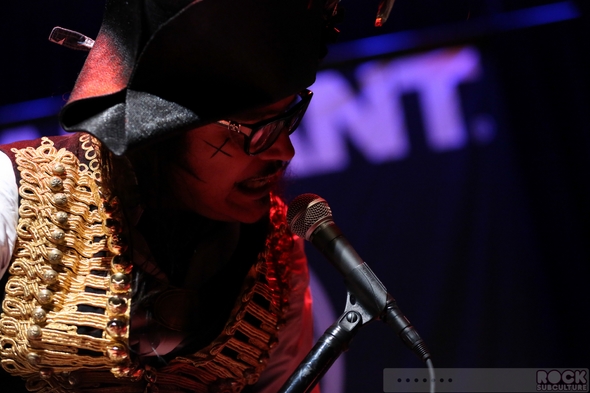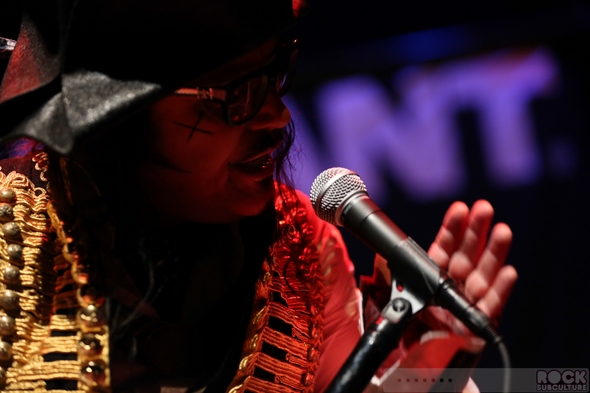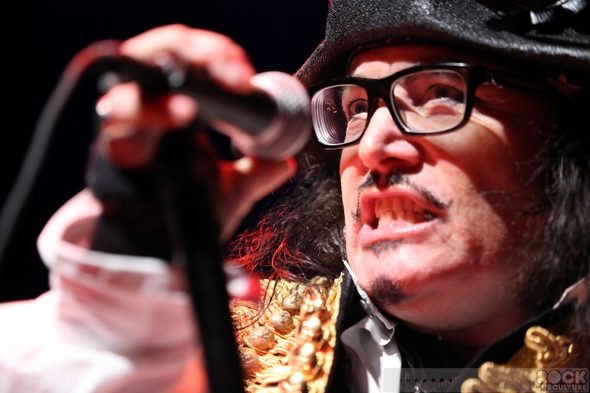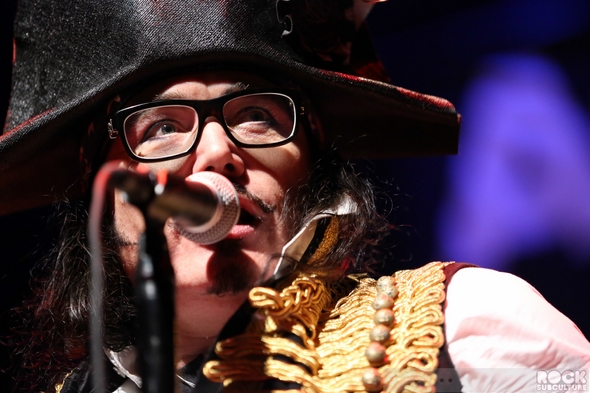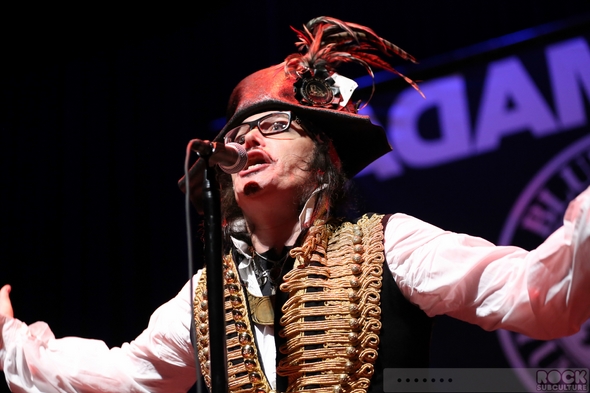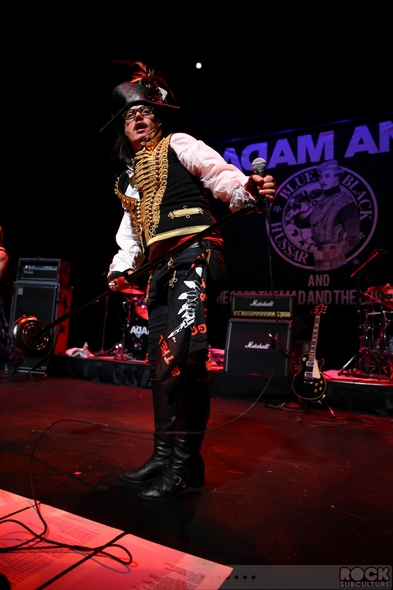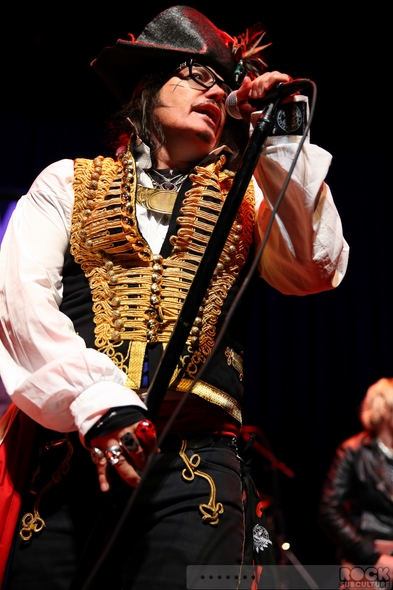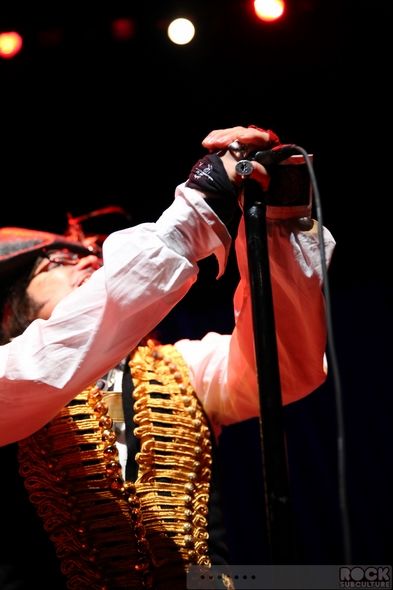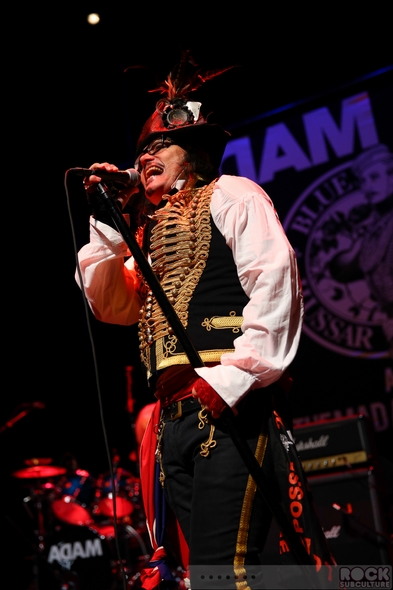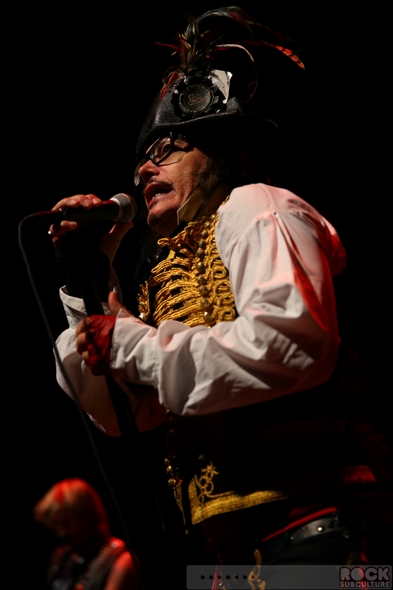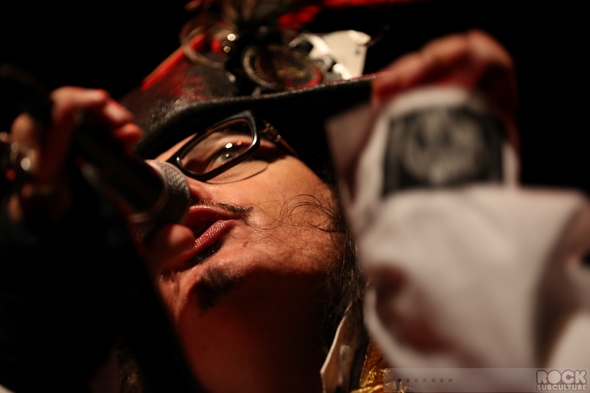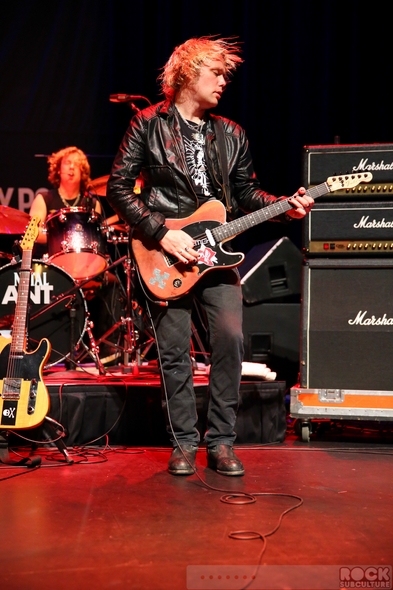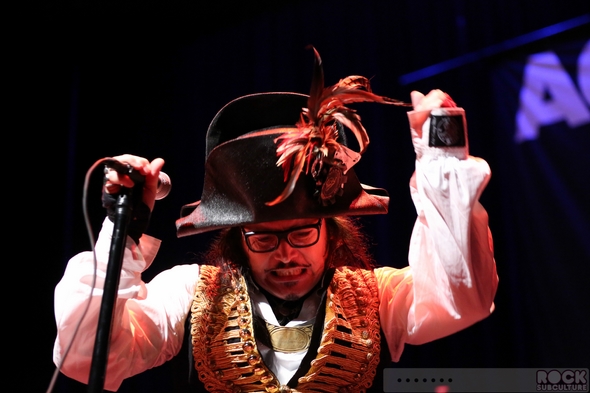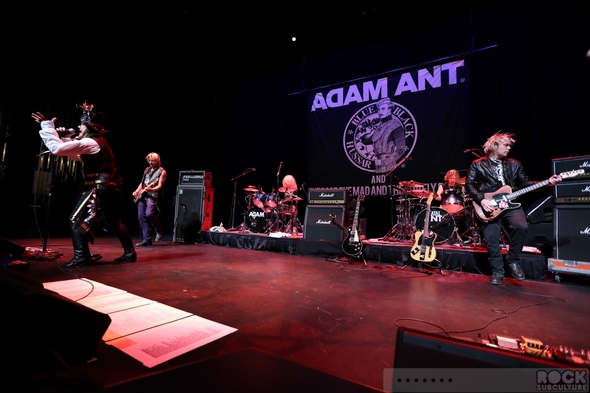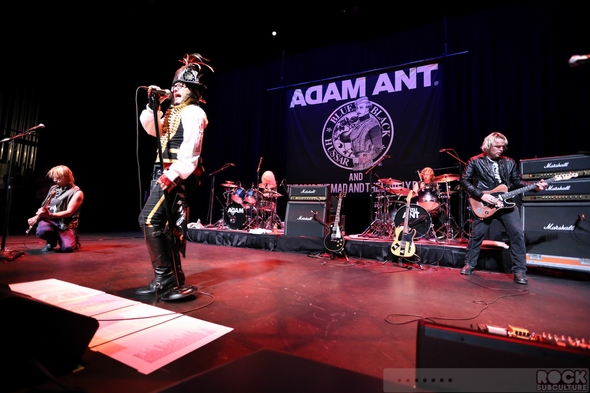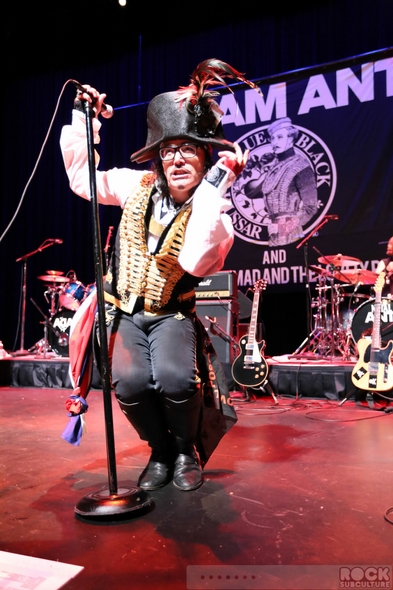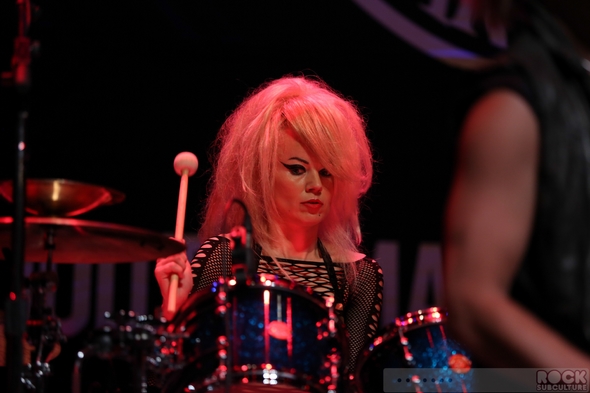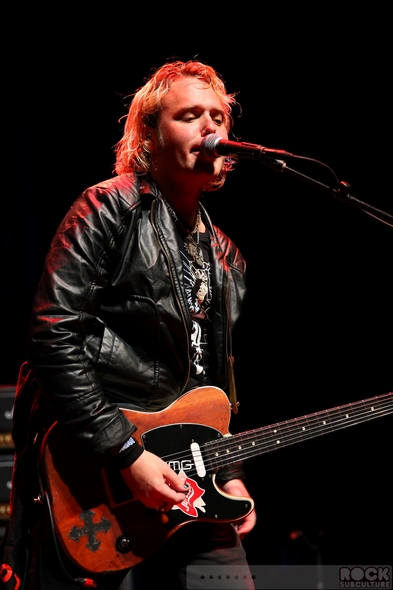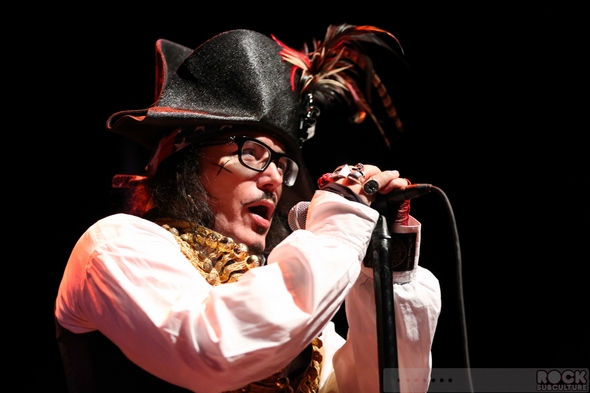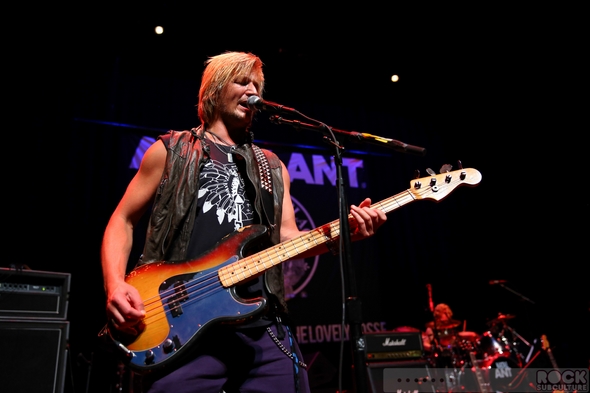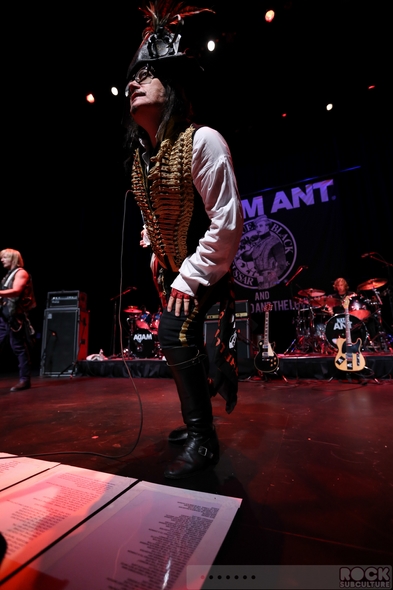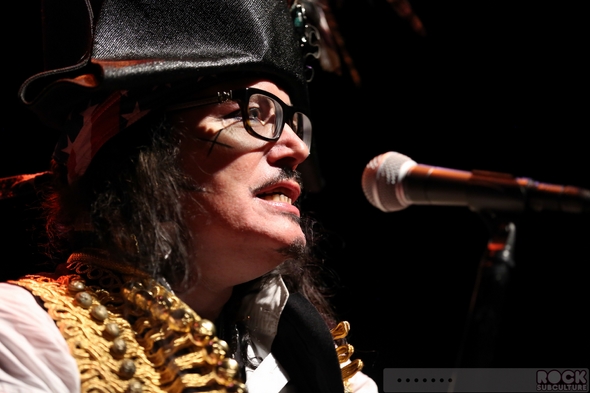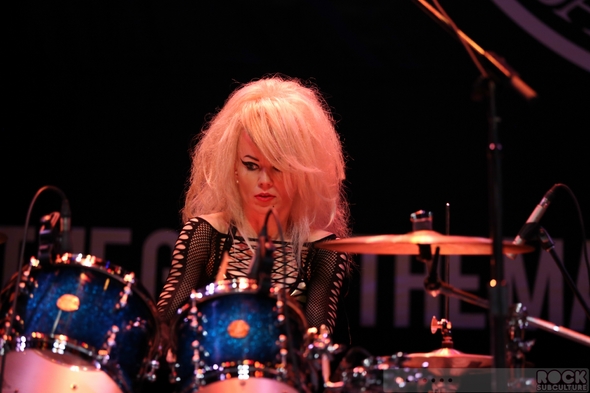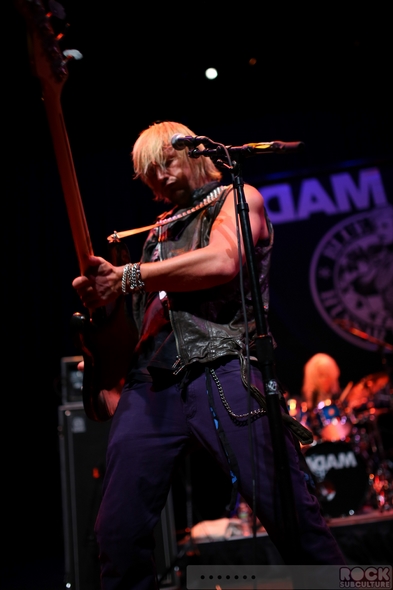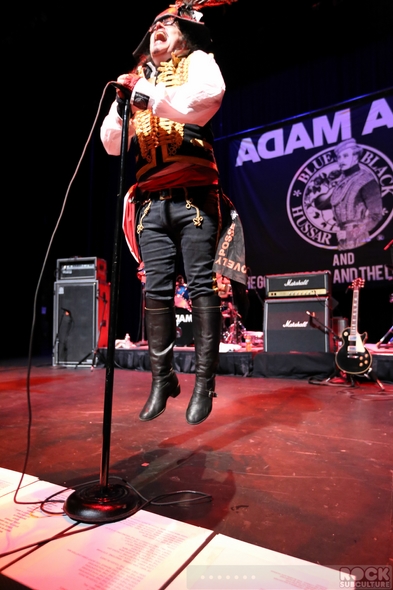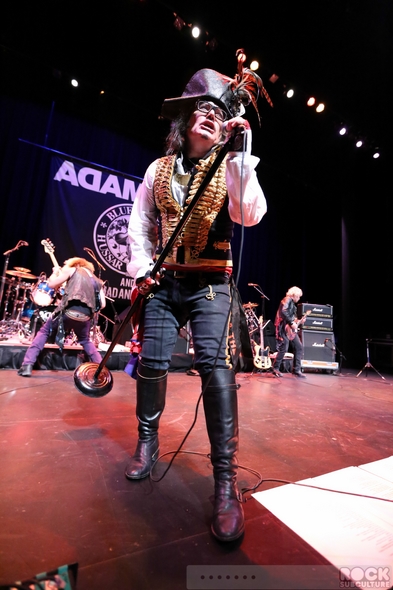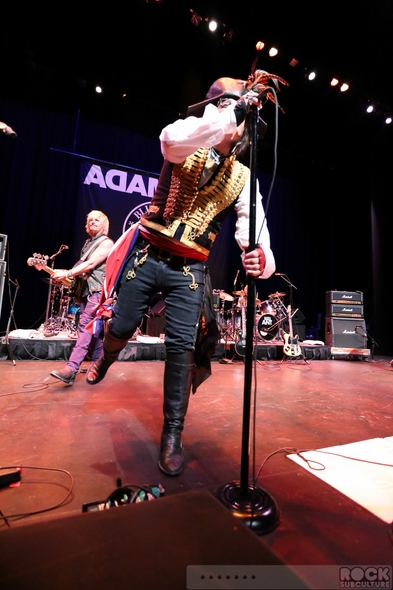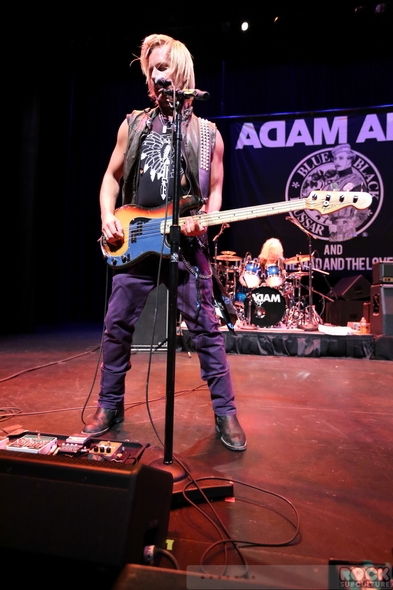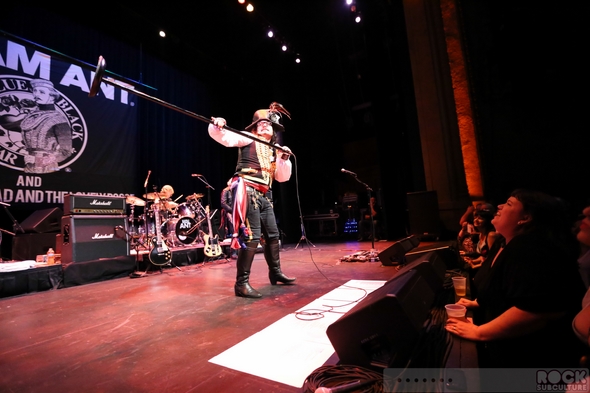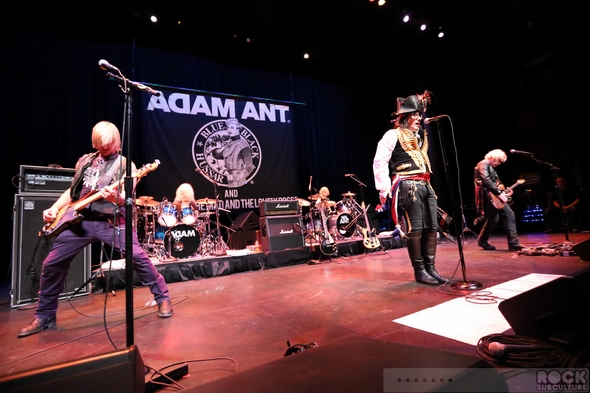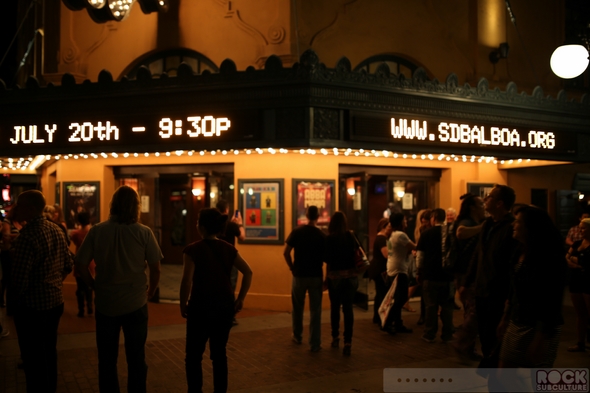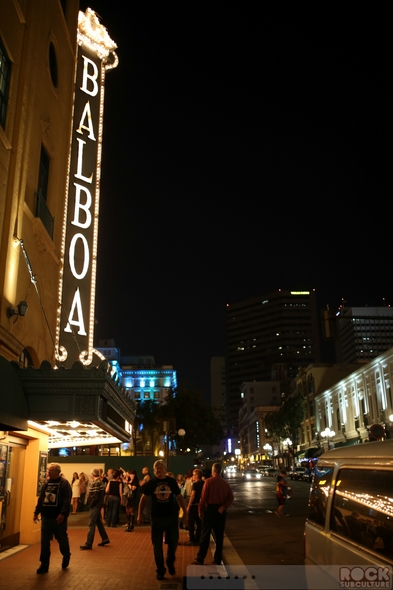 Jason DeBord