Peter Hook & The Light will be touring North America in September, performing New Order's Movement (1981) and Power, Corruption, & Lies (1983) in their entirety.  I am a huge New Order fan, and am thrilled to have an opportunity to experience Peter Hook's performance of these incredible albums.  He is my all-time favorite bass player, so I am confident this will prove to be a must-see tour this year.Full details about Peter Hook's band and the tour can be found on his official site at www.peterhook.co.uk:
Peter Hook & The Light performed these albums at Manchester Cathedral in January, and an album featuring that performance can be previewed via stream as well as purchased at
www.playconcert.com
.
You can also stream in full "Everything's Gone Green" from the same at www.soundcloud.com or download for free from Peter Hook's official site.
Below are the official tour dates for this engagement:
September 10 – Paradise Rock Club, Boston, MA
September 13 – Webster Hall, New York City, NY
September 14 – The Trocadero, Philadelphia, PA
September 13 – 15 – Riot Fest, Chicago, IL. (US Exclusive Joy Division Set)
September 18 – Club Soda, Montreal, QC
September 19 – The Hoxton, Toronto, ON
September 21 – Fonda Theatre, Los Angeles, CA
September 23 – Venue, Vancouver, BC
September 25 – Neumos, Seattle, WA
September 26 – Wonder Ballroom, Portland, OR
September 27 – Mezzanine, San Francisco, CA
September 28 – Gothic Theatre, Denver, CO
The Rock Subculture Journal will be covering the show in San Francisco at Mezzanine.
Click on the image below for the latest and up to date full Rock Subculture Journal schedule of pop and rock music concerts/tours coming up for review (2013 Rock Subculture Schedule):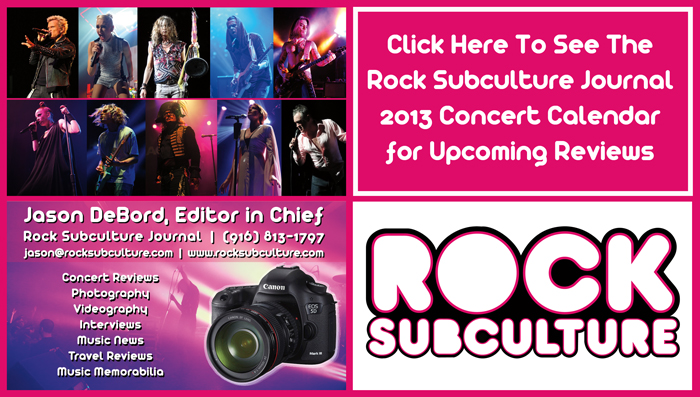 Jason DeBord