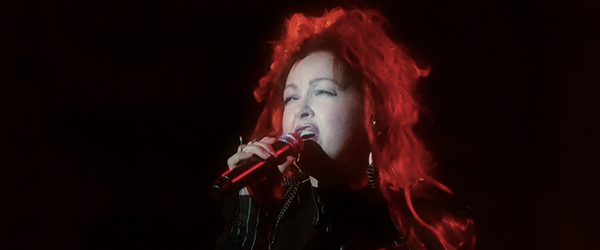 "'The second hand is unwinding…'  And I'm thinking… good lyric.  So I used it.  I always think it's good to put a piece of what is really happening in the songs…  there's always a piece of what somebody says, in the songs, and that was one of the pieces."  A small part of one of many stories told by Cyndi Lauper about the making of the songs comprising her debut album, She's So Unusual.  With her "She's So Unusual: 30th Anniversary Tour" underway, currently touring California, the Grammy and Tony Award winning artist entertained and delighted fans in the audience of Mountain Winery in Saratoga last night with her compelling mix of great music and insights into her life and experiences.  Having had the opportunity and pleasure to catch her show two nights in a row, there were definitely some differences between the show I reviewed at the Crest Theatre in Sacramento and the one at Mountain Winery.  For starters, the former was indoors in a theater while the latter was outdoors in an amphitheater, both designated historic landmarks in The Golden State.  It was fun for me, personally, to compare and contrast.  In any event, one thing is certain – no two shows are the same.  While the general framework of the stories behind the music was the same, her recounting of them and stream of consciousness approach provided different insights, and the music felt different show to show as well, with a bit of a different energy (with Sacramento being perhaps more relaxed and Saratoga being more rocking).  I'm very glad I was able to turn out for both, but having written quite a bit in the original review for Sacramento, this is more of a Part 2 addendum.  Both shows are among my favorites attended this year and it is definitely a must see event for pop and rock music fans, especially those (who, like me) view the 80s (and first half of the 80s in particular) as an amazing time for music, with the birth of many great artists and songs, with Cyndi Lauper being central to all of it.

Who: Cyndi Lauper
Supporting: Hunter Valentine
Venue: Mountain Winery
Where: Saratoga, California
Promoter: Mountain Winery & AEG Live/Axs, Presented By Silicon Valley Bank
When: June 18, 2013
Seating: Section 1, Row C, Seat 4 (center floor section, third row to right looking at stage)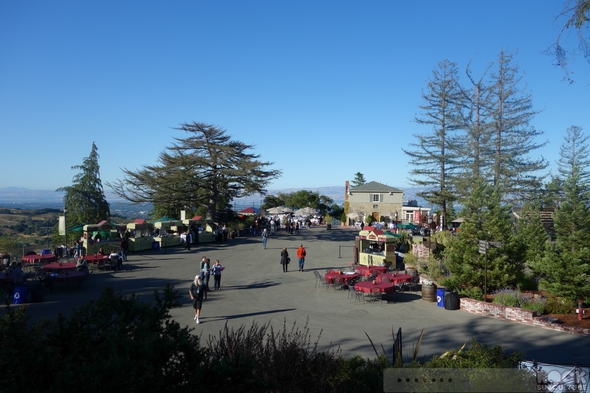 This was my first show at Mountain Winery this year for their awesome Summer Concert Series.  Sadly, I missed my traditional Billy Idol show since I was in Europe and England following Depeche Mode around in May and into June, so this is a late start for me.  This is one of my favorite concert venues in the world, for a variety of reasons.  It is in an amazing location with stunning views (day and night), they have wonderful eating options, everyone I've met who works there is amazing, and they have one of the best concert line-ups around.  It is a long drive in for me (about three and a half hours with no traffic) but totally worth it and I've never been disappointed.
So this is not my typical review, in that I participated in a meet and greet with Cyndi Lauper backstage before, during, and after the opening set by Hunter Valentine, so I cannot review that portion of the evening.  More, I did not do any photography at this show (highly unusual for me) and relaxed and fully enjoyed the performance, so I have no visuals to accompany my thoughts on the evening.
Hunter Valentine
Members
Kiyomi McCloskey (vocals, guitar)
Laura Petracca (drums)
Aimee Bessada (guitar, keyboards)
Leanne Bowes (bass)
As mentioned in my review of the Sacramento show, Hunter Valentine is an alternative rock band from Ontario, Canada. Their music style has a lot of range, from alt rock to punk. They have two studio albums, The Impatient Romantic (2007) and Collide and Conquer (2012). You can check out one of their single, "Liar Liar" on their official site, www.huntervalentine.com.
Hearing them for the first time, lead vocalist Kiyomi McCloskey has a really compelling voice… more "husky" in tone like Johnette Napolitano but also able to maintain with some powerful rock vocals, like Joan Jett. I thought their opening set was fantastic, and already purchased their two albums to catch up on their work. They did an excellent job waking up the audience in preparation for Cyndi Lauper.
Though I missed their set (apart from hearing it out of sight of the stage), I did have an opportunity to see a few of the members of the band during Cyndi Lauper's show.  Funny enough, in Sacramento I could also see them watching Cyndi and her band side stage, and it was fun for me to watch them, watching her.  It is almost like they are in session for a Master's Class in "How To Be A Rock Icon", judging by their reactions and expressions on their faces, which was pretty awesome.
Last night, during Cyndi Lauper's encore, they discreetly emerged from backstage and Kiyomi McCloskey came over and sat on the laps of the couple sitting in front of me, which was pretty funny.  They loved it and they were kind enough to take photos with them.
When Cyndi closed out the show with a solo performance of True Colors (totally different from Sacramento, in which Steve Gaboury was on keybords), there was this moment where Cyndi made a gesture and the audience, on cue, responded as she willed us to, and the two members of Hunter Valentine turned to each other and had the same look of "how'd she do that?" on their faces.  So that moment, for me, was kind of priceless.
I am sorry I'm missed their portion of the show, but I know from the Sacramento set that they are a great band with awesome music, so I expect to see them again in the future.
Cyndi Lauper
Members
Steve Gaboury (pianist/keyboards)
Bette Sussman (keyboards)
Keith Mack (guitar)
William Wittman (bass)
Scooter Warner (drums)
As mentioned, please check out my review from the show the prior night for many thoughts and feelings about Cyndi Lauper as an artist and the early 80s and music in general:
As a huge bonus for me with the second night of my two night Cyndi Lauper concerts, I had an opportunity to participate in a meet and greet with her, which was such an amazing experience.  She is a real idol for me, going back to my childhood, so I never would have imagined as a kid that I would actually get to meet her some day.
This took place just prior to her going on stage to perform.  As I recounted in my review of the show the night before, where I was lucky enough to be standing against the center front of the stage all night long.  Late in the show, at one point, Cyndi was singing and looking right into my eyes, and then reached down and grabbed my hat, pulling it over my eyes (even resulting in some laughter from the audience, including from me)!
So last night, at the meet and greet, as I walked up to her to greet her – before I had a chance to say anything – she exclaims, "Oh, hi! I saw you last night!".  I about fell over.  Crazy surreal moment for me.  Below is a photo from backstage: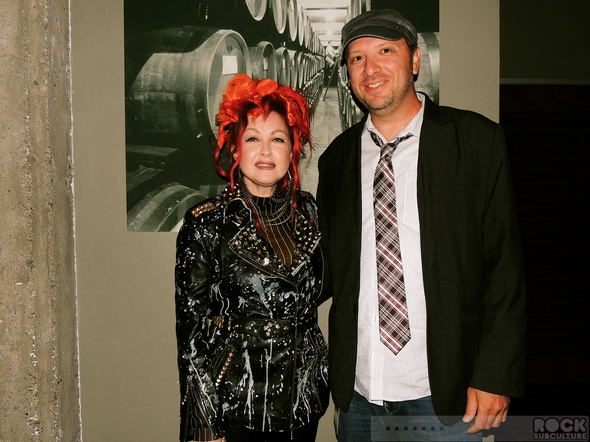 And I think her recognizing me – one random fan in a crowd at a show the night before – really affirms my somewhat speculative review published on that show…  as an artist, on stage, she is about connecting with her audience, and I think that follows her.  She is about people and experiences, and this tour is not just a celebration of her debut album from 30 years ago, but those experiences and relationships that went into making it, and those that followed her as a result of her success.
So again, this is more of an addendum to my full review from the night before – comparing and contrasting the actual show – more than a full, stand alone review.
One big difference between the shows… time.  The show at Mountain Winery last night was running late, starting closer to 9:00 than the planned 8:20/8:30, and ended I think at about 10:30, which is when I suspect Mountain Winery has to shut it down.  So while the Sacramento show was more relaxed a leisurely, I got the sense that this one was more on point due to the loss of 20-30 minutes from the overall running time.
Compared with Sacramento, there was much less time for the stories, but I think she was more concise with it as well, so the changes were more in vibe and delivery than content.
As I mentioned, the music itself felt more rocking, while the prior night it felt more intimate.  Both are great, so I was glad to see two different sides to the tour.  I wonder if part of it is indoor vs outdoor, or maybe it was because at the Crest, it immediately turned into a GA standing free for all against the low stage, and was much more interactive in that way, while at Mountain Winery there is that distance between the front edge of the stage and the front row seat?
I know from experience at the Crest that by the nature of the set up the audience immediately in front of her was lit up, so she could see our eyes and expressions, etc. (which is how she immediately recognized me at the meet and greet from the night before, since I was right up front).
At Mountain Winery, it was more like a performance, and for certain songs, it worked a little better.  I think their performance of "She Bop" was the best I've seen (and I've gone to a lot of Cyndi Lauper shows going back more than 20 years).  It was amazing!  It's one of my favorite songs (not just among Cyndi Lauper's own work, but everyone).  It is such a rocking, high energy song, and they totally killed it on stage last night.  And funny enough, it was probably the only troubled song at the Crest the night before, as Cyndi seemed to have some kind of audio/monitor issue throughout.  At Mountain Winery, it was brilliant.
I think some of the softer ballads worked out better at the Crest, for the reasons mentioned about, but now we are talking more nuance…  really it was phenomenal at both venues, night to night.  But…  the solo version of "True Colors" at Mountain Winery was equally amazing though very different from the Sacramento version.
The only real disappointment I had is that "Change of Heart" wasn't performed either night due to time constraints (it was on the set list both times), and that's one of my all-time favorites, so I'm still longing a bit to experience that one live again.
Below is my recollection of what was actually played at the Crest last night (two songs omitted due to lack of time)…
Setlist:
Money Changes Everything
Girls Just Want To Have Fun
When You Were Mine
Time After Time
She Bop
All Through The Night
Witness
I'll Kiss You
He's So Unusual
Yeah Yeah
Encore
As mentioned, I skipped photos this time around, but have several posted in the review from the Crest Theatre in Sacramento at that show.
Jason DeBord