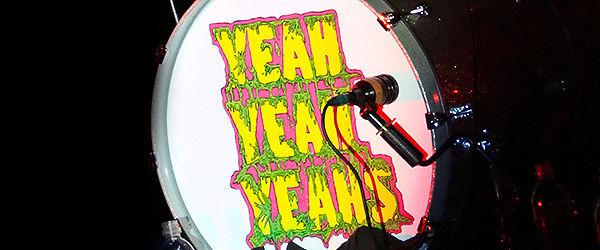 "We were just having a conversation back stage – I'm not fucking with you – best Vegas show ever!"  A sentiment expressed by Karen O, upon returning to the stage for the encore, leading out with "Zero".  I think many of the fans in attendance for the show were in agreement.  Las Vegas seemed to be a well-suited city to host Yeah Yeah Yeahs Saturday night as they hit a handful of U.S. venues as well as headlining Coachella appearances supporting their fourth studio album, Mosquito, due out this week.  Yeah Yeah Yeahs, fronted by Karen O, share much with Vegas… both exhibiting glitzy style, extroverted personality, edgy sensibility, and non-conformist attitudes.  Atop the fourth floor of the Cosmopolitan, at their Boulevard Pool concert venue overlooking the Strip as well as other sights, such as the faux Eiffel Tower at the Paris resort, the band played through old and new material in the open air concert space, broadcast to the packed house as well as anyone down on the Strip who cared to watch on the giant video screen to the side of the stage.  Blown up on the billboard-sized screen, Karen O put on his own waterworks show – taking large swigs of water and spitting it into the air – that rivaled anything that the stuffier Bellagio might offer with their famous water feature attraction outside of the hotel.  Book ended by their two weekend Coachella appearances, I was thrilled to see the band do their thing away from the massive music festival, and based on the reaction of the audience at the Cosmo, I was not alone in those feelings.

Who: Yeah Yeah Yeahs
Who: Deap Vally
Venue: The Boulevard Pool at The Cosmopolitan of Las Vegas
Where: Las Vegas, Nevada
When: April 13, 2013
Seating: General Admission Standing

As explained in my review just a couple of days ago (for the appearance by Johnny Marr and New Order at the same venue), The Boulevard Pool at The Cosmopolitan in Las Vegas is a concert venue unlike any other, and well worth experiencing if you ever get the opportunity. The sprawling, multilevel outdoor pool area on the third floor of the resort and casino overlooks the Vegas Strip, and a stage is erected at one end, with live video of the show fed onto their giant screen above. Really, anyone down on the Strip can full enjoy the sights and sounds.
Being that we are fully into warmer weather (though it is pretty close here in Las Vegas already), the configuration for the show last night allowed for a larger audience, as forms were placed in the pool (in lieu of filling it completely with water), making for a much larger GA floor space in front of the stage than when I saw GROUPLOVE at the same venue last year.
Unlike the other shows I attended in Vegas in the past few days (in addition to Yeah Yeah Yeahs, the aforementioned New Order & Johnny Marr, as well as Garbage the night prior), this was the first show that I found that had a major of Vegas natives, rather than being dominated by fans who drove or flew in from other cities, states and countries, at least based on my informal polling of fans in attendance.
As with New Order, pro photographers were approved to shoot the headlining act only, so funny enough when I went in as a fan I ended up in exactly the same spot in the GA area right in front of the stage where I had been for New Order/Johnny Marr – about three people back just to the left of center mic, looking at the stage.
The audience most definitely skewed younger – I would say a good 75% of the audience were fans mid-20s or younger.
In fact, one young man in front of me did not come out for Yeah Yeah Yeahs but opener Deap Valley.
Deap Vally
I wasn't familiar with Deap Vally prior to this gig, but the female rock duo certainly make an impression coming out onto the stage, with scantily clad guitarist/singer Lindsey Troy wearing "Daisy Dukes" and red-head Julie Edwards sitting down at her drum kit.  In terms of the music, they immediately bring up thoughts of The Black Keys and The White Stripes with their stripped down, blues rock-sounding garage sensibility.
At ease on stage (even after Lindsey broke a string on her guitar during one of the songs, the two were quite engaging with the audience, participating in some back and forth banter.
Given their sound and style of music, I found them to be an excellent compliment to Yeah Yeah Yeahs as supporting group, and they definitely served their role in getting the audience moving and excited about the night of music ahead.
The band are currently working on their debut album, but they put out an EP – Get Deap! – just a few weeks ago, and it can be purchased on iTunes as well.
They are definitely worth checking out.  Below are a few photos taken with my pocket camera from the GA area in front of the stage: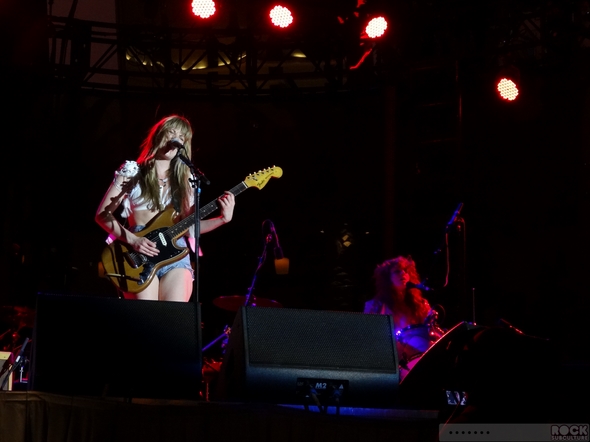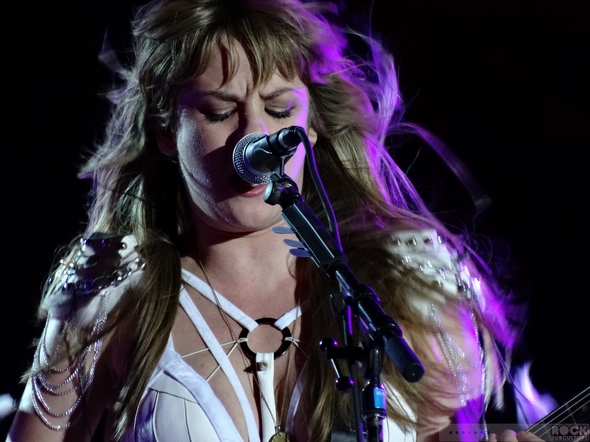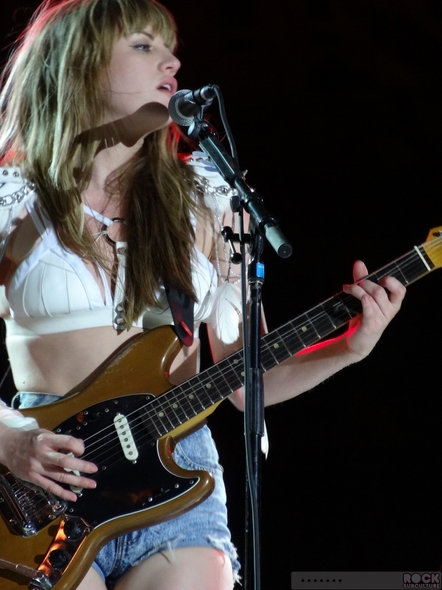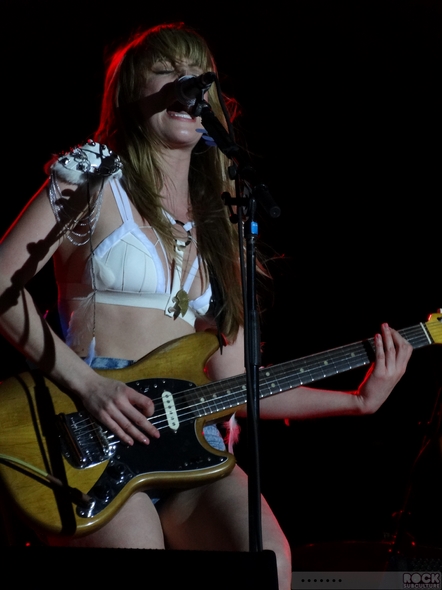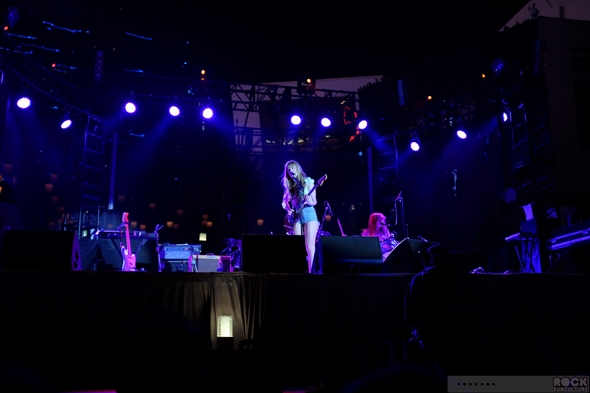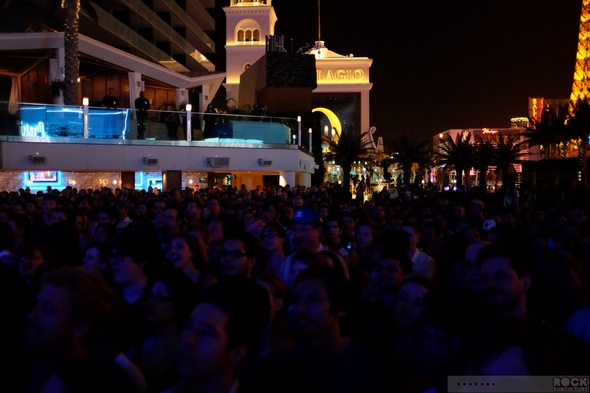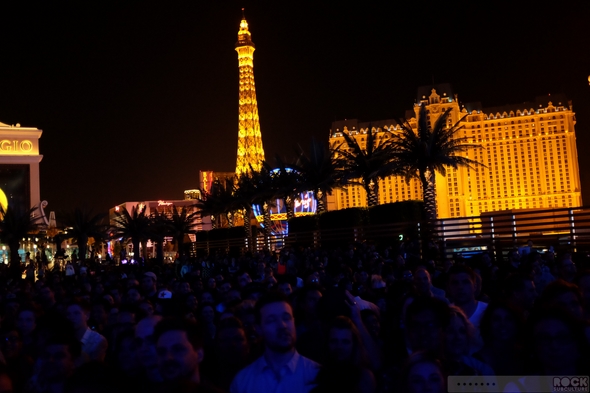 Yeah Yeah Yeahs
Yeah Yeah Yeahs are Karen O, Nick Zinner, and Brian Chase (with David Pajo accompanying on tour), an indie band formed in New York City.  The alternative/indie/post-punk band have been critically acclaimed and won over fans from the very beginning with their edgy yet poppy and catchy music spanning three studio albums going back to 2003, with the fourth, Mosquito, coming out this week.
The third single "Maps" from their first album, Fever To Tell, garnered radio play and is counted by Rolling Stone magazine as one of the 500 greatest songs of all time.
"Gold Lion" marked the debut of their sophomore work, Show Your Bones, in 2006, and overall the album received more accolades from the press and fans alike.
It's Blitz debuted in 2009, with singles "Zero", "Heads Will Roll", and "Skeletons".  While continuing with their trademark sound and style, their last album was a bit more rocking that the prior two.
With the upcoming Mosquito, they let out with a video for "Sacrilege", which is pretty dark, time jumping and creepy, somewhat in contrast with the upbeat and poppy song.  But the band has always experimented with exploring a variety of themes and ideas.
But it all comes down to the music, and the band came out with killer music at the start, and have never looked back… one of those rare groups who seem to be able to do no wrong, and always have quality music that evolves and improves over time.  As shared in my feature about their current tour leading up to this concert, they put out a preview of the entire album a few weeks ago, so fans could learn the new songs in advance of these concerts.
For their appearance at The Boulevard Pool at The Cosmopolitan, Karen O appeared to be having a wonderful time performing, full of energy and frequently smiling throughout the set.   While a bit on the short side, with just ten songs and a three-song encore, the biggest hits ("Gold Lion", "Heads Will Roll", "Zero",  "Turn Into", "Maps", "Date with the Night") were included in selections that featured a handful of new tracks as well ("Mosquito", "Under The Earth", "Sacrilege").
I had not seen Yeah Yeah Yeahs prior to this show, so it was awesome for me on a personal level to finally have an opportunity to catch one of their shows.  While there are some unexpected bits from the show, it all kind of fits what you might expect having listened to their music for many years.
Karen O is quite simply one in a rare breed of real "rock stars" performing today.  I can't imagine her doing anything else.  I was left wondering why they don't tour more frequently, in that they seem so well-suited for it and seem to enjoy it so much.  Much like The Pixies, they sound quite the same on stage as they do compared with their studio recordings.  But this is a band that needs to be seen live, as it builds on their amazing music by bringing it to life.
Below is the set list from the show at The Boulevard at The Cosmopolitan…
Setlist:
Mosquito
Man
Phenomena
Under the Earth
Art Star
Sacrilege
Gold Lion
Heads Will Roll
Turn Into
Runaway
Cheated Hearts
Encore:
Zero
Maps
Date with the Night
I was approved to shoot this show professionally, though as was the case with New Order and Johnny Marr two night's prior, the designated spot was on the upper balcony across the bulk of the audience standing below.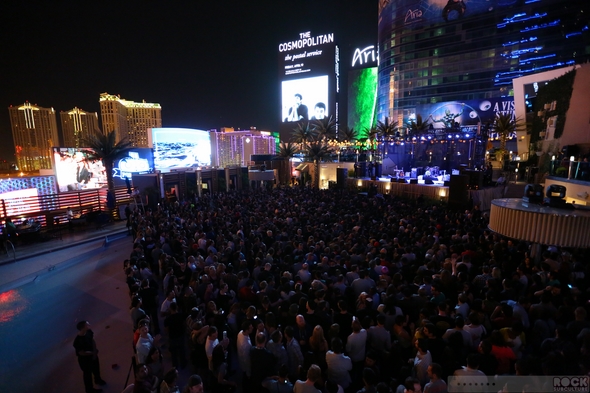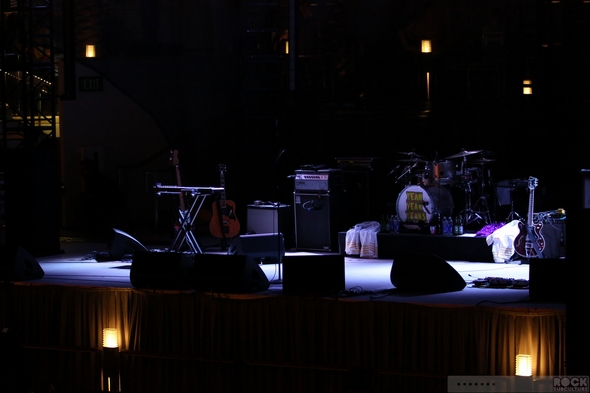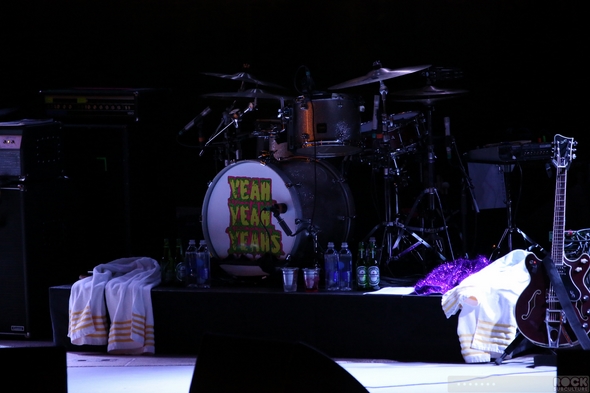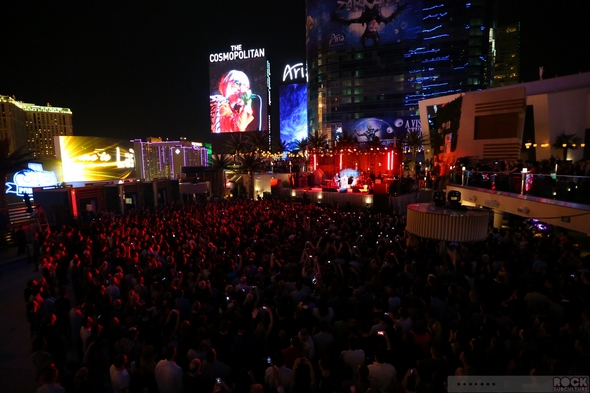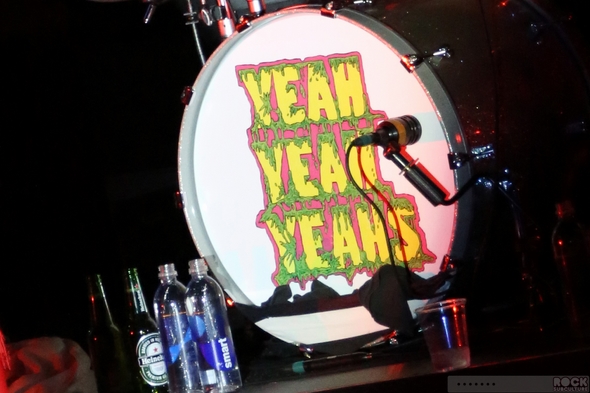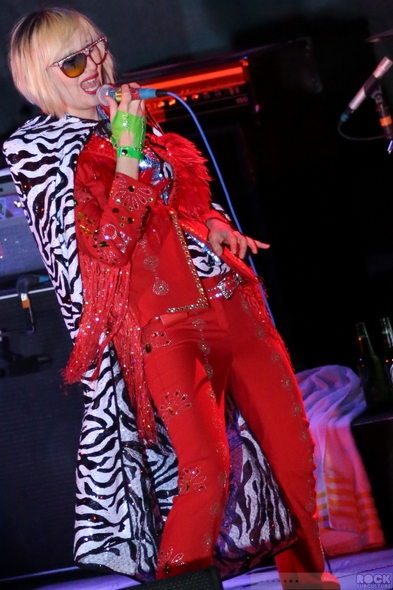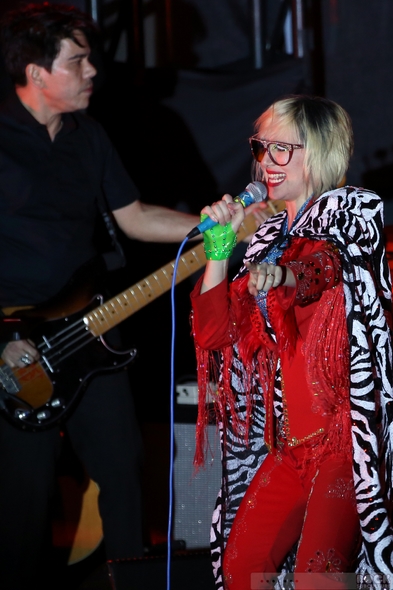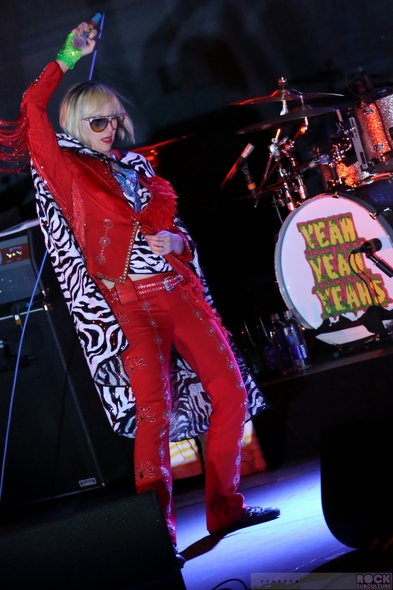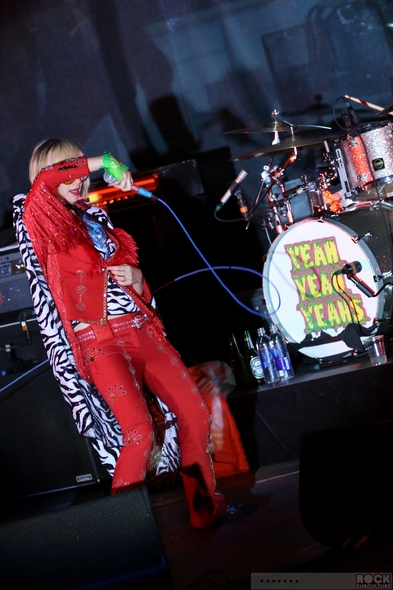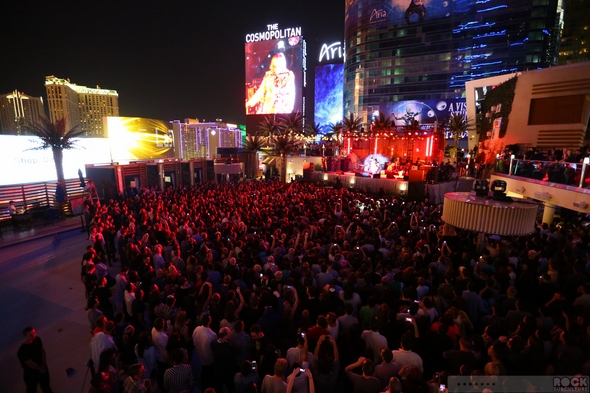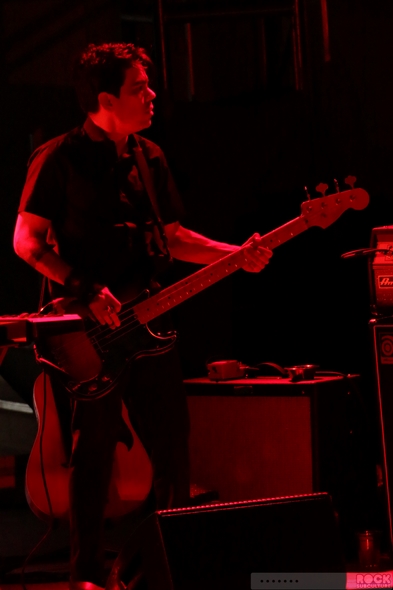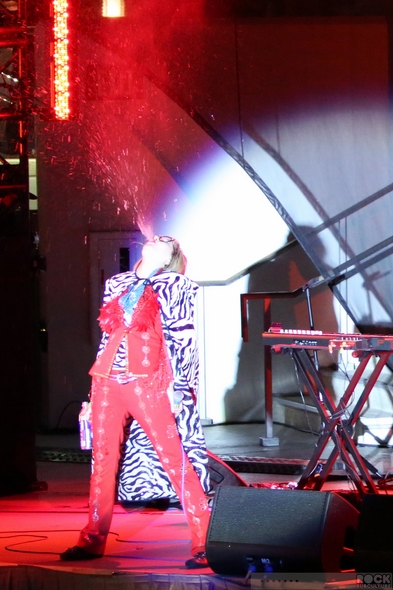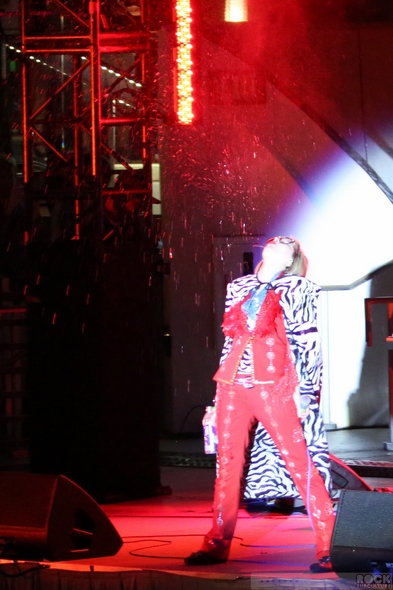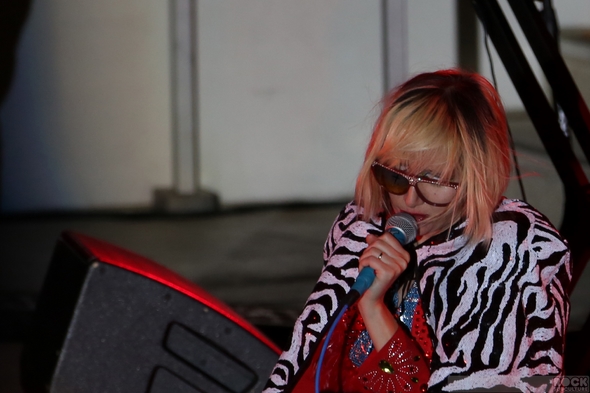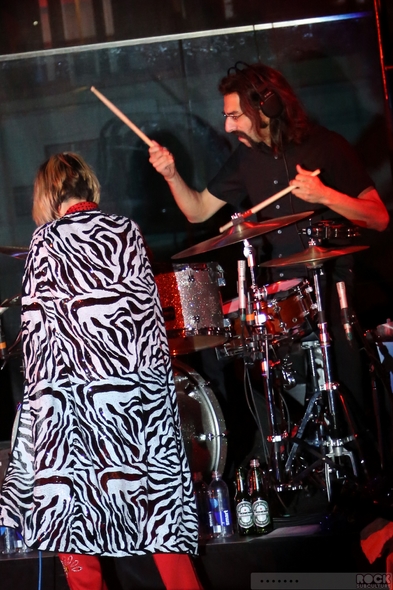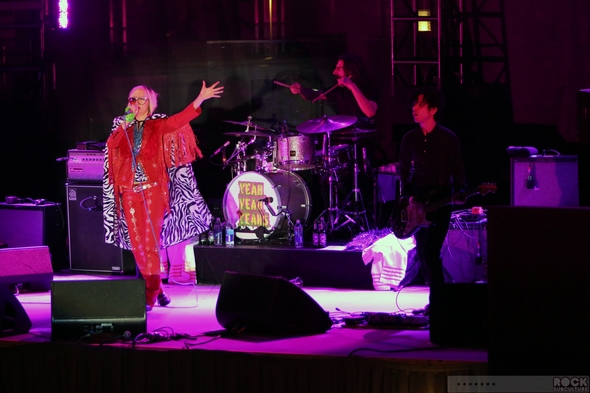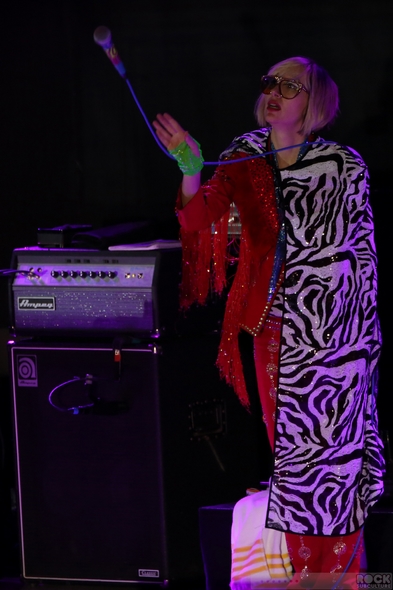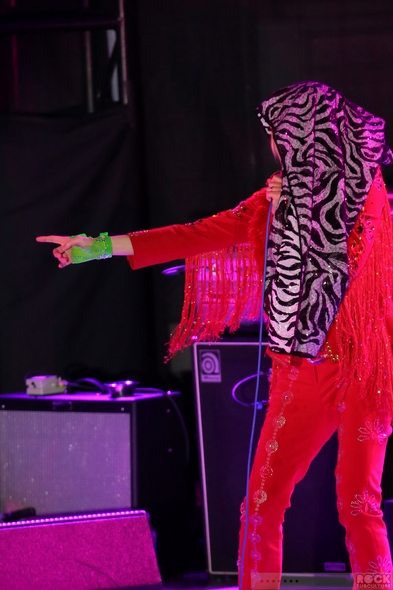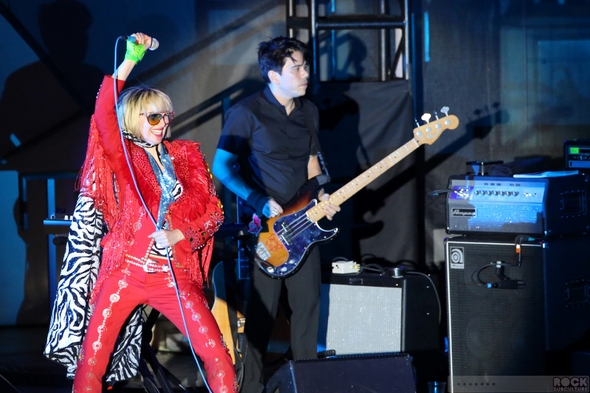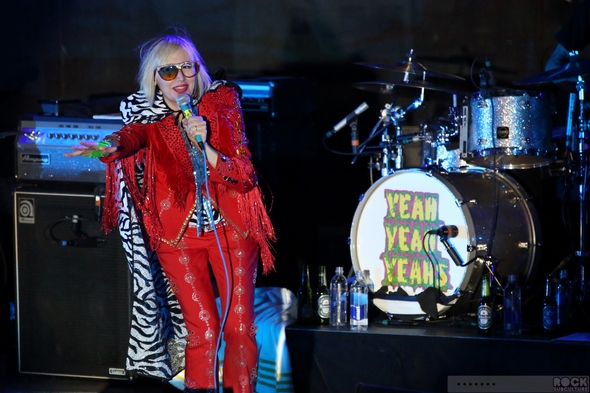 Jason DeBord