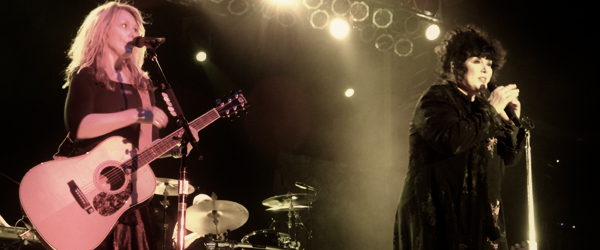 Heart with Ann and Nancy Wilson, recently inducted into the Rock & Roll Hall of Fame, will be taking their new album, Fanatic, out on the road for an extensive Summer tour, beginning in June.  In support will be Jason Bonham's Led Zeppelin Experience.  Special packages have been released for some of the dates via VIP Nation, with more to come soon.  These packages include up front seats as well as meet and greet opportunities with the band.
Full details can be found on the official site, www.heart-music.com as well as on www.VIPNation.com: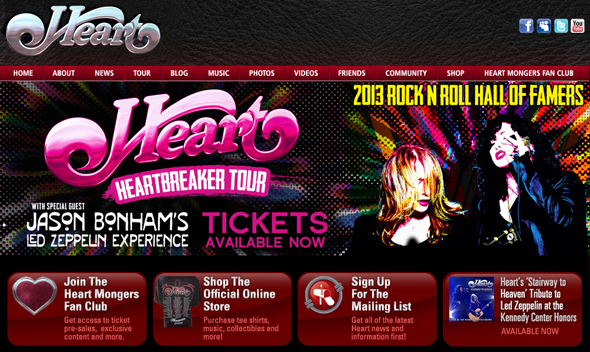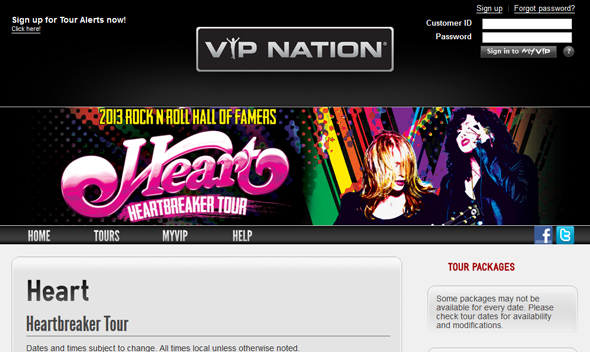 Below is the official press release in support of this tour announcement:
Heart Announces the HEARTBREAKER TOUR!

 "HEARTBREAKER TOUR"with special guest Jason Bonham's Led Zeppelin Experience

LOS ANGELES, CA – March 11, 2013 — 2013 Rock & Roll Hall of Fame inductees, HEART, will take their critically acclaimed live show on the road this summer with very special guest JASON BONHAM'S LED ZEPPELIN EXPERIENCE. Ann and Nancy Wilson first met Jason Bonham, son of famed Led Zeppelin drummer, John Bonham, when they performed "Stairway to Heaven" together at the Kennedy Center Honors tribute to Led Zeppelin in December 2012.   Over 6 million fans have watched the performance online and purchased the track on ITunes.  Now, in addition to a full set of Heart classic hits including "Crazy on You," "Barracuda," "Alone," "These Dreams," "What About Love," and many more, fans can experience this historical pairing live when Heart and Bonham close each show with a special thirty-minute finale tribute to Led Zeppelin.

Ann Wilson promises fans an incredibly special event.  "Nancy and I and the rest of Heart are thrilled to be playing with Jason and his band this summer. Awesome rock n roll music everynight…miracles apt to happen any old time."  Nancy adds, "It's not a tribute as we have the blessings of the gods themselves."

Jason adds, "What a great night it was for us at the Kennedy Center awards, and now to be able to do it again on the road with Ann and Nancy is such an honor for me. I am really looking forward to taking my Led Zep Experience show out this summer with Heart and to join them in a Zep-a-thon closing the show as well.  Just fantastic!"

                Tickets for the tour will go on sale beginning on March 22:

6/17                       West Palm Beach, FL                      Cruzan Amphitheater

6/18                       Tampa, FL                                             Live Nation Amphitheater

6/20                       Atlanta, GA                                          Chastain Park Amphitheater

6/21                       Charlotte, NC                                      Verizon Wireless Amphitheater

6/22                       Raleigh, NC                                          Time Warner Cable Music Pavilion

6/24                       Virginia Beach, VA                           Farm Bureau Live

6/25                       Washington, DC                                 Jiffy Lube Live

6/27                       Wantagh, NY                                       Nikon at Jones Beach Theater

6/28                       Boston, MA                                         Comcast Center – Mansfield MA

6/29                       Bethel, NY                                            Bethel Woods   Center for the Arts        

7/2                         Holmdel, NJ                                         PNC Bank Arts Center

7/3                         Philadelphia, PA                                Susquehanna Bank Center – Camden

7/4                         Uncasville, CT                                     Mohegan Sun Arena

7/19                       Detroit, MI                                           DTE Energy Music Theater

7/21                       Pittsburgh, PA                   First Niagara Pavilion – Burgettstown

7/22                       Cleveland, OH                                    Blossom Music Center

7/27                       Cincinnati, OH                    Riverbend Music Center

7/29                       Chicago, IL                                            Ravinia Festival

7/30                       Indianapolis, IN                 Klipsch Music Center

8/1                         West Allis, WI                                     Wisconsin State Fair

8/14                       Houston, TX                                        Cynthia Woods Mitchell Pavilion

8/15                       Dallas, TX                                              Gexa Energy Pavilion

8/17                       St. Louis, MO                                      Verizon Wireless Amphitheater

8/18                       Kansas City, MO                                Starlight Theater

8/20                       Denver, CO                                          Fiddler's Green Amphitheater

8/22                       Los Angeles, CA                                 Greek Theater

8/23                       Los Angeles, CA                                 Greek Theater

8/24                       Indio, CA                                               Fantasy Springs Resort Casino

8/26                       San Diego, CA                                     Open Air Theater

8/28                       San Francisco, CA                             America's Cup Pavilion

8/30                       Portland, OR                                       Sleep Country Amphitheater

 

A limited number of VIP experience packages with premium seating, exclusive music and merchandise, and a meet and greet with Ann and Nancy will be available for all shows.  Heart and Jason Bonham have each teamed up with VIP Nation to offer a variety of VIP Packages. For all of these details visit: www.vipnation.com

Ann Wilson and her younger sister, Nancy Wilson, first showed the world that women can rock when their band Heart stormed the charts in the '70s with hits like "Crazy on You," "Magic Man," "Barracuda," "Straight On," "Even It Up," "Kick It Out" and many more.  Not only did the Wilson sisters lead the band, they wrote the songs and played the instruments, making them the first women in rock to do so.  Heart continued topping the charts through the '80s and into the '90s with huge hits like "These Dreams," "Alone," "Never," and a string of other hits that showcased the sisters' enormous talents as both musicians and singers. Across four decades and 14 studio albums, Heart has sold more than 35 million records, had 21 top 40 hits, sold out arenas worldwide, and profoundly influenced the sound and direction of American rock music while inspiring women (and guys too!) around the world to rock out in bands of their own.

In 2010, Heart released its first album in a dozen years.  Red Velvet Car received both critical and commercial acclaim, debuting in the Top 10 in Billboard's Top 200 Album Chart.  In 2012, Ann and Nancy released a memoir, "Kicking & Dreaming: A Story of Heart, Soul and Rock & Roll," which became an immediate New York Times best seller.  They also released a definitive box set, "Strange Euphoria," a carefully considered anthology of biggest hits and best-loved songs set alongside deep catalog treasures, rarities, demos and live performances, on three compact discs and one DVD in a deluxe box.  In addition, they released a new album, "Fanatic," which features three hit singles, the title track "Fanatic," "Walking Good" featuring Sarah McLachlan, and "Dear Old America."  The Wilson Sisters were also awarded a star on the Hollywood Walk of Fame.

On December 11, the Rock & Roll Hall of Fame announced the induction of Heart.  The induction ceremony will be held in Los Angeles on April 18, 2013 and broadcast on HBO on May 18, 2013.
The Rock Subculture Journal will be covering the show at America's Cup Pavilion in San Francisco.
Click on the image below for the latest and up to date full Rock Subculture Journal schedule of pop and rock music concerts/tours coming up for review (2013 Rock Subculture Schedule):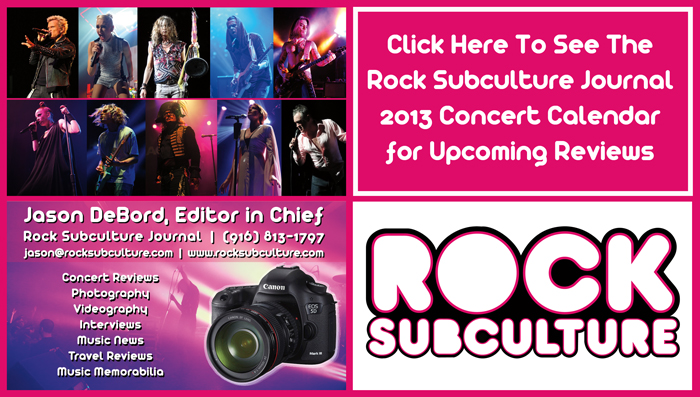 Jason DeBord