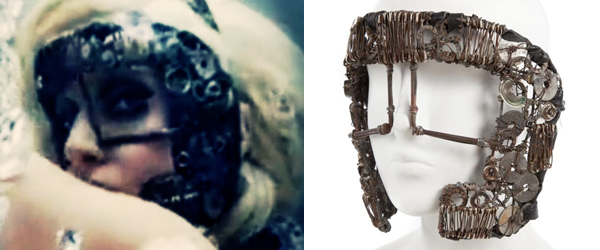 Julien's Auctions has published the online catalog for their upcoming memorabilia sale – "Icons & Idols – Rock N Roll", which will be held at their Beverly Hills gallery on December 1st and 2nd.
The catalog can be viewed at JuliensAuctions.com: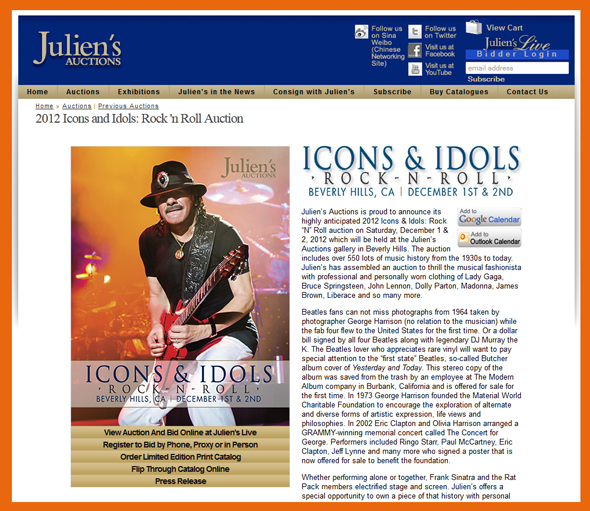 You can also view the flip catalog or download the PDF catalog here: LINK
Below is the official press release for the sale events:
For immediate release:

JULIEN'S AUCTIONS ANNOUNCES THE HIGHLY ANTICIPATED ROCK 'N ROLL AUCTION OF THE YEAR

ICONS & IDOLS 2012

Beverly Hills, California – October 30, 2012 — Julien's Auctions, the world's premier entertainment and music auction house announced its highly anticipated Icons & Idols Rock n' Roll Auction Event to take place at the Julien's Auctions Beverly Hills Gallery on Saturday, December 1st, 2012 and Sunday, December 2nd, 2012. Music enthusiasts, collectors and the curious will have the opportunity to bid on iconic music memorabilia dating back from the1930s to modern day. From the fascinating world of Lady Gaga to the historic legacy of The Beatles, this auction will be the Rock n' Roll auction of the year to watch.

Although today's generation will quickly remember Lady Gaga performing on stage in her now infamous "meat suit," it was in 1966 that The Beatles were photographed by Roger Whitaker wearing butcher coats with meat and doll parts surrounding them. This became the cover image for the Beatles' Yesterday and Today album though it was not originally intended for the cover of an album. It was immediately deemed unsuitable by DJs around the world and Capitol Records pulled the album. One copy, intended for the trash, was rescued by a Modern Album Company employee and stored away for more than 45 years. This first state stereo copy will be amongst the highlights of the Icons & Idols Music Auction (Est: $6000-8000).

Other highlights of the sale include a John Lennon shirt that he wore on a family vacation to Japan (Est: $15,000-20,000); a 1963 dollar bill signed by all members of the Beatles and legendary DJ Murray The K (Est: $2000-4000); photographs taken by Liverpool Echo columnist George Harrison (no relation to the musician) as The Beatles flew to America for the very first time (Est: $400-600, each); and a very special poster signed at the 2002 Concert for George memorial concert held at the Royal Albert Hall (Est: $1000-2000). Signatures include Ringo Starr, Paul McCartney, Jeff Lynne, Eric Clapton and other friends of George Harrison. The proceeds from the sale of this lot will benefit the Material World Foundation founded in 1973 by George Harrison.

Rock and Roll and a bit of country fashion will also be highlighted and include James Brown's stage worn white and orange gingham suit (Est: $600-800); Englebert Humperdinck's Las Vegas stage worn suit (Est: $1000-2000); Dolly Parton's 1976 stage worn dress (Est: $10,000-12,000); Liberace's album and stage worn suits (Est: $10,000-12,000 and $5000-7000); Whitney Houston's concert and event ensembles; Meat Loaf's embellished stage suits (Est: $200-400, each); and Porl Thompson's stage and video worn costumes (Est: $2500-5000).

In a a rare and remarkable offering seldom seen on the auction block, Lady Gaga's personal and professional clothing will also be auctioned. This includes four of the Lady's items. Greek designer Eddie Gavriilidis created the "Ecstasy" gown which Gaga wore while visiting a radio station in Omaha, Nebraska. The laser cut snakeskin and nude mesh dress bears a spot of blood where an over-enthusiastic fan scratched Lady Gaga in a throng of other fans (Est: $10,000-12,000). In the short film Manifesto of Little Monsters based on a text written by Lady Gaga, she appears in a variety of costumes including the clear mask (Est: $3000-5000); other head gear including a Frank Fernandez headpiece worn during the Monster Ball tour in 2010 (Est: $4000-6000); and a Keko Hainswheeler face mask worn by the singer in her video for the song "Bad Romance (Est: $2000-4000).

Other highlights will include Madonna's black bouffant dress worn by the mega-star for LIFE Magazine shoot with photographer Bruce Weber. The gown is accompanied by an original Bruce Weber photograph (Est: $40,000-50,000); Bruce Springsteen's personal stage worn clothing and hats (Est: various); jewelry including the Italian horn amulet he is seen wearing on the cover of his 1975 album "Born to Run," and as a tribute to the late Clarence Clemons, "The Big Man," a stage worn white, Homburg style hat (Est: $800-1200); personal items from Carlos Santana and his musician wife Cindy Blackman Santana to benefit their Milagro Foundation (Est: Various); 80 uniquely signed and specially designed guitars including those from Thin Lizzy, Alice Cooper, Aerosmith, Bon Jovi, Anthrax, Slayer, Lizzy Borden, Metallica and many others which will benefit Ronnie James Dio's "Stand Up and Shout" charity and in part, the Asian Elephant Art and Conservation Project; U2's the Edge personal stage worn Converse tennis shoes along with a photograph of him on stage wearing the shoes throughout the U2 360 Tour (Est: $800-1200), a Mick Jagger signed Baldwin piano fall-board and bench (Est: $3000-5000), a pair of Les Paul limited edition Thiel speakers (Est: $1000-1500), signed items by Led Zeppelin's Robert Plant and a personally owned and played Bryan Adams guitar (Est: $1000-1500); and a pair of guitars signed from Green Day (Est: $800-1200). U2's the Edge and his friends have contributed these items which will benefit Music Rising, an organization co-founded by the Edge in 2005 after the devastation of Hurricane Katrina which has since continued to support the musical heritage and needs of the Gulf South.

The auction will include a spectacular collection of over 450 items and will provide collectors around the world the rare opportunity to take home Rock n' Roll history. All of the property in the auction will be featured in a full color limited edition catalog available for purchase at www.juliensauctions.com for $50.00.

FREE PUBLIC EXHIBITION
Monday, November 19th – Friday, November 30th
(10:00 a.m. – 5:00 a.m. P.S.T. Daily)

LIVE AND ONLINE AUCTION

Saturday, December 1st
Session I: 10:00 a.m. P.S.T.
Session II: 2:00 p.m. P.S.T.

Sunday, December 2nd
Session III: 10:00 a.m. P.S.T.

Exhibition and Auction Location
at Julien's Auctions Beverly Hills
9665 Wilshire Boulevard, Suite 150
Beverly Hills, CA 90210

Registering to Bid
Registration is required to bid in this live auction and can be done in person at the exhibition and auction, or online before the sale at the JuliensAuctions.com Registration page to bid by phone, proxy or in person, or online at JuliensLive.com to bid live online, or by calling (310) 836-1818.

Placing Bids
There are four ways to bid in this sale:

Bid through Julien's Auctions Online Live in Real Time at JuliensLive.com.
Place bids in the room by attending the auction.
Bid over the telephone through an auction house representative, who sits in the room and conveys the bid to the auctioneer.
Enter Absentee bids. Absentee bid forms are printed in the back of each catalogue, and are also available by calling Julien's Auctions at (310) 836-1818 or online at juliensauctions.com at our Register to Bid page.

About Julien's Auctions
With expertise specializing in entertainment memorabilia, Julien's Auctions has quickly established itself as the premier auction house in high profile celebrity sports and entertainment auctions.  Julien's Auctions presents exciting, professionally managed and extremely successful auctions with full color high quality auction catalogues unlike any other auction company.  Previous auctions include the collections of Cher, Michael Jackson, U2, Barbara Streisand, the estate of Marilyn Monroe, Bob Hope, Les Paul and many more. Official website is www.juliensauctions.com.
Jason De Bord