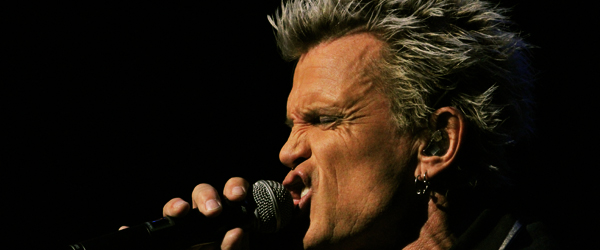 "Thank you, Eugene, Oregon, for making my life so fucking great!"  That's Billy Idol for you.  Billy Idol connects with people, and appreciates his fans.  He connects with people via his music, of course, but in a live performance, he does more than that…  and just as his language is uncensored, so are his connections with people.  As soon as he comes out onto the stage, his eyes dart about the audience, and you see him make these connections.  He seems to have an innate ability to connect with fans, and give them something back that suits them – a grin, a smile, a point with his finger and nod, a wry look, wide open eyes, the famous lip curl… 
I've been to a lot of Billy Idol shows (including the "Birthday Party" show a few nights ago in Seattle).  Last night, at the Hult Center for Performing Arts in Eugene, Oregon, I caught a different moment, one that stuck an interesting contrast with the show the other night with Billy Idol singing "happy birthday" to an emotionally jubilant 26-year old Michael Henrichsen brought out onto the stage to bear witness to an awesome event that came about from his own personal dreams and efforts.
In Eugene, it was a quiet aside that I happened to notice, just because I was sitting next to another man having a special moment who had bought the adjacent seat in the second row.  That man, George, was having the time of his life rocking out to Billy Idol.  The coolest thing about George is that he is 80 years old, and he knew the music and was taking in the experience as much as anyone else in the venue.  But there was this special moment and connection that Billy Idol had with him as he performed and came over to our side of the stage – a look – that seemed quite different, and though I can't begin to describe it, it was quite cool, and for me illustrated perfectly how much Billy Idol appreciates his fans, feeds off them in his shows, and, in the case of George in particular, holds them in some special esteem and respect.  Anyway, it was an awesome, awesome concert, and it's really those special moments that we fans can hang onto after the curtains figuratively come down and we reflect back on epic concerts like the ones Billy Idol and his band bring to us.
Who: Billy Idol
Venue: Silva Concert Hall, Hult Center for the Performing Arts
Presented By: The Shedd Institute
Where: Eugene, Oregon
When: October 28, 2012
Seating: Section Orchestra, Row BBB, Seat 302 (second row orchestra, right side; also photo pass first three songs from Row H, Seat 309 – 11th row right side)
Members
Billy Idol
Steve Stevens (lead guitar)
Stephen McGrath (bass guitar)
Billy Morrison (rhythm guitar)
Erik Eldenius (drums)
As noted, Billy Idol performed a very special show in Seattle Friday night (see Billy Idol at Showbox SoDo | Seattle, Washington | 10/26/2012 ("Play My Birthday Billy Idol dot com" Concert)), and this was put together as a second one off show in the Pacific Northwest (and just the third U.S. performance this year, the other being a special appearance at a MusiCares event).
For me, this review is kind of a "Part 2" to the Seattle show, since I traveled to both.  So I would recommend reading that one first for context, as I don't want to simply repeat a lot of it here…
So continuing from that awesome event…  I had a pretty interesting day yesterday (and the preface will sound a bit mundane, but I will get there)…
I had booked a flight from Seattle to Eugene for the show later last night.  I got to the airport several hours early, and waited at the gate as instructed by the airline rep that checked me in and took my bag.  It was about boarding time, and nothing was happening…  so I asked the agent at the gate about it.  Long story short, I really screwed up and booked a flight departing at 11:00 PM instead of 11:00 AM…  in trying to get on the next flight to Eugene, I missed that as apparently with Alaska Air they can't make changes at the airport… you have to call them on the phone (and by the time I got to a human being, the gate had closed).
So I ended up finding a round about way to get to Eugene… not direct, but flying to Portland first, then Eugene (and it cost me an additional $230).  So I ended up doing that, and flying into Portland.  I got to the gate in Portland, to catch the next flight to Eugene, and went to the gate agent desk to make sure I had a seat (now I was really paranoid about missing the flight and the concert).  So there was a small group of people in front of me, and I think I was in kind of a haze, and I noticed one of them had a guitar case…  I look up, and it's the legendary Steve Stevens! 
I think it took a moment to register in my brain.  To me, the man is an icon, and he is a huge part of the music that I love, and he is a brilliant guitarist and musician.  The downside is, I really don't like to bother celebrities "in the wild", so to say (i.e. not at a venue where they are performing, or an event or the like).  At the same time, it was Steve Stevens!  So I just told him that I am a big fan, and that I shot the Seattle show and was shooting the one that night.  He kindly shook my hand and was very gracious, and that was more than enough for me.  The funny thing is, I was so surprised to run into him, I didn't notice that Billy Morrison was standing right next to him (his back was turned).  They all ended up next to me in line to board the plane later though, so I got to say hello to Billy Morrison as well, and let him know I'm a fan of his work.  Funny enough, some time later, Billy Morrison and I were checking in at the same hotel at the same time too (I promised him I wasn't a stalker).
Anyway, I guess I should begin to be less surprised to run into music artists that I follow show to show, as this wasn't the first time (Chris Martin was on the same train and me and friends going from London to one of their gigs in Liverpool a few years ago).  It definitely adds to the experience.
One nice thing about the venue for this concert – The Hult Center for Performing Arts – is that there is a Hilton Hotel adjacent to it, so it is an awesome place to travel to for concerts if you are from out of town – very convenient (assuming you don't bungle your flight bookings).  I had the pleasure of working with the promoter, The Shedd Institute, and the venue staff at the Hult Center due to my request for photo credentials to shoot the show, and publish some photos from this event along with my review.  Really super nice and professional people all around, and I hope I have an opportunity to come here for another event in the future and work with them again.  It's a beautiful venue inside and out, and reminds me somewhat of the Mondavi Center in Davis, CA.
There is a nice open area at the front of the venue, and prior to doors, I mingled with some of the other concert goers.  One of the first people I met was George, who I referenced in the opening of this review.  Sweet man, with aglow about him, from the excitement of being at a Billy Idol concert.  I really enjoyed chatting with him.
In terms of logistics, for shooting photos, I was positioned in about the 11th or so row on the lower level, just as I would be out of other guests way there, since the venue is not set up with a security/photo pit like with the Seattle show, where I was literally at times no less than one foot away from the artists on stage).  As such, my photos are somewhat limited for this review, as I had to shoot through an excited crowd (with fists pumping abound) with a very, very long lens (up to 640mm equivalent) and given the layout and lighting, couldn't get any shots of Erik Eldenius and very few of Steve Stevens (though I got many of Mr. Stevens at the Seattle show, as he was right in front of me).
In any event, once the first three songs were over, I made my way down to the seat I purchased in the second row, off to the side, in front of Billy Morrison.  And who is in the adjacent seat?  George.
I don't know if I believe in fate, but all laid out, it was a pretty funny day filled with interesting coincidences.
And I have to say, I think George was having more fun than anyone in the venue, pumping his fist along with "Flesh for Fantasy" and fully enjoying the music and spectacle, and thrill of having Billy Idol and his band right in front of us performing.  And it was pretty adorable that he would occasionally bump me with a fist pump or dance move, and then kind enough to make sure he didn't hurt me.  I love this guy, and would take him to any concert with me that he'd want to attend.

And for me, on a personal level, the concert experience itself was pretty much a complete flip of my Seattle experience. 
In Seattle, I was in the photo pit for the first three songs (literally leaning against the stage), a photo pit filled with tons of mainstream media like ABC News and the like), and once that was done (which I mostly viewed through my camera lens, not with my naked eyes), I moved to the back of the venue just to get out of everyone's way in the GA standing event, and took in the audience as much as the band for the epic event.
In Eugene, I started from the back with the first three songs (again, mostly through my lens, but taking in the crowd), and then moved down to the very front to truly enjoy the show "close up" on a personal level.  So very different experiences, but loved them both.  But…  last night in Eugene, I really got to fully "embrace" some of my favorite songs from growing up… 
"To Be A Lover"  This is one of my all-time favorite songs – not just Billy Idol – all artists.  And as far as I know, this hasn't been in rotation for the longest time, until these two Pacific Northwest songs.  Probably because it is a song with female backing vocals, and the band hasn't been touring with a female vocalist.  However, Stephen McGrath fills in nicely (just as he does on another one of my all-time favorite songs, "Eyes Without A Face").  I am soooo glad they are doing this song live, as it is an awesome song, and the rendition that they are doing is brilliant.  Having said that, I would love to see them tour with Stella Soleil to fill in on the female vocals (and add "Hot In The City" to the rotation), though that combination might melt the stage…  can't recommend enough picking up the VH1 Storytellers DVD.
Speaking of set lists… another funny moment in the concert…  Billy Idol usually brings cool things to his shows to give out to fans – at Mountain Winery shows I've caught his flying autographed paper plates, picks, and have been personally handed an autographed setlist by Billy Idol.  So last night in Eugene, he pulled out a stack of maybe a dozen or so pre-signed set lists, and handed a few out… then he gets to me, and reaches out and hands me the remaining half of a stack!  I tried to take just one, but he just handed me all of them, so I kept one and gave away the others to fans nearby.
Getting back to George, he also managed to score a stage used set list after the show, so here is the full set list, courtesy of him:
And I just had to ask George if I could take his photo for my article, and while he was agreeable, he tried to unsuccessfully recruit one of the security staffers to share the frame with him, so it is just pure George with the Billy Idol stage as backdrop: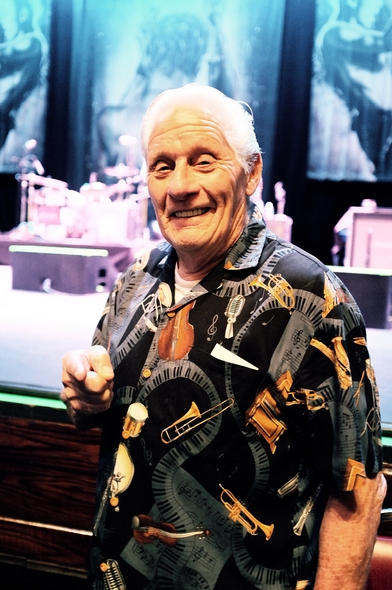 As a new friend I met at the Seattle show wrote on my Facebook wall tonight, "the thing about music is that there is no age limit on it".  Isn't that the truth?  And it's artists like Billy Idol who prove that time and again.  And I think that speaks to both the music and the artist.  It is interesting to me that an artist who started in a punk band more than three decades ago has created classic music that not only stands the test of time, but transcends genre with very broad appeal.  Conversely, with new music today, it's tough to hold a niche market for any length of time, and newer generations have shorter attention spans and don't seem to have the same innate sense of nostalgia that I know I have from growing up in the 70s and 80s.  Could any new artist today hope to be in the equivalent position that Billy Idol occupies now, when they think about what life will hold for them 30 years from now?  I just don't see it.  And we all know what Dylan said about The Times.
If I'm really going to generalize, I've found people tend to veer toward one category or another, when it comes to the success of others…  some have an instinct to tear them down, and others get gratification out of seeing others do well and have success, and sincerely cheer them on.  I have always gravitated to the latter – I actually like to see others do well, and kind of vicariously share in their success.  I felt a bit of that with Michael at the Seattle show, with his seemingly crazy and impossible dream becoming a reality right before his eyes.  I love to see Billy Idol and his band work their crowd of fans from the stage; that awesome mutual give and take from awesome concert events.  And it was cool for me, to see the concert a bit from George's eyes, and that moment he and Billy Idol seemed to share during the show.  All very cool stuff.  And I do feel bad for those who miss these shows, or maybe just don't even "get it".  It really doesn't get any better, in terms of live music concerts, than Billy Idol and his awesome bandmates, and I hope that they do more touring in the U.S. next year.  I think these two Pacific Northwest shows prove that there is a huge demand for it, so I hope it will be fulfilled, and I will continue to see as many of these shows as I can.
The last memories from this show was chatting to a mother and daughter that came together to the show, and who go to a lot of concerts together, so we had a lot to talk about.  And it made me think of Michael from the Seattle show, and reading some of the interviews with him and his connection with this 80s music and his mom.  Another cool aspect of 80s music, and how it is cross generational and special, and I think reflects the last era of (comparatively) more simple times. So as we were standing out there, no one else within eye shot, Billy Idol left the venue and was walking past us toward the hotel.
What do you say to someone who's art has dramatically affected your life (in a positive way)?  Whose songs have helped you to capture special moments in your childhood, sort of functioning as a soundtrack to your life, and permanently hard wiring some nostalgic and happy memories into your brain?  All I could come up with was "awesome show" and "thank you".  Not very articulate for such a moment and opportunity, but hopefully Billy Idol realizes that when he hears such throwaway lines, there is much more meaning and history to them.  Just as I think his frequent sentiment expressed at his gigs – "Thank you for making my life so fucking great!" – probably has more meaning for him than maybe his audience realizes.  But than there are those unspoken, indescribable moments between he and audience, when he's in the zone and on the stage, and I think in those moments, we all get it.  Just like George does.
Below are some photos from this Billy Idol concert in Eugene, Oregon (again, apologies for the partial coverage):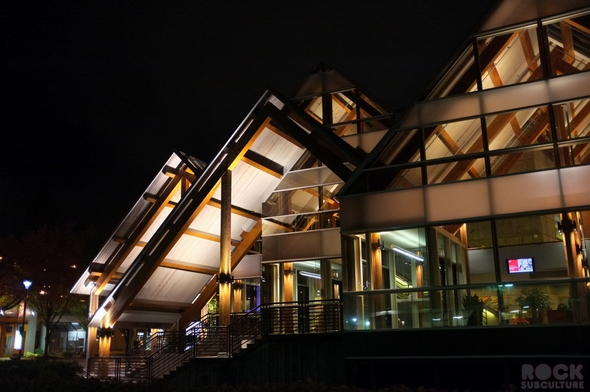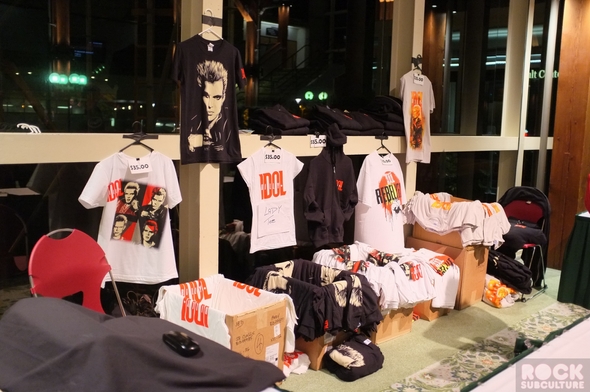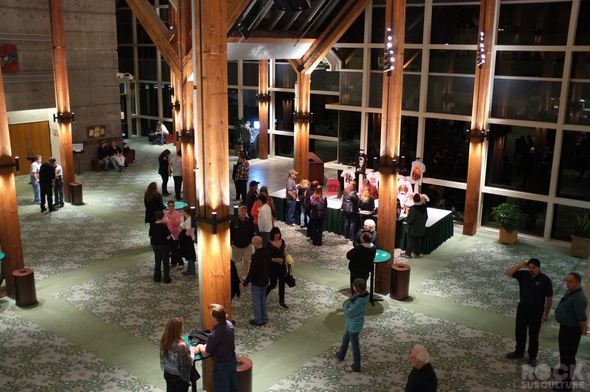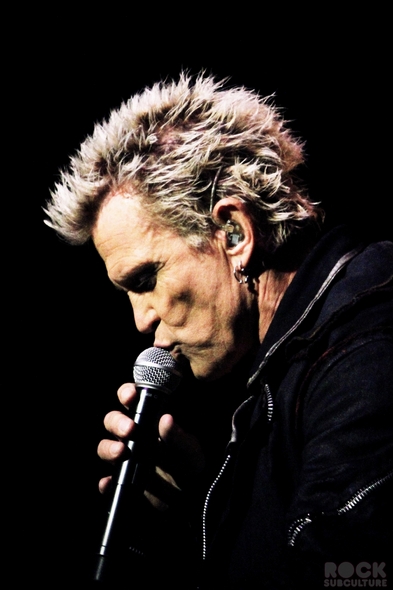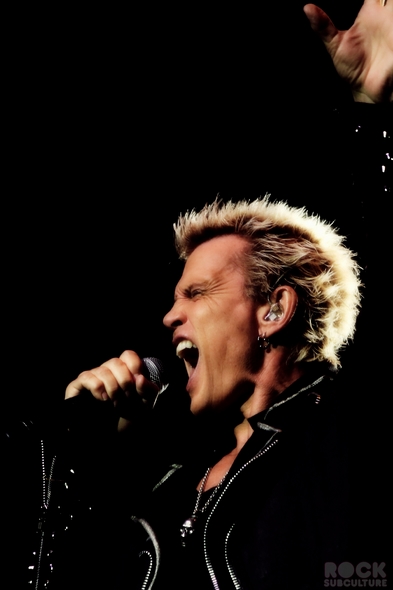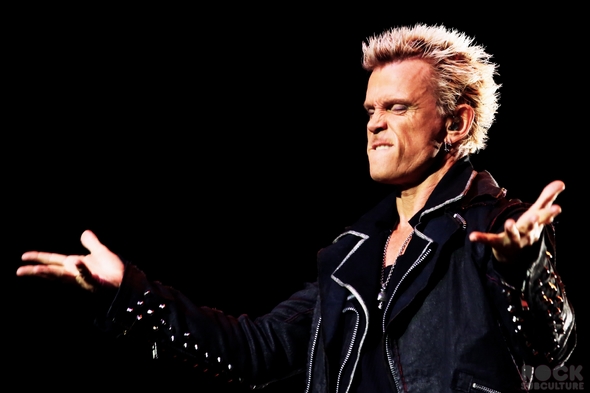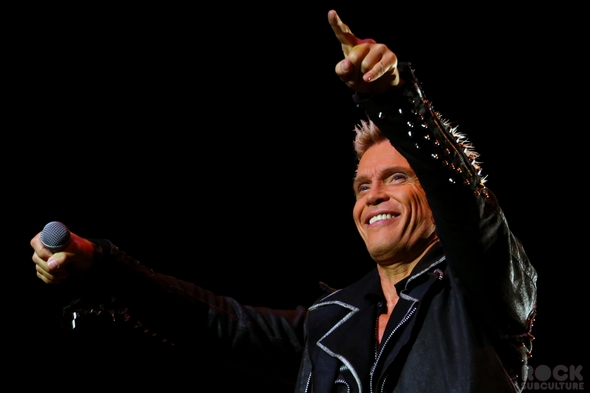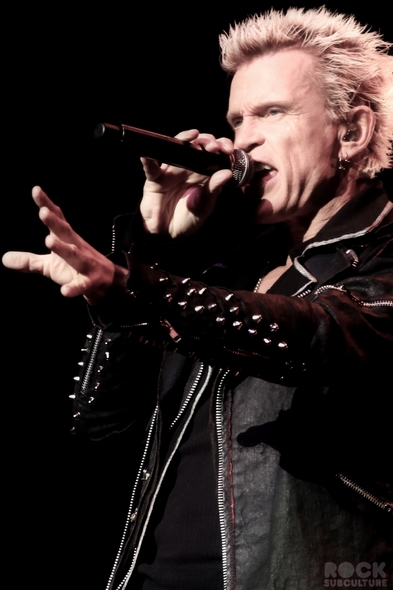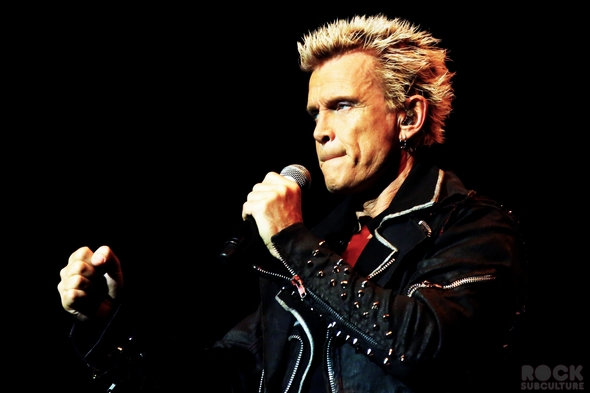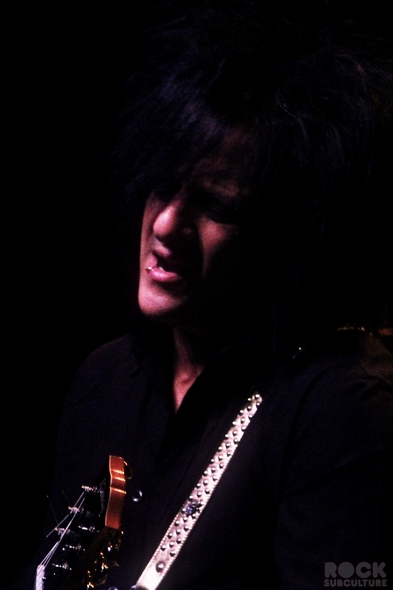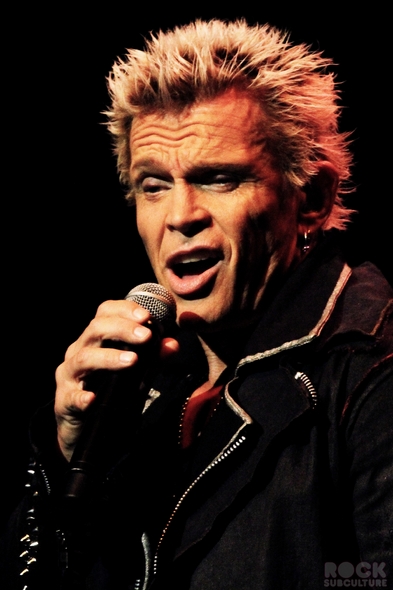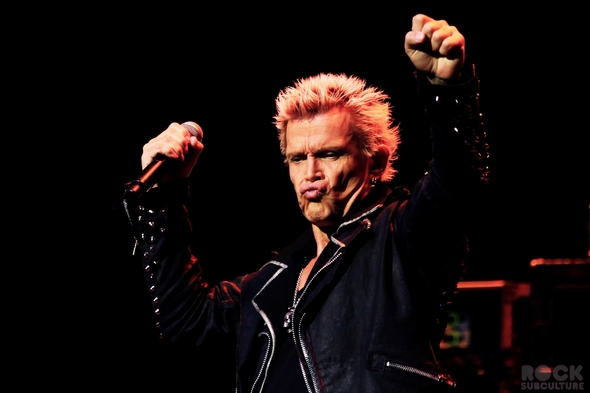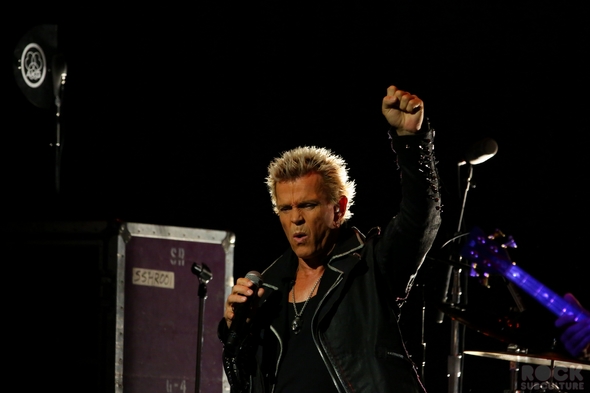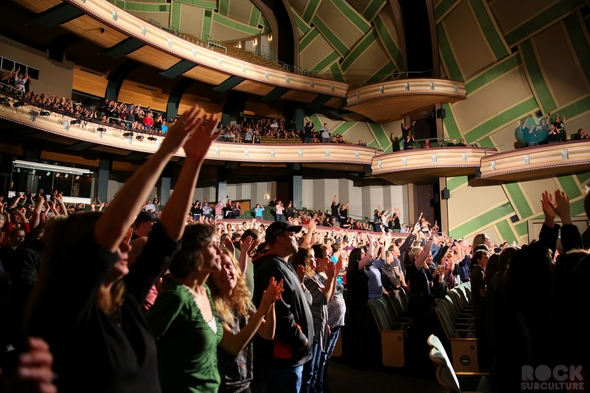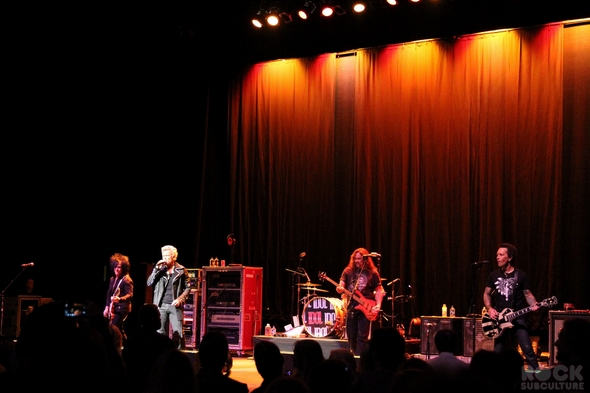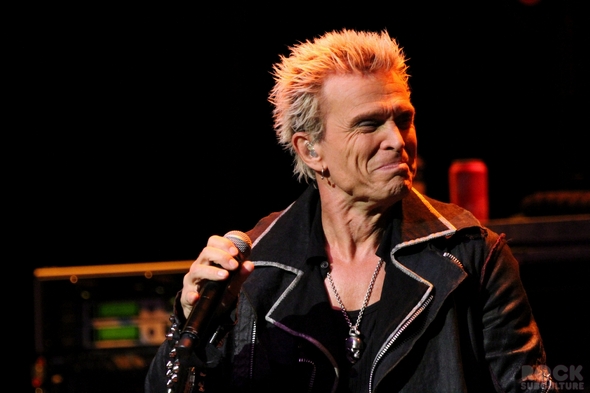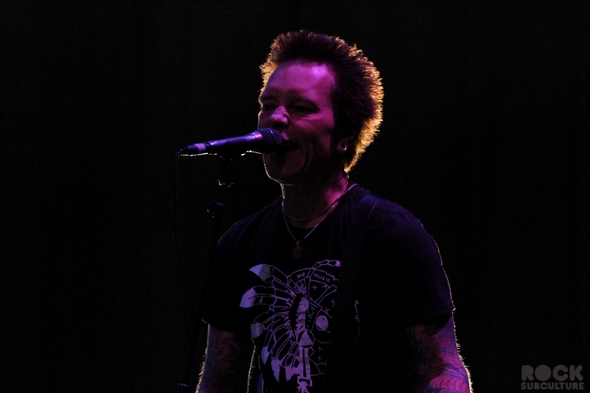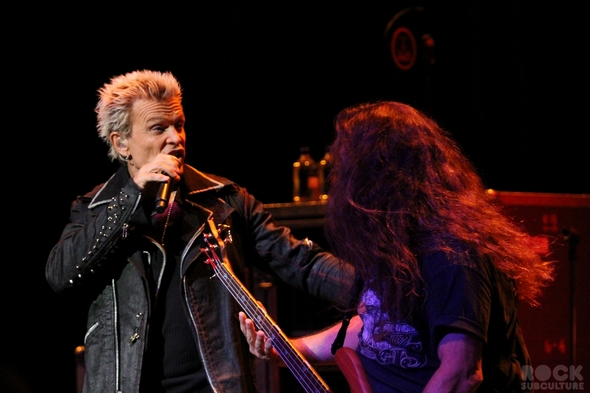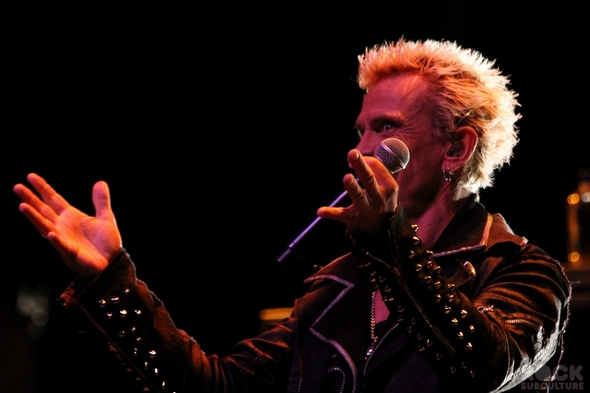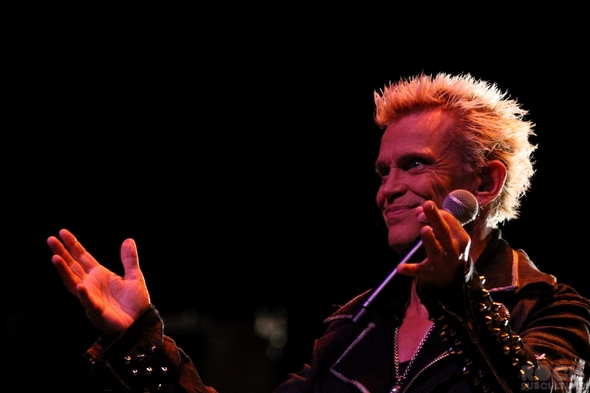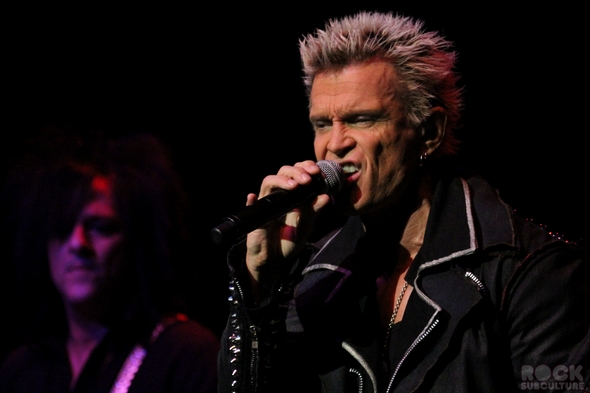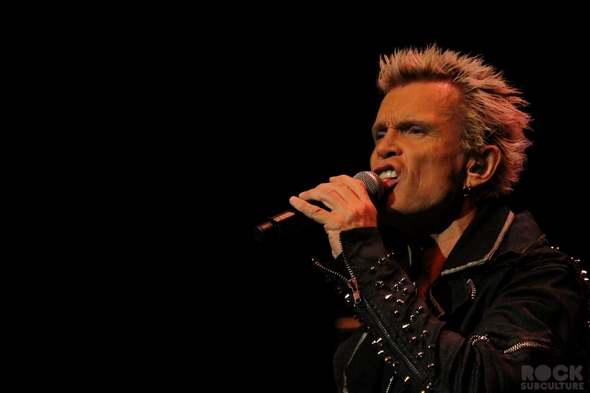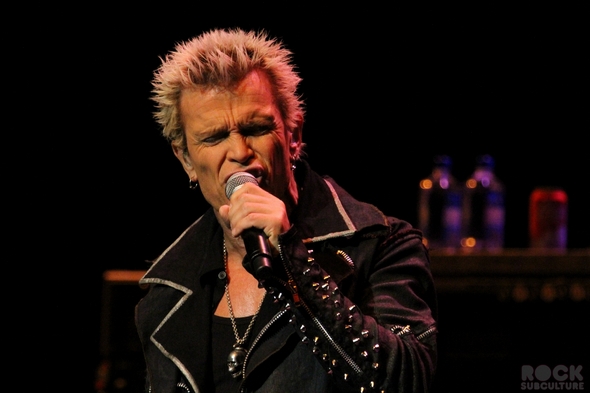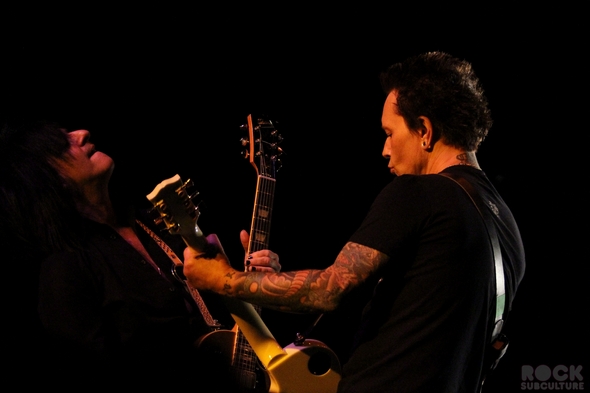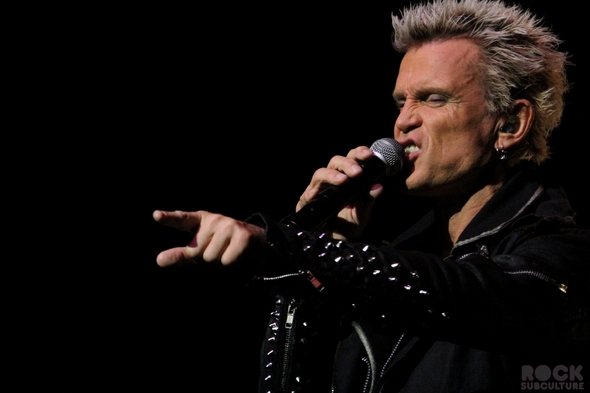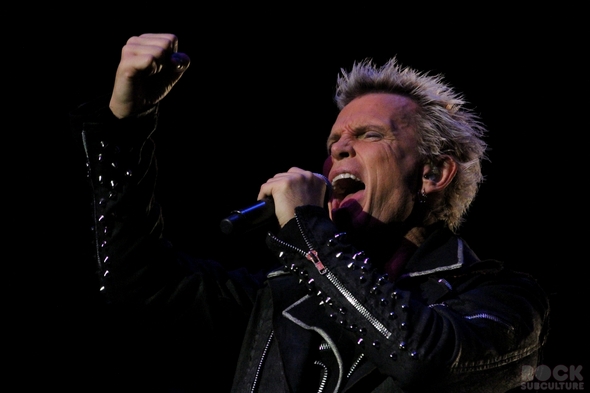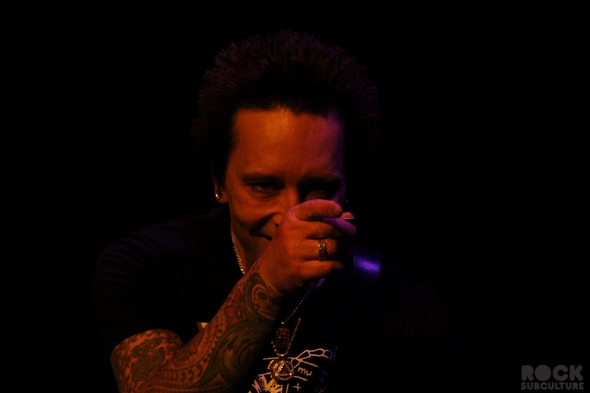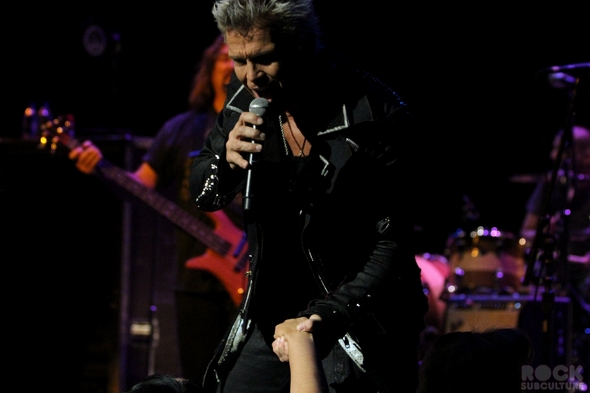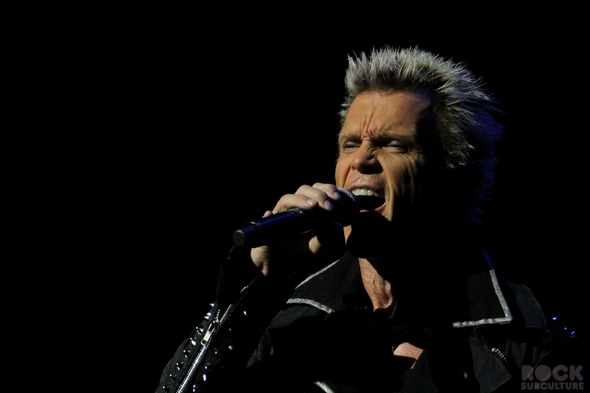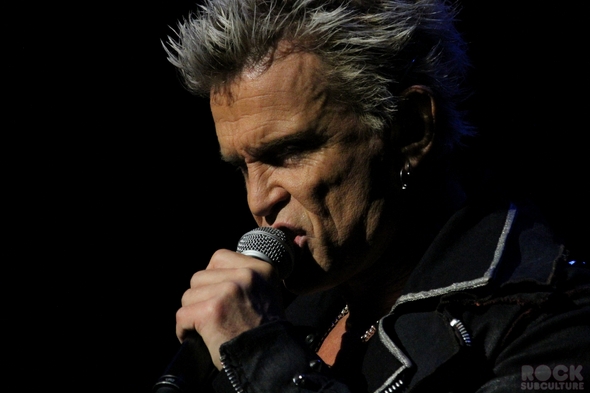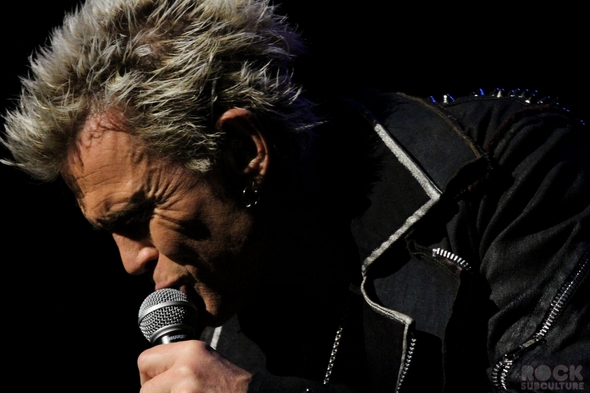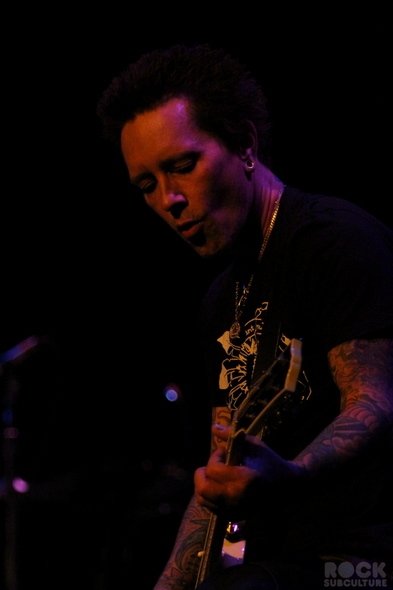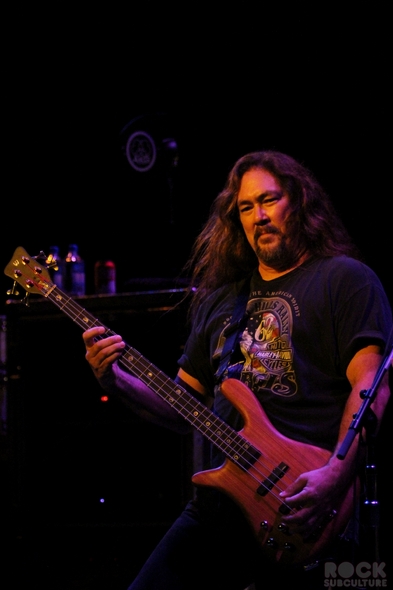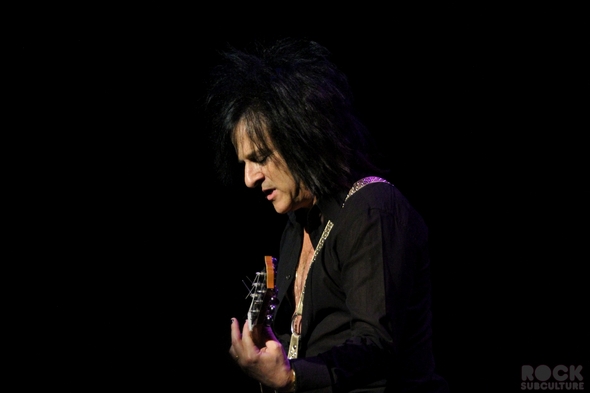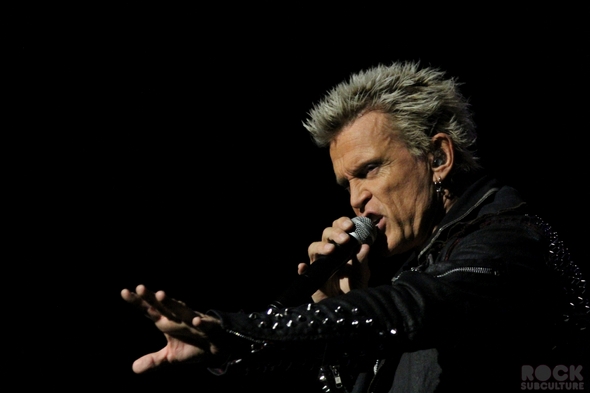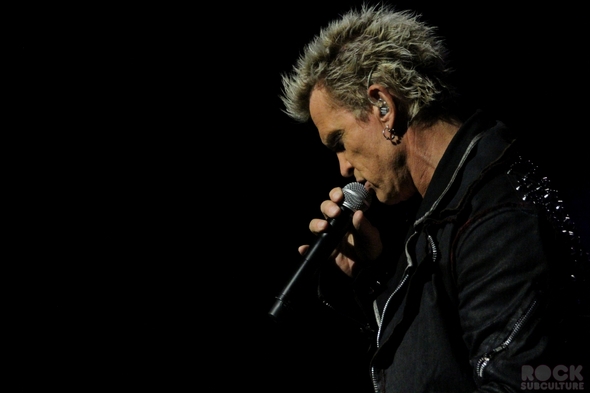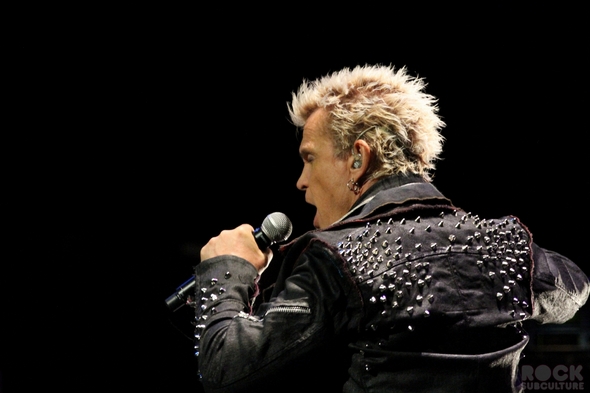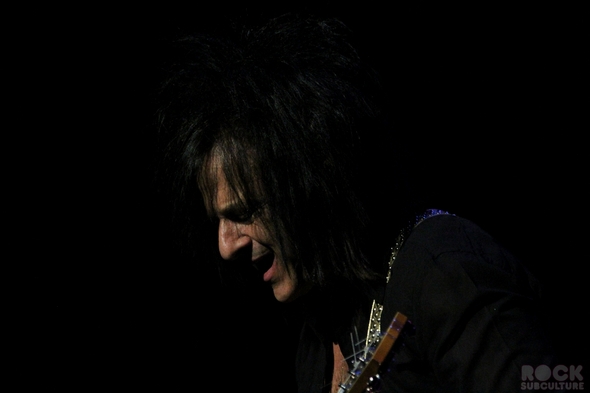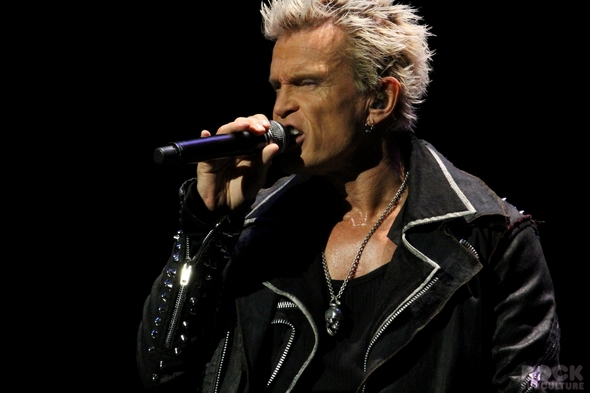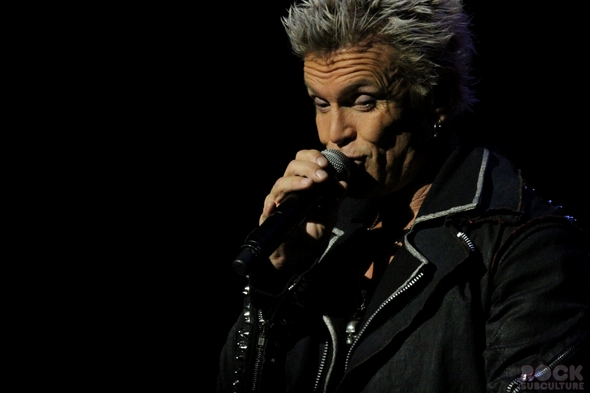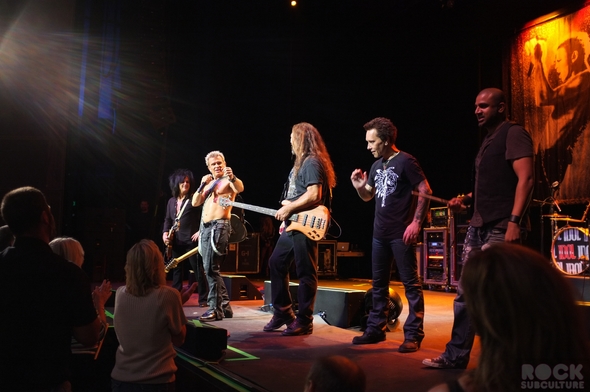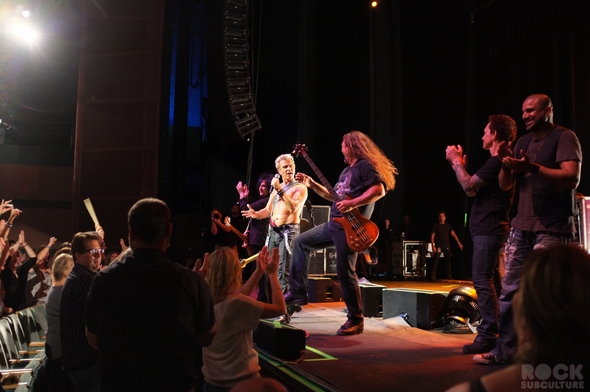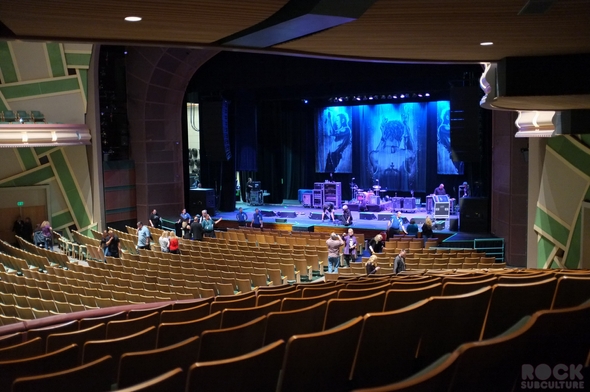 Jason DeBord