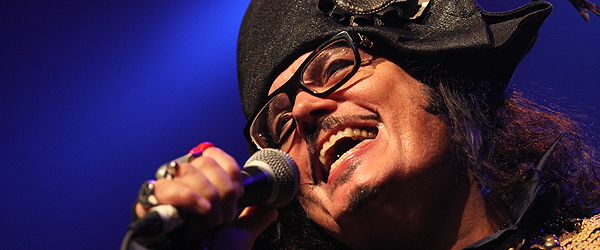 New Wave revolutionary?  Prince??  Pirate???  Adam Ant has adopted a multitude of roles spanning many decades…  but as an icon of post-punk and early 80s music and pop culture, he still knows how to kill it on stage, which is what he did for the sold out crowd at The Regency Ballroom in San Francisco last night, tearing through a massive 28+ song set list that still left out some fan favorites.  Who would have imagined when he came on the scene in the mid to late 70s that not only would he still be selling out shows, but he'd still be relevant (and, looking backward, prescient) well into his late 50's.  Truly an artist musician, Adam Ant has created a culture and world all his own, and it is definitely a fun place to visit.

Who: Adam Ant
Supporting: Brothers of Brazil
Venue: The Regency Ballroom
Presented By: Goldenvoice
Where: San Francisco, California
When: October 18, 2012
Seating: General Admission (photo pass first three songs)
Adam Ant brought his unique brand of music to San Francisco Thursday night, and also included a very interesting and talented opening band that really kicked things off for the packed (and literally sweltering) venue.

Brothers of Brazil
Brothers of Brazil is comprised of brothers Supla and Joäo, and their music features a unique mix of styles and genres, reflecting bossa nova, samba, funk, and rock.  The South American duo got their start in entertainment on a Brazilian variety show called Brothers on Rede TV, which led to their founding of Brothers of Brazil.   Their second album, On My Way, was released this year, following their eponymous debut.
I had a chance to chat with Joäo via phone early the day of the show, and he was a very nice guy with an obvious passion for music.  However, that did not prepare me for their live show, which was more energy than you often feel from headliners – I think that the two brothers were having as much fun – if not more – than anyone of the 2,300+ in attendance.  Having had an opportunity to check out their albums before the show, I'd say they sound a bit different live (not in a good or bad way, but obviously a less produced sound, which seemed to work for them equally well).  They were very entertaining, and though brothers, they definitely struck a contrast between the suave, suit-laden Joäo and Supla, who appeared to be someone of a mix between John Lydon and Maximus from Gladiator.  I had a chance to chat with him briefly after the show as well – truly genuine and nice guys.
The funnest (and funniest) part of their set, for me, was the ending…  which kept building and building… and you'd think they were about done, and they'd kick it into another song.  It was quite awesome.  I really enjoyed them, and kudos to Adam Ant for giving them some exposure and introducing them to his own fans.
Below are some photos of Brothers of Brazil performing on stage (click on any image for higher resolution):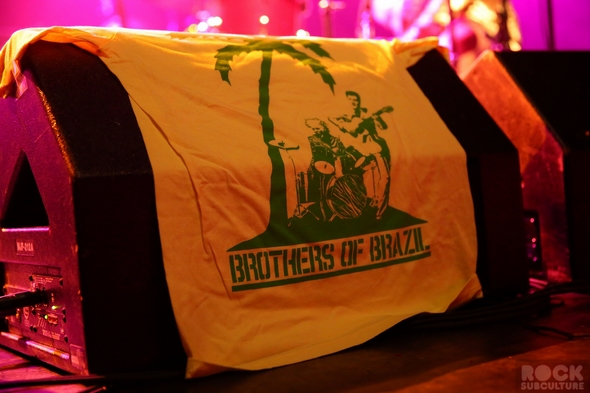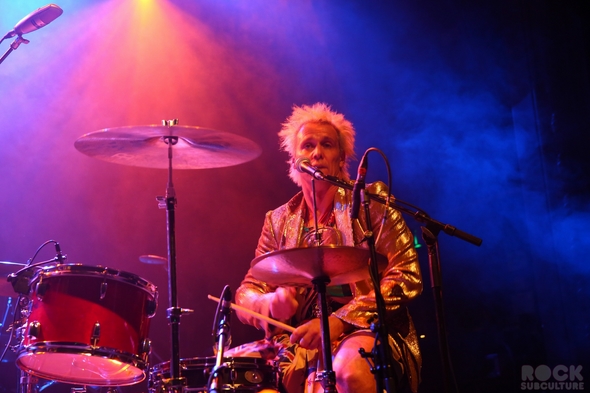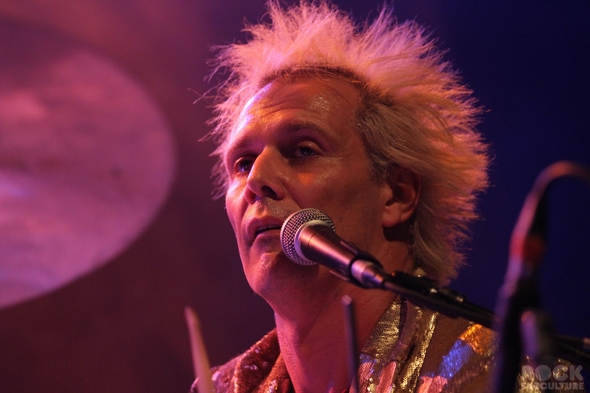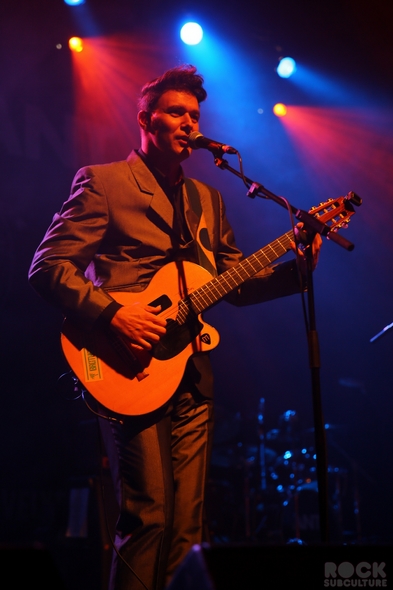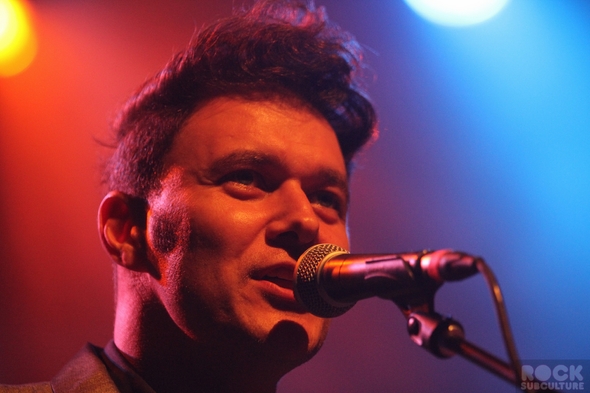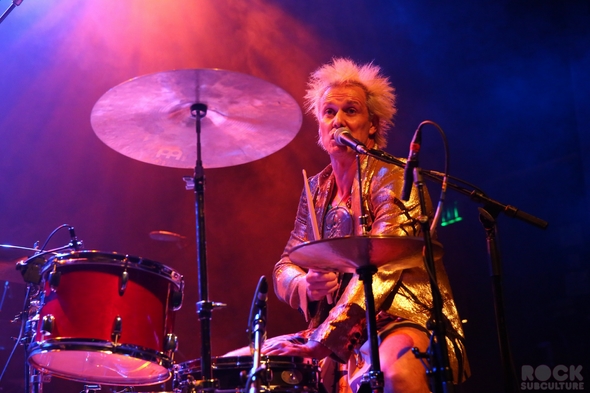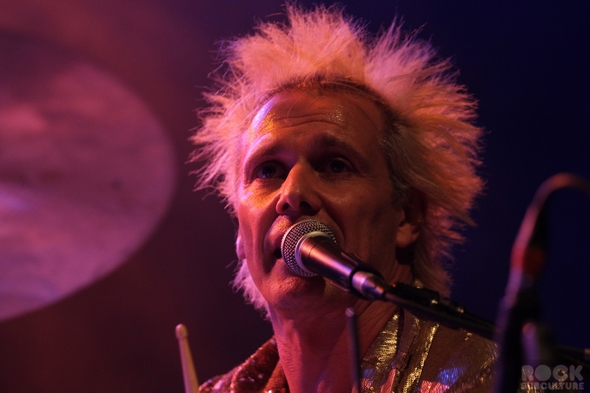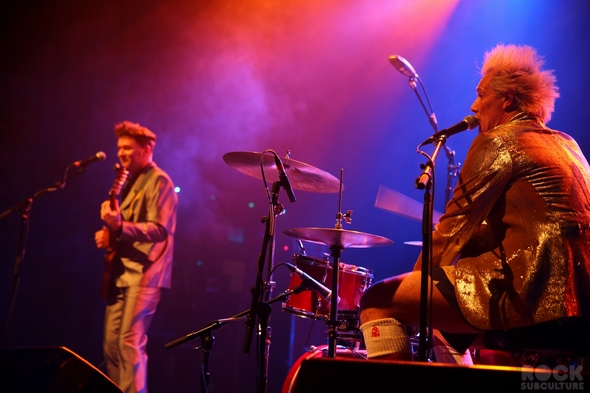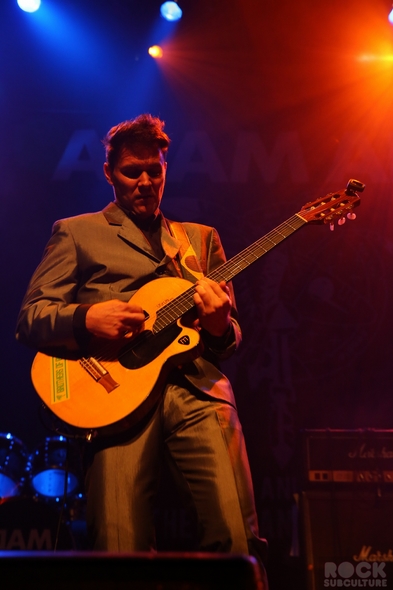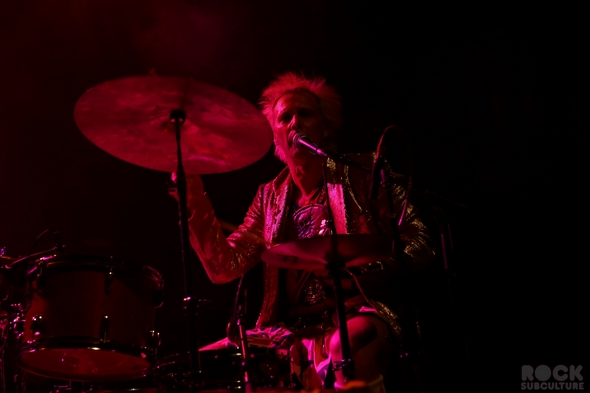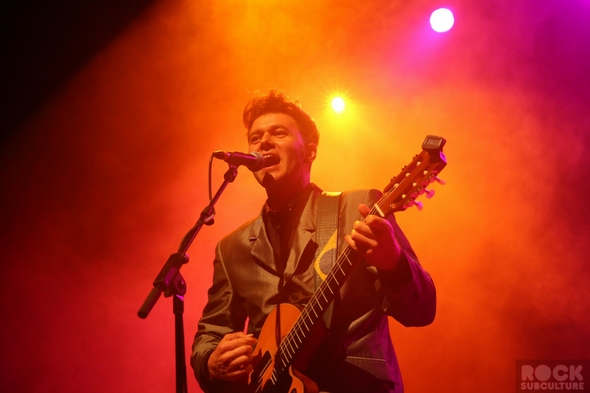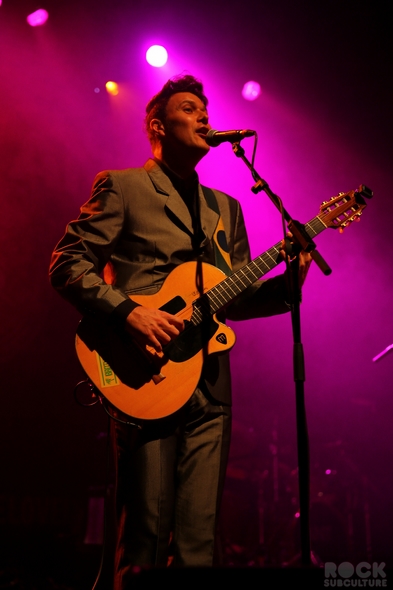 Adam Ant
Adam Ant is truly a legend of the New Wave, especially its origins in the early 80s.  Responsible for an incredible body of work with many hits featuring a unique blend of musical styles and innovations, he was just as important as a figure in his influence on his peers and subsequent artists, not just in music but fashion as well.
Born Stuart Leslie Goddard in the mid-1950s in London, he initially studied graphic design at the Hornsey College of Art, though ultimately dropped out to pursue a career in music.  Though I would imagine that his interests in graphic design carried over into his music as well, and was in some ways instrumental to his understanding of and capitalizing on the shift of popular music to having a vital visual component as well.  With the advent of MTV and music videos, Adam Ant capitalized, and featured prominently in rotation on MTV in the early 80s as part of the wave of UK imports, thought the Adam and The Ants videos employed his unique and distinctive style and imaging.
Prior to launching his own "Ant"-branded band, he played bass in a group called Bazooka Joe, which headlined a live concert in November 1975 which featured the first public performance by the Sex Pistols, who were their supporting act.  He then formed a new group called the B-Sides.  In 1977, after overcoming some personal issues, he adopted the name Adam Ant, and he reformed the B-Sides as Adam and The Ants.  It was around this time that Adam Ant also began acting, and was in Derek Jarman's film Jubilee, which also featured some of their music in the soundtrack.
Their debut album, Dirk Wears White Sox, was released in 1979.  Adam Ant approached Malcom McLaren (the Sex Pistols manager) and asked him to manage their band; McLaren ultimately convinced the entire band, sans Adam Ant, to leave the band and reform as Bow Wow Wow with adolescent Annabella Lwin fronting on vocals.
The band was reformed by Adam Ant with all new players, and the released Kings of the Wild Frontier in 1980, which led the New Romantic movement.  "Antmusic" reached #2 in the UK singles charts.  They quickly followed with another album, Prince Charming in 1981, which included two #1 UK hits, the title track and "Stand and Deliver".  The two songs, as well as hit "Ant Rap", included pioneering music videos.
Only a year later, Adam Ant decided to disband the group and record and perform as a solo artist, Adam Ant.  Friend or Foe came out shortly thereafter, in 1982, which featured the hit "Goody Two Shoes", which reached #1 in the UK and #12 in the U.S.
Continuing with his prolific recoding regimen, his second solo album, Strip, was released in 1983.  Phil Collins even served as producer and drummer on two songs, including the title song, which was banned (both the song and the video) in the UK.
His third solo album, Vive le Rock, debuted in 1985, which resulted in a subsequent career shift from music to acting, which was his focus for the remainder of the 80s.
Adam Ant ultimately returned to music, with a new album, Manners & Physique, in 1990.
No new work was published for another five years, but Adam Ant had arguably his biggest mainstream success with the title song of that 1995 album, Wonderful, which was quite different from all his music that preceded it.
Adam Ant has been involved in a good share of struggles and drama throughout his life, much of which is recapped in his Wikipedia entry, and featured in a UK television documentary, The Madness of Prince Charming, which portrayed his struggles with mental illness and bipolar disorder.
In spite of all his challenges, he has remained a very prolific artist throughout his life, and has had a steady touring scheduled in the UK in 2010 and 2011.  His current U.S. tour was originally slated to begin in February, though it was postponed until this month.  His latest album, Adam Ant Is the Blueblack Hussar in Marrying the Gunner's Daughter, is now slated for release next year.  And Adam Ant continues to be involved in more than just music and touring, with a photo exhibition – Adam Ant – Dandy In The Underworld – having run in London last year, a planned documentary film, and his own fashion label.
So…  Adam Ant…  I first learned of him via MTV and mix tapes from my older sister's friend.  This was circa 1981 or so…  just as I was hearing acts like The B-52s, Duran Duran, Billy Idol…  his music most definitely sounded very "foreign", and the vocals and layered drums played a big part of that for me.  So he along with a handful of others were instrumental in the dramatic shift in the sound and style of music from the 70s to the 80s.
One of the first videos I remember seeing was "Desperate But Not Serious", which featured horns (which aren't part of his current live tour) and dual drummers (which are part of the stage performance today).  Also a longstanding fundamental part of his image – his overt sexuality in themes, ideas, and images (in fact, at one point MTV named him their "Sexiest Man Alive").  Another early favorite was "Stand and Deliver", with his Victorian/pirate outlaw style appearance and trademark painted stripe across his face.  "Goody Two Shoes" was more of a rockabilly throw back type of sound – a song you could imagine Elvis singing (or even the Stray Cats).
The concert last night was actually the first time I'd ever seen him play live, so it was a huge personal event for me, as I honestly didn't really know if I'd ever have the chance (and given that the originally scheduled date for this show was in the Spring, until I physically saw him on stage, I still wasn't entirely convinced).  Though the place was like a combination of sauna and humid jungle, and the sound system was bass heavy and distorted, Adam Ant certainly overcame much of this with his mere presence on stage, since it has been ages since he has toured the U.S.
Obviously, shooting a show like this is a huge benefit, as I got to shoot the first three songs from the pit in front of the stage, so you can't really get closer than that unless you get up on the stage (which I'd never do, of course!).
Having a reputation as being a bit of a tease, it was fitting that Adam Ant was the last one on the stage, and spent a good portion of the opener, "Plastic Surgery", with his back to the audience.  Since nearly the entire front row was made up of female fans, they were obviously eating it up.
Known for his style, his current look is overshadowed by his pirate hat along with his trademark somewhat glam look.  Interestingly, some say Johnny Depp pretty much ripped off his persona and stylings as Captain Jack Sparrow in Disney's Pirates of the Caribbean franchise, and, really, who could argue with that?  But I think the influences follow into music as well, even Coldplay's "Viva" era, French revolutionary hodgepodge of found military style attire looked like something Adam Ant might have worn in the early 80s.
Some might declare it all ridiculous, but I think part of Adam Ant is creating a character and a world that further brings his music to life with visuals, and a bit of escapism.  I imagine that he is as smart as he is creative, and he makes it all work for those who enjoy what he has to offer.
He was joined on stage are an assortment of capable musicians, which are as follows:
Jola & Andy Woodard (drums)
Joe Holweger (bass guitar)
Tom Edwards (guitar)
Georgina Baillie (vocalist)
Below is the massive set list for the show:
PLASTIC SURGERY
DOG EAT DOG
BEAT MY GUEST
KICK
CAR TROUBLE
ANTS INVASION
DEUTCHER GIRLS
STAND AND DELIVER
ROOM AT THE TOP
KINGS OF THE WILD FRONTIER
WONDERFUL
WHIP IN MY VALISE
VINCE TAYLOR
STRIP
DESPERATE NOT SERIOUS
CLEOPATRA
NEVER TRUST A MAN
ZEROX
ANTMUSIC
GOODY TWO SHOES
VIVE LE ROCK
CHRISTIAN D'OR
LADY/FALL IN
ENCORE:
FAT FUN
RED SCAB
PRINCE CHARMING
GET IT ON / 20TH CENTURY BOY
PHYSICAL
Strangely, Adam Ant isn't quite the household name that some of his contemporaries are, even though he had significantly more hits than some more well known names in the mainstream.  It may simply be a matter reflective of the old adage of a flame burning brighter but not lasting as long.   I look at that set list and am just astonished with the number of fantastic songs produced over his career.
Though the music industry has changed dramatically during Adam Ants professional lifetime within it, he can still draw a huge crowd of fans that are much more enthusiastic for his show than the norm.  I have friends that have been talking about this one for months now, because there is just something extra special about having an opportunity to go see Adam Ant live.  He is an icon for those of us who grew up in a certain generation, and well, who could miss it?
As an interesting side note, John Lydon (front man for the Sex Pistols) and his Public Image Limited will be taking the exact same stage exactly one week later at the Regency Ballroom in San Francisco.  Who could have imagined, in 1975, that Adam Ant and John Lydon would still be actively touring 37 years after the the small punk bands the Sex Pistols opened for Bazooka Joe, which featured a pre-Adam Ant monikered Stuart Leslie Goddard?  Even more, in these days where new music has less longevity than ever?  I think it's another reason those of us in this certain generation hold on to these artists and their works more than ever… in addition to the excellence of the music, there is the nostalgia for a different time, that will not and could not ever happen again.  A truly groundbreaking and innovative period for music, and Adam Ant was a huge part of it on many levels, as a witness and participant.
Below are some photos of Adam Ant performing on stage (click on any image for higher resolution):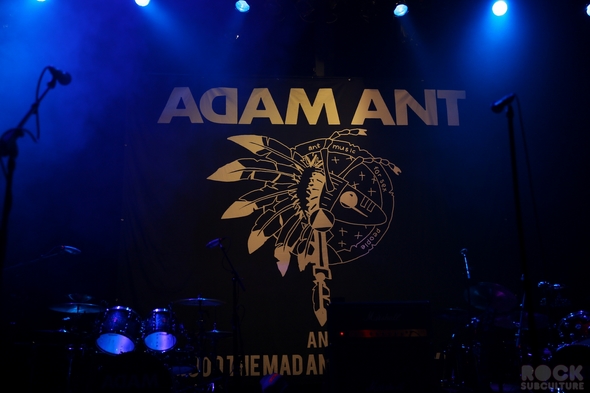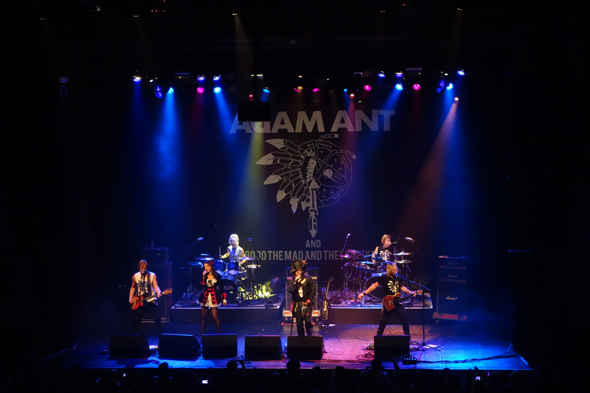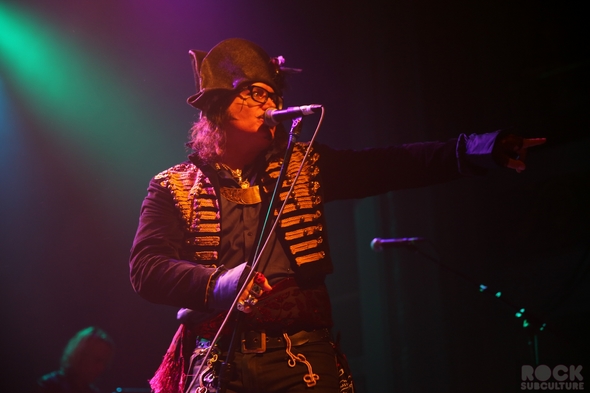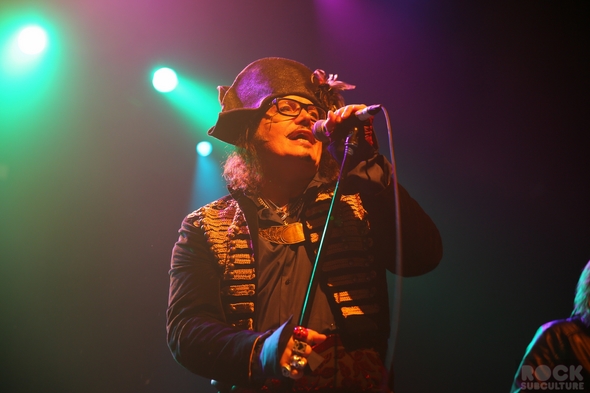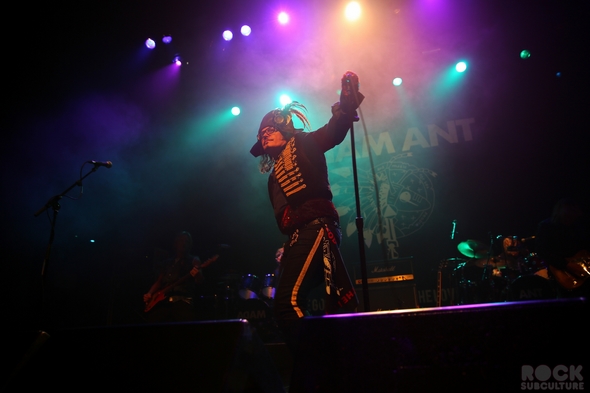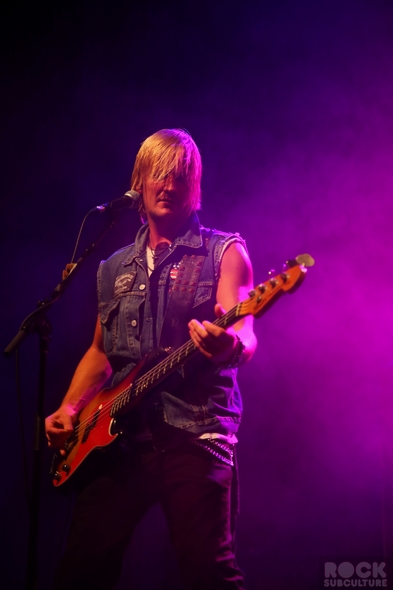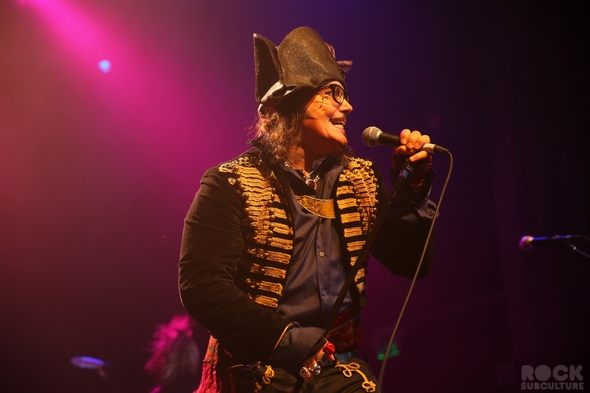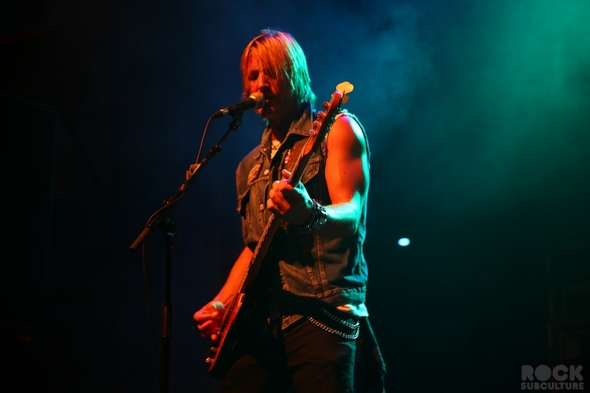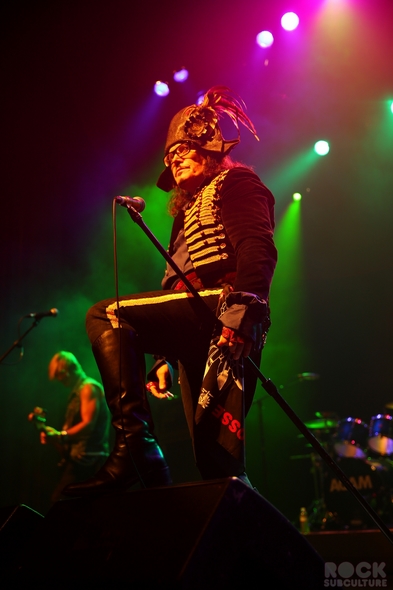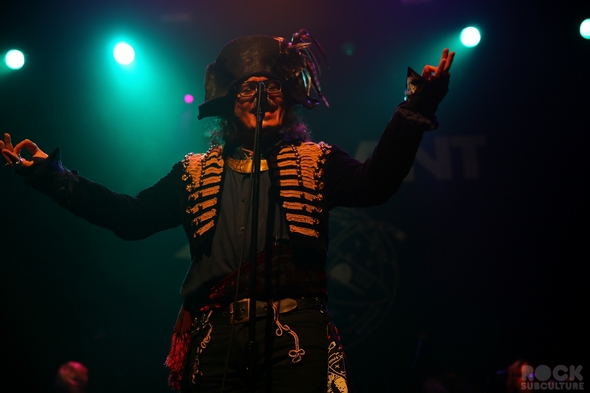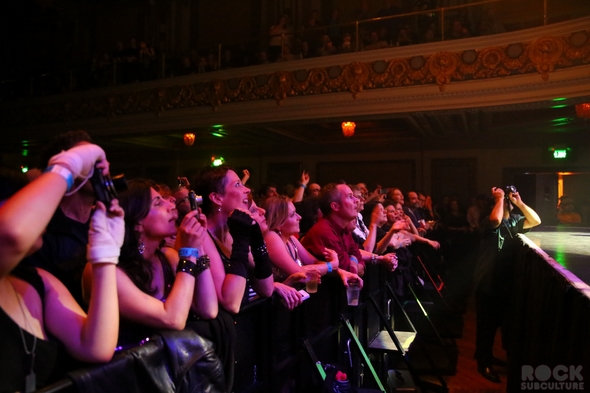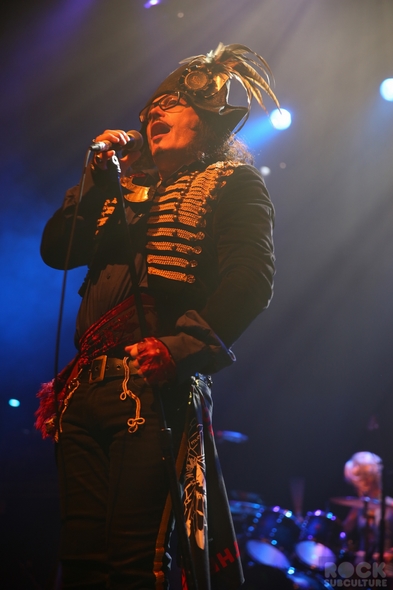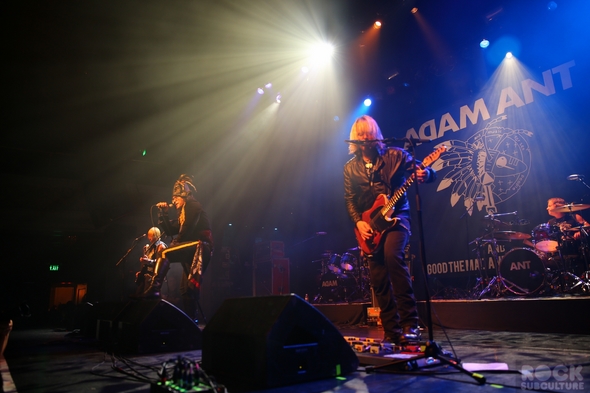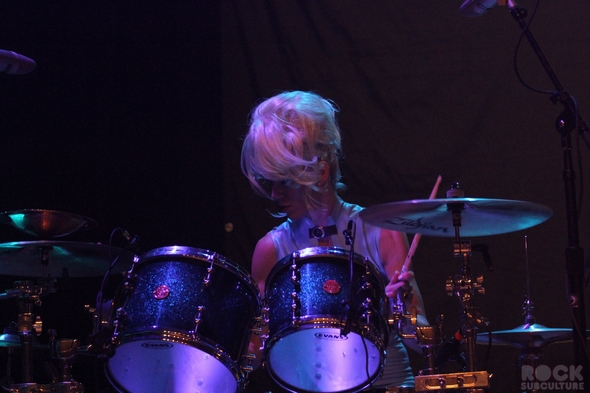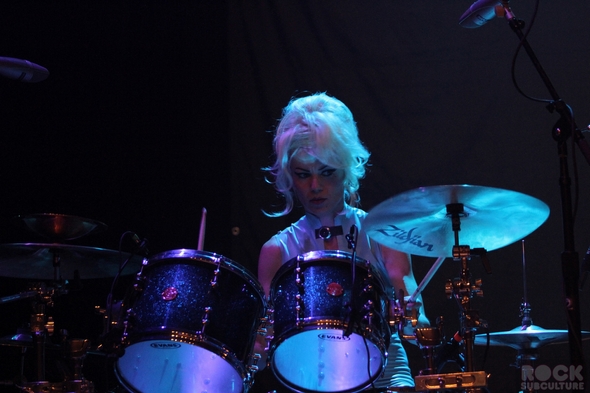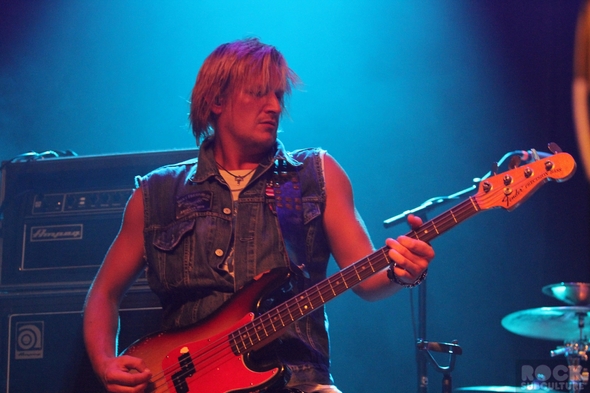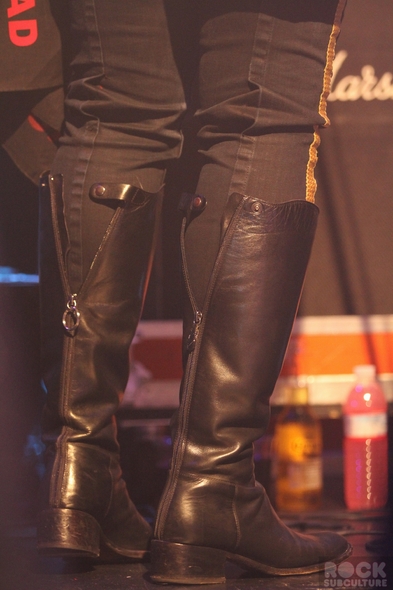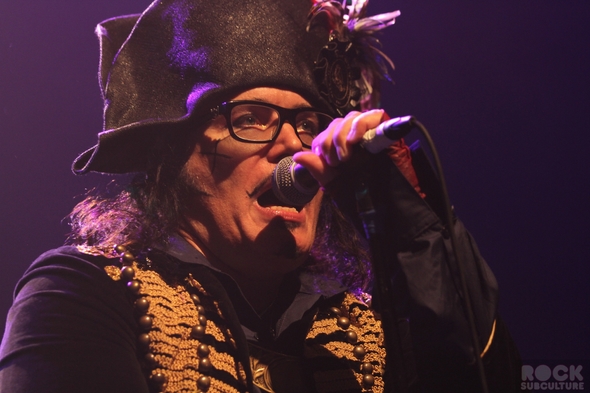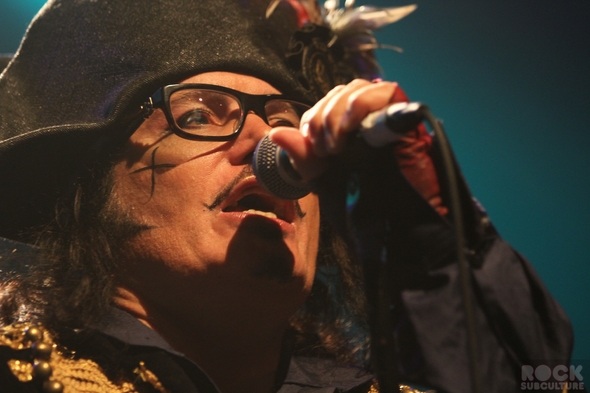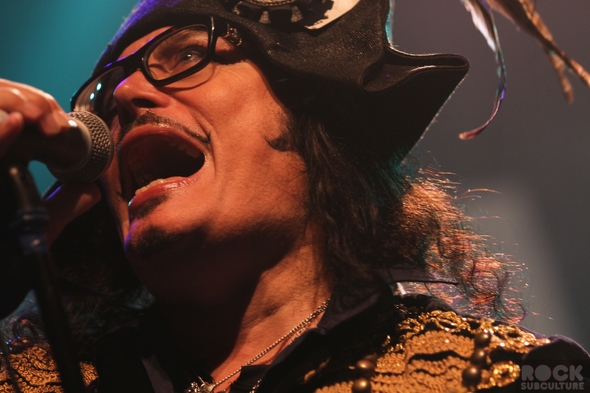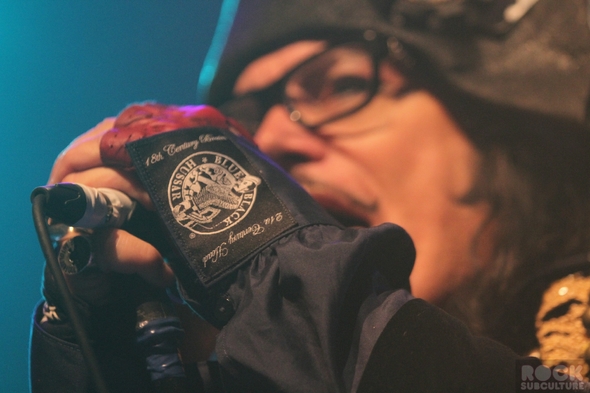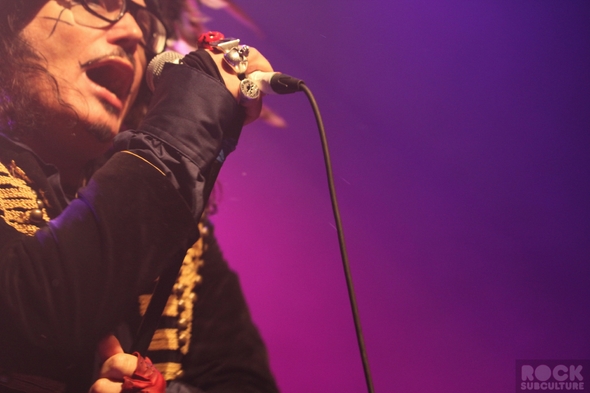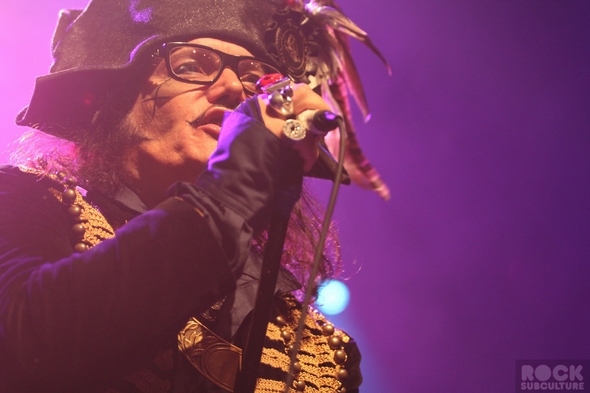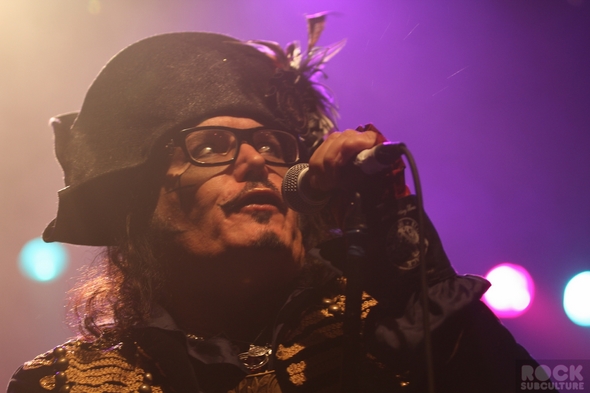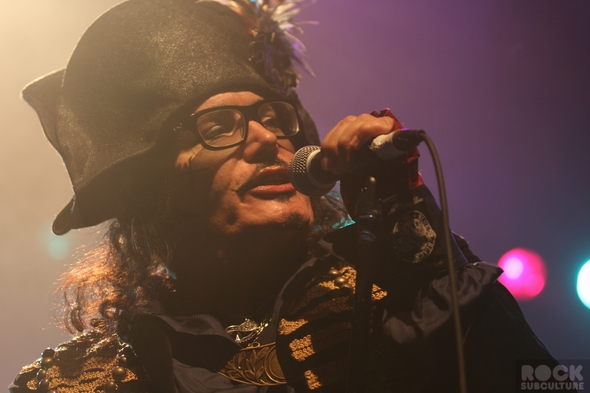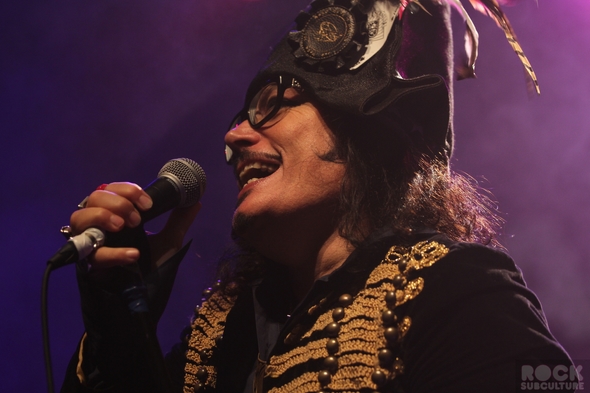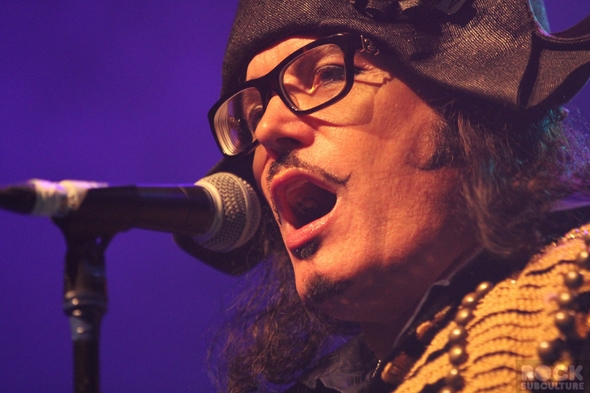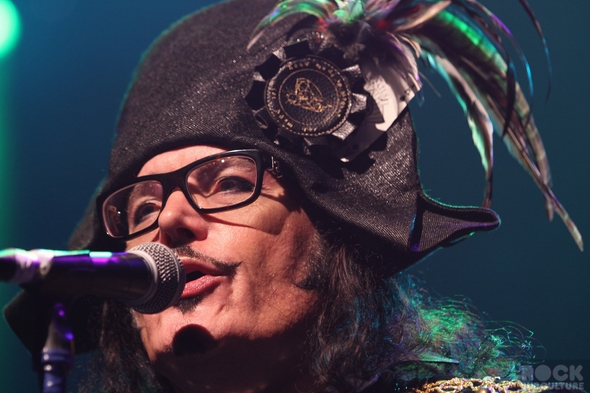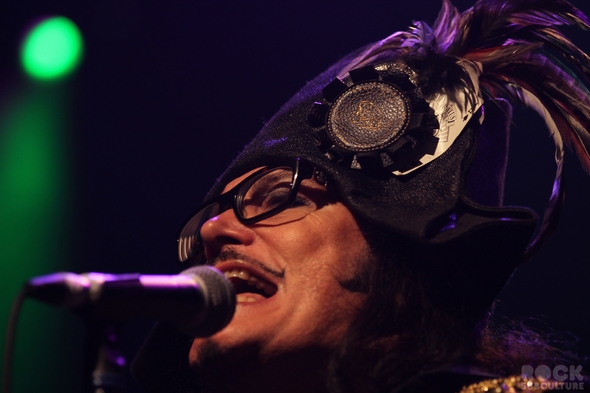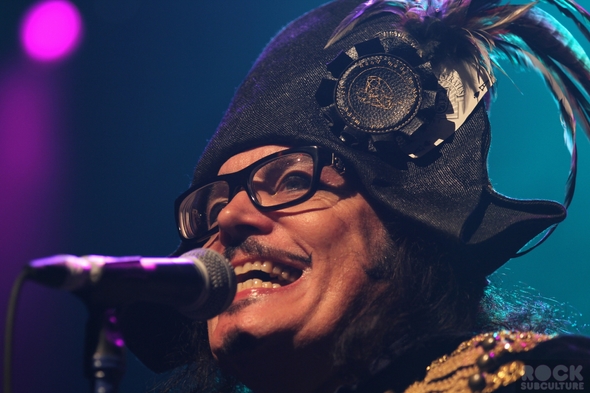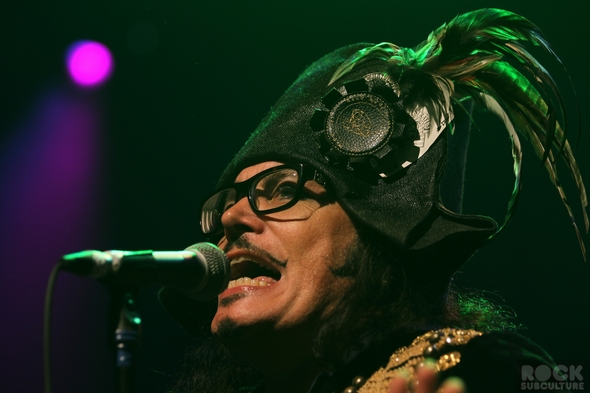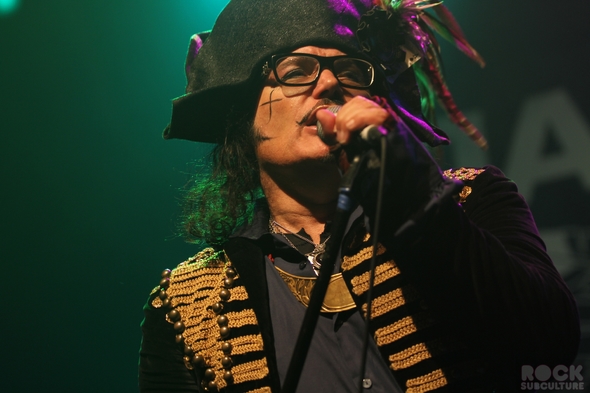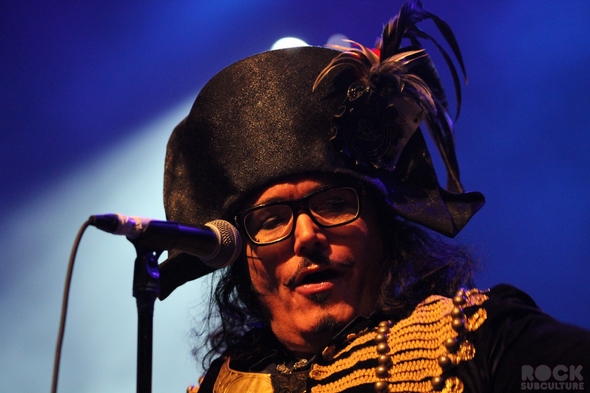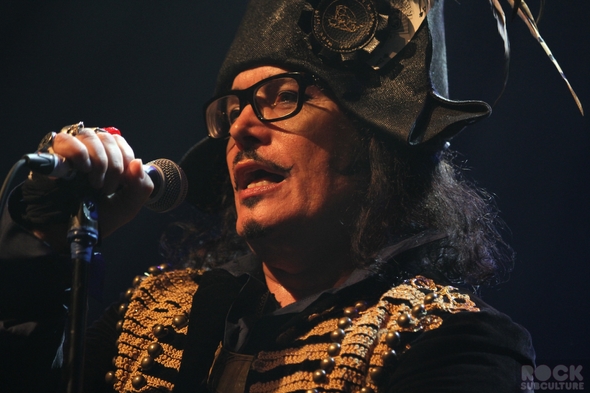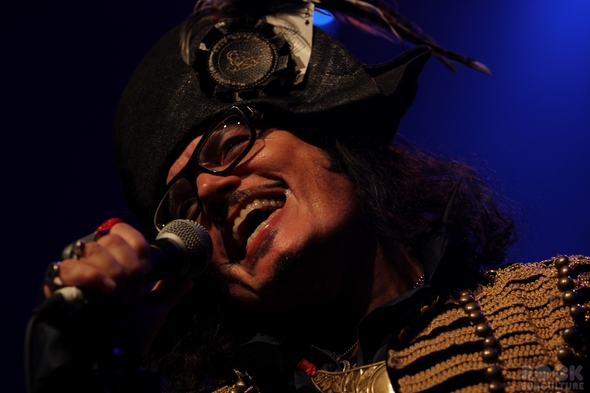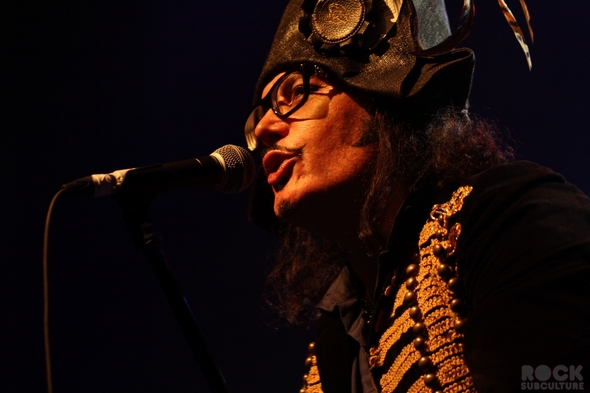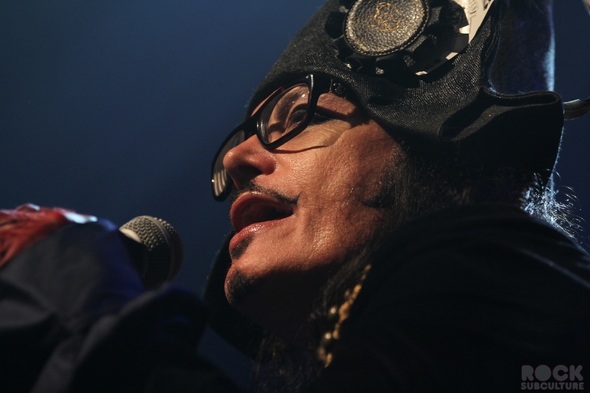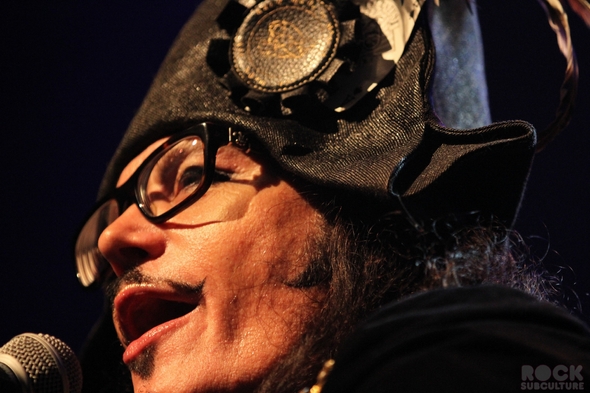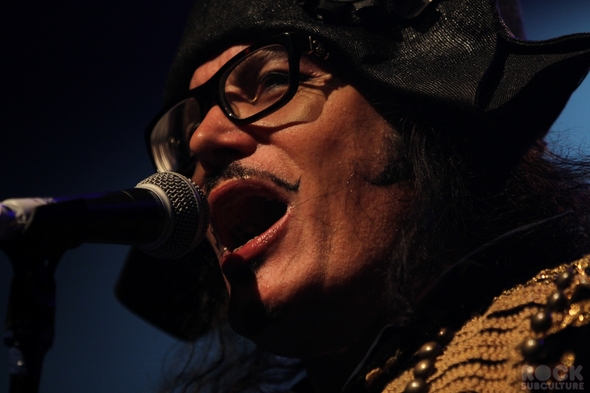 Jason DeBord