Last night at The Warfield was my second time seeing Garbage this year, having seen them back in April in Las Vegas.  I was astounded at how much the band has evolved in this short time, having just been resurrected earlier this year, now completely transformed into one of the most kick ass bands touring in 2012.  This group – that completely defies genre – burst onto the stage and played a tight and rearranged set, including many songs off their incredible new album for upwards of two hours.  They also brought out one of the best audiences I've been a part of all year (and yes, audiences do matter!), who could not get enough of this band that comes across as beings from another, much more interesting planet.  All in all, I think the fact that Garbage isn't currently selling out huge stadiums is a tribute to the fact that the 90s was, as a decade, mostly filled with crap music (compared to the decades that preceded and followed), and somehow this band never received the recognition nor massive following that it deserved.  People in the 90's generally had no taste in music and it was a weak era in pop culture, and Garbage is, in my estimation, one of the most outstanding group of artists born of that time, and the fact that they somehow got back together to make music and perform live better than ever is nothing short of remarkable.  Hopefully at some point the masses will catch up to what they are missing, as the concerts this band puts on are among the best live shows from any band today.
Who: Garbage
Supporting: Screaming Females
Venue: The Warfield
Presented By: Goldenvoice / AEG
Where: San Francisco, California
When: October 1, 2012
Seating: General Admission (press photo pass below stage, first three songs; roaming thereafter)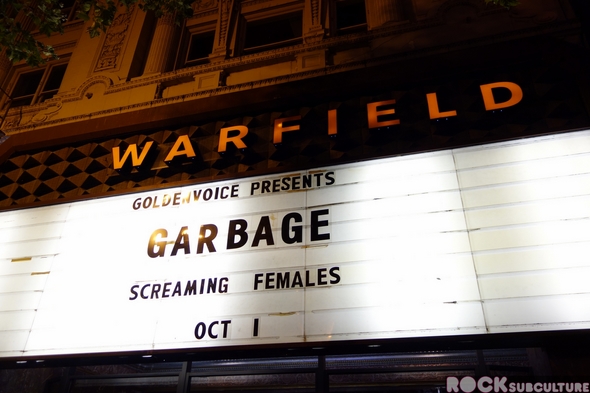 Screaming Females
This was my first exposure to the band Garbage has enlisting in supporting role, Screaming Females.  Well, they made me a fan.  An obviously young band, they reminded me of some of my favorite bands in the prime 4AD era, and I think that they would have fit in nicely with that group had they been around 20 or so years ago.  They actually remind me a bit of Sonic Youth meets Throwing Muses.  And I thought I might have heard Marissa toss out a Pixies line to end the set ("Estaba pensando sobreviviendo con mi sister en New Jersey") but I might have completely imagined it…
Band members:
Marissa Paternoster (vocals, guitar)
Jarrett Dougherty (drums)
King Mike (bass)
I really enjoyed their opening set, and have already picked up some of their work on iTunes.  Recommended.
Below are some photos I took of Screaming Females during their set…
NOTE: CLICK ANY IMAGE BELOW FOR HIGHER RESOLUTION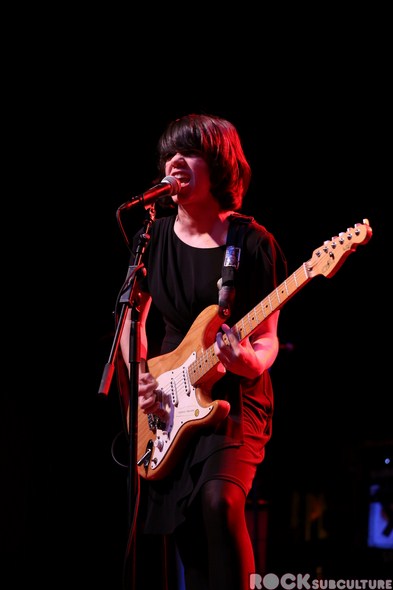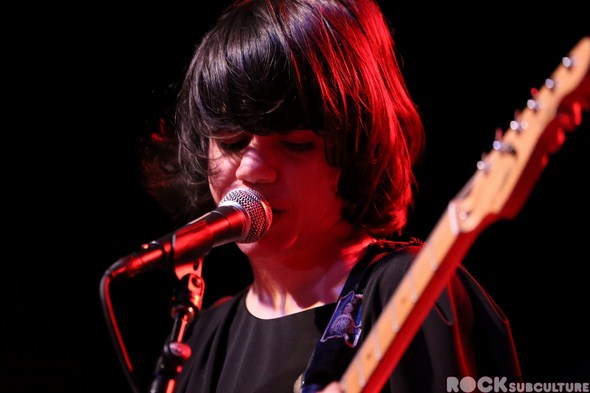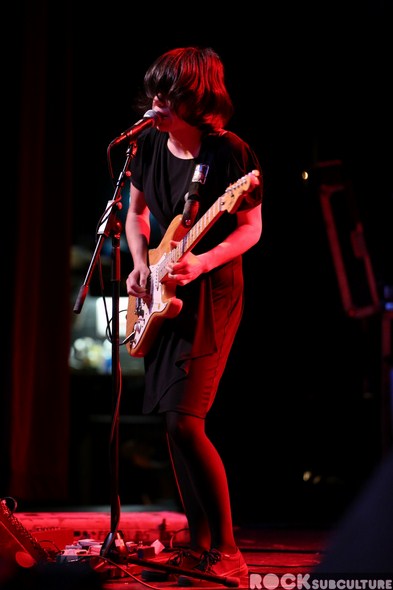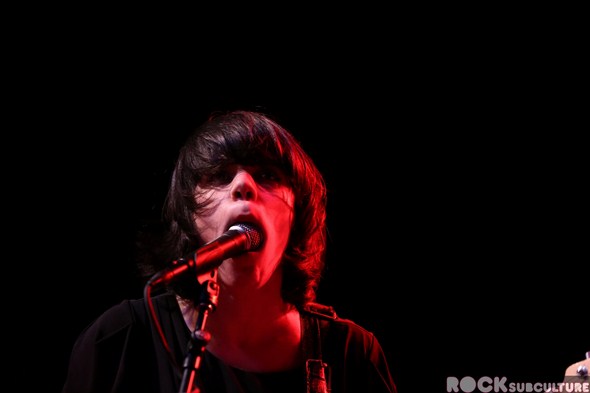 Kudos to Garbage for choosing this band to tour with them – the perfect opening act.
Garbage
Garbage is comprised of the following band members:
Shirley Manson – (Vocals)
Duke Erikson – (Guitar, Bass, Keyboards, Percussion)
Steve Marker – (Guitar, Keyboards)
Butch Vig – (Drums, Percussion)
Eric Avery – (Touring on Bass Guitar)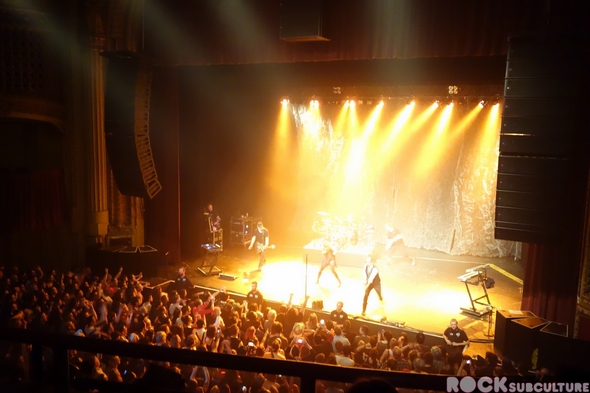 As noted in my review earlier this year, the alternative rock band formed in 1994. All of the men in the band are American while Shirley Manson is Scottish. They found success with many hit singles and their music and sound is very much their own. The most recognizable songs to casual listeners would be "Stupid Girl", "Only Happy When It Rains", "Supervixen", "Vow", "Queer", and the title track to the James Bond film, "The World Is Not Enough".
The group disbanded around 2005/2006, while each pursued other projects (Manson had a regular role as an actor in the television series Terminator: The Sarah Connor Chronicles).
To the surprise of many, the band reformed, released a new studio album, and have supported this with a new tour, which began back in April with two dates at the El Rey Theater in Los Angeles, and continued with the performance I caught in Las Vegas. And, more, I think there is some astonishment at just how dedicated the fans of this band truly are, with many following them date to date and, really, just the sheer energy from the crowd at these shows.  I get the sense, from talking with some of them, that Garbage is very much their favorite band.  Now that they are "back", I think that they will find that they have an extremely loyal and dedicated fan base.
Getting back to my ponderous point in my opening, about the 90s…  I think it was a really interesting time for music, and I have an opinion that the timing of Garbage coming onto the scene maybe was a bit of bad luck for them, in that I believe that their work, and their core identity as an important band has never been fully appreciated nor recognized.  Again, this is all my opinion, but I think that part of it is just the fact that there was some pretty mediocre music that was popular at that time, and good taste by the public at large and mainstream in popular culture was in serious decline.  One of my favorite bands that was hugely successful in the very early 90s – Nirvana – I think accounted for a shift in the musical landscape at the time, though it was through no fault of their own.
While Nirvana is credited for creating the Grunge movement, I honestly could never hear any similarity whatsoever between the music of Nirvana and those who became popular subsequently, apart from wearing plaid and having long hair – musically, I don't think that they (Nirvana) could be more different from their peers (Pearl Jam, Alice in Chains, etc.).  For me, Nirvana had an unbelievable talent in creating catchy, hooky pop music – much like the Beatles.  Only Nirvana did it in a uniquely Nirvana way.  But it was still, at it's core, pop music.  The Grunge bands that followed…  what little I could tolerate to sample…  had nothing catchy about it whatsoever.  I found it to be quite the opposite (as well as, frankly, whiny and self indulgent).
In any event, this Grunge music movement, as well as a resurgence in popularity of Country music (think Garth Brooks, etc.) – the mainstream celebration of this music pretty much put a nail in the coffin of the 80s New Wave music and those bands.  It was a real change in the music industry, and the 90s were kind of the final decade in which the record companies had real control of who was heard, what was sold, etc., as this was just the infancy of the Internet as a public phenomenon.
So where does Garbage fit in all of this?  Well, they were one of a few beacons of light in a sea of music that I personally didn't particularly care for, and, I think, some people just missed them completely, as they were simply feeding their mind what their radio station of choice was feeding them.
Now, Garbage had many hits in the 90s – big hits – but this was limited to the Alternative music scene, which more or less supplanted (and in some ways was the successor to) the New Wave bands of the 80s.  Alternative bands were just a bit edgier, a bit more diverse, and got more back to the roots of playing traditional rock and roll instruments, though enhanced by some of the tools developed in the 80s scene.  You can see real shifts among bands – look at Depeche Mode, who hit their pinnacle with Violator, released in 1990 – Nirvana's Nevermind came out in 1991 – then Depeche Mode's follow-up to Violator was Songs of Faith and Devotion in 1993, which was an entirely different musical direction obviously influenced by Nirvana and others, and Alan Wilder even used a real drum kit in the studio and on tour for the support of that album.  Everything changed.
Funny enough, Butch Vig – founder of Garbage and their drummer – was the producer of Nirvana's Nevermind – probably the best album as well as the most important album released in the 1990s.  In fact, Butch Vig was instrumental in a number of the truly excellent bands producing incredible albums in the 1990s…  Sonic Youth and Green Day.  And while Garbage is completely different, it all makes complete sense, as you can hear and feel bits of these other classic bands within the music of Garbage.  Butch Vig was involved in making this incredible music that really lived outside of the times in which it was made, in relation to a lot of the other "popular" music being produced at the time.  He was a real visionary and musical genius.  We were all living in this "breathless" world of ubiquitous Kenny G, and then you've got a band like Sonic Youth modifying the sounds coming out of their guitars by sticking screwdrivers in them.  It was like music from another, much more interesting planet.  And somehow, Butch Vig was their ambassador.
For me, Garbage is kind of the culmination of ideas that fueled these other classic bands, and it's really kind of a miracle they are all together today and everything seems to be coming together as maybe it never fully did almost 20 years ago.  Watching the band perform, they seem like family, and listening to them share about some of their struggles quite candidly on stage, between songs, they come across as very proud and determined to be the success that they deserve to be.  But really, they already are, as their music has touched so many people, and each show brings such excitement and this sort of especially shared experience between band and the fans that adore them.  I think in some ways the story of Garbage – having come completely undone, and now, being better than ever in every conceivable way – it makes their fans love them that much more, as they can not only enjoy the bands music, but in some ways accompanying them on their new journey in a somewhat vicarious way.  There is a true bond between Garbage and their fans.
What was most remarkable about last night's show was comparing and contrasting with the show I saw in April, which I think was the third one since having reformed.  I absolutely loved that event (obviously having traveled to Vegas explicitly for that show), and the band was so earnest and humble, it was quite endearing.  The band that appeared on stage last night…  they have quite obviously found their mojo, as it was really a complete transformation into a band that can truly match the performance of anyone else touring today.  They were confident, energized, and played so tight and controlled – every note – it was just amazing.  It's as if their own music fuels them as they go, and once that first guitar riff flies, there is no stopping them.  They are on stage to give people the concert of their lives.  And their on stage presence and individual as well as collective stage persona just completely reflects their music and there sound like no other band – it all just so naturally flows out of them.  Watching them perform, it just feels like it had to be destiny that these artists found each other, and they are meant to do this.
Since I was shooting this one under photo pass as press, I was lucky enough to experience the opening from the photo pit in front of the stage, and while I was busy shooting photos (over 2,000) for those first three songs, well, I am a fan, and it was such an honor to watch the show unfold from such a vantage point.
Following the opening, I had opportunity to wander around the GA floor as well as the balcony area up above, and got to see how all the fans were reacting to the show, and enjoying it in their own way, and it was a really cool experience to see all these fans having such an amazing time.
In addition to their amazing evolution into one of the best live acts I've seen, there is the matter of their new album, Not Your Kind Of People.  At the time of my review of the Vegas show in April, it had not yet been released.   I would say that it's as good as their classic material, but honestly, I think I have to say it is even better.  As much as the classic hits are, well, classic…  these new songs are absolutely incredible, and reflect a consistency with their older material, but is new, more evolved, and simply amazing.  Definitely among not just the best albums of 2012, but of the past several years.  I can't recommend it enough.  In fact, I would actually prefer more of the new material in the live shows than was played.  But even with a setlist 20 songs long (!), there were classics left off last night, like "The World Is Not Enough" from the James Bond soundtrack (which made it onto the Vegas show).
Below is a photo of the setlist from last night's show: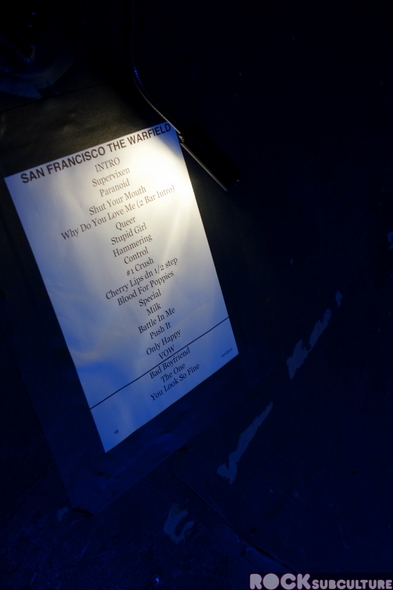 Setlist:
Intro (Time Will Destroy Everything)
Supervixen
I Think I'm Paranoid
Shut Your Mouth
Why Do You Love Me
Queer
Stupid Girl
Hammering In My Head
Control
#1 Crush
Cherry Lips (Go Baby Go)
Blood For Poppies
Special
Milk
Battle In Me
Push It
Only Happy When It Rains
Vow
Encore
Bad Boyfriend
The One (first time ever played live)
You Look So Fine
Outro (Edith Piaf – Johnny Tu N'es Pas Un Ange)
I know this review is quite meandering and stream of consciousness… but let's just say the band is awesome and they put on a must see show.  I can't wait to catch up with them again in the future.
Below are photos shot during the concert (apologies I didn't get all the band members – was center and stage right and ran out of time, and the GA floor was too packed to get any decent pick-up shots with my non-pro camera after the opening three songs):
NOTE: CLICK ANY IMAGE BELOW FOR HIGHER RESOLUTION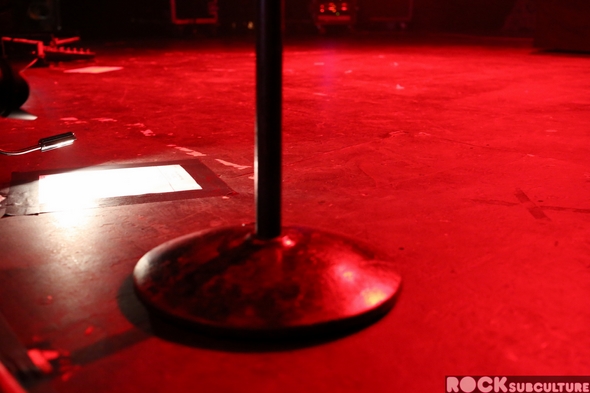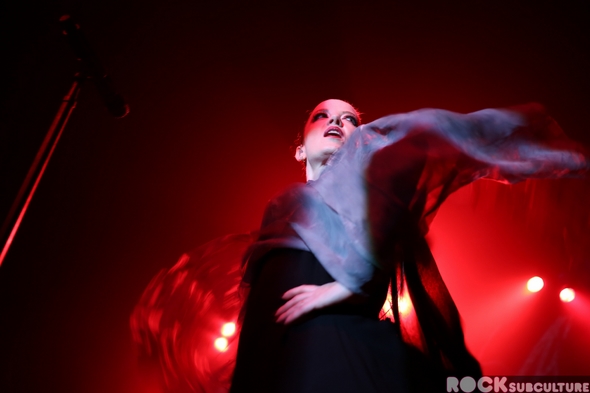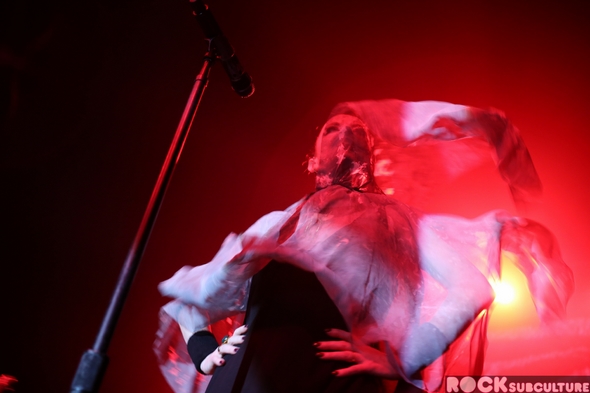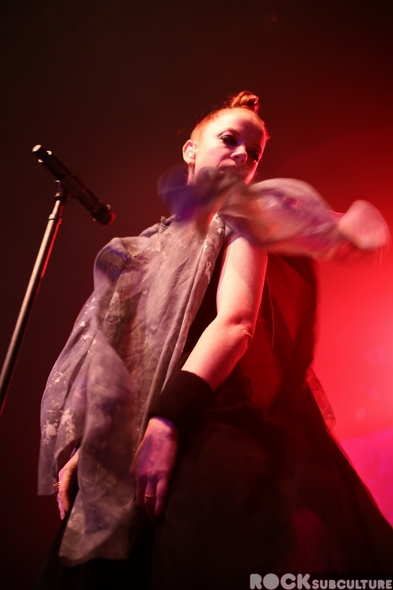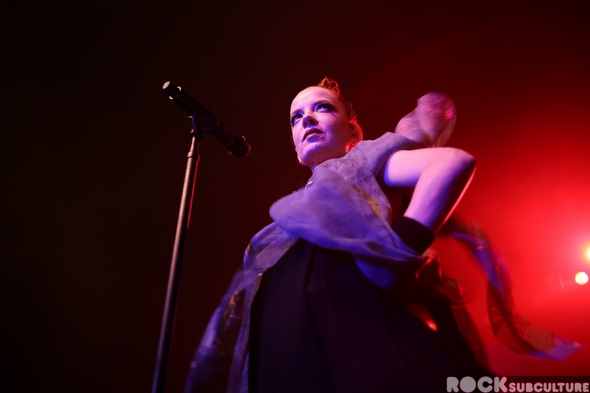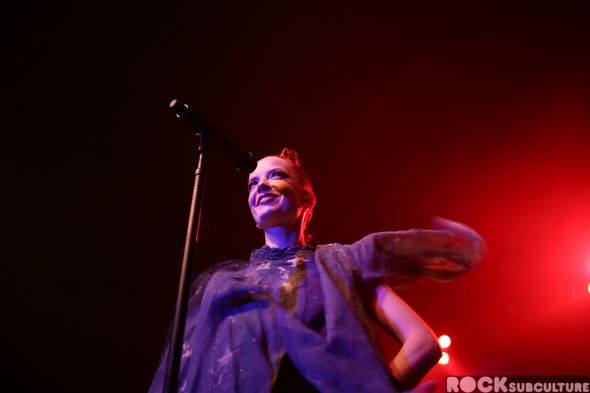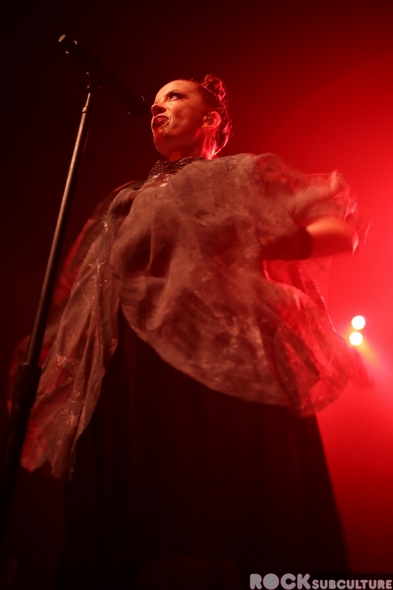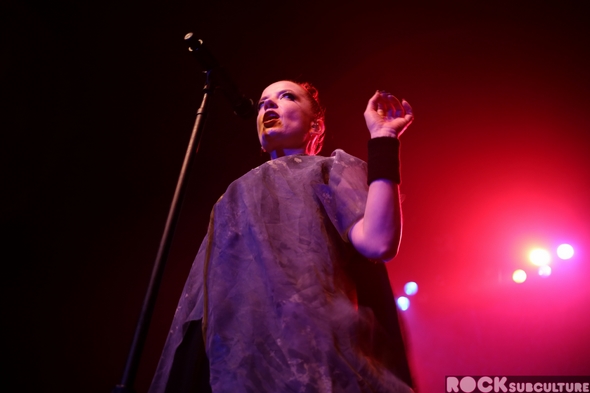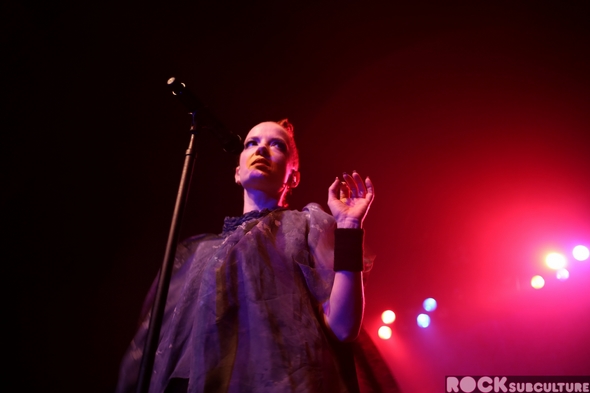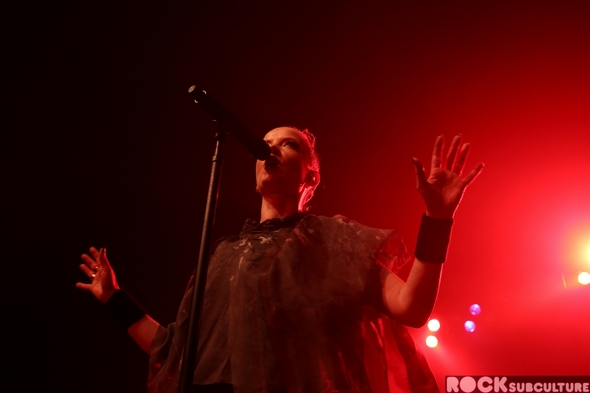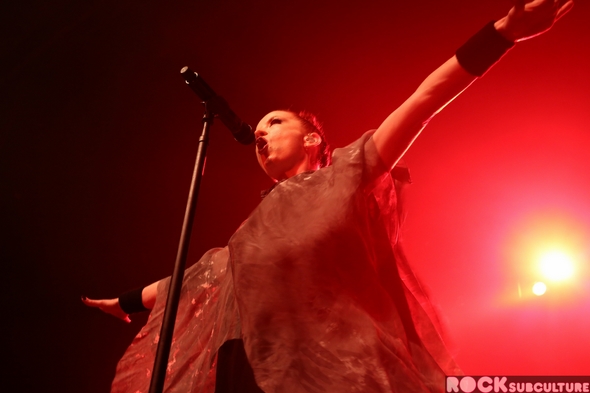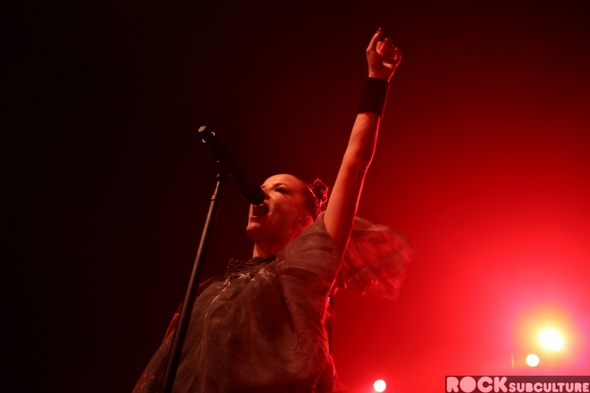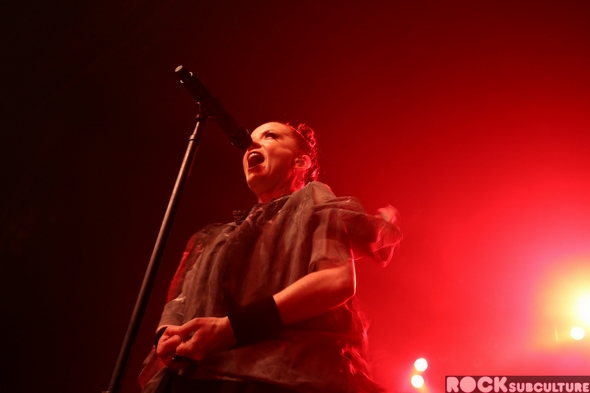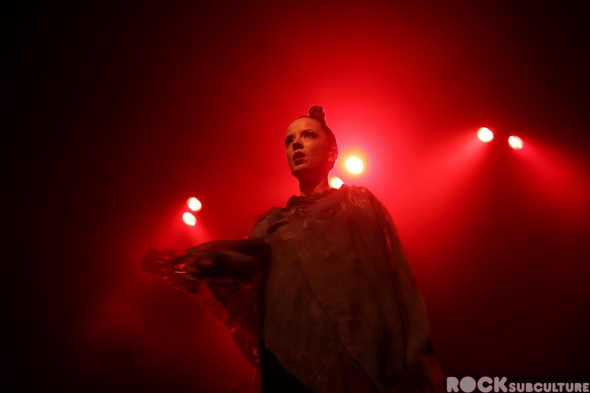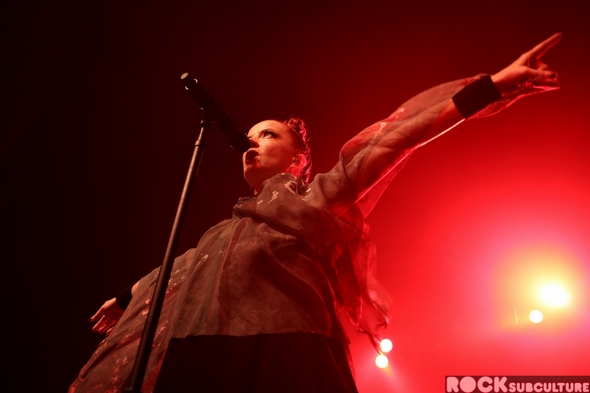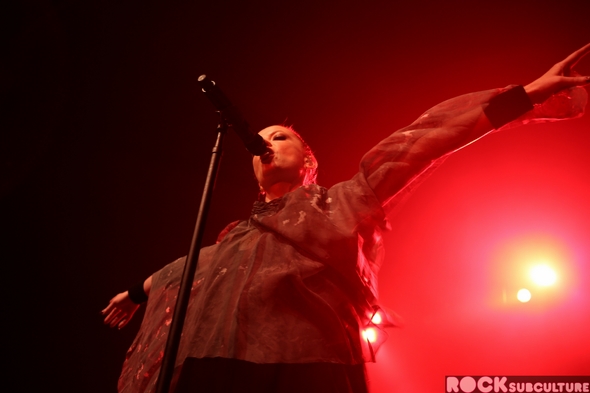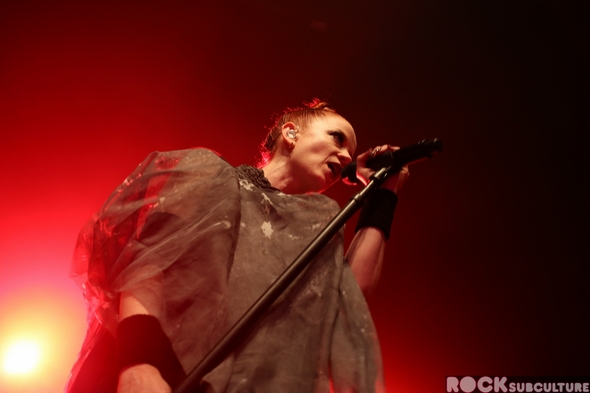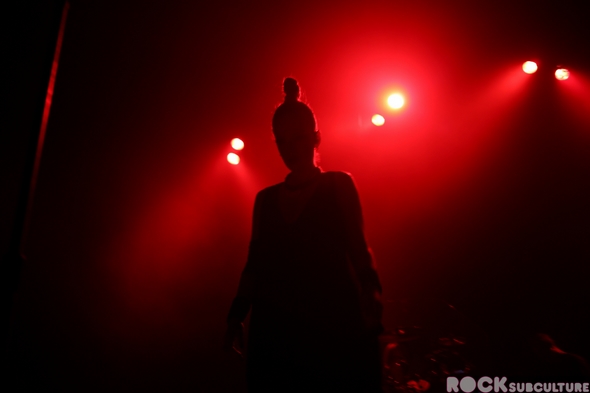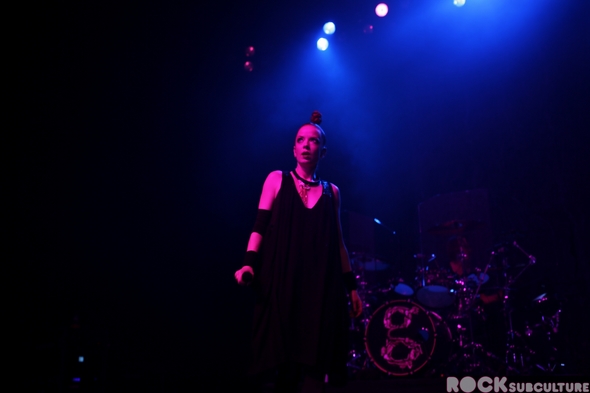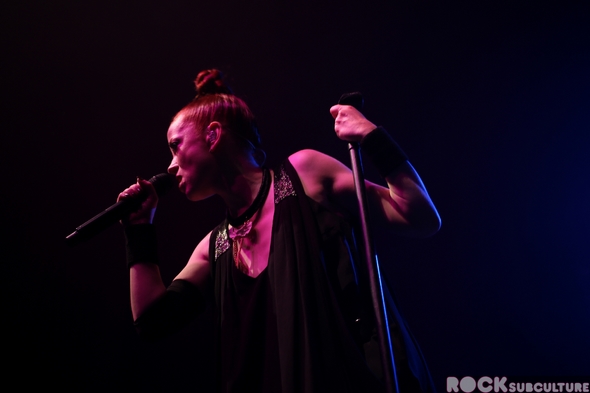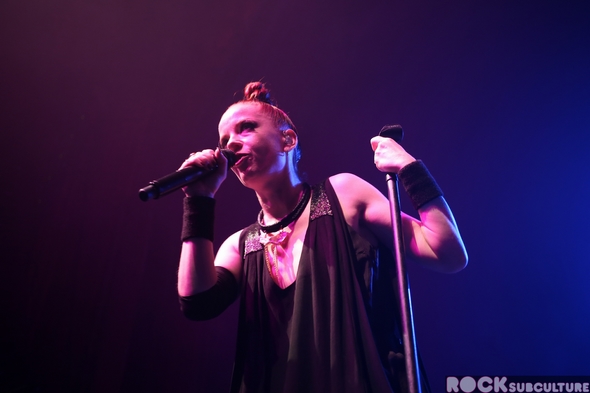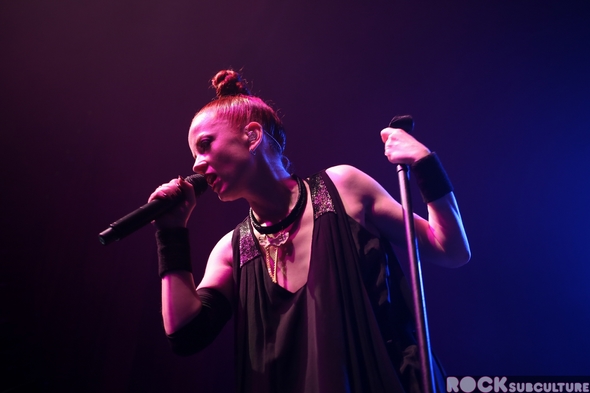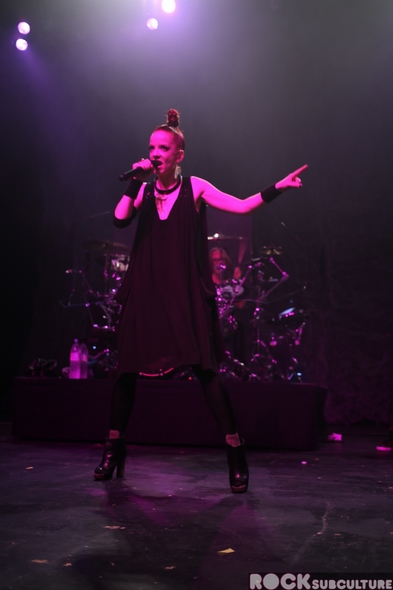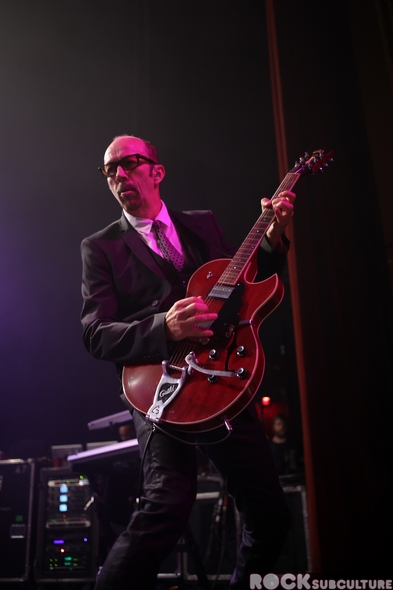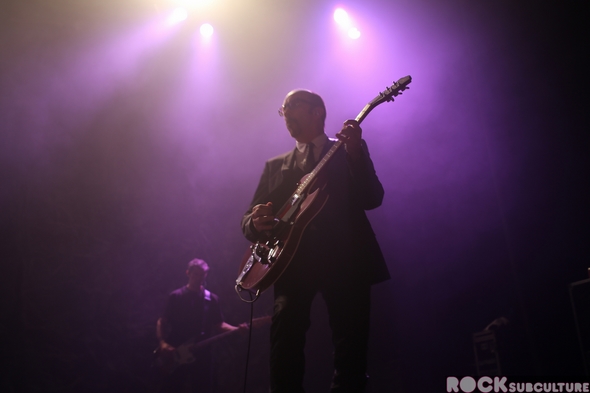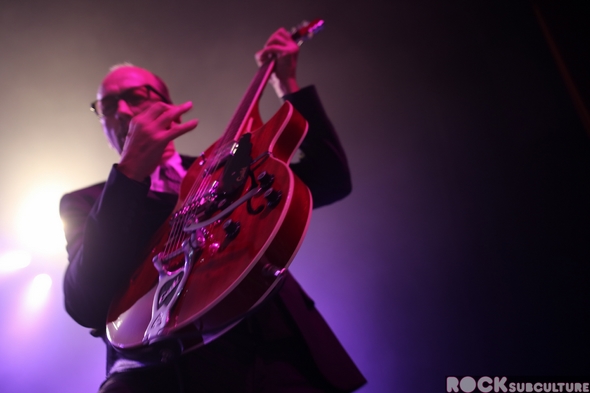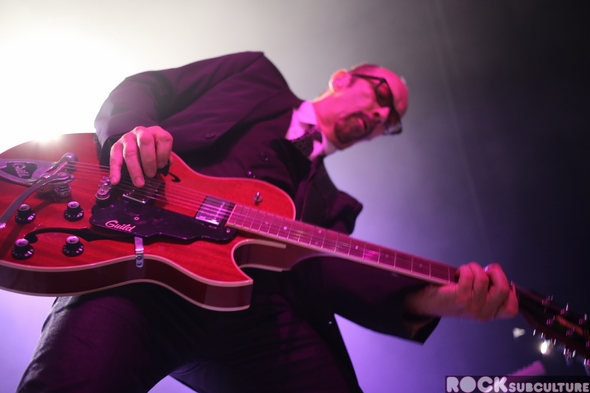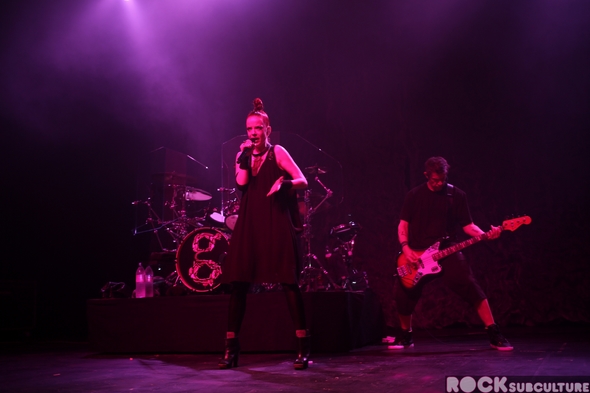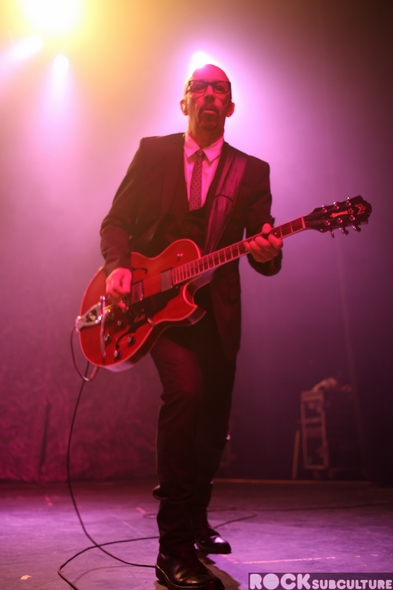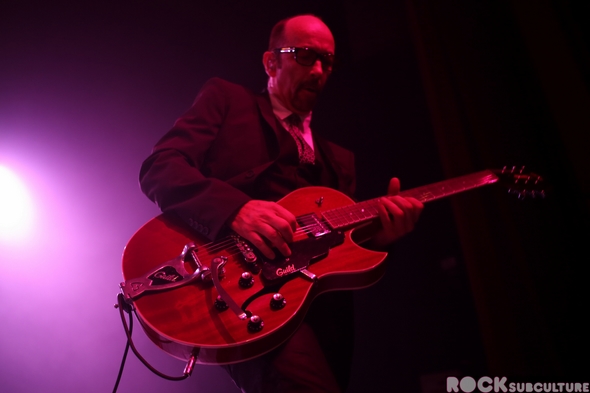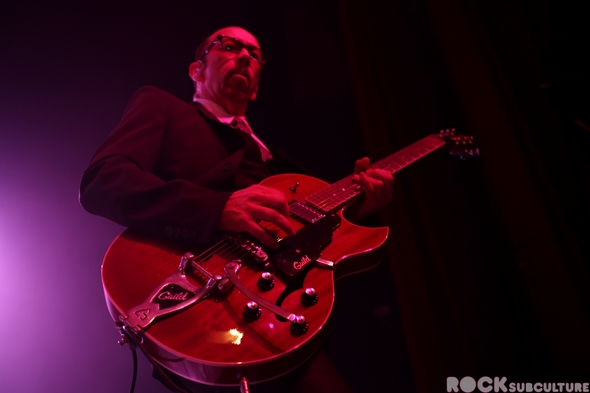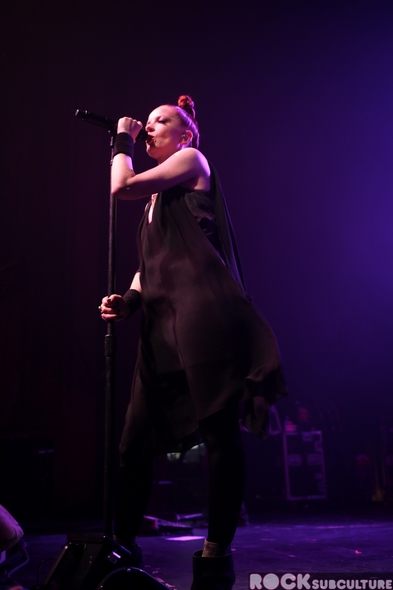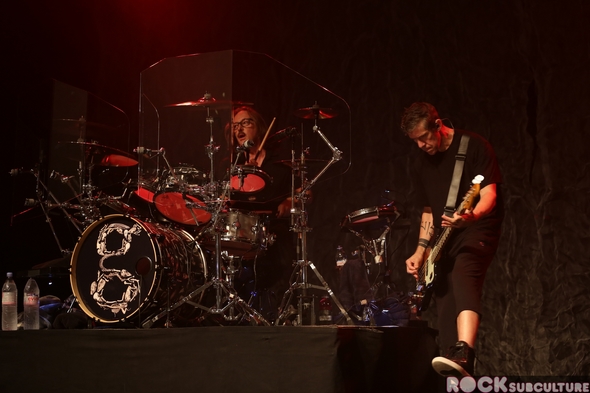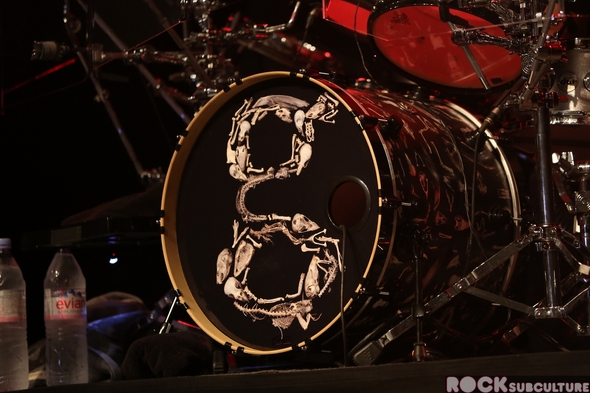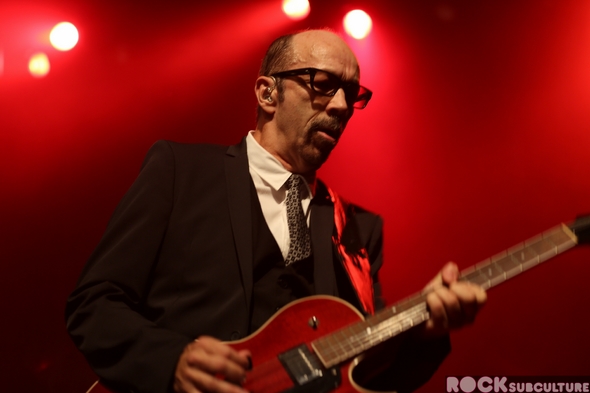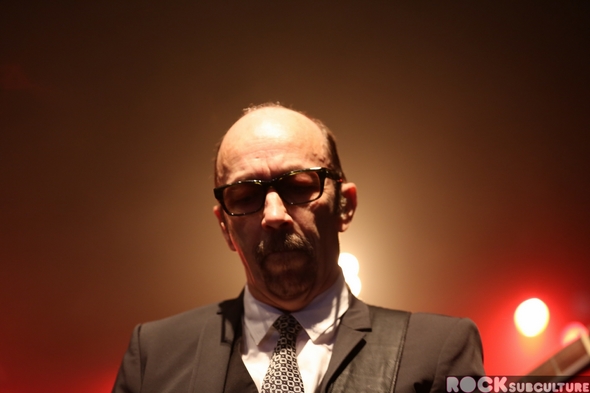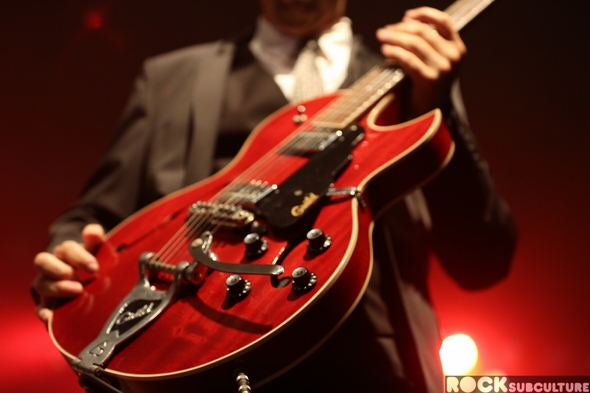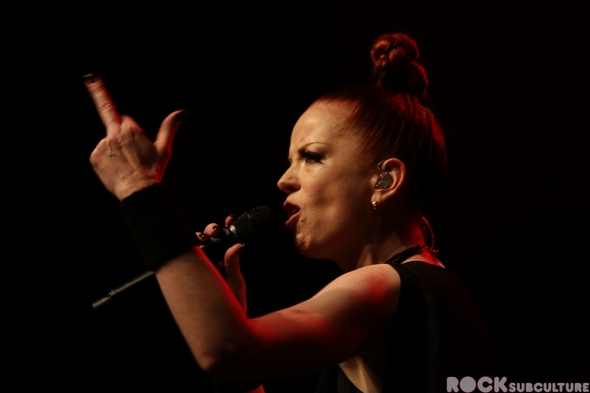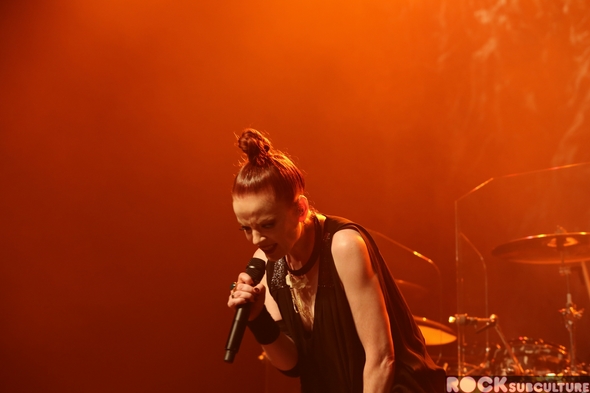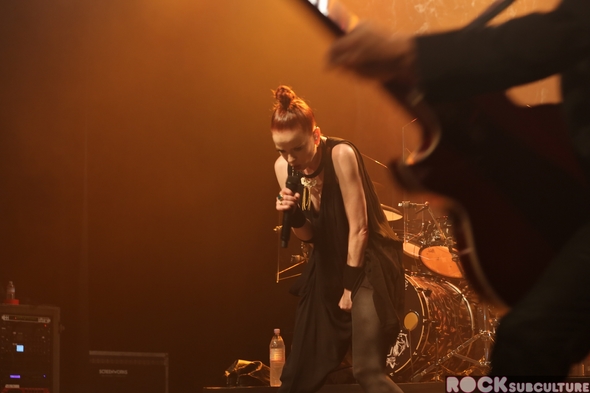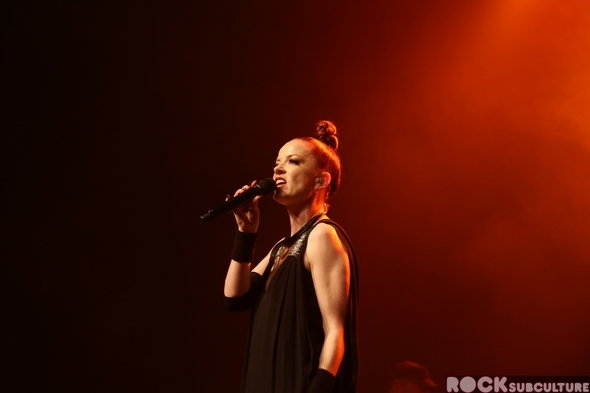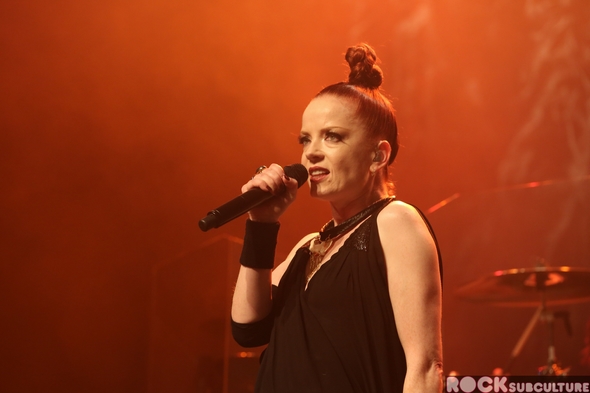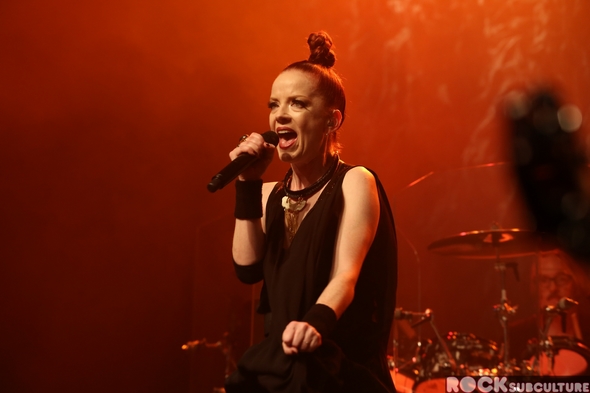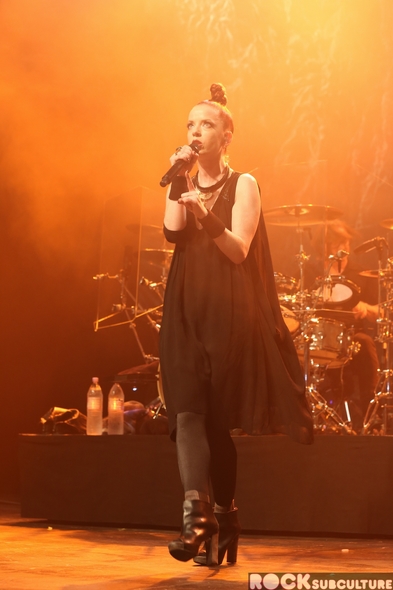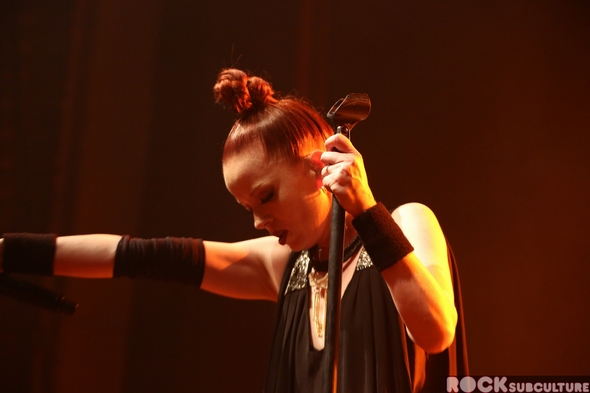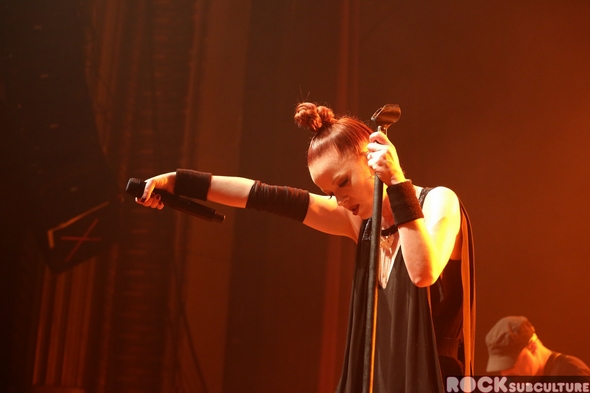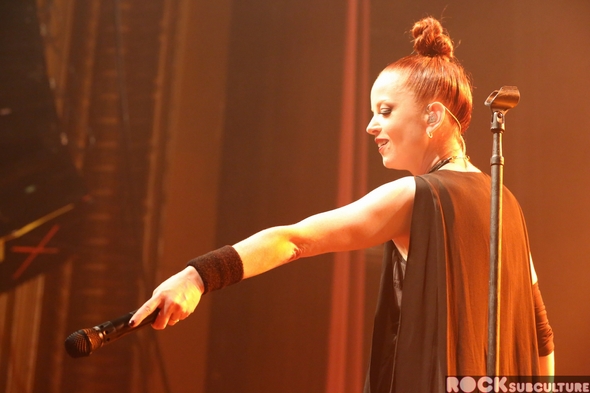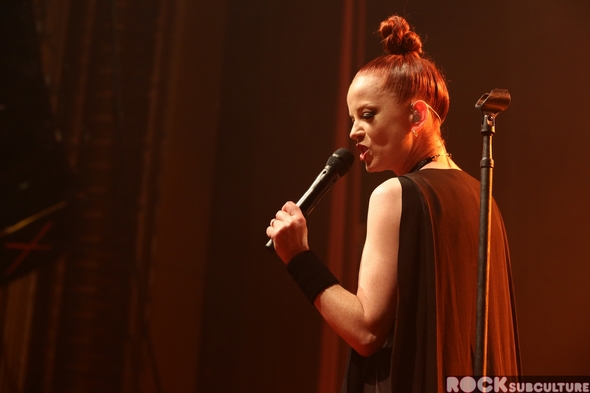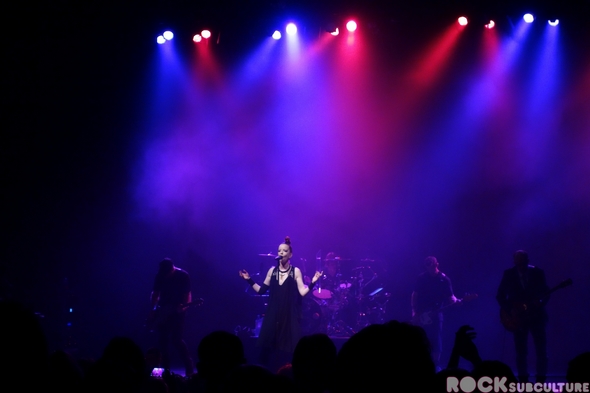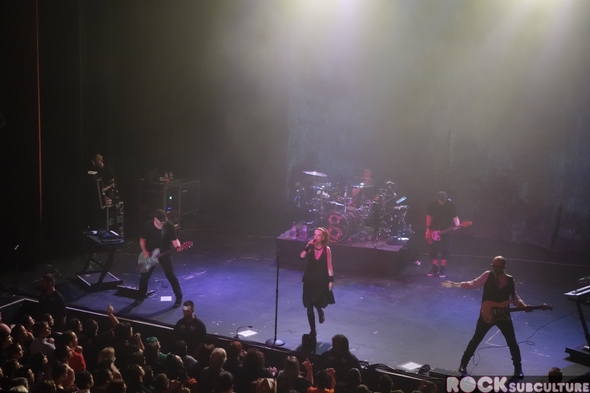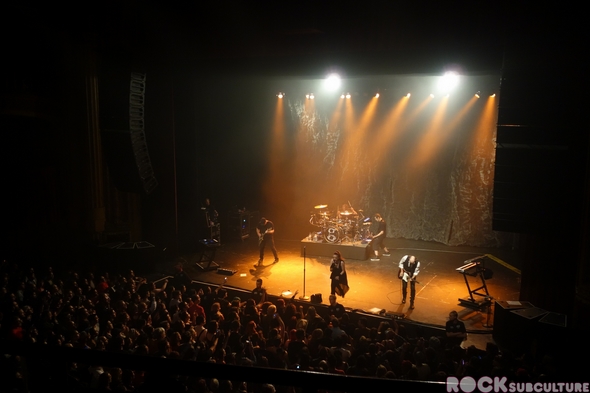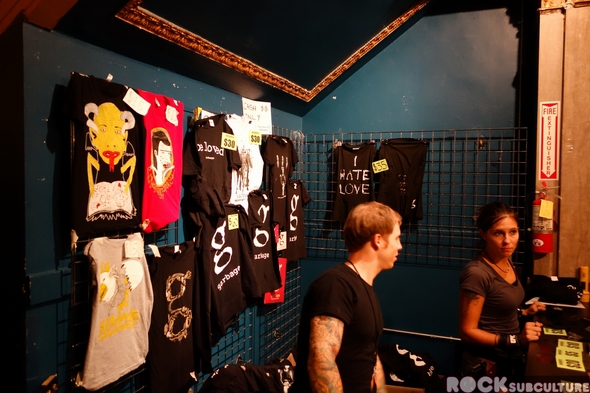 Jason DeBord