Epic and Legendary… in this rare instance, both words apply.  An Epic performance from a truly Legendary rock band.  Unless you've been stranded on a deserted island for the past 40 years, you would at least know who they are, and some of their songs, as they are often referred to as "America's Greatest Rock and Roll Band", and honestly, I can't imagine who could give them a run for their money for that title.  In any event, just sticking with the premise of this review, these guys are just remarkable.  They are living the rock and roll dream (in spite of the music industry's ongoing implosion – more on that in a bit), and I think they sound and perform better than ever – they just become more incredible the older that they get, and I feel age suits them, as they are elder statesmen in music, they have an incredible history, and they – and their music – is as relevant as ever.  If you get the opportunity, you must see this band.  The current set of live dates is called "The Global Warming Tour".
Who: Aerosmith
Venue: Oracle Arena
Where: Oakland, California
Supporting: Cheap Trick
When: August 4, 2012
Seating: Section B Main Floor, Row 26, Seat 1 (moved to side of catwalk after Cheap Trick); also purchased "Sweet Spot" VIP Package

Supporting Act: Cheap Trick
Current Members:
Robin Zander (lead vocals, rhythm guitar, piano)
Rick Nielsen (lead guitar, backing vocals)
E. Carlos (drums)
Tom Petersson (bass, backing vocals)
Cheap Trick supported Aerosmith as the opening act for the night.  I've never really followed them or their music, apart from a few hits heard on the radio in the 80s, and their music is not really my style, so I don't really have a whole lot to say about them.  The crowd generally seemed to really enjoy them, and they did a great job getting things going.  I found them quite entertaining, particularly when ROck Nielsen pulled out his five-neck guitar.  I've also never seen a guitarist throw anywhere near as many guitar picks into the audience – I would imagine well over one hundred.  They definitely appear to have fun, and it's hard to resist joining in.
Below are a few photos of Cheap Trick from my original seat: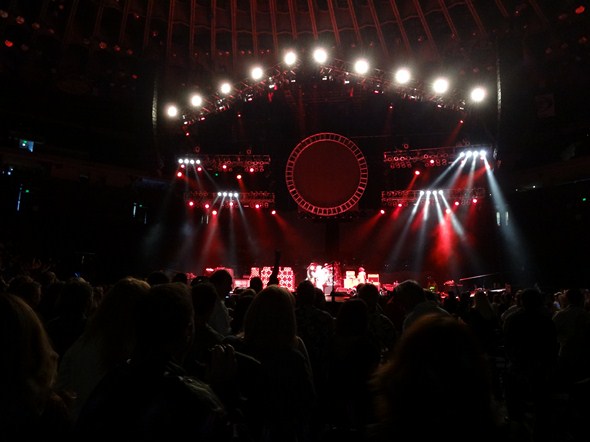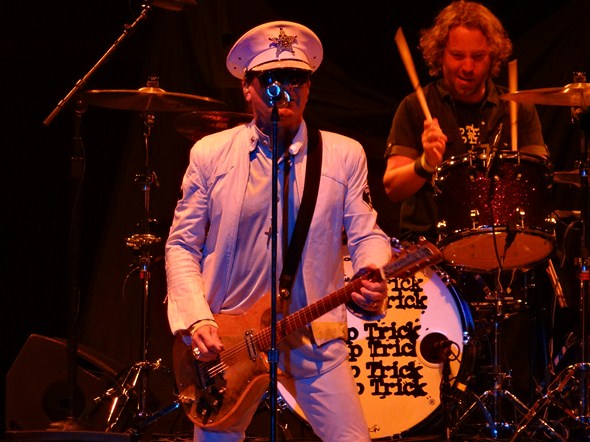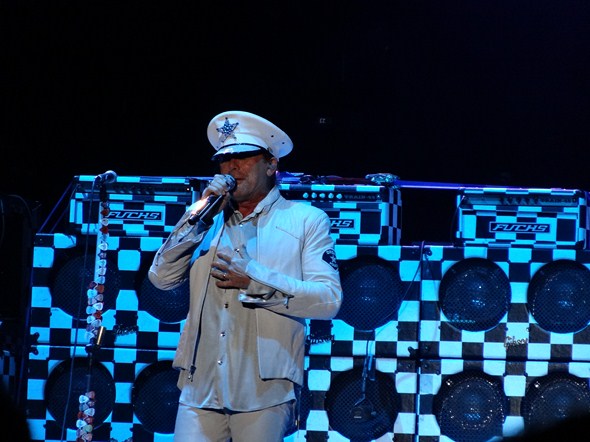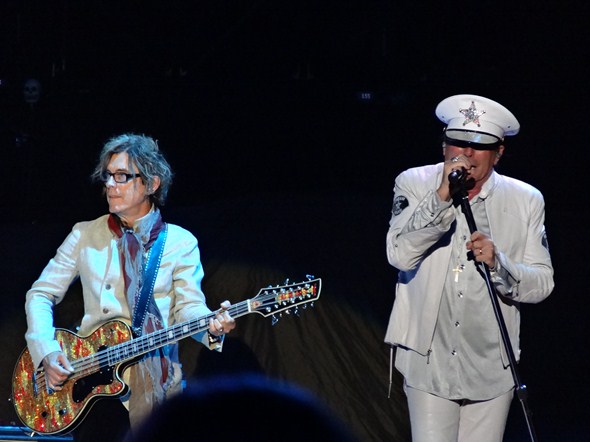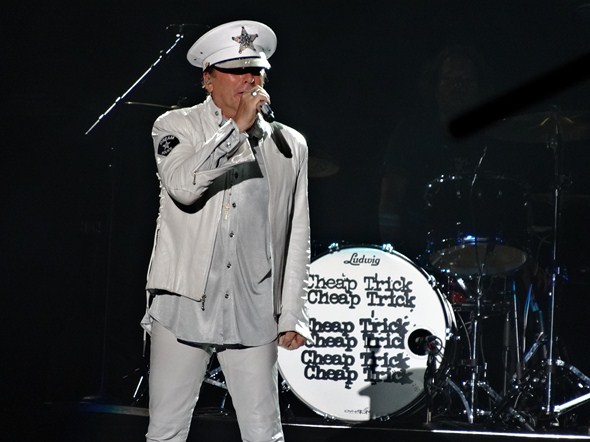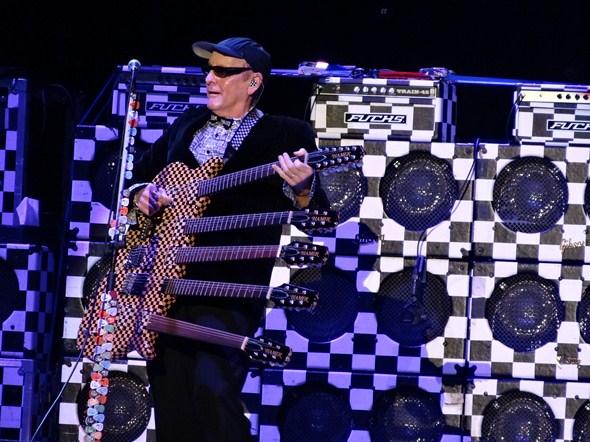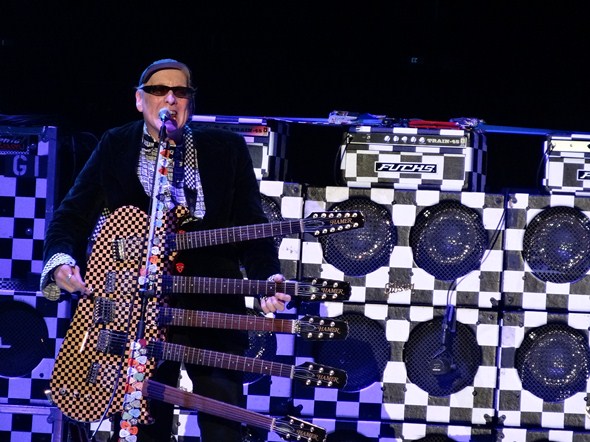 Aerosmith
Members:
Steven Tyler (Lead Vocals, Harmonica, Percussion, Piano/Keyboards)
Joe Perry (Lead Guitar, Vocals/Backing Vocals, Keyboards)
Tom Hamilton (Bass, Backing Vocals)
Joey Kramer (Drums, Percussion, Backing Vocals)
Brad Whitford (Rhythm Guitar, Acoustic Guitar)
As noted, Aerosmith are legends in music and pop culture, so providing a bit of a synopsis…  I'm not even sure where to begin.  At the most basic, they are a band formed in Boston in 1970, and definitely fit into the genre of rock and roll, though they definitely have their own unique style (in sound and appearance) and do actually have quite a bit of range with their works, from heavy metal to pop-oriented to ballads to R&B.
They've produced and incredible number of hits over the years, though what really sold me, funny enough, was their unlikely collaboration with Run-D.M.C. with the reimagined "Walk This Way", which not only was revolutionary in sound, but it included a killer video that was in constant circulation on MTV when it was first released.  The song not only propelled Run-D.M.C. (and rap along with it) into the mainstream, it also ushered in a resurgent interest in Aerosmith, and their work and catalog.  While it is extremely common these days to see a new single with "(feat…)" in the title, such collaborations were not common in the 80s, and I can't imagine a more appropriate pairing that what occurred here (and funny enough, with Steven Tyler and Joe Perry smashing through a wall in the video – this song and video smashed many barriers in the music industry and pop culture at large).
My other personal note with this band is that, though they have some really incredible music, far and away my favorite work of theirs is the song, "Dream On".  In fact, I'd go so far to say it is definitely in the top ten of my favorite rock and pop songs of all time.  Just an amazing, amazing song.
So on with my look at this event last night (as it's the early am as I am writing this, as per usual)…
I call it an event, because it was literally much more than a concert.  As mentioned, when I purchased my ticket, I did it as part of their "Sweet Spot" package, which included:
– A Ticket in Reserved Section Seating
– The Amazing Joey Kramer Experience: Killer Joey giveaways – including an experience like never before, revealing Q&A, up close & personal with JK on the drums just for you!
– Brad Whitford Q&A: playing and sharing intimate details of what makes the music happen
– Pre-Show Experience with Tom Hamilton like never before
– Exclusive Aerosmith Lithograph
– Limited Edition Laminate and Lanyard
– Early Entry and Early Crowd Free Access to Merchandise Booth
So it was truly an event overall, as we were let into the arena at about 4:30 PM, and Aerosmith left the stage at about 11:00 PM.  That is a lot of time, and there was very little time in-between events.  Soon after being led into the venue, we were then invited down to the floor of the arena, where some chairs were set up at the end of the catwalk, with microphones.
Before Joey Kramer, Aerosmith's drummer, came out, they asked everyone to look under their chairs for a special tag – I think they said they had hidden around half a dozen of these among the 500 or so people in attendance, and it so happened that one was under my chair.  So I had an opportunity to go up to the microphone and ask Joey a question, which a couple sitting next to me were kind enough to videotape for me, embedded below.
I had asked Joey for his thoughts about the music industry, what it was like to be an active musician all these years and see formats change and the marketplace move to a more single-driven model:
It was so awesome to sit there and have people ask really good questions, and hear Joey open up to us about his thoughts on a variety of topics.  It was so apparent that he really loves his job, and his fans, and it would be great if more artists would consider doing this sort of thing, as it really allowed artist and fan to have an even more meaningful connection, just before a concert.  Very cool.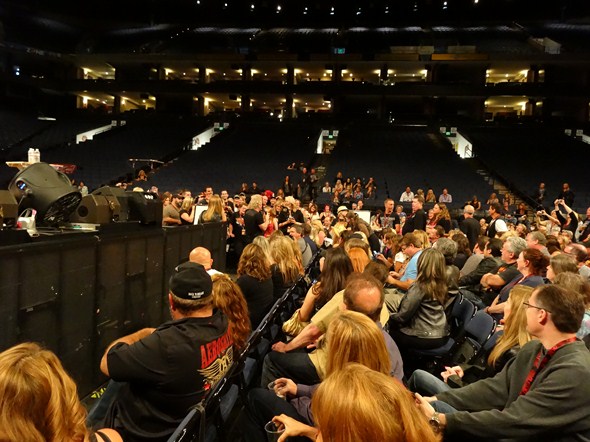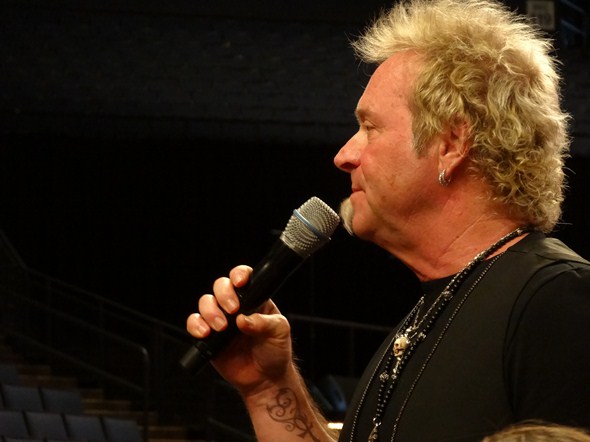 Brad Whitford (rhythm guitar) also came out and did an amazing warm up with his guitar, and answered some questions, as did Tom Hamilton (bass guitar).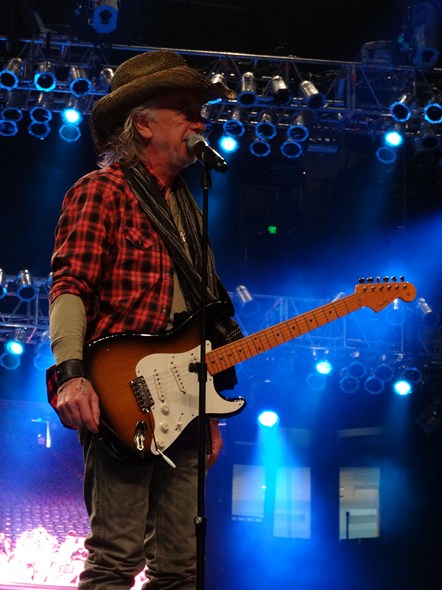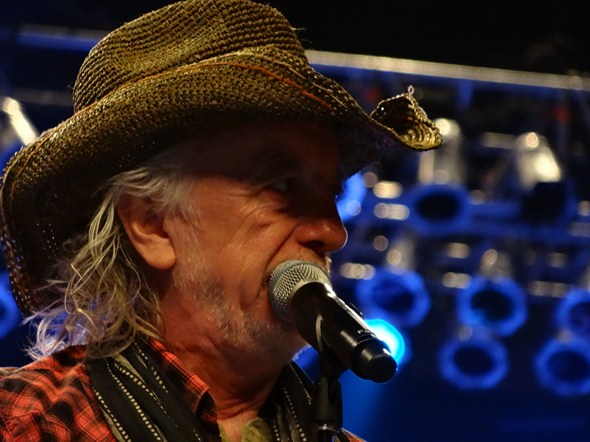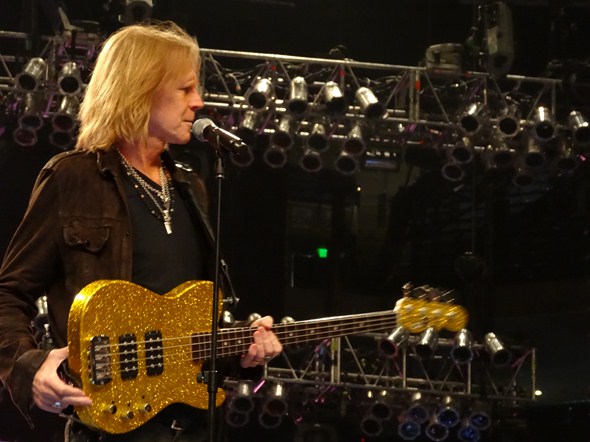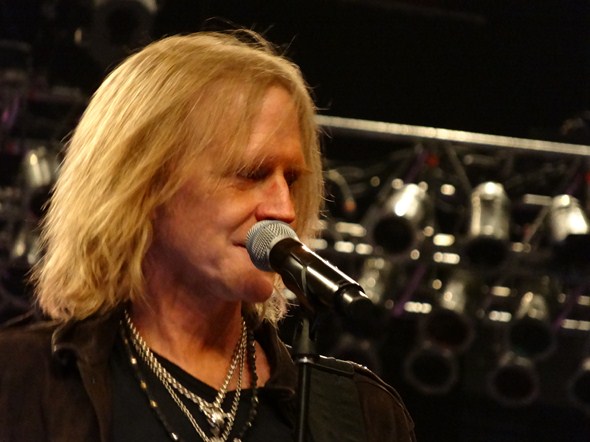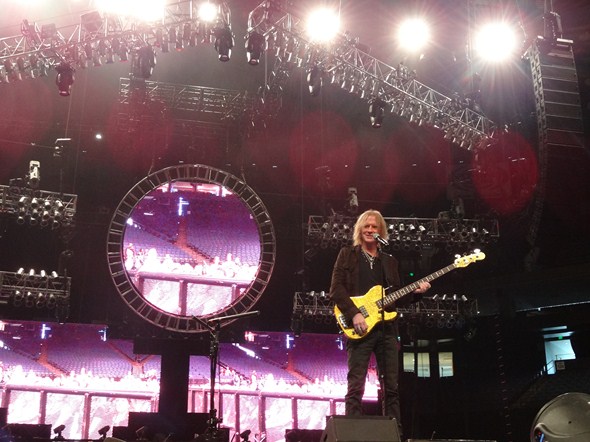 It was an awesome way to start out the night, and everyone seemed to enjoy it a great deal.  All three gentlemen were very genuine in their kindness and passionate about their music and work.
After Cheap Trick performed, I noticed that where people's seats were and where they were actually standing was becoming more and more blurred, so I opted to move up to one side of the catwalk, and made some new friends over there (hey Juan and my Brazilian friends!) and the closer it came to the start of the show, it became a bit of a disorganized sea of people which seemed kind of appropriate, actually.
As the show began, frontman Steven Tyler rose up from the end of the catwalk, right in front of us.  It really doesn't get any better, and if anyone on this planet was born to be a rock star, it was this man.  Seriously, a born rock god.  He's such a showman, and he even tossed the cool hat he was wearing to a woman standing next to me.  Very cool.
Fortunately for me and those around me, it seemed throughout the night that Steven's favorite place to perform was right there in front of us, at the end of the catwalk, and it was just amazing.
These guys love their music, and they love performing, and everything just seemed completely flawless.  Not only that, they played for a good, long time – I think close to two hours.  Everyone seemed really pleased with the set list; though they have so many great songs, some favorites are always going to get left behind.  I mean, they have 14 studio albums, and another one of the way…  they could literally do one song from each, and that would still be a lengthy set.
But these guys are amazing performers – each of them among the best there is at what they do – and it is just incredible that they formed way back when, grew as artists by leaps and bounds, and are still today playing, and doing better than ever.  Such an incredible opportunity to see them if you get an opportunity – you really can't walk away without anything but feeling like you were part of an unforgettable concert experience.
Getting back to the closer…  the main set closed out with "Walk This Way" – just freaking amazing.  And then the encore opened with the piano rising from the end of the catwalk right in front of me, and then to see one of my all-time favorite songs played right there.  Words can't describe, so I won't try…
Funny thing – walking out of the venue, there is the usual post concert chatter… and someone out front yells "Aerosmith…", and the crowd broke into an immediate, well, I don't know how to describe it…  a very loud celebration, as if the band suddenly appeared as if from nowhere.  But there was no band outside, just the fresh memory of what we all shared inside, and people were beyond jubilant.  I've never need anything like this after a concert, outside the venue.
Below is the set list from the show:
Main Set:

Draw the Line
Love in an Elevator
Same Old Song and Dance
Livin' on the Edge
Oh Yeah
Last Child
Rag Doll
The Peter Gunn Theme (Henry Mancini cover)
Boogie Man
Combination
Stop Messin' Around
What It Takes
Legendary Child
Come Together (Beatles cover)
Rats In The Cellar
Sweet Emotion
Walk This Way

Encore:

Dream On
Train Kept A-Rollin'
Below are videos I shot of Aerosmith performing on stage… (generally limited to some of the ones played at the end of the catwalk, since that is where I was standing.
"Come Together":
"Sweet Emotion":
"Walk This Way":
"Dream On":
"Train Kept A-Rollin'":
Below are photos taken during the concert and of the venue: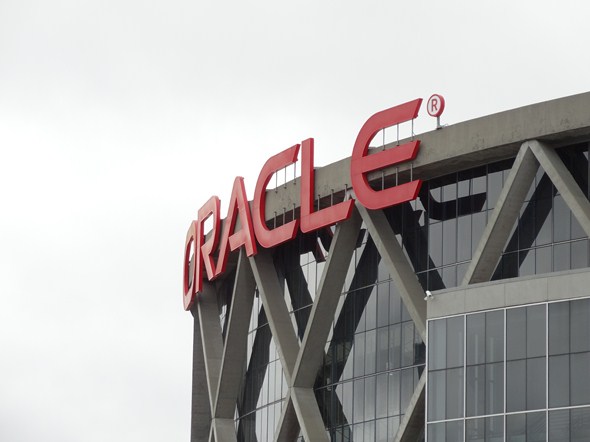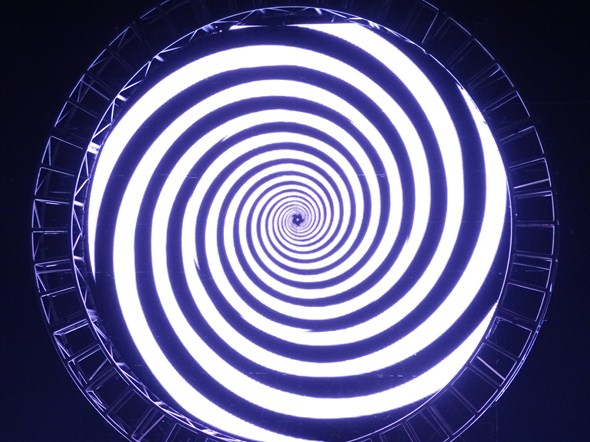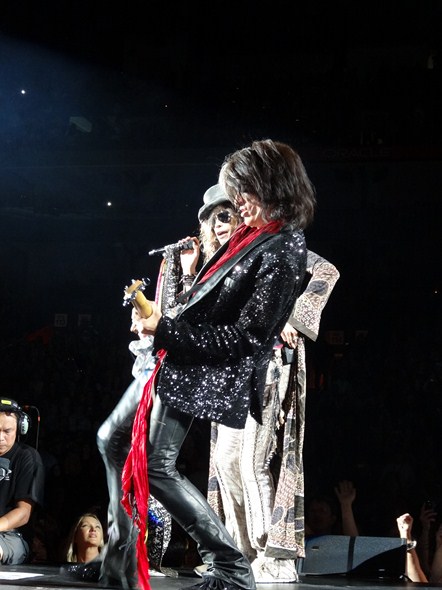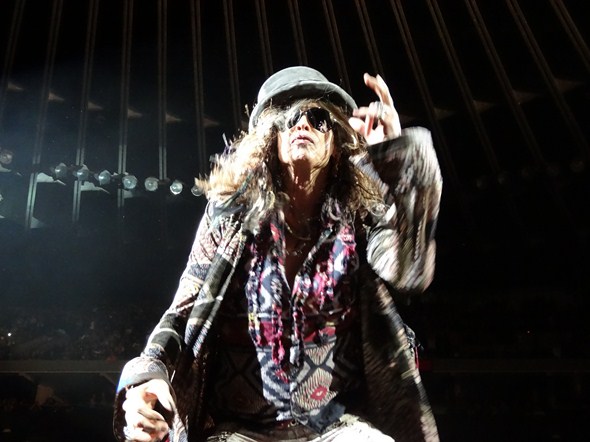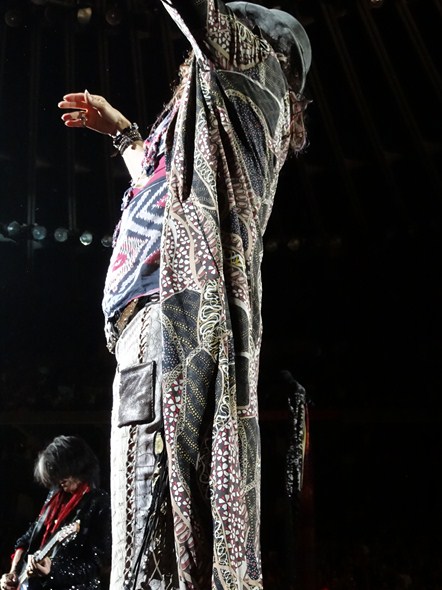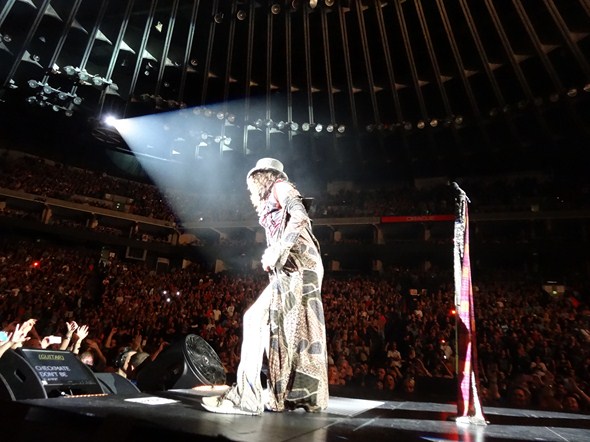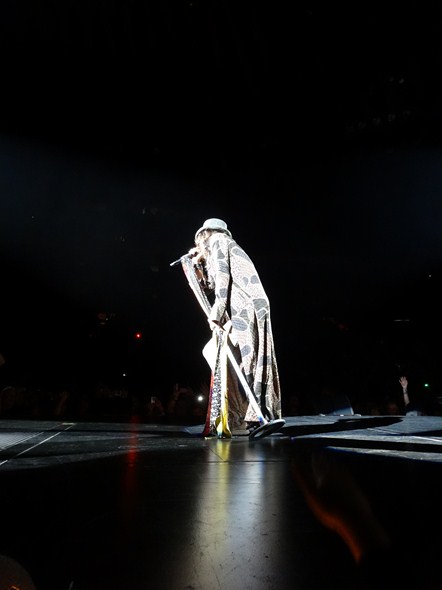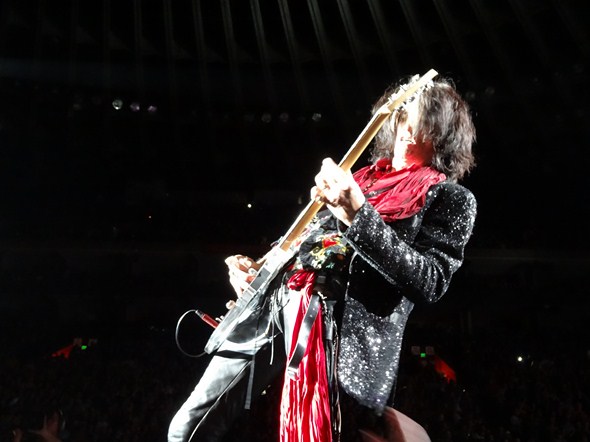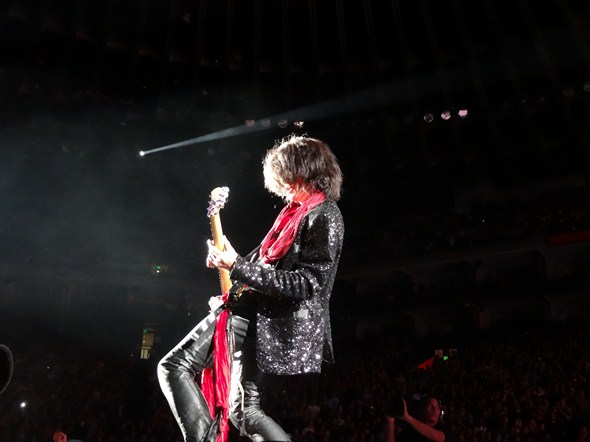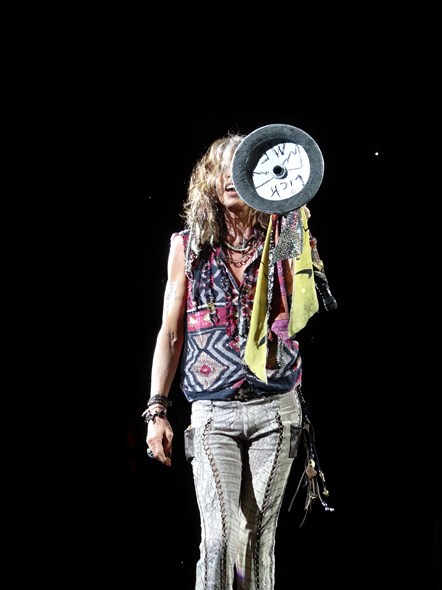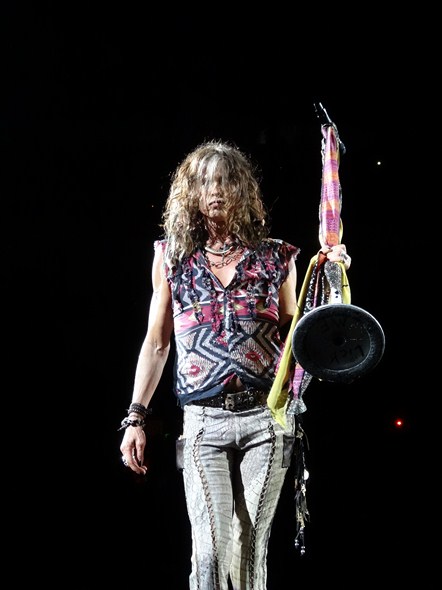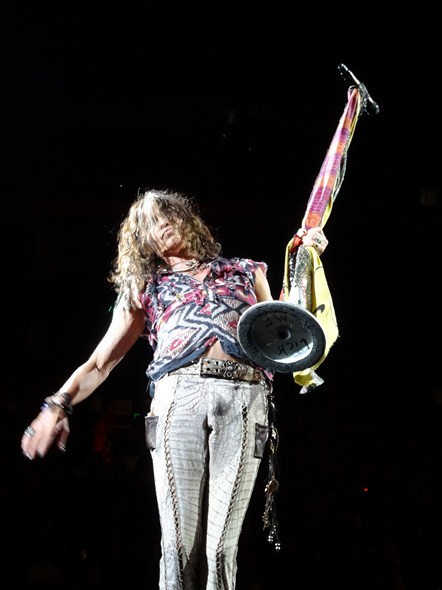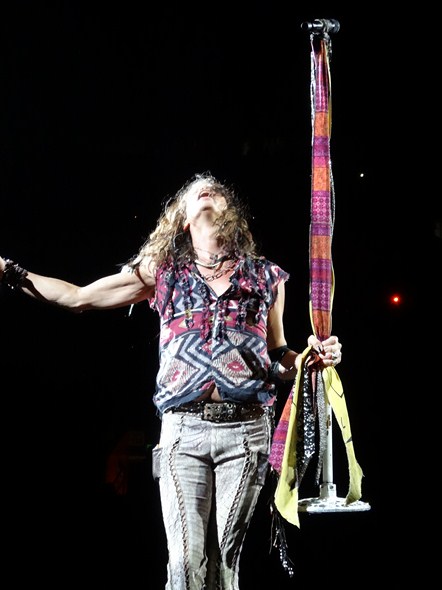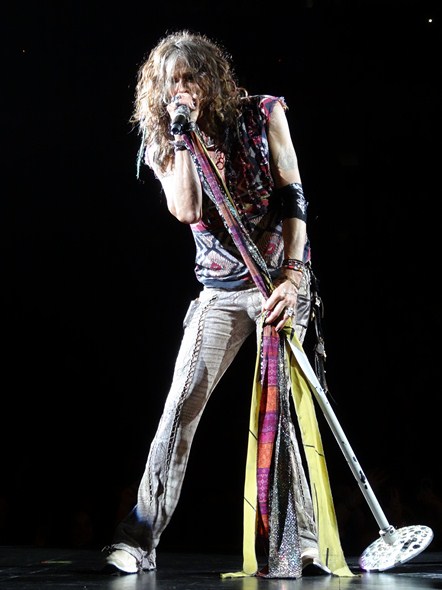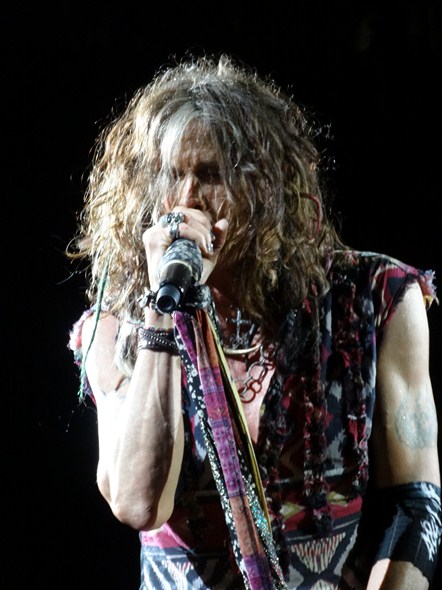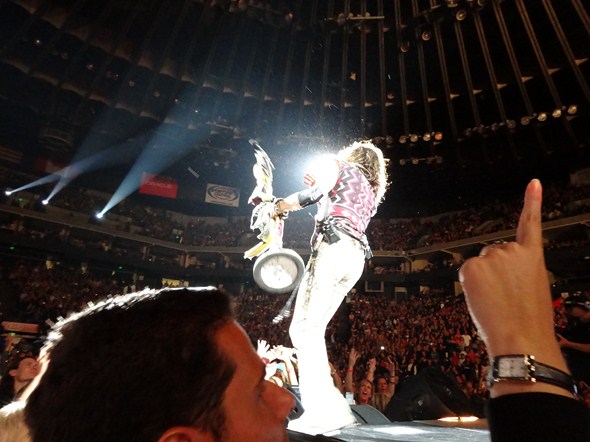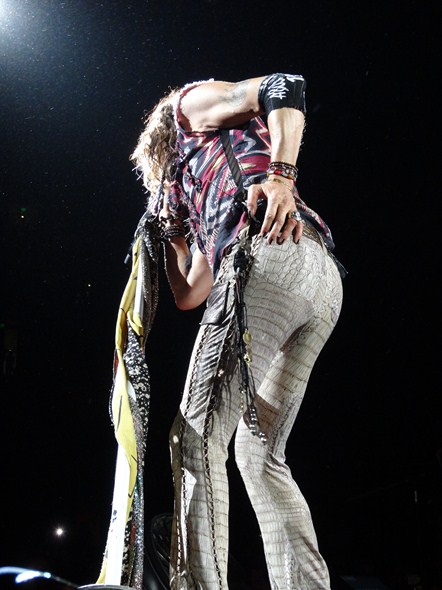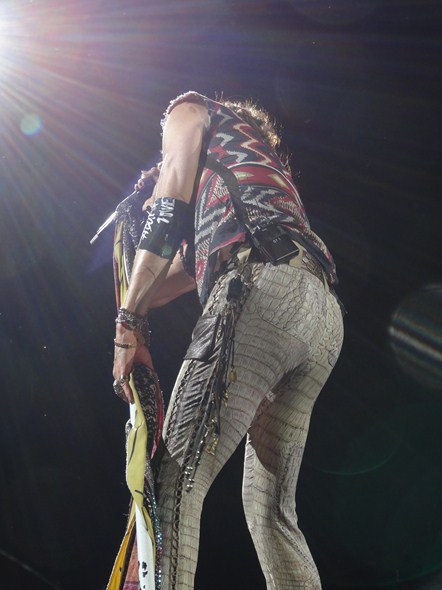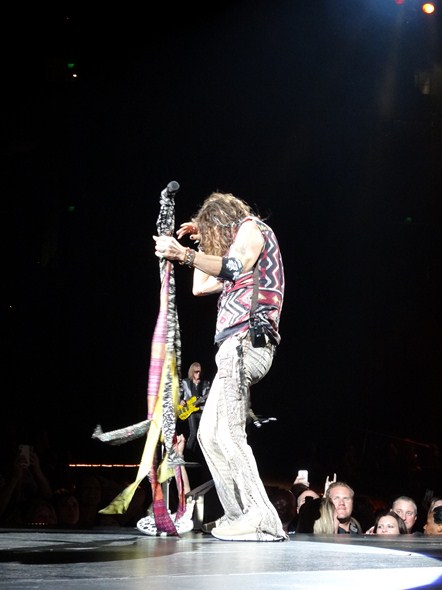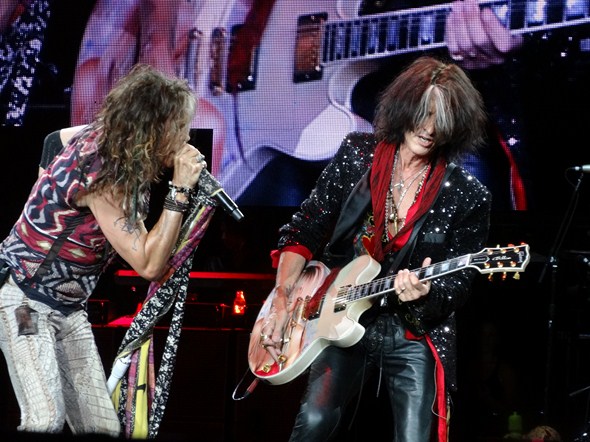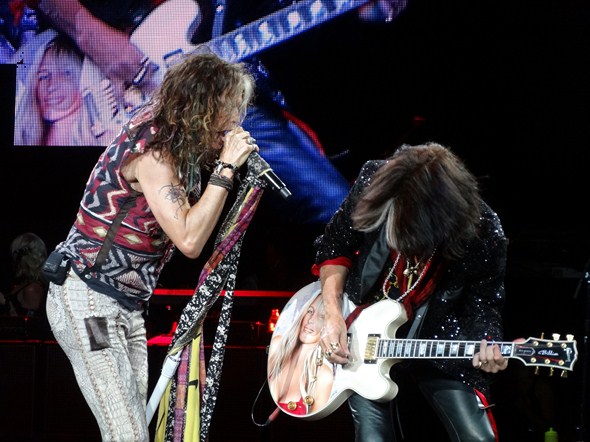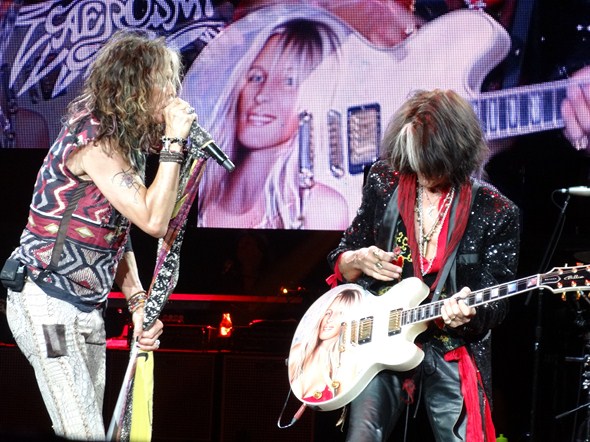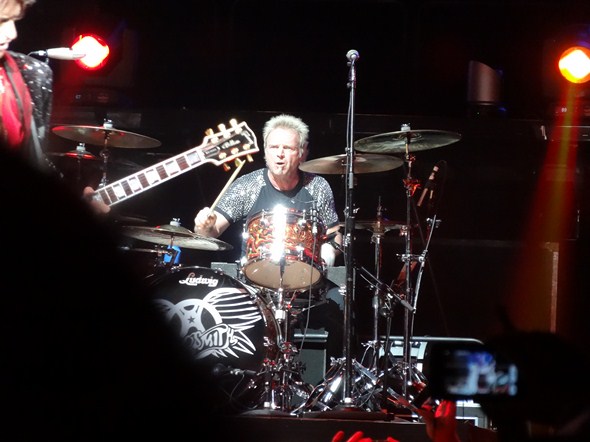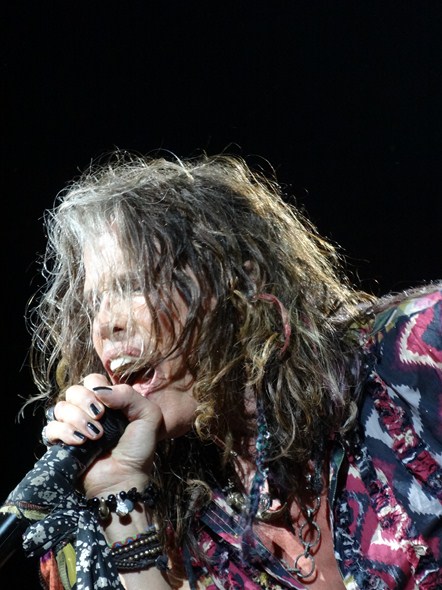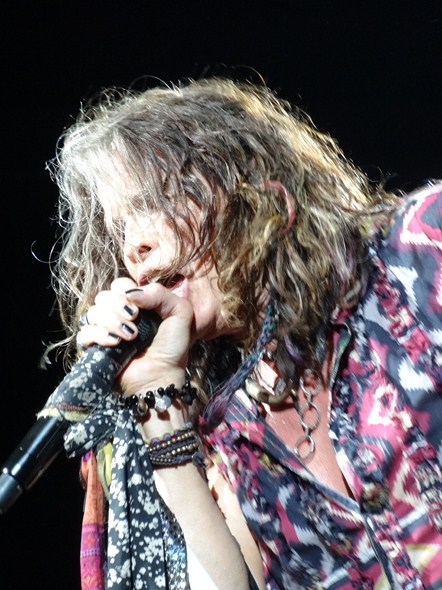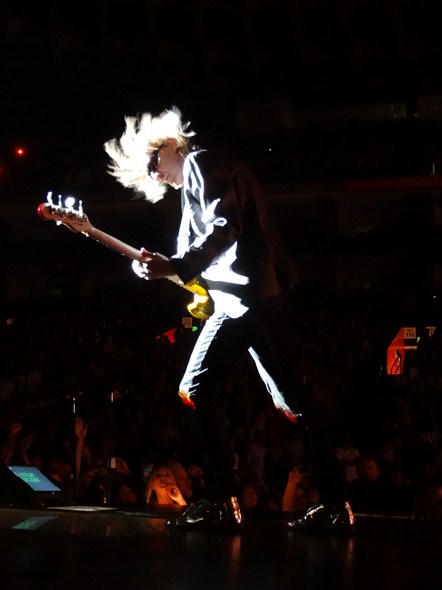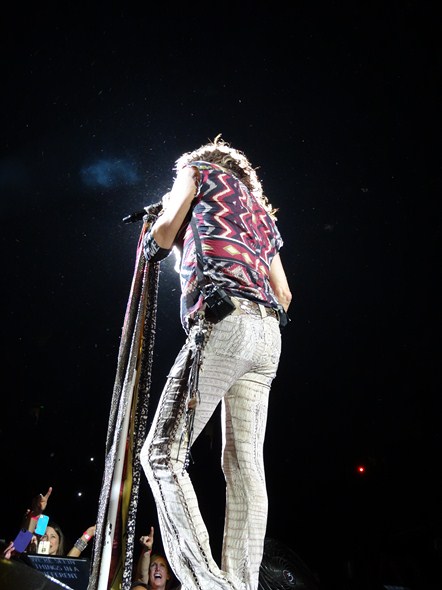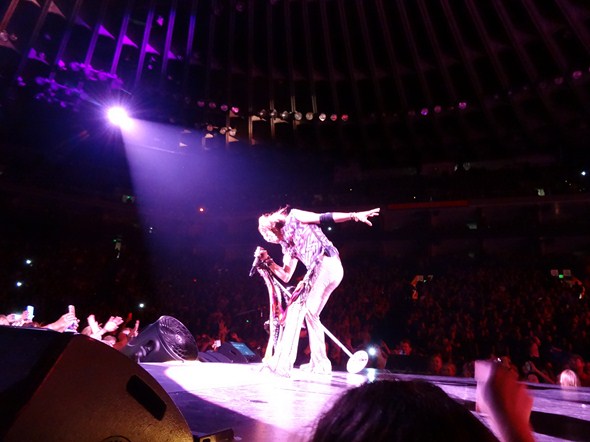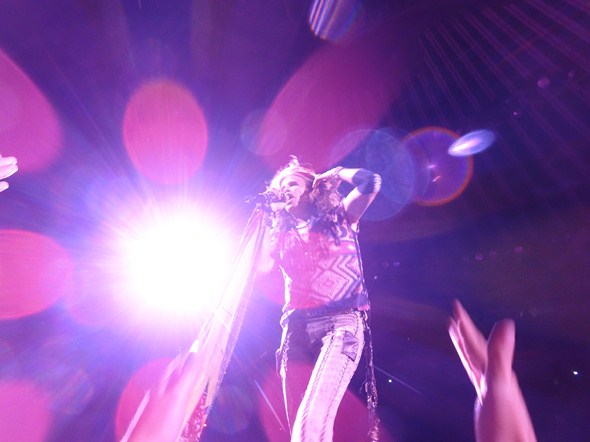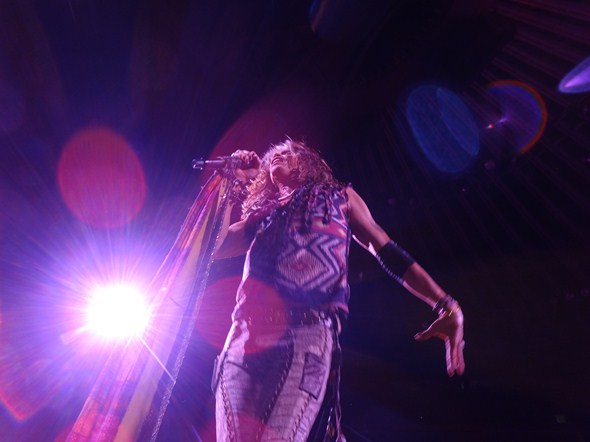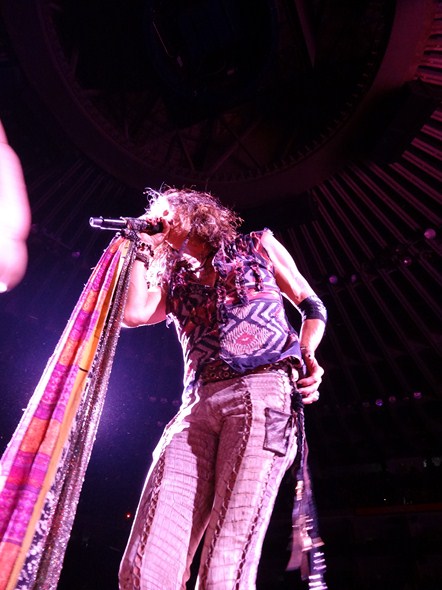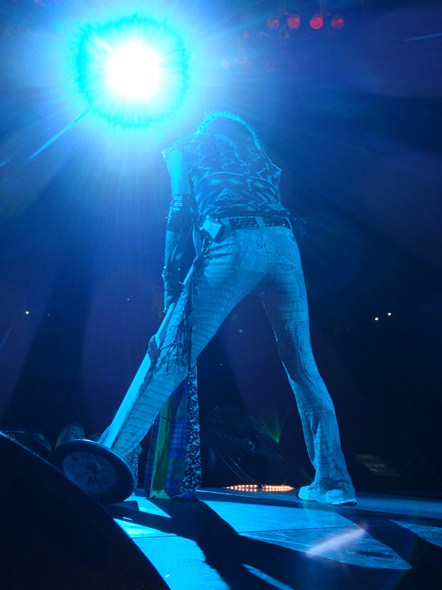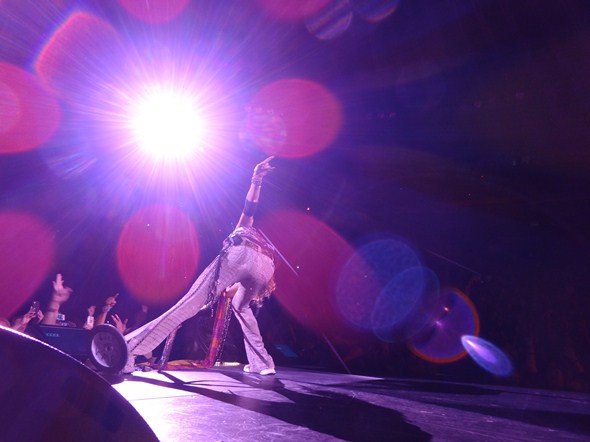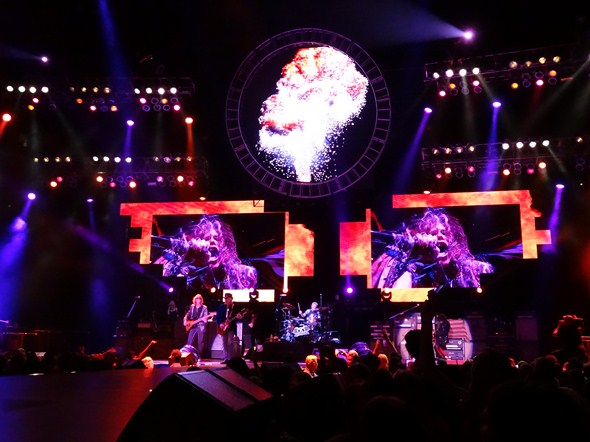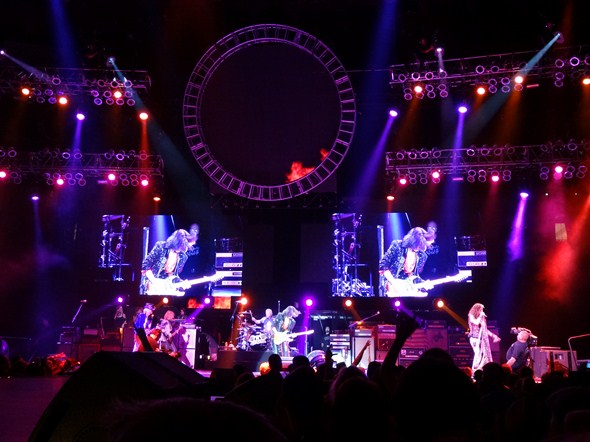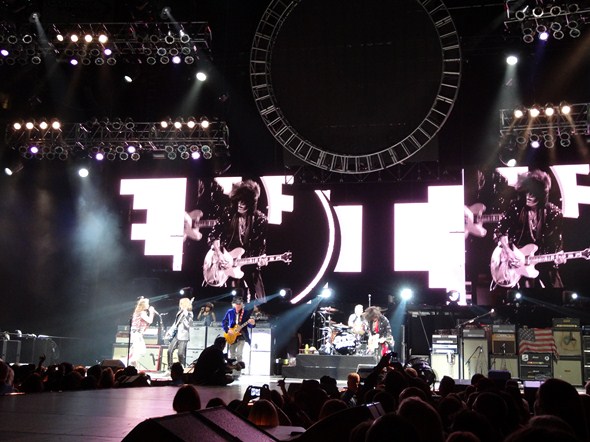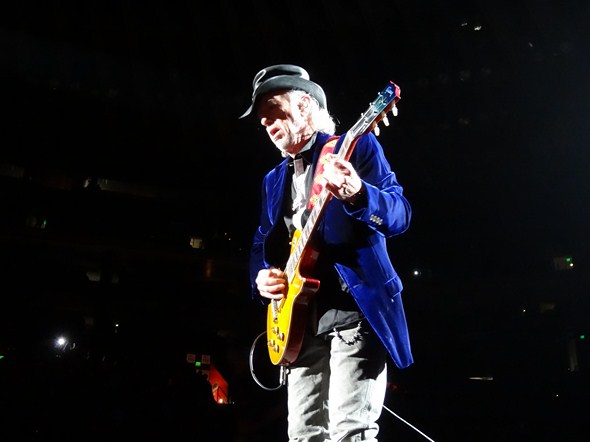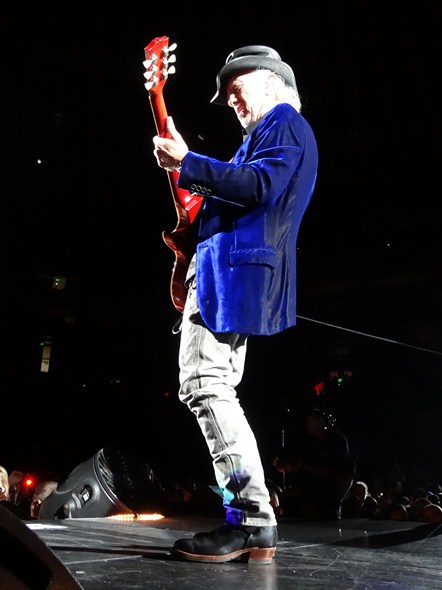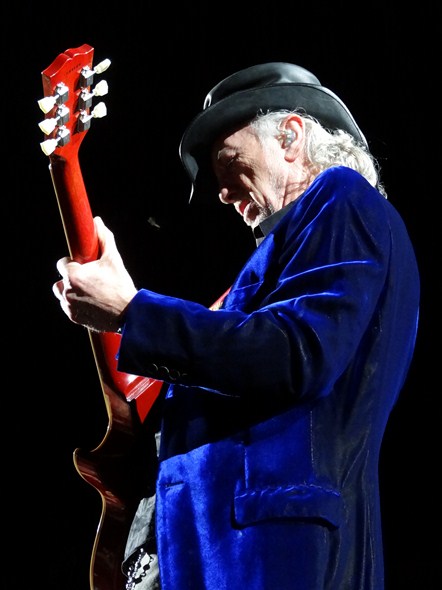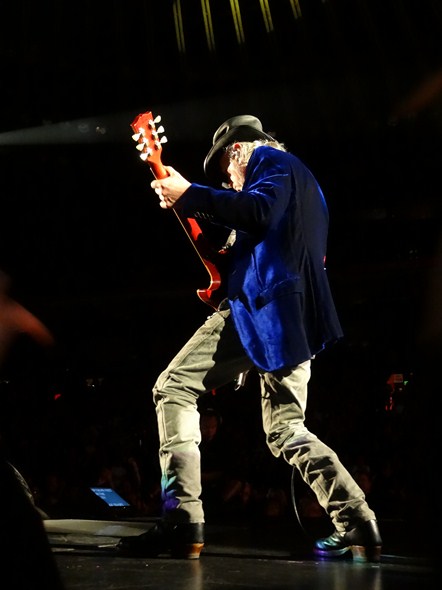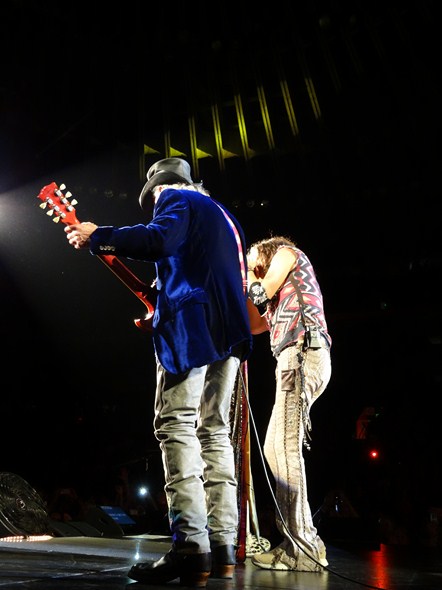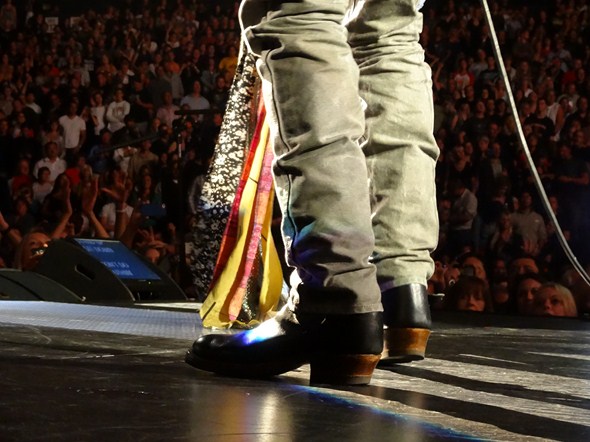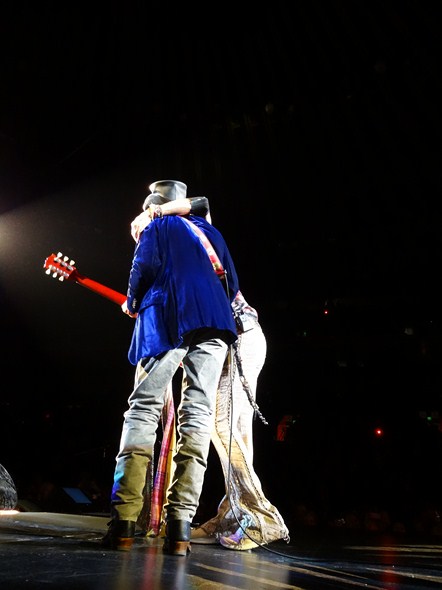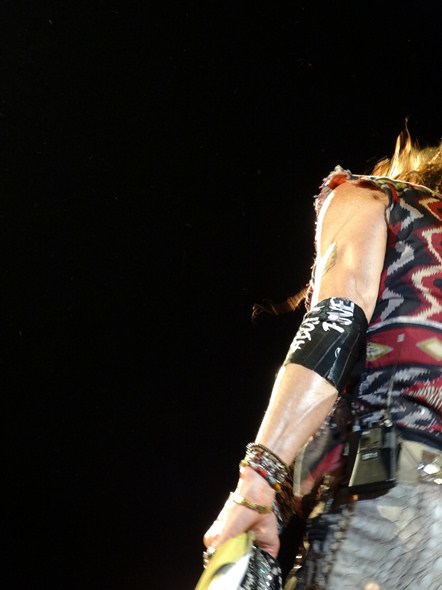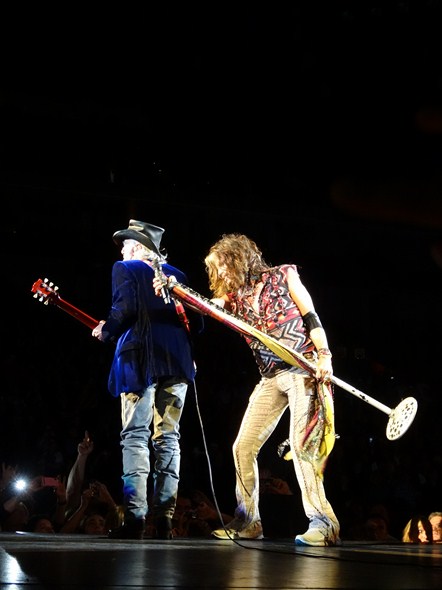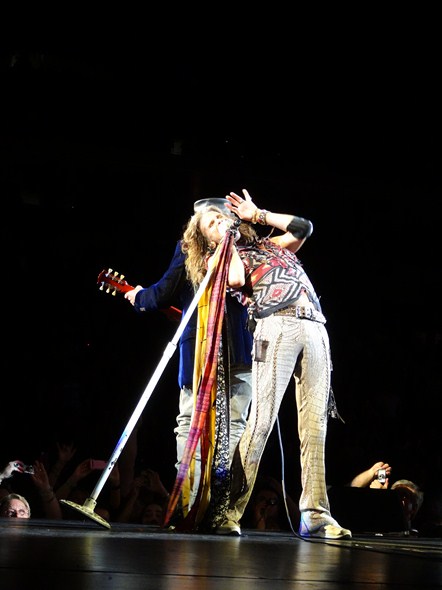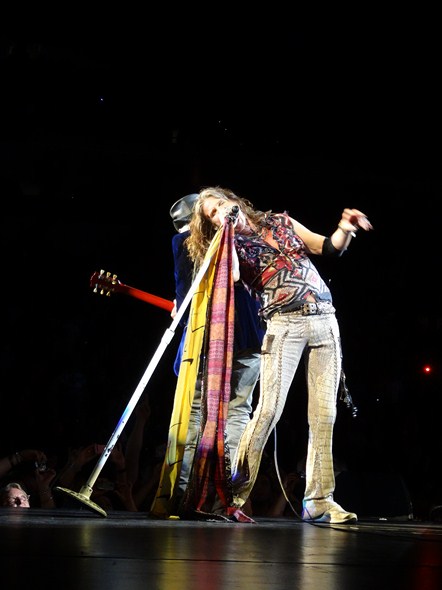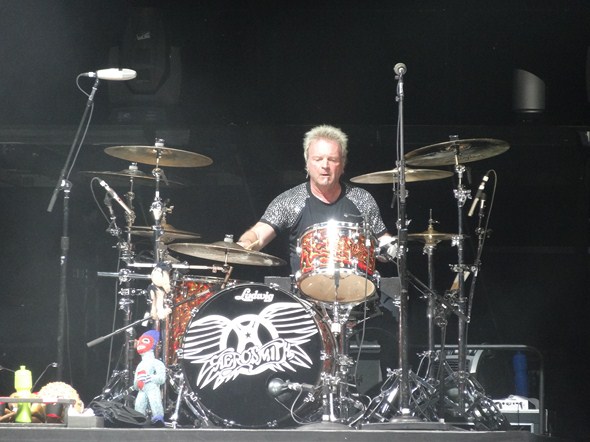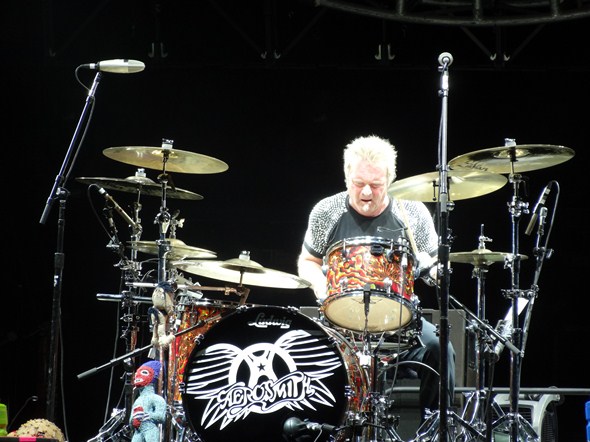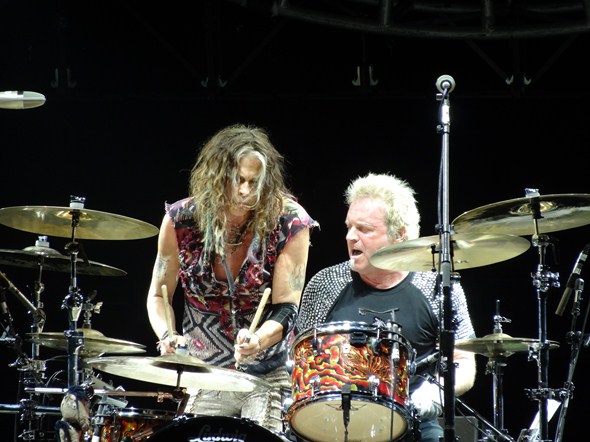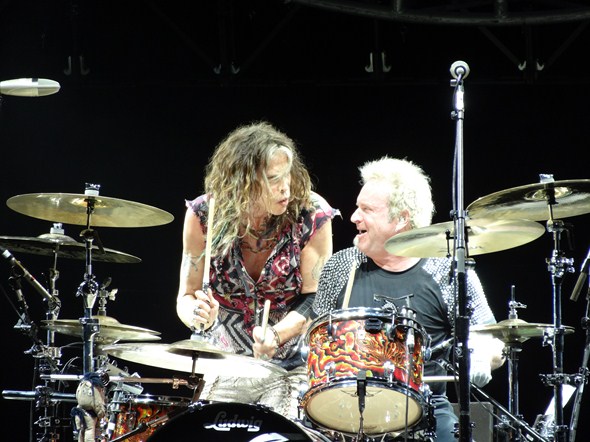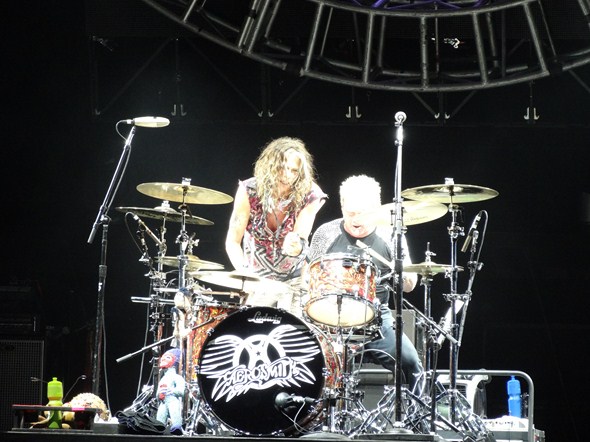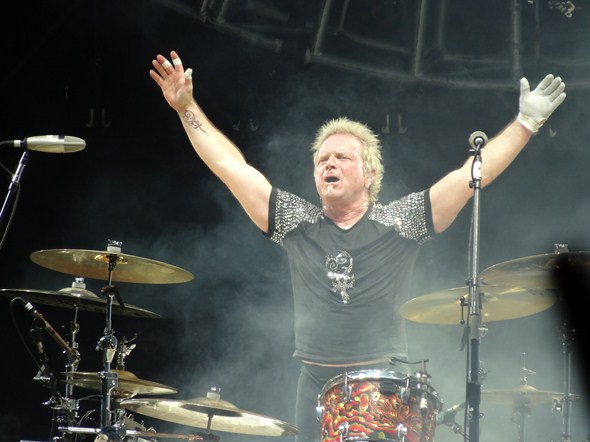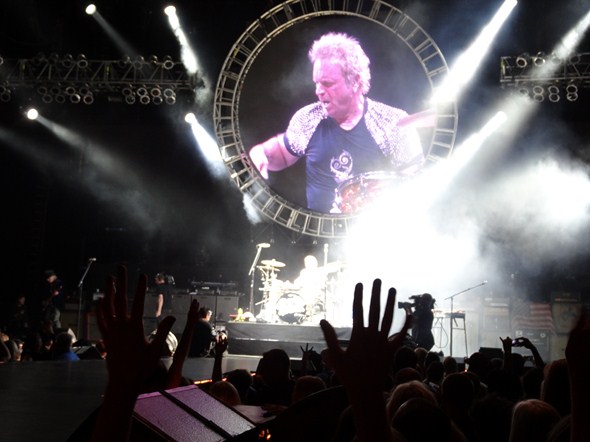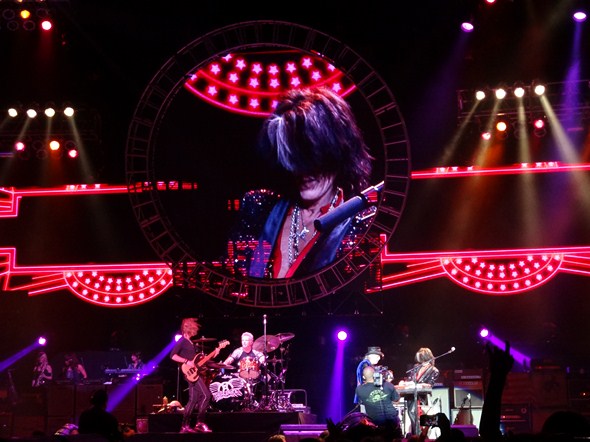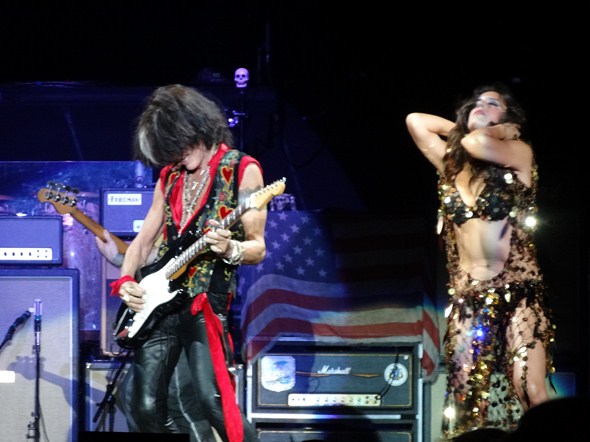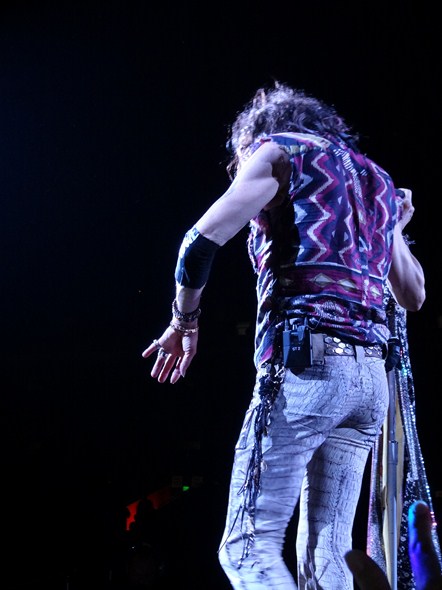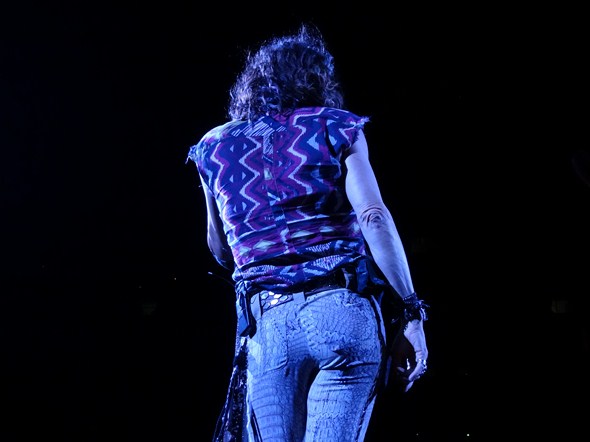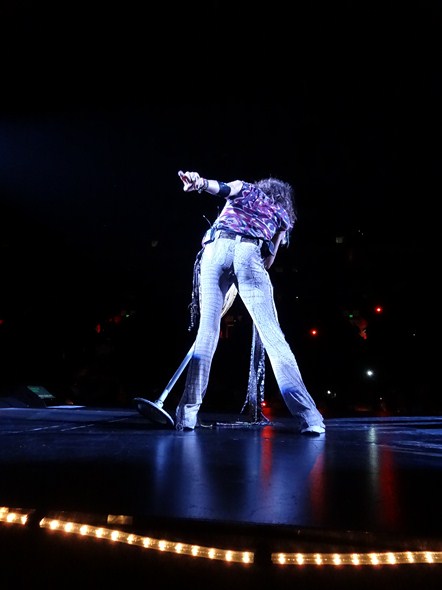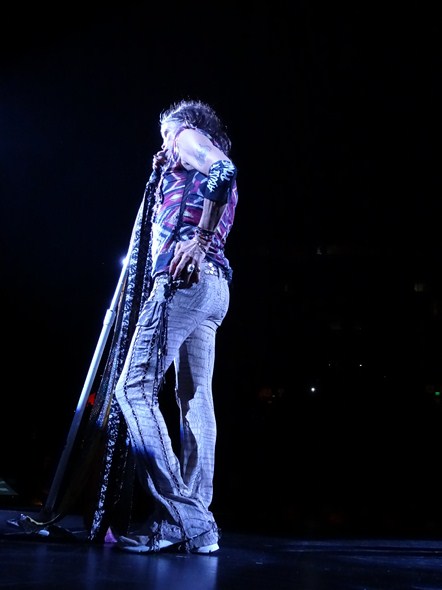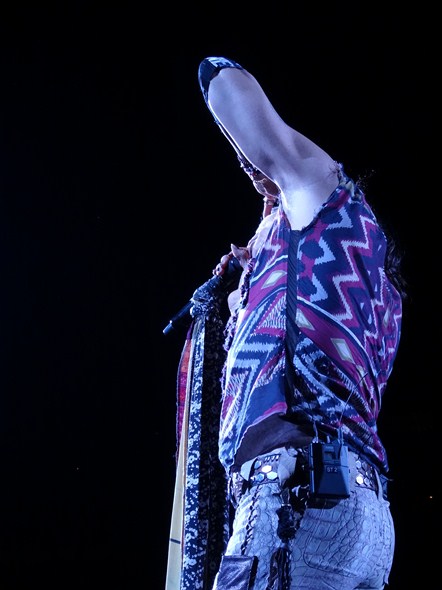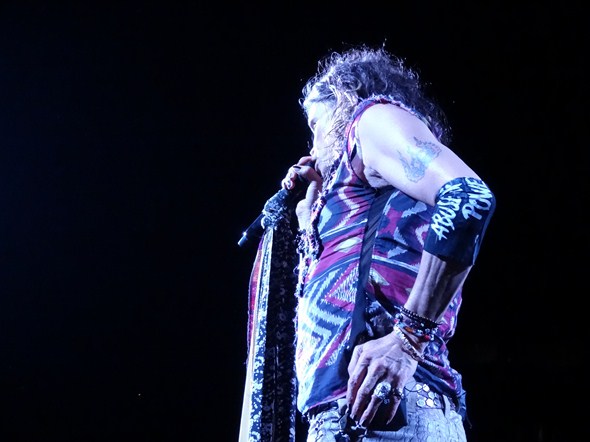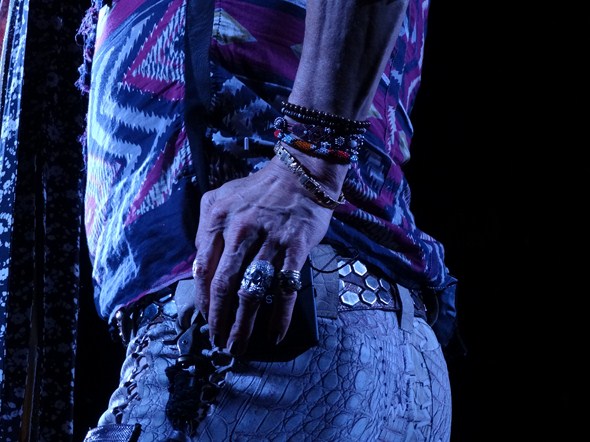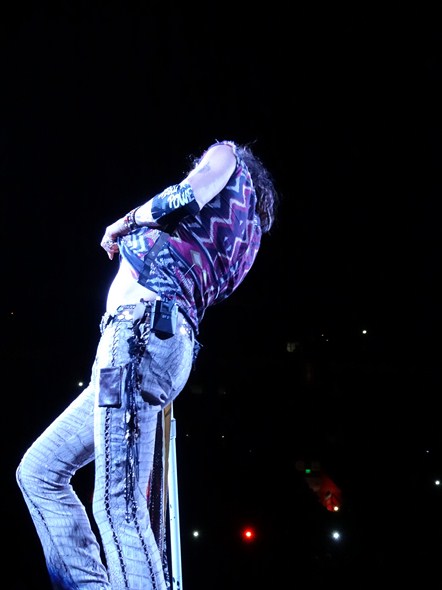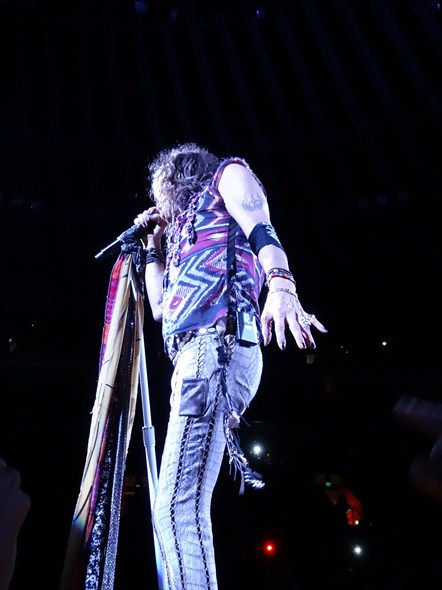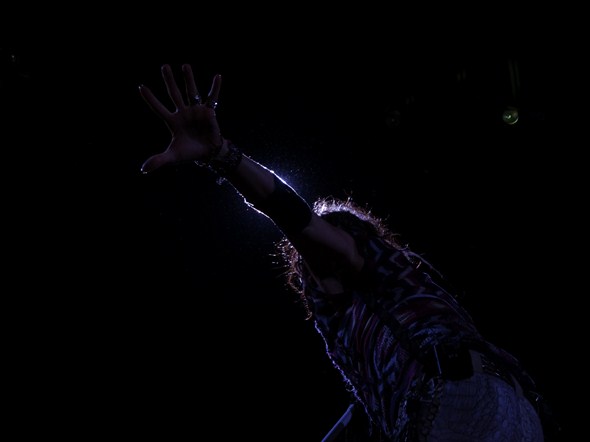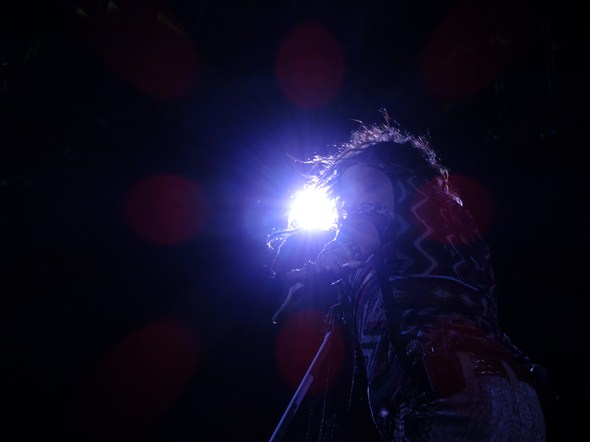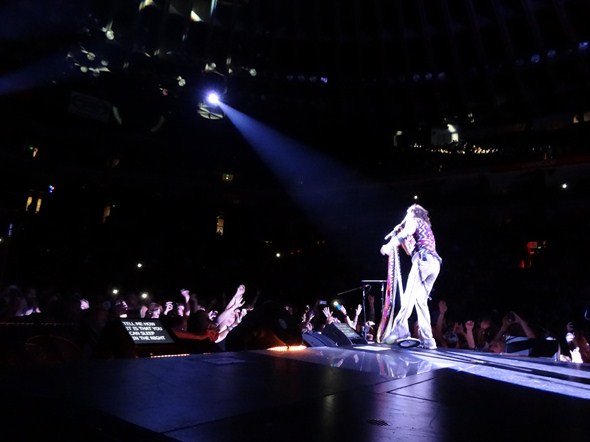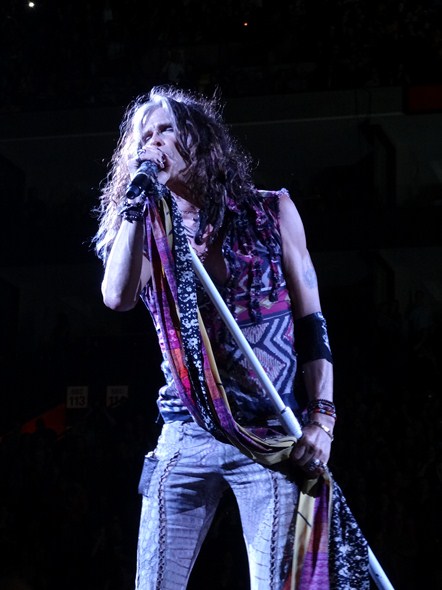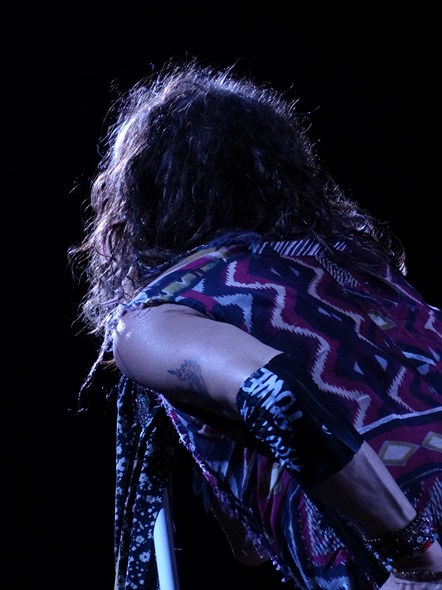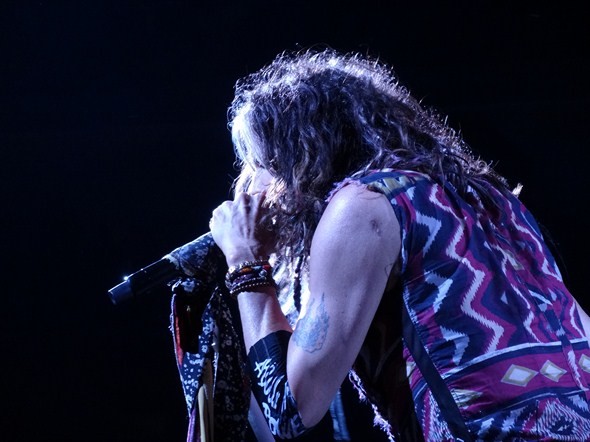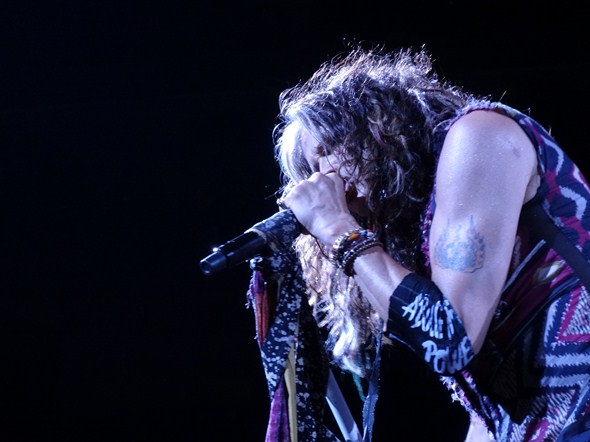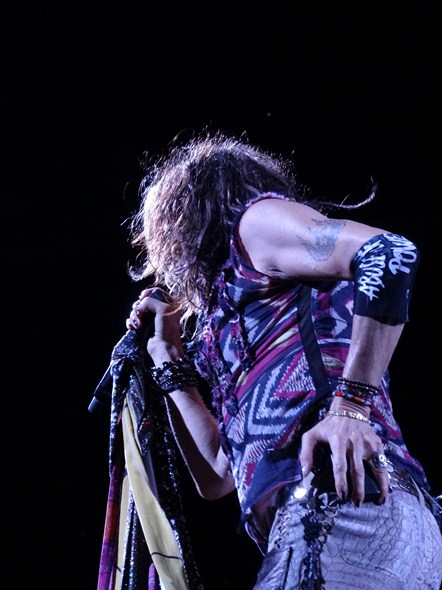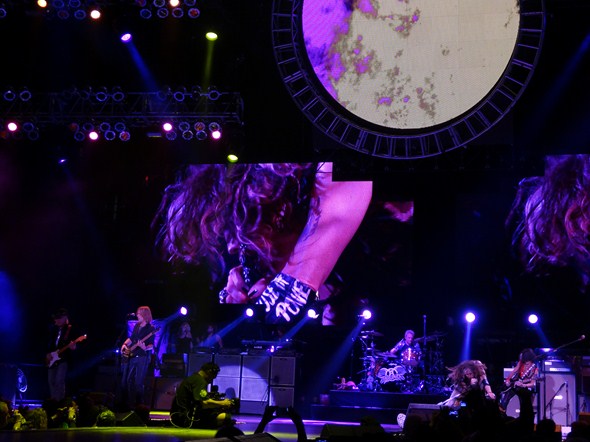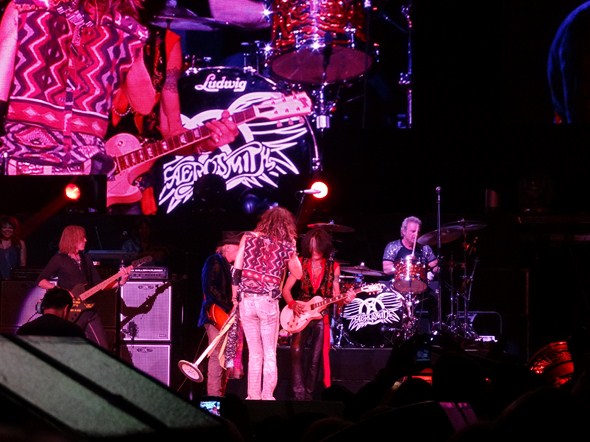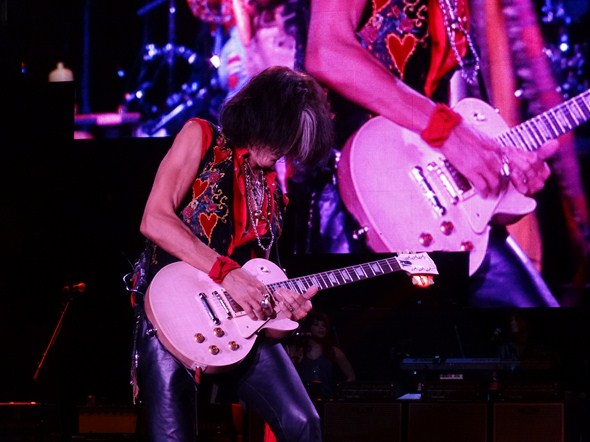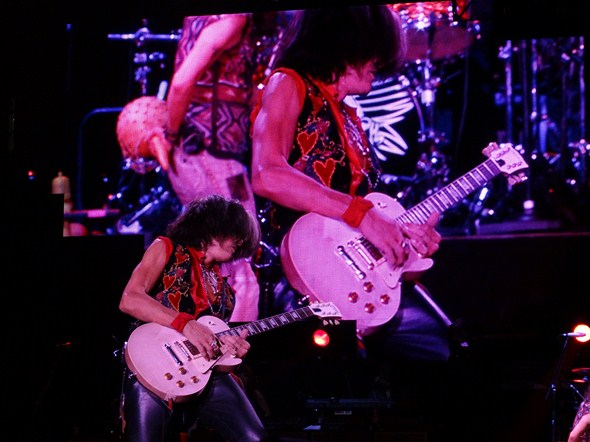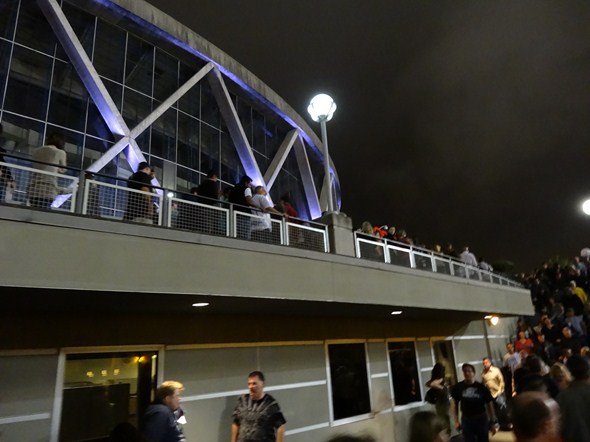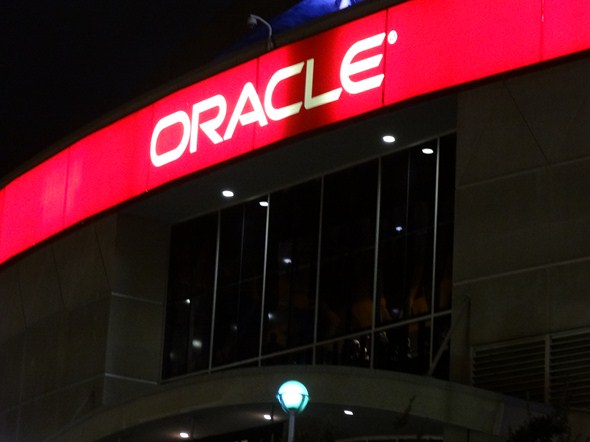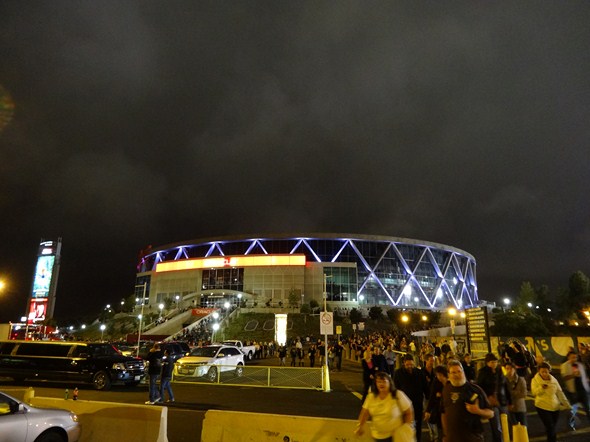 Jason DeBord