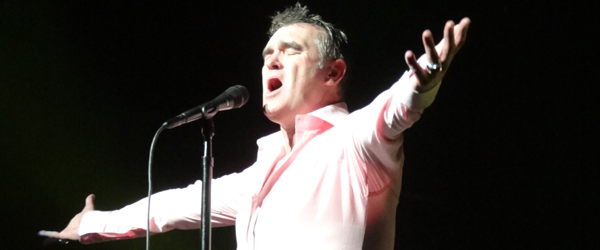 "When was the last time, that you did something for the first time?"  That was the question Morrissey posed to his audience, upon entering the stage, before tearing into one of my favorite songs of all time, "How Soon Is Now?"  Morrissey has always been one to prompt both thought and action with his work, from introspective self awareness in general, to supporting his causes with his music, as with "Meat is Murder" (also on the set list tonight).   And his work has always been complimented by his incredible live performances, filled with more reciprocal energy between the deep connection between he and his fans than you will find most anywhere else.  And even among those shows, there was a remarkable spark in the air for those of us on a small island in the middle of the ocean to take part in this event.
So I made a trip out to the Hawaiian islands to be able to see two special Morrissey concerts, back to back on two islands.  The first was last night, on Maui, at Castle Theater, part of the Maui Arts & Cultural Center in Kahului, Hawaii, on May 18, 2012.  As singer and frontman for The Smiths in the early to mid 80s, and then publishing solo work following the break-up of that band, Morrissey has been one of the most influential musical artists of the past thirty years.  Being part of the audience for this special show in this awesome venue was just an incredible experience, that exceeded all expectations.  It was a spectacular show with amazing energy, and a set list that covered his entire history of music.  A remarkable night.
Who: Morrissey
Supporting: Kristeen Young
Venue: Castle Theater, Maui Arts & Cultural Center
Presented By: BAMP Project
Where: Kahului, Maui – Hawaii
When: May 18, 2012
Seating: GA Orchestra Pit Standing (front floor, front row against stage, right side)
UPDATE – See Also: Morrissey at Kaka'ako Beach Park Amphitheater | Oahu, Hawaii | 5/19/2012
Kristeen Young
Kristeen Young provided support as the opening act.  She is from St. Louis, Missouri and played keyboard and sang, performing as a solo act.  She was very entertaining and definitely provides a unique, avant-garde style of contemporary music and performance.  It just so happens she was stage right, directly in front of where I was standing, so I took a few nice photos: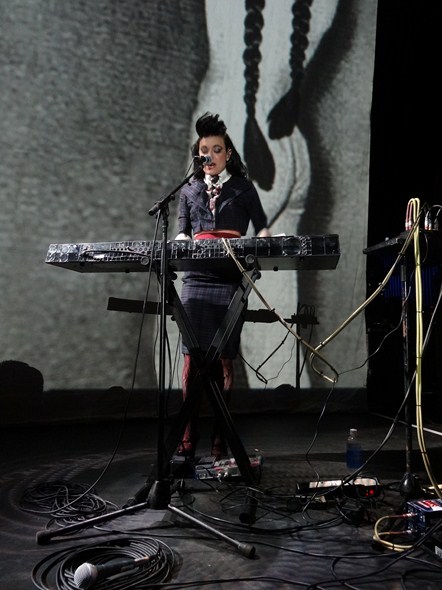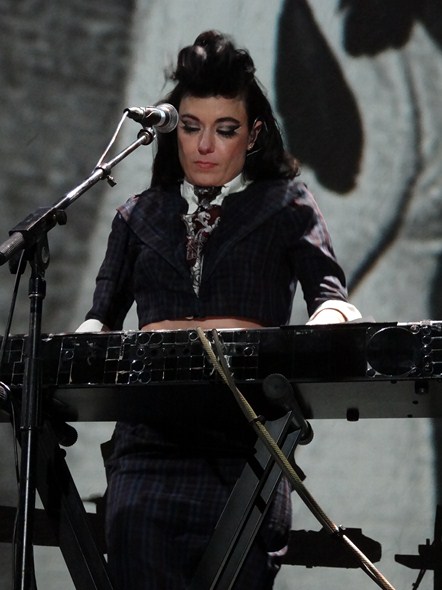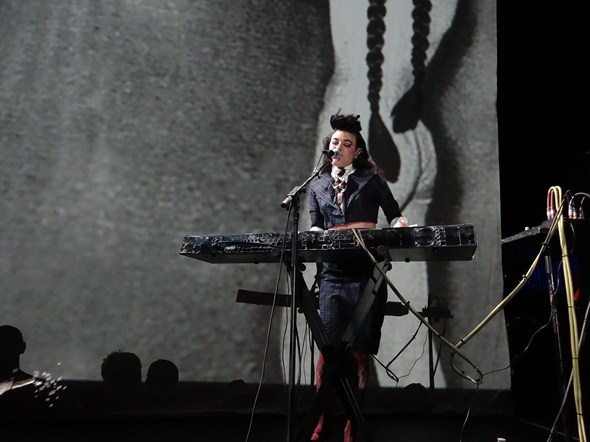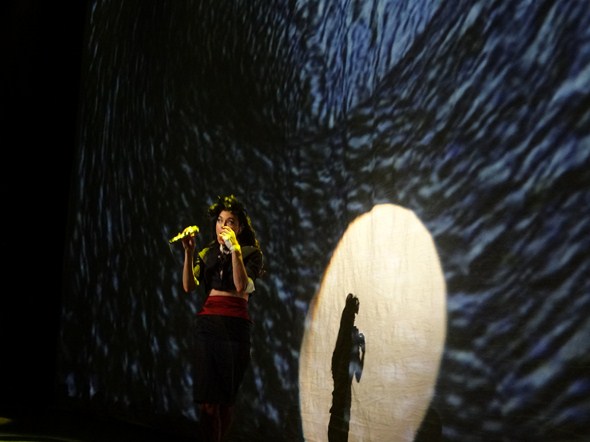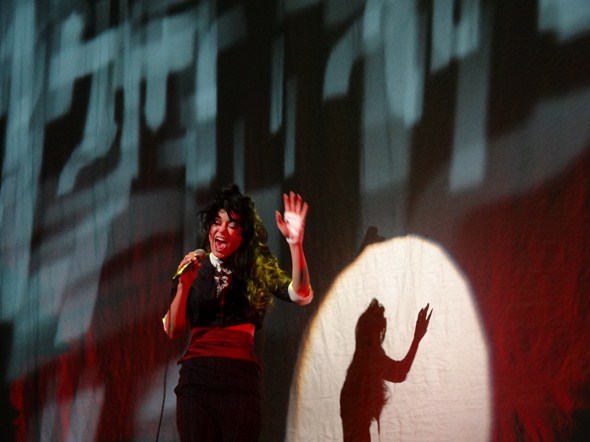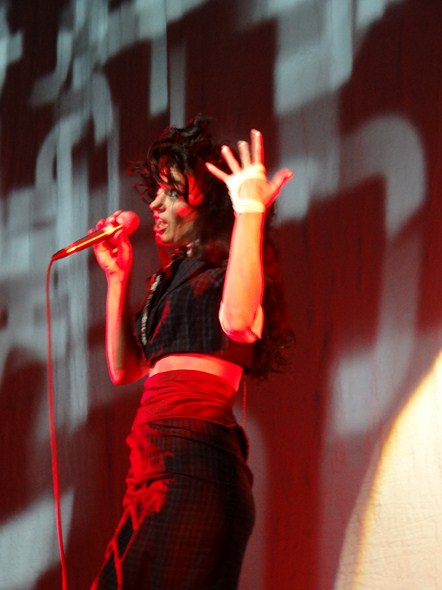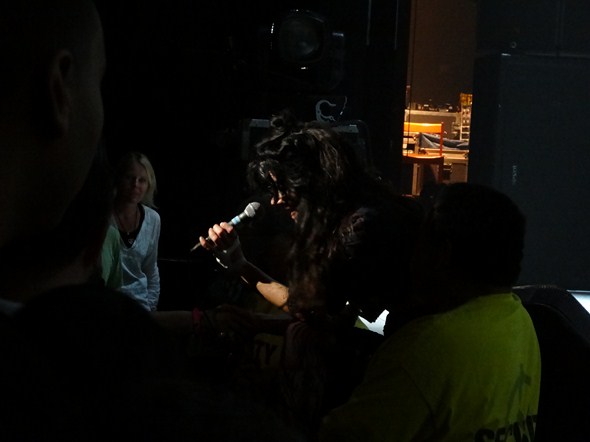 Morrissey
But obviously I traveled many miles to see one of my childhood idols, the legendary Morrissey.  Born Steven Patrick Morrissey in England, as noted he founded The Smiths with another musical genius, guitarist Johnny Marr.
Much has been written about Morrissey, and he is well known for having some of the most dedicated and enthusiastic of fans, as his music and the tone and messages (and wit) are peerless in popular culture – Morrissey is unlike anyone, before or since.
The Smiths were recording and touring between 1982 and 1987, and while they were very prolific in publishing music, there were a total of  four proper studio albums (along with many singles, compilations, etc.), each of which was very unique.  One of the cool things about tonight's gig is that tracks from each – The Smiths, Meat is Murder, The Queen is Dead, and Strangeways Here We Come – were played live for the audience.
On his own, with his band and songwriting partners, he has published many hits as well.
I am fairly sure that this list covers the band members that performed on stage last night:
Boz Boorer – Guitar
Jesse Tobias – Guitar
Matt Walker – Drums
Solomon Walker – Bass
Gustavo Manzur – Keyboards, Accordion, etc.
Morrissey is beloved by many because he speaks to, and speaks for people who have feelings and experiences related to rejection, frustrations, doubt, etc.  Many of his songs even come across as though he is criticizing and ridiculing himself.  He's really a brilliant lyricist and humorist, and starting with his work with The Smiths following through to newer work today, he has such a unique songwriting style that totally works for him, but I'd have a hard time imagining anyone successfully mimicking it.  Even song structure is often an unfamiliar journey, yet it all just works, and the songs are catchy and hooky, even with the chorus is somewhat hidden or non-traditional.
Having said all that, some songs by Morrissey and The Smiths are definitely some of my all-time favorite, including the one that opened the show, a real classic, "How Soon Is Now?".  Brilliant song that really is a showcase of what The Smiths were all about, even though it's pretty much unlike all of their other work.  But I think it encapsulates some of the themes, and paints a character that many can relate to and empathize with.
So getting back to tonight's concert…  I really wasn't sure what to expect with this one, given a lot of unique variables.
I had heard about the two shows – this one and the second at Kaka'ako Waterfront Park Amphitheater on Oahu – and immediately thought that these would be fantastic shows to see live.  I hadn't seen Morrissey at all since the mid-90s (and never saw The Smiths – was too young for them).  And, long story short, I was successful in getting GA Pit tickets for both shows – GA Pit Orchestra for last night's show and VIP Pit for the next show on Oahu.
The big question for me was, "who are going to go to these shows?"  People who reside in the Hawaiian islands?  Other people like me traveling for the show?  A mix?
I had called the box office earlier in the day to see if there was a line yet for the GA Pit, and was told that there was not…  I arrived around 5 PM for the show with doors at 7 PM, and found a group that had organized a list of who arrived when, and they were kind enough to add me.  It sounded like some had come as early as morning.  All of these people came from different countries, many huge fans that follow Morrissey all over.
I have to say, this was the best organized GA Pit line I've ever been part of, thanks to both the fans and the venue management.  It was fair, organized, and respectful, and everything was very calm and smooth.
The venue was beautiful, with a floor area with GA orchestra pit in the front (room for about 100 people though it was never that full), with assigned seating scaling up and back, and a middle and upper balcony as well.
When myself and the people I was talking with entered, we ended up against the stage, to the right.  The stage was very short – maybe 4 feet off the ground – and there was no space between where we were standing and the stage – we were right up against the stage (in fact, our arms rested on it).
However, this was short-lived, as security came down and asked us all to step back about 4-5 feet.  We did, and they lined up in front of us.  While waiting, I asked one of them if photos were okay – he said no photos.  Obviously, those who follow the site love to see the photos from shows, so I explained to him how I'd traveled to publish a review of the concert, with photos and videos, so he directed me back out of the theater to find the man managing the event on behalf of the venue.  I did manage to find him – extremely nice gentleman – gave him my card and explained what I do, and he personally walked back down to the stage with me and let them know it was okay for me to shoot the event, and others could as well so long as flash was disabled.
Things improved even more afterwards, and after the opening act, as the musical cue that things were about to get started prompted many to resecure their positions against the stage, security allowed it, so I was back against the front of the stage, which was so incredible for this show, I just really can't express enough how awesome it was.
The band was rocking, the sound was incredible, and Morrissey still looks amazing and puts on such an incredible performance, I can't wait to see the next show in Honolulu.
Morrissey has a real genuine connection with his fans – I would go so far as to say a real friendship like relationship with the collective.  His self-deprecating humor and way of being is just really charming, and though he cuts himself down with his lyrics, his ability to really rock the stage makes him serve as this kind of strange role model – though he is known for his downbeat attitude, it's really kind of playing against that by still being this larger than life rock artist, in many ways overcoming some of his self proclaimed weaknesses.
But he brings such energy to a show, and at one point even ripped off his shirt and threw it into the audience, causing a bit of a frenzy!
Morrissey is also one of those performers who will reach out and touch, and shake the hands of the fans along the front.  This is by far the closest to the stage I've ever been for one of his shows, so the first time he reached down to shake my hand was remarkable – he even grasped it for a moment and gave me this look, followed by a respectful sort of nod with eyes closed, as he sang.  It was pretty awesome.  And funny enough, he shook my hands two more times during the show – once for "I Will See You In Far Off Places" and once for the final song of the night, "Still Ill" (the latter two of which I have on video).
Seriously though, for me, it was worth traveling 5,000 miles round trip just for the final song experience, which I captured on video.  I think it speaks for itself!  If you are a Morrissey fan, it doesn't get much better than that!  This cool fan I was talking to wore the lei with the purple flowers into the show, planning to toss it onstage to see what happens, and he did that in this final number as well, which was awesome!  Total vintage Morrissey, smashing some flowers on stage, and very appropriate to do so at the end.
Morrissey's closing remarks, before, ending the show with "Still Ill":  "I'd like to think, that, in your world of… sunlight, I have… brought… a little shadow"
Anyway, I'll save some of my thoughts for the follow-up article for the second show tonight in Oahu.
Below are the videos I shot during the performance:
"How Soon Is Now?" [Opening Song]
"Still Ill" [Final Song; reaches down and grabs my hand at about 1:10]
"Shoplifters of the World Unite"
"Every Day Is Like Sunday"
"Black Cloud"
"Last Night I Dreamt That Somebody Loved Me"
"Ouija Board, Ouija Board"
"I Will See You In Far Off Places"
"I Know It's Over"
Below are some photos I took at the event: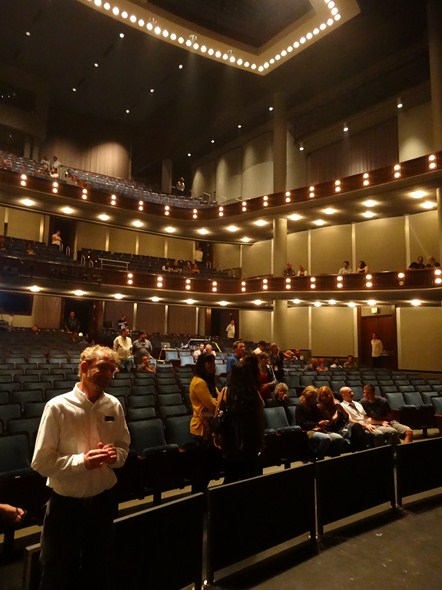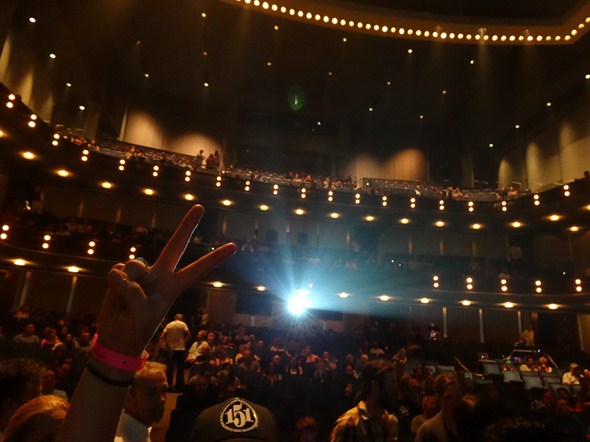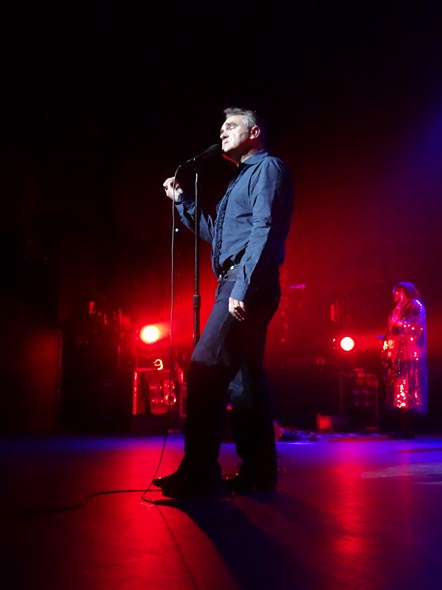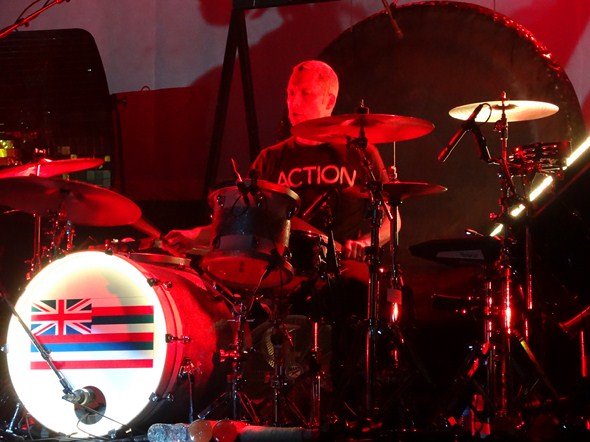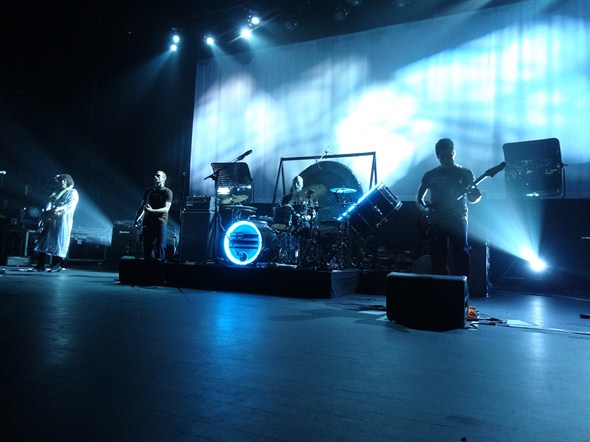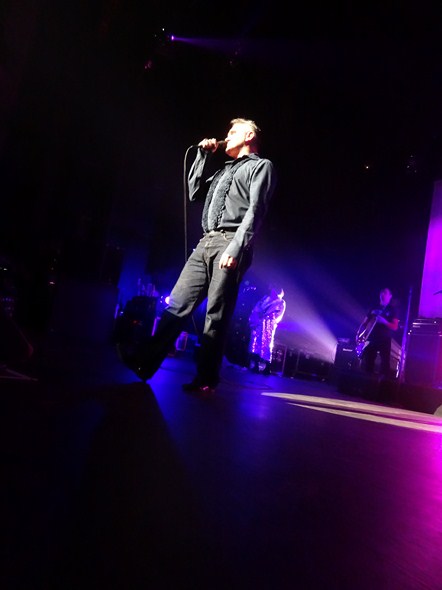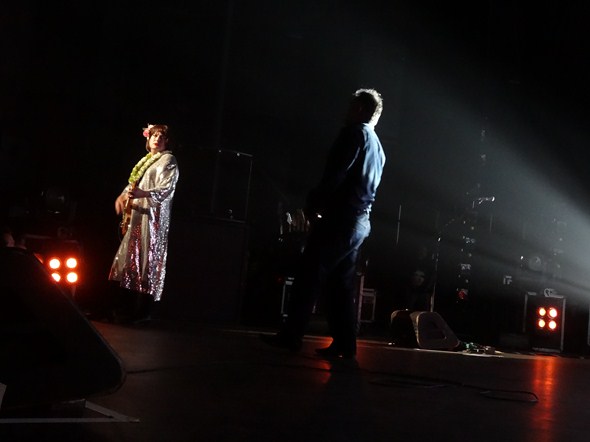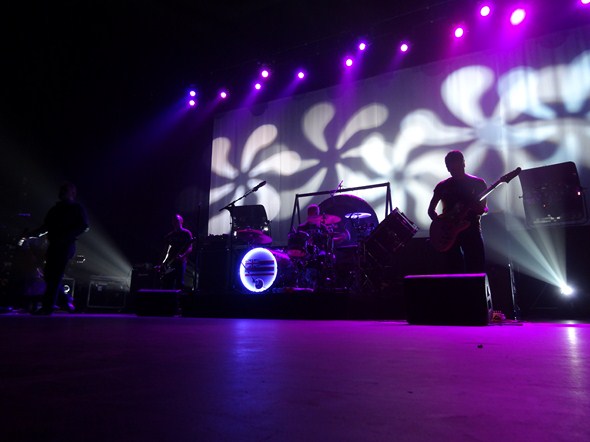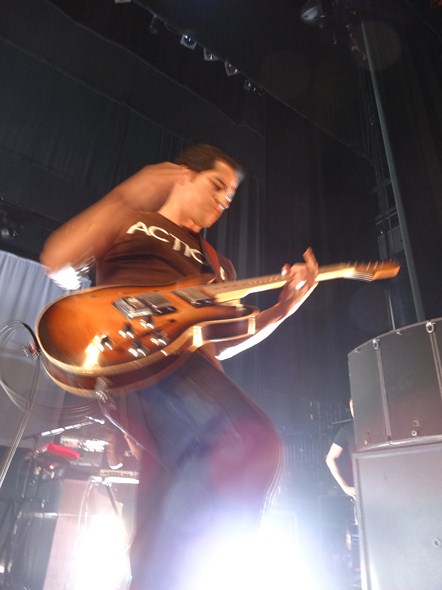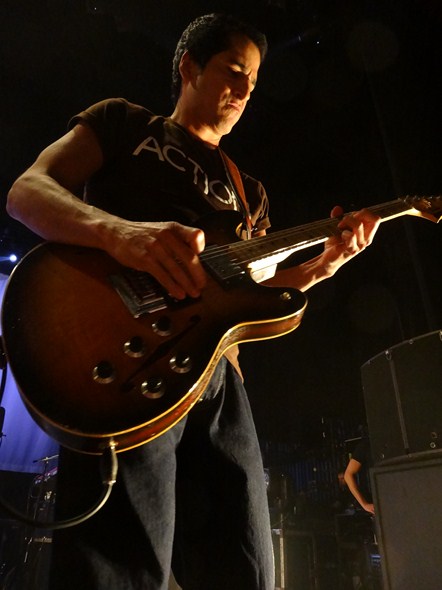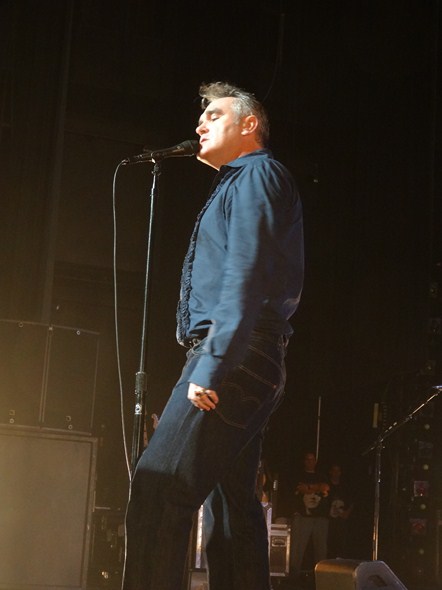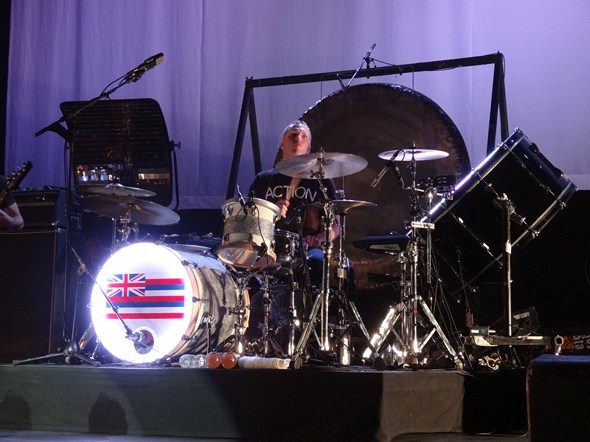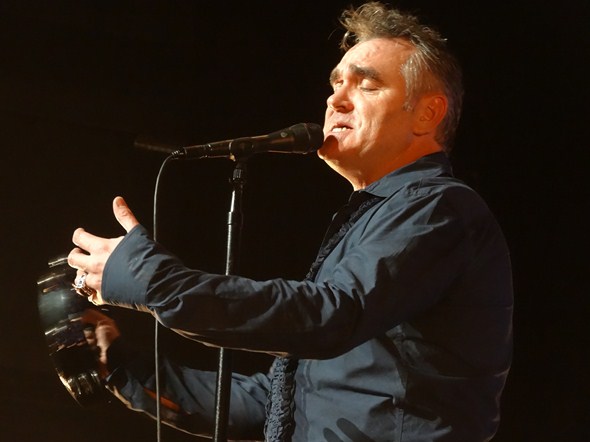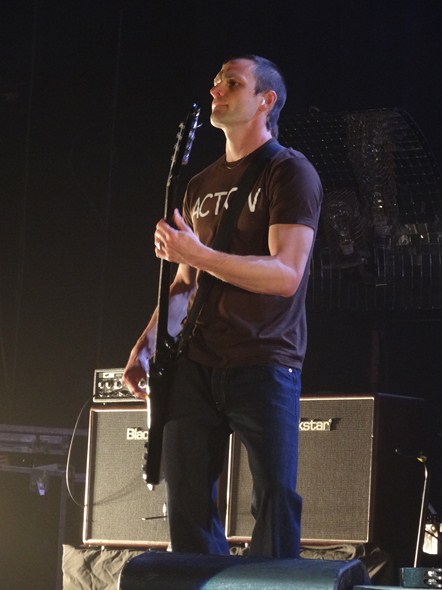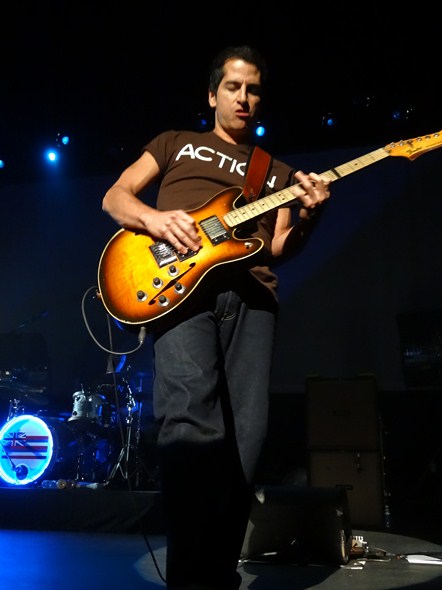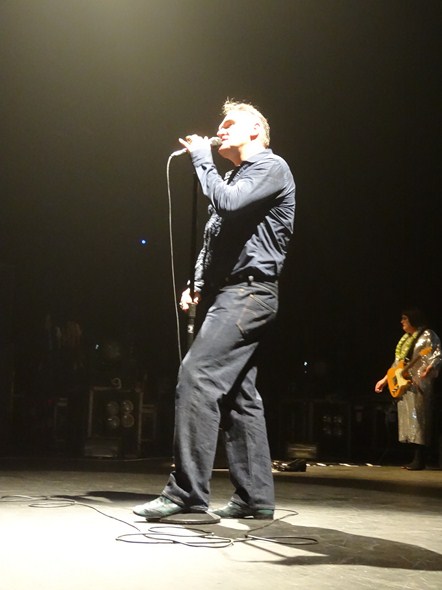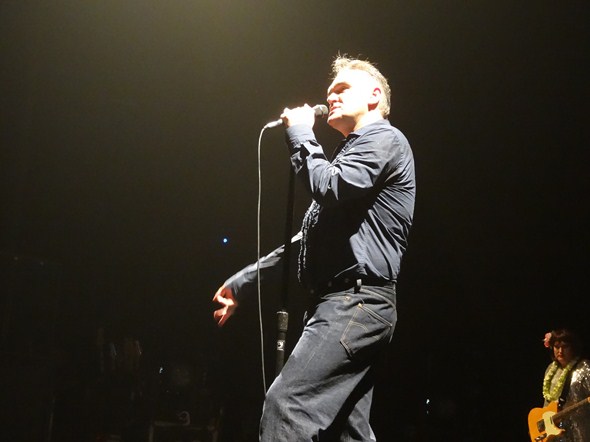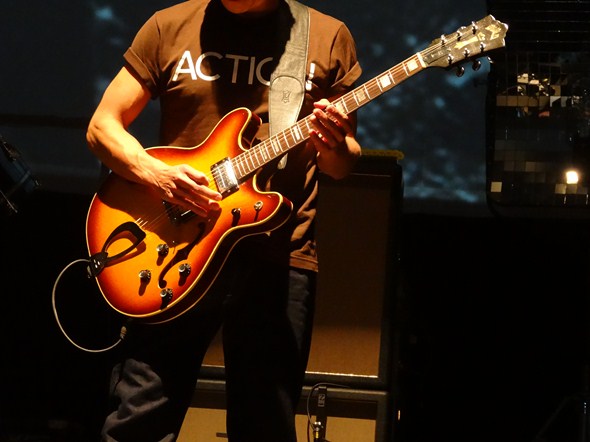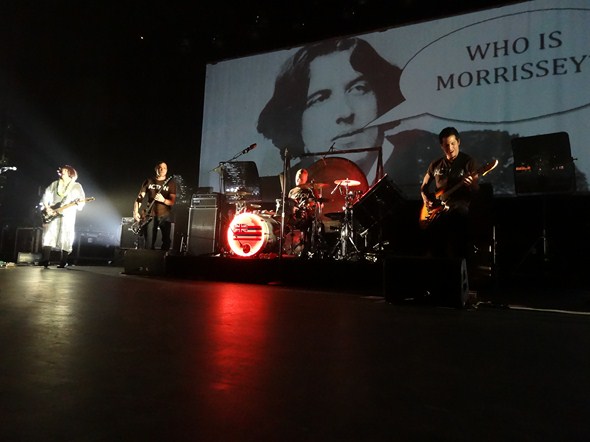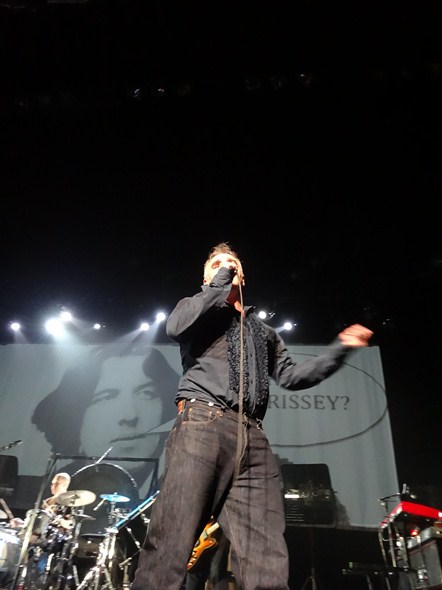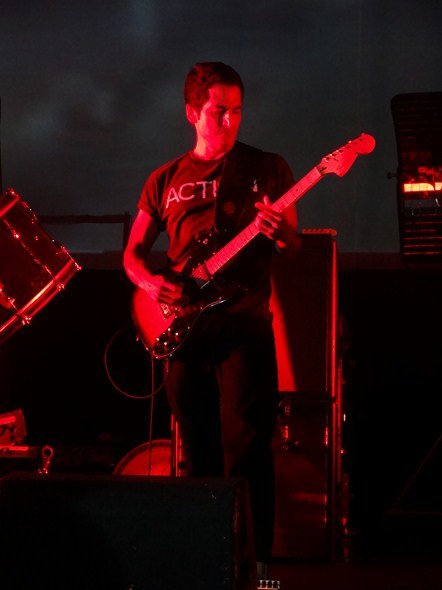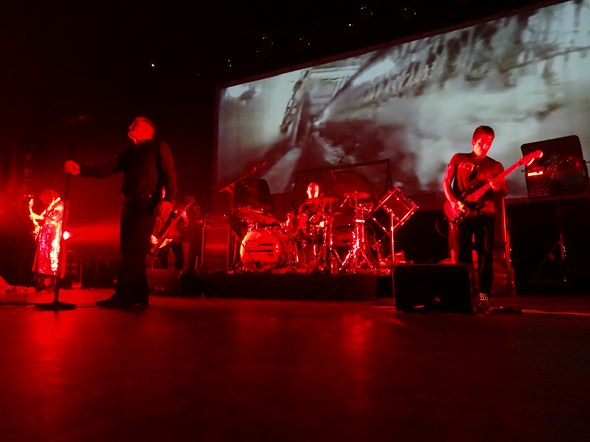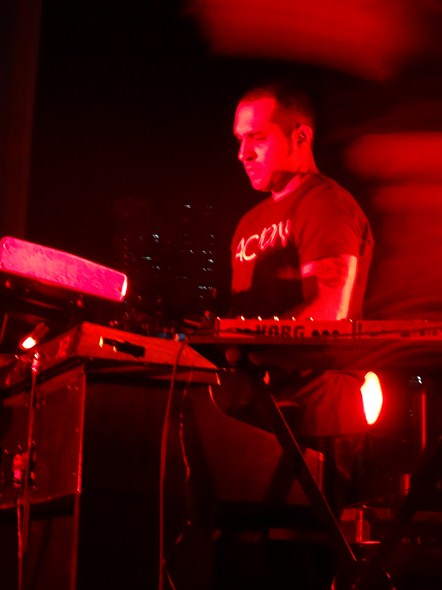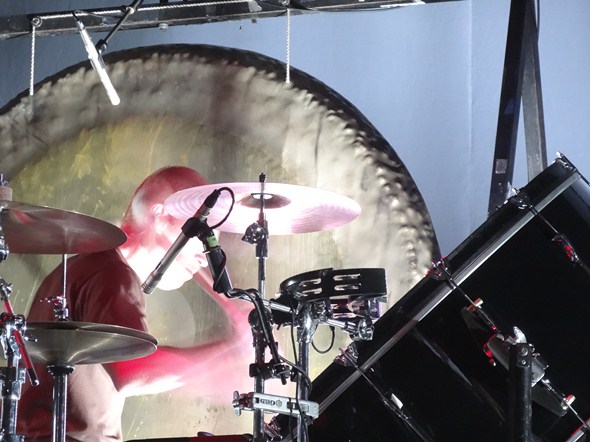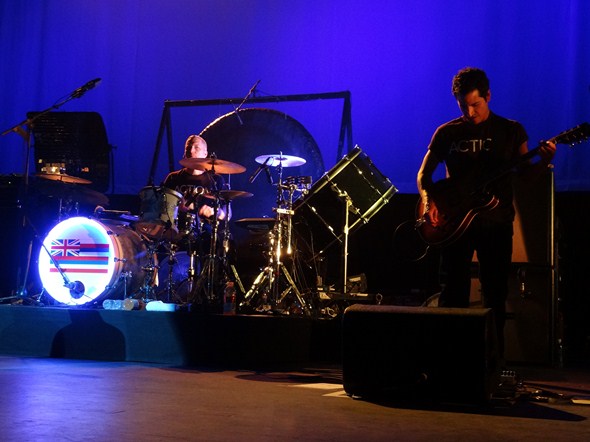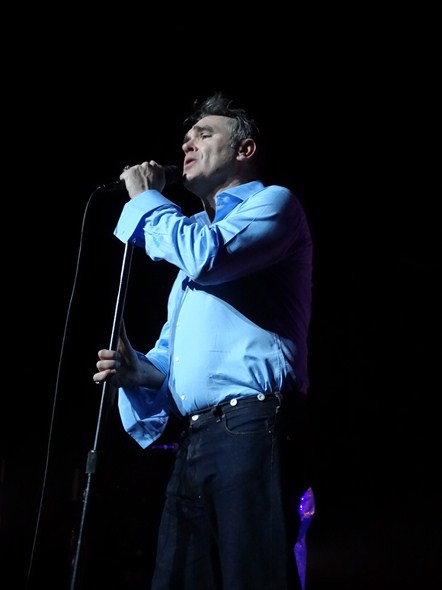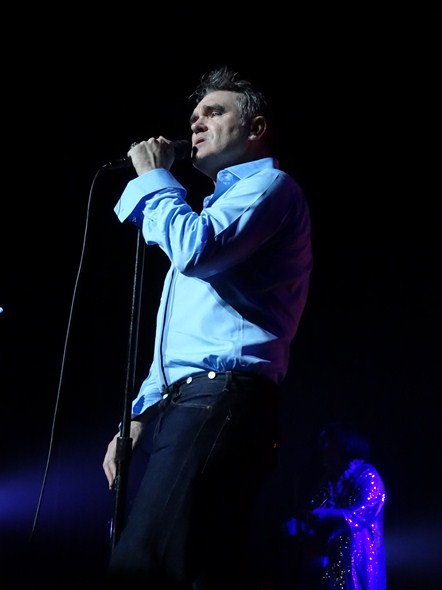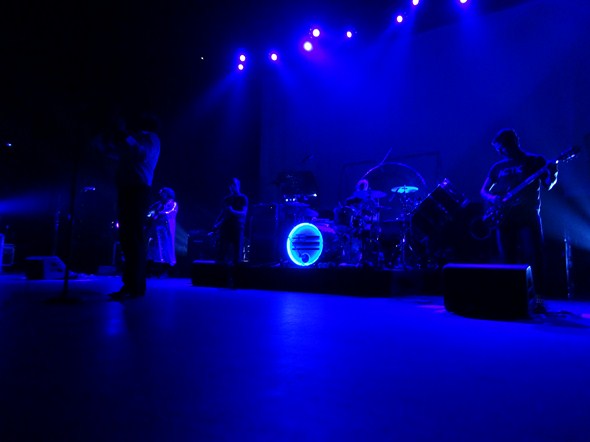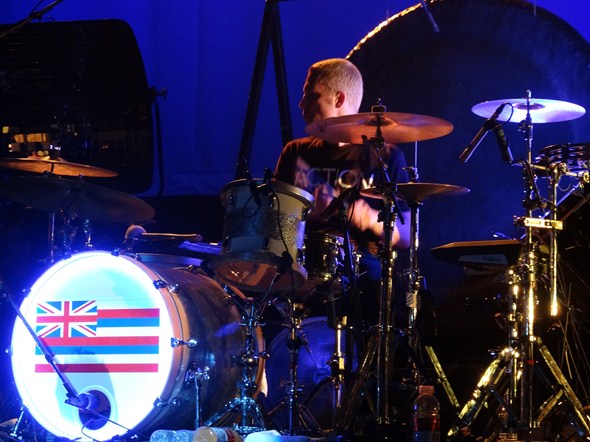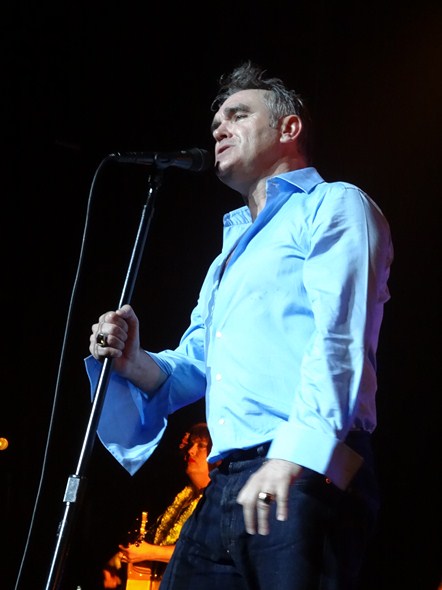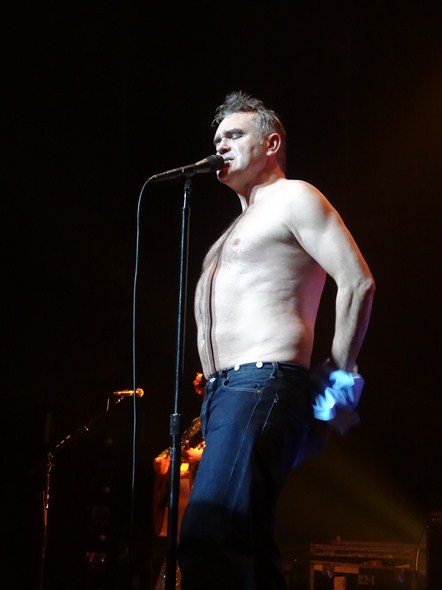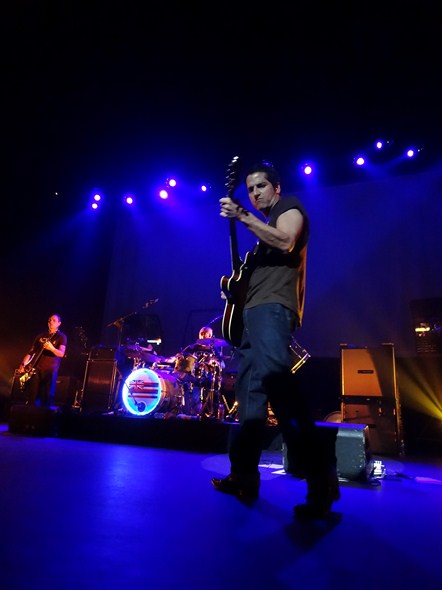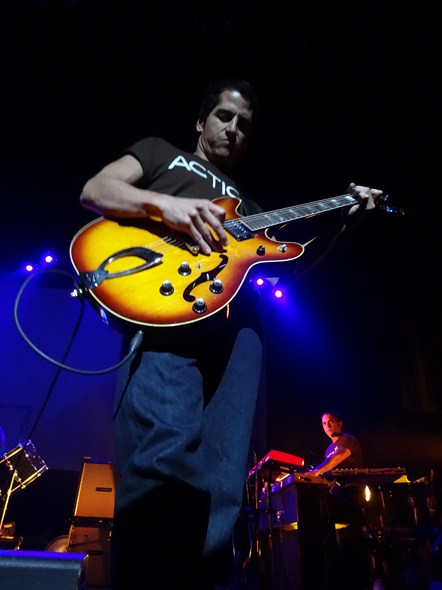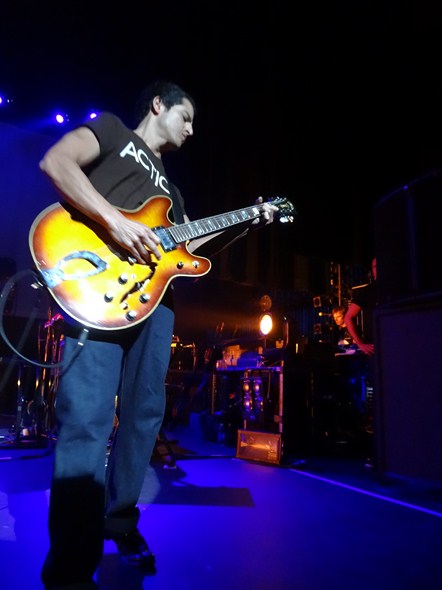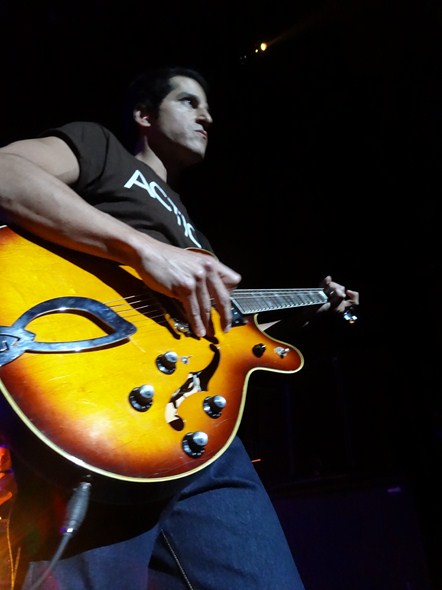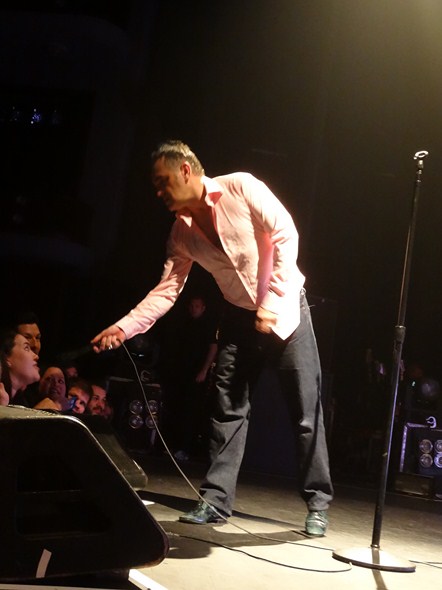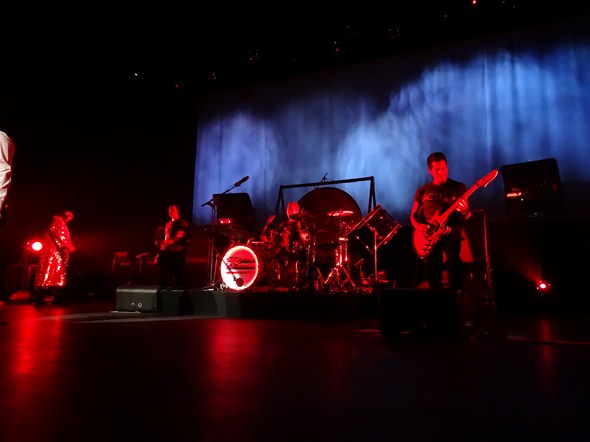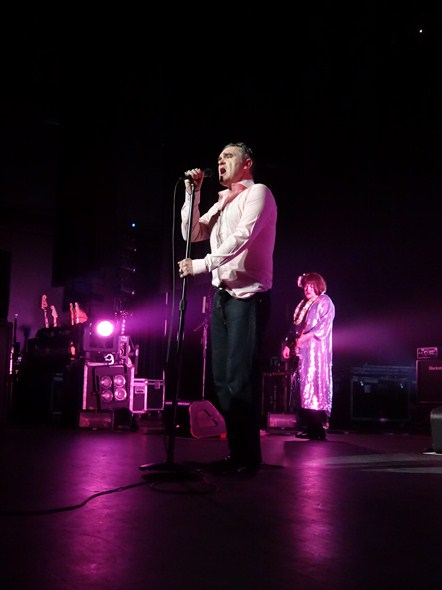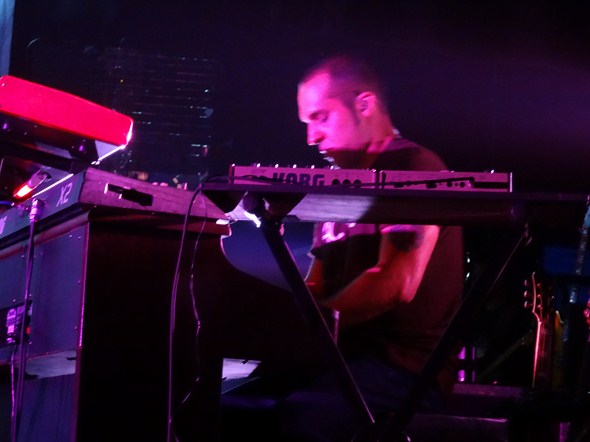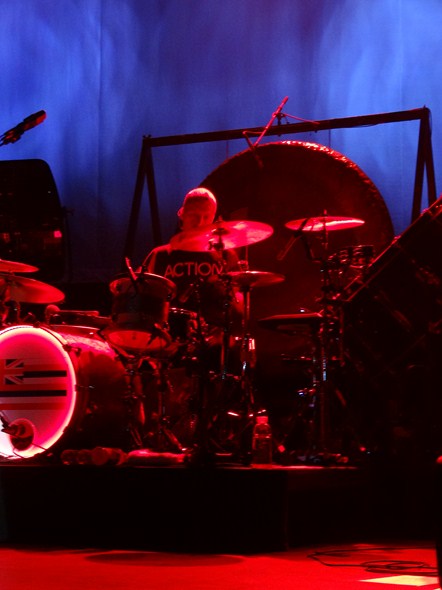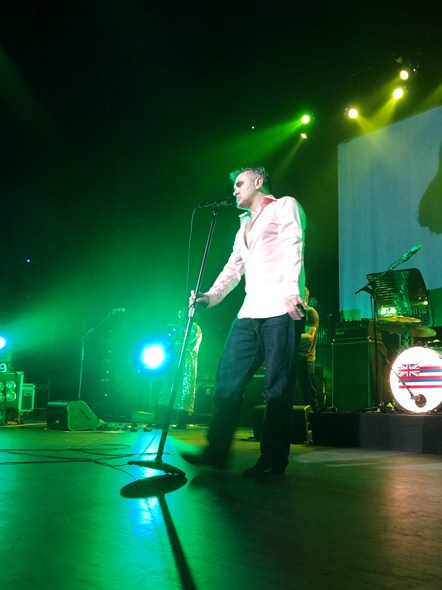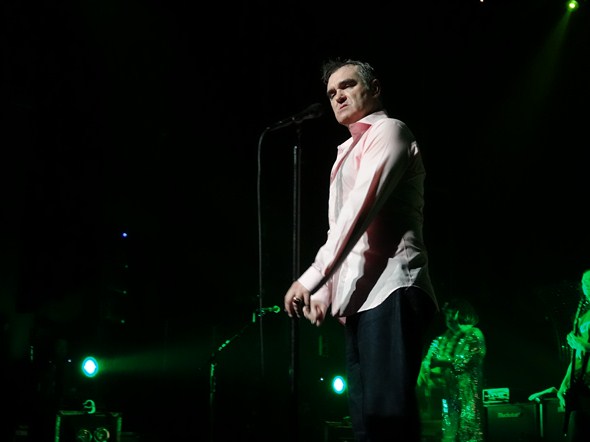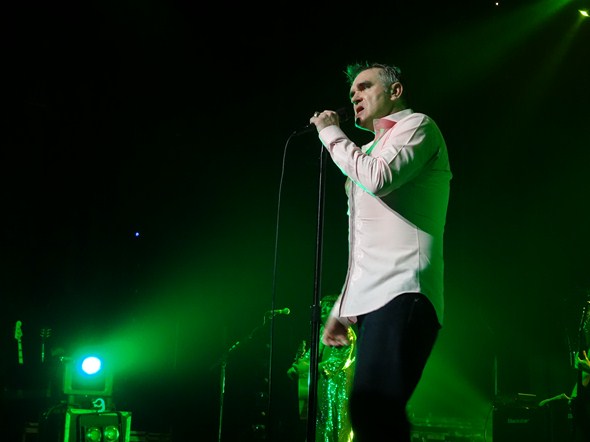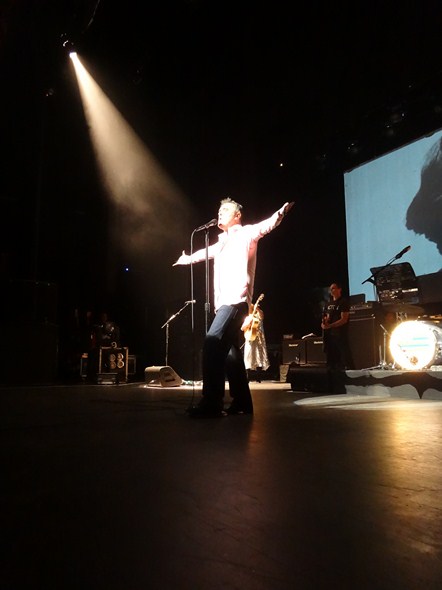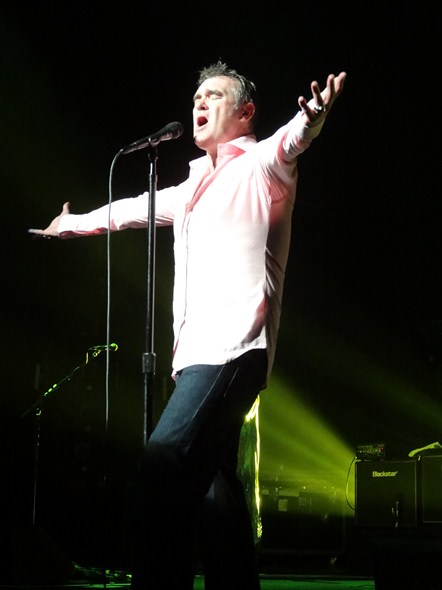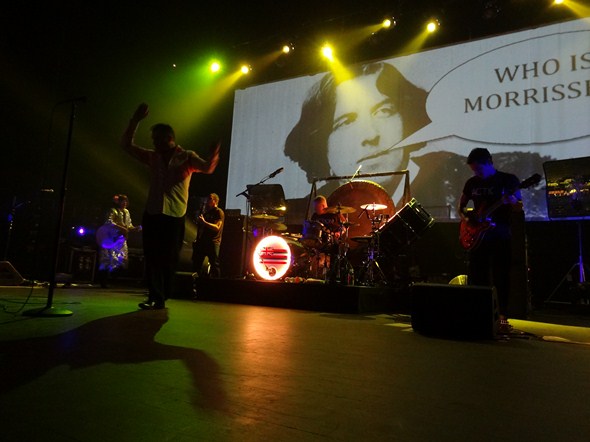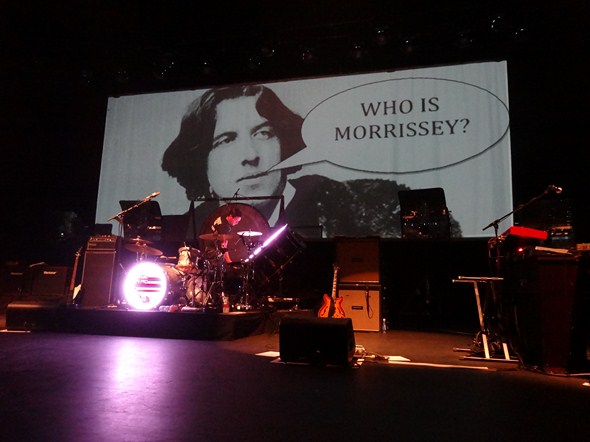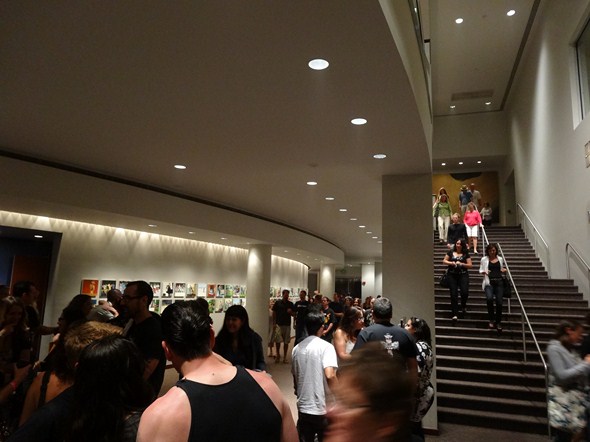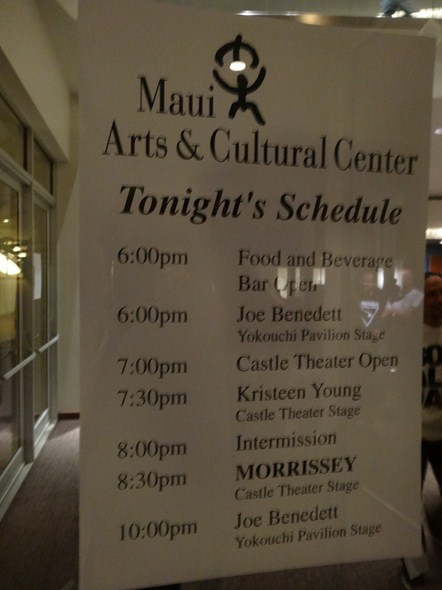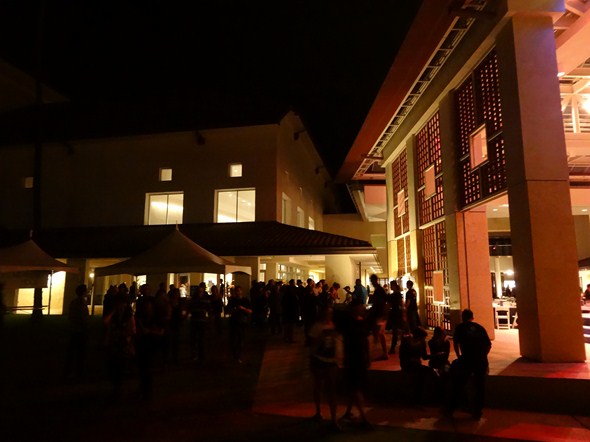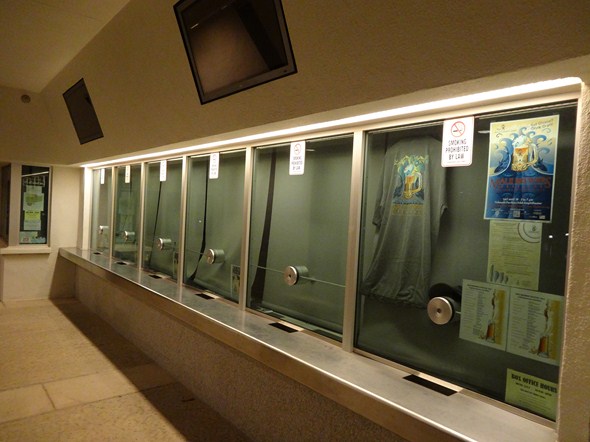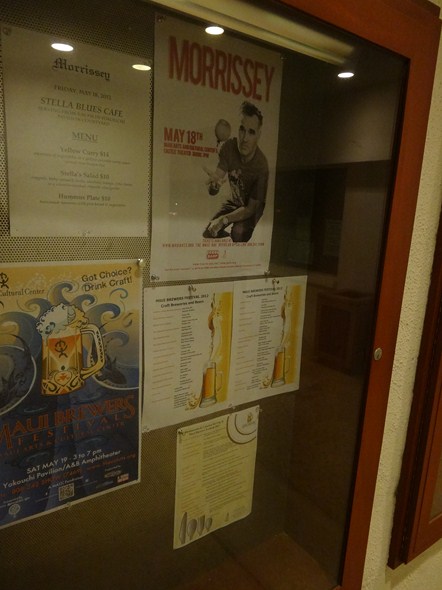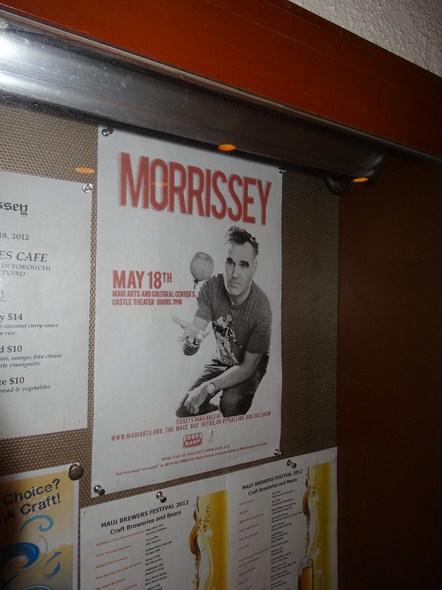 Jason DeBord