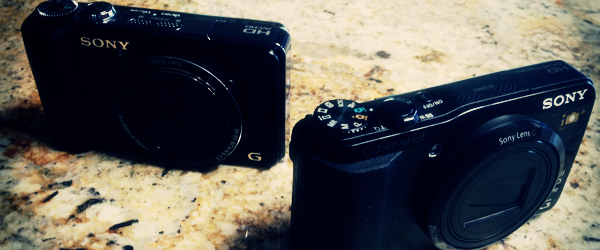 This is published as an update to my original article about finding a good camera to take to concerts for quality still photos and video, but I recommend reading the original article first, as this is merely an update to what I've already written (CLICK HERE).  I had been using the Sony Cyber-shot DSC-HX9V
., which I found at the time to be the best pocketable digital camera.  I've since obtained the newly released updated version of this model, the the Sony Cyber-shot DSC-HX20V
, which I have found is definitely a better choice over the HX9V, and worthy of consideration as an upgrade if you already have that model.  Both are great choices for concert-going fans with venues that allow the use of non-pro pocket digital cameras.
UPDATE JANUARY 2013 – CLICK IMAGE BELOW TO GO TO UPDATE REVIEW: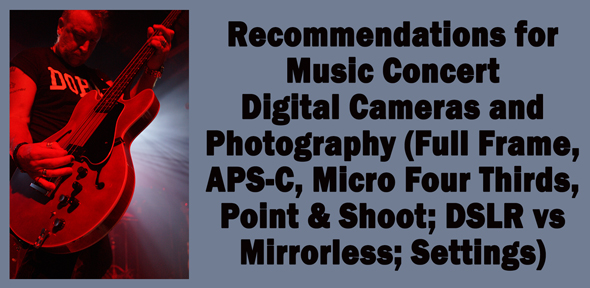 As explained in the original article, these were my main criteria in meeting my expectations for an ideal concert camera:
1) Small and compact, and can comfortably fit in my pocket.
2) Very basic in appearance, and no removable lens (to avoid issues bringing into concert venues).
3) Ability to shoot still photos and HD video with good quality sound.
4) A long zoom (and without a long lens protruding from the camera body).
5) Good quality in low light.
6) Good battery life.
7) Ability to turn off flash, red eye detection, and another other light that would emit from the front of the camera (i.e. anything that would distract or annoy the performing artist(s).
8) Ability to turn rear LCD backlighting down to next to nothing (i.e. light that would distract or annoy any other members of the audience near or behind me).
9) Relatively inexpensive cost (in case of damage or confiscation).
After considering many cameras and doing a lot of research online via the awesome sites that do "real" technical reviews of cameras (which this certainly is the exact opposite!), I ultimately purchased the Sony DSC-HX9V. I was very pleased to find out that it truly fit all of my criteria, and takes fantastic photos and video.
In preparing my prior article on the topic is when I learned that a few different, newer models were being released under the same line, with varying upgraded features and improvements.  I was most interested in the highest end version, sans the Wi-Fi/wireless capabilities (which is the HX30V), so I decided to try the HX20V.
Physically, the two devices are nearly the same, with some minor ergonomic improvements, but essentially the same form factor:
HX9V (Left) vs HX20V (Right)

HX9V (Left) vs HX20V (Right)

HX9V (Bottom) vs HX20V (Top)

HX9V (Bottom) vs HX20V (Top)

HX9V (Bottom) vs HX20V (Top)
Some of the main difference between the two:
HX9V is 16.2 mega pixels vs 18.2 mega pixels for the HX20V
16x optical zoom for the HX9V while the HX20V has a 20x optical zoom and a 40x "clear image zoom" (which means its software, not hardware)
I have only used the HX20V at two gigs (The Black Keys with the Arctic Monkeys and The English Beat with The Romantics), so my impressions of any differences are limited to my experience and are purely subjective…
One, the ergonomics are improved, but this is not drastic, but an improvement none the less.
It does seem a bit faster starting up, focusing, shooting, time in-between shots.  Again, nothing drastic, just a bit more spry.
The zoom is noticeably longer.  At times, every little bit can help.  Additionally, while I haven't used the "extra" 20x zoom that is done with the software, because I haven't had to zoom that long, it is definitely a cool added feature, if you are shooting far, so while the picture quality I'm sure drops, it's nice to have as an added option.
I would have to shoot the same shots under the same conditions side by side to compare the still photo difference – I've always been really impressed with the HX9V, and the HX20V is definitely at least the same if not better.  A buddy was looking to buy a new camera, so I sent him my HX9V already, so can't do side-by-side, but the major camera review sites will do this a million times better than I ever could anyway, so I'm interested to see what they come up with.
The biggest improvement I've found is with video.  One, the zoom is much smoother (i.e. not jerky), so that is a great benefit.  Two, and this is totally subjective, but the sound recording seems vastly improved to me.  However, I've only shot two gigs, so there are other possible explanations for this.  However, with The Black Keys show in particular, I was right up front, and it was a very loud concert, and the sound recording never hits the ceiling and gets distorted as it did with the HX9V.  I'm interested to see if any professional camera review sites make note of this, because this is one thing that seems really clear to me.
In any event, both are awesome cameras, but all things being equal, I'd recommend the Sony DSC-HX20V over the model it's improved upon, the DSC-HX9V.
I'll post some further observations and opinions in the Reader Comments below as I put in more hours using this camera.
Jason DeBord