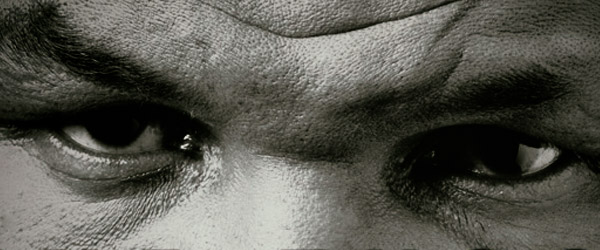 My two fondest memories of sporting events in my life both featured Mike Tyson…  the first being his shocking defeat by then unknown Buster Douglas in Tokyo on February 11, 1990, and the second, his defeat at the hands of Lennox Lewis in New York on June 8, 2002.  For the majority of his career, and life really, both in and out of the ring, I viewed Mike Tyson as a villain.  However, I've been curious about him for the past few years (as a result of his appearance in The Hangover), and had a sense that he may be a significantly changed man.  Though I'd speculate that there have been a few different versions of who that man even is  – a true enigma, much like his tattoo, a symbol he has embraced with visual marketing collateral of this attraction.  With the announcement of his limited, week long "Undisputed Truth – Live on Stage" show in Las Vegas, I was curious enough to check it out to hear what he has to say about his life, and the way he has lived it, and to do so with an open mind.
The show is running at the Hollywood Theatre inside of the MGM Grand Hotel & Casino in Las Vegas – the same hotel where he bit off part of Evander Holyfield's ear during a prize fight rematch between the two, which resulted in outrage and disbelief by the public at large as well as very negative consequences for Mr. Tyson.
As for this show, not much was offered leading up to it as to exactly what "it" (the show) is, apart from Tyson talking about his life in a fairly candid manner.  Having now experienced it, "it" is, in short, Tyson giving his view of the truth… as he lived it, experienced it, and remembers and processes it today.
The official description is as follows:
"Mike Tyson: UNDISPUTED TRUTH – Live on Stage" is the no-holds-barred life story of the iconic boxer as it has never been told before. Tyson will thrill audiences with untold stories, peeling back layers of tragedy and public turmoil while unfolding his tale of triumph and survival. In an up-close-and-personal setting featuring images, music and video, Tyson, in an intimate and theatrical setting, will share the stories of his life and experiences as a professional athlete and controversies in and out of the ring.
The Las Vegas Weekly also published an excellent two-part interview by Robin Leach (Part 1, Part 2).  In fact, I highly recommend reading both parts in full, as it is unscripted, and includes a lot of the story that is presented in the scripted stage show.
Because of my own past views of Tyson, and my intrigue about the man, his motivations, and his character, I was inspired to buy a special VIP ticket to see the show from the front row against the stage, and even meet the man after the show.  I am a fairly good read of people, and having an opportunity to sit before Mike Tyson, a few feet away, and hear him tell his tale, was an opportunity I could not pass up.
Backing up a bit, to share my own perspective and to place my impressions of the show in context, I am a huge fan of the sport of boxing.  In fact, it is the only sport that I have followed throughout my life, going back to the early 80s.  As such, I've followed Tyson since he came onto the scene in the mid-80s or so.
Originally, he was this unbelievable force in the sport who seemed to have come out of nowhere, and who fought in a way that no one ever has before or since.  Quite small for a heavyweight, he had unbelievable power, speed, and determination in the ring that seemed boundless.  As he made his way up, he seemed to elicit pure terror in the hearts and minds of his opponents, and generally sent them to the canvass in short order – mere minutes if not seconds into these bouts.  An incredible athlete in what can be (but doesn't need to be) a very brutal sport.  It is called an "art" by many practitioners of the sport, and it can be extremely artful and athletic in ways that non-fans of the sport probably don't imagine (see Roy Jones Jr, Floyd Mayweather) – some of the best boxers rarely get hit, and while they don't appear powerful, they can have knockout power with speed and athleticism.   Mike Tyson brought something entirely different – and I would argue new – to the game.  It was as if he was born to brutally destroy his opponents as quickly and efficiently as possible, and his awesome offense actually was his defense.
As he gained both fame and fortune swiftly, he also seemed to have a directly proportional series of personal issues and challenges outside of the ring.  With his show at the MGM Grand this week, he absolutely focuses on the latter, and barely touches on the former.  His oral tale is about his demons and his struggles and controversies, and his greatest losses (in the ring and out), not his conquests, unless you count the fact that he is alive and of a positive and introspective state of mind a conquest over extreme adversity.
Getting to the show itself, it took place inside of the Hollywood Theatre, which is fairly intimate with small tables with chairs along the the stage (where I sat) and more booth-like seating tiered back and up.
Joining Tyson on stage were musicians – Len Rhodes, the musical director, Sabrina Elayne Carten serving as the vocalist/singer, and a four piece band.  Interestingly, Tyson's wife, Kiki Tyson, is credited as scripting the affair.
As a side note, entering the venue, there were numerous signs prohibiting photos or any recording whatsoever, so honoring that, unfortunately, I have no photos to share of the show itself as it took form on stage.
Once the curtain came up, the audience was greeted with the band playing Nat King Cole's 1948 hit "Nature Boy".  And the theme of this show – and where Tyson appears to be at this juncture in his life, can be found in the lyric, "the greatest thing… was just to love and be loved in return".  And this notion appears to in many ways to have affected him at every juncture in his life, both serving as credit for his successes and his losses and defeats.  At his core, he has been an emotional wreck of a person throughout his life.
Tyson was born into this world with astounding challenges; collectively, these things would overwhelm and even destroy most people.
As the show opened with this song, Tyson came down a ramp in the center back of the stage, dressed quite dapper in colorful suit and hat.  Quite honestly, seeing him stand before me, and literally stare back at me from time to time, was an incredibly surreal experience.
Standing on the stage, my sense of Tyson was that he was humbled, a little uncomfortable, but also maybe enjoying being on stage – a stage, any stage – as I am sure that there is some part of him that needs to see himself reflected by the reactions of an audience.  In his early boxing career, he wanted to be what ultimately became a nickname – "The Baddest Man on the Planet" – and perhaps some of his misdeeds were in fact to get a reaction to that effect.
With this show though, I believe the vast majority of those sitting with me in that audience were sympathetic to Tyson (i.e. a lot of fans, and boxing fans, that would probably be supportive regardless of his mental condition and state of mind), and the fact that he is feeding off of these positive and supportive reactions rather than the negative that had been such a part of his life not too long ago I think reflects that he has grown and matured on his recent journey that brings him to this place where he essentially bares his soul – good and bad – for all to see, and judge, and perhaps accept, understand and/or forgive.
I actually took many notes during this show (a nerd, I know…), but I wanted to remember some of the more poignant and important things that he might say.  Ultimately, the show ran for over two hours, so it was quite a lot to absorb.
As he opened, speaking in his highly recognizable tone, yet fairly soft spoken, he offered some very basic concepts to frame, essentially, his argument for his life – what he was, why he was that way, decisions he has made, and what he has become.  Life.  Journey.  Story.  Mistakes.  Pain.  Joy.  Sorrow.
I've always believed that a huge part of who we all become is in large part based on genetics, and the situation that we are each born into.  To say that Tyson was devoid of opportunity is an understatement, as he explains that his mom was a prostitute, and his dad (at least who he thought his dad was – to this day it is uncertain) was a pimp.  And in addition to that, he was born with a genetic propensity for addiction.  He was the youngest of three children.  He claims he "came from the gutter", and grew up in a rough neighborhood in the Brooklyn area ("the Devil's bedroom").  He talked about a childhood of crime, of being arrested and spending time being locked up.
Maybe most damaging of all, in his life, not once did his mother ever say, "I love you".  It is all quite tragic, and really explains how he has had so many problems in his life, much of which is directly related to deep-rooted emotional issues.
He talked about how he took care of pigeons, and how another kid ripped one of their heads off, and Tyson beat him up (and bit him).  His first fight.
Against what you might expect of Tyson, he actually articulated a poor image of himself throughout his presentation – both in humor as well as just sheer self deprecation (toward the end, while images of his children flashed on the screen, he said "I don't deserve to be their father"); in these early years, he often referred to himself as a short fat kid with acne.
The thing that changed the trajectory of his life, obviously, was the sport of boxing, and Tyson spoke of being inspired by and meeting Muhammad Ali.
The most important thing to enter his life – a person – Cus D'Amato…  his trainer, manager, and eventually his legal guardian.  The "white man"; the "old Italian guy".  This man came into his life, genuinely cared for him, and probably gave him love and support unlike anyone ever before.  Tyson spoke of D'Amato for a large segment of this show, as well as the loss of both his mother and D'Amato.
Tyson's story, as told by him, plays out very much in line with the story of  The Hero's Journey, as explained by Joseph Campbell, and D'Amato played the role of the mentor.  But Tyson's story is no Walt Disney film, and it is perhaps more of a fractured fairy tale in which he suffered an extraordinarily long Act II.
On stage, Tyson said D'Amato told him that if he did everything the way he told him to, he would become wealthy and be the world champion in the heavyweight division.  Tyson said that D'Amato predicted how things would happen, and they unfolded just as he explained to Tyson that they would…  and Tyson viewed the two of them – "synonymous" – as "two pirates on an adventure", with D'Amato guided by works such as The Art of War.
Tyson literally and figuratively fought his way out of a life of crime and extreme poverty.  As he was successful, Tyson viewed himself as "a god in the making", and Cus was, in turn, his god.  He viewed D'Amato as "a genius", and it seems vitally important that D'Amato realized that Tyson had severe emotional problems, but used this handicap as a tool to make him an unbeatable fighter.  D'Amato taught Tyson to embrace his shortcomings, that placing confidence in the hands of a coward made him "impossible to beat" – to prove he was not a coward.
Surprisingly, Tyson spoke very little about his life inside the ring, limiting this to talking about his defeat at the hands of Buster Douglas and the ear biting incident, as well as his amateur years, lying about his age at 14 to get fights with men twice his age.
With the Douglas defeat, Tyson blamed this in part on his having spent time with prostitutes in Tokyo before the fight, that he was drinking, that he "wasn't focused", and that he didn't have a plan to win. He said he left Japan at an "all-time low".
With the ear biting incident, Tyson basically says he was being head butt over and over, and that he "was in a fight".  Whether that explanation justifies his actions (I don't personally believe it does at all, in this case), Evander Holyfield has forgiven him, and was even at this show the night before, showing his support.
Tyson discussed some of the controversies in his life… his failed marriage with Robin Givens and her claims that he was abusive…  his rape conviction and three years in prison.  Where the truth lies in these two issues – I came away feeling it is inconclusive.  With his current wife serving as author of the presentation, and the fairly negative and comparatively lengthy focus on Ms. Givens, it felt as though it was overemphasized.  With regards to his rape conviction, Tyson did deny that he committed the act, but offered to real explanation as to his version of what he feels happened.  I didn't find his explanation – if there was one or not – to be terribly compelling.  But I believe that he genuinely believes he was wronged in each circumstance.  He openly confessed to being a womanizer, and having had a poor perspective about women in the past, and attributes much of that to his childhood growing up around prostitution and the failure of his mother to love him and express that love in a way that most children experience in their lives.  This I do personally accept as reasoning for some of his shortcomings, and find great sympathy with Tyson, as I really can't imagine what his childhood must have been like.
What I find more important, from his show, is how these events have changed him.  One running theme in his show is that he often found himself in dire circumstances – prison, rehab – but now views those things as positives, as having helped him to change his life for the better, and keeping him out of worse trouble (and in some instances, alive and breathing).
As a student of boxing myself, one interesting topic brought up briefly was Tyson's experience with promoter Don King, saying that in retrospect, he wished that he knew at the time he first met him that he "met the Devil".  Even so, he seemed to dismiss it all, saying he's "about forgiveness these days", and that Tyson "hopes people [he] hurt forgives [him]".
Tyson also spoke about his severe drug and prostitute addictions, and overcoming those problems as well, and shared that he is now three years sober.
He touched on a number of other topics – paying for paternity that ended up being debunked, then being sued by the woman with his own money that he'd given her for a child that was not his…
While all of this sounds serious, and it is, there was a lot of humor in the presentation of it all.  As an example, his now famous tattoo… the original design was to have been a series of hearts printed on his face!
He closed out the show sharing images of his family, his eight children.  Strangely, no details are shared about his current wife, Kiki, who, as noted, wrote the script for this show, so one is left wondering how she has factored into his changes in life – being sober for three years, being a vegan… and most importantly, presumably finally having a woman in his life who loves him – one of the fundamental themes of his life.  But honestly, while a lot of information was shared in the two hours, it probably opened doors to many new questions, and leaves one wondering about some of the things in which concrete details were hoped for and not delivered.
The overall presentation was fairly haphazard and random, at least from the perspective of this audience member, though that may be more attributed to the writing than anything else.  But I suppose it is reflective of his haphazard life.
So what do I make of all of this?
Mike Tyson truly appears to be a changed man, a wiser man, and a humbled man.  And I think the latter reveals that he is no longer "impossible to beat", and that maybe that is not of importance to him anymore.  But he does appear to have beaten many demons, but these demons weren't dispatched in the manner in which he quickly took down opponents in the ring during his prime…  these were longer, tougher, internal battles that he generally had to face alone.
I absolutely feel sympathy for the man, and what he has been through in his life.  Given that the story, his story, as he tells it, is filtered through the mind and eyes of his wife, as he's told it to her, and she's processed and written, to then be told by him on stage, guided by a teleprompter set into the floor of the stage… it complicates somewhat his "Truth".  Obviously there are an infinite number of choices made as to what to share, how to share it, how to frame it, what to emphasize, what to include, where to be serious vs humorous, and what to leave out or unanswered.  He did at least seem to go off script, but sitting in the audience for just one of a few shows, it's hard to know if these off script moments are, indeed, scripted as well.  Having said all that, the feeling for me was that he was putting it all out there, the good, the bad, and the ugly, and some of what he said even now was not flattering.
I did have the opportunity to meet Mike Tyson after the show, and he came across as kind, modest, and even more soft spoken than he was on stage; also, he seemed appreciative that people came to see him, to hear him, to essentially give him a chance.  So here I was, shaking hands with the man that, as I explained in my opening thoughts, I viewed as a villain… someone who I wanted to see destroyed by other men (who would, by function, be heroic); to see him beaten down to the canvas.
Having heard and seen his life and challenges, do I now still see him as this villain?  No, not really at all.  A hero?  I don't know to be honest.  I think he's too complicated; but I find his ability to overcome some incredible challenges and struggles to be the very definition of heroic.  What I'm interested to see in his future is if he can use his ability to fight adversity and overcome such obstacles to help not just himself, but to help others – I think that is the real key to his image rehabilitation, as well as his internal rehabilitation.  And maybe this show is the first step in that, and some good will come out of sharing his story with others – to inspire them and show that there is a path to choose – another way out of poverty, crime, addiction, and emotional turmoil – no matter how bleak, how impossible, how insurmountable it may seem.
Given his celebrity and talents, I really don't feel that what he is doing has really anything at all to do with making money as a primary motivating factor, but something else entirely.  There are a lot of ways in which he could make significantly more money with far less effort.  Yet he has chosen to essentially bare his soul to any and all willing to show up and pay the price of admission.  So I am left with some of my curiosities and wonder satisfied, but even more interested to see where this new path he has taken leads him in his life.
Mike Tyson is one of the most widely recognized people walking the earth, and there is power in that – it will be interesting to see if he can learn to wield it and use it with the same prowess that he used to exhibit in the ring as a boxer… to develop abilities do some good in the future, to offset some of the bad that he has done in the past.
I always respected Mike Tyson as an incredible athlete – and that is something that no one could take away from him.  Based on what I'd seen and heard – what I experienced – first hand last night, he now has my respect as a person, and I hope that he and his family find success and happiness in their lives.  I would like to see him as a hero in the third act of his life.  Time will tell.
Jason DeBord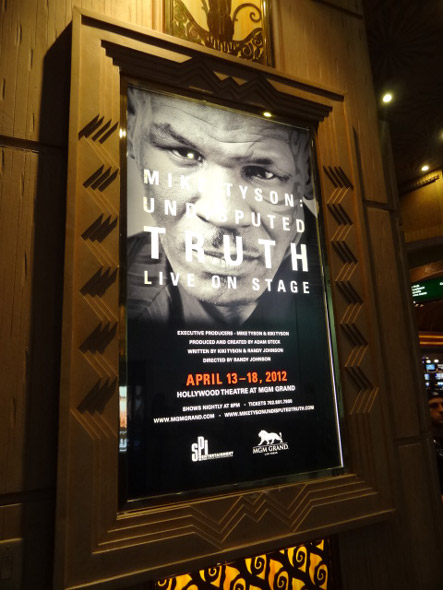 The One Sheet – A Very Cinematic Style
The Entrance to the Hollywood Theatre inside the MGM Grand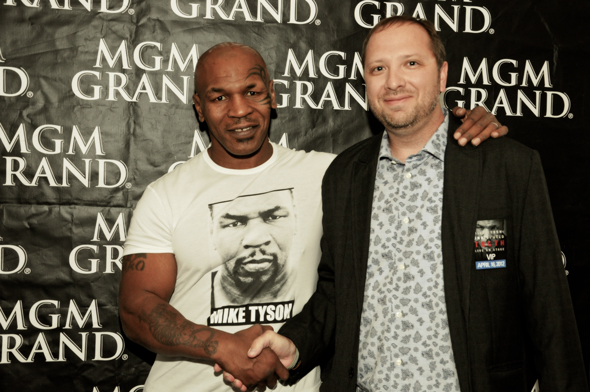 Meeting Mike Tyson
An Autograph on my Ticket as a Memento
Some of the notes I took during the show