Backstage Auctions has today published their auction catalog qith 1,250 lots for their upcoming "2012 Rock Gods 'n Metal Monsters Auction', with bidding running April 21st through April 29th.  Included in the sale are items personally owned and used by principals from leading rock acts such as Anthrax, The Cult, KISS, Quiet Riot, Ministry, Dio, Whitesnake, Queensryche, Pearl Jam, Ozzy Osbourne, and others.  "Headliners" are also being made available for a special VIP Meet and Greet.
Full details can be found at the Backstage Auctions website at www.backstageauctions.com: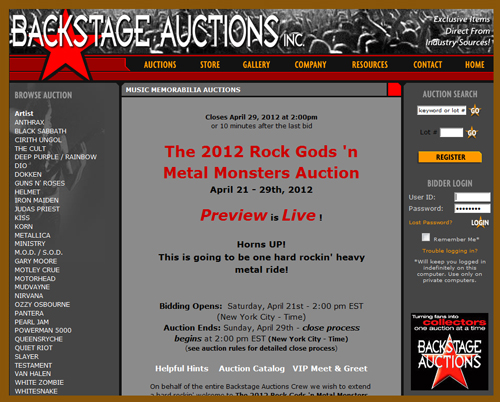 The PDF catalog can be downloaded from their site, or by clicking the link below: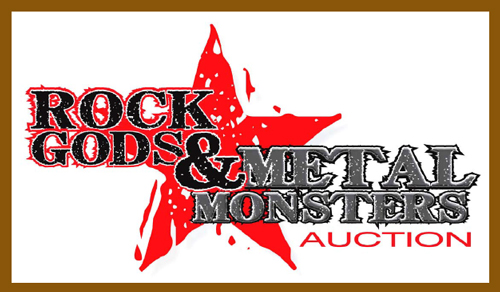 Below is a description of the event from their website:
Horns UP!

This is going to be one hard rockin' heavy metal ride!

Bidding Opens: Saturday, April 21st – 2:00 pm EST (New York City – Time)

Auction Ends: Sunday, April 29th – close process begins at 2:00 pm EST (New York City – Time)

(see auction rules for detailed close process)

Helpful Hints Auction Catalog VIP Meet & Greet

On behalf of the entire Backstage Auctions Crew we wish to extend a hard rockin' welcome to The 2012 Rock Gods 'n Metal Monsters Auction. We are very excited about this event and we think you will agree after you feast your eyes on the amazing rock relics coming direct from the personal collections of these legendary rock 'n metal gods. * Scott Ian (Anthrax, M.O.D./S.O.D., Pearl, The Damned Things), * Charlie Benante (Anthrax, M.O.D./S.O.D.), * John Tempesta (The Cult, Exodus, Testament, White Zombie, Helmet) * Page Hamilton (Helmet), * Robert Garven (Cirith Ungol), * Matt McDonough (Mudvayne), * Mike Tempesta (Powerman 5000, Human Waste Project), * Sean Yseult (White Zombie), * Al Jourgensen (Ministry), * Rudy Sarzo (Quiet Riot, Ozzy Osbourne, Whitesnake, Dio) and * Scott Rockenfield (Queensryche). Read more about our headliners in the VIP Meet & Greet.

In addition to the amazing list of artists headlining the auction, we have an amazing group of music industry professionals (managers, record label executives, journalists, photographers, artists, venue owners, music industry businesses, etc.) who have also cleaned out their rock and roll treasure chests. These super rare pieces come directly from the personal collections of Walter O'Brien, Alan Wood, Christopher Doliber, Dave Otto, "Fish", Gayle Miller, Jasmin Orlando, Janet Savage, Amy Josefek, Philip Kamin, Steve Kalinsky, Steven Rosen and the Estate of Ken Anderson.

The auction will showcase hundreds of rare collectibles featuring Anthrax, KISS, Van Halen, Pantera, Ministry, White Zombie, The Cult, Helmet, Cirith Ungol, Mudvayne, Powerman 5000, Quiet Riot, Whitesnake and Queensryche but with 1250 auction lots up for grabs this online event will also present fabulous finds featuring …Dio, Dokken, Iron Maiden, Judas Priest, Korn, Metallica, Motley Crue, Motorhead, Nirvana, Ozzy, Pearl Jam, Slayer, Testament….and that's the short list!

Whether you're in the market for a fully signed and stage used Scott Ian guitar, a set of Big 4 Tour used Charlie Benante drum heads, a Buck Satan Coffin guitar, a John Tempesta stage worn The Cult shirt or a guitar used by his brother Mike from Powerman 5000, Page Hamilton's infamous concert used shoes or even an few RIAA record awards.

This auction has it all, including artist signed items, guitars, drums, amps, cabinets, did we mention guitars, rare photos, original art work, promotional and concert posters, RIAA record awards, backstage passes and artist tour laminates, promotional merchandise, stage and artist worn apparel, picks and sticks, exclusive and super rare ephemera, tour books and even a some really cool road cases.

Simply put…there is something for everyone's taste and budget! Now that ROCKS and it ROCKS HARD!

And just when you thought it couldn't get any better, the auction will also feature an incredible collection of over 1000 pieces of 1980s heavy metal albums that will make your head spin. Among them are amazingly rare release from legendary labels such as Neat Records, Road Runner Records, Metal Blade Records, Heavy Metal Records, Killwah Records, Shrapnel Records and Enigma Records. This is "once in a lifetime" vinyl that you don't want to miss out on.

We know you are excited and want to "get busy", but before doing so, please take 2 minutes to read the "Information & Helpful Hints" section below. It will greatly assist you in navigating through all the auction lots and hopefully address some of the questions you might have. If at anytime you need assistance in locating any item of interest or simply have a question about an item – please contact us via email or give us a call during business hours. Our contact information can be found in the contact section of our site.
Jason DeBord