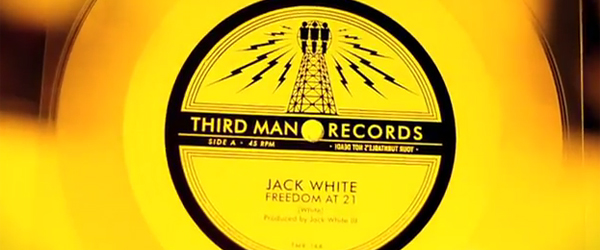 Jack White's record label, Third Man Records, released 1,000 flexi-discs of "Freedom at 21" – the first single off the new "Blunderbuss" album – via helium balloon on April 1st in Nashville.  Someone found some of these, and has put the first of them for sale on eBay, which is currently bid up to $1,803, with five days left at auction.
I learned of this from prefix via a story on their prefixmag.com website (see "Jack White's Balloon Singles Hit The Ground And eBay For $1,800").
The original announcement by Third Man Records can be found in video form on YouTube (see "Flexi Disc Balloon Launch for Jack White – Freedom at 21"):
Below is the description from the OfficialTMR posting:
Three weeks before his "Blunderbuss" album hits the streets, Third Man Records decided to make the Jack White album track "Freedom at 21" premier exclusively via flexi-disc records attached to helium balloons launched from the label headquarters in Nashville on April 1st, 2012. Envisioned as an experiment exploring non-traditional forms of record distribution and a way to get records in the hands of people who don't visit record shops, the label was sure to use biodegradable latex balloons and all-natural twine in the process. Accompanying the balloons were custom post cards with instructions for the finders to submit photos, discovery location and the date on which the record was found, all of which will be incorporated into a website where fans can access the information. Statistics for similar balloon launches show a recovery rate of approximately 10% so it's quite possible that less than one hundred of the one thousand records launched will ever be discovered and the "Freedom at 21" flexi-disc will surely be a highly sought-after collectible for years to come.

Visit www.thirdmanrecords.com for more details on tracking the flexi disc balloon records.

***Biodegradable latex balloons and all-natural twine were used to prevent environmental impact.
The first of an unidentified number of discs found by the current eBay seller can be found by clicking the link below (see eBay Item #320884419223):
Below is the Seller description for the flex disc offered at auction on eBay:
Up for bid a limited edition Jack White "Freedom at 21" Flexi disc. These albums were released via helium balloon on April 1st I was a lucky person who found some of them. That being said I will keep one for myself and auction off the others. The album will come with the string attached as well as the post card, balloon, and album. This can be your opportunity to own a one of a kind release. The auction is for one album only. Email with any questions.
The fully interactive page (with map!) on the Third Man Records site that is tracking reported balloon/flexi-disc findings can be by clicking below:
Jason DeBord